Interviewed by Elizabeth E. Adams
Issue 155, Summer 2000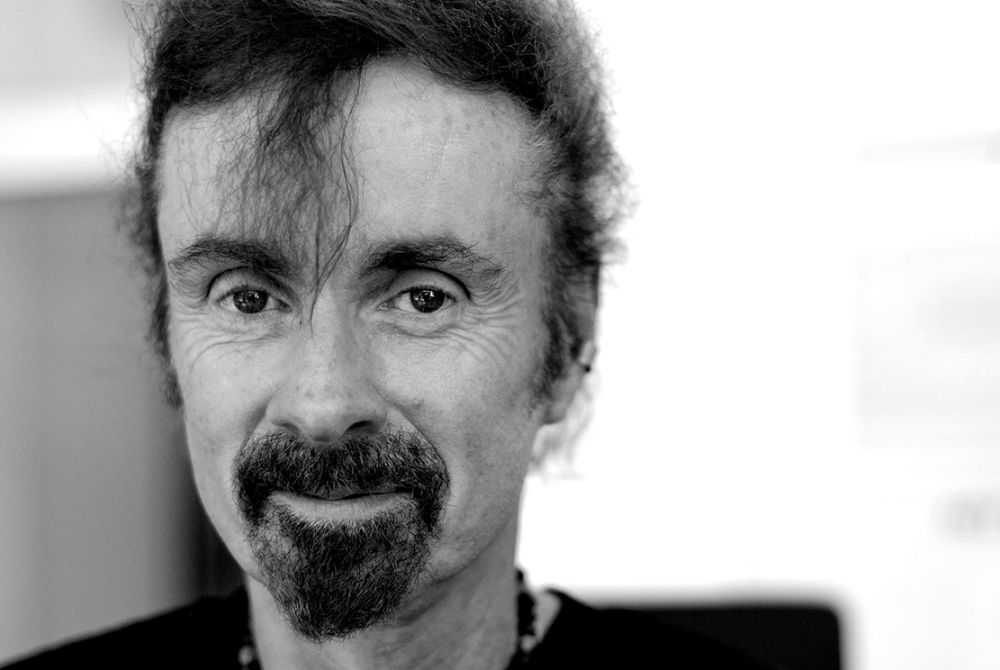 T. Coraghessan Boyle, ca. 2012. Photograph by Martin Prechelmacher
T. Coraghessan Boyle (Tom to his friends) was born in 1948, and grew up in Peekskill, New York, the scene of his novel World's End, which won the 1988 PEN/Faulkner Award. A child of the sixties, he played in a rock band and was, by his own admission, "a maniacal, crazy driver, and a punk pure and simple." He took to writing fiction to sidestep, he has said, the abyss.
In 1972, on the strength of a story, aptly enough titled "The OD and Hepatitis Railroad or Bust," published in North American Review, he was accepted into the Iowa Writer's Workshop; he received his doctorate in nineteenth-century literature from the University of Iowa in 1977. Two years later his first book, Descent of Man, a collection of short stories, was published. Its title story—about a man who slowly realizes he is cohabiting with a chimpanzee—appeared in this magazine.
Descent of Man was followed by ten critically acclaimed books: Water Music (1981), a picaresque, mock-Victorian novel about English explorers on the River Niger; Budding Prospects (1984), a novel about a group of enterprising "farmers" with an unusual bumper crop of marijuana; a second collection of short stories, Greasy Lake (1985); the aforementioned World's End (1987), which describes three Dutch and American families over an arc of three hundred years; If the River Was Whiskey (1989), a third collection of short stories; East Is East (1990), about a Japanese seaman who jumps ship and tries to assimilate himself into American culture, among other places in a writer's colony; The Road to Wellville (1993), about the inventor and health impresario John Harvey Kellogg in turn-of-the-century Battle Creek, Michigan; Without a Hero (1994), a fourth collection of stories; Tortilla Curtain (1995), about two couples in Southern California struggling with the realities of illegal immigration; and Riven Rock (1998), an historical novel about the schizophrenic breakdown of Stanley McCormick, whose father Cyrus invented the reaper. In 1998 Boyle's short fiction was collected in T. C. Boyle Stories. At the time of this interview Boyle was working on a novel, A Friend of the Earth, much of which is set in Alaska. It will be published this fall.
His prose stands far apart from the pared-down minimalist traditions of so many of his contemporaries—lush, manic, overblown, satiric, highly imaginative and, on occasion, shamelessly melodramatic. Indeed, he has been referred to as the "maximalist novelist." The author Russell Banks once said of World's End: "What knocked me out was the book's ambition. It took him out of the category of witty, clever social satire and put him in another league. He reached for the moon, and maybe he didn't get it all, but he risked the talent, and that's a scary thing to do."
Almost as flamboyant in person as in his prose, Boyle is well-known for his readings at universities and public halls. He has given hundreds of them, including a legendary performance with Patti Smith in New York's Central Park. He cuts a memorable figure, and is given to wearing a couple of silver ornaments in one ear. A self-caricature of both his looks and his outlook popped up in a story in The New Yorker's 1995 summer reading issue: "A skinny man in his late forties, with bushy hair and a goatee who dressed like he was twenty-five and had a dead-black morbid outlook on life and twisted everything into a kind of joke that made you squirm."
Married with three children, Boyle is a tenured professor at the University of Southern California, where he teaches creative writing.
The main body of this interview was conducted at a reunion at Boyle's alma mater at the State University of New York at Potsdam. The participants sat behind a table set up with microphones, water jugs and glasses, yellow pads, the usual paraphernalia of the seminar lecture. A large and appreciative audience filled the auditorium. Boyle was very much admired—the return of the Prodigal Son . . .
INTERVIEWER
When did you first begin writing?
T. CORAGHESSAN BOYLE
In a class in college. As a junior I walked into an elective class that consisted of all the lame, halt, and disaffected crazies on campus, one of whom was a reincarnated Egyptian princess and had the tattoo on her ankle to prove it. Hallelujah, I thought, this is just where I belong. Unfortunately, they were all poets—I didn't know what I was yet, but it definitely wasn't a poet. The professor was a great and inspiring novelist named Krishna Vaid, a Ph.D. from Harvard who had written several books in Hindi, which he then translated into English. People would bring their work into class and read it aloud, and everybody would kind of grimly talk about it. The poetry they were writing was utterly incomprehensible to me. I didn't have anything to say, didn't have a clue. So when it was my turn—Why don't you put something up for next week, Tom? Krishna said one day—I wrote a one-act play called "The Foot," in the absurdist mode, after the style of Ionesco and Beckett. It concerned a domestic situation in which a young boy has been entirely eaten by an alligator except for his foot, which is preserved in its ragged sock and tennis shoe in a shrine on the coffee table. It was funny. And Krishna, who had never shown the slightest glimmer of emotion throughout the semester, began to laugh as I read. Finally, when I was finished, he applauded, and then the others reluctantly joined in (I say reluctantly because of the fiercely competitive nature of the class, not to mention the natural divide between poets and nonpoets). I bathed in the glow of it, thinking, Hey, this is a pretty good gig, and I've never looked back.
INTERVIEWER
Why didn't you write another play after "The Foot"?
BOYLE
I soon thereafter found my métier, writing short stories. Plays, after all, involve staging, which involves working with other people, something I am incapable of. I like to live in my own mind, regardless of everyone and everything, working out the intimate puzzles that are my stories and novels.
INTERVIEWER
Was your family supportive of your writing?
BOYLE
My father and mother were both working class, my mother educated through high school, my father through the eighth grade. I went to school in Westchester County, New York, with people whose parents were educated and wealthy in comparison to us, but my parents always gave me all the advantages the wealthier students had. My parents made me feel the equal of anyone; they were very supportive no matter what I wanted to do. I will say that my mother never understood, I don't think, really, what I wrote—she was very bright, well-read, but it's just that parents have a difficult time understanding their children's art. I read her the Lassie story, which I think is one of the funniest stories I've ever written, and she never cracked a smile. When I finished, she said, That was very moving.
INTERVIEWER
What about your father? You dedicated World's End "in memory of my own lost father." Can you talk about that?
BOYLE
My father died at fifty-four of alcoholism. A suicide, actually. A slow suicide. He had been raised in an orphanage. I never really knew him very well, although he lived with us until he died. He was very morose. My mother tells me that his personality had been a lot like mine—that is, antic and playful, with a rich appreciation for the absurd—but something happened to him during the war (he drove a tank in the Seventh Armored Division during the Normandy Invasion) that made him very depressed. I was an extremely rebellious and disaffected adolescent, and I never really had a chance to come to that rapprochement with your parents that you can have when you get a little older. He was dead before anything like that could happen. So I dedicated the novel (which involves a search for a father, not in an autobiographical sense, but in a metaphorical sense) to him.
INTERVIEWER
How old were you when your father died?
BOYLE
Twenty-five.
INTERVIEWER
Is your mother still alive?
BOYLE
No, she's dead too. Alcohol also claimed her.
INTERVIEWER
How autobiographical is your writing? And in what way?
BOYLE
To me, a story is an exercise of the imagination, and most of my work comes out of that spirit of game-playing or puzzle-solving, as I said earlier. I was and still am very taken with the playful work of writers like Borges, Nabokov, Calvino. So the short answer is, very little is autobiographical. But because I try to keep myself open to all the possibilities, I exclude no form or mode. Some of my best-known stories have autobiographical elements—"Greasy Lake," "If the River Was Whisky," "Back in the Eocene"—but they are inventions in which the autobiographical elements have been radically transformed.
INTERVIEWER
Can you be more specific? What are the autobiographical elements in the stories you mention?
BOYLE
Well, in "Greasy Lake" we have three college kids on summer break who are locked into the invincibility of their cool— "We were all dangerous characters then," the narrator says. They have some harrowing adventures of the teenage type and decide finally that no matter how bad you think you are, there is always someone a whole lot badder, and that the world, far from being your oyster, is a dangerous place of shadow and dislocation and death. Of course, I am that narrator, and I, like all my contemporaries, have been to Greasy Lake at one time or another, and yet all the incidents related are purely invented.
In the case of "If the River Was Whiskey," which has a contemporary setting, I looked back to my own childhood in order to examine my relationship with my father. We went once to a lake like the one in the story, and I was Tiller's age—Tiller the protagonist, who is eleven or twelve—and my father had to go to the liquor store in Vermont and sign for each bottle of liquor he purchased (that, apparently, was the law). He didn't enjoy the lake, fishing, the beach, nature. But I knew nothing else, and I wondered even then about how such a rift could be. Again, though, all the events are fictionalized.
"Back in the Eocene" is much closer to an actual event. I am the father who took his fifth-grade daughter to the DARE program graduation, and it tore my heart out. Drugs in the fifth grade? How did we get so perverse? The answer lies in the narrator's own past and his own drug use. And yet there are invented elements here too. I, for instance, did not lie to my daughter as the narrator did. But this is why fiction is an art and life is not—how much more affecting is the lie than the truth.
INTERVIEWER
Is your view of the world as bleak as those of your characters?
BOYLE
No and yes. I'd like to have better news. The critics liked World's End, but so many would say, But it's so bleak to think in this deterministic way. I wish I had better news. I hope I get really happy, and write a really jolly happy thing. In fact, I've said to my dear friend, the painter Pablo Campos (who often gets a bit depressed over the miseries and depredations of the art world), that I should write a novel about an extremely happy, healthy, fulfilled, and productive novelist and his equally happy, healthy, fulfilled, and productive friend the Chilean painter. That one will have to wait, I'm afraid.
In the meanwhile, I seem to be writing novels of social engagement—The Tortilla Curtain in 1995 and, now, A Friend of the Earth, which deals with the insoluble problems of environmental degradation, overpopulation, and the imminent collapse of the biosphere. Cheerful stuff. But Friend, which is set in 2026, by the way, has a mutedly happy ending, if you can consider a seventy-five-year-old man getting back together with his ex-wife in a world turned literally to shit a happy ending.
I don't mean to pull a Beckett on you here, but I do not have a congenial view of the parameters of human life as we know it. In the absence of God, we have science or, more specifically, biology. And the very genetic determinism I posited in World's End as a way of perhaps shaking off my inherited demons—and I'm talking a tendency toward drugs and alcohol here—is being proven in fact as we map out the human genome.
INTERVIEWER
Your novel The Tortilla Curtain would seem to be quite a departure from what preceded it.
BOYLE
The Tortilla Curtain was my first largely nonfunny novel. Although it is savagely satiric, it's nonfunny in the long run, or rather funny as a result of layers of multiple ironies, and I just wondered if I could do that. You'll have to be the judge. It's contemporary, set in Topanga Canyon, and the title is a reference to the border we share with Mexico. It deals with two couples: one pair, I guess you would have to describe them as yuppies, who live a sort of recycling-and-sushi life up in the canyon, in a gated community; the other is an illegal couple living in the canyon, in the bushes. There are four points of view—from each of them. They come into conflict, as they usually do in my novels. But this time you don't laugh. Or if you do, it sticks in your throat.
INTERVIEWER
What is the key to making people laugh?
BOYLE
I have no idea. It's just my natural way—to be funny. I don't know why that is. But as I've said, humor is a quick cover for shock, horror, confusion. The critics hate funny writers, for the most part. They think funny is not serious, but I think that funny can be even more serious than nonfunny. And it can be more affecting too.
INTERVIEWER
How so?
BOYLE
Because you can pull the rug out from under the unsuspecting reader. In Shakespeare's comedies, we know that all will come right in the end, just as in the tragedies we know that things just aren't going to work out, not this time, uh-uh. Evelyn Waugh does a fine job of making us laugh at horror—think of A Handful of Dust—but a writer like Flannery O'Connor, in stories like "Good Country People" or "A Good Man Is Hard to Find," can not only make you laugh aloud, but make you cringe too. And make you think. To engage your humor and your emotions, that's quite a trick. I'd like to think that I'm able to do that, to keep the reader off balance—is this the universe of the comedy or the tragedy? or some unsettling admixture of the two?—to go beyond mere satire into something more emotionally devastating, and gratifying. If that ain't art, I don't know what is.
INTERVIEWER
World's End was the book that catapulted you to fame. How do you feel about the popularity that came with it?
BOYLE
I really love it. I'm a tremendous ham and I love the attention. It's very gratifying to get some recognition. I think ego is a large part of why people write. There is pleasure in making art for its own sake, but I think it screams for an audience. I really think it would be difficult to write were I to know that no one would ever read it. I suppose I would anyway—as a writer, you must do it . . . you really have no choice. Like everyone, I was dealt my share of problems, but I also burn with a pure gemlike flame, if I can quote Pater out of context. My flame, though, is more like a retro-rocket that launches me out of bed each morning rigid with the necessity of getting my hands round the throat of the world and applying a little persuasive pressure.
INTERVIEWER
You always have been noted for being flamboyant, not simply personally, but in your dress and appearance.
BOYLE
Most writers are writers because they are introverts who have chosen a profession in which they don't have to deal with anyone. I, on the other hand, don't mind getting up onstage and doing everything I can to engage and entertain an audience, for which I've been misunderstood and even reviled in some quarters, as if literature is some sort of priesthood and by making people laugh and writhe I'm somehow an apostate. But to my mind literature is alive, a living, vital art form that needs to appeal to its audience—not pander to it, but appeal to it in the highest and lowest way. We've almost reached a point at which fiction and poetry are exclusively the province of the academy, of intellectuals, and the average person's experience of them is in the odious form of a classroom assignment.
At any rate, I think what will happen is that at some point—and I hope it will be a distant point—I will change my image from being a flamboyant writer, forego any middle period, and go directly to being Walt Whitman: let yellow hair grow out of my nose and ears, and be the old pundit, the insufferable old pundit who talks endlessly and tells everybody what's what.
INTERVIEWER
The Paris Review has one quintessential question, which it has asked everybody from William Faulkner to Ernest Hemingway. What is the implement that you write with?
BOYLE
I use my toenails actually—collect them, hammer them down, mold them into shape, but I guess you want a straight answer here. Until very recently I used to use the typewriter my mother gave me when I went to college at the age of seventeen. A portable Olivetti. But my technical support staff—i.e., my wife and two teenage sons—have finally integrated me into working on the computer. Since I've always composed directly on a keyboard, the switch to computer was simply a psychological matter—fear of change. As the great American philosopher, Woody Allen, says, change equals death.
My biggest fear of the computer had been that I would tend to toy with it rather than work in the way of iron discipline with which I try to drive myself, but that hasn't been much of a problem—and, of course, the ability to edit instantly and produce a perfect copy appeals to the Dutch housewife in me. On the downside, my fingers have grown weaker and my eyes are slowly being destroyed. But then, who needs fingers in the grave? Or eyes either?
INTERVIEWER
I heard yesterday that Alexandre Dumas, when he was having difficulty writing, locked himself in a room naked.
BOYLE
I have to admit I haven't tried that.
INTERVIEWER
Are there blocks at all? Does that ugly word ever rear up?
BOYLE
After I finished East Is East in 1990, I felt exhilarated. I was up in the mountains, and I had an entire day to think about things—the kind of day you have when you're a child, where there is nothing to do but wonder and enjoy. At nine o'clock in the morning I was sitting in the woods reading a book. I napped, hiked, fished, felt the sun warm on my face. Next day I was so bored I started a new story.
INTERVIEWER
Did you take out a pad and write down any old line? Is that all you need to start?
BOYLE
Oh, no, it's not so easy as that. But during the long fast of the novel, in which you are unable to write about events and ideas that pop up on you like faces out of the shadows, you are nonetheless stocking up ideas for future stories. If you're lucky, and I guess I was that day (incidentally, the story in question was one of the two I've set on my mountain in the Sequoia National Forest, "Sitting on Top of the World"), the ideas are foaming up out of the bottle.
INTERVIEWER
How does having a family affect your writing habits?
BOYLE
Having a family has been very good for me (and I hope good for them too). It gave me the stability I needed to begin and pursue a career as a writer. People tend to romanticize the picture of a writer—they want it to be easy, something a genius can just knock off between debauches, because if it is, if it doesn't require talent, discipline and a lifelong commitment, then maybe there's a hope that they, too, someday can knock out their own great and stirring work. We have the devastating example before us of the overwhelming numbers of American writers destroyed by dope and booze—Tom Dardis's The Thirsty Muse is a real eye-opener—and people tend to think that chemically altering one's mind is the way to inspiration. Maybe it is. But for me it seems counterproductive. I have never written a sentence—or even thought of writing a sentence—without being in the clearest state of mind. This is my life's work. This is what I'm meant to do, and why screw with it? I think the way to be a writer is to experience things, certainly, and be open to things, but at some point to become dedicated to the craft of writing and to create a stable environment for that writing to occur in. At least in my case that's true. So having a family and leading a stable life is absolutely essential to any writing I've ever done. When I did my earliest writing, I led a pretty wild life, and the writing was fairly spotty. I would write occasionally. Now I write every day, seven days a week, all year long. And it is my life.
INTERVIEWER
What do you do when you're not writing? Weren't you a music major in college? Do you sing? Play?
BOYLE
I've been in a couple of amateur bands. In ancient times— the mid-eighties—I was lead singer for a band called The Ventilators in Los Angeles, and the band was composed of professional players who asked me to form a cover band for fun because I'd been hanging with them and their singer—who wrote their material—had quit their band. We never did anything, breaking up quickly and finally, but of course I was committed to writing at the time and they all knew it. I also played saxophone and drums as a kid. Was I good? No. But what a rush it is to stand up in front of a rock-and-roll band. Unfortunately, post-Ventilators, I haven't done any music whatsoever. The spirit has left me. I hope it will return someday, but my writing life seems to have taken over to the exclusion of all else. In fact, all my reminiscences of late seem to involve book tours. But I do listen to music—I would say that practically every waking moment I have music on. While working, I listen to classical music or jazz. I can't listen to rock and roll because it's too distracting. I listen to rock and roll when I'm not working.
INTERVIEWER
Does music influence your writing?
BOYLE
There's a rhythm to it. When you're working you want to tap the unconscious and get into another state of mind. I think the music is there for you in a rhythmic way. And when you awake from that state of mind, as you do every moment or so, you think, Oh, isn't that nice, and then you go back and do your work again. I'm sure it does have an influence on the rhythm of the work. And maybe sometimes an unlooked-for influence. For instance, Riven Rock, which is set at the turn of the twentieth century, was written almost entirely to tapes I'd made of my Coltrane favorites, rather than music of the period. Why? I don't know. I just got into a Coltrane fixation.
INTERVIEWER
What about your academic background? Has it helped or hindered your writing?
BOYLE
It's helped me tremendously. Water Music comes out of having done a Ph.D. in nineteenth-century British literature and reading maybe a hundred three-volume novels from the nineteenth century. When you're a kid in school and you wonder, Jesus, why do I have to take trigonometry, why do I have to take this or that? and your teacher says, Well, everything you know will be good for you in future life—it's true. But only if you're a writer.
Going to graduate school at Iowa—first for the M.F.A. and then the Ph.D.—was transformative for me. For one thing, it got me out of a hopelessly degenerate scene in New York (I was the hippie's hippie, and immoral to boot, and never gave a thought about putting a needle in my arm) and, for another, it marked my commitment to learning as a way of expanding my very limited worldview and improving my writing.
INTERVIEWER
What about contemporary authors? Any favorites?
BOYLE
I think García Márquez is one of the best writers alive. I love Martin Amis, Kazuo Ishiguro, Annie Proulx, Richard Ford, Denis Johnson, Don DeLillo, Haruki Murakami, Kent Haruf, and a cast of thousands who escape me right now. I read widely, and in a catholic way. I like all sorts of things as long as it's literature. I've never read any genre fiction—I don't have any patience with science fiction, spy novels, detective novels, thrillers; and yet I love a good escape. I could get stoned and watch a Japanese monster movie on TV or even go to a second-rate thriller in the movie theater. But to invest my time in reading something, it's got to be something of very high quality. There's so much to do and so much to know and so much to read, why waste your time?
INTERVIEWER
Are you equally at home in both stories and novels?
BOYLE
I feel that I am equally at home in both, unlike so many of my contemporaries, who seem to be much better at one form than the other. I remember an interviewer pointing out to me once that I was developing an oeuvre, and I began to protest—an oeuvre?—when I realized that he was right. Each story, each novel, suggests the next. There is an unforeseen link between all my stories and novels, a link that is only apparent to me in retrospect. In aggregate, they represent a very personal and developing worldview.
INTERVIEWER
And what is that link?
BOYLE
Links, actually—thematic links, an obsession with certain behaviors and subjects, the tone and color of the language. I'll give you an example, in terms of subject matter and setting. Looking back, I see that in World's End I began to be preoccupied with small communities—in a nostalgic way, I suppose, in the way of counterbalancing the frightening anonymity each of us feels in the face of a population of six billion and growing. There I talked about the small Jewish/communist/anarchist community of Kitchawank Colony and how it was torn apart by the Robeson Riots of 1949. Before I could blink twice, I was writing East Is East, set in a hermetic artist's colony on an island off the coast of Georgia. The Road to Wellville followed, and its setting in the Battle Creek Sanatorium again provided me with a microcosmic society to dissect. So too the gated community of Arroyo Blanco in The Tortilla Curtain, the fortress of Riven Rock, and the rock star's estate in A Friend of the Earth.
Then there are the themes. To choose just one, for example, I've been interested from the outset in man as an animal and how our behavior is predetermined by our animal natures (this is no doubt a reaction to an early Catholic upbringing and my bitter disappointment in discovering that not only are we not made in God's image but that He doesn't even exist). And so "Descent of Man," the first of my stories to appear in this magazine, in which we learn that chimps can indeed use language, and that they can be very persuasive in bed too. Or "Heart of a Champion," which shows Lassie, the collie from our collective TV memories, being more true to her canine nature than to the comfortingly anthropomorphic image we were all sold. There are many, many more examples, but to follow this one out, A Friend of the Earth virtually crawls with animal life, and it addresses the essential question of ecology: do we have the right to use the earth for our own purposes and what are the natural consequences of living as if we have dominion here?
INTERVIEWER
What is the difference in the composing of a short story and a novel? Is there a shifting of gears?
BOYLE
Yes, sure. But I do see everything I'm doing as a story, whether it's five pages or five hundred. The essential difference is that with stories, or during a period of story writing, you're never sure if you're going to come up with the next one. Oh, you feel great on bringing a story to completion—what a rush!—but then, speaking of blocks, you go through a period of a week or so when you've become an utter failure, a bankrupt, a fraud. You'll never work again. Of course, if you're very, very lucky—and I have been lucky—the first stirrings of the next story come. With a novel, you're locked-in, committed, and you sure do know what you're going to be doing tomorrow morning.
INTERVIEWER
With a novel, do you see the thing as a whole when you start?
BOYLE
No, it's an organic process. I have an idea and a first line—and that suggests the rest of it. I have little concept of what I'm going to say, or where it's going. I have some idea of how long it's going to be—but not what will happen or what the themes will be. That's the intrigue of doing it—it's a process of discovery. You get to discover what you're going to say and what it's going to mean.
INTERVIEWER
That's interesting . . . the first line. Joe Heller couldn't write a word unless the first line popped into his mind, which unleashed a whole series of characters, scenes . . . Is that the way it works with you? What are some of the first lines?
BOYLE
Yes, I feel that too, but maybe not so thoroughly as Heller did. The first line isn't unleashing much, but there's certainly been a lot of thought and preparation for it, and certainly it suggests what's to come—again, in the way of the first piece of a jigsaw puzzle. But you're putting me on the spot with regard to first lines. World's End starts like this: "On the day he lost his right foot, Walter Van Brunt had been haunted, however haphazardly, by ghosts of the past." A Friend of the Earth begins: "I'm out feeding the hyena her kibble and chicken backs when the call comes through." And, most famously, I suppose, the opening line of "Descent of Man": "I was living with a woman who suddenly began to stink." The first lines are provocative, I suppose, because they are meant not simply to provoke the reader but to provoke the writer—in this instance, me—to forge on.
INTERVIEWER
When you say that you have no idea where it is going to go, does that literally mean that you have no idea what is going to happen to the people about whom you're writing?
BOYLE
You discover all this as you go along—of course, you may make leaps ahead, and discover where it's going. Hemingway said that he never stopped a day's work until he knew what was going to happen in tomorrow's installment. I feel the same way. When I'm done for the day—dragged out, dumbed down, exhausted, beat, and depleted—I look over what I've done and make a mental leap into the immediate future of the work if I can. Sometimes, though, it's just a mystery until you get there. In The Road to Wellville, for instance, I had no idea there would be a murder occurring at the end of that book—not that I mean to spoil it for you if you haven't read it—but when I got there it seemed very logical (or maybe I mean "right") that that was what was going to happen. I remember feeling great about that. I was up in the mountains at the time, trying to extract the juice from my brain. I remember walking around the lake, humping through the woods, exhilarated. I think I put off going to the bar till 4:05 that day. It was wonderful.
INTERVIEWER
So plot is more important than character. Would that be a safe thing to say?
BOYLE
The early stories were mainly idea stories that didn't have much to do with character—I was much more interested in design then. I think I've learned to handle character through writing novels. My first novel, Water Music, was five hundred pages long and you just can't go five hundred pages without inventing some characters. What I hope is that I'm now better able to integrate all the elements of a successful and original story without relying on one effect only.
INTERVIEWER
Your books and stories suggest a lot of research.
BOYLE
Yes, I do my homework. Particularly in the historical novels, and I've done four of those to date and am working on another now. On the other hand, I do agree with E. L. Doctorow, who said that he does enough research to get him going, and then adds what he needs as he works. I do like to see things—locations, I mean—if possible, but that isn't as important to me as it may be for other writers. Again, I am writing from the imagination, for the unconquerable rush of seeing a scene in my head and transposing it to words. So I spent a grueling three days with my three favorite drinking buddies in the Okefenokee Swamp doing the research for East Is East. For The Road to Wellville I spent three days in Battle Creek, Michigan, haunting the library, walking the streets, poking around the graveyard, and being denied access to the Kellogg Company's offices. That was all I needed. I am not James Michener, living in Texas for twelve years so he could write about the geology, the history, cattle raising. That doesn't interest me. Or maybe it does, but I just haven't got there yet.
INTERVIEWER
I was thinking of Water Music, which has many references to Africa and Niger.
BOYLE
I began that when I was still a student at Iowa. I couldn't afford a bus ticket to Des Moines, let alone a trip to Africa, but the summer I graduated I did manage to snoop around London and Mungo Park's birthplace in Scotland.
But one of the nice things about Water Music is that nearly every audience I appear before contains at least one former Peace Corps volunteer who tells me they all passed the book around because it spoke to them in an authentic way. So too with Wellville. While all the local historians stayed home seething because this guy with an earring from L.A. had stolen and perverted their history, a number of ladies of a certain age attended my reading in Battle Creek—ladies who had worked for Dr. Kellogg—and told me, in essence, You got it right, sonny. And with East Is East, I had written two-thirds of the book before I got to Japan—I spent two weeks there on a book tour, and it was exactly as I imagined it to be. Well, almost. There were smells I hadn't anticipated, an essence, unagi smoking in the night, seven-hundred-yen-a-shot bars in Kyoto, twisting alleys, a pristine lake in Hokkaido. You want to get the details right, absolutely, but if the truth stands in the way of a better fiction, then I don't mind fiddling with it a little.
INTERVIEWER
Fair enough. Can you give us an example of fiddling with the truth in order to arrive at a better fiction?
BOYLE
Well, what about Riven Rock? This is the true story of Stanley McCormick's disastrous marriage to Katherine Dexter in the early years of the last century. Stanley was the youngest child of Cyrus McCormick, the grand industrialist who invented the mechanical reaper and whose company ultimately became International Harvester. We're talking infinite wealth here, all the advantages, etcetera. But curiously, the two extant biographies of Cyrus only mention Stanley in passing—or maybe not so curiously, since Stanley was diagnosed as a "schizophrenic sexual maniac." I did an enormous amount of research—all of the McCormick family's papers are available at the historical society in Madison, Wisconsin—and came to certain conclusions that no one could assert for certain. For instance, I state categorically—demonstrate, in fact—that the marriage was never consummated. People would ask me, How can you be so sure? The answer is simple: Because I'm the guy who wrote the novel.
INTERVIEWER
How much of a help was Iowa to you in developing as a writer?
BOYLE
As I said earlier, the experience was essential for me. But you get out of it what you want—if you expect some maestro to take the raw material that is you and transform it into gold, you'll be disappointed. Understand that writers are not necessarily good teachers, or even good people. Many are angry, disappointed, terminally bitter, and they are teaching as an alternative to the asylum, the drunk farm or the rented room over the pool hall. A lot of them don't know particularly what to do with a classroom full of smoldering young artists and budding egomaniacs. John Cheever hadn't had much teaching experience before he taught our class at Iowa—a couple of classes at Sing Sing, with the prisoners. He seemed forlorn and lost. But he was supportive and he had heart. He was John Cheever. John Cheever sitting there before you, and if John Cheever says your story is good then you feel great. You think, Hey, my story must be good if he likes it. Maybe I've got a future after all.
INTERVIEWER
What was Cheever like in class? Did he have any concrete pieces of advice to give?
BOYLE
He was diffident, I suppose, reluctant to be critical because to be critical would be impolite, though he was wicked outside of class. Certainly he had his favorites, and I was lucky to have been one of them. He didn't have any concrete advice to impart, but he read closely, and I remember his defending one of my early stories—"Drowning"—against an onslaught of classmate rancor. The story was offensive on many levels, like much of my work, and the class ran that around a bit (this in a time when the orthodoxy of the politically correct hadn't yet fully taken hold), and I think they had difficulty seeing the comic intent of the piece. Cheever saw it, and he was determined to point it out to them. On the other hand, I remember showing him some efforts from those days that weren't really very good at all, and he let me know that in a very subtle, even gentle, way.
INTERVIEWER
What are your teaching methods?
BOYLE
I copyedit my student's things. I read every line. That's one part of it. But, at a certain level, you need to help them find their way, their own voice, their own sort of story. And give them some encouragement, if it's warranted. I'm not the one to say, Look, hey, you don't have it . . . might as well put a sign around your neck and get out on the boulevard now. That's not for me to say. Sometimes they surprise you. I just might not encourage some as much as the people who, I think, really have it. It is amazing the amount of talent there is out there.
There was one guy I had during the punk era, a tough guy, bristling with all the outward marks and symbols of punkdom, and he desperately wanted to be in my advanced class, which I choose through manuscript submission. He didn't make it, and he broke down and cried in front of me. That was a moment. Next time round he made first alternate and somebody dropped out and he was in. By the end of the semester he was one of the best in the class; by the end of the next semester, he was the best. It was nothing I did. It was fierce desire, it was study, it was work, it was talent—and it was talent that grew into itself.
Take the writers out of the classes, put them in dark cells with a plug for their monitors, a slot at the top of the door for pizza, and a slot at the bottom for waste. Every time a finished story comes back out that top slot, you write them a check for a thousand dollars. In six months, you'll have Tolstoy.
INTERVIEWER
Do you really believe that?
BOYLE
I guess I do, in some crazed hyperbolic way. What I mean is that you learn to write through practice, through writing, over and over, again and again. All those legions of apprentice writers out there would, I'm sure, wish it were different—how much easier simply to express your innate genius in finished form without having to bother with all that odious work. And all that reading. And the endless rewrites.
INTERVIEWER
Do you enjoy teaching? Do you think it makes you a better writer?
BOYLE
I love teaching. Whether it helps my writing or not, I can't say. But it's good to talk about writing, and it's very gratifying to be able to assist beginning writers. You can't really teach them to write; you can't give them the gift. But you can be an example to them. You can help them to see that literature is not something that's on a page in a textbook in a classroom, but that there is someone living and breathing connected with it. You can help accelerate the little epiphanies that writers have. You can help them get there quicker. That's about it.
INTERVIEWER
Is there anything that marks your generation of writers as being particularly of that generation?
BOYLE
We're baby boomers, so we were spoiled by our parents, who were deprived by the Depression and World War II. They gave us everything and turned us into arrogant punks who never had to answer for anything. So that informs some of the work of the people of my generation. By the way, I was referred to recently, within the last couple of years, as a young writer. Now I am a younger writer. And I wonder . . . younger than who? Bernard Baruch? George Burns?
INTERVIEWER
Which nineteenth-century writers do you admire?
BOYLE
Charles Dickens, for one. A quintessential artist, one who wrote brilliantly and well and originally, and who was the consummately popular author. You have to envy him his famous readings. He was the Mick Jagger of his day, the movie, the stage show and all the rest, all rolled into one. That was a power we poor pathetic scribblers can only dream of in these antiliterary, techno-obsessed days.
INTERVIEWER
Mick Jagger?
BOYLE
Or fill in the blank.
INTERVIEWER
Do you think it would be possible for a writer today to have the sort of success Dickens had? To be the popular entertainment of the day?
BOYLE
The answer is self-evident: absolutely and categorically no. We live in a cluttered culture, a culture of information in which even our computers can't tell us what's worth knowing and what is merely cultural scrap. In such a society, we don't have the experience of contemplative space, of the time or mood to engage a book of poetry or even read a novel. Who can achieve the unconscious-conscious state of the reader when everything is stimulation, everything is movement and information? How can I sit down to open up an imaginative journey in words, when I might be missing something out there on the net or the tube or in the halls or clubs or restaurants?
I find it amusing that Hemingway would bitch so about the rigors of writing and the heroic struggle he endured for each book. What of writers today? We are unread, unloved, unknown. At least he could go to Cuba and ignore the whole business of book production, but we have to tramp like trained dogs through the wasteland of Midwestern malls on our book tours, begging the consumer—our fellow citizens!—to admire us, to buy us. But we are like Kafka's Hunger Artist, performing astonishing feats for a nonexistent audience, an audience far more interested in life and vitality than in our antiquated and self-indulgent arts. And all right, maybe God had already died during Hemingway's day, but at least the world was still alive. We have no God, no audience, and the scientists tell us with solemn glee that the whole spinning circus is headed for obliteration. Fire and ice, yes indeed.
INTERVIEWER
Why then do you keep writing?
BOYLE
Because writing is an obsessive-compulsive disorder.

Author photograph by Nancy Crampton.