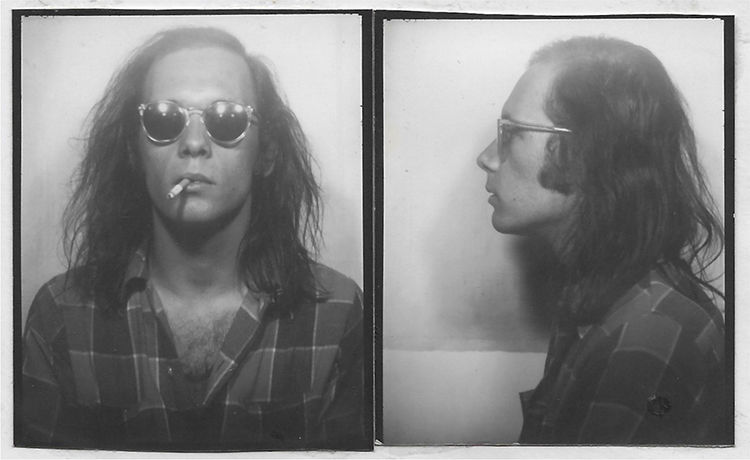 Taken in Hubert's Museum on Forty-Second Street, New York, 1976.
Luc Sante was born in Verviers, Belgium, in 1954, and emigrated with his parents to the United States as a child. The family settled in northern New Jersey, where his father, Lucien, found work in a Teflon factory and his mother, Denise, worked in a high school cafeteria. Sante was educated in Manhattan, attending Regis High School and then Columbia University, which he left without a degree. After stints as a critic—for Interview, Wigwag, New York, and Spy, among ­other ­places—he won a Whiting Award and published his first book, Low Life: Lures and Snares of Old New York (1991). This was followed by Evidence (1992), a volume of crime-scene photographs; The Factory of Facts (1998), a memoir; Kill All Your Darlings (2007), a collection of essays and occasional pieces; The Other Paris (2015), which serves as a sort of bookend to Low Life; and several other books, anthologies, and introductions.
The following interview was conducted over three sessions in January and February of this year, at Sante's house in Kingston, New York. The first two sessions took place in his home office, which is lined with eight miles of books. Then Sante flew to Paris, where he read from his new book at Shakespeare and Company. Upon his return, we met again in his kitchen, continuing our conversation over tea, seltzer, and electronic cigarettes.
Sante is casually handsome, with sensitive, old-world features and a slightly hangdog expression that might have to do with his basic dislike of the countryside. (He dreams of returning to Manhattan.) He's also modest and unassuming—something you wouldn't necessarily guess from his books, which are remarkably trenchant and self-assured. It's not hard to picture him at CBGB (Sante was a regular in the club's heyday) or as a clerk at the Strand (where he worked beside Lux Interior, among other luminaries). But it's just as easy to see him in Paris (another city Sante would happily live in) or somewhere in the Southern California desert, where he sometimes imagines himself living a parallel existence.
­—Alex Abramovich
INTERVIEWER
When did you arrive in the States?
SANTE
The first time was in 1959. The textile industry in my town, Verviers, which had existed since the Middle Ages and employed all my ancestors, collapsed, and my father was out of a job. A childhood friend who had emigrated earlier, claiming he had a great job at a pharmaceutical plant, offered to get my father a similarly great job there. As it turned out, while he'd been representing himself as having some important, semi-executive role, he was actually in charge of the lab animals. We flew over on Sabena and lived with them for a while, in a cramped apartment in a Victorian pile—the house in Psycho, basically. We arrived in February, and the landlord didn't want unemployed women and children because he didn't want to turn on the heat during the day. We had to find another apartment, and the only job my father could find was mowing lawns for fifty-four dollars a week. Meanwhile, another opportunity came up in Belgium, a job at a factory that manufactured scales. So that October we sailed back on a Belgian freighter. I remember going through New York City. It was Halloween, and the streets were filled with kids running around in costume. I'd never seen anything like it. I was just flabbergasted. That was my first view of New York City. But back in Belgium it turned out that my mother's parents, who had been living in our house, didn't get along with my father. It was a very hostile atmosphere. We had to leave. So we sailed back on the SS United States sometime in the spring or summer of 1960. In 1962, my mother and I went back because her mother had terminal breast cancer. She died while we were there. She was laid out in the living room—there were no funeral homes in Belgium then. My mother and I returned to the States, this time on the SS France. But the following year we returned to Belgium. This was in the winter. We always seemed to go in the winter. And now it was my mother's father who was dying. We stayed for four months. I went to school, et cetera. But for some reason or another, the decision was made to sell the house and stay in America. By now, it was the spring of 1963.
INTERVIEWER
Your father had been a factory worker in Belgium?
SANTE
Yes.
INTERVIEWER
And your grandfather?
SANTE
Also.
INTERVIEWER
And your grandfather was the first literate member of your family?
SANTE
Yes, my great-grandfather, who died in 1900, was illiterate. What that means, within the context of the Belgian nineteenth century, is that he was a Walloon speaker. Walloon did not have a codified writing system until after 1900. But my father and grandfather both read a lot. My father's tastes were all over the map. In the acknowledgments in the Paris book, I mention his devotion to a writer named G. Lenotre, who wrote the petites histoires of the French Revolution—something like fifty books, which my father owned and read again and again. My father was also fond of dropping allusions in conversation. He had a kind of self-constructed grandiloquence that he would trot out at times. When I was writing The Factory of Facts and all of a sudden had AltaVista, or whatever search engine was available in 1997, I was finally able to find out where all those phrases my father used came from—I couldn't ask him because by then he'd lapsed into dementia. Things like "Je veux, dit l'enfant grec, de la poudre et des balles." An awful lot of them turned out to be from Victor Hugo. But my discovery of French literature was of the French literature he never taught me about, that he probably wasn't ­interested in or didn't know about. With French culture, in general—the movies, the music—the stuff I like is the stuff my father either didn't know about or actively disliked.
INTERVIEWER
How did you discover French literature?
SANTE
I picked up a book called Le livre d'or de la poésie française, flipped through it, and stumbled upon Rimbaud. The first thing that struck me was the biographical note—because he was born, a hundred years before me, at one end of the Ardennes, and I was born at the other. I was fascinated by the fact that he alternated verse and prose in the same piece. And the prose itself was very compelling. That riff in A Season in Hell about liking idiotic paintings and reading outmoded literature and dreaming of unrecorded voyages of discovery and seeing carriages on the roads in the sky—that was virtually the template for my entire life! I could almost say that everything I've done has come from that poem. There were other people I noticed in the book—Blaise Cendrars, for example. Breton, too, although it took me a bit longer to work out what that was all about. That was the foundation stone of my interest in French literature—maybe literature, period.
INTERVIEWER
What were you reading in English at the time?
SANTE
Every kind of shit you can imagine. I was very well served by my local public library in New Jersey. A very small library, just one room, but they had a record collection as well, which was also small, but amazing—the country blues, Eric Dolphy, Edgard Varèse, Bob Wills and His Texas Playboys. Among their books was an anthology called Writers in Revolt edited by Terry Southern, Richard Seaver, and Alexander Trocchi, which had bits of Naked Lunch. I think Howl was in there. All kinds of scabrous stuff, except they'd artfully edited it so it could be in public libraries. I took that book out over and over and over again.
Also on the shelves was V. by Thomas Pynchon, which I was led to by my other great source of enlightenment as a youth, the rock press. There was a little head shop that opened in '67 in the town next to ours that sold black lights, posters, incense, and one magazine, Crawdaddy!, which was ­incredibly important to me. They published the great Richard Meltzer, Sandy Pearlman, Jon Landau, and the editor, Paul Williams. It was Paul Williams's recommendation of V. that led me to read it.
Robert Christgau wrote an essay called "Rock Lyrics are Poetry (Maybe)," which was very instructive because he knew the difference between poetry and ersatz. It ends with the suggestion that if you want to know what the poetry of the present day truly is, you should take a look at Ted Berrigan and Ron Padgett's Bean Spasms, which I promptly did. I fell headfirst into the New York School of poetry, furthering the impulse that had begun with my discovery of Rimbaud. That's when I became a poet.
INTERVIEWER
Were you a good student?
SANTE
Not really. I've never really been a good student. I've always, always hated school.
INTERVIEWER
But you got into Columbia.
SANTE
With a full ride. That puzzled me for many years. Then I realized it was because Columbia was in dire straits. I started in September '72. The last major riot on campus had happened the previous May, so the legacies were staying away. The old frats had closed down, and Columbia was taking a chance on ­people who might turn out unexpectedly. I had wanted to go there because it was in the dangerous city, because Ginsberg and Kerouac had gone there, and also ­because Kenneth Koch taught there. He let me into his poetry-writing course as a freshman, which I thought sealed my future. His was probably the only class I didn't attend stoned. I took it very seriously. I wrote poetry every day. The following year, I took his prosody class and discovered I was not a poet at all.
INTERVIEWER
How did that happen?
SANTE
I found myself completely uninterested in keeping a count, beat, measure. Rhythm was central to me—still is—but not regular rhythm, and my interest in long lines was expanding out to very long lines. Around 1969, I noticed a use of the term wide poem, which meant something often indistinguishable from prose. I often think of what I do as wide poems. By 1974, I was writing prose more and more, although maybe into the nineties I was still writing the occasional poem. My only appearance in The Paris Review is in the form of a very bad poem that appeared in 1990. But—I think this is still true of me today—I write prose with a poet's head. I'm not a historian. I'm not a novelist, although I occasionally write fiction. I don't know if it sounds like a dodge or a boast, but I think of much of what I do, most of my books, as some kind of poetry.
INTERVIEWER
What happened after Columbia?
SANTE
I got out with no fucking idea of what to do. Because of my working-class background I had no models. I was completely unprepared. What do you do when you get out of college? Doesn't somebody offer you a job? If I had come from a different family background I might have thought to, say, ­present my credentials to Mr. Shawn at The New Yorker. Back then, that kind of thing never would have occurred to me. Instead, I wound up working at the Strand Book Store.
INTERVIEWER
Where you started a journal, Stranded.
SANTE
Yes. We were trying to unionize. Stranded came out of arguments we had about that. It wasn't the first time I had tried to start a magazine. In 1976, I put Rongwrong together with Jim Jarmusch and George Winslow, my roommates at the time. I solicited stuff from Kathy Acker, Richard Foreman, Tom Verlaine, Christopher Knowles—an autistic poet who worked with Robert Wilson—along with all our friends. We were supposed to have it printed by a friend who worked in the printing office of the physics department at Columbia, but he lost his nerve and we had zero money, so the magazine never came out. But Stranded was put together by a loose band of people that included Frank Kogan and Robin Crutchfield. I designed all the covers. And there was no editing involved—everyone who wanted to contribute simply handed us two hundred copies of whatever they wanted to have in there. Most of the contributors were Strand employees, but I ­solicited some who weren't. (See Portfolio, pages 88–105.)
INTERVIEWER
You knew a lot of interesting people—a lot of writers, it seems.
SANTE
For years and years I hardly knew any. Writing was a very unhip art in the seventies, very uptown. My friends all became filmmakers, photographers, musicians, stuff like that. And the eighties were really hard for me because three of my friends, three pretty close friends, almost simultaneously became world figures. Jim Jarmusch, Jean-Michel Basquiat, and Nan Goldin. And I thought, I'm fucked, they did it, I didn't, bye, see you later.
INTERVIEWER
Did you have a chip on your shoulder at that point?
SANTE
I've always had a chip on my shoulder.
INTERVIEWER
Were you at the Strand for a while?
SANTE
From August '76 until May of '79. I was living on St. Marks Place with my girlfriend, who was . . . an unstable personality. One day, in the spring of '79, she decided she was going to move to San Francisco, where her sister was living. I went out there and tried to coax her into coming back to New York. No dice. I came within an inch of moving out there myself, which didn't happen, but I'd quit the Strand already. For about six months, I lived off of books I had squirreled away at the Strand, selling them to collectors. When that money ran out, I got a job working for a photographer who primarily took author photographs for dust jackets. I lasted at that for six months. Then a college friend got me a job working part-time in the mail room at The New York Review of Books.
INTERVIEWER
It was enough to live on back then?
SANTE
It was more than enough to live on. A year into it, Barbara Epstein hired me as her assistant, and there, again, I came up against the fact that I was wildly ignorant of the world and its ways. It was probably on the first day that she asked me to make a restaurant reservation. I didn't know what that was. I had never heard of making a reservation to go to a restaurant. And I could only type with one finger. But then I got to see all the greats sail through, all the now long dead.
INTERVIEWER
How did you discover the history you wrote about in Low Life?
SANTE
You know, there were a bunch of books that circulated among my friends—books like The Trumpet Shall Sound, a study of cargo cults in the South Pacific, and They Shall Take Up Serpents, about snake-handling cults. Also novels by Burroughs and J. G. Ballard. One of these books was The Gangs of New York, by Herbert Asbury. I guess it lodged in the back of my mind somewhere.
INTERVIEWER
How much of Asbury's world was still there when you got to the city?
SANTE
When I was a freshman at Columbia, I got into the habit of leaving Morningside Heights at around midnight, walking down to South Ferry and taking the ferry to Staten Island, walking around Staten Island for a while, and taking the ferry back. The timing was important because I'd want to get back in time for the Fulton Fish Market, at around five thirty or six in the morning. I was fascinated by the streets around there, didn't really know much of the history, but it seemed to resound in the names of the streets. South Street Seaport has managed to save a bunch of these buildings. Sloppy Louie's survived long enough that I took my parents to lunch there twice. Sweet's, around the corner, was the oldest seafood restaurant in New York. It succumbed a bit before Sloppy Louie's did. I bought at least one book that I used for Low Life, a first edition of Theodore Dreiser's The Color of a Great City, at Mendoza's, on Ann Street, which was a bookstore that Herman Melville had patronized. Then I read Joseph Mitchell—and I read Joe Mitchell because I found McSorley's Wonderful Saloon by chance, bought it from a street vendor back in the days of street vendors. It went through me like a lightning bolt. A lot of things disappeared in the course of the eighties, but there's one sequence of streets that runs along Lower Manhattan—something like Henry Street to Worth Street—which begins in the projects, cuts through Chinatown, and ends in Tribeca. That's the setting for Low Life, more than any other. That and the Bowery. Back then, you could tell that all the vacant lots on the Bowery were places where there had been theaters. There were still some bum bars, as well as bum hotels—there are still a couple of those in existence.
INTERVIEWER
Of course, there was CBGB.
SANTE
I first went to CB's sometime in the first months of 1975. I'd been a fan of Patti Smith's for a few years, had seen her a bunch of times, and knew that she was appearing at this place called CBGB. The precipitating event was that we had tickets to see Marvin Gaye at the Apollo, but Marvin called in sick, they gave us our money back, and we ended up on the Bowery. I became a regular at CBGB, but I didn't fully appreciate that it was a link in the New York chain. I only understood that when I was interviewed for a documentary about the place—this was in 2006, after Hilly closed it. The bar and fixtures had been removed, leaving this shell of the place—graffiti intact, posters intact—and uncovering its deeper past. There was a mural from the early seventies, from when it was a kind of hippie bum bar—it was a group portrait of the regulars, who were hippie bums. Back over where the jukebox had been there was a mural of a horse race that was clearly from the 1880s or 1890s. It was then that I realized the bar had been there, uninterruptedly, since sometime in the 1870s. So CBGB was the last Bowery bar, the last true Bowery bar.
INTERVIEWER
How did you come to write Low Life?
SANTE
I quit The New York Review on my birthday in 1984, age thirty, prepared to make a living as a freelance writer—which proved a little more difficult than I thought it was going to be because I've never been exactly prolific. But there was this wonderful guy—may he rest in peace—Jonathan Lieberson. A philosophy professor. His father was Goddard Lieberson of CBS Records. His mother was Vera Zorina, a ballerina who became a minor movie star. He was dashing and elegant. He was also a confidante of Diana Vreeland. Jonathan was approached by people who were starting the American branch of the British publisher Weidenfeld & Nicolson and asked to suggest potential authors for them. He named me. They called me in for a meeting and asked me what I'd like to write a book about. The last thing I had published in The New York Review was about crime fiction, so they thought I might want to write a book on the subject, but instead I blurted out, I want to write a history of the slums. The springboard for that was that I had been writing for a now forgotten business magazine called Manhattan, inc. I didn't know fuck-all about business, but they assigned me human-­interest stories. I ­interviewed a dog groomer. I interviewed people who ran an ­umbrella store. I wrote book reviews. At one point they asked me to write a piece about the then phenomenon of manhole covers exploding. It was fascinating, actually. It was one of the best assignments I'd had to that point. I found a Hart Crane poem with a mention of exploding manhole covers, among other things.
Because of this job, I had access to the New York Society Library, which is an amazing place—a private subscription-based library on the Upper East Side. It had open stacks, and they still had everything they had ever acquired, since the late eighteenth century. They had first editions of Melville on the open shelves. At that point, I had gotten it in my head that someone had made a map of subterranean New York. I'd even imagined that I had seen it. Of course, there is no such thing, but I did find myself in the lower reaches of the Society Library, in their New York section, looking at other amazing things—memoirs of people who'd served as firemen during the draft riots, sermons, ­reports on nineteenth-century corruption. My imagination went into overdrive. I didn't think, at that point, of writing about it. But when I was asked, What do you want to write a book about?—I knew the answer immediately.
INTERVIEWER
It came to you in real time, as you were being asked the question?
SANTE
Yes. One of my first thoughts was of Herbert Asbury's book. What a great book it is, I thought, but how frustrating that his stories all seem both so wild and so unsupported. There are no notes or references anywhere in the text. So I thought, Great, a perfect opportunity. I can chase all these stories down to their origins, and the real story might be even more interesting, as it often is. What I didn't know then is that the stories would all dead-end in the nineteenth-century yellow press. That's how Low Life came about.
INTERVIEWER
You told me once that you thought of it as a failed book.
SANTE
I'm not so sure about that now. I did for a long time. When I was writing Low Life, I thought, Okay, it's my first book. I'm going to get some money and maybe a little recognition from it, and then go on to do actual literature, while this is kind of potted history. My younger self would be deeply disappointed that no, in fact, I've kept on doing that kind of thing. I'll never be able to have any objectivity toward that book. Every once in a while I try rereading it and I realize that parts of it aren't bad . . . but it was painful for me. Part of it, I recognize, is a kind of shibboleth, like with Susan Sontag—novels were never her strong suit, but she thought she could only advance to capital-L literature by writing fiction.
INTERVIEWER
I do tend to think of you as a poet and novelist who got sidetracked but never stopped being a poet and a novelist.
SANTE
That's kind of you to say. I've written a fair amount of fiction. The chief way I get myself to write fiction is to do it as a sort of hoax, pretending that it's real, try to pass something off. The major problem is that I have very little sense of story. This affects me as a writer, as a reader, as a moviegoer. I never remember how plots go. I walk out of a movie and half an hour later I can't tell you how it ended.
But did I tell you that Father wanted to be a writer? And that he named me after the pseudonym he employed for the one and only thing he ever published?
INTERVIEWER
No, you didn't.
SANTE
It was before my parents were married, actually, in 1949. He published a little sketch in some newspaper and signed it Luc Sante.
INTERVIEWER
Do you have it?
SANTE
Yes, and it's not very good. But the first model I ever really knew about was one of his colleagues at the foundry. This man wanted to be writer, and so he just started writing, as people did then. The drill for the proletarian writer was to write a novel every month or two weeks, 120-page novels published under a variety of pseudonyms. That guy wrote enough that he wrote himself right out of the factory. He earned a living. That's how Simenon did it, too. I've never thought of fiction as being a hoity-toity pursuit, really.
INTERVIEWER
You've written quite a bit about film, photography, painting.
SANTE
I had never written about photography until I wrote Evidence. After that book came out, I unexpectedly found myself with a second career. I'm always primarily interested in the way photographs reveal the alien qualities—the pastness—of the past. Everybody always gets photographs wrong. It's not that photographs don't lie. It's that photographs tell the truth about the things they don't think are important, and those are the things that you may think are important. Painting can do that, too. Painting can have a documentary value that way. I've learned a lot from film, photography, and painting. They inform my work to this day. And music, obviously—music more than any of the others. Editing a sentence is a musical process. You have the massed horns at the beginning, the abrupt cutoff at the end—those kinds of things. I'll think of Ornette Coleman, or I'll think of Wire. It helps ­develop the architecture of the work. And I'm always conscious of the visual. I tend to root what I write in the visual, the experiential. If you read Manny Farber on his own painting, he always starts at the top left corner and works to the lower right corner. That's the way I see my writing. I can't write out of sequence. I can write something and then chop it up. That happens occasionally. But it has to be written in sequence. All kinds of woozy analogies occur to me in the process of writing—they're very hard to reproduce or even think about outside the process—but at various times I'm addressing a canvas, or chopping up a reel of film or making music. When writing, and writing well, some kind of synesthesia is going on.
INTERVIEWER
What do you do when the work's going badly? Do you still feel like a writer when you can't write?
SANTE
Well, you're only writing when you're writing. But I'm still a writer when I'm not writing, because I'm gleaning all the time. I only write for publication, you know. I don't keep a journal, I don't keep a diary. I keep a kind of commonplace book, but that's for keeping a record of my gleanings. Because the whole point of writing is to get something across to other people. If you were a theatrical performer, would you continue to perform even though you had no audience? Writers should never forget that writing is a branch of show business.
INTERVIEWER
Can you start on a piece before you have the first sentence?
SANTE
No, no. That's not possible. It's like that famous Joan Didion line, which I keep hung front and center in my head—By the time you've written the first sentence, you've used up fifty percent of your options. The second sentence pretty much nails down everything else.
INTERVIEWER
Is it preferable for you to have several projects going on at any given time?
SANTE
It's necessary. I don't do a really good job of managing them—one usually thrives at the expense of the others. But it's absolutely necessary to have ­other things floating around in my mind. One thing I always tell my students is that if you're preparing for a big project, read stuff that has nothing to do with your project. If you're writing about the Peloponnesian War and you're reading about animal husbandry, the latter will affect the former in positive ways. You find yourself able to make mental analogies you never expected to make.
INTERVIEWER
What do you read to recharge your own batteries?
SANTE
My bible is the wonderful American Thesaurus of Slang by Berrey and Van den Bark—1942, big fat book. I'll just plunge into that. It's a treasure house and it contains a whole era, but it's not so much about the era. It opens the doors for language. I sometimes use A. J. Liebling this way, too, ­because in addition to having wonderful verbal expansiveness, he also has this ­underlying swing—there's a real kind of jazzy, metronomic thing. I used to use Finnegans Wake, but I haven't done that in a long time. I used to use Raymond Chandler this way, too, though I can't read him anymore for some reason. Even if what I'm writing about has nothing to do with slang or nothing to do with the American language—even if I'm writing something fairly formal that has to do with a foreign language—even so, having doors opened that way helps enormously.
The real formal problem I had writing The Other Paris is that I had no ­vocabulary to fall back on. With Low Life, I had all this American nineteenth-­century verbiage. It was fantastic, a gift from the subject. The most difficult things to write about are abstract. I deal in the concrete. I need shiny things. With the Paris book, I did have a huge rush of vocabulary—room upon room upon room of language. But it was all in French, so I couldn't really convey it. That was a real challenge. Two of my favorite ­writers used specialized vocabulary as a way to direct their prose. One of them is Blaise Cendrars—you can read about this in his Paris Review interview, where he talks about using the language of customs administration. He's using that vocabulary to write about things that are not necessarily about customs. And then there's Félix Fénéon, whose Novels in Three Lines I translated. As an art critic, he would frequently use specialized vocabulary from geology, paleontology, disciplines like that, and wrench it out of its context to talk about contemporary painting. That's a fascinating thing—the armory of language and what you can do with it. And that, in turn, leads to how much meaning is generated by language—as in Flaubert's famous letter to George Sand, "Why should the greatest compression of thought always ­result in a line of poetry?"
INTERVIEWER
Do you find that because of your background with French, you're pulled less toward the Anglo-Saxon part of our vocabulary than you might otherwise be?
SANTE
Actually, it's the opposite. You know, I have French, and I studied Latin in school, but what I like best in the American language is precisely the Anglo-Saxon. And my favorite aspect of French is the argot, which is the most guttural aspect of French.
INTERVIEWER
And would you say there's a sweet spot in the historical timeline for American English?
SANTE
Well, yeah, probably. Between Mark Twain and World War II, roughly.
INTERVIEWER
Why?
SANTE
The rise of newspapers had a lot to do with it. Radio had something to do with it, too. Then it became almost a conscious project for screen­writers like Ben Hecht and Charles MacArthur. Those guys did more for the American language than most writers have ever done—again, with the ­exception of Mark Twain. Then by virtue of mass media, the language became neutralized. It had to be comprehensible to vast numbers of people, so you couldn't have localisms. Everything was smoothed out to make it comestible. We speak much more slowly than people did in the 1930s, and there is a difference between the way a lot of people speak among themselves—­especially ­people who are not tremendously literate—and the way they speak to a microphone—imitating received language, received vocabulary and structure. So, for example, you get cop talk—you know, vehicle, perpetrator. But an ­article in the New York Times some years back noted that as language ­becomes more homogenous and general, local slang becomes ever more ­parochial. There was some study of, like, the slum areas of Milwaukee maybe, in which it was discovered that words could radically change meaning ­between blocks. That's a fascinating thing.
INTERVIEWER
How does your occasional writing fit into the bigger projects?
SANTE
I'm afraid of big things, the idea that they will go on forever and I won't be able to escape. So when there's a large project involved, I try to break it down into smaller units somehow or other, so that it becomes more like writing occasional prose. A really important thing happened to me, in terms of technique, when the tenth-anniversary edition of Low Life was coming out. Jonathan Galassi asked me to write a new afterword. I wrote this shapeless mess, which ended up in the book. And Barbara Epstein said that she liked it but that for The New York Review I'd have to cut it by, like, two-thirds. It resulted in one of my best pieces of writing, purely as a consequence of cutting. For me, it was like the discovery of fire. So now, whether I'm writing a book or just the liner notes for a DVD, it's going to be subject to the same kind of reduction, in the culinary sense.
INTERVIEWER
Has your writing changed since you've moved to the country?
SANTE
I was afraid that moving up to the country would kill my writing. I thought everything depended on being in the city, on noise. For the first seven years, I lived in an old farmhouse on a ten-acre plot. I could only see the neighbors from certain angles of my property. It was dead silent, ­especially in the winter, and I hated every minute of it. Because for me, some of my greatest verbal rushes would come from just walking around and not really eavesdropping on people but catching their clouds of words. And also stepping into the subway, the great roar of the train pulling into the ­station—that seemed to generate language. I didn't lose it when I moved to the country—circumstances forced me here—but it wasn't easy. Moving up here was traumatic for me for so many reasons and in so many ways. The fact that I didn't get much writing done for the first five years or something like that was dependent on a host of factors.
One thing I discovered is that writing cannot simply come from words. I need some subject, some point of departure—some kind of contradiction, really.
INTERVIEWER
Some kind of contradiction?
SANTE
It's a principle that I stumbled upon when I was a movie critic, back in the late eighties. I was working for Interview primarily, which was a monthly, and I'd see maybe thirty movies in a month, and out of those I'd have to pick one or two. I quickly realized that a movie I really liked was not ­going to make for a very good subject. Neither would a movie I really hated. The ideal was to find a movie that was a puzzle, something I had to work out on the page. This is true not just for criticism. All writing is an activity that ­occurs on the page. It cannot be merely a transcription of something thought about in advance. Because it's already dead at that point. If it's been thought through, it's a corpse. Ideas have to be wrestled with then and there.
INTERVIEWER
Has the word processor changed things for you?
SANTE
Well, to do the research for Paris, I wrote all the research notes in longhand in spiral notebooks. Then I retyped them and printed them out on index cards, which was cumbersome, but I think it's probably the method I'd use again. For one thing, I read in a chair—it's not convenient to have the ­machine there with me. I really thought that I'd never be able to adjust to typing, let alone a computer. But somehow it changed things a lot, because I never keep track of changes—once it's written, it's written. I don't do drafts, I just niggle and noodle forever, and the word processor is ideal for endless niggling and noodling. But the final version of any given document is the only version of any given document.
INTERVIEWER
Do you feel like you're ever quite done with a chapter or book? Yeats says somewhere that great poems end with a click, like that of a box snapping shut.
SANTE
It depends. Sometimes I do feel that click. Sometimes I'm unsatisfied. This is the trick, of course, the hard thing, and there's no way to teach this ­because there's no way to teach it to yourself—I mean the difference between self-doubt that comes from the fact that what you've just written is fucked up in one way or another and self-doubt that simply just comes out of more generalized self-doubt. Learning to distinguish between the two kinds of doubt is difficult, and I'm not even particularly good at it now even though I've been confronting this for many years.
INTERVIEWER
Does writing get easier as you get older? Was there a point where you felt like you really knew what you were doing?
SANTE
I'm not sure that point has ever come.
INTERVIEWER
Can I twist the question a bit?
SANTE
Sure.
INTERVIEWER
In some ways, I think I was a better writer in my twenties, even though I was actually much, much worse, because I didn't know anything then and didn't know that I didn't know. In that sense, writing was easier. I had a sort of ­arrogance of youth, which I lost in my thirties and have never quite regained.
SANTE
I never had that. It's never been easy, not for a minute. When I started writing professionally, which started in my late twenties and which I did for ten years before Low Life came out, I did all kinds of stupid shit. I did not say no to jobs. I hated doing personality profiles and did very few of those. But I tried my hand at all kinds of stuff, and it's not that it was easier for me when I was in my twenties, it was just more necessary. Another thing—and this is critical, actually—is that I have zero self-confidence. None. But I have an absolute ironclad confidence in my own opinions. I don't know where that comes from. It's something I realized when I started writing for Barbara. But I still have a hard time having confidence in my imagination, et cetera. Because of this, critical writing is almost too easy, while other kinds of writing can be harder.
But in regard to your original question—occasionally you do get that thing that pours out of you. How that happens, I don't know. It's never what you expect. You think something's going to be easy and it's incredibly hard. Sometimes when you think something's going to be hard, it's easier than you figure. I guess around the time of The Factory of Facts I made my peace with the fact that I was writing nonfiction. The trouble is that I'm still a formalist in my heart. And when you write nonfiction, everybody comments on the subject, the issue. You're always perceived as arguing a case. To some extent, The Other Paris and Low Life do have cases to make. But in both books, the case is only one aspect. Without sounding utterly pretentious, I do think of almost everything I write as a poem—certainly all three of my big books. The chapters are strophes. It's not an account. It's not a history. I'm not a historian—I've never pretended to be one—and I'm not giving a definitive account of anything. It's a very, very subjective approach to the past, to a certain time and place. It's carved in a particular way. It favors certain narratives over certain others. It's intended, above all else, to be an experience.
INTERVIEWER
You say that by the time you began The Factory of Facts, you'd resigned yourself to writing nonfiction. But, of course, The Factory of Facts begins as fiction, with a series of make-believe versions of your early childhood.
SANTE
The Factory of Facts is full of fiction, actually. But it's the black sheep among my books. The problem with that book is that it's way overweight. I'd love to be able to take a scalpel to it. But I'm not sure that would solve its problems, because the bigger problem is one of tone. The big mistake I made there was that, in setting out to write about my youth, I reread Nabokov's Speak, Memory. I thought, This is a useful model. His circumstances were obviously very, very different. Nevertheless, there's that idea of the lost language, the lost country. I'm not sure how conscious it was, but I ended up imitating Nabokov and, worse, trying to imitate his tone. I couldn't do it convincingly.
INTERVIEWER
Do you have an ideal reader?
SANTE
Probably a younger version of me. It's not exactly the child within. More like the teenager within. I'm always trying not to betray that younger self.
INTERVIEWER
Do you feel a burden of responsibility toward the individuals you write about? Is it different in fiction and nonfiction?
SANTE
I do have this immense feeling toward the past. That's the country I come from, you know. And I have a weirdly tender feeling about the dead. I'm not sure where that comes from exactly. The only time I felt real responsibility was when I was writing Evidence, because there I was going to be responsible for publishing photographs of long-dead individuals in their moments of deepest vulnerability. Not only murdered, lying on the floor, but with their clothes in disarray. And in particular, there's a black man in there whose penis is exposed—something that would never have been allowed to be photographed if he had been white. I felt overwhelming responsibility for these people. I felt like maybe I shouldn't be doing it at all. Certainly some people told me I shouldn't be doing it. But I couldn't not. So it was very morally ambiguous, that book, for me. I don't feel quite that same burden of responsibility toward any other person depicted in my works, fiction or not, although obviously those who have earned respect should be given respect, regardless of their human faults.
INTERVIEWER
One thing that unifies your longer books is the use of catalogues—
SANTE
Cataloguing is my middle name.
INTERVIEWER
What is it that catalogues do for you?
SANTE
They allow you to convey a lot of information in very a compressed fashion. You know, the classic Nabokovian example—"picnic, lightning." The challenge is in ranking things, in ordering the particulars, both for sense and for sound. For sense, because the human mind will see a progression in any list. And then there's the music of it. My earliest exposure to music was to church music, specifically the litanies, which were chanted in Latin. Catalogues of saints. Saint so-and-so, pray for us. Saint so-and-so, pray for us. Could go on for hours. I remember attending a celebration of the rogations when I was a child, which was the blessing of the fields, where the priest, under a canopy borne by altar boys, holding the monstrance containing the host, would lead the chant—Sanctus Joànnes, ora pro nobis—and it would be ­repeated by everybody else. The metronomic, hypnotic rhythm of this—aside from maybe a nursery rhyme or two—was the first time I was exposed to music at all. We didn't have a record player and never listened to music on the radio when I was a kid. It just marked me forever, both musically and as pertains to writing.
INTERVIEWER
Earlier, you mentioned synesthesia. I wonder if a sort of historical synesthesia comes into play as you work—a sense that the historical periods you're writing about are, somehow, happening now. Or, at least, bleeding into the present.
SANTE
I've always wondered how I would've turned out if we'd stayed in Belgium. It was definitely the case that when we moved to the United States, the gap ­between Europe and the U.S. at that time was vast. Belgium was still just postwar, and while there was no longer rationing, things were meager. Nobody had a car. Nobody had a television or a telephone. We were still living in the thirties, and in some ways in the nineteenth century. In America, meanwhile, it was the dawn of the age of Telstar. Furthermore, when my parents and I would drive around, my father, especially, would find American use of the word historic hilarious. Here I am, for example, in Historic Kingston. And it's true that it was the capital of New York State—for a month, or whatever. But we came from a place where there were medieval castles up the road, crumbling away, but nevertheless dating from the tenth century. So that's one thing. Another thing is that, when I was ten years old or thereabouts, I first noticed the cyclical nature of my interests. I would spend half the year in ancient Rome and half the year in the Civil War. It was the Civil War centennial then, so the Civil War was all around. And the Roman Empire came from the sword-and-sandals movies of the era. That was the first time that I completely immersed myself in historical periods, and, well, it's like Rimbaud's thing about willed hallucination—I would see them.
INTERVIEWER
Can you get to that place through research alone?
SANTE
Not alone. You have to use your imagination a lot. But you're going to want to have as much data as possible as fuel for your time machine. Of course, it's understood that your reconstruction will not be an exact historical copy, because the fact is that as times change the past changes as well. Just look, for example, at the music of the 1960s as I knew it in the 1960s and how I know it now. It's two different critters. Back then, I didn't know about Serge Gainsbourg, I didn't know about Os Mutantes, I didn't know about Scott Walker. Things suddenly emerge from the past that had been there all along but overlooked or far away. We have this certainty of what 1964 was like, for now. But the certainty about 1964 will be different in another ten years, and more different still in fifty.
INTERVIEWER
You're a restless writer and picker of subjects, but once you find one, you seem to turn into a mole. Are these two things you find you have to reconcile, or do they complement each other in some way?
SANTE
I'm fascinated by the intersection of specific time and specific place, and any such conjunction is bottomless. I can enter into any of those and just remain. This goes back to my teenage years. I would think, Jeez, 1972 feels so different from 1971. I didn't mean necessarily in terms of my own life, and I didn't mean necessarily in terms of the news. I meant the feeling on the street, the feeling emanated by people, songs, the contents of the songs, what people were wearing. Trying to reproduce that elusive factor—it's something I've tried to write about many, many times, and it's impossible. I can only do it, kind of, by indirection. But my spelunking in that direction has nourished a lot of my work.
INTERVIEWER
How much time do you need to write, to get down to something?
SANTE
The three major books I've done, which are Low Life, Factory, and Paris, all took about nine months to actually write. This is leaving aside research, neurosis—trying to talk myself into the work—and so forth. With shorter pieces, it varies wildly. There are short pieces I've written in one sitting, and pieces the same length that took me a month. Mostly what I need is a gun to my head.
INTERVIEWER
And from day to day?
SANTE
As I've gotten older, my habits have changed. I used to write late at night. I would wake up in the morning, and I'd kind of fidget and get things set up and clear my throat, and by the time everything was just right, it would be after dinner, and I'd get started around ten or eleven and work all night. Somewhere Walter Benjamin says that you can't feel confident about any piece of work that you haven't sat all night over. It's sort of true. I do still find myself pulling all-nighters. But I've discovered that the best time for me these days is to start soon after waking. Try not to look at my e-mail. Try to get to it when my brain is still soft. You know, sleep entangled—because it's more raw, and because it's less self-conscious. Writing needs a certain kind of self-consciousness, at some point, but it will never do in launching the initial salvo.
INTERVIEWER
When you were younger, did you ever write stoned?
SANTE
I still do. I've long used marijuana as an editorial tool, and ­recommended it to others. It really is like putting on another pair of eyes. It allows you, above all, to see the entire forest, not just a bunch of trees—or vice versa, sometimes. I've usually used it to edit, not write. But I did write large sections of The Other Paris stoned—I suppose because I happened to possess a particularly sharp strain of sativa. It's probably the first time I've ever done it in a premeditated fashion over a period of time, used pot to kind of help me out of a certain kind of freeze at certain points in the writing. Of course, cannabis can also make you lose the thread or dawdle over word choices.
INTERVIEWER
In The Other Paris, you write a lot about density, about the way people from different walks of life, different social classes lived right on top of each other in nineteenth-century Paris. And about how much creativity that density ­engendered. I don't know about Paris today, but it seems that, these days, in the States, young, creative people are moving to second cities—they're scattering—and we're losing the density that's necessary to create critical mass, or whatever whirlpool it is that you, Nan Goldin, Jarmusch, and Basquiat came out of.
SANTE
There are different kinds of density, of course, and one of the paradoxes is that in my youth in New York City, it seemed to contain about a tenth the number of people it contains now. Nobody ever mentions the population explosion as the other factor in the way cities have changed, besides global capitalism. Anyway, I was semi-aware of that whirlpool, but only semi-aware. Mostly I regretted it wasn't the sixties, or Paris in the twenties, or whatever. It didn't occur to me to look at the conditions of my life sub specie aeternitatis. I knew all these people, many were brilliant, and some of the people who were brilliant died. Some of them lost it. Some of them got married and moved to New Jersey. Some became famous. Until the mid­eighties, I was pretty unaware that what was going on all around me was specific and special, but I was fed by its vibration. But then again, my feeling about the city predated any feeling about the scene, back when I was going to high school and reading underground newspapers, trying to hang out on St. Marks Place, trying to get whatever was promised by the so-called underground. Although I was a very shy fifteen-year-old, I was aware there was something going on. And, of course, I was opinionated, so some of it I thought was bullshit and some of it I thought was interesting. I thought the interesting stuff was really in the minority. I remember when I came upon Kathy Acker's first novel, maybe at the Gotham Book Mart, 1974 or 1975—The Childlike Life of the Black Tarantula. It was like, Holy shit, wow, somebody's doing something new and electric with prose—which hadn't happened, it seemed to me, in a long time. "A long time"—I'm still thinking in teenage time here, when a long time might be three years.
Anyway, I consumed everything I could get my hands on—the British music papers, poetry magazines, records and movies, movies uptown and movies downtown. In those days, I even went to the theater a lot, different kinds of off-off Broadway theater. I was sucking up as much as I could, hoping to be influenced by something. I was shopping, in a sense, but what happened is that things lodged in my subconscious and came out sideways years later. So yeah, that specific density held for me until about 1983. New York City kind of ended for me at the same time that my youth did. I talk to people who say that no, the eighties were great, that I was just looking in the wrong places. Well, that's because I was no longer young. I could no longer receive the invisible telegraph of youth. That effect where somehow you know that this thing is happening over here and that thing over there, and you know this band is going to be good even though neither you nor your friends has ever heard them—and you're not quite sure how you know it. At some point you lose that. It does involve being in a crowd. It involves knowing people who know people who know people who know people. And I guess that can really only happen in the city. What I'm hoping will happen is that more affordable cities—like Wilmington, Delaware, and Fargo, North Dakota—will soon have that kind of density. That is, if they're not already as populated as Manhattan was in 1976. And that, with the internets and that kind of stuff, other kinds of density might develop. If there are places that the youth can move to on the fly, then scenes will spring up in decentralized areas and not just in the traditional capitals.
INTERVIEWER
Early on in The Factory of Facts, you write, "Emigration, like a natural ­upheaval, sheared my foundation when the ground was soft, laying open ­expanses of strata. Pieces of matter and machinery protruded that would otherwise have been dissolved or been driven underground. Time has blunted their contours, so that identification is rarely certain, but enough remains visible to allow for guesses, at least to suggest the whereabouts of the template that cast them." As an immigrant, I relate to this completely. But this sense of being neither here nor there—if you accept that, in order not to lose one's mind, one needs to have some sort of home, where does one find that home?
SANTE
That's a pertinent question. I was young enough when we came over that my home was where my parents were, you know? It did have this floating, dislocated quality about it since it wasn't just one trip across the Atlantic, but seven, as my parents tried to adjust, failed, tried again. And home somehow existed in both places, but with large differences in tone. And then when I was a teenager, home existed nowhere. When I went off to college, home became New York City, and then when I moved downtown, home was the Lower East Side. From 1978 to 1983, it was probably the most home and community I have ever experienced. Not that it made me happy. I was miserable. But I had a home.
For most people I know, their childhood home remains their home ­unless they had a really abusive childhood. For me, all of my childhood homes stopped being home when I reached puberty. I can go to Belgium and be amazed by the psychic resonances. When I first went back as an adult, in 1989, fifteen years since my last visit, I got out of the train station in Verviers and directed my steps unhesitatingly to my grandparents' house, which wasn't in any way an obvious journey. So it's deep within me. But my grandparents had moved away in 1959. I have no more family there. And New Jersey probably helped form me in a lot of ways, but I feel no connection to it at all anymore. Where is my home now? I guess my home is this house. But do I have a home in any larger sense? There I'd have to answer in the words of Captain Beefheart—"My head is my only house unless it rains."