Interviewed by Alain Elkann
Issue 210, Fall 2014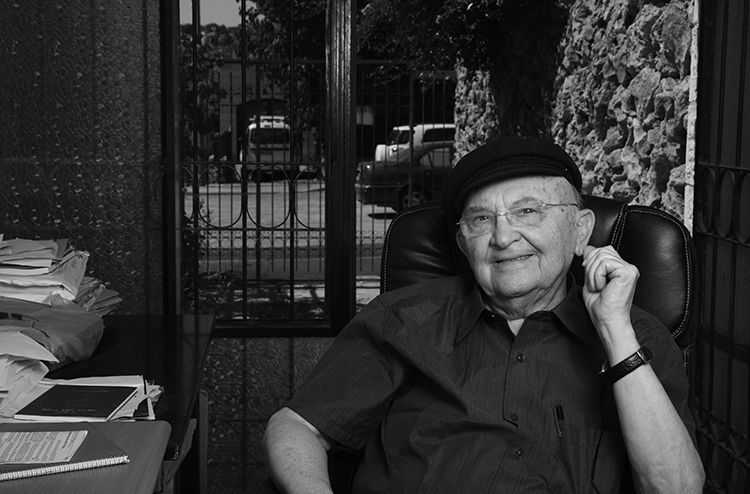 In 2010.
Aharon Appelfeld says that in order to be a serious writer you need to have a routine. For years his routine has been to write with a Biro on sheets of ordinary white paper in the café at Ticho House, in Jerusalem, which was once the house of a wealthy doctor and where this interview took place.
Appelfeld's manner, his gestures, and his soft voice recall the vanished provincial Romania of his childhood, where the bourgeoisie retained traces of cosmopolitan Austro-Hungarian culture. The son of a wealthy landowner, he spent his early years speaking German with his parents, Yiddish with his grandparents, Ukrainian with the maid, and Romanian at school.
In 1941, when Appelfeld was nine years old, the Romanian army invaded his home village of Jadova, near Czernowitz. His mother and grandmother were shot. Appelfeld and his father escaped but were soon rounded up and marched, over two months, to the Transnistria concentration camps, where they were separated. Once again Appelfeld escaped. He spent the next two years hiding in the forest, doing odd jobs for a group of prostitutes and thieves. When the Soviet army arrived, in 1944, he joined them as a kitchen boy and eventually made his way, via Italy and Yugoslavia, to Israel. In 1960, he discovered that his father had also survived and come to Israel, and the two were reunited.
The story of Appelfeld's survival is told in his memoir, The Story of a Life (1999). The war years have also provided material for the majority of his novels, including The Age of Wonders(1978), Tzili (1983), and the book for which he is best known abroad, Badenheim 1939 (1975).
—Alain Elkann
INTERVIEWER
So you come here to work at Ticho House twice a week?
APPELFELD
Yes. I come here somewhere around ten or eleven. I stay here for two or three hours and then I go home. It's a routine. Generally, when we say routine, it sounds bad, but routine is important.
INTERVIEWER
You write longhand. How many pages per day?
APPELFELD
One page, sometimes half a page, sometimes one and a half pages. I stop when I am tired—when I do not see more, when I do not hear more.
INTERVIEWER
Then you go home and read what you've done?
APPELFELD
Yes, in the late afternoon, after I have had my lunch, I spend another two hours on the same pages, then I leave it. I used to type them. I liked to type them very much. Suddenly you see there is something you have done. It was a joy. But now a woman comes to my house and I dictate. My old typewriter doesn't work anymore.
INTERVIEWER
You don't use the computer?
APPELFELD
No, I like the paper. Writing, like every art, is a sensual art. You have to touch it, you have to feel it, to correct, again to correct, always to correct.
INTERVIEWER
You work every day?
APPELFELD
Every day, yes, except Saturday.
INTERVIEWER
Do you go to synagogue?
APPELFELD
Not often, no. When the children were small I used to go, because they liked the synagogue. I like to sit at home on Rosh Hashanah and Yom Kippur and read the prayer book and the mahzor of Yom Kippur.
INTERVIEWER
You are religious?
APPELFELD
Not religious—I am not a member of a community or a synagogue. Really, my devotion to writing is my religion. There are other aspects of my religion, but mainly it is to be with myself, for many hours. My parents were assimilated, nonpracticing Jews. My father was very antireligious when he was young. It was a kind of revolt against his father. His father was very religious, very tough and religious.
Want to keep reading?
Subscribe and save nearly 40%.
Subscribe Now
Already a subscriber? Sign in below.