Interviewed by Matthew Specktor
Issue 207, Winter 2013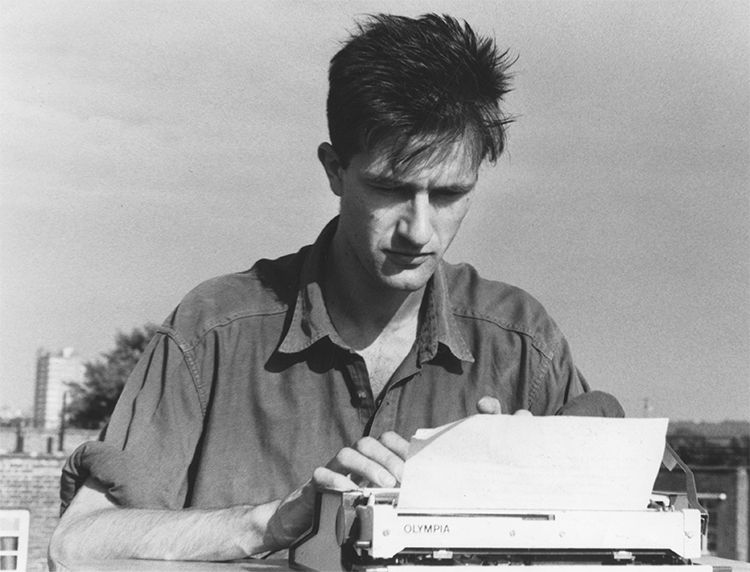 On the roof of Crownstone Court, Brixton, 1988.
Born in Cheltenham in 1958, educated at Oxford, Geoff Dyer considers his upbringing "archetypal, in a way," and himself "a beneficiary of opportunities that were put in place by Labour governments after the Second World War." His father was a sheet-metal worker, his mother worked in a school canteen, and in a relentlessly casual manner that will be familiar to the readers of his books, Dyer remarked to me of his education that "in this entirely passive way, all I did was keep passing exams from eleven onwards." Such a relaxed account, of course, does nothing to explain the singular restlessness of Dyer's writing, its ranginess of subject, its comic energy, or its sheer volume.
Dyer's first book, Ways of Telling, a study of the English writer John Berger, was published in 1986. It was followed by a novel, The Colour of Memory (1989), and then But Beautiful (1991), a series of—short stories? essays?—about jazz that effectively began the sort of genre demolition for which Dyer is now well-known. Since then he has published three books that are classified as novels—The Search (1993), Paris Trance (1998), and Jeff in Venice, Death in Varanasi (2009)—and eight that are not. These latter include The Missing of the Somme (1994), a meditation on World War I; Out of Sheer Rage: In the Shadow of D. H. Lawrence (1997), a work of literary criticism; Yoga for People Who Can't Be Bothered to Do It (2003), a collection of travel essays; The Ongoing Moment (2005), a book on photography; and Zona: A Book About a Film About a Journey to a Room (2012), a work of film criticism. But none of these taxonomies is quite satisfactory. Dyer's novels will often pause the action to ponder decidedly non- fictional questions; his nonfiction will digress cheerfully and at will, from its declared topic, often veering sharply into the personal.
Our first meeting took place last winter in Iowa City, where Dyer was a visiting professor in the University of Iowa's nonfiction-writing program. We spent mornings talking in a spare, detached office behind the house that Dyer had rented, breaking frequently for doughnuts, coffee, and lunch. In the evenings we met for dinners, a screening of Leos Carax's film Holy Motors, and beers in Iowa City's two great bars, Foxhead and George's. Dyer's wife, the gallerist Rebecca Wilson, was visiting from London, and she joined us for many of these outings. Subsequent meetings took place in Los Angeles and London.
In person, Dyer is gracious, funny, and tall. A warm and forthcoming subject, he occasionally looped back to a previous topic, making sure we had covered it thoroughly enough, a habit that—again—will come as no surprise to his readers.
—Matthew Specktor
INTERVIEWER
The first thing I'd like—
DYER
Excuse me for interrupting, but—at the risk of sounding like some war criminal in the Hague who refuses to acknowledge the legitimacy of the court in which he's being tried—I have to object to the parameters of this interview.
INTERVIEWER
On what grounds?
DYER
It's titled "The Art of Nonfiction." Now I could whine, "What about the fiction?" but that would be to accept a distinction that's not sustainable. Fiction, nonfiction—the two are bleeding into each other all the time.
INTERVIEWER
You don't distinguish between them at all?
DYER
I don't think a reasonable assessment of what I've been up to in the last however many years is possible if one accepts segregation. That refusal is part of what the books are about. I think of all of them as, um, what's the word? Ah, yes, books. I haven't subjected it to scientific analysis, but if you look at the proportion of made-up stuff in the so-called novels versus the proportion of made-up stuff in the others, I would expect they're pretty much the same. For example, I was doing a reading the other day where I read a bit from Out of Sheer Rage—it all sounds a bit meta!—about giving a lecture in Denmark.
INTERVIEWER
The part where you claim to show up sick and unprepared?
DYER
Yes. That part is completely invented. My motto is always, "If you're not overprepared you're underprepared." I'm a grammar-school boy, I do my homework. Likewise, in the fiction, so much of the stuff is drawn from real life. But that's not the point really. The point is that the techniques are pretty much the same in fiction and nonfiction. It's not like Susan Sontag, where there's an easily recognizable division between the two. Sontag was always saying, Why don't you adequately acknowledge the greatness of my fiction? Well, there are several possible responses to that, but the important thing is that she accepted a separation that I reject. It's just a bunch of books. To go back to your earlier question, I think the distinction between fiction and nonfiction is less about "Did it really happen or was it made up?" than it is about form. And, more than form, it's about the expectations that are brought to certain forms. According to how a book is presented, packaged, or identified, readers have certain expectations. Following from that they expect books within broadly identified categories to behave in certain ways. So people can find it quite disconcerting when a book isn't doing what they think it's meant to be doing, even if the book is completely fine on its own terms and has no desire to conform to some external set of expectations. My books are often disappointing in that regard. Maybe in other ways, too, but I am mercifully and necessarily oblivious on that score.
INTERVIEWER
Yet certain of your books are more explicitly classified as novels. Paris Trance and Jeff in Venice, Death in Varanasi—they frame themselves as such in a way that, say. Zona and But Beautiful do not. Do you find one form more congenial than the other?
DYER
Nope, neither as reader nor writer. Though fiction does seem to bring one up against one's absolute limits as a writer in quite interesting ways. My range as a writer, overall, is unusually broad. As a fiction writer it's spectacularly limited. Group of friends, boy meets girl—that's about it. But it's of high quality, I maintain, rather Sontagishly.
INTERVIEWER
What about creative nonfiction?
DYER
David Hare said that the two most depressing words in the English language are literary fiction. I couldn't agree more. But we might soon have to add that the two most depressing words in the American language are creative nonfiction. If creative nonfiction means stuff like that Sheila Heti book, then give me straight-down-the-line, non-creative history books any day. I'm not interested in creative nonfiction, and I'm not interested in literary fiction. I'm interested in great books—which come in different shapes and forms now, many more than were previously admitted. My objection is to people in the novelists' camp with their unquestioned assumption that the novel, irrespective of the quality of a given instance of it, is somehow superior.
INTERVIEWER
Do you imagine those feelings about the novel to be sort of a residual formalist snobbery, the way there are people who like jazz but then there are jazz snobs?
DYER
On the contrary. As a jazz snob myself, I think it's just a habit of mental laziness. A parochialism.
INTERVIEWER
You mention that you find writing fiction relatively difficult. You're not suggesting your own books aren't hard work, are you? Their style seems to me at times deceptively casual.
DYER
Ah, the reason for that is that quite often, after I've revised the prose—tightening it up—it comes out seeming too uptight, like it's got a poker up its arse. So then, having done the tighten up, I do the loosen up, massaging the prose so that it's lighter, more relaxed. It's the Mingus ideal—tight and loose at the same time. More generally, writing is difficult—and gets more and more so. Beyond the effort and hours one puts in at the desk, I'm also aware that when I've written travel pieces. I'm out there wherever it happens to be, looking around, having to notice stuff, and I find that tiring, rather dread it, actually. A review of one of my books said what a great noticer I was. My wife laughed like crazy at that. She once said about my stuff, "I don't know how you do it—you don't notice anything but you can't make anything up either." Obviously that's just husband-wife banter rather than a literary-critical response, but it's true as well. I love not having to notice stuff—and, even more than not noticing, I love not having to articulate what I've not noticed. Whereas somebody like Updike seemed to live every day at an amazing level of noticingness. Novelists of a certain quality and longevity might have that in common—an inexhaustible quality to their noticing. To say nothing of the ability to write it all down. A book like The Corrections, say, is completely beyond me, the scale and substantialness of the experience that Franzen gives the reader. Even if I'd had the idea for the book and the talent to do it, I still wouldn't have been able to put in the work required.
INTERVIEWER
The writing gets more difficult with time ?
DYER
For all sorts of reasons. First off, I'm conscious of all the wasted work that's bound to be involved, just the inherent inefficiency of the process, or my writing process at any rate. There's no way of getting around the fact that the first however many months are going to be no fun at all, and not much of that material is going to end up in print. In an ideal world you would skip those first three months and just start at month four or whatever, but you can't. And I find it increasingly difficult to get started. When I was seventeen, if a teacher at school assigned an essay to do over the Christmas holidays, I'd do it either on the first Friday evening we had off or the next morning. Not because I liked writing, but because I so dreaded the prospect of having to do it that I wanted to get it over with. The strange thing for me, age fifty-four, midcareer and all that, is that I'm far less disciplined now than I was then.
INTERVIEWER
How wasted is that wasted effort, though? Wasted effort is one of your themes.
DYER
I guess the effort I refer to is necessarily wasted, but it still weighs on me. I'm conscious also that I've got into a way of working where the enjoyable part seems to kick in at a later and later stage. It would be nice to change that, but, as I said to a coach who was giving me a tennis lesson last week, at my age I can't embark on a deep archaeological reconstruction of my backhand. Best I can hope for is a few tweaks or adjustments, like learning—to revert to writing again—to stay off the Internet for half an hour or so. There's a bunch of other stuff, too. I'm so revolted by writers taking themselves seriously that, as a kind of protest. I've deprioritized the role of writing in my life. I do it when I've not got anything better to do—and even then I often do nothing instead. What I really like is doing the laundry. I love hanging out the washing, singing that old Second World War song "We're Going to Hang Out the Washing on the Siegfried Line" as I do it and having it all clean and dry and folded for my wife when she comes home. She calls me Dhobi Dalit because I do all the other low-caste cleaning, too. You know, with England and the weather, it's really difficult getting everything dry. This probably doesn't make sense to you, being American, in the land of the omnipresent tumble dryer. It's crazy—in Iowa, where the sun has shined practically every day since I got here, you never see clothes out on a washing line. Or maybe they are out and I've just not noticed. Anyway, the point is that even though it's difficult getting your laundry dry in rainy England, it's not nearly as difficult as writing, and so at the end of the day—or at the end of the week, or, if we want to take the really long view, at the end of a life—being a dhobi is not nearly as satisfying as being a writer. I mean, you wouldn't be interviewing me now if all I'd done was the laundry, would you? Like, As one of the most eminent dhobis of our time, could you tell me about your preferred fabric conditioner...
INTERVIEWER
Is there a consistent routine?
DYER
I always have a nap sometime between two and five in the afternoon. Beyond that, we'd have to talk about each book in turn and what stage I was at in a particular book. Which means, I suppose, that the answer is no. I find it incredibly difficult to settle and I have very limited powers—if we can dignify it with that word—of concentration, so at first I'm up and out of my chair every few minutes. Later on I can stay at the desk for longer periods until eventually I don't even have to force myself to stay there. The general process is just to splurge stuff out, without being particularly worried about the spelling or anything. Just splurging to make sure there's something there. And then I begin knocking it into shape both at the level of the sentence and the overarching structure. But that initial phase is the one I increasingly hate, so I try to get it done as quickly as possible, in the five-minute bursts that I'm capable of putting in at the desk before I get up to do something else. It would be a better way of working if I could write in proper sentences from the beginning. Why I don't do that is a mystery to me, or would be, were it not a mystery at all. It's because I'm so impatient. I want to get all the content down so that I can then move on to the fun part, which is sorting out the sentences. So my impatience to get to that point ends up postponing it.
INTERVIEWER
So how do you go at it first? With a pencil and notebook? A laptop?
DYER
I jot down quite a lot of notes and random thoughts on a legal pad or a pad of foolscap paper, but the real graft happens on a laptop, with the help of a little black Ryman notebook where I write down structural things and keep track of what's going on, what needs to be done. The computer is great because of all the autocorrect settings, which I managed—after fearing that I wouldn't be able to—to transfer from my old laptop to my shiny new Mac. The splurging renders itself legible more quickly—mistyped words become proper words. I hung on to my old Mac for so long that the letters on some of the keys wore out. If I hesitated at all I'd forget where E and a bunch of other letters were, so I had to type without stopping to think. It was like Kerouac meets Georges Perec, with some Oulipo bollocks thrown in. The laptop means that the distinction between drafts has disappeared. One draft is being constantly consumed into another. Often I don't print things out till quite late in the day, probably just through being a cheapskate, not wanting to fork out for print cartridges—like my dad, who considered using a teabag only once an act of mad extravagance.
INTERVIEWER
Yes, what about your parents? Were they readers?
DYER
No, not at all. The single most important thing about my formation as a writer is that I come from a nonreading family. My mum would occasionally read a crappy Second World War book. They'd always have quite interesting covers and titles like The Three They Couldn't Kill, set in the jungle of Burma or something. I'd ask my mum what it was like and she'd say, "Oh, heavy going." You'd have thought she was talking about Faulkner or Joyce. My dad never read anything except the Daily Mirror. It was nice for me, knowing that they weren't going to be reading Paris Trance or Jeff in Venice, with all the stuff that goes on in those books. I passed the 11-plus, went to grammar school, and was not doing particularly well until round about the age of fourteen. Then an English teacher named Bob Beale seemed to take a particular interest in encouraging me, and through him I got turned on to literature. A pretty standard and well-documented conversion experience, I think. You know, working-class family, kid passes exams, keeps passing exams, goes to Oxford, and ends up living on the witness-protection program here in Iowa City.
INTERVIEWER
What sort of stuff did Bob Beale turn you on to?
DYER
Stuff we were studying for O level. Richard III was the first one. An assortment of books from the canon and, informally, more contemporary things.
INTERVIEWER
Were there American influences? Or genre ones?
DYER
American writers, yes. He got me to read the people you'd expect—Salinger, Heller, and Kerouac. They seemed so much more contemporary than their English equivalents, whoever they were. And we did Gatsby for A level. So right from an early stage of my reading life—which began relatively late—I was aware of and drawn to American writers.
INTERVIEWER
In Out of Sheer Rage you say D.H. Lawrence was the one who made you want to be a writer. What was it about him?
DYER
As a statement that's only true within the context of that particular book. It might not be entirely accurate in a court of law. But Sons and Lovers in some ways described the process I would undergo—growing up in a working-class family, albeit a very different one from Lawrence's, and beginning a process that would lead to growing beyond it. There were other writers whose books I liked, but I was sort of in love with Lawrence, his intensity. I had pictures of him on my bedroom wall the way kids these days would have pictures of some teen idol or other. The first biography I ever read was Harry T. Moore's The Priest of Love. This is entirely normal. The thing about Lawrence is that anyone who met him for five minutes would end up writing a memoir about their time with D. H. Lawrence. He would come crashing into people's lives, and everyone would be overwhelmed by his genius—and then of course there'd be the falling-out. Also, one of the plays we were doing for A level was John Osborne's Look Back in Anger. The link from Lawrence to the angry young men of Osborne's generation is so palpable. I represent the next generation along from that in terms of working-class boys who go to university and develop the inevitable chip on the shoulder that is such a feature of British life.
And mine was the last generation in that straightforward lineage. After me— after mine—it all gets complicated by race as well. And gender. Let's say Zadie Smith is the representative figure in that regard. Oh, and I would have to make special mention of Raymond Williams in this Lawrence-related genealogy. He was the person who made a process that I had experienced in entirely personal terms understandable in its broader cultural, social, and political meaning.
I want to stress, this is the experience—growing up in a working-class family—that defined me and continues to define me. It's the core of my being. And it explains, incidentally, a good deal about my love of America.
INTERVIEWER
That love seems to echo throughout your work, whether you're writing about jazz or film or photography. Where does that come from?
DYER
That's such a vast topic. On a nonliterary and entirely personal level. I'm always happier when surrounded by American accents than British ones. American democracy—the way everyone can just speak to everyone else, the shared language! Obviously I love the politeness of America. But I also love America just because it's not England, love being away from the radioactivity of British class, its extraordinary afterlife, the cramps it gives rise to.
INTERVIEWER
What about Lawrence as a poet?
DYER
I love the late, casual, postcard-like poems with all their off-the-cuff brilliance. And "The Ship of Death," which is quite epic.
INTERVIEWER
How about other poets?
DYER
When people ask about influences, I always say Barthes, Bernhard, DeLillo— all this "look at me, aren't I Billy Big Bollocks" type stuff. But I often forget Wordsworth, because he's not an influence, he's in my blood. Back in the 1970s in England, after you'd done your A levels, you then had another term before you took the exam to get into Oxford, so that's when we read The Prelude. I still know huge chunks of Wordsworth by heart. I always think I like Shelley, but then when I read him there's too much oohing and aahing. Whereas Wordsworth has all this mud on his boots. He can only get away with those great soaring flights into the sublime because of all the tramping he's done to get there. Obviously there's a lot of oohing and aahing in Rilke, but I don't mind that as much. It's of a different kind—it's the sound of the physical being rent by the metaphysical, which is always going to result in some kind of cry. Or maybe it's the other way round. And maybe, on reflection, that's exactly what you get in Shelley, too. Ha-ha! Ah, now there's a thought. I like a lot of contemporary American poetry because it's so funny. Billy Collins, Arda Collins—to just stick with people named Collins. And Dean Young is hilarious. Tonally I prefer ha-ha to ooh aah.
INTERVIEWER
Do you ever write poetry?
DYER
As God is my witness—never!
INTERVIEWER
So when did the leap from being a passionate reader to actually writing take place?
DYER
After university, when I wasn't quite sure what I was doing. I look back now and I'm glad I didn't fall under the spell of some charismatic tutor at university. People who fell under the spell of Terry Eagleton, for example, disappeared into the vortex of theory. My tutor made it so clear that teaching was an irritating intrusion on his time that there was no chance of anything like that happening. I didn't know what I wanted to do, but after I left university my reading was getting more and more up to date, so I was reading the paperbacks as soon as they came out and reading reviews of the hardbacks. You don't start off with grand ambition on the scale of "the Nobel Prize or bust!" Quite often, ambition operates on a level of irritation. Not even jealousy, just irritation. I became increasingly irritated reading other people's book reviews because I thought I could do it myself.
INTERVIEWER
So you began writing reviews?
DYER
Yes, this was 1982, 1983. It would be a lie to say I always wanted to be a writer. I sort of did, but then if you go further back, I always wanted to be a footballer or something else—but those things didn't happen. In my last year at Oxford I did apply for some jobs, in the way that one does, and I didn't get any of them. Again, this is not unusual. Writing is often both what you aspire to and what you're left with when other options have dried up.
INTERVIEWER
How did you start writing your first book, Ways of Telling?
DYER
There was an editor at a small publishing house who'd seen some of my pieces. After university I'd started to read Barthes, Walter Benjamin, Raymond Williams—all this stuff that connects a literary education with politics. I read Bergers Ways of Seeing and then started to read more and more of him, and I found it all very stimulating and exciting. He was doing something that I hadn't come across before in English writing—bridging the gap between criticism and fiction and so on. All with that level of political engagement that was absolutely de rigueur back in the early eighties. He was my favorite writer, and I interviewed him for Marxism Today. Also, Berger was—and is—such a great and wonderful man. So when this guy asked if I'd thought of writing a book, I immediately said. Yes, a book about John Berger! It's just a shame the resulting book was so lame. It didn't take advantage of any of the freedoms he'd made available. Which is why But Beautiful—a far more appropriate tribute—is dedicated to him.
INTERVIEWER
More appropriate in what way?
DYER
The combination of criticism and creative writing, commentary and imaginative writing. Berger is not an academic, but he's deeply learned and passionate. What you get in his books is a total engagement with whatever he happens to be writing about. The idea of trying to listen to music with the same intensity that he looked at painting was both intimidating and encouraging.
INTERVIEWER
Your narrators are almost always peripatetic or exiled, and Yoga for People Who Cant Be Bothered to Do It collects a series of essays on travel. Is travel a search for inspiration? A means toward information? Both?
DYER
Just at the nonliterary level it's such a fantastic planet, and, as Annie Dillard says somewhere, since we're here we might as well have a look around. And if you're having a look around, you tell people about places where you've done the looking. But that term travel essay always seems tautologous to me. All the best essays are epistemological journeys from ignorance or curiosity to knowledge. Which is why, in spite of their obvious wit, I get fed up with Gore Vidal's essays—he leaves you in no doubt that he knows it all from the outset. So, to add to what I've just said, I like being in new places, having adventures, and examining the point where the place and the self interact or merge—or where there's a big crack between the two.
INTERVIEWER
And the result is what? Not reporting, I'm guessing.
DYER
No. There's a line in this book I'm just finishing about my time on the USS George H. W. Bush where I talk about the way that the writing I'm most interested in at the moment is reporting, and how I realize that of all the kinds of writers I'm not, reporter is top of the list. As for exactly what the results are— well, I don't care. Take one particular story in the Yoga book, "The Despair of Art Deco." That was first published in the Observer in their travel pages. Then The Threepenny Review published it in America in their miscellany section. Then, it came out in an anthology in Britain where it was published as fiction. Then, it appeared in The Best American Travel Writing. Then, finally it ended up in the Yoga book, which means it was published as nonfiction. The words didn't change, but the sense of what it was changed with each incarnation.
INTERVIEWER
Is there anything that guides you through the various imaginative departures from what actually happened? Is there a principle that leads you away from fact?
DYER
If I'm writing a thing based on something that happened, it often starts to become fun for me when I see there's an opportunity to make myself look even more of a jerk than I am in real life. But that transition is indistinguishable from the development of some sort of appropriate-seeming tone. Out of Sheer Rage was the book where I arrived at a very versatile tone—and I hit on that tone quite early on in the writing of the book. The irony about Out of Sheer Rage, which some people think is about writer's block, is that it's one of the easiest books I've written.
INTERVIEWER
Once you have the tone you feel free?
DYER
A certain tone enables you to leave behind any kind of obligation to transcribe what really happened. When you're trapped at the level of transcription, it's no fun at all—a total bore, in fact. But then you achieve this tone, which in my case is quite close to my natural voice. It goes hand in hand with the creation of a persona.
INTERVIEWER
Your books all seem meticulously structured, and yet few of them have anything resembling a plot. How do you organize your writing?
DYER
I'm so pleased you say that. I love posing and solving structural problems. That's real intellectual heavy lifting. It's been said about a number of my books—The Ongoing Moment and The Missing of the Somme—that they're unstructured. Because they haven't got chapters'. About 50 percent of the total effort of The Ongoing Moment went into structuring it. It's way more difficult to structure things without the kind of scaffolding provided by chapters. Any moron can write a books with chapters. Having said that, the book I'm finishing now, the USS George H. W. Bush book, has chapters!
INTERVIEWER
And in the fiction? For example, did you conceive of the two halves ofJeff in Venice, Death in Varanasi at the same time?
DYER
I had the idea for a version of Death in Venice while my wife and I were at the Biennale in 2003 was finishing The Ongoing Moment and we ended up visiting Varanasi before I'd had a chance to start the Venice book. Within an hour of arriving at the ghats on the banks of the Ganges, I said to Rebecca, "It's going to be Venice and Varanasi." The first part was always going to be third person, and the second part first person, but it was very clearly going be the same character, and clearly chronological. I wrote the book and sent it to Ethan Nosowsky, my editor at Graywolf, even though the book had already been bought by Pantheon. And he felt there needed to be something binding the two bits still more closely together. I could see what he meant and I was struggling to do it. Then I realized I shouldn't be trying to solve the problem, I should just do away with the problem and make the two halves completely disconnected.
INTERVIEWER
You reversed course?
DYER
Yes. I decided, it's not going to be clear that it's the same guy. And there's going to be nothing in part 2 that's causally dependent on part 1. Nothing that proves part 2 comes after part 1 chronologically. No narrative rope binding the two bits together. Instead, there'll be hundreds of these little invisible filaments, like deja vu-type echoes. People sometimes say, "What happened to Laura from part 1?" as if I were such a half-wit I'd actually forgotten there was this woman in part 1. She's everywhere present in part 2, just not in a way that we're used to. Plotwise there's no connection at all, but the book is absolutely a unified aesthetic experience. To be honest, I don't know a recent book that's more structurally original or interesting. But hey, when we transcribe and edit this, maybe it's better if you say that instead of me. Otherwise I'll sound a bit of a jerk.
INTERVIEWER
I will, I promise! You find that these filaments or images tie the book together?
DYER
Ideally, as soon as people finished part 2 they would read part 1 again. And then they'd see it's not all just snorting coke and rimming in part 1. And it's certainly not just two half books stitched together.
INTERVIEWER
Can you give a specific example?
DYER
In part 1, they're at a party on a boat where they're having a lot of coke, and Laura is dancing on this nice colorful carpet, which is the dance floor. It's not a symbol—she's just dancing on this carpet. In part 1, they go to an Indian classical concert in Varanasi where the musicians are sitting on a colorful carpet. The narrator is listening to this woman singing, and he says, People talk about perfect pitch, but what her voice made me think of was perfect poise, of feet moving lightly. I mention this because it's one of the ways in which Laura is there in Varanasi after all. Now by itself that's nothing, it's not a symbol, and it's not going to hold a whole book together. But if you've got maybe sixty little things like that, what might initially seem like irrelevant details in both parts turn out to be more than that.
INTERVIEWER
Do you do much research?
DYER
Writers often talk about their research, but it's always felt completely alien to what I'm doing. My books feel more like the outgrowth of a hobby, even the photography book, which probably involved the most substantial ingestion of new knowledge in the time I was writing it. If you're interested in something, you burrow around and find out about it. Now we can do all of our "finding out" with our feet up, without even leaving the room, because it's all on the Internet. But when I wrote But Beautiful it involved doing something that seemed like research. I had to physically go to places like the Institute of Jazz Studies and rummage around. But that felt like a hobby, too, because my "method" lacked any of the diligence one associates with research. It was more like being at a specialist garage sale in which everything was for reference rather than purchase.
INTERVIEWER
That's a book where the joins between fact and invention really are invisible, though. There's that moment in which Monk peels an orange and says, "Shapes." That feels so purely characteristic it can't possibly be made up.
DYER
No, it's made up, I think. The writing of that book is difficult for me to remember, except that I do recall how enjoyable it was. I look back on it now, partly because I've become conscious of something it lacks. I think it would be better if it ended with Albert Ayler. For whatever reason, I didn't do that then, and lately I've been listening to more Ayler and thinking that I would like to write something about him. Or, more accurately, wishing I had written about him in But Beautiful, because now I'm completely incapable of it.
INTERVIEWER
How so?
DYER
Well, first off, the Internet has made so much stuff available that one of the things that motivated me to write that book—loved jazz, couldn't find all the stuff I wanted to in the books that were available, so wrote one myself—no longer pertains. On YouTube you can listen to Don Cherry describing his first meeting with Ayler. It is so wonderful, one of the greatest ever accounts of one artist meeting another. Which leaves me satisfied as an interested fan and somewhat redundant as a writer. Also, I just don't have the confidence now that I did back then to write about African Americans. Relatedly, I'm too discerning now to tolerate some of the excesses that were a product and cause of that confidence. So I know where that writing came from, but I couldn't do it now. It's one of the things that makes the writing life interesting over the long term—what comes and what goes.
INTERVIEWER
Are there particular aspects of that sort of writing you've jettisoned?
DYER
But Beautiful was somewhat overwritten. It makes me cringe where I talk about Art Pepper shooting heroin, the "elixhiric rush." I think—hope—I may have deleted that in more recent editions. There's an overabundance of lyricism throughout.
INTERVIEWER
Was marijuana useful beyond that book?
DYER
Ah, "that useful substance," as Pynchon reasonably calls it. The kind of grass we had back in the mid to late eighties was very conducive, not just to having fun, but creatively as well. Read back the next day, a lot of what I'd written stoned the night before might be nonsense, but there'd be the germ of something I couldn't have accessed in my normal state, and that something could be worked up properly while clear-eyed. Marijuana is so integral to But Beautiful that it's scandalous I wasn't able to claim what I'd spent as a tax break. But then, in this century, when skunk came completely to dominate the marketplace, I gradually gave it up. It wasn't giving me any of the things I'd looked for and was giving me a lot of the things I wasn't—paranoia, brain damage.
INTERVIEWER
How about other drugs?
DYER
I'm in that fortunate position, and it's far from a minority position, where the role of drugs in my life has been about 95 percent positive. And some of the 5 percent that hasn't been positive has just involved time wasted in the company of bores. Ecstasy and LSD have been wonderful. But marijuana has been the most consistently helpful, not just in terms of getting things started but also for sudden insights into all aspects of whatever I happened to be working on.
INTERVIEWER
But Beautiful was the first book of yours to be published in America. What was that like for you?
DYER
It came out in '91 in England, but it was published in a very lackluster way. I was very confident of it, but the initial publication was vastly disappointing. And then it didn't get an American publisher, which would have been crushing had I not already been so thoroughly flattened by the British release.
INTERVIEWER
It was important to you to be published in America?
DYER
It was something I wanted. When it didn't happen, I labored for a while under a terrible sense of injustice and disappointment. It wasn't until five years later that Ethan Nosowsky stepped in and published it in America. Which doesn't sound like long now, but back then it seemed endless.
INTERVIEWER
How did you deal with your initial discouragement?
DYER
First I went to New Orleans to write The Search. And then that book had trouble finding a UK publisher—another low point in a life that was becoming increasingly characterized by a lack of high points. Eventually The Search was published in the UK, and I then wrote my little book on the First World War, The Missing of the Somme.
INTERVIEWER
Still, it must have been disheartening...
DYER
I was conscious of the discrepancy between my own sense of the worth of my books and the sense of them—or lack of sense of them—that the world had. You need to retain a certain confidence in order to keep working, but you worry also that, given the value gap, maybe you are a megalomaniacal loony. So I think a kind of mental adjustment—a depression so deeply internalized one is not even conscious of it—is the almost inevitable result of trying to achieve a psychic balance. And of course it manifests itself. I think that's when the behind-the-scenes work was being done in preparation for my face assuming the habitually glum cast that you are enjoying the dubious privilege of observing today. But hey, looking back, I was at least getting published, and there was always something I wanted to get on with, even if it wasn't the thing that I intended.
INTERVIEWER
It does seem that this became both a theme and a method for you. Getting on with something that isn't the thing intended is the subject of Out of Sheer Rage. Before that, though. The Missing of the Somme was a distraction from the novel you were intending to write.
DYER
Yes, it's all a distraction! That's how I was going to subtitle Out of Sheer Rage—"A Distraction," but I thought it was too Bernhardian.
About the Somme book—I'd gone to Paris for the summer intending to start a novel that I conceived as a version of Tender Is the Night. What a summer that was—unbelievably awful even though it seemed like it was going to be so great. I had this girlfriend, a model, gorgeous, but we absolutely hated each other, and, after a while, being on my own and lonesome as anything seemed preferable. Anyway, that's another story. I was failing completely to write this novel, and one day I went up to visit the battlefields and cemeteries of the Somme. There was a reason for this— because of Dick Diver's trip to the Somme in Tender. I went without knowing exactly what I would find and had one of the most profound experiences of my life, culminating in arriving at the memorial in Thiepval and seeing those huge words, THE MISSING OF THE SOMME. I abandoned the novel and spent the next couple of years thinking and writing about the First World War.
INTERVIEWER
That sounds like a liberation.
DYER
As an experience, that afternoon at Thiepval was one of those moments that make life worth living—and my writing life is, in a way, the record of just such moments. I had a sense of coming to a place where history was manifested as geography, where the temporal was manifested spatially.
INTERVIEWER
What do you mean?
DYER
You come to a place and ask what makes it special. The answer, sometimes, is because of the history that's converged there. There's lots of this kind of stuff in Yoga as well. If I'd arrived at Thiepval with some sort of Geiger counter, it would have really started clicking away. It's a place with a special power, and those are the places that interest me. Moving ahead to Jeff in Venice, Death in Varanasi—in Varanasi the vibrational Geiger counter goes completely nuts. It breaks because the dial can't begin to register the amount of power that place has been accumulating and exuding for thousands of years. The dominant belief system, Hinduism, has seeped into every molecule of every building. It would be irrational not to believe this. I've used the phrase before, but I like—and am on the lookout for—places where time has stood its ground. I guess mystics or someone like Annie Dillard would say you can have comparable experiences anywhere, at any moment, but I need the help of a special place.
Let me go back to that question about liberation. Normally with nonfiction books you write a proposal. I didn't bother. Just wrote this little book about the First World War and hoped someone would publish it. More successful writers might have felt pressure from their publishers to build on the success of the previous book. Middlebrow novelists talk sometimes about the pressure they were under from a publisher to do this or that. Maybe they were, but I've certainly never experienced it, and my suspicion is that the pressure they claim is from the publisher is really just a projection of their own desire to have a big commercial book. The Search, when it was published, was a total flop, so I wasn't under any pressure at all. I didn't have to worry about continuity of readership because there was no readership. A few jazz people read the jazz book. Skipping ahead a few years, a few First World War people read the Somme book. But hardly anyone had a sense that it was the same person who'd produced both of them and a couple of what my Italian girlfriend charmingly called "loser novels" as well. I managed to persuade myself that this was a good thing because it meant I was doing it for my own benefit, without any compromising sense of audience. And by then my reading of military history had alerted me, reassuringly, to the dangers of catastrophic early success.
INTERVIEWER
Eventually, you did circle back to the novel, which became Paris Trance.
DYER
Yes, when I got round to it, a couple of books later, I realized that I'd been crazily premature trying to write it when I did. All sorts of experiences that I'd had in the interim found their way into the book. It's something you become conscious of as you get older—the variously sized windows available for the writing of certain books. You can be too early, which is fine because you'll get another chance, or too late, in which case you won't—the last bus has gone. The wrong time for the Fitzgerald-type book was the right time for The Missing of the Somme and Out of Sheer Rage.
INTERVIEWER
What sorts of preplanning do you do for your books? Do you outline?
DYER
No. I hardly do any preplanning, just fretting and wheel spinning. On quite a few occasions I've thought. I've got to sort this out before I begin writing, but the only way to arrive at the right way to do it is to crack on and see what works. The process of book writing for me is entirely one of trial and error. Likewise questions of structure. I get the idea for the structure of a book at some point, but rarely at the beginning. I accumulate a quantity of material, and at a certain point some idea of a structure will emerge that's both the product of and appropriate to the subject. I've written books about loads of different subjects, but that wouldn't count for shit if I just gave each subject the same treatment. In each book I've had to arrive at a form that was appropriate to that subject.
INTERVIEWER
You write fairly often, and very persistently, about boredom. Is there a particular relation between boredom and writing for you? Is boredom an influence?
DYER
An influence, no. A factor, yes. "As a child, I was often and intensely bored"—the fact that I'm quoting Barthes here shows that's quite normal. Maybe we need to distinguish between two states. First, there is being bored as a reader of books and a looker at art—which, as long as it's allied with a certain capacity to concentrate, is quite a useful gauge to have alongside all the others on one's mental dashboard. And then there's the boredom one feels as a producer of books. As a writer I decided early on not to bother doing the stuff that bored me, so I think I've managed to turn a predisposition or indisposition to an advantage. Also, I've tended to grow out of subjects relatively quickly, as opposed to being able to remain really interested in one area and then plow that furrow for a whole life. But the flip side is, I like a lot of stuff other people might find boring. I wrote a book about Stalker, which is a film that many people think is tremendously boring. I've always liked things I can just trance out to. Because what that means is that you've escaped the chafe of time. Often when you're bored, it's that friction between you and time. When you give yourself to Tarkovsky, say, or to that Australian band the Necks that I'm so crazy about, the urge for things to be moving on quickly is removed.
INTERVIEWER
Zona is a book about Tarkovsky, but it's also very much a book about yourself. Do you consider these parts to be equal?
DYER
Yes, I am there, and in quite a lot of the other books, too. For a very simple reason—because I'm available and, in terms of my authorial needs, am extraordinarily reliable as a researcher, as a canary in the coal mine of whatever subject I'm writing about. Actually, to go back to your earlier question about research, it occurs to me now that I'm the kind of writer who could never employ a researcher because the research—so-called—is absolutely inseparable from the writing. I'd like to add as well that I'm not there at all in The Ongoing Moment. It's very personal but there's no persona walking around the pages. It's objectively personal, if you will.
INTERVIEWER
How about writing straightforward criticism? Do you still get a charge from that?
DYER
I did a load of book reviewing when I was younger and set some store by the idea of being a critic. I think I may even have used the phrase critical project at times. Now it's something I do very occasionally. What I like doing is writing introductions to new editions of books I love. Wow, the honor of that!
INTERVIEWER
Going back to reviewing, is there a particular demand that makes criticism especially taxing?
DYER
I don't think you should do it too much, and I don't think it should be all that you do. Otherwise it becomes a matter of rote hackwork. For me, criticism has always been a really simple thing whereby I try to describe whatever I'm writing about in a way that is, hopefully, somehow imbued with the characteristics of that which is being described. You articulate your feelings, and then from there you arrive at some sort of judgment. But the harder it is to see the transition between these things, the better the criticism is.
INTERVIEWER
How about negative criticism? You were recently nominated for Hatchet Job of the Year for a piece you wrote about Julian Barnes's The Sense of an Ending. Is there a reward in writing that sort of criticism?
DYER
The first thing to say is that it's a really silly prize. There should be a prize in the UK for criticism per se, whether positive or negative, as there is in the U.S.
INTERVIEWER
You're doing a hatchet job on the hatchet job!
DYER
Yes! I don't write many negative reviews now. When I was young, giving someone a kicking was a pleasure in itself. And as you get older, when you decide a book is crap you stop reading at page 40 as opposed to going through to the end just so you can tear it down. Occasionally, though, you feel people are so wrong about a book that you're not just offering an assessment, you're attempting to correct a wholesale misguidedness. Ideally, one is negative in defense of values, so there's a positive aspect to it. Also, although in recent years I've been writing less literary criticism, I've actually been writing a lot about photography and photographers. The larger motive is the same—the ongoing project of self-funded self-education. I've been more interested in learning about and from photography in recent years than I have about and from fiction.
INTERVIEWER
Do you ever get writer's block?
DYER
I've gone through periods of not writing anything, but I've never felt blocked. I think it's just a lazy-thinking kind of cliche, this idea of writer's block. In a very obviously lavatorial way, it suggests that you've got something in you and you can't get it out because of the blockage. So you're straining away, and then it becomes more and more blocked. Whereas I've gone through phases where I just haven't had anything to say. That's made life a bit boring because, well, I've always had plenty of time, and without writing the days are pretty long—though as you get older they speed past pretty quickly anyway. And I've gone through phases where I've dreaded the idea of writing. Writer's dread. Now there's a subject for an essay—if one could face writing it. Another thing I am persuaded of is that I'll run out of fiction to write long before I give up writing the other stuff—even though that means we've come full circle and I am now admitting a distinction I began by denying. Maybe we should start over?