Interviewed by Maureen N. McLane
Issue 203, Winter 2012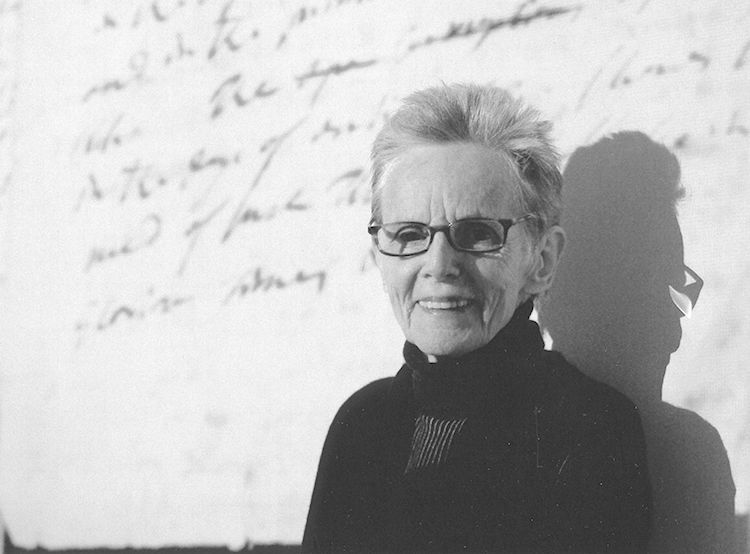 In New York, 2011.
For the past four decades, Susan Howe's books have explored the word as shape, sound, and image. A haunter of archives, for whom manuscripts and marginalia and indexes are muses, she often works with the materials she finds there: among those mentioned in her 2011 Trilling Seminar at Columbia were scraps of a woman's dress, seventeenth-century diary entries on reused silk fans, and William Carlos Williams's poetic jottings on his prescription pad. The result may be a textual collage or a groundbreaking work of criticism, or both. Her My Emily Dickinson (1985, reissued 2007) remains a critical landmark. In the past decade, Howe has ventured into sound art and performance, collaborating with the musician David Grubbs.
Howe's work summons broad historical vistas, encompassing the violence and possibilities of the American frontier; the lost voices of Native Americans; shunned, exiled, or captive colonial-era women; scorned preachers; the New England landscape; the Adirondack wilds; domestic intimacy; and the obscured brilliance of the linguist and philosopher Charles Sanders Peirce. She is, among other things, a serious war poet: World War II marked her earliest years—she and her mother and her sister, Fanny, traveling across a submarined Atlantic; her father absent while serving in Europe. The English Civil War (1642–51), King Philip's War (sometimes called the First Indian War, 1675–78), and the American Civil War also appear in her writing. Cities fascinate her as they did two writers she admires, William Carlos Williams and James Joyce: for her, key cities include Buffalo, Cambridge, Boston, Dublin.
As a poet, Howe has been most often associated with the experiments and rigors of the Language School, emergent in the 1970s. Yet her combination of formal invention and historical consciousness recalls modernists like Joyce, Williams, and the poet H. D. as much as her slightly younger contemporaries in the Language movement. She is less difficult than some of her admirers suggest. She occasionally flirts with the unreadable—with words crossed out or phrases collaged and typeset to interfere with one another— yet she is often quite direct. One senses that, for all her instinct for precision, Howe is impatient with confining definitions and descriptions. As she writes in My Emily Dickinson, "Define definition."
Most of her books contain several discrete works; her most recent, That This, includes a prose elegy for her recently deceased husband, the philosopher Peter Hare; a meditation on the eighteenth-century theologian Jonathan Edwards's family archives; and photograms by the artist James Welling. In her youth, Howe studied painting, and she is a visual as well as a verbal artist of the page. The page, not the line, is her unit.
Howe and I met three times this past winter and early spring in New York City for long conversations; she was living in New York for several months (leaving her home base of Guilford, Connecticut). We met in my office at NYU, a space not terribly conducive to reverie or rambunctious exchange. Yet Howe put up with the charmless environs and more than rose to the occasion, following up each session with e-mailed further thoughts and clarifications. Her many books were on my desk; we never opened them. The quality of Howe's attention is fierce yet friendly. She has a darting wit. Howe is in person both delicate and formidable; so, too, her work.
—Maureen N. McLane
INTERVIEWER
When did you start working on Emily Dickinson?
HOWE
Early in the seventies. Discovering Charles Olson's Maximus Poems IV, V, VI was crucial for the direction my work was taking at the time. He mapped the places I was familiar with—Gloucester, Boston Harbor. Olson showed me what I already knew by instinct, through being half-Irish—that spirit traces in local landscapes resound in particular words on paper.
At the same time, I was reading Richard Sewall's biography of Dickinson. I wanted to explore the cultural history of Western Massachusetts as a neces- sary part of her voice. My father and his sister Helen had both recently died. I read the Sewell aloud to Aunt Helen during the last week of her life, and she kept asking me to mark passages with a pencil, so that when she was better she could go back and read them again, though we both knew she wasn't going to get better. The chapter she was anxious for me to mark was on the New England Dickinsons and their heritage—Puritan character traits she recognized in herself. There she was, dying in Manhattan in a comfortable Upper East Side apartment, and she wanted to go home by a trail Dickinson provided. I inherited her copy of the book.
INTERVIEWER
Did these landscapes inhabit you as well?
HOWE
I've always felt a tremendous pull between Ireland and America, because of my parents—my mother being Irish, and my father being a New Englander from Boston. I felt torn between them—in the sense of allegiance to the word.
INTERVIEWER
Did your mother come from Dublin?
HOWE
Yes, a Dubliner through and through. Mary Manning. She didn't come over from Ireland until she was twenty-nine. I was born when she was thirty-two. Yeats directed her in a play as a young girl, and Sara Allgood was her acting teacher at the Abbey. During the twenties and thirties, she was a member of the Gate Theatre company in its early glory days, under Hilton Edwards and Micheál MacLiammóir. She edited their house magazine, Motley, and wrote several plays that were produced, the best known being Youth's the Season? She gave up her acting career when she came to Boston on a visit to her aunt and met and rather suddenly married my father, Mark DeWolfe Howe. That was in 1935.
During most of my youth he was a professor at Harvard Law School, where he was known for lecturing in perfect sentences without using notes. He believed in the American Constitution the way others believe in the Bible. Just after their marriage he visited Dublin, but that was that. He didn't like it and never went back. They were voracious readers and both loved reading aloud. Perry Miller—the Harvard professor and historian of Puritanism—dedicated Errand into the Wilderness to them both. I can't get over that. He and my father shared a love for Cotton Mather's preposterously baroque prose. Now I treasure my own copy of Mather's Magnalia Christi Americana, so it must be genetic. As for my mother, she and I read with and to each other, aloud. Shakespeare, the Brontës, Keats, Matthew Arnold, Yeats, Synge, Joyce, Tolstoy, Ibsen—reading was our vital bond.
INTERVIEWER
Was your father authoritarian?
HOWE
Heavens no, he couldn't have been gentler. But he was definitely hard on himself, self-controlled, in a Puritan sense. After graduating from law school, he was a secretary for the then-ancient Supreme Court justice Oliver Wendell Holmes and later became his official biographer, a task that in the long run hung like an albatross around his neck and probably contributed to his early death. Because of his work on the Holmes archive he was of course much involved in manuscripts. When I was young, Holmes seemed to be a stultifying figure. What did I know about his membership in the Metaphysical Club, the friendships with the James brothers, Minnie Temple, Clover Hooper— Henry Adams's wife—and Fanny Dixwell—Holmes's wife—and Charles Sanders Peirce? All these authors and their friends who mean so much to me now.
INTERVIEWER
When you say your parents had differing allegiances to the word, what do you mean?
HOWE
By the time I was thirteen, we had moved several times, but finally we bought a house in Cambridge I am sure we couldn't afford and there we stayed, and the room we called the study was its heart. My father came home from work regularly every day around six o'clock. Then my parents had cocktails in the study and we gathered with them there before supper. That's where all the books were. Two of the walls were completely lined with bookcases. On one were classics and sets, histories, and reference books—sets of histories by Parkman, and British classics like Dickens—they both loved Dickens— Trollope, George Eliot, that sort of thing. Nothing was ever alphabetically arranged. It was helter-skelter. On the other wall were my mother's books. They were almost all Irish. Poetry and plays. Yeats of course, Elizabeth Bowen, Austin Clarke, Joyce, Synge, Shaw, Ernie O'Malley, biographies of Jonathan Swift, narratives of the Easter Rebellion and the Irish Civil War—some very tattered, which gave them an air of having been carried through danger. In my imagination the divided bookshelves were separate worlds. I used to just love looking at the spines and their varieties. Wandering and looking. In my mind I divided them into sides. One was American-English—settled, true. The other was Irish-English—unsettled, secret.
INTERVIEWER
Did you spend time in Ireland?
HOWE
Yes. I was born in 1937. My mother and I spent the summer of 1938 in Dublin. I have only shadow memories under the surface of family photographs of that first visit. We returned to Boston on a ship called the Transylvania packed with refugees fleeing various European countries. She said you could hear weeping at night from the cabins around us.
In 1947, when it was finally safer to cross the Atlantic, my mother, my sister, Fanny, and I flew to Ireland. The flight took two days—we stopped overnight at Gander in Newfoundland, then landed at Shannon, where we boarded a tiny plane for Dublin. It bounced around violently while all the passengers vomited into paper bags. That's the first Irish summer I remember. I was ten. It was bliss. My mother was one thing in America, but here was the part of her Fanny and I didn't know. It was all infinitely rich in things connected with the ear. The soft and varied voices of my Irish relations blended with the landscape around Dublin—mountains, sea, and sky. Through her, I encountered a few surviving relics from the early days of Celtic revival. Spiritualists, actors, and authors in the Yeatsian turn-of-the-century mode were still staggering around. My God, they could be funny! I remember cross-eyed Olivia Robertson and our visits to Huntington Castle. She and her even odder brother later built a temple to Isis there, where they and others worshipped. All the emotions the landscape around Killiney and Dublin Bay and the Wicklow hills raised in me at ten came alive when, in my early teens, I read A Portrait of the Artist as a Young Man. I felt my soul was Irish and I belonged there, not here. When I graduated from high school I went straight back over. I followed my mother back into the Gate Theatre. In other words, I did what she wanted me to do, which was a mistake.
INTERVIEWER
To repeat and take up her missed opportunities?
HOWE
Sadly, she wanted me to repeat the life she gave up in 1935. But in 1955, the Gate was in decline. It was managed by Edward Pakenham, sixth Earl of Longford, and his wife, Christine, who wrote plays and adapted novels for the stage. Lord Longford was immensely fat, with a very red face. His minicar was specially designed so he could fit behind the steering wheel, and Christine—kind, clever, and very English—was so thin she appeared to have been squashed. They were devoted, even if Longford had a crush on an actress who, as a result, played all the leads. He was hopeless in terms of business. Actors assumed different roles every two weeks, so there were constant rehearsals, constant set and costume changes. Things were always in a state of imminent collapse. For matinees it wasn't unusual for there to be more people onstage than in the audience. Lord Longford liked to stand in the aisle at intermission rattling a wooden box with a slot for contributions. I was an unpaid apprentice and an assistant to the stage designer, so I was always either in the green room or patching together sets between productions. I guess painting sets was where I began thinking of visual art. Occasionally I played bit parts. My first was Toilet, a maid in George Colman's Restoration comedy The Jealous Wife, and I thought, Come on, I gave up college and here I am playing a maid called Toilet! But at that point I was proud of what I had chosen to do. In 1955, I thought of it as a bold, free gesture.
Some of the actors were wildly camp. It was all innuendos, nods and raised eyebrows, wittily barbed asides, sometimes cruel. Hilton Edwards and Micheál MacLiammóir were still living in Dublin, but they had retired from active participation in the company. During the months I was an apprentice at the Gate, Longford's company controlled the productions, while Hilton and Micheál heavily disapproved of the Longford goings-on. There were years of bad feelings I didn't understand—each faction controlled certain seasons. Hilton's glamorous, much younger, blond lover, Patrick "Bosie" McLarnon, was an actor who wasn't acting at the time. I didn't know then that Bosie was Oscar Wilde's name for Lord Alfred Douglas. Coded intercommunication like that wasn't familiar to a teenager from the Boston area. You had to be sharp to keep up.
I was also an assistant to Alpho O'Reilly, the stage designer. He was gay, but I didn't get it then and developed an intense crush on him. He was one of the funniest people I have ever known. We remained close friends, and I used to spend lots of time with him whenever I went over. He was a wonderful driver. I saw a lot of Ireland that way. But in 1996 he mysteriously disappeared. He left Sandymount in his apple-green car and was last seen heading in the direction of Wexford. They never found his body or the car.
INTERVIEWER
With whom were you living?
HOWE
I stayed as what was termed in those days "a paying guest"—or, as my ­mother and grandmother liked to put it, "a peeing g"—with the family of my ­mother's best friend from childhood, Nora Reddin. They lived in a rapidly decaying semidetached Georgian house called Ashleaf on the main street of Templeogue. In those days, farmland spread out from there to Tallaght. Kenneth Reddin was a novelist and a notoriously eccentric district judge. He came from a Catholic middle-class family and had been schooled as a boy by Pearse and MacDonagh at St. Enda's, Pearse's radical nationalist school at Rathfarnham. He and his brother were friends of Joyce before and after he left Ireland. When Joyce died, Kenneth wrote an obituary for The Irish Times. Nora was Protestant, though she converted to marry him—mixed marriages were unusual at the time. Their two daughters were my age and close as sisters to me ever since. The house was filled with paintings by their contemporaries, and there were masses of books scattered everywhere, many of them dog-eared and damp. The whole family sang ballads and recited ­poems, particularly Irish ones. The sense of poetry and politics as being one emotional unified force was new to me. I loved it and I drank it up, but I wasn't Irish. I couldn't change my voice. Though I may have been happier in Dublin, I knew I had to come back to America.
INTERVIEWER
So you came back and did what?
HOWE
I was accepted into the Neighborhood Playhouse in New York, which was considered a big deal. I was brought up in the repertory tradition and this was method acting at its height. I was at sea. I have never been so lonely nor felt so abandoned in my life as I did during those six or eight months I lasted. The noise and rush of Manhattan. It seemed impossibly huge.
The legendary Sanford Meisner was my teacher. Method acting is great for some people, but I was hopeless. Improvisation sessions scared me. The written script didn't seem to matter to Meisner, but it did to me. I was hopelessly uptight. Martha Graham taught a class in stage movement, and she was magnificent. She was an old woman then, or so I thought. Probably younger than I am now, but fierce and inspiring. I remember her toes. The tights under her practice skirt ended and there was the bare foot and both her big toes turned in at a solid angle from so much hard use.
After a few months I realized I was far too nervous to be an actor and returned to Boston feeling a total failure. I knew then, and I still do, that the biggest mistake I made in life was not going to a university.
INTERVIEWER
Really? Why?
HOWE
Because I love history, I love scholarship, but I'm an autodidact. I have never touched down in a disciplined way. I get these obsessions and follow trails that often end up being squirrel paths. There are huge blanks.
INTERVIEWER
How did you find your way from theater to visual art and then poetry?
HOWE
From start to finish in my work, I've been involved with images. The porous border between visual and verbal is always there. When I came back to Boston, I went to the School of the Museum of Fine Arts for four years. A couple of years after graduating in 1961, Harvey Quaytman and I moved with our small daughter, Rebecca, to New York. I was making stained color-field paintings at the time. I started making lists of single words, usually nouns, bird names, or place-names, often cut from books and collaged with pencil lines and watercolor washes. I began incorporating old engineering instruction manuals, maps, and charts. Single words and the letters that formed them were what attracted me. Gradually I came to make books of watercolor stains, photographs, and words. After a time I just used words on drawing paper, or pasted on walls. It was as though I had a book of the wall.
INTERVIEWER
Were they cutouts?
HOWE
They were both typewritten and cutout. I hadn't solved the problem of the font size, or of what you might do in terms of surface size, but that was because, in the long run, words and their sound, meaning, and letter shapes were what mattered. I remember seeing word drawings by John Cage and Carl Andre. I knew Duchamp's notes and studies for The Large Glass, of course, and was familiar with the concrete poets' minimalist use of page space and typography. At some point I decided to take a poetry workshop at St. Marks's Poetry Project. Ted Greenwald, the poet who was running it, came over to the studio I was sharing with the painter Marcia Hafif. He saw what I was doing around the walls, and said, Why don't you put these into a book? And so I did.
INTERVIEWER
That's fantastic!
HOWE
The book became Hinge Picture. The editor of Telephone magazine and press, the poet Maureen Owen, published it as a mimeo book. At the time I was writing art reviews for Art in America and a few other journals. One was crucial to my transitioning from visual art to writing essays and poems— "The End of Art," a piece for the Archives of American Art Journal, based on the correspondence of the painter Ad Reinhardt with Ian Hamilton Finlay and Robert Lax. This began a long correspondence between Finlay and me. Finlay started out as a poet, then became a concrete poet, then a sculptor. He always wrote on a particular kind of notepaper. There would be a carefully printed aphorism at the foot, along with the address "Committee of Public Safety, Little Sparta, Dunsyre, Lanark, Scotland." His humor was barbed, and there was never an unnecessary word. He expended such care on each letter he wrote me, though I was an unknown artist-poet at the time. He sent me pictures and pamphlets. Single words and aphorisms, many of which had been cut into stones placed around his garden in hidden spots. They often concerned boats or the sea. He loved the sea and boats and so did my husband David von Schlegell, who was a sculptor and a great sailor as well. I sometimes felt Finlay was writing to David through me.
INTERVIEWER
Do you think of the work you do in libraries and archives as research? As telepathy? As spelunking?
HOWE
Because of my outsider status—until 1988, when I went to SUNY Buffalo as a visiting fellow—gaining access to the stacks of a university library has always seemed to me an adventure verging on trespass. I am quite agoraphobic. I don't travel easily. If I can get into a library—public libraries or even a bookstore—I feel safe, and that probably goes back to our library at home. What I love about university libraries is that they always seem slightly off-limits, therefore forbidden. I feel I've been allowed in with my little identity card and now I'm going to be bad. I have the sense of lurking rather than looking. You came in search of a particular volume, but right away you feel the pull of others.
INTERVIEWER
Don't you quote Dickinson, "Luck is not chance"?
HOWE
That's right. "Luck is not chance—/it's Toil—/... the Father of/the Mine/is that old-fashioned Coin/we spurned." That sense of the spurned book, the hidden one, is intuitive. It's a sense of self-identification and trust that widens to delight—discovering accidental originals or feeling that you're pulling something back. You're rescuing or bringing them into the light. You could call it civilly disobedient telepathy.
INTERVIEWER
What are the discoveries or rescues that have meant the most to you?
HOWE
When I was a visiting poet at Temple, I encountered two huge volumes called Melville's Marginalia. Its editor, Wilson Walker Cowen, had collected and printed all the passages Melville had marked in his personal library. At first glance, this alphabetically arranged collection of quotations from numerous authors resembled a giant Charles Olson poem. The preface said Cowen died young. All this immense labor had been for his graduate- student degree. I thought of the pale usher and the sub-sub-librarian in Moby-Dick. Then, as I was going over the material, I came upon Melville's notes in his copy of the Irish poet James Clarence Mangan's collected works. I remembered singing Mangan's "Róisín Dubh" with the Reddins. I looked into Mangan's life and work, and by following Mangan—God! I couldn't believe it—I found that he may have been a source for the character of Bartleby.
Earlier, when I was writing the poems that would become Frame Structures, I stumbled on Longfellow's wife Frances Appleton, who died by fire in their home library. She was trying to paste locks of her children's hair into an album, using a candle to melt the wax, when a spark fell on her dress. His beard you see in the famous photograph was grown to cover the scars on his face, which was badly burned when he tried to save her. The Longfellow House is now a National Historic Site, and when I took the tour I asked the guide which was the room she burned in. He brushed the question aside as if such a thing had never happened. It doesn't fit the sunny portrait of the author they are hired to exhibit.
In the same way, I came upon Jonathan Edwards's sister Hannah by chance when I slipped her "private writings" out of a folder in the Beinecke Reading Room at Yale.
I don't want to be so arrogant as to say these are recoveries. Maybe certain people find me.
INTERVIEWER
A kind of mediumship through the archive?
HOWE
William James says that in times of trauma and crisis a door is opened to a place where facts and apparitions mix. I wrote Frolic Architecture shortly after my husband Peter Hare's sudden death from a pulmonary embolism in 2008. I was constructing what I thought was a collaged text, often while listening to Morton Feldman's music and John Adams's Shaker Loops. As I moved between computer screen, printer, and copier, scissoring and reattaching words and scraps of letters, I thought, I've never gone as far or felt as free.
INTERVIEWER
It's a willingness to be taken up by materials, voices, spirits.
HOWE
It's far more acoustic than visual. That's the strange thing. I honestly don't think that Hannah telepathically spoke to me, but something is odd there. I mean, the material—the fragment, the piece of paper—is all we have to connect with the dead. That's why I have this passage in That This where a page from her "private writings" is laid open on a light table at the Beinecke to be photographed. Pinioned under the lights, she is Narcissus, reflecting and reflected. There's a level at which words are spirit and paper is skin. That's the fascination of archives. There's still a bodily trace.
INTERVIEWER
That makes a lot of sense—the importance of paper as a medium for a trace. As you say, it becomes a flyleaf, a permeable barrier.
HOWE
Trying to describe the allure of now-obsolete interleaves in old books helped me to connect the elements that went into Bed Hangings. Interleaves used to separate the title page from the engraved portrait or color illustration following. The interleaf is a relic, fragile but tough. It's blank and semitransparent at once, like a scrim—always between. A bridge between intuition and the law. The paper relic rustles when turned. It could almost be a wing.
Relic is itself a beautiful word. The archaic relict—a widow, a survivor—from Latin relictus is even sharper.
INTERVIEWER
Your sense of composition is so materially attuned.
HOWE
And I hope sonically, too, because phonic measure is everything in poetry, or in the kind of prose I write. I always have my mother's copy of Finnegans Wake near at hand. I can't read the whole book—I can't read the whole Bible, either. If I'm stuck, I'll just open Finnegans anywhere and look at a sentence or paragraph. It's all based on wordplay and punning. The ear and the eye. Chance, luck, and logic.
INTERVIEWER
Many of the traces you've recovered were left by women—Mary Rowlandson, Anne Hutchinson, Emily Dickinson. To what extent do you think of your- self as a feminist?
HOWE
I don't like the idea of feminist poetry anthologies. Or anthologies of any kind of work in the arts by women. It's isolating and reductive. However, I can't pretend that there aren't a lot of problems we face. In early American literary history, the question of who is telling whose story and why is horribly vexed. Rowlandson's violent narrative is preceded by an anonymous preface, as if to bring it under control. It was rumored to have been penned by Increase Mather. His son, Cotton, wrote Mercy Short's narrative of possession and Hannah Duston's account of her captivity. Anne Hutchinson's voice only exists in trial records written by men. I am grateful we have these narratives. On the other hand, I wonder. During the 1980s, I was angry about male editorial meddling even in the work of twentieth-century poets such as H. D. and Lorine Niedecker. The editorial history of Emily Dickinson's manuscripts was an issue that especially troubled me, and still does.
INTERVIEWER
Can you say more about that?
HOWE
Emily Dickinson is one of the greatest poets we have, and I don't mean "we" merely in America. I mean she is one of the greatest of poets. It's important to remember, in the case of editing her work, that in the beginning almost all the collecting, editing, and transcribing was accomplished by Mabel Loomis Todd with the help of Lavinia Dickinson and, to some degree, Susan Gilbert Dickinson. Dickinson died in 1886, but the variorum edition of her collected poems remains under the control of Harvard University Press. The autho- rized editing of her extraordinarily complex manuscripts has basically been in the charge of two men. First, Thomas H. Johnson's edition in 1951. Then Ralph Franklin's edition replaced it in 1998. Franklin's facsimile edition of the manuscript books in the early eighties should have radically changed the nature of Dickinson scholarship—at last her line breaks were visible, and so was her increasing use of variant word lists.
Seeing the facsimile edition for the first time should have raised questions about her final intentions, about her use of the page as a field and about the possibility that groups she gathered and sewed together in fascicles might have been series works. But a majority of critical studies and biographies didn't ask them. That may have been because Franklin didn't provide transcriptions, as other collaborative editorial projects did, such as the Cornell edition of Yeats's manuscripts, or the Garland Shelley.
I grew up on the Johnson edition. That's how I first knew and loved Dickinson. The capitals and dashes, the removed variants, the arbitrary line breaks, with chronological and other changes by Franklin. It is what her work has come to represent to general readers. In 2012, this outdated and rigid approach is a problem, to say the least. Thankfully, digitalized images of the manuscripts are beginning to change the direction scholars and general readers can go in. Marta Werner, who worked on the late fragments and drafts for years, has collaborated with the visual artist Jen Bervin to produce a limited edition of Dickinson's work on pieces of envelopes. Their collaboration on just these envelope fragments is a promise of wonderful changes to come.
I'm not saying there is any correct way to clear this entangled primal paper forest. Maybe this is her triumph. She has taken her secret to the grave and will not give up the ghost.
INTERVIEWER
What do you make of Dickinson's so-called Master letters?
HOWE
Dickinson's three Master letters may represent the conversion experience she was going through—a Calvinist nature's secular conversion, its needs and demands. Yes, this experience had an erotic push, but the constant need of some scholars to decode in these letters a flesh-and-blood lover belittles the ferocity of her poetic calling.
I think she realized her vocation, and it was terrifying. She wasn't playing around anymore.
INTERVIEWER
Do you think you had an appetite for conversion before you encountered these renderings of conversion?
HOWE
I don't know. Although I'm not a religious convert, I believe in the sacramental nature of poetry. Jonathan Edwards's manuscripts announce the coming of Dickinson's. When you see the material objects, in all their variety of shapes and surfaces, it's like coming on unexplained spirits singing into air.
INTERVIEWER
You have been so invested in the materiality of archives and in collaging practice—what is your relation to digitization and new media?
HOWE
I would love to be able to use Photoshop, and wonder as to what I might be able to experiment with in terms of page space. But I just can't, I'm too old. I already lived through the crisis of going from the typewriter to the computer in my poetry, and that was a major step.
INTERVIEWER
When was that?
HOWE
Most of My Emily Dickinson was written by literally cutting and pasting. Then I shifted to a computer at the end of the eighties. It was clear there was no going back in terms of prose. The cut-and-paste mode for an eraserhead like me seemed heaven-sent. But it took a long, long time for me to get my poetry off of the typewriter, probably up to the midnineties. It's still partly there.
INTERVIEWER
Did shifting to the computer change your rhythm of composition or your techniques?
HOWE
The funny thing is, I still cut and paste. Anything in my books that looks as if the computer has done it—it didn't. All of that was all done by me cutting, taping, going to Xerox machines, coming back, doing it again. I found that to do any splaying of words across the page or anything like that was abso- lutely impossible on the computer, because I wasn't adept enough. If I could use Photoshop or whatever the new ones are that are cooler than Photoshop, I probably would never get anything accomplished. I would be endlessly cutting and tweaking. When you look at the typescripts of, say, Pound, H. D., Williams, or whomever, they're just different. You press a key, the key hits the platen. It's a different rhythm. I must have a printer to begin to see what I am doing on paper. I believe what's on the paper, not on the screen. I always think that what I see on the monitor is going to suddenly vanish. Sometimes it does!
INTERVIEWER
Do you ever write longhand?
HOWE
I make a few notes longhand. I have a little black sketchbook, the same brand for years. I make notes first, and then I type them into the computer and I start working. I have endless little black books, like commonplace books, where I have quotations and beginnings of poems.
INTERVIEWER
Many people might first encounter you as, say, "poet and professor, Susan Howe," and it might be hard for somebody to understand that, for you, the native place isn't the university.
HOWE
People often tell me my work is "difficult." I have the sinking feeling they mean "difficult" as in "hopeless."
INTERVIEWER
Do you say that to people?
HOWE
Paul Valéry once said, "The mollusk does not know its shell until it lives it," so I curl up inside and work and wait. In my shell are books from all worlds.
It's a tychic encounter, as Charles Sanders Peirce might say—I read them and use them as alignments, and conjunctions appear.
This is what attracts me so strongly to the ideas of Peirce, the philosopher and logician. I don't begin to understand logic, but I see things through the visual quality of his manuscripts that a professional Peircian might miss or ignore. They present some of the problems or joys Edwards's and Dickinson's manuscripts raise. Peirce's ideas of the Categories—Firstness, Secondness, Thirdness as a way to explain the process of artistic inspiration—are dear to me. I love him for his titles—Man's Glassy Essence, How to Make Our Ideas Clear, Evolutionary Love—and for the fantastic words he invents or adopts—ideoscopy, tychism, abduction, synechism. Synechism is the tendency to regard everything as continuous in the way no "scholarly interpretation can be." It suggests the linkage of like and like-in-chance contiguities and alignments. That idea is in my writing generally. He was willing to carry the doctrine so far as to maintain that continuity governs the domain of experience, every part of it. Synechism denies there are any immeasurable differences between phenomena, not even between sleeping and waking. This comforts an insomniac.
INTERVIEWER
In the library you feel like an interloper, but what is your relation to the academy?
HOWE
My entrance into academia was similar to a child's being thrown into deep water to see if she will sink or swim. I spent two years at Buffalo and then was at Temple for two semesters. In 1991, I was suddenly made a full professor with tenure at Buffalo, largely due to the efforts of Robert Creeley, who wanted to establish something called the Poetics Program. They needed to hire poets who had produced some criticism. Charles Bernstein had written Content's Dream, and I had written My Emily Dickinson. Neither book could be described as a standard scholarly production, but they were allowed to pass. To this day I'm not sure what the term poetics signifies, but I am grateful for it.
So I was incredibly lucky. I didn't have to go through the hell of the usual academic career trajectory. I taught graduate seminars and the occassional undergraduate workshop. It was absolutely wonderful for me, for my writing—partly because I was so frightened. I had to cover bases I wasn't sure of. This moment was the high tide of critical theory. It was very strong in Buffalo, and it was thrilling, but I felt as if I was moving through a fog of jargon. I was both mystified and fascinated.
INTERVIEWER
You're talking about post-structuralism?
HOWE
I never approached Barthes, Foucault, Kristeva, Irigaray, Lyotard, or Derrida on a systematic basis. In magpie fashion, I went for the bits and the pieces, the fragment and usable quotation. The essays in Foucault's Language, Counter-Memory, Practice—particularly "What Is an Author?"—were crucial to my thinking about Dickinson's editorial history and much else. The marginal marks all over "Nietzsche, Genealogy, History" show how much that chapter once meant to me, even if I never look at it now. When it came to poets, the emphasis in the Poetics Program during the nineties was on Stein, Williams, Spicer, Riding, Mac Low, Zukofsky, and other Objectivists.
INTERVIEWER
So there was a striking poetic and intellectual ferment at Buffalo.
HOWE
The mix of theory, psychoanalysis, and poetry—with strong Americanists such as Leslie Fiedler—sometimes working in tandem with the cutting-edge media and music departments was what made Buffalo unique, years before Charles and I arrived. I hope we were a continuation. Robert Creeley was the presiding spirit of the Poetics Program. He was the bridge between poets like Pound, Duncan, Zukofsky, and Olson, while Charles Bernstein—com- ing from a more Marxist approach—was the sign of the future. Creeley was the grand master. I suppose Black Mountain was his model. Without his ability to work the political system at UB, and his poetic reach, the program would have been inconceivable. Charles worked harder than anyone else to build a successful program that would also embrace our digital future. His manic energy and dedication were unbelievable. He was immensely helpful to me, even if, when it came to the twentieth century, I went somewhat against the Buffalo grain. I was more interested in teaching twentieth-century American authors. I liked teaching Eliot's Four Quartets rather than The Waste Land, as well as H. D.'s Trilogy and Tribute to Freud. Charles and I worked in tandem, and I think we each needed the other for balance.
INTERVIEWER
Many people encounter your work through the grid of Language poetry. Is that useful?
HOWE
I'm not a hard-core Language poet. But some of the individuals involved in that group provided inspiration, encouragement, and even a readership for my work when I badly needed it. L=A=N=G=U=A=G=E magazine, edited by Bruce Andrews and Charles Bernstein, was like a blast of fresh air. And Lyn Hejinian's Tuumba Press was exemplary in its simplicity and intellectual reach. I shared their distaste for certain aspects of American poetry, but being from an older generation, I have always been attracted by modernism rather than postmodernism and its anti-Romantic high theory.
INTERVIEWER
You seem to have a really different relation to Williams than to, say, Olson. You don't insist that there be some huge project governing everything, à la Olson's Maximus Poems, or even Williams's Paterson.
HOWE
I should insert here that my favorite twentieth-century poet is Wallace Stevens, and he doesn't really fit into this company. Neither does John Ashbery, whose poems I adore. Poems in The Tennis Court Oath were as important as Maximus to me when I was beginning to write, and every new collection since then is a wonder. Stevens and Ashbery are American but are without governing projects, apart from the most important one—nobly riding the sound of words.
INTERVIEWER
"Spontaneous Particulars of Sound," as you called your Trilling Seminar at Columbia.
HOWE
Yes, I set out to give a lecture on Stevens's late work in The Rock, but I am so much in awe of his power—he is the father figure, if you like—that Williams and the library section of Paterson seemed more humanly possible to discuss, because the work is both fallible and fabulous. I feel guilty. I've got to go back to the poet whose work I meant to write about, Stevens, but when I try, out comes Williams disguised as a mother.
INTERVIEWER
The obstetrician. It's like you don't get to know in advance what you're going to give birth to.
HOWE
Maybe it's because the epic push isn't there in Stevens. The reason I started "Spontaneous Particulars of Sound" with Williams's quotations—from Paterson III—is Williams's ambivalence, his attraction and repulsion toward letters. Some of his most gorgeous lyric poetry seems fueled by diatribes against. There are incredibly beautiful passages in there.
INTERVIEWER
Do you think ambivalence is a good muse?
HOWE
Maybe it is. In Paterson Williams tries to continue in an epic tradition, influenced heavily by Joyce's Ulysses, Pound's Cantos, and Crane's The Bridge, but always with an American difference. In spite of myself, I share this screwed-up magpie ambivalence. I mean, I am an Americanist. There's something that we do, a Romantic, utopian ideal of poetry as revelation at the same instant it's a fall into fracture and trespass. Frolic Architecture cuts itself to bits. It could be that because I am a woman, bullets are more like blanks. What fuels the poems in that collection is the sense of epic breaking into shards.
INTERVIEWER
I've heard the recording of your performance of Frolic, and you actually speak—sound out—its fragments and phonemes, those shards. You treat your work as a score.
HOWE
Collaborating with the musician-composer David Grubbs has brought vividly home to me how acoustic a seemingly collaged and visual work can be. Several years ago our first collaboration was for a performance at the Fondation Cartier in Paris, and was based around an early poem of mine called "Thorow." We collaborated again to produce Souls of the Labadie Tract. The work I have done with David has influenced the course of my later poetry by showing me a range of contemporary music with which I was unfamiliar. It also restored my earlier interest in Charles Ives. I love the way Ives's musical use of quotation throws connectives to the winds. His work is Romantic and iconoclastic at once.
INTERVIEWER
Is that a fair point of entry into your work, thinking of you as both a Romantic and an iconoclast?
HOWE
Thinking about the miracle of Emily Dickinson's poetry, prose, word drawings, and drafts in all their iconoclastic and Romantic variety brought out the buried New England Puritan antinomian in me. Here, you can be both things at once.
INTERVIEWER
Do you still paint and draw?
HOWE
No, I don't. But I often think of the space of a page as a stage, with words, letters, syllable characters moving across. In a certain way you can also say the poems in Frolic might be some sort of drawing. I started with words on the wall, and now I've framed some of the page proofs from Frolic. And I love to look at them as if they are drawings. I look and say to myself, Oh my God, that one works! Which I can't say about any real painting I ever did. So when I say I've broken everything open, maybe I've been moving in a circle.