Interviewed by Catherine Steindler
Issue 201, Summer 2012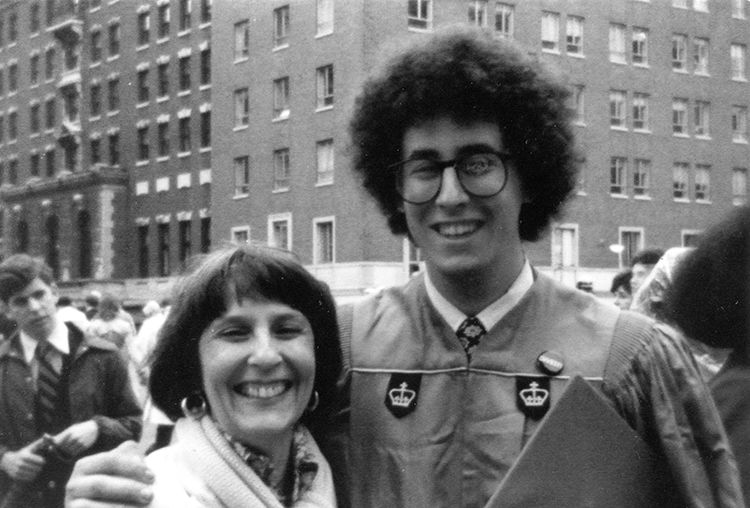 With his mother at graduation from Columbia College in 1978.
Tony Kushner was born in New York in 1956 and raised in Louisiana. He moved back to Manhattan to attend Columbia College in 1974. He has lived on the Upper West Side more or less ever since. In the late nineties, discouraged by a series of bad dates that left him convinced he was "done with men," he bought a house in the Hudson Valley. But then he met the writer and editor Mark Harris, a devoted New Yorker who prefers the beach to the woods. Kushner and Harris, now married, spend a portion of each summer in Provincetown, Massachusetts.
Our interviews took place during the summer of 2011 in a café in Provincetown and in Kushner's New York City office. This room, which happens also to be a kitchen, is bedecked with two large canvases painted by his sister, Lesley; stout terra-cotta angels dressed in papier-mâché robes; and a movie still of Glinda the Good Witch in an ornate silver frame. Kushner is tall, with a mass of dark curly hair, a soft face, and a gentle, open manner. He delivers fierce opinions in genial, unruffled tones at lighting speed. It is obvious that for Kushner, speaking is an immensely pleasurable activity.
When we met, the Signature Theatre Company had just wrapped up its 2010–2011 season, devoted to Kushner's plays. For the occasion, Kushner had made large revisions to his most recent play, The Intelligent Homosexual's Guide to Capitalism and Socialism with a Key to the Scriptures, and to Angels in America, his sprawling, two-part "Gay Fantasia on National Themes." When Angels was first produced, in the early 1990s, it won two Tony Awards and a Pulitzer Prize, appeared on Harold Bloom's list of essential literature in The Western Canon, and placed Kushner in the middle of the growing debate over gay rights, a place he has occupied ever since. The 2003 HBO movie, directed by Mike Nichols, introduced a mass audience to the qualities that animate all of Kushner's plays: an outlandish sense of humor, a dark vein of raw fury, and a gymnastic compassion that extends in unlikely directions.
His full-length works include A Bright Room Called Day, about the failure of the German Left in the 1930s; Hydriotaphia, a madcap comedy featuring the seventeenth-century polymath Thomas Browne on his deathbed; Slavs!, in which ex-Soviet apparatchiks confront the wreckage of communism; Caroline, or Change, a musical written with the composer Jeanine Tesori, about an African American maid in the civil-rights era; and Homebody/Kabul, about an Englishwoman who abandons her safe middle-class London life for Taliban-controlled Afghanistan.
Apart from these, Kushner has written screenplays for Steven Spielberg, translations and adaptations of plays by S. Ansky, Corneille, and Brecht, a children's opera with Maurice Sendak (on whom he has also written a monograph), and numerous one acts and essays. At the time of our interviews, Kushner was finishing an opera about Eugene O'Neill and writing a screenplay about Abraham Lincoln. Kushner attributed his increasingly pragmatic politics to his admiration for Lincoln, Obama, and his father, who was ill and much on Kushner's mind; William Kushner died on March 11, 2012.
—Catherine Steindler
INTERVIEWER
You're part New Yorker, part Southerner.
KUSHNER
Yes. My mother was from New York. Her father, Benny, was a union glazer who went out on strike and got shut out, and then got sick. He was unemployed a lot after that, and they lived on welfare in the Bronx, in real poverty. My grandmother had managed to finagle free piano lessons for my mother's sister Martha. My mother, who was younger, tagged along, and the piano teacher spotted her musical talent. Her other sister, Lucy, who was a good deal older than my mother, had married a music contractor. My grandmother wanted her kids to have meaningful occupations, to get out of poverty but also to achieve impressive things. So she pushed Lucy to push her husband, Artie, to find my mother an instrument to play. Artie ruled out traditional instruments for women, the flute and the harp—too much competition—and chose an instrument on which she'd really stand out. He didn't know of any female bassoonists.
She was a great bassoonist. She might have been a little bit held back by the fact that her hands weren't enormous—she was about five foot two—and there's a lot of acreage to cover with bassoon keys. But she had a bassoonist's soul. She had a very deep and somewhat tragic sense of life.
She was one of the first women to hold a principal chair in a major orchestra. She played with the New York City Opera, recorded with Stravinsky, and toured with Sadler's Wells Ballet. At one point she got a job as first bassoonist for the Orlando Symphony. My father had just been hired as first clarinet, so they sat side by side in the orchestra. They met and married and then came back to New York.
INTERVIEWER
When you were two, they moved to Lake Charles, Louisiana. Why?
KUSHNER
My father was from Lake Charles. His father, and his father, and his father owned a small lumberyard there. But I think my parents moved partly because of the difficulty of the music business. My mother was not an aggressive person. She had a lot of ambition, but she was a woman of her generation. When my sister, Lesley, was born deaf, my parents couldn't deal with it, especially my mother. There was something clearly wrong—Lesley wasn't learning how to speak. Then when I came along, a year and a half later, I talked a lot very early and it became even clearer that Lesley's speech development wasn't proceeding along normal lines. Still, it took until she was four and a half before they got her hearing tested. My mother's brother was a great psychoanalyst. His work is cited in Brown v. Board of Education. He was an incredible man, brilliant, I adored him, but he was a product of his time as well—this was the fifties—and he apparently told my mother that he didn't feel Lesley was really deaf but that she was refusing to speak because my mother was away, touring.
INTERVIEWER
And she believed him?
KUSHNER
Some women would have said, Go fuck yourself. My mother didn't. As a clarinetist in New York, my father wasn't making a great deal of money, and if my mother had stopped working, they wouldn't have been able to manage. So my paternal grandfather said, Come down and help me run the lumberyard.
My father was not at all interested in the lumber business. In the late 1990s, he sold it to a man named Carlbert Berard, his contemporary in the African American family that had worked as foremen at the lumberyard for three generations. So it became the Kushner-Berard Lumber Company. But when they first moved to Lake Charles, both my parents also taught music at the local college and played in the tiny local orchestra, the Lake Charles Symphony. Then, when I was ten or eleven, my father was hired to be the conductor of a small symphony orchestra in a nearby town called Alexandria. He spent the next thirty-seven years conducting there. And when the Lake Charles Symphony needed a conductor, he was hired there as well. He's been the musical soul of his town. I think he has had a really great life.
INTERVIEWER
And how about your mother?
KUSHNER
She was the first bassoon in the Lake Charles Symphony, and she became an actress in community theater because she no longer had enough of an outlet as a bassoonist to express herself. My mother was always tortured a bit by her sense of having given up a successful career as a bassoonist. That might be a partial explanation for why her daughter became a wonderful painter, her eldest son became a playwright, and her youngest son is first horn of the Wiener Symphoniker.
On the wall over here, I have a signed print of a poem by Robert Duncan, "My Mother Would Be a Falconress." It was the urtext of my psychoanalysis. Duncan imagines himself as a falcon and his mother as a huntress. He goes and fetches little birds out of the sky for her, but he doesn't eat them, he brings them to her. He's constantly tempted to break the bond and fly off, become a wild thing. At the end of the poem he does, and it sort of kills his mother.
INTERVIEWER
You've said that your mother's spirit haunts Homebody/Kabul.
KUSHNER
After my mother died, in 1990, I felt a kind of bafflement. There is simply no way to comprehend the vanishing of this person. The first night after the funeral, I had a dream—it was raining outside and she was sitting on her grave in her nightgown, just getting soaked to the skin, and I had to go and find the cemetery. I think that's how I came up with the idea of the homebody disappearing.
My mother was a really great bassoonist and a wonderful actress, but she had a very odd relationship to her accomplishments. I'm interested in narcissism in women—not pathological narcissism, but healthy narcissism—the way women had such a difficult time, certainly in my mother's generation, in feeling pride and assertive self-possession and self-identity. She was supposed to, in a certain sense, not be a person. Pride in accomplishment is so essential, and with my mother it tended to manifest itself furtively. There was a lot of hiding and exposing and hiding again. That's certainly what makes that character in Homebody work. She reveals herself, then conceals herself, over and over again. She has these dazzling displays of erudition and vocabulary followed by self-abasement. It's what makes her mysterious and alluring, I think. My mother was a mysterious person. You had to work really hard to figure out what was going on with her. And you rarely succeeded completely.
All About Eve is one of my favorite films, but recently Mark and I watched this Sidney Lumet film called Stage Struck, which is also about an actress. The difference between the two films is amazing. In All About Eve, Bette Davis has that horrible speech about how if you're a woman with a career, you wind up with nothing but a suite of French provincial furniture. So she's going to become a wife. Eve Harrington is going to become a monster. At the end of Lumet's film, the actress says, Fuck you, I don't want to have kids. I want to be a great, famous actress. And she walks out, and she isn't beaten up for it or condemned. It was made about eight years after All About Eve. Well, there it is.
It's still very hard for women. I see it in my work with Jeanine Tesori. She's one of the great theater composers, and I'm amazed at how tight some people—mostly men—are with praise for her. They're just not quite comfortable with it. It's not happy-making to them that this extraordinary composer is a woman. It would just be better for them if she were a guy.
INTERVIEWER
Was your mother's acting your first exposure to theater?
KUSHNER
Pretty much. When I was a little kid, my aunt Martha would take me to children's plays, and I remember those very vividly, mostly because I adored her, so going out with her was the best thing in the world.
But I think what made me go into theater was seeing my mother onstage. The first thing she did was Mrs. Frank in The Diary of Anne Frank. The second thing she did was a play about Freud called The Far Country. She played a paralyzed woman in Vienna who goes to see Freud. I remember her in this wonderful nineteenth-century gown being carried by her husband and laid on Freud's couch. I think I was four or five years old.
Right after she was in that play, my sister had her first fitting for hearing aids in New York, so my mother and sister went up there on a bus and I stayed at my paternal grandmother's house in Lake Charles. My kindergarten class went to a barnyard to pet animals and I got some allergy to something. The next day I woke up and couldn't move. For two or three days I was paralyzed. A cousin of mine, who was my father's age and was a doctor in Lake Charles, came and carried me into the living room. I still remember having dreams about him carrying me around. It was very sexual and great.
When I was seven, I saw my mother do Death of a Salesman. It had caused a split in the little local theater, the decision to produce Salesman, because it was a dirty play about an adulterer—and, I'm sure, because Miller had refused to testify and was married to Marilyn Monroe and was a liberal. The splinter group that produced the play staged it in the round, which also was a big scandal. The regional-theater movement was just starting, and theater-in-the-round was a new thing. The reason it was important to me was that I watched my mother acting and looked across the stage and saw all these adults, who were her friends, weeping. Especially at the end. It was the sixties, so women wore mascara, and I remember seeing all these raccoon eyes. I remember thinking, Something's going on here. I don't quite understand the play, but my mother is making all these people cry. I've always thought that made me want to be a playwright.
INTERVIEWER
Did you ever want to be an actor yourself?
KUSHNER
When I'm writing a new play, there's a period where I know I shouldn't be out in public much. I imagine most people who create go through something like this. You willfully loosen some of the inner straps that hold your core together. You become more porous and multivalent and multivocal, so that the multitudes you have inside yourself can start to get up and walk around and emerge. Then, hopefully, you put them back into the cave. But to really play Linda Loman, you have to go there every night. So you live in a state, I would imagine, of permanent looseness in the core, which I find frankly terrifying.
I've become close friends with very few actors. They are of course dazzling people and I need them to do my work. When I meet a new actor with whom I want to work, it's like discovering a new color. But I've always had an instinct of maintaining a certain distance from actors, because I find them uncanny and unnerving.
Sometimes a phony-baloney actor will hoodwink the public for decades, but the actors we really revere aren't kidding around when they act. They suffer. Part of what we are paying to see when we go to the theater is suffering. We want to see actual suffering. There's a certain Christ-like thing going on—the actors are suffering so we don't have to.
INTERVIEWER
Do you think that as a playwright you torture actors, like the magician tortures the amanuensis in your adaptation of Corneille's L'Illusion Comique?
KUSHNER
As a playwright, you are a torturer of actors and of the audience as well. You inflict things on people. But most audiences come to the theater eager to have experiences, so they're open to having things inflicted on them. I run into people who tell me, I lost a partner to aids and Angels was incredibly hard for me, or, My mother committed suicide, and that scene in act 4 of Intelligent Homosexual is unbearable. There's some part of me that says, Good, that's what this is about. That's what this is for. I believe in the power of theater to teach and to heal through compassion, through shared agony. And it also offers a way of developing critical consciousness. It teaches how to look at the world, to see it with double vision.
INTERVIEWER
What do you mean by "double vision"?
KUSHNER
The essential thing in theater is that what happens onstage very obviously both is and isn't at the same time. The play demands that the audience extend its empathic imagination. But simultaneously, the audience—both the individual audience member and the collective animal—is skeptical. It says, But that man isn't dead. He's still breathing. And, That isn't an angel crashing through the ceiling. It's got these big wires hooking it up. It's just a woman in a dress and cardboard wings. That disbelief is engaged in a dialectic with the surrender of skepticism. The theater requires an essential gullibility that you can't get through life without having. If all you can feel is skepticism—well, you meet people like this. Run away from them. They're not good people.
When I was a sophomore at Columbia, I simultaneously discovered Marx, Brecht, and Shakespeare, and I realized they're all playing with the same thing—the way things both are and are not what they seem. All three ask us to see the surface, but also what's beneath the surface, what shapes the surface. They ask us to think about intended effects and about what's being concealed within the effect.
Capitalism has done exactly what Marx said it does—it gives the inorganic machine the qualities of the living beings who created it and makes it seem like a living thing itself, not a dead thing created by human labor. We're trained through market research and the dark genius of advertising to develop increasingly erotically charged relationships with the inorganic. You develop the feeling that you can't live without your iPhone and your iPad because they're sold to you as having souls, as magical manna from heaven, instead of what they actually are, which is just stuff that people put together. We feel the object has a soul because human energy went into making it. That's its truest value, that it's human made. But to disguise its origins, to hide the fact that your stuff is made by powerless and exploited human beings, it's packaged and sold as being actually human, organic, erotic. The labor, the human energy that went into making the lifeless commodity, is concealed within, covered over by an effective illusion of life. The Nike sneaker or the iPad seem alive, and we have to learn how to look beneath their surface effects to locate and understand the sources of their uncanny, cyborg power.
Brecht says the point of theater is, among other things, to make you conscious of this disappearing trick. That's why he used a half-curtain in his productions, with the audience watching one scene being played out in front of the curtain and, behind it, the next scene being prepared. As he wrote in one of his theater poems, let people "see that this is not magic, but work, my friends." His most famous, and most misunderstood, idea about staging is what he calls the distanciation effect—he wants theater to enable you to see the familiar as strange and the strange as familiar, so that you greet reality with an appetite to interpret it.
You find the same dialectic between illusion and reality in Shakespeare. A Midsummer Night's Dream is kind of Shakespeare's aesthetic manifesto. In act 5, scene 1, when Hippolyta and Theseus find the lovers asleep—I could talk about this endlessly—she says, " 'Tis strange my Theseus, that these lovers speak of." And Theseus says,
More strange than true. I never may believe
These antic fables, nor these fairy toys.
Lovers and madmen have such seething brains,
Such shaping fantasies, that apprehend
More than cool reason ever comprehends.
He says that you can't believe this stuff—that, like poets or lunatics, lovers make up shit that's not real. They "give to airy nothing / A local habitation and a name." And then Hippolyta has the great answer. She says,
But all the story of the night told over,
And all their minds transfigur'd so together,
More witnesseth than fancy's images,
And grows to something of great constancy;
But howsoever, strange and admirable.
"All the story of the night told over" is the play. "All their minds transfigur'd so together" is the audience. "More witnesseth than fancy's images"—they're seeing something that's more than just fantasy. "And grows to something of great constancy"—it's real at the same time, however strange, however freakish and unusual and admirable this reality is. That's theater.
INTERVIEWER
You've played with illusion and reality quite a bit in your plays.
KUSHNER
Whatever else is going on onstage and whatever else people are learning and experiencing in the course of a play, they're always being taught critical consciousness by the inadequate illusion. That's why I wanted to go back to the theater of illusion with Angels and have magical things happen. When we did it at the National, Richard Eyre was concerned that the angel wasn't flown in on thin, nearly invisible wires but that instead she came swinging in on this big obvious rope. But I loved that. I thought, Exactly. That's the idea.
In Angels, if you do what Oskar Eustis and I worked out in the stage directions for the first arrival of the angel, if you follow the directions exactly—now the lights flicker, now the bed moves—it works on a whole other level than if you just say, Nobody's going to believe it's an angel. Just make some noise and some crashing and have the ceiling split when she comes in. The closer you bring the audience to believing, the more powerful the equal and opposite reaction is—the disbelief. When they see that the stuff falling from the ceiling is Styrofoam—because of Equity you can't drop real plaster on an actor, alas—and that the crack in the ceiling is precut and the angel's on visible wires, they're right on the edge of belief and disbelief.
Watching theater, you learn that existence is legible but that you have to have a critical mind if you're going to read it.
INTERVIEWER
You sound like Gus in Intelligent Homosexual.
KUSHNER
That's exactly what Gus is talking about. Marxism-Leninism has made the world become transparent and legible to him. That's what metatheories are meant to do—not necessarily to explain everything, but to command a magisterial enough vista, to have a deep enough coherence that they become for their adherents a way of understanding the world, at least of beginning an understanding. We're now in the twenty-first century and have seen so many metatheories fail that we're very skeptical, appropriately skeptical, of all of them. But I think we're still in search of them and always will be, because we apprehend that there is coherence in the universe. We understand that what appears chaotic is merely the result of a limited point of view. If you can view chaos itself from God's eye, you can see great patterns. Everybody from Aristotle and Plato to Wallace Stevens has written about this.
The point is to pierce the veil of illusion and see underneath to the skeleton, to the infrastructure, to the plumbing, and see how this stuff is actually made and how the magic effect is produced. You can't live as anything other than history's fool if you don't make an effort to do that. I mean, you will always wind up being history's fool—it's not like you're going to get out of it—but the only hope we have is for people not to be literal readers, not to be fundamentalist readers, and to understand that, from the Holy Scriptures on, the whole point is to interpret and to understand. I think theater forces you to do that.
INTERVIEWER
Is theater unique in that respect?
KUSHNER
No, film demands interpretation, of course, and there are great directors who emphasize the artificiality of film, its theatricality. But in film, the possibility exists of creating overwhelmingly convincing, nearly inescapable illusion, and that doesn't exist as a possible choice onstage. You just can't manage it. In a film like Avatar the illusion is almost inescapable, almost all encompassing, and it's certain that, as we proceed into the future, cinematic illusion is becoming even more so. The flat projection screen is already a kind of archaic convention. It's just an imitation of the proscenium arch, really. In the future we're going to take drugs and the screen will be all around us and we'll have sensory experiences with it and I'm sure it'll be great, but people will still be going to the theater to watch Hamlet and Laertes fight. The great thing about having somebody die at the end of a sword fight is that it takes a lot of physical energy to do a sword fight. So they're dead, but their ribcages are heaving up and down. The incomplete, imperfect illusion will never be unnecessary for human beings, and its home will always be in the theater, where everything, including death, is simultaneously thoroughly and yet not entirely convincing.
INTERVIEWER
Is it true that you wrote the first draft of Perestroika in eight days?
KUSHNER
It was ten days, but it had an outline already. It was the year my mother died, and I hadn't been writing very much. I went by myself to this shack that had been lent to me on the Russian River in California and started writing and just . . . I don't know what happened. It was kind of magical. I wrote seven hundred pages. The first draft was this massive stack of legal paper. I literally couldn't stop. I couldn't sleep. I would go to sleep for five minutes and dream. I actually dreamed, word for word, a whole scene.
INTERVIEWER
Which scene?
KUSHNER
When Joe finds Harper on the Promenade in act 4 and she's standing in the rain, she's thrown her shoes in the river, and she says jazzy stuff like, "Nothing like storm clouds over Manhattan to get you in the mood for Judgment Day."
INTERVIEWER
Do you tend to write very quickly and then revise, and revise, and revise?
KUSHNER
I tend to delay as long as I possibly can and get into a lot of trouble and get everyone upset. And then it comes out. I always write under panic. I seem to need that.
INTERVIEWER
Does the panic enliven your plays, or is it just a horrible necessity you have to endure?
KUSHNER
It's definitely horrible and I don't want to believe it's a necessity, but it seems to be. I don't want to valorize it in myself, because it has made it hard for me and very hard for the people who work with me. It's been particularly tough on Jeanine. It's caused problems for many theaters I've worked with, for Mike Nichols and for Steven Spielberg. It's never been a good thing. It's something I have struggled with and suffered from all of my life.
I find writing very difficult. It's hard and it hurts sometimes, and it's scary because of the fear of failure and the very unpleasant feeling that you may have reached the limit of your abilities. You're smart enough to see that there's something that lies beyond what you've been able to do, but you don't know how to get there, how to make it happen in the medium in which you've decided to work. I can be very masochistic, but that kind of anxiety is something I tend to want to avoid.
I've been in therapy and psychoanalysis since I was seventeen, so I certainly know a lot about why I procrastinate. But the need to do it is still very powerful. The smartest shrinks I've had don't think there's a clean separation between the salutary and the unsalutary parts of it. And they tell me I'm probably not going to be able to change it. Like sexual taste, your work ethic is formed deep within, and it's comprised by all sorts of impulses. Why do any of us bother to put on clothes in the first place and accept toilet training and learn how to read and write and count? It's enormously peculiar, the process of becoming civilized and developing things like a work ethic and a sexual ethic.
INTERVIEWER
Have you developed techniques for dealing with procrastination?
KUSHNER
The lesson I learn over and over again—and then forget over and over again—is that writing won't be so bad once you get into it. One's reluctance is immensely powerful. It's like what Proust says about habit—it seems tiny in the grand arc of a person's life narrative, but it's the most insidious, powerful thing. Reluctance is like that.
When you feel most terrified—I think this is true of most writers—it's because the thing isn't there in your head. I've found it to be the case that you've got to start writing, and writing almost anything. Because writing is not simply an intellectual act. It doesn't happen exclusively in your head. It's a combination of idea and action, what Marx and Freud called praxis, a combining of the material and the immaterial. The action, the physical act of putting things down on paper, changes and produces a writer's ideas.
INTERVIEWER
Do you feel that psychoanalysis is necessary for a writer?
KUSHNER
I don't want to say that everyone should be in psychoanalysis, but I certainly think Freud is valuable, even essential. Learning to read the text of human behavior and the immensely complex way that language constitutes meaning is important. Being an analysand also teaches a kind of ethics, a kind of scrupulousness about behavior. You learn that you're going to do things you didn't consciously intend, things that you intend only on a very deep level. You learn that it's better, when those things happen, to acknowledge that they happened. You lose your innocence and that's painful and it makes you a pain in the ass. If you read The Psychopathology of Everyday Life or the theory of the unconscious or Interpretation of Dreams, you start listening to people in an intrusive, slightly domineering, slightly paranoiac way. You start to suspect every motive you have and every motive that everyone else has, but I think what you get in return for that is a degree of consciousness about how we act and interact.
INTERVIEWER
In constructing characters and scenes, do you use psychoanalytic theory as a tool?
KUSHNER
Not consciously, but I think that because of many years of therapy I tend to ask, Why does this person say this? Why do they keep using this word? I tend to really get interested in parapraxes, in strange, remarkable things that you hear when you listen to people talking. And I think it helps with rewriting, because a big part of writing is reading. You put it down on paper and then, if you're a good, observant reader, you start to parse through what your unconscious has been up to, what it's trying to nudge you toward. You say, Oh, see how many times I've used this word in this scene. Why?
So when I'm writing an exchange and have a fairly strong impulse as a character to say something, I almost always let it happen and see what it leads to. When you're just starting to write a play, you don't know who these people are, so you just have to listen. They're singing a song through you, and if you can hear their melodies, then you have something to start to work with.
INTERVIEWER
When you talk about doing things that are motivated on an unconscious level and trying to read people, I think about rehearsals. I know you had a tough time in Intelligent Homosexual rehearsals.
KUSHNER
I wrote iHo in rehearsal at the Guthrie and then for various reasons found it very hard to get back to before we went into rehearsal again at the Public. Some of the central cast members had been with the play from the beginning, and they're all enormously smart and talented and very powerful actors, and it wasn't entirely clear by the end of the rehearsal process at the Public who owned the characters they were playing. It was clear who was going to own them, because it's my play. But I felt like I was having to negotiate with the actors whenever I wanted to make changes, and sometimes I had to submit to them. A great actor like Linda Emond is not faking it. She's doing annihilating work, and if I start monkeying around too much with the words, it's terrifying for her, for any actor working at her level. It's like brain surgery—it makes her work impossible. A playwright in production is a soul divided. You don't want to fuck up the production, and you can easily do that by not respecting what the director and actors need. But you must also take care of the play. The needs of these two different things—the play and the production—are often incommensurable.
But production is also the great thing about being a playwright. When your work is reasonably close to completion, you get to go into a room full of wonderful people who will then help you continue to write your play. The solitude of novelists and poets and nonfiction prose writers is a terribly frightening thing for me to contemplate. Actors and directors make my life so much easier, and even sometimes happier. The only problem is that, as my friend George Wolfe always says, a playwright has to be able to know when it's time to leave the party. Rehearsal rooms are hotbeds of suffering and agony and joy and sex, or at least eroticism and excitement, and you can get very caught up in them. It's hard to leave and go back and be alone with a blank page. This is something that every writer, playwright or otherwise, goes through. But as a playwright I don't think you quite develop the same talent for solitude that poets and novelists do.
I wish I were a poet.
INTERVIEWER
Why?
KUSHNER
Because it's the most important writing. The greatest writers are the great poets. When you bury your head in poetry, it has all the mind-exploding power of serious philosophy, but it's also music. As a child of musicians, I find rhythm and melody very important.
INTERVIEWER
Melville was a big influence on you, wasn't he?
KUSHNER
Still is.
INTERVIEWER
In what way?
KUSHNER
Because he's very, very great, as deep as deep can be, vast, capable of unnerving insight, so acute an observer that he often seems clairvoyant. And he gives me permission to have gross lapses in taste and judgment and sanity. In Billy Budd, Melville says, "In this matter of writing, resolve as one may to keep to the main road, some by-paths have an enticement not readily to be withstood. I am going to err into such a by-path. At least we can promise ourselves that pleasure which is wickedly said to be in sinning, for a literary sin the divergence will be." Melville gives you permission to rejoice within the work of art in the infinite possibilities every work of art opens up to the artist. He gives you permission to celebrate form and content irresponsibly, to flirt with overdoing it, overreaching, to flirt with disaster. He practically insists upon it.
It's too schematic to break down English-language writers into any two schools, but I'll do it anyway. I feel there are Beckettians, writers who shape a language of selection—the English language responds powerfully to that because of its unruliness—and then there are writers who are nuts about the language and think, Why use one word when you can use six, and why use a plain word when something that will send everyone to the dictionary will do? You see this in Thomas De Quincey's Confessions of an English Opium-Eater and in Thomas Browne's voluptuous and bejeweled language in essays like Hydriotaphia and Religio Medici. Melville is of that school. He is pushing language—sometimes by overclarifying, by overemphasizing, and sometimes by pulling in obscurities—toward a nonrational or superrational mysticality, toward music, exploring and playing with the structures of language, stretching and bending the rules of form, to make a kind of sense that lies beyond ordinary sense, beyond what cool reason comprehends.
And through all the craziness, this wonderful human being comes through. How adorable Melville is. Melville was probably a manic depressive and a huge pain in the ass, but as with Lincoln, as with Shakespeare, you fall in love. Don't you feel that you absolutely would have loved George Eliot? I even feel that way about Dostoyevsky. I mean, I wouldn't want to spend a lot of time with him, but still.
INTERVIEWER
When did you become a reader?
KUSHNER
I've always been a reader. I grew up in a house that was packed floor to ceiling with books. My father also grew up surrounded by books, and he read a great deal. He constantly quotes and recites poetry and the Bible. His parents were big readers. I found the title for The Intelligent Homosexual in 1990, when my grandmother died and I went down to Lake Charles to help my father pack up her library. I came across her copy of Shaw's The Intelligent Women's Guide to Socialism and Capitalism. I'm still incredibly moved to think about these Southern Jews, second-generation immigrants, some of them first generation, living in a part of the country not especially welcoming to progressive thought, with their libraries full of Ibsen and Dickens and Shaw.
INTERVIEWER
How do you think growing up Jewish and gay and white in a Southern town affected your politics?
KUSHNER
Being gay gave a particular edge to my politics, a way of taking politics personally. It's not always something I entirely trust, but I have a certain kind of rage that fuels my politics, because I feel that these people on the theocratic, homophobic right are after me—me specifically—and everyone like me. I'm not hallucinating that.
Jews have good reason to feel the same thing—we've been persecuted for millennia. Jews are a very small minority in Lake Charles. My family lived near the lake in a house in the woods, and the other families who lived in the woods near us were all right wing—John Birch Society–type right wing, hard right. One of them had a big poster of a peace sign stamped into sand and it said "Footprint of an American Chicken." And this was during the sixties.
We experienced a kind of tepid anti-Semitism, or simple ignorance. I'm sure the parents of some of my friends were anti-Semites, but not the kind who'd say, You can't play with the Kushner kids. Mostly there was a sense of Jews as being strangers, aliens, not like everyone else. When my mother was dying, in 1990, my sister and I were in her hospital room taking care of her. She was asleep, and a very nice nurse came in and very shyly said, "Can I ask you a question? Are you Jews?" We said yes. And this young woman said, "Can I see your horns?" This was in 1990. I didn't know what she meant. I had only a vague sense that there was a myth that Jews had horns.
I think that sense of Otherness is a big part of who I am, of my sense of myself. It helped that it developed around being Jewish, an identity of which my parents were proud. It made my sense of pride in being Jewish transfer easily—well, relatively easily—to a pride in being gay.
And I was raised to believe that a part of being Jewish was to try to be just, fair, ethical, a good person, a mensch. A week and a half ago, someone who is in a Lake Charles men's club with my father wrote to him and asked, "Why is it so many Jews are Democrats? Republicans are the only ones who seem to care about Israel." And he quoted some guy on a hideous right-wing Web site who'd called liberal Jews "plopping Jews" because they haven't worked to become Jewish, they just "plopped" out of their mothers' wombs. My father wrote back to this guy and said, "I have three things to say to you. First, there have been incredibly great Jewish writers, from the genius who wrote the Book of Job to Saul Bellow and Philip Roth. Why, with so many great Jewish writers, are you reading this idiot on this stupid Web site? Second, my mother's womb is none of your goddamn business or this jerk's goddamn business, so leave my mother and her womb out of it. The third thing I want to say to you is this—'What mean ye that ye beat my people to pieces, and grind the faces of the poor?' That's from Isaiah, and that's why I'm a Democrat."
INTERVIEWER
So the gift for argument runs in your family.
KUSHNER
Yeah, sort of. My mother was emotional and loved to argue volubly, as long as it didn't get personal—though she took politics personally. I'm a lot like her that way. She'd often end up getting too upset and angry to continue. She made me unafraid to fight, verbally at least. My father really doesn't like to argue, but when he has to, he's rational, considered, forcefully quiet. He says his piece and then he's done. I was a high school debater and very good at it. I was channeling my mother—I became very verbally aggressive through debate. That was probably the worst time between my father and me. He hated my belligerence. I think he found my style of argument too much like my mother's, too expressive. Probably he found it shrill. This was while it was becoming clearer to him that I wasn't heterosexual, which he felt was a rejection of him, which is ironic, strange, sad. But he was right in some ways about my bellicosity—I was a passionate arguer, but I wasn't thoughtful. It took me years to unlearn what I learned in high school debate, which was predicated on a kind of strategic rather than substantive or ethical approach to argument. Though I'm grateful for debate—it was probably useful training for a being playwright. And my partner and I won a lot of tournaments, and that got me accepted to Columbia. Otherwise, public high school in Louisiana wasn't offering a whole lot, academically.
INTERVIEWER
What was high school like for you?
KUSHNER
Lake Charles High, which is where my sister and brother and I went—where my father had gone—was integrated by federal mandate when I was a freshman. It was an all-white school the year I started, in 1971. There was an all-black high school a few blocks away. The courts ordered busing, and Lake Charles High became half-white, half-black, as I recall, within the year. I got to see firsthand that social engineering works. I saw the place transform from a very good white high school into a very good integrated high school. At first there were fears of gang warfare, and there were a couple incidents of white kids and black kids getting into fist fights, but by the end of the year this white boy on the debate squad who I had a terrible crush on—I was madly in love with him—took an African American girl, who was also on the debate squad, as his date to the prom. They were homecoming king and queen.
Then of course a bunch of white parents got busy working on a bond issue, and they built a huge new school so far away from the black community that busing laws couldn't cover it. Lake Charles High School, where I went, eventually became an all-black high school and this other school became an all-white high school, and it got all the funding, and Lake Charles High got less and less funding the more it became African American, so the experiment in social engineering was undone. But before it got sabotaged, it worked, and that was an indelible lesson. I think anyone who lived in the South and kept their eyes open at that point saw the importance of the role of the federal government in protecting and advancing minority rights against majoritarian tyranny.
INTERVIEWER
The play of yours that deals most intimately with race, Caroline, has a lot of autobiographical elements.
KUSHNER
Yes, Caroline grew out of an autobiographical piece, something I'd written in a journal a hundred million years ago. When I was a freshman at Columbia, I thought, I wonder if I could be a playwright. And I said to myself that if I could come up with twelve ideas for plays in the next hour, then I could be a playwright. And I wanted to become a playwright, so I wrote down twelve ideas. I don't remember what any of them were, except one—an African American woman who works for a Jewish family in the Deep South and is, in some ways, also president of the United States. That's all I wrote, but the seed stayed with me. Writing it as lyrics to be set to music is what made it possible for me to write Caroline.
INTERVIEWER
Why?
KUSHNER
I grew up in a house filled with music—my parents and brother practicing, and music on the phonograph. Writing this story as a musical gave me access to memories, and to a means of evoking my particular childhood. Music also gave me permission to invent, it freed me from claims of verisimilitude. When people are singing instead of talking, there's an automatic artificiality—the audience has to watch with a degree of sophistication. That helped me get over the ick factor of writing something based on actual living people.
INTERVIEWER
Caroline is based on a woman who worked for your family when you were growing up. Were there particular challenges imagining yourself so deep into the mental life of someone you knew, who was also an African American woman?
KUSHNER
The character is very loosely based on her. Her name is Maudie Lee Davis, and the play is dedicated to her. A lot of the white kids I grew up with found doing minstrelsy really funny. My parents would have killed us if we had done it, and so we didn't. Learning not to imitate black speech helped us define ourselves, but then, there I was, writing Caroline, trying to remember what black people had sounded like to me when I was a child, and trying to write lyrics that approximated what I remembered.
But again, one of the nice things about being a playwright is that the process doesn't stop when you send your work off to a publisher. When I wrote Caroline, I'd already talked to George Wolfe about directing it, and the part of Caroline and the other African American characters were played by African American actors. So as I worked on the piece, I had African American collaborators helping me find things, understand things, and telling me when I had screwed up. Part of playwriting is communal, collaborative—at least, it is if you allow it.
For Homebody/Kabul, when we were casting it in the summer of 2001, it was very hard to find actual Afghan actors, but we managed to find actors who had at least some direct, lived experience of Islam in non-American cultures. The Afghan characters speak Pashto or Dari, so I found a guy in Queens who'd grown up in Kabul to translate, and while he was translating, he told me all sorts of things. He was incredibly helpful, sometimes with information, sometimes just in reminding me in vivid ways how large a cultural divide I was straddling. In one scene, I wanted a Taliban soldier at the Khyber Pass to insult a British character by calling him "fag" in Pashto. And Mr. Zuri, my translator, said, "I don't know what that word means." And I said, "Well, it's a perjorative term for a homosexual." And he said, "I'm not sure what that is." And I said, "A man who has sex with other men." And he said, "There's no word for that in Pashto." And I said, "Really? That's not possible." And he said, "No, there isn't. There are no such men in Afghanistan."
INTERVIEWER
Speaking of translation, what did you hope to accomplish by doing a new adaptation of Mother Courage?
KUSHNER
Brecht wrote Courage in a kind of slangy, ersatz medieval German, and it's hard to know what to translate that into. Most translations opt for something clean and spare, sort of sidestepping the question of an American-English equivalent for Brecht's made-up dialect. There's a translation by Ralph Manheim and John Willett that's often used, but it seems to be set in Yorkshire, which is not helpful for American productions. I wanted to try to do a version that had something of Brecht's jumpy, modern and medieval, political and theological blending. Also, Mother Courage is a musical, and I didn't think anyone had been especially successful in translating the lyrics. And I wanted Meryl Streep to play Courage. I felt she had to—it's one of the greatest stage roles for women, and she is, without any question, one of the two or three greatest actors, maybe the greatest actor, in the English-speaking world. At the first read-through of the script for Mike Nichols's movie of Angels, I went up to Meryl and said, "Since we just met, it's obnoxious of me to say this, but you have to play Mother Courage. I would love to do a translation for you."
When you really love a text, translating it is an act of incredible intimacy. You never learn as much by reading as you do when you translate. Sometimes I gave myself permission to add in little bits, not because of any deficiency in Brecht, but because I wanted to emphasize, ever so slightly, that his characters have inner lives, that they're not flat mouthpieces for some simplistic political program. Actors tend to make this weird assumption when they do Mother Courage that they're not playing people. They don't think about backstory. They don't think about subtext in the dialogue. They play cartoons. It doesn't help that Brecht names his characters things like "The General." When you read Mother Courage, you think to yourself—I mean I certainly thought this the first time I read it—Oh, this guy the General has the hots for Eilif, Courage's violent, crazy, sexy son. And then you think, Not Brecht, Brecht's not interested in sex, he's political! So you turn the General and Eilif and the play into one-dimensional cartoons. But then I read Brecht's rehearsal notes, and that's exactly what he had in mind—the General never says it, but he wants to fuck Eilif. Who wouldn't?
With any play, if the play's worth doing, you have to start by asking questions. Why is this person doing this? What does this person want? What is this person after? Somebody comes in and says, I want your apple. The other person says, But I want the apple. And they argue about who should get the apple. What is really going to be interesting is not the apple at all, but that one of them wants to have sex with the other, or one of them wants to kill the other. Exploring that is the joy of doing a play in the first place. It's a great problem—not just in the American theater, but in theater in general—that people don't explore enough. I'm often frustrated by how underexplored things feel in productions of my own work. Especially if I'm not around to pester everyone.
INTERVIEWER
Why do you think that happens?
KUSHNER
One of the reasons is that my characters talk about all sorts of things other than what's at the heart of the scene. That will eventually emerge, but it may take a long time. It's possible for directors to just think, Oh, this is interesting talk, let's have them sit there and talk. But that's not drama—at least as I understand it. In drama, there's got to be something at stake and someone's going to win and someone's going to lose. A scene is an embodied dialectic.
Also, almost all productions are given a ridiculously inadequate amount of rehearsal time. If a play is two hours long, it should be rehearsed for two or three months, and we rehearse it for three or four weeks at the most.
INTERVIEWER
You went to graduate school for directing. Do you think your work as a director shaped you as a writer?
KUSHNER
I studied with Carl Weber, who worked with Brecht, and he taught directing with the same tools that Brecht used for writing plays. He asked us to try to construct what Brecht called a play's "fable," a kind of outline of the key events the director knows the audience must follow. And "key events," we were given to understand, includes both narrative incident and the way the narrative expressively carries the Inhalt, the deep content, the ideological, emotional, symbolic, political content of the play—what Walter Benjamin identified in Brecht's plays as the Plumpes Denken Geschichtslinie, "crude-thinking story lines." My graduate training in directing taught me what a supple and complicated thing an outline can be.
INTERVIEWER
Do you outline?
KUSHNER
I always outline. Sometimes I even storyboard on little index cards. Then the characters take over and make a mess of things. But they only come to life because I've outlined.
INTERVIEWER
Do you have a format you subscribe to for your manuscripts?
KUSHNER
The choice of the formatting is important. Writing a play is like writing a poem—it matters where the line breaks happen. A great critic of poetry like Helen Vendler reads not just the words but the spaces in a poem. Punctuation marks in a play are as powerful as they are in poems. When she'd send things to editors, Muriel Rukeyser would put in a note that read, "Please believe the punctuation." I always tell my playwriting students that these choices are critically important. Even tiny choices. Is it "James, colon, line of dialogue, Mary, colon, line of dialogue," or is the character name centered above the line? Is the character name underlined? Not underlined? Capitalized? Is the script single spaced? These decisions will have an impact on the way a play is read and on the way it's performed.
When I read scripts that are single spaced, it feels to me like the writer isn't thinking enough about what will happen in the rehearsal room, or has some ambivalence about handing the script over, because it's going to be hard for an actor to act off a script that's single spaced—they'll be trapped, glued to the page like readers. When a play is double spaced and there's almost nothing on each page, it feels to me a little bit too friendly, drawn out, airheaded. I do one and a half lines because that leaves enough breathing room to take notes in. I couldn't write a play any other way. It wouldn't feel like a play to me. Each playwright has his or her own way of doing things, but the choices matter. A play is both a score for a kinetic event and it's literature. The audience should be able to hear that what they're hearing is written down on paper somewhere, it isn't spontaneous, and then also they should sometimes lose track of that almost completely. And when you read a play, you should always feel aware of its incompleteness, no matter how good it is as reading material. You should feel a tension, which is the play waiting to be staged.
INTERVIEWER
Do you ever write by hand?
KUSHNER
I always write my plays by hand, with a fountain pen. Not my screenplays. I write those on a laptop.
INTERVIEWER
You write first drafts of plays with a fountain pen?
KUSHNER
For plays, always, always. On yellow legal paper, which has a practical purpose. A single sheet of 8 1/2" x 14" legal paper, with my size handwriting, types up to about a single page of typed script. So I can count the legal pages to know how much trouble I'm getting myself into. If I have a play that's six hundred pages long, I've got a problem.
INTERVIEWER
Do you think differently when you have a pen in your hand than you do on the computer?
KUSHNER
I do. It's a more muscular activity. I love to draw. That's why I love fountain pens so much. You can see in motion the feeling of the line. When I look at a page of manuscript, it looks like me. I have really weird cursive handwriting. It's straight up and down. If I've written a sentence really quickly, it's a scrawl. When I'm reading it again, I read it with a certain kind of energy. If it's written fairly neatly and carefully, I can see that I was thinking carefully. The other thing is, if your handwriting's as bad as mine—and most people's handwriting isn't very good—when you handwrite a script, it's completely privately yours. That's important, I think. If you're having trouble writing, it's important to know that whatever you write you can throw away. No one ever needs to know. But when you write on a computer, at least for me, it feels like your words are immediately public and permanent.
And on a computer, you erase something and it's gone. It's sometimes useful to see what you scratched out and hacked through.
INTERVIEWER
Do you feel the Internet has changed the way you think and write? Do you think of it primarily as a help or as this enemy that you have to battle?
KUSHNER
In some ways it's definitely an enemy. This morning I was going to work on a Lincoln rewrite before I came to meet you. A couple of days ago I biked all over Provincetown looking for a needle threader—you know, one of those old-fashioned little tin discs with a cameo on it and a thin wire loop sticking out. I found one and bought it. I'm trying to teach myself how to needlepoint. I even considered bringing my needlepointing here, needlepointing during the interview, but then what would you think? Anyway, I bought this needle threader, but it was crap—two uses into it, the thing broke. So, this morning before working on Lincoln, I decided I would go online and find a really good needle threader. And who knew that on Amazon alone, there are dozens of needle threaders? So I started thinking, Why does this needle threader have five stars and this one four and a half? And this one only has two, isn't that interesting? Can you imagine who got this needle threader and was really disappointed? And then, it's like, Oh my God, it's ten o'clock! I didn't do any work.
You can't do that with a pen. You can draw pictures with a fountain pen. You fill it with ink, which takes time, and then you make a mess and spill the ink, and you have to clean up your hands. So there's stuff to potschke around with with a fountain pen, but it's mostly of limited interest. Unless you decide that you have to go shopping for fountain pens, which is just like, forget it.
INTERVIEWER
I read that you trained as a visual artist for a little bit.
KUSHNER
I wanted to be an illustrator or a cartoonist. I took painting classes at Columbia.
INTERVIEWER
Does visual art inform your writing process? Do you visualize as you write?
KUSHNER
I try not to. I find myself visualizing much more when I'm working on film. You can tell when a play has been written around a design element. I think that that's not a good idea. Sometimes I have fairly strong visual images—like the angel crashing through the bedroom ceiling in Angels. Sometimes images appear in my work. But I think that part of my brain is mostly shut off when I write plays.
INTERVIEWER
Do you think that thinking visually leads playwrights astray?
KUSHNER
There are no rules in playwriting, really. I think that's one of the reasons it's kind of an unteachable skill. It's not like writing poetry. I could understand why someone would want to get a master's in poetry, because there's a lot of technical complexity to master. Playwriting is different. I taught graduate-level playwriting for several years at NYU, and I began to feel that the students, although some of them were immensely gifted writers, were making a mistake being there, and that they would have been doing themselves a favor by becoming assistant stage managers and just hanging out in rehearsal rooms and then writing. Or getting a master's in directing. Playwrights need to know what happens in a rehearsal room.
For narrative realist drama—which is the only kind of playwriting I know much about—I'm suspicious of the visual image supplanting the actual engine of the play, a static image supplanting the dialectic, which is the dynamic motor of drama.
The older I get and the more experience I have, the more I realize that the basic things you have to learn if you're an actor, director, or playwright are, What's the stage action? What's the objective? What's the conflict? How is it resolved? What happens to the people and to the ideas that the people incarnate? It's not an allegory, but people are embodied ideas onstage in narrative realist dramas. So if a moment in a play is really reliant on stage effect, the question becomes, What is in fact at stake? Has a gadget or an image supplanted people—or rather, the people playwrights and actors make up out of words?
Beckett's plays are about as static as you can get and still call something dramatic, and they frequently seem to center around an indelible image, but the image always changes. And the changes, not the image, are what the play's about. Shakespeare used all sorts of extraordinary effects in his plays, but he isn't a painter, he's a playwright. The plays are so fantastically stageworthy because they're so astonishingly active and alive.
INTERVIEWER
You have said that theater people—actors and directors—tend to be more interested in emotions than in ideas. Do you feel alone in your effort to put philosophical and political ideas into the center of the play and into the center of our concept of what matters in relationships? Do you feel the theater has turned away from ideas?
KUSHNER
Did I really say that? I wish I hadn't said that. I think most people, actors and directors and playwrights and audience members, are afraid of ideas and afraid of emotions as well. And we should be. Ideas and emotions are dangerous. They threaten stability, stasis, habit, our comfort in the world. But there's no such thing as a theater void of ideas or emotions.
I feel anything but alone. There are so many people writing for the stage today whose work I admire and envy and emulate, and like me they're trying to understand, to get at the truth—at least on our best days that's what we're doing, or trying to do. Different writers put different epistemological framing devices at the forefront—politics, theology, philosophy, psychology. Each writer has his or her own predilection for how to describe the ways that emotions intersect with ideas, emotion corrupting and transforming and destroying and exalting thought, and vice versa, ceaselessly. And of course, ultimately, the distinction between idea and emotion is completely artificial, as are the distinctions between politics, theology, philosophy, and psychology. But all that matters is that you spare yourself nothing and wear yourself out and risk everything to find something that seems true. And if you fail to do these things, you torture yourself about your failures. And then get back to work.
I found a line in Glenway Wescott's journals that's become my mantra—"A day's work every day now. Now, now, now!"