Interviewed by Peter Terzian
Issue 199, Winter 2011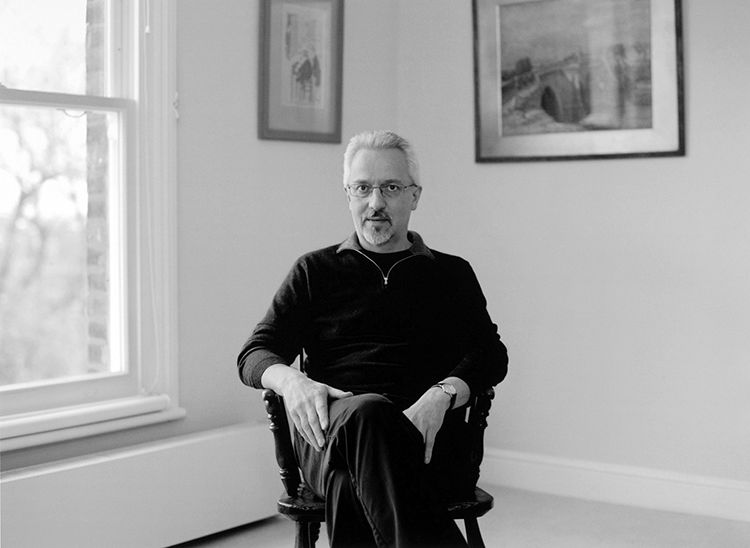 At home in London, 2008.
Alan Hollinghurst lives on a street of semidetached red-brick houses at the edge of Hampstead Heath, the eight-hundred-acre park in northern London. Much of the heath is lush and untamed, but Hollinghurst's living room windows look out over the neatly mowed fields at the foot of Parliament Hill. We conducted our ­interview in this room over the course of three bright July days. He answered each question after a few ­moments of reflection, during which he would gaze out the windows as though magnetized by the landscape.
Hollinghurst was born in 1954 and grew up in Faringdon, a market town twenty miles from Oxford surrounded by farms and chalk hills. His ­father managed the local branch of Lloyds Bank; the ­family lived upstairs. Hollinghurst's first novel, The Swimming-Pool Library, published in 1988, was a celebration of the thriving gay subculture he discovered when he moved to London in his twenties and of the "freedoms and possibilities" of city life. But later ­novels, including The Folding Star (1994) and this year's The Stranger's Child, are in part pastoral reveries that gesture back to his semi­rural English childhood.
Hollinghurst's prose has been described as "impeccably textured" and "ravishingly measured" (Geoff Dyer), as "lavish, poised, sinuously alert" (James Wood); Nicholson Baker opened his review of The Folding Star by pointing out that its author trumped Oscar Wilde at describing bees. (Wilde's bees improbably "shoulder" their way through grass, while Hollinghurst's fittingly "dropped and toppled" on a bush.) The book­cases in Hollinghurst's study are devoted to the writers who have meant the most to him, many of whom are distinguished by their own textured prose: there are four shelves of Henry James, substantial collections of Proust, Woolf, Nabokov, and Waugh, and rare first editions of the novels of Ronald Firbank. Above the wooden desk his parents bought for him when he was at school, and on which he has written all of his novels, hangs an ­autographed photo of Firbank, in the role of "tutelary spirit." A long case filled with poetry books is topped by a nearly complete set of Nikolaus Pevsner's Buildings of England series, reflecting Hollinghurst's lifelong ­interest in architecture.
Hollinghurst has written five novels to date. The Swimming-Pool Library, the story of a promiscuous young idler, mixes rich, ­witty prose with cheerfully graphic descriptions of gay sex. William Beckwith, the ­novel's ­rakish narrator, strikes up a friendship with an elderly aristocrat named Lord Nantwich, who asks Will to write his biography; in the process of reading Nantwich's diaries, Will is offered a glimpse of an earlier gay generation's passions and oppressions. In both The Folding Star and The Spell (1999), a man in midlife nurses an obsessive love for someone several years his ­junior, in the first case with tragic consequences, in the second to comic effect. The Line of Beauty, which won the Man Booker Prize in 2004, has been called Hollinghurst's masterpiece; it's a funny, furious, sad ­novel about a young James scholar who falls under the spell of a glamorous and powerful Tory family during the Thatcher years, at the height of the aids epidemic.
The Stranger's Child has a wider scope than any of Hollinghurst's previous books: it begins on the eve of World War I and ends in the present day. In 1913, a young bisexual poet named Cecil Valance spends a weekend at the suburban villa of George Sawle, a fellow Cambridge student with whom he is secretly having an affair, and writes a verse inscription in the autograph book of George's sister, Daphne. The poem becomes famous after Cecil is killed in battle, and over the following decades, the facts of the weekend and the sexual lives of the characters are concealed, guessed at, misremembered, distorted, and reinterpreted. The novel picks up a thread that has run through Hollinghurst's books since The Swimming-Pool Library: the ways in which the present ­devours the past.
Hollinghurst joked that upon the release of The Swimming-Pool Library some interviewers expected to meet "this tremendous, gorgeous stud, and were visibly disappointed at how scholarly and reserved I was." In fact, he is warm and gracious, with a jolly, joshing laugh, and a gently self-deprecating sense of humor. At one point he read from a notebook a list of discarded titles for The Stranger's Child, amusedly singling out which ones were "too abstract" (Recognition) or "too grandiose" (The Nation That Is Not, taken from a Housman poem) or simply "terrible" (Steps in the Dusk). After reading about ten more, he snapped the book shut and smiled. "I think that's enough self-exposure."
—Peter Terzian
INTERVIEWER
What were you like as a child?
HOLLINGHURST
I was an only child, and I lived quite a lot in my own imaginative space. There was a room on the top floor of our house that we called the junk room, where I used to make houses out of tables hung with old curtains, places I could hide and lose myself in. I remember I was very alarmed by anything collective, by anything that I felt threatened to overwhelm me or coerce me. We used to go to the Christmas pantomime in Oxford every year. The lyrics of a song would come up on a screen on the stage, with a little ball that bobbed along on top of the words you were supposed to sing. Everybody else joined in, but I couldn't bear it—I would burst into tears.
INTERVIEWER
Did you enjoy being an only child?
HOLLINGHURST
I remember my father saying to me, "Awfully sorry, old chap, but you're not going to have any brothers or sisters," and being flooded with relief—it was really the last thing I wanted. I think being an only child created in me a degree of self-reliance, which I'm glad of. It made me perfectly happy with my own company and perhaps was good conditioning for the protracted solitude of writing books as slowly as I do.
In my later teens, when I was sure that I was gay, I couldn't find any way of telling my parents, and my relations with them were probably more remote than I now like to think. As I was away for a lot of the year at school and then at university, that remoteness became in some sense institutionalized. I developed a habit of keeping things to myself, and of thinking that my significant life was all going on away from home.
INTERVIEWER
Were you conscious of gay people around you as a child?
HOLLINGHURST
Within our own social world, not at all. No one in the family, no one in my parents' circle of acquaintance—a lack that made coming out all the harder. I don't think I met an unquestionably gay adult until I went to university. But I feel there was a gay presence, of an unusual kind, in my early childhood. On the edge of our town there was a small, eighteenth-century manor called Faringdon House, which was the home, from 1931, of Gerald Tyrwhitt, Lord Berners, a wealthy writer, painter, and composer who wrote smart, French-type music and became known as the English Satie. He was a famous eccentric and dyed the pigeons at Faringdon House all the colors of the rainbow. He had built the last real folly in England—a very tall, ­almost windowless tower with a Gothic top—and I would play hiding games around it with my mother nearly every day.
Berners died before I was born, but I think the continuing presence of this gay aristocrat made some impression on me. Partly it was his exoticism. The Stravinskys used to come and stay, Salvador Dalí would visit—it was strange to think of them in this sleepy country town. And partly it was that he had lived with his much younger partner, Robert Heber-Percy, who survived him and kept up the Berners traditions. There were marvelous pictures at Faringdon House, and when Heber-Percy was going away he would come into my father's bank with Cézannes wrapped in horse blankets to put in the strong room. He took other boyfriends and was much less discreet about being gay than Berners had been.
INTERVIEWER
Are you fond of where you grew up?
HOLLINGHURST
I loved it. My parents and I were tremendous walkers, and we would drive to the Berkshire Downs nearby and go for long walks on top of them. It's a ­numinous landscape full of legends. There's a great combe where King Alfred defeated the Danes at the Battle of Ashdown, and an Iron Age hill fort and long barrows and Neolithic tombs. To an imaginative child, it was a marvelous landscape to grow up in.
INTERVIEWER
What were your early experiences of school?
HOLLINGHURST
When I was seven and a half, I was sent to a boarding prep school about three miles away called St. Hugh's, which was in a lovely old house dating from 1603. I found it very upsetting for the first ten days and then ­suddenly decided it wasn't too bad. It had wonderful stairs, which I used to love sweeping up and down, pretending my dressing gown was a cloak. And once I hit puberty, the fact that it was full of other boys had its interest.
INTERVIEWER
Was it easy for you to make friends?
HOLLINGHURST
I had quite a few good friends, but I seem to have always had an element of reserve. I was rather a goody-goody as a child. I hated the idea of being in the wrong and dreaded being punished. Everyone at my prep school was being beaten by the headmaster with the back of a hairbrush round the clock, and I was keen to avoid that. It was only later on I discovered that you could be naughty and get away with it.
INTERVIEWER
What were you reading at that age?
HOLLINGHURST
There was a bizarre library at the school that had a lot of old-fashioned children's adventure books by G. A. Henty and R. M. Ballantyne. I got very ­involved with Rider Haggard—I still have the tie-in paperback for the film of She with a picture of Ursula Andress on the front, "the most beautiful woman in the world." I also became an avid collector of a series called The Pan Book of Horror Stories, edited by Herbert Van Thal. I still have these as well, and the gruesome covers take me back—the whole atmosphere of the school suddenly closes in on me when I look at them.
In my school reports, one of the masters was worried about this "­macabre reading," but by the following year, I had discovered Tolkien, with whom I became totally obsessed. I read The Lord of the Rings over and over. I made charts of the kings of Rohan and so on. I used to write letters to my friends in dwarfish runes. The English master took a dim view of this and made me read Barchester Towers as an antidote, when all I wanted to do was to get back to Bilbo Baggins's eleventy-first birthday party for the seventh time. I've never been able to read Trollope since.
INTERVIEWER
What sorts of books were in your house when you were growing up?
HOLLINGHURST
My father subscribed to various libraries and owned quite a lot of classic English novels—Dickens and Trollope and Thackeray. He did brilliantly at school and should have gone to university, but my grandfather had died quite young, and my grandmother relied on him for support. After school he went straight off to train for the bank. He was interested in literature and history, though, and my interest in buildings came from him. I've got the handbook on English Gothic architecture he had as a schoolboy, which also fed directly into my childhood. He'd been to Switzerland before the war and was fascinated by mountaineering and had a large collection of books on the subject, though he'd never himself climbed anything serious. My parents used to buy antiques and had books about clocks and English oak furniture and how to identify old porcelain.
INTERVIEWER
Your education must have been very important to them.
HOLLINGHURST
It was. It must have cost them a lot of money, educating me privately. I was aware in my teens of our not having much spare cash. I didn't, for instance, have a sports jacket that wasn't my school jacket, and it was slightly embarrassing in the holidays if I had to meet up with friends from school while wearing it. I've always been very touched by my parents' desire to do what they thought was best for me, and their belief that, having been properly educated, I was in a position to make my own decisions about my life.
INTERVIEWER
Were there other art forms you came to appreciate as a child?
HOLLINGHURST
My father loved Italian opera and had seen Gigli singing in Birmingham Town Hall when he was a young man. He took me to see my first opera, Carmen, at the New Theatre in Oxford when I was about twelve. I remember the wild excitement of it and the sensation of applauding until my hands hurt.
But I had already had a conversion experience to Wagner the previous year, when a nervous but clever master named F. X. Sempill played us the overture and Venusberg music from Tannhäuser. It's one of the few early ­aesthetic experiences I can still recall almost as if it were happening now—those opening woodwinds coming through the little speaker of the Philips gramophone, the quite new sense of restless sexual and emotional excitement. I remember listening to Tannhäuser and gazing out of the window at the surrounding woods, the real world suddenly at a distance. I had the sense that I had been shown something that, though "classical," was from the future, something I had never glimpsed before and certainly didn't yet understand but that I knew was going to become important to me.
It seems to me now it was a kind of pubertal initiation into the realm of high art, in which aesthetic experience was more than merely interesting or amusing. Although I have no practical musical skills, music has been just as important to me in my life as poetry and novels, and insofar as I seek formal analogies for my own fictional structures, they tend to be musical ones—for instance, The Spell is a kind of rondo in which the A subject is significantly dislodged.
INTERVIEWER
At what point did you begin reading more adult literature?
HOLLINGHURST
At Canford, my public school, I started reading and writing poetry—I didn't read much fiction, except for the books that we were assigned. Mainly I read Romantic and Victorian poetry and learned a lot of it by heart. I adored Tennyson, his amazing eye and ear for nature. Canford was an ancient house that had been owned in the nineteenth century by a man named John Guest, who was an iron founder, and his wife, Lady Charlotte Guest, who was a writer and translator of the Welsh Arthurian epic the Mabinogion. She was a friend of Tennyson's and set up a little press at Canford that printed one of the Idylls of the King. Canford was a romantic house on the banks of the River Stour, with a huge tower, a medieval-type hall, and a long gallery, and it was surrounded by wonderful woods and parklands. Tennyson was very much in tune with the atmosphere there, the Victorian Gothic ensconced in nature.
Then, when we read The Waste Land, I suddenly got very excited by modernism. Possibly the most pretentious thing I've ever done was to read the whole of Pound's Cantos in my last year at public school. I can't have ­understood more than the odd line, but everyone else was almost as ­impressed as I was.
INTERVIEWER
What were your own poems like?
HOLLINGHURST
Early on, I was interested in the sonnet. When I was about fourteen we were given the task of writing about the pleasures of life, and I produced three sonnets, Miltonic in form and Wordsworthian in language.
INTERVIEWER
What were the pleasures you described?
HOLLINGHURST
Going for a walk, the changing seasons, drinking a pint of beer—I'm not sure they were all pleasures I was personally familiar with. Later, I put a line from one of the sonnets—"When all is frozen to the rover's call"—into one of Edward Manners's poems in The Folding Star, when he remembers going as a teenager to see the old poet Perry Dawlish and showing him his sonnet sequences. Perry Dawlish singles it out and says what a splendid line it is.
INTERVIEWER
Were there teachers who helped shape your tastes in literature?
HOLLINGHURST
We had a wonderful master at Canford named Paul Merchant, who was also a poet and who knew Ted Hughes. Paul really introduced me to the whole world of contemporary poetry, and under his influence I started writing a lot of free verse. With his father and Hughes he ran a small press that published a book of Paul's poems, with lithographs by Barbara Hepworth. That sort of thing probably affected my sense of what poetry might be like—lapidary, elliptical, by which I perhaps mean a bit hard to follow. It was a question not of mimicking an ancient form but of taking imaginative leaps.
INTERVIEWER
You published a broadsheet and a chapbook of poems in your twenties.
HOLLINGHURST
My tutor at Oxford was John Fuller, a brilliant poet as well as a great Auden scholar. On an old press that he had bought from a newspaper and set up in his garage, John printed a series of broadsheets, one of them including a poem I wrote in my final undergraduate year called "Isherwood Is at Santa Monica." That was very much my first publication. Some people thought I was claiming to have met Isherwood, but actually it was all based on a program I'd seen on television.
INTERVIEWER
Did you show your poems to your parents?
HOLLINGHURST
Yes, they were very pleased to see them. At Oxford I won the Newdigate, an annual prize on a subject set by the Professor of Poetry. Because Auden had died the previous year, John Wain, a Movement poet and friend of Larkin, set it—oddly enough, in view of my latest novel—as "The Death of a Poet." Then I had a poem published in the BBC's Listener magazine. I remember showing that to my parents and saying, Well, I'll probably have my first collection published next year. Of course, that didn't quite happen. But I think they were impressed and excited. I showed them various poems and recall being not altogether dissatisfied that they couldn't follow them.
INTERVIEWER
Did the poems have gay subject matter?
HOLLINGHURST
In a very cryptic way. I was in one of the Poetry: Introduction anthologies published by Faber of writers who didn't have a full book yet. Some of those poems were about imaginary affairs I didn't seem to be managing to have off the page. Later, in 1985, Craig Raine, who was then the Faber poetry editor, much to my surprise said he wanted to do a collection of mine. I signed a contract and was paid a hundred pounds in advance. Sadly, that contract remains unfulfilled.
INTERVIEWER
Why did you stop?
HOLLINGHURST
It had been slowing. With The Swimming-Pool Library, which I had started writing in 1984, I knew for the first time I was onto a novel that I was going to go the whole distance with. I was now in my early thirties and old enough not to grow out of it halfway through, which is the main hazard of trying to write anything as long as a novel when you're young. And there was a change in the way I thought. Ideas I might have been setting aside to put into a poem got swept up instead into this more capacious and greedy form. I had a wonderful month on Carriacou in the Windward Islands in 1987 and wrote a few poems about that place. I think they were probably the only decent poems I ever wrote. But I haven't written one since. I wish I could, but I don't expect it. I just don't know how it's done anymore.
INTERVIEWER
When did you begin writing fiction?
HOLLINGHURST
I started writing a crazily modernist novel around sixteen, the first of quite a few that got abandoned. I don't think the narrative was a strong element—formally, anything went. I have an image of myself listening to Mahler, typing away impressively and almost in time. I wrote a strange play, too, set in 1913, when the first section of The Stranger's Child takes place—I'm awed by the symphonic relevance of everything I'm saying today! As far as I can recall, it was a reworking of Ibsen's Ghosts and had something about the premiere of The Rite of Spring in it. I was excited by that cultural moment, the decay of the old civilization and the imminence of disruptive change. I vaguely remember forcing another boy to read it through with me out on the playing fields one evening.
As an undergraduate at Oxford I was writing a novel called Scree, and it was about—what the hell was it about? Part of the story was a gay love triangle set in London. I had friends at Oxford who lived in London, with whom I would stay on vacations, so I got to know the city a bit before I came to live here. During my graduate years I was writing a novel about a young man who has an affair with his father's mistress—a rather Jamesian subject. Also, it was set in Venice, which I had become obsessed with. For about five or six years, I went there every year and once rented an apartment there with some friends for a month, so I got to know my way around very well. But the novel ran into the sand, or the lagoon, as it were. I abandoned it around the time I came to London, when The Swimming-Pool Library was starting to accumulate in my mind.
INTERVIEWER
How long were you at Oxford?
HOLLINGHURST
I went up in 1972 and took my finals in 1975. After I got a First, I was able to stay and do graduate work, which somehow dragged on until 1979. I'd come out in my last term as an undergraduate, not to the great surprise of a lot of people. It seemed much less momentous to them than it did to me. I chose to write a thesis, of which the title was "The Creative Uses of Homosexuality in the Novels of E. M. Forster, Ronald Firbank, and L. P. Hartley." It was quite a new subject then. The Sexual Offences Act had been passed in 1967 and changed what could be said about the private lives of gay people. Michael Holroyd's biography of Lytton Strachey came out with uncanny timing a few months later, and it was the first book that was openly and unembarrassedly about the life of a gay writer. A new freedom to talk about these things was very much a part of the atmosphere of the seventies.
I think, without wishing to blow my own trumpet, that my thesis was quite an original thing to choose to do. It struck me that here were these gay writers who hadn't been able to publish anything on the subject that was most essential to their lives. And this repression had all sorts of creative implications, as well as limitations—in Forster's case producing a number of original twists on heterosexual comic plots, until in the end, or rather long before the end, he decided he just couldn't carry on writing fiction because he couldn't write about the thing that meant the most to him. And then what happens when those constraints are removed? Maurice is a very ­touching and interesting book but as a work of art is nowhere near as good as the novels Forster published in his lifetime. For Firbank, a writer in a quite different tradition, style became a vehicle for simultaneous concealment and display.
INTERVIEWER
Do you see ways in which these three writers had an effect on your fiction?
HOLLINGHURST
I've rather forgotten about Hartley. Forster loomed large when I was starting The Stranger's Child—the first part is so obviously in Forster territory, the outermost suburbs of London before the Great War. And I was deliberately playing on Forsterian situations, like the skinny-dipping in the pool in the woods in A Room with a View. At the same time, the whole thing kept slipping into a pastiche of Forster, with cute little asides about the characters' motivations and so on. My ambition was to show the people in each of the book's five periods living quite naturally in their era, and not being objects of a historical reconstruction. So I had to get Forster out of my system. I don't know whether I fully succeeded. Did he influence me otherwise? My books are very different from his. I made a point from the start of seizing all those sexual liberties that he hadn't been able to seize.
Around the time I was writing my thesis, I had a competition with a friend where we both wrote Firbankian novellas, and I rather stupidly traded the manuscript of mine with another friend for a large armchair. But that was an imitative, camp hommage. Firbank is so individual and extreme a stylist that you can't imitate him without looking mad, but sometimes I may have tried to emulate his awareness of the discontinuity and near substancelessness of a lot of what people say, what V. S. Pritchett called "the lunacy of conversation."
INTERVIEWER
What drew you to Firbank?
HOLLINGHURST
I love his highly fragmentary, violently original structures, and the way his earlier novels observe a quaint, old, English world through the medium of a mischievously difficult but beautiful style. He leaves out almost everything you might conventionally expect from a novel, and as a result his books are both airy and rich. The later ones, set abroad, are outrageously gay and make no bones about his admiration for young men. I looked into editing Firbank's letters when I was a graduate, but the man who had bought his letters to his mother wouldn't let anyone see them, and without them it wasn't worth doing.
INTERVIEWER
Firbank has a cameo at the end of The Swimming-Pool Library.
HOLLINGHURST
I wanted The Swimming-Pool Library to celebrate other gay artists, and having failed to do an edition of his letters I decided I'd jolly well put him into my own book.
INTERVIEWER
What was the genesis of that book?
HOLLINGHURST
I think it grew out of my thesis. I wanted to contrast a homosexual life that had been lived under strong legal and social constraints with one being lived rather thoughtlessly in the present by juxtaposing two first-person narratives. And I had a strong sense that I could do something that was unprecedentedly frank. I was very excited by the idea of telling truths that hadn't been told before and breaking down literary categories. Descriptions of gay sexual behavior had until then tended to be restricted to pornography, and the presence of gay lives in fiction had been scant. So I had the great fortune of being given this relatively unexplored territory.
Perhaps one is never as excited by anything as much as one's first book, because then everything is potential. I had moved to London in 1981 and was working full-time at the Times Literary Supplement, so I wrote the book in the evenings and on the weekends, with a glass or two of wine, which seemed to me a disinhibitor. Of course the third glass of wine tended to disinhibit me a bit too much. There was a big change when I began to write full-time. I turned myself into a morning-and-caffeine writer rather than an evening-and-alcohol writer. I don't know if you can detect this at all in what I actually wrote.
INTERVIEWER
I read once that you wrote the book in a yearlong desk diary.
HOLLINGHURST
The idea was that, needing to have discipline and structure, I would write a page each day, and by the end of 1984 I would have a novel. In fact it took me three and a half years. I started getting a bit behind, then tried to make up on weekends, until I was so hopelessly behind that the whole schema had to be abandoned. But the manuscript did exactly fill the diary—the novel has twelve chapters, each of which ended on the last line of a month. I found something reassuring about it having a finite size. I was able to place things within a completely foreknown structure.
INTERVIEWER
How did the voice of William Beckwith come to you?
HOLLINGHURST
I remember it took me a little while to settle into a first-person voice that wasn't my own. I was still working out how this young man I was impersonating would want to sound. By the second chapter I had it. Then at the end of the book I went back and harmonized the opening with the rest. There are various epistemological questions about first-person narration that I—and I think many other writers—never address more than hazily, such as, When and why is this person supposed to be performing the unlikely act of writing his story in the form of a novel by, in this case, Alan Hollinghurst? Some narrators have strongly differentiated stylistic tics, but in the case of Will in The Swimming-Pool Library and Edward in The Folding Star, their best style is more or less my best style. Will is unlike me in many ways, but only five years younger than me and loaded with numerous interests and ­enthusiasms of my own—Wagner, classical architecture. I never wrote anything that was, in a narrative sense, autobiographical, but I put bits of myself into him as well as into other characters. I put quite a lot of me into his friend James, the doctor, who's the hardworking and less sexually successful one.
A major contributory factor to the gestation of The Swimming-Pool Library was the huge sense of possibility that London represented to me when I arrived here, both in life and in writing. I think the romance of the city is felt quite strongly in the book.
INTERVIEWER
What excited you about the city?
HOLLINGHURST
When I first got to London I did a lot of exploring, sometimes just getting on a bus and seeing where it went. I loved getting to know my way around and feeling I belonged here. I loved being able to pop down at the last minute and get a ticket to hear the London Philharmonic or go to Covent Garden. And there was a whole new world of gay bars and clubs. Heaven, the vast club under Charing Cross Station, had opened a couple years earlier, but there were also nice little clubs that played the funkier kind of music I was drawn to.
INTERVIEWER
Did you intend for The Swimming-Pool Library to describe gay life to straight readers?
HOLLINGHURST
It was never designed to give a comprehensive or even particularly responsible picture of gay life. It was a book about the lives of some fairly peculiar people, which is what I've always been interested in examining. Nonetheless, part of its effect was that it revealed a world to a wider audience. At that time, there were gay books written by gay writers for a gay readership, but I hoped my book would be more widely read and appreciated—or, as sometimes happened, not appreciated. It was certainly never my intention to shock, which would have been a very short-term reaction, but some people were shocked by it. There was a review by a woman in the Times, and she said, "If this novel is a lament for the cities of the plain, then I for one am glad that they're gone."
The Thatcher government had put a notorious and amazingly regressive clause in a local government bill banning local councils from spending money on anything said to promote homosexuality. The Swimming-Pool Library was held up as an example of the sort of book that a public library might not be able to stock, which gave it a prominence it might not have had otherwise.
INTERVIEWER
Was it difficult to get the book published?
HOLLINGHURST
I had shown the manuscript to my friend Andrew Motion, who was working at Chatto & Windus, and he rang me up the next day and said he wanted to publish it, so I was saved what might have been the salutary experience of having my first novel rejected the way you're supposed to. I sold Chatto the full rights for five thousand pounds, and they tried to sell paperback rights before publication, but no one would touch it. Amusingly, my current publisher, Picador, which was a very cutting-edge paperback list then, turned it down, saying they didn't think they could sell it. I think in the second week of its release the book went to number two in the best-seller charts, and it remained in the top ten for two months. Suddenly there was a bidding war for the paperback rights, which I sold for more than a hundred thousand pounds. It was a sum that started me on the road to financial independence.
INTERVIEWER
Geoff Dyer has said that The Swimming-Pool Library freed him to write more frankly about sex. Were there books that played a similar role for you?
HOLLINGHURST
I don't think there were. If writing about gay sex as I was doing was fairly new in literary fiction, writing very candidly about the details of sexual ­behavior had been going on with heterosexuals since the sixties, with Updike and others. In 1983, I reviewed Edmund White's A Boy's Own Story for the TLS in what I see now was a rather snooty way. I think I was disconcerted by the combination of candor and baroque extravagance in the writing. There was something shockingly new about reading an unidealized account of a young gay man betraying his lover. It took a while for the impact of that book to settle in my mind—the idea that truth-telling was essential, and not incompatible with a highly aestheticized manner.
INTERVIEWER
Was it a challenge to write about sex on a technical level?
HOLLINGHURST
My general rule was to do it as clear-sightedly as possible, with the same attention I would bring to describing other aspects of behavior. There were also questions about nomenclature. In that book I used the American word ass instead of arse, which bothered a lot of English readers. I just thought ass was sexier. I calibrated the different impacts of penis, dick, and cock. But I didn't find writing about sex difficult—I think I rather enjoyed it.
INTERVIEWER
The sex scenes are actually quite funny.
HOLLINGHURST
There are a lot of farcical things going on, aren't there? It was important to have that kind of realism in the book, not just a display of superb sexual athletics. I had hoped to give Will sufficient charm to engage the reader to follow his exploits, but he's clearly not a terribly nice person. I don't know whether one would actually like him at all if one met him.
INTERVIEWER
Reviewers have said the same about some of your other protagonists—Edward in The Folding Star, Nick in The Line of Beauty.
HOLLINGHURST
I've had widely differing reactions to my characters. My own feeling when I read a book is that I want the characters to be engaging but not necessarily likeable. It's much more interesting to me, writing about fallible human beings.
INTERVIEWER
Do you find them unlikeable?
HOLLINGHURST
It's not really a consideration of mine. I have to be invested in them, and I sometimes make them do things that are morally weak or cowardly or ­socially off-limits. There's something very self-involved about the narrators of The Swimming-Pool Library and The Folding Star. Writing in the first person can be claustrophobic—everything that happens in the book is notionally filtered through the narrator, and one can long for the fresh air of another perspective. One can luxuriate in the peculiar world of a character, but there are limitations. Ironizing that person's experience is difficult. You need perhaps a candid old friend of the narrator who can tell a few truths the narrator prefers to ignore. I suppose the two parallel stories in The Swimming-Pool Library likewise give some relief, an alternation of voices and perspectives. We read old Lord Nantwich's diaries over young Will's shoulder and almost certainly see things in them that he doesn't.
INTERVIEWER
When did you begin your next book, The Folding Star?
HOLLINGHURST
I started writing it in 1989, at the Djerassi Foundation in California. I was clinging to the desk-diary idea but abandoned it after a bit. That was the first time I'd been to an artists' retreat. I realized that they're wonderful places to get on with a project that is up and running, but for starting a novel, when I need all sorts of things about me—books, galleries, other channels of ­ research—they don't really work. I felt very cut off and didn't do much there.
At some point I'd spent a bitterly cold weekend in Bruges, and the ­atmosphere made a deep impression on me. I became interested in Belgian symbolist painting, in particular Fernand Khnopff, who painted these ­ extraordinary photographic but also visionary paintings of the city, and who repeatedly painted the same model, his sister. I wanted to write about obsession, and I thought I could parallel some present-day story about a Death in Venice–type obsession of a young man with his pupil and an ­art-historical story about a painter obsessively painting the same subject. I had read Georges Rodenbach's hypnotic symbolist novel, Bruges-la-Morte, about a widower who retreats to Bruges and lives his days devoted to the memory of his dead wife. He paces the quays of the deserted city, and then sees a woman who looks exactly like his wife walking down the street. He becomes obsessed with her and makes her dress up in his wife's clothes. I lifted the whole story and put it into The Folding Star, fairly confident that not many people read Bruges-la-Morte. In fact I went to Antwerp to launch the book there and confessed this embarrassedly, but nobody in the Belgian audience had read it.
Because The Swimming-Pool Library had been so much about English life and culture and class, I thought it would be good to write about somewhere completely different and, to some extent, outside time. I did, however, return to England in the short middle section of the book, which I loved writing.
INTERVIEWER
That section, with Edward's return to his childhood home for the funeral of his first lover and his memories of meeting with him on the town common, is very beautiful.
HOLLINGHURST
When I read it again a few years ago I did think it was the best thing I've written. I'm pleased by its richness and economy. The lyrical accounts of the common in Edward's hometown were partly based on close observation of Hampstead Heath, this wild landscape in the middle of London that has been woven into my creative life for the past twenty years. Like Edward, I've always been something of a connoisseur of the dusk.
INTERVIEWER
A gloomy, twilit mood permeates the book.
HOLLINGHURST
I wouldn't want to force this too hard, but I think the gloomy atmosphere and the deaths and disappearances of several of the characters were a ­re­action to the aids crisis, which had occurred during the years I was writing The Swimming-Pool Library and which I had decided not to include in its story. I felt there was an expectation that I would write an aids novel, but I didn't want to write to meet anybody's expectations, and I also just didn't see an artistically satisfying way of doing it.
A very close friend of mine, Nicholas Clark, who had taken me around to clubs and bars when I first came to London, died in November 1984, and his death was terribly shocking and swift. I was saying that my books aren't autobiographical, but they must reveal things about my state of mind at the time that I was writing them. When I was writing The Folding Star, I became increasingly withdrawn and, though not actually depressed, distinctly melancholy. The dark undertow to those years, of course, surfaced more clearly in The Line of Beauty.
The Folding Star was a book that divided people. Some identified with the subject and liked the atmosphere and the painful revelation of the intimate details of what happens to someone in a situation like Edward's. Others just thought it was creepy, and that the great thing about The Swimming-Pool Library had been that its narrator was so confident and sexy. They felt that there was something regressive about the more furtive and old-fashioned Edward. But quite often people tell me The Folding Star is their favorite of my books.
INTERVIEWER
It was the last book you wrote in the first-person voice.
HOLLINGHURST
I think both The Swimming-Pool Library and The Folding Star are rather crude in their structures. The device of having someone, say, be given a ­bundle of documents that reveal something important about the past was used a lot at the time. In The Folding Star I couldn't figure out how to bring in the backstory about the Nazis and, in the end, rather feebly had the older man simply tell it to the narrator. It was partly a desire to get away from those crudenesses, which were forced on me by writing in the first person, that made me want to move to the more agile third person.
I also like the control of the free, indirect style. I like seeing a character from the outside. I've increasingly been interested in leaving gaps and unresolved elements within a novel, trying to escape from the model of the novel as something in which there is a secret that, when revealed, will make all clear. It seems to me too unlike life, too convenient, too fictional.
INTERVIEWER
The Folding Star has a very mysterious, open ending.
HOLLINGHURST
I think all my books do, really. I tend to have some significant plot resolution just before the end, and then a coda that leaves things in the air. I think it's a way of returning the novel to life, of saying that there are always things beyond the shape and scope of the novel.
My old friend the novelist Lawrence Norfolk used to say, "You write marvelous descriptions, but why do you have these terrible plots?" I like evoking atmospheres and analyzing relationships and feelings, but plot I feel faintly embarrassed by. My next book, The Spell, was written in response to Lawrence's challenge. I planned to write a book, not with a plot, but with a design, about four people and their interrelations, and I found it rather liberating. Another challenge had come from another friend of mine to write something with a happy ending. I already had this slightly pretentious, but to me not unhelpful, notion that my books were going to form a sort of symphony. The Swimming-Pool Library was a sonata movement with two alternating subjects, The Folding Star was a long, slow, introspective movement, and The Spell was going to be the scherzo. It's shorter than my other books, and I wrote it much more quickly. I had met someone younger than myself, who was amazed that I'd become so isolated and self-immersed. He took me out of myself, and there was a big, happy change in my personal life. I started hanging out with people ten or fifteen years younger and learned how to enjoy myself again in ways that didn't necessarily involve a visit to the Royal Festival Hall. Perhaps in a way akin to the excitement of coming to London in The Swimming-Pool Library, I had a sense of new possibilities. I hope all my books are funny in different ways, but The Spell was deliberately designed as a comedy.
INTERVIEWER
Were you stung by some of the reviews of The Spell, particularly in the United States?
HOLLINGHURST
It was critically and commercially my least successful book. I think because my first books had had ostensibly large subjects, people were bewildered. Some reviewers seemed to feel that there wasn't anything of importance in the book, that it wasn't tackling those larger issues that loomed in the background in the first two books, but that seemed the point to me. I felt very pleased with it, and I think, defensively, I became more pleased than I should have, in defiance of all the people who hadn't understood it or appreciated it. I haven't looked at it for ages, so I can't tell you whether I was right.
INTERVIEWER
Was it then difficult to find an American publisher for your next book, The Line of Beauty?
HOLLINGHURST
Yes, I was very cast down by that. I was told it had something to do with the new atmosphere after 9/11, that there had been a big change in book buying and that the sales of fiction had gone down tremendously. Publishing houses were only looking for books that were imitations of other successful books. Editors in New York who had been asking to see my new novel for years turned it down flat. One leading literary publisher said, "We can't ­expect an American audience in 2003 to be interested in Britain in the 1980s." I thought that was an extraordinary thing to say! As if the only significance of a novel was in when and where it was set. That remark seemed like a slander on the American reading public. In fact, the book got wonderful reviews in America and went on to sell there much better than any of my other books. That it won the Booker Prize helped, no doubt. For a while, I had thought my publishing life in America might peter out all together, but happily it didn't.
INTERVIEWER
How did The Line of Beauty come into being?
HOLLINGHURST
I had the idea of writing about the period of upheaval and tragedy that I hadn't addressed but which lay just beyond the end of The Swimming-Pool Library. I was taken with the perverse idea of writing about the Thatcher boom years as seen from the inside, against the grain of my own political convictions. I wanted to do something about a fallible individual and the implosion of the Tory world of power and money, which seduces him at the start.
The whole idea, when I look back on it, seems coupled in my mind with an image of Kensington Park Gardens, which is a longish, wide, treeless street. When I first came to London I lived at a friend's flat in Notting Hill, and I used to walk along that grand street several times a week on my way to the swimming baths. It was dingier in those days and rather different from the gleaming millionaire's row it is now. But I used to wonder what sorts of lives were led in those tall houses.
I also wanted to write about aids at last, not as something that dictated the architecture of the whole novel, but as an element in a larger historical picture. So there was a lot of burrowing back into my memories of earlier years in London.
INTERVIEWER
Henry James might be called the presiding spirit of the book—Nick is writing his thesis about him and trying to make a movie of The Spoils of Poynton. When had you first read James?
HOLLINGHURST
I had read The Portrait of a Lady and The Bostonians and some of the shorter things at Oxford. And also his later novel The Ambassadors—that was a bit beyond me, but I embraced then, probably more than I do now, the idea of difficulty in reading. I was always keen on him, but I came to feel I had been a rather theoretical Jamesian until fairly recently. In 1999 my friend the biographer Miranda Seymour invited me to join a Henry James reading group that meets three or four times a year. Terrifyingly, for my first meeting we did The Golden Bowl, which I'd never read before. But I very much welcomed the idea of the group, because it was a way of making myself read and reread him and really think about him. And I went through a period of some years of being completely obsessed, rather in the way that I attribute to Nick in the book, of finding everything to do with Henry James completely fascinating. We read aloud several of the plays, and I encouraged the group to read the great volumes of memoirs, A Small Boy and Others and Notes of a Son and Brother. I read a huge amount about James. It all bore fruit for me in The Line of Beauty. Then, I hope not rudely or slightingly, I rather dropped the Henry James reading group. I haven't been back to it for years. I felt that after so intense an immersion perhaps I ought to move on and read somebody else.
INTERVIEWER
Why did he become so important to you?
HOLLINGHURST
I was very seduced by the continuity of voice between what's known of how James actually spoke, the way he wrote in letters, and the way he wrote ­novels—all his late work from halfway through What Maisie Knew was dictated. One has the sense of this irresistibly seductive persona spinning an extraordinary web of words. I delighted in his way of saying things—­describing a waffle, for instance, as "an oblong farinaceous compound"—and I loved his gently self-mocking extravagance, and of course his absolutely lethal ­precision. He brought an extraordinary intelligence to bear on both the observation of life and the writing of fiction. I believe that's the thing I like most in writers that I fall under the spell of, though I'm not sure about Tolkien. It's not necessarily that I want to write like them—in James's case indeed it would be suicidal—but that I'm inspired by the example of their intelligence.
There's a little tag from James's notebooks that I copied out and pinned above my desk while I was writing The Line of Beauty: "To live in the world of creation—to get into it and stay in it—to frequent it and haunt it—to think intently and fruitfully—to woo combinations and inspirations into being by a depth and continuity of attention and meditation—this is the only thing—and I neglect it, far and away too much; from indolence, from vagueness, from inattention, and from a strange nervous fear of letting myself go. If I can vanquish that nervousness, the world is mine." Even though I'm vastly more indolent, vague, and nervous than he was, I find that pretty encouraging.
INTERVIEWER
Both The Line of Beauty and your new book, The Stranger's Child, have gaps in the narrative where great periods of time are omitted.
HOLLINGHURST
There's a Jamesian precedent for that—there's a big time lacuna in The Portrait of a Lady. I remember being very impressed by it. I love the idea of flinging the reader into a new situation.
Alice Munro was also very much in my mind when I was writing The Stranger's Child. She's a writer I've always admired. A few years ago I ­reviewed her book Runaway, which has three interconnected stories that are episodes in the life of one woman, with huge, disorienting gaps between them, and I saw that it might be a model for a looser structure. If The Line of Beauty was a Jamesian hommage, then I thought of The Stranger's Child as an hommage to Munro, although the world of this book is so utterly different from the one in hers.
INTERVIEWER
Did The Stranger's Child feel like a stylistic departure from what you'd written before?
HOLLINGHURST
Even with the time jumps, The Line of Beauty seemed to me a very solid book. It was all seen from one point of view and more or less took place in one house. It felt like a monument. I wanted to write something that was much more open and airy. It occurred to me that I could trust and involve the reader more by letting him or her do a lot of the work. And if part of the point of The Stranger's Child was that there are things that can't be remembered or that no one can know for certain, then I would make the reader privy to some things but unsure about others, just as we are in real life about what exactly happened in the past, and even about what happened to ourselves.
Like The Spell, it's a book that came out of growing older. In my mid-fifties, I am more and more struck by the fallibility of memory, which is the thing on which the novelist depends above all, and by the rising and fizzling of literary reputations and the sudden reemergence of forgotten figures. I've always felt at home in the world of obscure Georgian poetry and touched by things in it that I know aren't necessarily good. There's a famous poem by John Drinkwater I've always loved called "Moonlit Apples," which describes apples that have been laid out in the attic of a house, something people do to preserve them. I remember in my first year at Oxford going to a lecture about Ezra Pound where the professor read the poem out loud in the most derisive way and said, "I hope that no one here thinks that's any good." I didn't have the courage to put my hand up and defend it, but the truth was that for all my juvenile admiration for the Cantos, I really loved the Drinkwater more.
I suppose I was also thinking of the recurrence of war and its terrible effects, which we see every week, with coffins being brought home from Afghanistan. The First World War, as seen through the medium of English pastoral music like Vaughan Williams and the poetry of Edward Thomas and Wilfred Owen, has always haunted me. I didn't want to write a First World War book, which would be beyond me. So I had the idea of writing a book that didn't actually have any wars in it but revisited scenes after a war has happened and altered things considerably.
INTERVIEWER
Do you research the time periods you write about?
HOLLINGHURST
I never do much research. I don't like it, really, and I mistrust its prevalence in contemporary fiction. It often so clearly flags itself as research in the finished product. I think imagination is much more important than information.
I did come to realize how irredeemably literary one's sense of periods before one was born is. My whole idea of how people spoke to each other in 1913 comes from reading novels written around that time, which may not be an accurate guide. I reread Robert Graves's Goodbye to All That and many minor poets of the war. I read a biography of Rupert Brooke, the first one to have full access to letters that had been suppressed by Geoffrey Keynes, Brooke's friend and literary executor. Brooke obviously feeds into the character of Cecil Valance.
The first two parts, set in 1913 and 1926, were in a way easier to write than the rest of the book. I imagined that when I got into the periods that were actually in my lifetime it would be simpler, but instead of just making it all up I was actually mining my own memories. Creating the little town of Foxleigh, which was based on Faringdon, was very much a plunge into my childhood, living above my father's bank and being friendly with the people who worked there. After everyone had gone home I used to play in the bank, and I still have a vivid image of what it was like behind the counter, the stools and drawers and various little wooden bowls of paperclips and things. That was all wonderfully available.
INTERVIEWER
The Stranger's Child could be said to form a chronology of gay relationships over the course of the twentieth century, beginning in 1913 with Cecil and George and ending in the present day with, on the one hand, a gay marriage and, on the other, Rob juggling hookups on his BlackBerry. What's been gained over the past century, and what's been lost?
HOLLINGHURST
I think the gains are colossal and irrefutable. But perhaps an element of ­romance has been removed. You used to hear older people slightly lamenting the new freedoms, saying it was so much more exciting in the old days when being gay was illegal and one was inducted into a world of signs and hints and codes. The illicit nature was part of the thrill, and that made it feel perhaps more intense. I can see that I, too—though I much prefer living in the liberal present—am drawn back, as a writer, to periods when ­being gay was socially more complex and challenging. There's much less to say about the present, because, happily, gays are living more or less in parity with ­everybody else, at least in our culture.
INTERVIEWER
How much of a book's structure do you figure out in advance?
HOLLINGHURST
When I get the sense that a new book is beginning, I start a notebook into which I put anything that might seem to be relevant, which could be a large-scale plot idea, something overheard on the bus, or a descriptive phrase that came to me on a walk. I don't actually start writing the book until out of all this has emerged a pretty clear plan for the whole thing. I can't just start writing and see what happens. Of course, improvisation is an important part—I would find it dreadfully boring if I planned everything. What keeps you going are the discoveries you make in the course of writing.
There might be surprising decisions made later on. For instance, the original plan had been that the fifth section of The Stranger's Child would be much more substantial, and that Rob would meet someone in a club, a former soldier in the Gulf War, and have an affair with him. But I decided not to do all that, partly because at page 550 I didn't want yet another narrative taking over, partly because to have another soldier would have been too plonkingly thematic, and partly because I'd already written enough scenes set in gay clubs. Also, I had almost completely run out of money, so I really needed to hand the book in as quickly as possible. There was no question of writing another hundred pages, which might take me another year. Those ­ little financial imperatives can play quite a significant role in artistic decisions.
INTERVIEWER
Once you've compiled enough notes, is it difficult to begin?
HOLLINGHURST
There's immense hesitation before writing the first word. So much depends on it. I've always had the feeling that the first page should somehow contain the whole book in nuce, that it should symbolize important things about the book, and this requires a great deal of calculation. On the first page of The Stranger's Child, Daphne waits for Cecil to arrive at Two Acres and imagines that something terrible has happened to him, and then imagines telling someone about it years later—that's sort of what the whole book is about.
With The Stranger's Child I had more hesitations than usual. I knew the novel would have multiple points of view, but in my original plan I imagined each of the five sections told from the perspective of one character. Then I realized Daphne's experience had to be ironized. The whole comedy of sexual misapprehensions in the first section depended on the reader being privy to different things going on, and it required a number of points of view. I saw that this was actually integral to the meaning of the book—there wasn't just one story of what happened that weekend in 1913, or at any time, but rather there were various, irreconcilable accounts. Once I had clarified that in my mind, I was able to proceed with the rest of it.
INTERVIEWER
Do you write sequentially?
HOLLINGHURST
I wrote my first three books through from beginning to end, but I've developed bad habits as I've grown older. Writing The Line of Beauty was much more difficult, particularly because of having to organize a large cast over a long time span. I found myself getting stuck in scenes, and it got so depressing that I would think, I'm going to start the next chapter and come back to this. I used to be against that, because there's such a temptation to write all the enjoyable bits and then be left with fill-in, which would make one despondent in a different way. But for my own morale I just had to get on.
INTERVIEWER
What do you look for in a sentence?
HOLLINGHURST
I know that I have a sense of rhythm that is my own. I couldn't possibly say what it is, but I know how my sentences go somehow—I hear everything I'm writing in my head. I'm a very slow reader, and I'm always alert to the sound that words make.
My own style is something I can't say much about. I'm only conscious of it if I'm writing deliberately in someone else's style. There are one or two bits of pastiche in several of my books—it's much easier to adopt an assumed voice, because the voice does the work for you. I wrote the extracts from Dudley's memoir in The Stranger's Child very quickly, and they're probably too long as it is, but I could have happily gone on for hundreds of pages more. There's something freeing about not having to go through all the scrupulous weighing and measuring of my own style.
INTERVIEWER
Who are the first people to read your books after they're completed?
HOLLINGHURST
My agent and my editors, of course, and a small, changing group that includes Francis Wyndham, Andrew Motion, and a friend of mine from Oxford named Stephen Pickles who knows me terribly well and is a very unsparing critic. He lives in Yorkshire—he came down when I finished The Stranger's Child, and we spent three days going through it paragraph by paragraph. Having kept everything to myself for so long, I do welcome being ­edited. It's risky keeping things to oneself—there could be some fundamental error that never occurred to you.
INTERVIEWER
Do you feel with each book that you've achieved what you intended?
HOLLINGHURST
Never. I don't necessarily think I've fallen short of it, but it always turns out to be different from the inevitably simple idea I have at the beginning. There's always a sense, perhaps because the initial ideas are too simple or too vague, that it's gone awry and that something ideal about the original vision of the book is not attained and is presumably unattainable. There's a nagging feeling I have when I'm bankrupt and hand in my book that if I could just have another nine months I could make it so much better. Which may be a delusion—one can spoil things by reworking them.
INTERVIEWER
Do you write every day?
HOLLINGHURST
I spend ages not writing, and I have quite long spells in the course of a book when I'm not writing. But once I get going, I have a strict discipline. Kazuo Ishiguro told me his technique, which he called a "crash," where he would plan a book for a long time and then set aside a period of four weeks in which he had absolutely no engagements. He would write for ten hours a day, and then at the end of the month he would have a draft of a novel. It's a very good model for someone like myself who is naturally rather lazy. Unfortunately, in the case of The Stranger's Child, it took four years instead of four weeks.
I used to draw a line through the weeks of my diary to remind myself not to make any plans, and I would go out to see friends or to the pictures once a week. It has the defect of making you crazy and unsocialized but also the benefit of allowing you to think continuously, as Henry James exhorted himself to do. It's wonderful just to live in the world of creation and know that there aren't any other demands on you, and that you're going to think as deeply and as continuously as you can about the thing in hand.