Interviewed by Jonathan Shainin
Issue 182, Fall 2007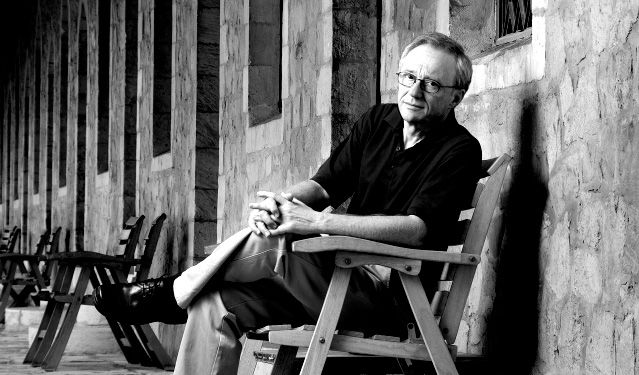 Grossman at Mishkenot Sha'ananim, Jerusalem, 2007.
In 1987, to mark the twentieth year of Israel's occupation of the West Bank and the Gaza Strip, the editors of the Israeli newsweekly Koteret Rashit dispatched the young novelist David Grossman to the West Bank for seven weeks. Grossman, a fluent speaker of Arabic, visited Palestinians in refugee camps and cities, kindergartens and universities, as well as Israeli settlers in their fortified enclaves and army officers patrolling the Palestinian territories. The resulting article filled an entire issue of the magazine and created an uproar in Israel. Grossman had made clear that the Palestinians, who had been suffering the daily brutalities of the occupation for a generation, would be docile no more. "It was a real shock," Tom Segev, one of his editors, told me. "We did not know, then, how much they hated us."
By the following year, when Grossman's report was published in English as The Yellow Wind, the Palestinian intifada was fully underway. Grossman's dispatches had become prophetic, launching their author—whose earlier novels had been acclaimed in Israel but not yet translated—to international prominence.
Grossman was born in Jerusalem in 1954. His mother was born in Palestine; his father came from the Polish province of Galicia. As a child he began working as an actor and reporter at Kol Israel, the state radio station, where he was employed for more than twenty years, returning after a four-year stint in the army to serve as a journalist and news anchor. He began to write fiction in his early twenties, and published a book of stories and two novels while working full time at the station.
Grossman's first novel, The Smile of the Lamb (1983), was the first Israeli novel to be set on the West Bank. It is the story of a young soldier, Uri—the eponymous lamb—who befriends and is then held hostage by Khilmi, a half-blind, elderly Palestinian tale-teller. Khilmi's yarns are spun in a languid, fevered prose, a hybrid of stream-of-consciousness and the musical phrasing of Arabic folklore. Grossman's second novel, See Under: Love (1986), remains his masterpiece, a wildly inventive work of historical reimagination in four parts that Edmund White compared to The Sound and the Fury, The Tin Drum, and One Hundred Years of Solitude; George Steiner called it simply "one of the great feats in modern fiction." It begins with Momik, an Israeli child growing up in the shadow of the Holocaust, ends with a fantastical set of encyclopedia entries detailing the adventures of aged children's book heroes raising a child in the Warsaw zoo, and in between rescues the Polish writer Bruno Schulz from death by turning him into a salmon.
Grossman followed The Yellow Wind with an account of the lives of Palestinian citizens in Israel, Sleeping on a Wire, and a book of essays on the conflict, Death as a Way of Life. He has published six novels in all, including two "lighter books," as he calls them, The Zigzag Kid and Someone to Run With; a play; several books for children; and an exegesis of the biblical tale of Samson, Lion's Honey. Today he is widely recognized as one of Israel's greatest writers, the foremost novelist among the generation that followed that of Amos Oz and A. B. Yehoshua.
Our interview took place over four days in July, at Mishkenot Sha'ananim, a cultural center within sight of the walls of Jerusalem's Old City, and on the veranda of Grossman's home in the hills of Mevasseret Zion, just outside Jerusalem, where he has lived for twenty-five years with his wife, Michal, and their three children. In the basement Grossman has a modest office, with a computer perched in one corner and, along the far wall, vines growing up to the ceiling; there is a poster on the wall from the popular film adaptation of Someone to Run With. Across the hall is a sparse room with two armchairs, where Michal, a clinical psychologist, sees her patients.
July marked the first anniversary of the start of the Lebanon War, and the end of a tragic year for Grossman and his family. In August 2006, Grossman's younger son, Uri, a tank commander in the Israel Defense Forces, was killed in the final days of the war against Hezbollah in southern Lebanon. Two days earlier, Grossman, along with Oz and Yehoshua, had made a public statement demanding a cease-fire. Grossman delivered a eulogy at Uri's funeral on Mount Herzl, in Israel's national cemetery: "I won't say now anything about the war you were killed in. We, our family, have already lost in this war. The state of Israel will now take stock of itself. We, the family, will withdraw into our pain, surrounded by our good friends, enveloped in the powerful love that we feel today from so many people, most of whom we do not know. I thank them for their support, which is unbounded. May we be able to give this love and solidarity to each other at other times as well."
Grossman has always worn his worry on his youthful face, but the events of the last year have left the lines heavier. His gentle demeanor—open, inquisitive, welcoming—conceals the intensity and, more recently, the anguish, of his inner life. In conversation he is contemplative and searching; he speaks quietly but decisively about his own writing, contemporary Israel, and the aims of literature. At the beginning of our first meeting I told Grossman we should delay talk of politics to concentrate on his fiction. A playful smile came to his face, and he said, "Where have you been all my life?"
INTERVIEWER
What was the first book that meant something to you?
DAVID GROSSMAN
When I was eight, my father brought me a story by Sholem Aleichem, who wrote about the lives of the Jews in the shtetls, the little towns and villages in Galicia, in Russia, and in Poland. I was the only child in my neighborhood who read Sholem Aleichem. This was a source of embarrassment—it was not cool to dive into the diaspora past. Israel was then a new country, a strong military power surrounded by enemies. It had to be like a clenched fist. Memories about weakness, about humiliation, were not very popular. But the stories enabled me to create for myself an enclave of the Jewish shtetl amid the reality of Jerusalem.
My parents were surprised by my immersion in these stories, but they were also proud. I'll always remember the smile that my father had when he gave me the book. It was the smile of a child, something I don't remember having seen on his face before, insecure and exposed and transparent. He was reluctant to share memories with me, but the stories formed a kind of tunnel to his youth, since he was a child like the children that Sholem Aleichem describes, from a little village named Dynów, in Galicia. When my father realized how much I was affected by Aleichem, he started to tell me stories about his childhood and about himself.
As a father myself, I can tell you that when my children read my books, I know that they are discovering parts of me that they are not usually exposed to. There's a mixture of embarrassment, worry, and pride that they are making this effort, that they want to get closer to me.
INTERVIEWER
What was your father's background?
GROSSMAN
He came to Israel in 1936, when he was nine years old. His father had died two years before, which left his mother and her two children—my father and my aunt—without any protection. One day she was harassed in the street by a Polish policeman, who insulted her. We don't really know what happened there. But she came home and said, We're moving to Eretz Yisrael. She was small, like a toe, all wrinkled—a clever, ironic woman. She took my father and my aunt to Israel, on a long journey by train and ship. This woman who had never traveled even on a bus!
As an adult my father worked as a bus driver. He had to quit driving because of eye problems when he was forty-five, and he became the librarian of Jerusalem's transportation organization. He created a small library, just two rooms, but it held something like three thousand books. I always think that if life had been less cruel he would have been a university professor.
INTERVIEWER
You started working at the state radio station at an early age. How did that come about?
GROSSMAN
In Israel we didn't have television until '68. So radio was everything. One day the radio station announced that it would be holding a knowledge competition about the stories of Sholem Aleichem. This quiz show was very popular in Israel at that time, in the early sixties. They had quizzes on writers, on cinema, on music. There was a lot of speculation about who was going to win, and it was an important part of life. I told my parents that I wanted to be a contestant. I was about nine years old. They said, No, you cannot go, you are only a child. Part of my family's code was not to be conspicuous, not to make yourself a target. Use your intelligence to remain in the second row—which is an efficient way to survive. But I wanted to take part in this competition, so I wrote a postcard to the show.
I had never sent a postcard before—to whom would I send a postcard? Jerusalem was provincial, and very small. I never even met a non-Jew until I was, I think, ten years old. There were no Arabs in our neighborhood then, I had only heard about them on the news. They were the enemy, they had wars with us, they were spies. They wanted to throw us into the sea. I asked my parents for swimming lessons for that reason.
So unbeknownst to my parents, I sent this postcard. I was terrified. A week later, I received a governmental envelope containing a letter inviting me to an audition. Well, when my parents saw the letter from the director of the radio station—it was as if the king or even David Ben-Gurion himself had ordered me to come. They wouldn't dare refuse.
With a mixture of pride and worry, my father accompanied me to the radio building, which would become my workplace for the next twenty-five years. Of course, everybody thought I was accompanying my father. When he explained that I was their candidate, the radio officials were amused. They quizzed me, and I knew all the answers. I had a good memory, the fresh memory of a child, and I was deeply attached, emotionally, to the stories of Sholem Aleichem. They felt relevant to my life, so I just inhaled them. I think I knew them by heart.
INTERVIEWER
What kind of things did they ask you in the audition?
GROSSMAN
Questions about details. What did Tevye in Tevye the Dairyman say to his daughter after she married a non-Jew? In what words did Shimek reveal his love to Buzie? I passed that exam, then another one, and finally I encountered a problem that was emblematic of Israel in that period. The general director of the radio station decided that it wouldn't be instructive for a child to win such enormous prize money. The prize money was equivalent to something like fifty dollars today, but this was a major dilemma for them.
INTERVIEWER
Did they think it would be contrary to Israel's socialist ethos?
GROSSMAN
Yes, the ascetic ethos. So they started doing something quite nasty, which I only understood was unusual years later, when I became friends with these people. They said that because of my young age, they had to perform many additional tests. So I would come home after school, and the phone would ring—which is something that happened only about once a week in our home—and when I picked up, a man from the radio would say, David, I'm going to ask you three questions, but beware: if you don't know the answer to any one of them, you will be dropped out of the competition. At some point I got an answer wrong, and he immediately said, We are sorry, we cannot allow you to be a contestant, but we do want you to attend the public recording of this program. If any one of the competitors does not know an answer, we will turn to you. So I would sit there in the audience, and when one of the show's contestants got something wrong, the host would turn to me for the correct answer.
INTERVIEWER
Were the adults embarrassed that they were being upstaged by a ten year old?
GROSSMAN
I'm sure they wanted to kill me.
INTERVIEWER
What did your parents think? Did they change their mind about your staying in the "second row"?
GROSSMAN
I think they became quite proud of me. Suddenly they were willing to accept this strange child who sits and reads those esoteric stories about the galut—the diaspora. After the quiz show ended, someone from the station asked if I would like to be a radio actor. I didn't know what he meant, but he had me audition, and I passed. By the time I was eleven years old, I was being flooded with radio work. And I earned, I'm sorry to say, more than my father. It was a full-time job. I'd finish school at two o'clock, go home for lunch, and go to the radio station, where I'd work until ten or eleven at night.
I had two jobs at the station. The first was conducting interviews. I traveled throughout Israel, meeting notable people—the president, football players, theater actors, even the most famous poet at the time, Avraham Shlonsky. The other thing I did was perform in radio plays, which were often literary texts adapted for the radio. Back then, in the early sixties, most children's roles were played by women. No men could do it, and there were no child actors, except for one, Arieh Eldad. Arieh and I were friends as children because we worked together. He is now a leader of one of the most extreme right parties in Israel.
INTERVIEWER
Was the radio your first experience of creating fiction, of storytelling?
GROSSMAN
Like most children, I lived half of my life daydreaming. When you listen to the radio, you have to imagine what you hear—it's a whole reality expressed only through language. As soon as I started working at the station, I learned how much you can do with the human voice.
INTERVIEWER
What sort of plays did you perform on the radio?
GROSSMAN
All the literary classics. This was the first time I became acquainted with Chekhov, for instance, and Thomas Mann. I was too young to read their books, but I was not too young to participate in these radio plays. Another thing was that I was exposed to the bohemian milieu of radio actors. It was quite the opposite of my home atmosphere, and I liked to move between the two.
INTERVIEWER
What were you like as a teenager?
GROSSMAN
I became a more friendly child in those years, more active socially, yet I remained introverted. In The Book of Intimate Grammar there is Aron, a secluded, lonely child, and his best friend Gideon, the all-Israeli boy, who goes out with girls, is in the Scouts, and wants to be a pilot. I modeled Gideon on a friend I had when I was sixteen—I even interviewed him. When the book came out, I sent a copy to him and anxiously awaited his reaction. He called me after some time and said, I liked it and, of course, I found myself. I am Aron. That was amazing to me. If I had heard him say that when I was sixteen, my entire life would have been different. My sense of solitude, of hopelessness, of being totally excommunicated—all this would have been different.
INTERVIEWER
How long did you stay at the radio station?
GROSSMAN
All through high school, and I came back after the army as well—for another thirteen years as a journalist and the host of the morning news program.
INTERVIEWER
What did you do in the army?
GROSSMAN
I was in intelligence. I served four years there, '71 to '75. I was not in the front during the 1973 war. Though in 1982, I returned to serve on the eastern front in Lebanon as a reservist.
INTERVIEWER
Did you learn Arabic in the army?
GROSSMAN
No, I learned Arabic in high school, actually. I loved Arabic. I belonged to the first group of young pupils here in Israel who studied Arabic in an intensive program from the age of fifteen.
INTERVIEWER
Why was this done?
GROSSMAN
It was intended, in some part, to produce soldiers for intelligence, and we were aware of that. Our first Arabic dictionary bore the intelligence symbol, and we felt proud and secretive. It was after the Six-Day War and people had begun to realize how important it was to make an effort to be integrated in the culture around us.
My mother was shocked when I told her that I wanted to take Arabic, and not French, as a second foreign language. She said, French is a culture. It's theater, Paris, and so on. I brought over our big atlas, and I showed her where Paris is and where we are. I said, We encounter Arabs all the time now, we go to the territories, and they come to us—so I want to study the language.
It is a beautiful language, Arabic. In a strange way, I think studying it allowed me to improve my Hebrew. The two are sister languages, they echo and mirror each other in interesting ways. We had a charismatic young teacher who conveyed to us the beauty of this language, and our little class was thrilled to discover this unknown world. We studied the Koran, the history of the Muslims, and the political situations in the Arab countries. But my Arabic did improve significantly when I went into the army.
INTERVIEWER
What was your army experience like?
GROSSMAN
The army was for me a way to mature. I was given actual responsibility, even though I was just nineteen years old. Living together with many intelligent young men and women, alone in the desert, forms a strong community. Yet I had to create a bubble for myself, because I wanted to write. I need, physically need, several hours every day to be alone and write.
INTERVIEWER
What were you writing in the army?
GROSSMAN
Stories, little things. The more serious fiction came later, after I left the army, but I liked the act of writing. Three friends and I kept special notebooks where, alongside the reports we had to fill out, we'd write personal remarks and letters to each other. Everybody knew where we kept the books, and whenever someone went on shift he'd read them. It developed into a kind of institution. Even the head of intelligence, on his official visits, used to read them.
INTERVIEWER
What exactly did you write in these notebooks?
GROSSMAN
Sometimes nasty things, sometimes poetic. Descriptions of the life of the camp, adolescent confessions, declarations of love for the women around us, dirty songs—but in the most beautiful Hebrew. I'd probably be embarrassed if I read these books today, but I have no idea where they are.
INTERVIEWER
Was this a formative experience for you, writing for an audience?
GROSSMAN
I guess so, because we received a large response. I think it was a relief from being in the base, which was a horrible place, a city of cement on one of the highest mountains in Sinai. It was one of the first places to be bombed by the Egyptians in the Yom Kippur War. Being there, besieged, surrounded by this vastness of nothingness, just sand on sand, I needed to create for myself a more imaginative atmosphere. Writing created a kind of oasis in the desert.
INTERVIEWER
When did you write your first story?
GROSSMAN
I started writing stories as soon as I came out of the army in 1975, but I never showed them to anyone. The first one was called "Donkeys." It is about an American soldier who deserts during the Vietnam War and finds shelter in Austria, of all places. His only friends are a bunch of donkeys near a Gasthof somewhere. Once a month he comes with a car full of bread and he feeds them and gets some warmth from them.
INTERVIEWER
This was a leap, wasn't it? You weren't a writer—you had been on the radio, and you wrote in that officers' notebook. What made you decide to write fiction?
GROSSMAN
I know how it started. I was living with Michal, though we weren't married then, and we had a usual couple's quarrel. She did what women used to do back then in such situations: she packed all her belongings in a small bag—we didn't have a lot of stuff—and she left for her parents' place in Haifa. I was left in our little room in Jerusalem, and I was devastated. I felt that my life was over and I had no one to live for. Then I went to a table and I started to write "Donkeys." A moment before I did it I had no idea what I was going to write. Why I wrote this story of all stories, I have no idea. But in the first minutes that I did it, I knew I had found myself.
I always compare it to discovering sex. The moment before you do it, you have only a vague notion of what it will be like. It's threatening, it's attractive, it's everything. The moment after, you don't understand how you lived all your life without it. You immediately become an addict. You know that this is what you want to do.
INTERVIEWER
Do your story ideas usually come about in this kind of way—seemingly out of nowhere?
GROSSMAN
I often feel that my subjects find me. When I start writing about a character, a young lady, for instance, I don't understand why she is so important to me. She is totally alien and comes from another milieu. Yet gradually I see how choosing her was inevitable, and how she evokes in me things that without her, I never would have been able to explore. Then sometimes I'll have a character and not know what to do with him. Take the novella "Frenzy," which I was writing, on and off, for eleven years, between books. I began with the character of this obsessive, jealous husband, but I couldn't find him a partner for his voyage through the night. I tried putting him with his brother, with his friend, there were three or four other attempts, and each time I felt I could not write it, because I didn't have someone capable of balancing all his craziness. And then one day a character named Esti just jumped to the page. I wasn't sure if I liked her. She was foreign to me, but she forced her way in, and suddenly the book was completed. I was so relieved. Having Esti allowed me to explore this rut of feelings, this monster, jealousy.
INTERVIEWER
Do you always begin with a character?
GROSSMAN
It varies from book to book. It can be an image or a vague story idea. When I began See Under: Love, for the first half year I wrote a story that took place at an institute for lepers in Jerusalem. I had this idea of people who work somewhere—and they have to jump against waterfalls in order to escape. I felt it wasn't the book that I wanted to write, but I didn't know what the real book was.
Then I read about the salmon, which jumps against the falls. I remember walking with a friend, talking with amazement about the salmon, and I did this movement in my head of going against the falls, and when I did it, I had this pang in my brain. I thought there was something very Jewish about the salmon's life cycle. It is born in a certain place, it swims out into the world, and then suddenly it gets a pulse in its brain and returns back to the place it was hatched. It struck me that this was what I was writing about without being aware of it. As soon as I realized this, everything fell into place.
Miracles can happen in the writing process. More often than in life, unfortunately. Sometimes I start a novel and I think it's the beginning, but it's the middle of the book. One thing is clear—I never write the conclusion of a book until I am very close to the end.
INTERVIEWER
Why?
GROSSMAN
If I know the end, the book will not surprise me, and more than that, it won't betray me. This is important: the book should betray me, in the sense that it should take me to places I am afraid to go. Take, for example, The Book of Intimate Grammar. I started with a totally different story from what is now in the book. It began like Be My Knife, with a thirty-five-year-old man falling in love with a woman he saw for just a few moments. But nine months into writing this, I felt that, in order to understand the main character, I needed to know something about his childhood. It was as if I was swept over by a wave. I started to write the story of this child, later to be called Aron, and for one year, the second year of writing, I wrote, in parallel, two different novels. They diverged more and more, and I suffered all the agonies and pleasures of bigamy. In the morning I would write one, and put all my soul in it, and then in the afternoon I would shamelessly steal good ideas from it to put into the other half.
INTERVIEWER
Do you have any strategies you employ when you get stuck?
GROSSMAN
Sometimes I write a letter to my protagonist, as if he were a real human being. I ask, What's the difficulty? Why can't you make it? What is preventing me from understanding you? It's always helped.
INTERVIEWER
You have said, "When writing fiction, it is of the utmost importance to be meticulous with facts." To what extent do you conduct research for your novels?
GROSSMAN
If I am going to write about a man joining a shoal of salmon, as in See Under: Love, I have to start by making the reality of the salmon very concrete and credible. So I joined divers, I became a salmon. I was unable to eat salmon for years—really. I felt like a cannibal when I ate salmon. When I wrote The Zigzag Kid, I joined the detective squad of the Jerusalem police for six months, spending almost every night with them. This is why I loved writing The Yellow Wind. It wasn't just that I read about the situation and interviewed certain people. I wanted to be there in the camps and in the prisons and at the West Bank universities and on the bridges of the Jordan. Research is a way to get out of myself and be in the world. In my new novel, I'm writing about a five-hundred-kilometer journey through Israel. People walk in a zigzagging path from the very north of the country to Jerusalem. So I went to the very north, to Galilee, and walked down here to my home. It took forty-five days.
INTERVIEWER
How do you know when you have come to the end of a novel?
GROSSMAN
When you get to the point where the novel is a world of its own, you can just humbly step back and allow your protagonists to work alone. This is the point when you should stop writing—you start to be tempted by the wealth of options that are open to you, so you have to be strict with yourself not to overdo it. The book has become its own complete world. You don't have to invent it, you just document it.
INTERVIEWER
Do you ever make significant changes to a manuscript after you turn it in?
GROSSMAN
When I turned in Be My Knife, it was written in the form of an epistolary novel—there were alternating letters from Yair to Miriam and from Miriam to Yair, and they had an equal presence. There was this mechanical ping-pong between them. And then one night I had this idea just to take out all her letters, which was something like two hundred pages of the book.
INTERVIEWER
It's funny you should say this, because the reader tries to detect Miriam's answers, to see her reflection in the letters of Yair. But they actually exist?
GROSSMAN
Of course they exist. I wrote them all. But after I made the decision to cut them, I had to sit and write for another year, because I couldn't just uproot her letters. I had to find exactly the places in which Miriam would emerge from the cracks in the letters of Yair. It was complicated because she is the engine behind the whole plot. She creates him in a way, so it deeply upset me to take her out. I loved her, and I knew her so well, but I suddenly understood that removing her was an improvement over the traditional epistolary novel because, in such a book, if you have the letters of the two protagonists, it is as if you have two keys to the same safe. If you have both keys, you have the entire treasure. If you have only one key, however, then the reader has to produce his own key.
INTERVIEWER
In The Smile of the Lamb, Uri says, "Where is home anyway? Abner would say that home is the empty space between the tip of his pen and the paper." Is that how you feel?
GROSSMAN
Home is where the people I love are. The more I age, the more this world becomes alien to me, even hostile. The story that I'm writing is another home, though sometimes it takes two or three years before it becomes a home. I'm never alone when I have my story, where I know the tonus of every character and of the language.
INTERVIEWER
The tonus?
GROSSMAN
The tonus, the tension of the muscles. I immediately feel connected to the emotional vibrations of people in Israel, which I don't feel when I'm abroad.
INTERVIEWER
Yet you seem to have been greatly influenced by writers of the Jewish Diaspora.
GROSSMAN
When you're starting out as a writer, everyone tells you to whom you are similar and from whom you stole. When I was young I was very obedient, and I'd agree with whatever they told me. One guy who worked in Israeli television, a newcomer from Poland, called to tell me that The Smile of the Lamb was obviously influenced by Bruno Schulz. I said, Well, maybe. I had never heard of Bruno Schulz, but I didn't want to admit my ignorance.
As soon as I started reading Schulz I was electrified. Every paragraph is an explosion of different realities—of dreams and nightmares, imagination and fantasy. Reading him made me want to live more. Then I read the stories about his death. He was being protected by a German officer, who had killed the Jewish dentist of another German officer. So the second German officer went after Schulz and shot him dead in the street. You killed my Jew—I killed yours, said the officer.
When I read this, I felt a powerful physical sensation of devastation. I didn't want to live in such a world where something like that could happen, where people can be seen as replaceable, disposable. I felt that I must redeem his needless, brutal death. So I wrote See Under: Love. I can tell you that in almost every language that my book was published—about thirteen languages—within a year or so there was a new edition of the stories of Bruno Schulz. It is such a sweet feeling for me to know that my book did something like that for him after what he did for me.
INTERVIEWER
Who, besides Schulz, influenced you?
GROSSMAN
Kafka, though it's hard to find a writer who's not influenced by Kafka, even if he does not write in a similar style. Kafka is a literary stage you have to go through. I always imagine Kafka as standing with his hands on the window, looking inside into life. It is as if he was looking out from death, even when he was alive. I don't find this in any other writer.
INTERVIEWER
Do you relate to the political situation he lived in?
GROSSMAN
It helps, but I'm not sure that political context is responsible for forming a writer. I think Kafka would be Kafka even if he were born in America, or England, or Australia. There is something unique about the angle with which he touches life.
When I started to write, people told me I was influenced by Joyce. I'm ashamed to say it, but I had never read Joyce before, either. But of course I was influenced by him, even without having read him. You're influenced by oxygen, by carbon, by Joyce and by Schulz and by Kafka. Siegfried Lenz was important too, and Heinrich Böll. When I read Billiards at Half-Past Nine, I suddenly understood how a story should be written. I was also influenced by the early stories of A. B. Yehoshua and Amos Oz. I read Yehoshua's "Facing the Forests" when I was an adolescent, and it was a revelation.
In recent years, I feel I'm less and less influenced by writers. I do not see this as a good sign, by the way. I want to be influenced by writers. I think it is a sign of being open. One wonderful writer whom I discovered recently is Clarice Lispector, a Jewish Brazilian writer who died thirty years ago. I felt as I did the first time I read Kafka.
INTERVIEWER
Where do you write?
GROSSMAN
When I was young, I wrote in the bedroom of our small apartment in Jerusalem. I couldn't imagine any other options, so it felt natural. It was a little uncomfortable, since my wife was working there as well. When I'm writing a book, I only read books about that topic. So when I was writing See Under: Love, my desk, the bed, the bedside table, and the floor were covered in dozens of books about the Shoah and the Second World War, and most of them had the swastika on their covers. It was like a monument to Nazism. That's when we decided I needed to have a room of my own. We couldn't let these atrocities infest our bedroom. Soon after that, we moved to a bigger house.
INTERVIEWER
So how do you do it now?
GROSSMAN
I start every morning around six by walking for an hour in the hills of Jerusalem—of Mevasseret—where we live. Then I go to work in a one-room apartment I rented in a village close to my home. When I was looking at the place, the landlady said, Unfortunately, there is no phone line here. I said, Wonderful! I'll take it. I go there every morning, no matter what, for six hours of total isolation.
INTERVIEWER
Then you're done for the day?
GROSSMAN
No, then I go back and write at home. But I do different work in the afternoon or evening. I mostly revise what I wrote in the morning. I erase. It's less creative because life is around—family and friends.
INTERVIEWER
Do you write on a computer?
GROSSMAN
I start in longhand. I fill dozens of notebooks, until the quantities of written pages are uncontrollable, and then I move to a computer. I write many versions. It's not a very economical way of writing.
INTERVIEWER
When you spend four or five years on a novel, is it difficult to maintain the same tone and energy throughout the entire writing period?
GROSSMAN
When I'm writing a book that takes years to complete, I emerge from the last page totally different from who I was on page one. I learn constantly from my books. This is why it takes me so many years to write a novel, because I do not really understand what I write and why I write it. Only later do I understand what it wants to tell me. I'm not trying to mystify it—in a practical way, I think it is only through writing that I allow myself to experience things I would not be courageous enough for in real life.
INTERVIEWER
Among your novels there are a few books that have a more popular sensibility, while others can be quite difficult for the reader. When you start a project, do you know whether it will be a difficult book?
GROSSMAN
The more I write, the more I find that the most personal work will be understood the least. People do not expose themselves easily to intimacy. It's much easier for people to respond to lighter books, like The Zigzag Kid or Someone to Run With.
Yet for me, the books that really matter, the books that I cannot imagine my life without having written, are the more demanding ones, like The Book of Intimate Grammar, Be My Knife, See Under: Love, and the book I'm writing now. I may occasionally like to write an entertaining book, but I take literature seriously. You're dealing with explosives. You can change a reader's life, and you can change—you should change, I think—your own life.
Usually a lighter book will serve as a kind of recovery for me. I devastate myself when I write a certain kind of book—there is a process of dismantling my personality. All my defense mechanisms, everything settled and functioning, all the things concealed in life break into pieces, because I need to go to the place within me that is cracked, that is fragile, that is not taken for granted. I come out of these books devastated. I don't complain, of course. This is how books should be written. But my way to recover from this sense of total solitude is to write books that will bring me into close contact with other people. I wrote The Zigzag Kid because I had to recover from The Book of Intimate Grammar and Sleeping on a Wire.
INTERVIEWER
Sleeping on a Wire was a continuation of your project in The Yellow Wind. What drew you back to this material?
GROSSMAN
That book was a deep shock to me, because I realized that The Yellow Wind had addressed only half of the Israeli-Palestinian question. The other half, which I already thought might be the bigger half, was the question of the Palestinians within Israel.
INTERVIEWER
The more difficult half?
GROSSMAN
More internal, and complicated. We share the same definition—as Israelis—but what do they feel toward Israel as a state? As a Jewish state? They are citizens of a state that has declared it does not belong to them.
INTERVIEWER
In Sleeping on a Wire you say that Israelis and West Bank Palestinians share a mutual goal: both want to be separate from one another. But this book suggests that, try as they might, the two sides cannot be so easily separated.
GROSSMAN
We have to be together. I do not see that as a curse, as most Israelis on both sides do. I don't want to have a monolithic country. I want to have a diverse country. Jews and Arabs don't feel this diversity because we are so hostile to each other. If we could live in some security, then we would be able to explore both cultures in a free way. But we're a long ways away.
When I finished writing the book, I was shocked because I realized the depth of the danger. It's one thing to have a conflict with Palestinians on the other side of the border, and it's another thing to have it within our own state. The potential for destruction is much greater here.
INTERVIEWER
But you don't consider the Palestinians in Israel to be a fifth column.
GROSSMAN
Not at all. I see them as a challenge. It didn't start as a marriage of love. The common existence was imposed on both of us. But why not make the best of it? There is one-fifth of the population here that feels no benefit from the state, culturally, economically, humanly. They feel excommunicated, humiliated. It's almost suicide to give up on one-fifth of your population. Most Israelis know almost nothing about Arabs and regard them only as a security threat. A few of them are. I met some Arabs who want to have another state within Israel—not only the Palestinian state next to our borders, but another state within Israel, so we shall have three states, in Gaza, in the West Bank, and in Galilee. For me, this is too much. The idea of a binational state has very rarely worked elsewhere, especially not in places where both sides are so traumatized. I also think that right now we need a border between us and the Palestinians in the West Bank and in Gaza. This is important for me. Not a wall, but a border that is mutually agreed upon by the two parties.
It takes a lot of political maturity to achieve this idea. It's a lofty idea, but I can think of a loftier one: no borders at all, between all countries. This is my natural tendency. But it is not reality, especially not in our region.
INTERVIEWER
Do you consider yourself a post-Zionist?
GROSSMAN
No, not at all. Post-Zionists think that Israel should be a binational state. When I talk with my Palestinian Israeli friends, they tell me that if they were a majority here, they wouldn't envy us Jews. They do not trust their own ability to protect us or to allow us freedom. I'm sorry, but I don't want to take part in such an experiment. We've been through too many experiments as a people. I want the burden of proof to be on my people, not on them. I want us to be the ones who will be able to practice generosity and political maturity. For me, a major challenge for a Jewish state is for all its citizens to feel at home here.
You know, it's so easy to criticize the Jewish people. But the basic inspiration for Zionism was a noble idea, in my eyes: to allow the Jewish people to recover, to experience political and social and cultural normality in its own land, defended by its own army—this is something we have been deprived of for years. I do not sanctify war, but in our crazy, violent world, especially in the Middle East, having an army is an important, necessary thing.
INTERVIEWER
Does it seem strange to you—as a writer, a liberal—to say that?
GROSSMAN
It's only strange for people who don't live here. Whenever an Italian journalist interviews me, he describes me as a pacifista, because I struggle for peace. I try to explain to him that I am not a pacifist. A pacifist is someone who will not carry a gun, even if his mother is killed in front of him. I was a soldier for four years, I served in the reserves for another thirty years. My two sons were tank commanders. We have to defend ourselves. Having said all that, the way for us to redeem ourselves from this situation is not to adhere to the way of power, but to be more open, generous, and courageous. We've failed to do this. We've become addicted to our powers and our fears.
The Israelis and the Jews were always regarded as the people of the book, but also the people of the story. We are often treated not as people, but as a metaphor for something else. As if there is a lesson to be learned from our experience. This is what made us such an easy target for stereotypes, for prejudices. There's also something addictive in experiencing big events for hundreds of years, again and again, and living permanently in this extremity of experience.
This is something that I think peace will cure in us. If we shall have peace—if we shall have normality, if we shall feel that we have a future here, if we shall have fixed borders—then we might lose the sense that we are living a story distinct from other stories of the world. This is important, because if you live a larger-than-life story, you do not really experience the qualities of normal life—all the petty, small, routine domestic problems.
INTERVIEWER
Sleeping on a Wire seems to make the point that the Jewish experience and the Palestinian experience are shockingly similar.
GROSSMAN
You feel it immediately. When Israelis and Palestinians are together in free circumstances, especially outside of Israel, you can see how much warmth there is between the two peoples. I deeply believe that if we are given the chance—the privilege—to live in peace together, we will be good neighbors, because we understand each other on the individual level. We hate and suspect each other so much right now that every step made by one side is regarded as a trick or manipulation by the other side. In that sense, we are trapped.
There is, however, a big difference between the two peoples, which is the experience of the Shoah. Non-Jews will talk about the Shoah as they would any past event. What happened then? they will ask. Jews, in every language they speak, will talk about "what happened there." To ask what happened then means it was and it is over. For Jews, in a tragic way, it's never over. It exists somewhere parallel to our life, it's an alternative option. I do not say this in any judgmental way. It is just our situation. It affects our social behavior, our personal behavior, our belief in the possibility of a future, the way we raise our children, and the way we run our politics. It's everywhere.
At my own wedding, my aunt—who had a number tattooed on her arm because she came from Auschwitz—was wearing a small Band-Aid over the number. I looked at it, and I looked in her eyes, and I realized that she had put it on to avoid casting gloom on the event. I was so sad. I thought, You can't hide it with a Band-Aid!
INTERVIEWER
Yet in Death as a Way of Life you say, "I don't belong to those who believe that the Holocaust was a specifically Jewish event."
GROSSMAN
I don't think one can separate the Jewishness from the Shoah, but it is an event that's relevant for all humanity. Every human being should ask himself several questions regarding the Shoah. One of them is, In the face of such total arbitrariness, how can I maintain my uniqueness as a human being? What in me cannot be eradicated?
In Be My Knife, I call this idea the luz, the kernel. Luz is a word from the Talmud. It's the smallest bone in your backbone, which cannot be eradicated. All your essence is preserved in it, and from that you will be recreated in resurrection. Sometimes I do a little exercise: I ask people to close their eyes and for one minute to think what would be their luz. The pupil of the eye of their personality. I get interesting answers.
INTERVIEWER
What is your luz?
GROSSMAN
I guess it has to do with the urge to create.
INTERVIEWER
You write, in Sleeping on a Wire, of the need to "open myself to the complexity" of Palestinians in Israel, to "make room for them within us." This process seems to transpire in many of your books, of one person opening himself or herself to the existence of another. Is this a case where the political situation shapes your fiction?
GROSSMAN
I'd like to believe that I would have written about these things had I lived in the United States or anywhere else. But living in a place with such destructive potential, it's tempting to lock oneself away from the outside world.
We're sitting here on this veranda, and it's very green and birds are singing, but the tension is everywhere. It's tiring, being an Israeli. There are almost no neutral places in the landscape, in the people you encounter, in the language, in the stories people tell you. Everything here is saturated, and sometimes poisoned, with meaning. In my last two books, I wrote stories detached, in a way, from the immediate reality—I wanted to create a bubble of intimacy, of everydayness, that is unaffected by politics. Because sometimes we forget that there are some places where we are just human beings, thank God, and not Israelis.
INTERVIEWER
Is it a curse to have all your work interpreted through the lens of the Israeli–Palestinian conflict?
GROSSMAN
It feels like being abused. When Her Body Knows was published in Italy, an interviewer asked me, Is the broken leg of Shaul a metaphor for the shattered Israeli Zionist dream? Can you imagine? I almost walked out of the room. This tendency to interpret everything that comes from Israel politically, to pigeonhole it as a political metaphor, is infuriating. It's really a sign of 
misunderstanding—not of Israel, but of literature. Literature has many layers, and only one is political. Just because we're Israelis, it doesn't mean we aren't jealous of our wives, we don't fall in love, raise children, and act primal. We are human before we are Israelis. For normal people it can be quite tough to live here, but for a writer it's paradise. It's a passionate place, and I regard it as a privilege.
INTERVIEWER
What are the limitations and advantages of writing in Hebrew?
GROSSMAN
One can play with all the different layers of Hebrew, from the biblical to the Rabbinic to all the other periods, up to the most recent Israeli slang. But bear in mind that for eighteen hundred years people did not speak Hebrew, they only used it in writing and in prayer. It was not spoken by children, or soldiers, or during sex—so it lacked the domestic layer of everydayness. Israeli slang is prolific and tight now—it's a language of its own. A lot of it is generated in the army, and you can use it to express almost everything. Since Israel is an immigrant-absorbing country, the slang also serves as a common denominator for people who come from, say, Russia and Ethiopia.
INTERVIEWER
Do you know the slang?
GROSSMAN
I have children, so I am exposed to it constantly. It gives vitality to the language, but it's dangerous in that it contributes to the constant process of Hebrew's deterioration. Fewer and fewer children are able to read the Bible, and the Talmud is out of the question. I had to translate chapters from the Bible for my children because their teachers couldn't make sense of its language, or at least its linguistic connotations and associations. Obviously, it is less significant for them than it was for those of us who grew up in the fifties and sixties, when acquiring the high Hebrew was crucial to our becoming Israelis.
Sometimes when I write a word and realize that it won't be widely understood, I ask myself whether I should use it. It worries me, because if the language we use is dull and flat, then our reality will become flat.
INTERVIEWER
In See Under: Love, you talk about the word frustration, which did not appear in the Hebrew vocabulary till the mid-seventies. You write that "people who spoke only Hebrew were never frustrated. They may have been angry or disappointed, or they may have experienced a sense of turmoil in certain situations, but the acute feeling of frustration itself was unknown to them until the word for it was translated from the English language."
GROSSMAN
And how happily we all became frustrated when we got the word! I remember the sense of revelation when we had suddenly found a name for this feeling. Before we had the word, tiskul, we just had this vague and upsetting feeling of a sense that is not accurate or not sharp. Then again, maybe there are a hundred kinds of tiskul that we are unaware of because we put it all in one word, and maybe later we will find other, more nuanced versions of tiskul.
INTERVIEWER
Does this present an open canvas to the writer—new opportunities to shape contemporary Hebrew as you're writing it?
GROSSMAN
Hebrew is a flexible language and it surrenders enthusiastically to all kinds of wordplay. You can talk in slang about the Bible and you can speak biblically about everyday life. You can invent words that people can easily understand, because almost every word has a root, and people know the derivation or can usually figure it out. It is a very sexy language. It is gigantic, heroic, and glorious, but at the same time it has large gaps that yearn to be filled by writers.
INTERVIEWER
So is this, then, the writer's duty?
GROSSMAN
Yes, the writer should never take anything for granted, not formulations or words or reality. This is one of the reasons I'm so fascinated by children—they never take anything for granted. Everything is surprising, new, a constant revelation. I remember coming back from summer vacation and finding my best friend one head taller than me. Or how, one day, the house started suddenly to fill with people, and grandma is crying and grandpa is somewhere and doesn't come back, and no one tells you where he is. Or people are whispering secrets—it seemed that whenever I entered a room as a child, somebody shut his mouth, as if something horrible had just been discussed.
One night when my son was three years old, as I was putting him to bed, I explained that it was the twenty-first of December—the longest night of the year. I tucked him in and kissed him good night. The next morning, at first light, he burst into our room, all sweaty and excited and relieved, and he shouted, Daddy, Mommy, it's over, this night is over! Can you imagine what landscapes he had wandered through all night? Because he did not take it for granted that the sun would ever rise again.
When I write, I try to bring myself to this point. I want to be betrayed, to be taken to a dangerous place that jars the basic presumptions I have about myself, my family, my country.
INTERVIEWER
Do you show your writing to anyone while you're working?
GROSSMAN
Yes, but with the book I am writing now, for example, it was only after four years of work that I was able to show it to my wife and a couple of friends.
INTERVIEWER
Is your wife your first reader?
GROSSMAN
Always. Even before she reads the text, we talk about it all the time. The novel I'm working on is something like another life within our life. We also discuss her work—she's a clinical psychologist.
INTERVIEWER
A. B. Yehoshua's wife is also a psychologist.
GROSSMAN
It's a good combination because the two professions are so close to each other. Michal affects me by her profession and I affect her by my profession. But more than her job, I have been deeply changed by our marriage, and by her family. I became a leftist because of her. I remember the first time Michal and I fought about politics. We had met in the army, as young soldiers, and one night we went to see a cabaret by Hanoch Levin, a leftist playwright, a genius. He said the most outrageous things about the occupation and about the way we treated Palestinians. I was eighteen and had never been exposed to this sentiment. I was shocked. Meanwhile her grandfather was a communist, and their family was very much against the occupation, which I learned the first time I came to their home. It was eye-opening for me.
INTERVIEWER
You are often grouped together with Yehoshua and Amos Oz. Do you feel a sense of competition with them?
GROSSMAN
I think we are good partners. In other countries there would probably be a lot of jealousy and competition. I cannot say there is no jealousy among writers in Israel—it's something that's natural. There's even a Hebrew proverb about it: Kin'at sofrim tarbeh hochmah. Jealousy of writers will produce more wisdom.
INTERVIEWER
What does that mean?
GROSSMAN
It means that competition is good, it forces you to be more creative.
INTERVIEWER
Your characters are often preoccupied with language and words. In See Under: Love, Momik plays a game where he counts out the number of letters in a word on his fingers. Aron, in Intimate Grammar, chooses certain special words he can't speak for seven days until they are "purified." And Shaul, in "Frenzy," becomes convinced that his wife is having an affair because she is using new words and learning Portuguese. In Be My Knife, Yair writes, "I once thought of teaching my son a private language. Isolating him from the speaking world on purpose, lying to him from the moment of his birth, so he would believe only the language I gave him." What does this mean to you, this private language?
GROSSMAN
I think this is probably the first motivation that makes somebody a writer: the need to name things by your own private names. It's also a way to make the outside world less alien. By using a personal language—achieved by certain tempo combinations, particular uses of specific words—readers can feel the fingerprint of your inner world, and I think they respond to it.
INTERVIEWER
At the same time, in your books there is a persistent suspicion of the potential for dishonesty and manipulation through language.
GROSSMAN
Living in Israel for so many years, I've seen how easy it is to manipulate language. People are almost eager to be manipulated, because they do not want to know about the reality in which they live—it is too harsh to bear. They use a false language that provides a buffer between them and reality, which is the opposite of what language is supposed to do. This includes, for example, the denial of the enemy by demonization, stereotypes, emphasizing only the negative elements.
At the same time, we cannot really aspire to have the total truth, we just have to point out the ambiguity of language. This is very important, because I don't know what is absolutely right or wrong, but when I use the terms my government uses to describe the situation, I should also infuse another point of view.
I am involved with an organization called Keshev, which means attention. It's an organization that runs a project created by Israelis and Palestinians to monitor the language that is being used in both the Israeli and the Arab press. It's fascinating to see how easy it is to manipulate public opinion through the space you give to news reports in the papers, or through a headline, which sometimes contradicts the article's contents. Lies are reported until they filter into the mind of the people. Take, for example, the idea, so deeply rooted in Israel, that we don't have a partner among the Palestinians at all. In Keshev, we systematically investigate how this opinion is created through television and radio reports.
INTERVIEWER
Not so long ago, you weren't supposed to say Palestinian.
GROSSMAN
People were infuriated with me, in fact, because I used the term in Sleeping on a Wire. They said, Why do you give them ideas? The other Arabs are Egyptians, Syrians, Jordanians—only the Israeli Palestinians are just called Arabs, because we are afraid of the term Palestinian.
When I was a radio anchorman, I had a specific dictionary of words and terms that I was forbidden to use. I couldn't refer to the "occupied territories." Every day I had to report about a Palestinian killed by Israeli soldiers, and the phrase I had to use was, "During disturbances in the territories, a local youngster was killed." Every word in this phrase is a lie. "During disturbances," as if there was a specific order that has been violated; "in the territories," to avoid saying the occupied territories or the occupation; "a local," to avoid saying "Palestinian"—God forbid them finding out they are Palestinians, they might rebel against us; "youngster," he could have been two or three years old. And we always used the passive construction, "was killed," so we didn't have to mention who actually took a gun and shot the child dead.
We never even used victims' names, until some of us protested that we must mention the names of the people whom the army killed. Even if people support the occupation, they should bear some responsibility for the fact that our soldiers, in the name of this policy, killed a certain person.
INTERVIEWER
Are there books of yours that you feel have been misunderstood, even in Israel?
GROSSMAN
My political books have been attacked fiercely by the right-wingers. The Yellow Wind, for example, created a wave of hatred, and not only with letters and phone calls. They sabotaged our car. They blocked the radiator, so after driving three kilometers the car started smoking. We were with the two boys in the car. I was also scolded publicly by Prime Minister Yitzhak Shamir and I was eventually fired from the radio.
INTERVIEWER
What did Shamir say?
GROSSMAN
I was an anchorman of the morning news magazine so I had to interview him on the occasion of the twentieth anniversary of the Six-Day War, a national holiday. He wanted to have a big military parade, and I asked whether that was really necessary when the country was in such a horrible economic situation. Couldn't we use the money for other purposes? I also asked him about the Palestinians, suggesting that they might stage a rebellion.
He got red in the face, and then suddenly took his microphone and threw it away. He said, You can invent everything in your fiction, writer, in your imagination. The Arabs and the Palestinians have never been in a better situation than they are under our government. They will never do what you say. He left the room and refused to continue the interview.
Then there was a lot of negotiation. I was stuck there in his cabinet room, alone with one of his assistants and a technician. What do you do in such a situation? He finally came back to finish the interview, but for the next year and a half he refused to give interviews to me. I was one of the two chief anchormen, and I couldn't interview the prime minister. Can you imagine? The irony was that half a year after that, the intifada broke out. The things that I wrote about in The Yellow Wind became true. His policy turned out to be a total disaster.
INTERVIEWER
Despite your public persona, you are a very private person. Yet the private catastrophe of your son's death has become the grief of the country. How do you cope with that?
GROSSMAN
It has been difficult and very strange, because grief has such a private nature. Yet I feel that so many people, inside and outside of Israel, had reactions of deep empathy and shock. I got many responses from Palestinians, from Egyptians, Lebanese, Jordanians, Iraqis, and Iranians, who wrote to me or who told me on various occasions that it was the first time that they felt sorrow for an Israeli soldier. Now, for me, he is not an Israeli soldier, he is my son. But there is something that touched my heart when I was told that.
I am unable to talk about Uri publicly. I spoke in the eulogy because that is the place where a father can mourn his son, but I cannot talk about him publicly in any other way. Not even a year has passed since it happened. I need him to be private. I'm sorry.
INTERVIEWER
Has your personal tragedy affected your writing in any way?
GROSSMAN
When I'm not writing, I'm in a different place with my grief. Four years ago, when Uri joined the army, I started writing a novel that became very relevant in my life. The novel met with reality in an unexpected way. The word glad seems inappropriate here, but I am glad that I was writing this novel and not any other novel of mine, because the place I created in the three years and two months before he fell is now the only place where I can be with this fact of what has happened to me, to us. I can be there totally, as I want to be in any circumstances that I'm writing about—unprotected and totally exposed, to lament it and at the same time to feel the extreme vitality of what was lost. So the difficulty of diving into a novel these days is not only because I live in Israel, in this crazy, violent reality, but because I live a certain life now. It's very hard for me to talk about it.
INTERVIEWER
Do you feel life is not so good anymore?
GROSSMAN
It's a painful life now. It's like hell in slow motion, all the time. I don't try to escape grief, I face grief in an intense way in my writing, but not only in my writing. If I have to suffer, I want to understand my situation thoroughly. It's not an easy place to be, but so be it. If I'm doomed to it I want—it's a human predicament and I want to experience it.
One thing I know for sure is that if I did not write these characters, these stories, I would be much less happy and probably much less normal. Writing allows me to explore situations that are impossible for me to explore in my life. And yet they are very active parts in me. Emotionally I am an extreme person, and writing makes it possible for me to go on.
INTERVIEWER
What do you mean by extreme?
GROSSMAN
Intense, not afraid of extremity in other people, intrigued by the interior lives of other people, especially in the suppressed places. I'm always questioning what I observe. All the time I see the cracks, wherever I look—even before what happened to me. It's a way of seeing, and I cannot say I chose it, but I surrendered to it quite happily because I think it's an accurate view of the fragility of life. Anything that is calm and safe seems to me like an illusion.