Interviewed by William Corbett
Issue 182, Fall 2007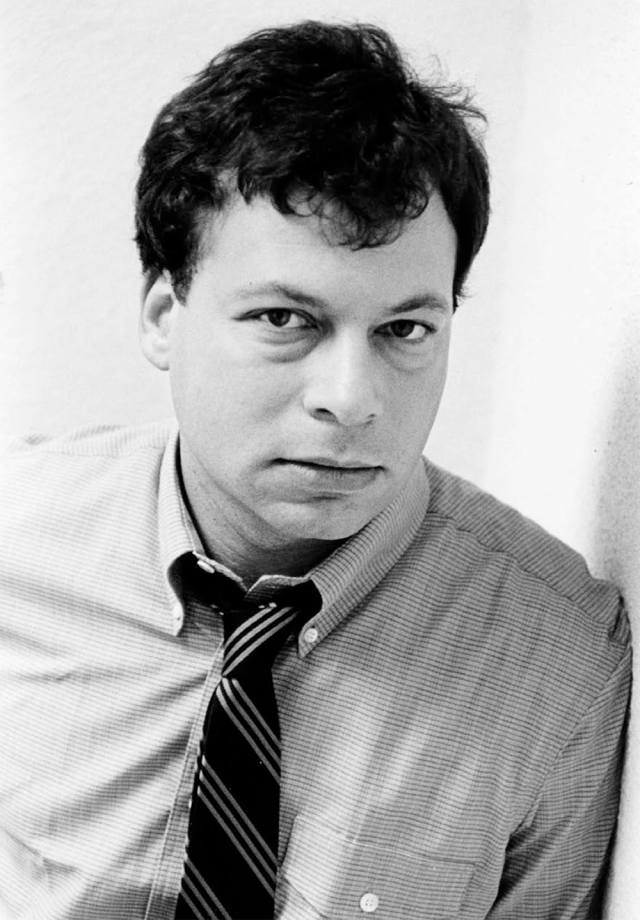 Kleinzahler in 1982.
August Kleinzahler found the title of his most recent poetry collection, The Strange Hours Travelers Keep (2003), in the opening lines of William Carlos Williams's "January Morning": "I have discovered that most of / the beauties of travel are due to / the strange hours we keep to see them." Like Williams, Kleinzahler is a New Jersey native. He was born in Jersey City in 1949 and raised in Fort Lee, not far up the Palisades from Weehawken—where Williams saw "the domes of the Church / of the Paulist Fathers" on that January morning as he traveled by ferry to Manhattan for his hospital rounds. On a cold January morning this year I took the ferry in the other direction, landing in Weehawken, where Kleinzahler picked me up in his mother's car for the drive to Fort Lee.
Although Kleinzahler has lived in San Francisco since 1981, he has maintained a strong connection to his home turf. As we drove, he described the recent shifts in ethnic geography, how Italians have been replaced by Asians and which neighborhoods have been gentrified. In his essay "East/West Variations," Kleinzahler describes the character of north Jersey as "straightforward, plainspoken to the point of bluntness, though not at all unfriendly. The humor is deadpan, ironical, playfully deprecating. It's a beer-and-a-bump kind of place. Affectation is quickly and viscerally registered." The same could be said of Kleinzahler—a welterweight in his youth and now a middleweight—and he is proud of it. In 2005 he was named Fort Lee's first poet laureate.
Two years ago The New York Times ran a profile of Kleinzahler under the headline "In Addition to His Pugnacity and Charm, He Can Write Poetry," in which the newspaper named him a "poetry star." This is not hyperbole. His sixth book, Earthquake Weather (1989), was a finalist for the National Book Critics Circle Award, and since then he has been awarded a Guggenheim Fellowship, an Academy Award in Literature from the American Academy of Arts and Letters, and the Griffin Poetry Prize. His recent books, including Red Sauce, Whiskey and Snow (1995), Green Sees Things in Waves (1998), and the essay collection Cutty, One Rock (2004), have earned him a large audience, drawn by his ability to modulate between high and low diction, often in the same poem, and by his wide-ranging fascinations, which include bebop, microbiology, Gustav Mahler, Ava Gardner, neurophysiology, and the Tartar hordes. Next year, Kleinzahler will publish his twelfth book of poetry, Sleeping It Off in Rapid City.
Kleinzahler's ninety-year-old mother still lives in his childhood home, looked after by a woman who spends mornings with her. The rooms of the house are small and modestly furnished, though Indian, Chinese, and Southeast Asian sculpture—mostly bronze bodhisattvas—take up every available surface. These and the prints and paintings that cover the walls are what is left of a collection amassed by Kleinzahler's father, a businessman who worked in commercial real estate who died a few years ago.
We sat beside each other on the living room couch, a digital recorder on the table in front of us. In answering my questions Kleinzahler "ahhed" and "uhummed," his motor turning over before it caught, and then his answers came in bursts. The "playful deprecation" he identifies in the north Jersey character could be heard in his sly chuckle when he considered the follies of his youth.
We talked for more than two hours and then he walked me down the road to see the former home of the gangster Albert Anastasia of Murder Incorporated. From there we walked to the edge of the Palisades and looked across the Hudson to Manhattan. In his driveway he pointed out where he'd shot baskets as a boy, and behind the garage I saw the ghost of a strike zone used in stickball games. We ended our tour at Hiram's, a locally famed hot-dog stand, where a photograph of Kleinzahler hangs on the wall.
INTERVIEWER
Do you think of yourself as unusual, not just for a poet but for an American, in that you can go home again?
AUGUST KLEINZAHLER
Yes—the older I get the more I'm aware of that. I considered this normal for many years, but I don't feel as connected as I did twenty years ago when I came back with some frequency and house-sat for the folks during the eighties. This area is home to me—visually, and in the olfactory sense as well—in a way that San Francisco is not. It has always been stimulating for me to come back for extended periods of time even when being here wasn't always terribly comfortable. There's a sort of residual force field here that stretches me this way and that, like an astronaut going through the g-force. A number of people have pointed out to me that the poems I write on this side of the country are different in nature than the ones I write on the West Coast. They find them more intense, I think.
INTERVIEWER
The poems written here seem denser in detail: "Full of timber, Ford chassis, rock salt." All the goods and material that move on interstates, rivers, by air, into and out of cities whose "markets never rest."
KLEINZAHLER
Sounds like a digestive allusion. When I'm in Texas or Iowa I'm aware of the railroads and superhighways, and here there's the city and the George Washington Bridge filled with its perpetual stream, the planes coming overhead, the cars moving along, the tremendous energy of the place, and its concentration of people. Nothing is still here. It's very dynamic. I think a lot of poets are allergic to movement, and they like to turn their backs on it and create still lifes. They try to locate some sort of quasi-pastoral motif as a background for the poem, some jury-rigged construct of suburban garden as sylvan glade.
Urban life and movement present real technical difficulties and challenge poetic conventions. Urban life is dense and fast and requires flexible structures that can incorporate speed and information. It's tough to come up with a coherent, interesting structure. Most simply avoid the problem or take refuge in some rote "avant-garde" gesture like fridge-magnet indeterminism, i.e. spilling the language all over the floor and stomping on it like a three-year-old child.
INTERVIEWER
When you were a child, did you pick up a lot from your family? Were you a "little pitcher with big ears"?
KLEINZAHLER
I was a tremendous Little League pitcher and very self-conscious about my ears, which I worried stuck out. I once struck out fourteen batters in a five-inning game for Hoffman Piano. That's not what you meant, though, is it? At times I'm a good mimic. I remember sitting around the corner here on the stairs when my folks had parties and all their friends had drinks. I'd listen and run upstairs if anyone came around the corner. I still like watching and listening to people and picking up scraps.
INTERVIEWER
Is your bedroom here the same as it was back then?
KLEINZAHLER
Well, it's still there. The bedroom furniture is much the same. The wallpaper is less narrative. On the wall now there's a picture of the poet Basil Bunting taken when he was visiting San Francisco in the seventies and a poster from a Coach House reading I gave in the late seventies called "Revenge of Big Sonnet," with all sorts of poets, including Ed Dorn. Those weren't there when I was eight. The desk I got for my thirteenth birthday.
INTERVIEWER
Who was the teacher to whom you dedicated Cutty, One Rock? "For Mr. Wooster, who, with the help of his right shoe, taught me to diagram a sentence in 1962."
KLEINZAHLER
Mr. Wooster was my seventh-grade English teacher. He kicked us in the shins mercilessly. He wore spongy shoes mostly, but we all checked to see what shoes he was wearing on any given day. Two aspects of that kind of old-fashioned education were important for me in becoming a writer. One was diagramming sentences, and the other was Latin class, though I was awful at it. These have been enormously useful to me. Having that solid background in grammar, sentence structure, and syntax made it easier later on for me to stretch out, play with the organization of language a bit, and still land on my feet. Or, at the very least, try.
INTERVIEWER
You dedicated Storm over Hackensack to your brother Harris, and in the title essay of Cutty, One Rock we learn that he took his own life. He seems to have had an enormous impact on you.
KLEINZAHLER
After his death in 1971, three days before my own twenty-second birthday, I became more determined to go my own way, with the poetry and in life, and to hell with the risks or anyone's expectations. It made me a bit braver, I suspect, than I might ordinarily have been. In writing "Cutty, One Rock" I completely came unglued at several points. I'm glad no one was around to see it. It was pretty pitiful. He remains a sort of lodestar for me, encouraging my better, braver self. That last year for him was very intense, to use that unfortunately belabored word. I wouldn't know how else to describe it.
INTERVIEWER
Intense in what way?
KLEINZAHLER
The last year of his life my brother's world came apart. His gambling debts had gotten perilously steep, mob collectors were pressuring him, and he was in trouble with the law for a white-collar caper he'd gotten involved in. At the time I was very much a part of it and saw his lifestyle beating him down and taking its toll, physically and psychologically. Finally it was all too much for him and he bailed out, so to speak. I was devastated. My brother was very dear to me. I loved him utterly, in the way only a baby brother can. Everybody loved him: he was beautiful and reckless and fun and kind, full of mischief and a lovely poetic soul to go with it. Writing "Cutty," I think I came to terms somewhat with just how much I adored him and missed him.
INTERVIEWER
Did you go to school here in Fort Lee?
KLEINZAHLER
Until I was eleven, and then I went to Horace Mann in the Bronx where I graduated in 1967 and then on to college at the University of Wisconsin at Madison.
INTERVIEWER
Were you bookish?
KLEINZAHLER
My folks were readers. The house was a library. My older sister and brother were bookworms. I always wanted to read what my brother read. But I was not a reader like they were. I grew up with TV and was fascinated by it. The Cisco Kid and Daffy Duck were jake with me. In high school we were asked to read a great deal, and I began to like bookstores. A large event for me in my formative time, age sixteen or seventeen, was encountering Kenneth Rexroth's translations from the Japanese and Chinese at a little bookstore in the uptown New York Port Authority at 178th Street, where I often had to wait around an hour for a bus on my way home from school. That aesthetic really changed everything for me and is in the works to this day. I wasn't mad for libraries until I moved to Victoria, British Columbia. The town had a rich expatriate population that had donated books. The university there had an extraordinary, if much underused, library, and I'd get lost in the card catalogues and stacks forever. I haven't found a library so congenial since, although the best part of my extended visits to large state universities like Iowa and Texas is hanging in their library stacks. I like used bookstores. I haunt them much as my father haunted antique stores. But they're vanishing, even in San Francisco.
INTERVIEWER
Were you the high-school kid in peg pants with Shelley's "Skylark" in his head?
KLEINZAHLER
I certainly was. I still list to port and my shoulder slumps because I carried my schoolbag all those years, and it was a heavy schoolbag. I had to study hard at Horace Mann, but to little avail—I graduated eighty-eighth in a class of ninety-eight.
INTERVIEWER
Did you write poetry in high school?
KLEINZAHLER
I sure did. I got smitten with a vengeance in eleventh grade, reading Keats with a very charismatic and nutty teacher. I remember the first poem I wrote. It was in March and about early spring grass. Truly awful.
INTERVIEWER
Why did you go to Wisconsin for college?
KLEINZAHLER
I applied to four colleges and the first three rejected me. I wanted to go to Tulane. New Orleans seemed like a romantic port of call. When I was turned down the Horace Mann admissions guy said he could get me in with a phone call, but my feelings were hurt. The last one I heard from was Madison and that turned out to be great. If I'd gone to Tulane I'd be dead now. The pleasures that New Orleans offered up, dangerous and otherwise, are those I have the greatest weaknesses for and I wouldn't have had any judgment or sense of constraint at that age. Also, New Orleans was, and what's left of it remains, a very dangerous city, especially for a silly, intemperate college boy.
As for Madison, it was a tremendously exciting place to be in 1967. En route to my first date after I arrived there I was suddenly, at three in the afternoon, in the midst of a violent political event, a protest against Dow Chemical: tear gas, billy clubs, serious beatings, TV cameras. It was quite thrilling. There were good bands there—Steve Miller, Tracy Nelson—but what was most exciting for me, since I'd just developed a taste for the blues, were the bluesmen that came in on a regular basis from Chicago, some of the best in the country. You could listen to them for the cost of a jug of beer. Muddy Waters, Howling Wolf, Otis Spann, Charlie Musselwhite, Luther Allison. I knew it was good, but now I recognize just how good it was.
INTERVIEWER
For many years you wrote a music column for the San Diego Reader, in which you exhibited the most eclectic taste in music imaginable: classical, electronic, jazz, country. Did this start early?
KLEINZAHLER
The blues was the way into music for me. My older brother listened to Thelonious Monk and Bob Dylan and the folk singers of the time—Tom Paxton, Dave Van Ronk, the old Folk City crowd—and like a lot of younger brothers I aped whatever he was listening to and had an attitude about it. The first time I walked into Discount Records on State Street in Madison I got a Billie Holiday record and a Fred McDowell record, a very good one. I stumbled into black music and got deeper and deeper. Later on I got interested in jazz. Cecil Taylor was teaching at Madison and I took his wonderful course. It was an enormous class, six hundred people, and he didn't play the piano, his own stuff, until the last class. He'd read his terrible poetry. He was a natty guy, a brilliant guy, who knew the world about jazz, was passionate about it, and when he explained something musical he broke this enormous barn of people into groups and had us sing out. You go dee, you go eehh, and you go dah. It was very exciting because he wanted you to get into the music, to love and understand it, not to judge it. I remember that during one of the riots that were always going on in Madison he got very cross. Don't get into this jive bullshit, he said, this breaking things. I was surprised by what he said, given how radical he could be in his other ideas, not least about blackness—the Egyptians were black, Alexander was black. Estes Kefauver was black. Maybe Attila was mulatto.
INTERVIEWER
At Madison did you have any teachers who influenced you as a poet?
KLEINZAHLER
I tried to get into two writing workshops. The one Gwendolyn Brooks was giving was a sort of cattle call with the precursors of today's creative writing students on hand and being aggressive. I didn't like that. And then there was a solid academic named Sullivan giving a writing class. I applied but didn't make the cut. I went into a blind rage. Nothing to do about it. I was seventeen years old and I probably shouldn't have been in the class, but I went into a blind rage anyhow. At around the same time Carl Rakosi was visiting for a semester there. I was aware of his poetry but I didn't know that he was around. I have no idea how it would have gone had I gotten into his class, because although we became friends years later he was very definite about things and I had trouble with authority at that age. At this age, too.
INTERVIEWER
What was your major?
KLEINZAHLER
East Asian studies. I had an influential, very wonderful and brilliant teacher: a Canadian from Carstairs, Alberta, named Richard Robinson. He had studied with the legendary Buddhist scholar Edward Conze in London, lived all over the world and spoke lots of different languages. He was an extraordinary character, with that mad look certain crackpot geniuses get. He once sat behind me at a theatrical production of Masters's Spoon River Anthology and made strange animal noises throughout. And with a prim wife next to him. He was reputed to have dropped acid a fair bit. Regardless, I took all of his courses. At that age it's stimulating to be around original and brilliant people. It really doesn't matter what they are teaching.
INTERVIEWER
What did you do after you graduated from college?
KLEINZAHLER
I did not graduate. I dropped out in my junior year after trying to do an intensive summer course in Hindi at the University of Washington in Seattle. It was too much for me. I traveled around for a year and then went back to college at the University of Victoria in British Columbia in 1971.
INTERVIEWER
Where did you travel?
KLEINZAHLER
I hitchhiked across Canada and much of America, then back to New Jersey and down to Key West, across to New Orleans and on to Mexico where I hooked up with my brother, then on to the Southwest and California. I had an acquaintance in San Francisco and that was my first visit to the city—around 1969.
When I got to Victoria, I had one of the real shockers of my life, and I used to not tell people about it because they wouldn't believe it. It was a startling coincidence. Six months earlier I was living with my brother in Greenwich Village, and I went to the Eighth Street Bookshop where I discovered the Fulcrum edition of Basil Bunting's Briggflatts. I went hog wild over that. As soon as I got to Victoria, I went to see whether I could get into the contemporary poetry course. I was told that the professor couldn't see me right away, so I went to the library, where I looked up Loquitur—Bunting's poems other than Briggflatts—and I sucked it up like a beer on a warm day. After that, I went racing back to register for the course, and the person there said, It'll be taught by an elderly British poet you won't have heard of. His name is Basil Bunting. And I said, You're not going to believe this. Oh, he said, you've heard of him?
INTERVIEWER
You once wrote that Briggflatts "was everything I wanted in poetry."
KLEINZAHLER
Yes. Before that I'd gone through a phase of being very influenced by the New York poets, O'Hara mostly, and I'd gone off that and hadn't been writing for a while, which seems like a preposterous thing to say of a twenty-year-old. As soon as I read Briggflatts I knew this was it.
INTERVIEWER
Can you describe what you meant by "everything"? What excited you so much about Bunting's verse?
KLEINZAHLER
It was the music that got me: the rhythms are very sharp, the vowel and consonant textures very evident and available, even to a relatively unpracticed ear. I had read a lot of Pound, which helped prepare me for the way Bunting was able to combine different measures while keeping things coherent, maintaining the thrust of the poem while at the same time weaving in complex imagery—just a tremendous amount of meat on the bone, the concentration of it. The physicality of it. He had all the virtues of Pound without the voice, as Eliot Weinberger said, of "a Pre-Raphaelite knight." Bunting was of the world, a fascinating world. He was born in the north of England in 1900 but lived abroad much of his adult life, most significantly in Iran during the Second World War and for several years afterward. Briggflatts is in five parts and organized, loosely, along the lines of a Scarlatti sonata, including in its dense weave many "strands"—northern English and Persian, among others. It's the one poem that has meant the most to me.
INTERVIEWER
Would you describe your own style in musical terms as well?
KLEINZAHLER
I don't think of such a thing as my style, and prefer not to. But one thing I've been made to realize about my poetry that is perhaps a bit different is that I continually change registers, which is more common in musical composition than poetry, and my models are musical, i.e. Bartók's late string quartets. I suppose Mingus, in jazz, would also be a model of sorts, but less complex and interesting than Bartók, I think. Not that I can match their complexity. But I think this changing of register confuses readers who are more comfortable deciding at the top if this is a nice poem, or a pretty poem, or a sad poem, or an angry poem, whatever, and don't like the tablecloth to be pulled out from under them just as they're halfway through their Stroganoff.
INTERVIEWER
You have described yourself at this time as carrying around with you a book of Catullus, a collection of English Renaissance short poems, The Penguin Book of Japanese Verse, and Pound's anthology, Confucius to Cummings.
KLEINZAHLER
The Peter Whigham translation of Catullus was very important to me. There are three things going on with his Catullus: the first is, of course, Catullus; the second is his take on Catullus; and the third is that Whigham's two chief influences as a poet are Williams and Bunting. Now there's a trifecta a country boy from New Jersey was able to wrap his head around.
INTERVIEWER
Your list has no contemporary poets.
KLEINZAHLER
For me there was Pound and Williams. I was very much interested in that tradition. I was interested in other voices, Philip Whalen and the Beat voices and assorted New York voices. At the center of my reading in those years was Donald Allen's The New American Poetry, which was much more attractive to me than the Cambridge–New York–Southern–Partisan–Kenyon Review axis of influence. The exception with the latter was Berryman's Dream Songs, which I spent a lot of time with when I was twenty-one. And then Blaise Cendrars. Nicanor Parra, Georg Trakl. The traditional Chinese and Japanese poets. Then, as now, the mixture of the lapidary and the loose, the conversational and the precise free-verse line, high and low registers, that's what I liked.
INTERVIEWER
What was Bunting like as a teacher?
KLEINZAHLER
He was controversial. I took two classes with him. One was called Problems in Contemporary Poetry, which . . . well, there weren't any problems at all. He began with some poems by Hardy and Hopkins, The Wreck of the Deutschland, and went up to Yeats and Pound, then David Jones, Williams, the poets who were important to Bunting, Hugh MacDiarmid, Lorine Niedecker, and H.D. All he did was smoke unfiltered Player's and read to us—the entirety of the Cantos, Jones's Anathemata, including the introduction—and when he got tired, or out of breath, he'd say, Do you have anything to say? Someone would start talking gibberish, and he'd start reading again. There was a revolt: he's not interested in what we have to say! I remember telling one of the girls, Why should he be interested in what you have to say? He's the world's greatest living poet. Well, she wanted to know, why aren't we reading E. E. Cummings or Richard Brautigan? Why doesn't he care what we want? You could see the seeds of what poetry in creative writing programs was to become thirty years down the road. A lot of people were very unhappy and the class got rather small, and he just read to us, beautifully. There were only three of us in his creative writing class by the end. Everyone was very upset with him, the department was upset, and we began to meet in his bungalow. There he'd read to us, give us beer—Charrington Toby—and play music. He liked the seventeenth-century English musicians, Dowland and Purcell, and Bach's Goldberg Variations. He'd tell us stories. He was very much disapproved of.
He gave a reading that tore the top of my head off and it was deliberately not taped, the one reading all year not to be taped. He read with great exactness, like a pianist interpreting a score. The rhythms were complex, and that required enormous concentration to follow, even with the text in front of me. But the vowel and consonant music, especially in that rich Northumbrian voice with its burrs and glottals, had its own sort of design going on, along with or against the rhythms. All very complex and moving, like the Goldberg Variations, something along those lines. Overwhelming, really.
INTERVIEWER
Did you stay in touch with him after you left Victoria?
KLEINZAHLER
We corresponded. He was fifty years older, and I'm sure I had nothing interesting to say to him. But he liked me and was kind to me. I went to visit him when he was living in council housing in 1979 and stayed with him for a few days. Although he was in frail health, he took me on a wonderful tour of Durham Cathedral, a favorite of his, and his ex-wife Sima came by and drove us up to Hexham, another favorite place of his and filled with all manner of Northumbrian history. He seemed to like my first book well enough and said encouraging things to me and nice things about my work to other people. I found him endlessly fascinating. He was a remarkable man and had lived a singularly adventurous life, which I found very attractive, especially when compared with the lives of English-department academics and poets I'd been exposed to, who struck me as either hopelessly fusty, sleazy, or ambulatory advertisements about the dangers of arrested development.
INTERVIEWER
How does your work reflect his influence?
KLEINZAHLER
Our subject matter and tone are very different, but I like a sharply accented free verse and compactness. That's where it shows up, if it does at all. I got my style by reading aloud from his work. Before him, I don't think I really understood how important the voice is to poetry, the sound in the air. He was a magnificent reader who sounded out every vowel and consonant so that you heard all the textures in his particular, Northumbrian voice, which is a different kind of music from New Jersey. I became a great deal more attentive to rhythm and sound in my poems.
INTERVIEWER
Did this contribute to the development of your own reading style?
KLEINZAHLER
I'm not sure how I got my current reading style. At some point I knew I was about there because everybody really started listening. I remember in my early thirties Thom Gunn told me that I read too fast. He said that one can never read one's poems too slowly. Of course, that's not true, technically. But I did slow down. And then because I can hear the poems in my head clearly, I began to try to figure out how to reconstitute that sound while reading. Listening to music helped, of course, especially to the phrasing of jazz horn players. In a way, I sort of eased myself into it.
INTERVIEWER
What about Bunting's mentor, Ezra Pound?
KLEINZAHLER
Pound was a genius and a fool, and the poetry reads like that. But anyone writing poetry in English in 2007 who hasn't spent years reading Pound is a bigger fool still. More than anyone else, he invented free verse in English, and produced some of the most beautiful poetry in English, as well as in translation from other languages.
INTERVIEWER
And what about your fellow north Jerseyite William Carlos Williams?
KLEINZAHLER
Williams is the other great pillar of modernism. Like Pound he was about breaking up the pentameter and replacing it with a more flexible measure, but Williams concentrated more on the visual aspect of the thing, how the poem appeared on the page, altering the line and typography to highlight certain elements, and especially to create a sense of movement; to get one involved in the activity of perception, what happens along the way in the assemblage of a line: the hesitations, reversals, veerings. He understood that the mind and world are restless and disinclined to strike an artful, self-conscious pose for very long. At the same time, Williams was about a revolution in poetic material and tone: away from the traditional elevated treatment of poetic subject matter and toward the everyday. He didn't need to write about Gothic spires and Civil War graveyards or crises of God and faith. He found a world in the doughty saxifrage forcing its way through the sidewalk pavement and found it just as compelling as more traditionally poetic themes. But that's just a piece of it. He was a giant, a giant working in isolation—easily, I think, the most important poet of the last century. And revolutionary. He still upsets the sensibilities of the academy, which I hope would please him.
INTERVIEWER
What about Frost? Today he's little spoken of by American poets but loved by Seamus Heaney, Derek Walcott, and Paul Muldoon. Joseph Brodsky loved him too.
KLEINZAHLER
I like Frost very much, at least in bits: the blank verse poems "Birches" and "Mending Wall" especially. But I can understand those who don't. Frost can get pretty homespun in a hurry. Also, for those born shortly after World War II he was very much the poet in America, and that can be off-putting. Most forget that Frost was a protégé of Pound in London and was quite radical at one time. He manages to sound very, very American in meter and rhyme with a wonderfully flexible and natural-sounding voice. That's a large and excellent trick.
All four of the poets you mentioned write important-sounding poems, in what a friend of mine unkindly, and unfairly, I think, calls "Nobel-ese." Frost writes important-sounding poems, which at the same time seem almost casual in tone. I think I can spot that trait in Heaney, if not the others. But my guess is that Frost, because he's writing in meter, is easier for that group to hear than certain other poets may be. In his unadorned Yankee way, Frost is a very formal poet. At the same time his voice is attractively American: just your average metaphysical New Hampshire dirt farmer, nothin' fancy.
INTERVIEWER
What did you do after college?
KLEINZAHLER
I went directly up to Juneau, Alaska, and spent most of a year. I had manpower jobs, hard labor, and then got a job at the Alaska State Museum designing multimedia learning kits about Alaskan native culture that were sent out on a Bureau of Indian Affairs circuit. The first couple of months I lived on an abandoned pier with a young carpenter from Grants Pass, Oregon, who has become a lifelong friend.
INTERVIEWER
Did you consider going to graduate school?
KLEINZAHLER
I went back to Victoria and did a professional year to get my teaching credentials. I managed an apartment building, drove a cab, and then decided I didn't want to teach high school. I got a fellowship to go to Montreal and learn French. In those days you could get grants from the Canadian government for most anything, and I had landed immigrant status. I ended up staying in Montreal for two and a half years. At one point I did apply to graduate school at Concordia. I was interested in studying medieval English. I lasted until halfway through the first class and ran off screaming into the night.
INTERVIEWER
Your first book was published in Montreal. How did this come about?
KLEINZAHLER
When I was living in Victoria I met an interesting older couple, Wendy and Vernon Bender, living in Sooke, about twenty miles outside the city. He had a letterpress on which he did small editions, broadsides, and chapbooks. They invited me out and I spent the weekend learning how to do letterpress. It was all very interesting, an experience I recommend to any young poet. Another small letterpress operation in Montreal, Villeneuve, published a chapbook of mine on its platen press, five hundred copies of The Sausage Master of Minsk. I sent copies to a number of poets, one of whom was Michael Ondaatje, whose poems I liked. He went wild for the book, bought ten copies, and started telling people about this marvelous poet in Montreal. Very kind. Subsequently, he was one of the editors at Coach House Press and through him they published a more extended collection.
INTERVIEWER
Why do you recommend letterpress work for young poets?
KLEINZAHLER
You see how words and letters join up. It slows you way down and you see the relationship between meanings and sounds. When you spend a lot of time putting j and e and l and l and o together you learn quite a bit about the word jello. You're involved in the physical act—the time it takes, the care, the attention. Poets, more often than not, write things without paying attention to how words join, how syllables join, in the carpentering sense. In letterpress work you have no choice, you're stuck with it and if you make any mistakes you have to go back and do it again.
INTERVIEWER
In your introduction to Live from the Hong Kong Nile Club you wrote of what you could do now that you couldn't do then. What can you do now, seven years from that selection of your early poems, that you couldn't do then?
KLEINZAHLER
I have greater technical fluency and I'm less worried about where I'm going to go with a poem. As a younger writer I was more encumbered by influence than I am now. Saying that, there are discerning people who say, Too bad he's gone to hell, his early work was good. I don't really have a preconception of how the poem should go, how it should be. I'm freer, I think.
INTERVIEWER
How do you arrange poems in your books?
KLEINZAHLER
Start well, end well. I tend to follow a somewhat chronological line while adhering to that overarching principle.
INTERVIEWER
You like to have quotations lead off your books. There are three in The Strange Hours Travelers Keep. What do you hope they accomplish?
KLEINZAHLER
A book takes me around five years. During that time I invariably run across a quotation that rings my bell, and the bell keeps ringing for awhile. Sometimes the quotations relate thematically to the title poem or the drift of the book in general, like the Burns, ". . . a darling walk for the mind," and the de Kooning, "I had a sentiment for going from here to there."
INTERVIEWER
Do you keep a notebook?
KLEINZAHLER
No, but I'll occasionally make notes toward a poem. I've been doing that a good deal more recently, the past several years. But that may have more to do with the bourbon making potholes in my brain.
INTERVIEWER
Do you write on a typewriter?
KLEINZAHLER
I write longhand and then go to the typewriter. I just got computerized about two and a half years ago and sometimes I go to it from longhand, but I'm not terribly comfortable doing that.
INTERVIEWER
Has the computer changed anything?
KLEINZAHLER
Not in the way I write. It was a large change for me. It took me a couple of years to digest it and not be upset by it. I'm very pleased that I waited until my mid-fifties to go down that slippery slope. I couldn't do without it now, e-mail, Google, and the news. You can't get the news from the American press. I get the Financial Times in the morning and the weekly Guardian and they are useful, but I'm curious about what's going on because there is a great deal going on today, very little of it any good.
INTERVIEWER
Do you have a favorite time of day in which you write?
KLEINZAHLER
Exclusively in the morning, eight to eleven. I can do things later but that's when my energy is up. I get very impatient with company during those hours, which my wife doesn't like. If I could afford it I'd have an office, although when I've had an office at universities I haven't been able to do jack.
INTERVIEWER
You've said that you are not fond of novels.
KLEINZAHLER
Right, I'm not a big fiction reader.
INTERVIEWER
Any reason why?
KLEINZAHLER
I prefer short stories. I like shorter forms, a lot of bang for the buck, a lot of action in the diction, syntax, sentences. I think a poet works so closely with language that it's easy to become impatient with the larger, more diffuse structures a novelist needs to develop his material. There are fiction writers I do love. I'm reading one now, James Buchan, who's about my age. He interests me more than any other contemporary. And the Irishman who just died, John McGahern. His sentences are musically delicious and coherent. I have to hear prose to feel it. The critic Kenneth Cox talked about how language tastes, the vowels and consonants and movement of it in the mouth. One spits out what one doesn't like. McGahern's prose tastes delicious. A lot of fiction writers are plot and character driven, and I don't really care that much about the story or the character, although I do have a soft spot for good description. I like fiction that's closely written. I can only read about a page and a half of Henry James before I find him cloying, but I do enjoy that page and a half. Lucia Berlin is another favorite. Her short stories, which can seem at first to be crudely written or simply made, are deceptively complex tonally, real marvels. Few writers have her breadth of human sympathy and understanding. She's a modern Chekhov. The Australian Helen Garner too.
It's not that I have a distaste for novels. There just aren't many fiction writers whose writing can hold my attention for six or twelve hours, or however long it takes. In general I'd rather read Jean-Henri Fabre on the subject of scorpions mating. I'm going to die eventually and I have a limited time in which to find out about the many things I am very curious about. My own writing is more stimulated by how scorpions mate than how Mathilda so carefully chose a particular pair of stripped leggings for the imminent arrival of the raven-haired and impetuous Earl of Kent.
INTERVIEWER
Your poems suggest that you are a dictionary reader and a reader of history. How do you work up poems like "The Tartar Swept," in which the Mongol hordes sweep across the steppes into Europe?
KLEINZAHLER
Every poem is different. I began to think about the Tartar one in Berlin in 2000, and a line just got in my head, "The Tartar swept across the plain." Then it took me two years to get the rest of it. Another line jumped into my head, "In their furs and silk panties," which wasn't at all what I had in mind. They did wear furs and silk undergarments, though, and I was off to the races. I wrote that in a couple of hours. I had some notes, and I had been reading around in the subject, so after that second line the poem took off. But each one has a different genesis. Take, for instance, the poem I wrote recently on the subject of my first wedding anniversary. I was playing basketball every morning in a little park near where we were living in Austin, Texas. I was teaching there. I made note of the different physical events in the landscape and was determined to write a poem about it and determined that it be a celebration of our first anniversary. I didn't know when I was going to do it, but the material was rolling around in my head—the red-tailed hawk, the trees, the heat. I knew I had to have the crepe myrtle and the flowering pansy in there. For about six months, I walked around with the line, "You'd figure the hawk for an isolate thing," and once it steeped long enough the poem emerged.
INTERVIEWER
Do you enjoy writing poetry?
KLEINZAHLER
When it's happening, yeah. It can be very frustrating but the act of it when it's going well, there's nothing more thrilling to me. Physically thrilling. My whole being is thrilled.
INTERVIEWER
Can you comment on the characters in your poems, the San Francisco "rangers" in your early work and, say, the English poet in "A History of Western Music: Chapter 11"?
KLEINZAHLER
The back of my apartment in San Francisco, where I spend most of my life, looks out, over the fence of my backyard, to a pedestrian park under which the streetcar runs. In my early days here the neighborhood was quite a bit more rough and raw than it is nowadays, and there was an ever-changing population of the homeless and mentally ill on parade out there. That population has always interested me—a "there but for the grace of God" sort of thing: I've always felt that there's a very thin membrane between madness, alcoholism, and/or destitution and being an OK American guy in a comfortable heated apartment with meatballs and a decent Sauvignon Blanc in the fridge. I've lived, from time to time when I was younger, in circumstances that frightened me. Those poor bastards out there are the other: the other side of the fence, literally and figuratively. They haunted me and populated my earlier work. I called them "strange rangers."
The English poet is a composite. My composites are usually made up of someone in front of me with someone I read about or was told about or once knew. I mix the ingredients to suit my purposes. I like to populate certain landscapes with "characters," the way Pieter Brueghel populates his. Sometimes they're grotesque or outsize, often not. A poet can do this with a few strokes, a line here, a splash of color there. A novelist has to drag in the heavy machinery by tractor-trailer, borrow the Army Corps of Engineers, lay down earthworks. I feel bad for them.
INTERVIEWER
How did you happen to go to San Francisco?
KLEINZAHLER
I had friends staying there, the poet Guy Birchard and his wife Anne. She was working at an animation company, the people who did the movie Watership Down. Carl Rakosi had arranged a reading for me at New College, which was superficially the reason for me to be there. I met a girl. I was there for a few weeks and then I went to visit friends in Idaho, Lincoln Hart and his partner, for a few months. I was footloose and didn't really know what I was doing. Then I went back to San Francisco and lucked into the apartment I'm still in. The woman who lived in it, a friend of the girl I was interested in, had just been robbed. She wanted a male roommate. I walked up the hill to UCSF and got a job in the temp pool, clerical work. I made keys.
INTERVIEWER
Keys?
KLEINZAHLER
Yeah, for a couple of years. A miserable time. Money's always been a problem. It's a problem now. I didn't and don't want a regular academic job. That's poison for a writer. I'm very restless so it's been a struggle.
INTERVIEWER
But you have taught.
KLEINZAHLER
I'll teach if the money is right. The problems with the gig are manifold. One, poetry can't be taught. Two, the current teaching environment prohibits communicating even the most basic ideas of poetry to the students. You have to affirm them in their self-esteem or away with you. What I inevitably do, when I teach, is ignore their work for as long into the semester as I can manage, while showing them exemplary poetry and having them try their hand at various sorts of exercises. This inevitably meets with a serious mutiny by week three. But I try my best. Bunting simply read to us. That was it. I loved it and got a world out of it, but it went down badly with the rest of the students, not to mention the English department. I do try to do a bit of reading to them in my flat, nasal, New Jersey way.
INTERVIEWER
When did you meet Thom Gunn?
KLEINZAHLER
Not very long after I arrived in San Francisco. He gave a talk on Basil Bunting at a venue south of Market Street, on Natoma Street, more typically a l=a=n=g=u=a=g=e poet venue. I went there skeptically—ready to raise my hand and cause trouble—but it was a beautiful presentation, modestly delivered and concise. He lived about four blocks away, and I got his address from the poet Jim Powell, who was editor of the UC Berkeley literary magazine Occident, which in those days was very interesting. I wrote Thom a note and sent him my Coach House book, A Calendar of Airs. He invited me over, and we had a pleasant visit. Over time we became dear friends.
INTERVIEWER
Did he influence your work?
KLEINZAHLER
Thom's influence is difficult for me to identify because it's so broad and diffuse. I think a lot of it has to do with the honest treatment of the poetic material at hand, not slipping into rhetorical or poetic postures, inflating subject matter, or dodging difficulty. But really, as an older, wiser, brilliant, generous friend and model, his influence pervades not just my intellectual life but how I conduct myself in the world. He was a bit moralistic, you know. But in the wonderful way that only the truly naughty can be. He'd catch me if I was being piggy or unsympathetic. It was like having a hip uncle, one who loved me but was not at all hesitant to take me down a peg now and then.
INTERVIEWER
With Bunting as teacher, Gunn as friend, do you think of yourself as an Anglophile?
KLEINZAHLER
I guess it's unusual that the two most influential poets in my life have been Englishmen, two very different sorts of Englishmen, one fifty years older, one twenty years older. When I was in Canada most of my professors were English, Scottish, or Irish. I wasn't reading Galway Kinnell or Mona Van Duyn or X. J. Kennedy. I was reading a lot of Scottish and Irish and Welsh poetry, contemporary and as far back as the Middle Ages. I was mad for Heaney's early books before he was famous. I was reading different things than my American contemporaries were reading. I wasn't an Anglophile, Bunting just happened to be there. I'm not an Anglophile now.
Almost everything I write is published by the London Review of Books, but that's an accident. Christopher Logue, whom I'd met during a reading tour in Australia in 1987, forwarded a poem that I'd sent him and he liked, called "Uttar Pradesh," to the London Review of Books. He phoned me saying that he'd taken the liberty of passing it on to them because he thought I ought to have more visibility in England with a book coming out in London from Faber. Shortly thereafter I had a phone call from a young woman with an almost impenetrable Glaswegian accent who seemed to like the poem. That was Jean McNicol, the most wonderful editor I've had the pleasure of dealing with in this life. Then I have a wife whom I met in London, who carries a Canadian passport. I probably have more friends in London than I do here, but I don't think that makes me an Anglophile.
INTERVIEWER
American poets often answer questions about how it feels to be a poet in our time. Do questions like this interest you?
KLEINZAHLER
Not at all.
INTERVIEWER
Recently Poetry posed a question about the social utility of poetry. Does that interest you?
KLEINZAHLER
No. I agree with Auden that "poetry makes nothing happen." Nothing else needs to be said about it.
INTERVIEWER
One more: some argue that the only value of a work of art is the value others derive from it. Do you agree?
KLEINZAHLER
I don't think of such imponderables as "the value of art." I do think, however, no matter how difficult or opaque the work, the making of art is a profoundly social activity, even if it's one-on-one with some sort of ideal reader who doesn't exist.
INTERVIEWER
What contemporary poets do you read with pleasure?
KLEINZAHLER
Quite a few. Any list leaves out too many, and hardly any of them are well known at all. Michael O'Brien and Elaine Equi have new books out, which I recommend. Also an old teacher of mine, though only a few years older, Alexander Hutchison in Glasgow. Thomas McCarthy of Cork is a splendid poet, as is Robert VanderMolen of Grand Rapids. Daisy Fried. Any sensible contemporary anthology of contemporary poetry would have at least a half dozen poems by Jim Powell, but when you consider the culls that are editing these things, it's no wonder his work isn't represented. Two younger writers with first collections out, Maureen McLane and Katie Peterson, are very good. There's a young writer in Brooklyn writing sonnets named Peter Spagnuolo who's very original, as is a former student of mine named Nick Twemlow. I recently judged a couple of contests for first books and though the work on balance would suggest that civilization as we know it has come to an end, the winners were actually very talented.
INTERVIEWER
How did you come to be writing essays as well as poetry?
KLEINZAHLER
Wendy Lesser, who's been very kind to me over the years, encouraged me to write prose, and I wrote some for The Threepenny Review. It's been a process. Writing the music columns for the San Diego Reader made me a better prose writer. The occasions for the prose were various. I told Jean McNicol a story about growing up in Fort Lee, with the gangster Albert Anastasia living down the block, and she suggested I write about it. I hadn't written a proper autobiographical essay before, so I did it. She liked it, they printed it and then it got reprinted in The Sunday Telegraph with a childhood picture of me with a gun and a picture of Tony Soprano. Then the LRB asked me to write about other things—they didn't give me many formal assignments. Recently I e-mailed Jean that I was upset by Israel's war on Lebanon, and she knew I'd written some political things for a German paper so she asked me to try to write a diary piece about it, if I could do it in the next seventy-two hours. She really had to hold my hand through that. She's marvelous to work with, something special. When Thom died I e-mailed her, knowing that she'd want me to write something. I asked her to wait until the end of summer and when the end of summer came she asked me to write the piece.
INTERVIEWER
What prose writers do you admire?
KLEINZAHLER
Joseph Mitchell. That's the kind of writing I really love. I enjoy Liebling's fight writing. A great enthusiasm of mine is David Thomson's Biographical Dictionary of Film. His other books don't interest me but his dictionary entries are magnificent. I like compendia. Nicolas Slonimsky's dictionary of musicians is a favorite of mine. I love many of those old New Yorker writers. Whitney Balliett was one of the great American writers. Conversely I find Roger Angell's articles about baseball unreadable. Perhaps there's something arch lurking in the tone, a man of letters slumming. People have a snobbish thing about journalism, but what I love, what I read mostly, is nonfiction. I'm on a Kenneth Tynan jag now. His profiles are heaven.
INTERVIEWER
What about New Journalism? Tom Wolfe, Norman Mailer?
KLEINZAHLER
I read a couple of Wolfe's books with great interest before he became such a crank. I loved The Electric Kool-Aid Acid Test. Mailer I always struggle with. He's a good writer but he intrudes himself so often that I find the drama of his ego fatiguing.
INTERVIEWER
Are you a reader of literary criticism?
KLEINZAHLER
If it's well written, I don't really care what people are writing about, they could be writing about carburetors. The Englishman Kenneth Cox is one of the great stylists. His collection of essays Collected Studies in the Use of English is mesmerizing—a large influence on my own prose writing, he'd be horrified to hear.
INTERVIEWER
Have you learned anything from reviews of your work?
KLEINZAHLER
Probably once or twice. A very early review by Cox said that I wrote chiefly about weather, women, and food. That stayed in my mind.
INTERVIEWER
You wrote a scathing attack on Garrison Keillor's Good Poems anthology. What about it provoked you?
KLEINZAHLER
I can't stand Keillor, but his anthology wasn't the primary affront. His little poetry moment on NPR drove me around the bend. I detest the merchandising of poetry as a tonic for ennui, ague, whatever ails ye. Chris Wiman, a friend, was new at Poetry and figured he could get a rise out of me by asking me to write about whether Keillor was good or bad for poetry. And since poor Dana Gioia was taking the other side, how could I resist?
INTERVIEWER
You showed a gift for vitriol in that piece. Why haven't you written more reviews like it?
KLEINZAHLER
Journals, or the few I write for, don't really like negative reviews. Also, there's a real argument that they're not worth writing. Sure, wannabe poets like William Logan and Adam Kirsch make their living that way, but they come off, even when more or less justified in their distaste or indignation, as sour fuddy-duddies, reactionary buffoons trotted out by the Times or whomever to provoke and exasperate. What interests me very mildly about such characters—The New Criterion seems to indulge this sort of thing—are their affinities with the neo-cons in politics. It's a strange sort of temperament and worldview that seems informed by what I imagine to be some thwarting or traumatic psycho-sexual event early on that has turned them into disappointed old men at twenty-five. I think many of them attended Dartmouth at some point and wear bowties, no?
INTERVIEWER
Your poems suggest that you are familiar with medicine. True?
KLEINZAHLER
I do have a fascination with it. I don't know where that comes from. Most of my parents' friends were doctors, and perhaps because of this my folks had more than a casual interest in all that. I married a doctor's daughter. The body is very interesting to me. As a child I had that transparent plastic learning toy with the guts visible. I like nineteenth-century quack medicine, books about phrenology and other unreliable texts. Gould and Pyle's Anomalies and Curiosities of Medicine, published in 1896, is a favorite of mine. An excellent vintage. I went through a phase when I was working in the UCSF library where I read every issue of Scientific American. I liked the essays on cells and how the brain works.
INTERVIEWER
What about maps? They seem to fascinate you.
KLEINZAHLER
I think I probably inherited this from my father, who traveled the world as a kid in the Merchant Marine during the Depression and loved travel books and exotic tales of distant climes—writers like John Gunther—and those TV explorer shows of the early fifties. I forget their names—Bold Journey? I remember when I taught myself to type at age thirteen, I copied text from an atlas. I knew I was going to be with that material for a while, so I chose something I found agreeable. Of course, my own travels have encouraged an interest in maps. In the past five or ten years I've become especially fascinated by late sixteenth- and early seventeenth-century maps—Mercator, Ortelius, Blaeu—and the role of the imagination in the representation of space and territory. Before the Age of Reason got into gear, maps were as much works of art as utilitarian commodities or objects. Color and illumination were a large part of all that. For instance, without thinking scientifically: what color, in your mind, is Paris? Sri Lanka? Mombasa?
INTERVIEWER
In your work you seem more a man of line and shading, a graphics man drawn to photography.
KLEINZAHLER
I like oil paintings too. I grew up with oil paintings on the wall, a couple from the seventeenth century along with Frere, Theodore Rousseau, Gilbert Stuart, someone from the school of Canaletto that Sotheby's offered my father a big chunk of change for, seven grand or so around 1960, and my father threw him out. He wanted it to be a Canaletto worth two hundred thousand dollars. Those old paintings had narratives going on. One involved the Battle of Lepanto with galleys and cannons and sabers, the works. A kid enjoys that sort of thing. Also I got to look at them for years on end, in all kinds of light, all kinds of moods. Most of the old ones were in the dining room. Occasionally my father would get berserk and break a few over his knee. But he'd find others, and always for peanuts. He found an early Stuart Davis with images on both sides. He got it for bupkis at a flea market and still tried to bargain the guy down. And there were abstract paintings in the fauvist style, very like Vlaminck and Derain, by a painter called Maxim Bugzester. He also had paintings by the abstract painter Ben Wilson, who, with his wife, Evelyn, a sculptor, had me over to their house often and encouraged me in my writing at an early age, rather to my parents' distress. And my father painted, initially in the fauvist style, then later a bit like Kandinsky, and later still like Malevich, whose work he probably did not know. He had a bit of talent, my father did. No great shakes—which upset him when he came to terms with it—but something.
I suppose, in retrospect, it was a great blessing to be exposed to so much art and to feel so at home around it, likewise around artists. Culture was no big deal in my house, with heraldic trumpets, a drum roll, hushed reverence. It was part of the whole deal. And that's unusual, particularly in an otherwise conventional and provincial household in Fort Lee, New Jersey.
INTERVIEWER
Fort Lee may be provincial today but in the first decades of the twentieth century it was the birthplace of America's film industry. Have movies had any impact on you and your work?
KLEINZAHLER
Growing up in the New York area there were fabulous movies on TV all the time. Terrific old movies were fill, ballast. You'd be bleary-eyed on Sunday mornings from the Marx Brothers in Duck Soup or James Cagney in The Public Enemy or Bogart in The Maltese Falcon, Hitchcock by the yard, until our parents were done catching up on screwing upstairs. You don't grow up being casually exposed to so much great film without it making a large impression. My parents didn't grow up like that. John Dryden didn't grow up like that. Filmmaking is an art, and I grew up saturated in it, however unwittingly. And that's obviously in the mix of my poetry. I certainly hope so.
INTERVIEWER
You're always listening to music. Can you write at the same time?
KLEINZAHLER
No, it has to be very quiet because I need to hear the music of the language, the music of what's going on in my head. Some writers allegedly can. I can't. I'm often stimulated to write by music. When I put on that Monk/Coltrane set that they recently found, I was so excited I dashed off a poem.
INTERVIEWER
You are writing an ongoing series of poems called "A History of Western Music." What prompted this?
KLEINZAHLER
I was in Ireland and everywhere I went they were playing the Adagietto from Mahler's Fifth. It seemed so odd in that context of airports and supermarkets. Then I went to London and in every pub there was Frank Sinatra. There was a special on Sinatra on TV and they were running Tony Rome on TV late at night for a week. So I began writing about Ireland and London through the filter of Mahler and Sinatra. I didn't realize it was going to be a series but in those days I had my column in my head all the time and was looking for contexts to discuss music. So I fell into this idea of approaching all sorts of music in this fashion.
INTERVIEWER
In your poems, whom have you stolen from?
KLEINZAHLER
Everybody. I pick up bits everywhere, not just from poets, painters, whatnot. I'm a magpie. I pick up things on the street, from radio, overheard conversations, cloud formations, the Fairway market, the Chinese produce store—I mean, that's what I do, and I do it from when I wake up in the morning till my darlingdear plumps my pillow for me at night.
INTERVIEWER
So at your age, you're not beyond influence?
KLEINZAHLER
Beyond influence? Good grief. I'd have to be dead.