Interviewed by Shusha Guppy
Issue 157, Winter 2000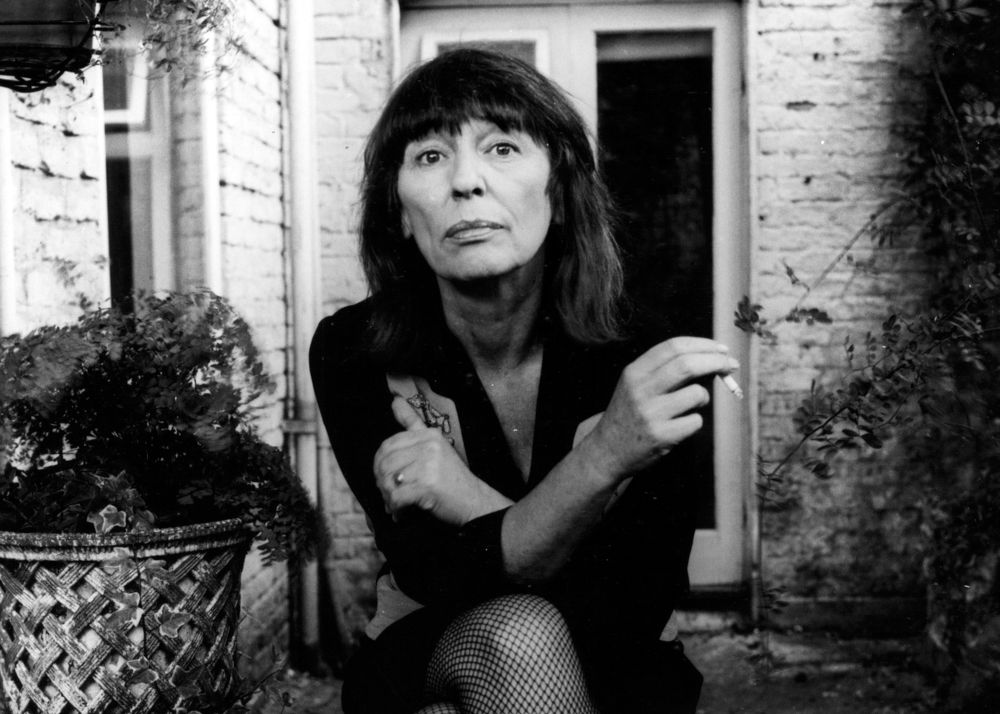 Beryl Bainbridge is one of Britain's best-loved novelists. She has twice won the prestigious Whitbread Prize and has been shortlisted five times for the Booker Prize, most recently for Master Georgie, her sixteenth and perhaps most accomplished novel. When the strongly favored book didn't win, the cry of "Foul" from the literary arena echoed through the land.
Bainbridge's early novels were broadly autobiographical, based on her family history and set in her native Liverpool and London. They include A Weekend with Claude (1967), Another Part of the Wood (1968), Harriet Said (1972), The Dressmaker (1973), The Bottle Factory Outing (1974), Sweet William (1975), and A Quiet Life (1976), among others. Then, in her mid-fifties, she embarked upon a new creative journey—the imaginative exploration of certain emblematic historical events that are seared in the collective memory.
The Birthday Boys (1993) told the story of Captain Robert Falcon Scott's fatal journey to the Antarctic in 1912, while Every Man for Himself (1996) recounted the sinking of the Titanic a month later, through Morgan, a young American survivor. These two events marked the end of an era—La Belle Époque in France and the Edwardian period in England—and foretold far greater disasters ahead: the First World War, the Bolshevik Revolution, the rise of Nazism, and others. With these two novels, Bainbridge finally crossed the Atlantic. The publication of Every Man for Himself coincided with the release of the film Titanic and became a best-seller. "They probably thought it was the book of the film," was the author's reaction.
In Master Georgie, Bainbridge goes further back in history, to the Crimean War of the 1850s. It was a time of scientific discovery and new inventions—among them, photography, which Bainbridge constructs her narrative around, employing it as a metaphor for ambiguity and chance, often using it to distort truth or at least give a partial account of it. At the time of this interview (December of 1998), she was about to begin her most recent novel, According to Queeney (2000), based on the life of Samuel Johnson.
Since the 1960s, Bainbridge has lived in a comfortable house with a charming garden in Camden Town, North London. Inside, it is filled with quantities of heterogeneous objects. In the entrance, a stuffed buffalo almost bars the way. Once one has squeezed past it, one is welcomed by a life-size statue of Jesus that is on the stairs. The front room is divided into a kitchen on the garden side and a small sitting room overlooking the street. Statues of the Virgin and assorted saints mingle with bric-a-brac and domestic objects in happy confusion. One wall of the kitchen is covered with photographs of Bainbridge's children and grandchildren, and several of herself at various ages. We sit at a large round table strewn with papers by a fire she keeps ablaze by periodically adding coal.
Petite and vivacious, with dark, straight hair and bangs, wearing a black dress and net stockings, she puts me in mind of certain pictures of Edith Piaf. Evidently others have remarked on the likeness, for she shows me a photo from the wall of herself as a young woman in which she looks more like Juliette Greco, a resemblance she clearly prefers.
Famous for her warmth and generosity, Bainbridge speaks in a melodious voice somewhat darkened by years of heavy smoking. "I have cut down," she says as I express concern, "Only thirty a day now, very mild ciggies."
INTERVIEWER
You said once that you were discovered by your publisher, the late Colin Haycraft, the owner and director of Gerald Duckworth and Co., and that he was very important in your development as a writer. How did you meet him?
BERYL BAINBRIDGE
I wrote my first novel, Weekend With Claud, and sent it to what was called in those days New Authors Limited, which was an offshoot of Hutchinson Publishers, and they took me on. But they only published first books, so when the following year I produced a second novel, Another Part of the Wood, I was taken into the big firm—Hutchinson's proper. I thought I'd walk down the street and everybody would know I had written a book. But nobody took any notice of these two novels, and I stopped writing. I felt uneasy for about three years.
Then, one day my son was playing with another little boy, and his mother rang asking for him. As we spoke she said, I recognize your voice. What is your name? I gave my married name, Beryl Davies, and she said, What was your name before? When I told her Bainbridge, she said, I've read your two books; they are pretty awful, but have you got anything else? And that was Anna Haycraft, Colin Haycraft's wife, who became my editor at Duckworth for about six years. Without Anna, I don't think Colin would have taken me on, because he was an academic publisher and wasn't interested in fiction. That was in 1971. Later, Anna became a novelist herself—she became Alice Thomas Ellis.
Anna and Colin operated in an old piano factory, and they even employed me to wrap up my own books. But Duckworth didn't make any money—ever—because Colin was not bothered about it; his idea was the you printed two thousand copies and if the libraries took half, that was fine, you could go on to the next publication. He didn't bother about money. As a result I never made any money—indeed I never knew that one could make money out of books. But the Haycrafts knew everybody who was anybody in the literary world, and they used to give parties to which they all came. Being at Duckworth meant that you met all these interesting people, and I had a good memory, having been in the theater, and I always remembered people's names and things. I was fortunate in that respect, because Duckworth never had a publicity department—the idea of it would have made them laugh—and you did your own publicity. Colin was also very good for novelists, being academic and rigorous about clarity. He trained his writers. And Anna would say, Stick to what you know, to your own life, which was what at the time I was interested in anyway, except that there had to be a plot.
Then, six years ago, Colin died and in a terrible sort of way it released me; it enabled me to have confidence enough to do research and write about history or about those subjects which he knew so much better than I. I would never have had the nerve to do it if he was still alive, because he was so learned and clever. I was conscious that I had to do something else, as I had used up everything I knew about my own life. So I went off to write novels based on historical facts.
INTERVIEWER
Why didn't you leave Duckworth sooner—to be released, as you say?
BAINBRIDGE
It didn't occur to me to leave Colin and Anna; I was treated the right way and I was very happy. For example, all my books were published in America at a time when American publishers stopped taking English novels because authors had become too greedy, demanding better advances. I was shortlisted for the Booker and won the Whitbread. On Booker night our table was always the most cheerful, because we didn't expect to win. You had to print extra copies in case you won, but Colin wouldn't bother. So we enjoyed ourselves while everybody else on the shortlist was anxiously waiting with bated breath. Only once did I begin to believe the hype about winning. There was that dreadful moment when the cameras were ready and the announcer says, And the winner is . . . , whereupon the cameras pan onto the winner. At that moment the cameras came to our table and we all froze, and then they all swept past to Seamus Heaney, who had won. That was two years ago. I have to admit that I had begun to make some calculations on bits of paper as to what I would do with the money, how much each of my children would get.
INTERVIEWER
You mentioned the Haycrafts' literary parties. What were they like? Who was there?
BAINBRIDGE
Very jolly and with much drink. Philosophers, writers, politicians, professors.
INTERVIEWER
Let us now go to the beginning. You were born in 1934 and grew up in Liverpool. It was the 1940s and 1950s, before the Beatles made the city famous and a focus of attention.
BAINBRIDGE
My husband, Austin Davies, taught John Lennon at Liverpool Art School. In fact, the night we separated, my husband had a party in our house to which the Beatles, John Lennon, Stuart Sutcliff—the one who died—and I can't remember who else, came. The party went on for three days and nights; I moved out down the road to a friend's house with the children, and later we divorced amicably. I never saw the Beatles again.
INTERVIEWER
In your early books the milieu you depict is lower middle class, whereas in fact your family was quite well-off. How do you explain the discrepancy?
BAINBRIDGE
This is what English society doesn't understand—I mean, what was accepted as middle class then isn't necessarily what is seen as middle class now. For example, in An Awfully Big Adventure the girl wants to have a bath and fusses about it. One or two reviewers said, What a seedy background, not realizing that there was no central heating then, that you got pneumonia if you had a bath before trying to heat up the house. It wasn't that people were dirty, just that it was a different world. In Liverpool lots of middle-class people had outside loos. My aunts, for instance, had an outside loo, but they subscribed to the local library.
INTERVIEWER
So what was your own family life like?
BAINBRIDGE
My father was very intelligent, a beautiful reader and writer, although he had left school at age ten. He became an entrepreneur whiz kid in shipping and property. Then, with the collapse of the gold standard and the depression, he lost everything. He struggled for a while and eventually became bankrupt. My mother came from a different class; she went to a finishing school in Belgium, her father was a director of a paint firm and he was much more middle class than my father, who was a self-made man from the working class. But in those days the working class were different. They were proud, read books, used a tablecloth, didn't dream of putting a sauce bottle on the table—something we certainly did. So my family was an odd mixture.
When my father went bankrupt, my maternal grandfather bought us a house for six hundred pounds in Formby, a few miles down the coast from Liverpool. I was six months old and my brother a few years older, and we grew up in that house. Both my parents wanted us to go up in the world, through education. I went to a very good private school, and I had elocution lessons, piano and tap-dancing classes, and my brother had extra Latin. God knows how my father paid for it all, being bankrupt. It was important then to speak properly. Now, I walk around Camden Town and see all these beautiful young people, with lovely skin and hair, dressed in the latest fashion—but when they open their mouths it is just horrible. When my mother went out she was called the Duchess, but in the house she changed instantly and put on a torn slip and slippers while my father changed into an old jacket and a beret from the Home Army and my brother and I were just in rags because you had to keep your good clothes.
INTERVIEWER
One gathers from your early books that the family atmosphere wasn't very happy. Was it?
BAINBRIDGE
Oh Christ, no. It was terrifying. My mother had married my father when he was a rich businessman and they could afford a big house and a maid. Then a year later it had all gone, and she felt cheated. My father had terrifying rages, never hitting anybody physically—never—but verbally atrocious. He was schizophrenic; normally a charming and lovely man, he became a monster when the rages came. My first job when I came back from school would be to put the wireless on to drown out the noise so that the neighbors wouldn't hear. The rages would last two to three days and be followed by three months of sulking, during which I had to ask for money every Saturday morning to buy food. We used to put his food in a bowl at night and leave it outside his door, like an animal.
It was weird. The house was a small semidetached with a big garden at the back and another in the front. There were two proper bedrooms and two little box-rooms for my brother and me. But in order to keep my parents apart, my brother slept in one bedroom with my father and I slept in the other with my mother. Ostensibly it was because the little rooms were damp, but in fact it was all about "what would people say."
Then gradually things would get better, and I'd come back from school one day to find my mother in the bath with my father scrubbing her back. That was the signal—the next day they would go out dancing in Liverpool, and then she would have another piece of jewelry.
INTERVIEWER
And you, a sensitive child, took it all in?
BAINBRIDGE
Took it all in! So I left home as soon as I could. First I got myself expelled from school. My mother found a dirty poem in my pocket and went straight to the headmaster. She didn't want to have me expelled, but she felt that I was in deep danger, that I was perverted, peculiar, and that better-educated people would know how to deal with me. Instead, the school had a meeting, decided that I was a rotten apple in the barrel and expelled me. The funny thing is that I hadn't written the poem. It was one that had been passed on for decades. Today I would be given a medal for it, or some scholarship.
INTERVIEWER
What about literature when you were young? Did you read a lot when you lived at home? Did you think one day you would become a writer?
BAINBRIDGE
Oh, yes. I knew when I was eight years old that I wanted to be a writer, and in fact I wrote a book when I was about eleven that Duckworth later published with my original illustrations. It was called Filthy Lucre.
INTERVIEWER
What was it about?
BAINBRIDGE
It was a mixture of Treasure Island and Oliver Twist. The dedication at the front was to those who suffered in the Opium Wars, though I had no idea at the time what that meant. It started in a Dickensian fashion in London and ended up on a kind of Treasure Island—most of the characters were dead by the end. If anything, it was most heavily influenced by Charles Dickens.
As for books, my mother belonged to the local library and took out books at random, a lot of them mystery stories, and some by A. J. Cronin. We had a bookcase in the front room, but the key was lost; my mother thought books were untidy.
INTERVIEWER
So who encouraged you to read?
BAINBRIDGE
My parents did, and my English teacher. I read a lot of Dickens, D. H. Lawrence's Sons and Lovers, Kipling's Stalkey and Co., Steinbeck's Cannery Row. I didn't like Virginia Woolf.
INTERVIEWER
Which books do you think had a decisive influence on you?
BAINBRIDGE
I liked Sons and Lovers because I identified with the background of Mr. Morel, even though my father had never been down a mine. Denton Welch and John Steinbeck were important too.
INTERVIEWER
Until you were expelled from school, were you a good student?
BAINBRIDGE
No, though I was good at English. Outside school I got three medals for dramatic art. I didn't actually get them, because it was wartime and they didn't make them—they needed the metal for ammunition. Later, after I'd been expelled, my mother wrote to the Royal Academy of Dramatic Art, and they said that I would have to live in rented accommodations, and I was obviously too young. So my mother sent me to the Cone Ripman Ballet School, but unfortunately I was absolutely hopeless at ballet. My parents would come down for half-term to see me, and my father would have a rage because he had lost a stud in his shirt or something, and I would be left feeling awful. So I decided to go home to protect my mother.
INTERVIEWER
Eventually you got into acting. How did that happen?
BAINBRIDGE
My father knew some people at Liverpool Repertory Theater, and he got me in as an assistant stage manager. Somebody dropped out one day and I stepped in. The play was about an infant prodigy in mathematics, but the boy who was to play the part was discovered to be underage and couldn't do it. So I was taken to the barber and had my hair cut off. I had good notices and after that I was taken into the company to play parts.
INTERVIEWER
What did you think of the acting life?
BAINBRIDGE
Odd, but I liked it.
INTERVIEWER
When did you run away from home?
BAINBRIDGE
I first ran away from home at fifteen and rented a room there in Liverpool, but my father came and dragged me back. When I was seventeen, I took the night coach to London. My parents were worried at my going and could have stopped me, but they didn't, and I cruelly took no notice. My father sent me two pounds and fifty pence a week, which was enough, and I had some contacts. After a while Gerald Cross, who was the director at the theater in Liverpool, moved to Dundee Rep and I went with him. But he put on too many foreign plays, which nobody could understand, and he was sacked. He said to Joan White, the star of the show, and to me, Make a protest; say, If he goes, I go. We did, and they said, Good riddance. So the three of us holed up in a little bungalow under a bridge on the banks of the river Tay, desperate and destitute. We couldn't say anything, as we were supposed to have left in a keep-your-flaming-job huff. It was so cold that we slept in our coats, and we lived on bread and cocoa, waiting for Equity—the actors' union—to fight our case. But we laughed all the time, though I was a bit disappointed because I was going to star in the next play. Eventually we got some money from somewhere to get to Liverpool.
I arrived home with fifteen carrier bags, having no suitcase. My mother was furious because it was "letting the side down." But after the war there was an atmosphere of optimism—a feeling that everything would turn out wonderfully.
INTERVIEWER
Is that when you got married to Austin Davies?
BAINBRIDGE
Yes. I had first met him at the Liverpool Rep, where he was a scenery painter, and I had been in love with him for years. We married in 1954. I gave up the theater and we subsequently had two children. My oldest was eighteen months and the second was six weeks old when Aussie left. He read Colin Wilson's The Outsider, and said an artist must be free. That was 1959. But he was very good financially and looked after us. When my son Aaron was five or six, he was peed on at school; we thought schools were better in London, so we came here. Eventually Aussie bought us this house. It was when houses in this area were dirt cheap and the district council paid for renovations. Aussie lived in the basement and we lived upstairs. Later, he married again and began to go bankrupt. So in 1971 he emigrated to New Zealand. I lied to the authorities and said that I was making enough money on my own so they would let him leave the country.
INTERVIEWER
Was it after he left that you started writing?
BAINBRIDGE
I had written my first book in 1961. Nobody wanted to touch it; they said it was obscene, peculiar.
INTERVIEWER
Yet when it eventually did appear you had very good reviews. There were intimations of suppressed lesbian relationships, which led to violence. But by today's standards there wasn't any explicit sex or violence in it, was there?
BAINBRIDGE
Oh, no! It was just a peculiar relationship between two girls that foxed me. That was the book I sent to Anna Haycraft when she said, Have you got anything else? And she said, That's it! It was called Harriet Said and was my first book published by Duckworth.
INTERVIEWER
After that you wrote The Dressmaker, which chronicled your family in Liverpool.
BAINBRIDGE
That's right. It was about my two aunts, Margaret and Nellie, plus a plot. Then came The Bottle Factory Outing, because for a while I worked in a bottling factory here, and the story was all true, apart from the murder plot. We put labels on bottles for four shilling and six pence an hour, and I worked part-time. It was the only job I ever had, apart from part-time work for Duckworth packing books. Then gradually I began to earn a bit from writing to supplement what Aussie gave us.
INTERVIEWER
You had two children to look after and a part-time job, so when did you write?
BAINBRIDGE
I could only write when the children had gone to bed, which was fine when they were young and went to bed early. But later, as they grew older—I didn't know where they were or when they would be home—it was more difficult.
INTERVIEWER
How do you work out your plots? So many writers say they have difficulty with that part of the process.
BAINBRIDGE
Let's go back to Harriet Said, which would be a true story of me and these two girls who had killed the mother of one of them. That already had a plot—the story and the murder were widely reported in the newspapers. I added the landscape and my childhood, which is what really interested me.
When I got to The Dressmaker, about my aunts, I went to Colindale (the newspaper-archive library) and looked up the Liverpool Daily Post and Liverpool Echo for one week in August 1946. In one paper it said that an awful lot of American soldiers were illiterate, and that quite a few had gone missing and were never found. I thought, That's it. From that I constructed a plot. My aunts were born in the 1880s, which means that in 1946 they seemed ancient to me as a twelve-year-old child. They spoke to each other in my presence as though I wasn't there. Aunt Nellie was a dressmaker and worked as a hospital orderly during the war; Aunt Margo was flighty and worked in an ammunition factory. Aunt Nellie was very proud of her mother's furniture and, being afraid that it would get damaged in the war, she put away some things upstairs in a box-room, for example a little inlaid table that I have here. The loo was outside, and as you came in there was an old metal umbrella stand, and my father always said, Damn it, Nellie. That'll be the death of me, meaning that he would trip over it and bash his head. So that went into the plot; the girl next door is having an affair with an American soldier, and through her the me-character meets another American, who is illiterate but she doesn't know it. He starts taking her out, but behind her back is calling Aunt Margo. One night, Nellie catches him in bed with Margo. When he drags his uniform jacket off the inlaid table, his buttons scratch the surface, and Nellie pushes him; he falls down the stairs and knocks his head on the metal umbrella stand. Nellie calls her brother, who is a butcher, and he brings around his van; they make the American soldier a shroud, carry him in the van to the river Mersey, and drop him in; he is never found. So that's how that plot was worked out. But my sole purpose of writing the book was to chronicle my family. Otherwise I wouldn't want to have written it.
INTERVIEWER
Why did you feel such a strong need to chronicle your family? If that was the primary motivating force, why fiction instead of a memoir?
BAINBRIDGE
Because what we remember is probably fiction anyway.
INTERVIEWER
Having been in the theater, would it not have been natural for you to write plays about all these people?
BAINBRIDGE
I did write several television plays that were produced. But it seemed to me at the time that plays didn't allow you enough space because you couldn't include your interior thoughts. You couldn't describe the place, the landscape—it is just dialogue.
INTERVIEWER
Precisely because your dialogues are so good, and very funny, with repartees and jokes, your plots are dramatic—murders and bodies dropped in rivers and so on—and you write with such judicious economy that one feels you could have written stage plays. Are these qualities the influence of the theater?
BAINBRIDGE
Probably. But also the way people speak in Liverpool. Somebody says something and you don't answer directly but rather say something else. For example, someone would say, She's a bad-tempered woman, isn't she? And the reply would be, You can't fault her sponge cake.
INTERVIEWER
Do you mean that your memory and your work in the theater helped you remember what people said and the way they said it?
BAINBRIDGE
Yes. And don't forget that my aunts and my father were born in the 1880s, and the English language didn't change much until the war, with the American influence. But there were literary allusions. For example, if I looked scruffy my mother would say, Go and wash, you look like the wreck of the Hesperus, which was the title of a narrative poem from the late nineteenth century. If they wanted to say something wasn't true, they would say, It's all me eye and Peggy Martin, which is an expression that goes back to 1708 and was still being used in the 1940s. I was never curious enough to ask who Peggy Martin was. A lot of these expressions came from the wartime comedy shows on the radio. I remembered all that when I came to write about those people.
INTERVIEWER
Having finished with your family, so to speak, you turned to your own life. Sweet William was based on your relationship with Alan Sharp, your companion after Austin Davies and the father of your third child. But you never wrote about Davies, did you?
BAINBRIDGE
Never. Nor about my children. I never dealt with the theater either, until An Awfully Big Adventure.
I always thought that what happened before I was sixteen was much more important than what happened afterwards. That was about me, whereas the first sixteen years were not part of me. When I started writing in the 1960s, wasn't it the time when women were beginning to write about girls having abortions and single mothers living in Hampstead and having a dreadful time? Well, I thought, I'm not going to do that; I'm not bothering with all that rubbish.
INTERVIEWER
Why was what happend in the first sixteen years of your life more important?
BAINBRIDGE
I was alive during the war. What happened to the Jews changed me forever.
INTERVIEWER
You started writing at the beginning of the feminist movement, which produced a profusion of novels by women about themselves. What do you think of feminism and the way it has evolved over the past thirty years?
BAINBRIDGE
I've never been drawn to the feminist movement. I was brought up to believe that men had little to do with the home or children—except to bring in the money. I've never been put down by a man, unless I deserved it, and have never felt inferior. It seems to me that a mutually beneficial relationship between a man and woman requires the man to be dominant. A sensible woman will allow the man to think he is the most important partner.
INTERVIEWER
An Awfully Big Adventure, which revolved around a production of J. M. Barrie's Peter Pan, was your first book after several years of silence. Why had you stopped writing?
BAINBRIDGE
I did some journalism. But I was getting uneasy about not doing any proper writing. One night I was a bit tight, and I thought I would put the books in order upstairs. So, tiddly and humming away in the middle of the night, I tripped against a table and knocked myself out for about twenty seconds. When I came to, I went downstairs and rang my mother. Now, my mother had been dead for twenty years, or more. I dialed what I thought was her number, and a voice said, The time sponsored by Acurist is two-thirty-five and ten seconds. It was a man's voice, and the next morning I remembered that it used to be a woman, and that she was always known as the Girl with the Golden Voice.
I rang up the archives of the British Telecom and they were very helpful and sent me a lot of material on the Girl with the Golden Voice, who had come from Liverpool. It emerged that she had become a member of the BBC's rep for a little while, and in 1939 had disappeared to America. She was now living in an old people's home in Croydon. They sent me a photograph of her. So I thought, What if your mother had left you but you knew she was alive? And what if you knew that she was the Girl with the Golden Voice? I thought it was a super plot, and it came to me so easily. But what was fortuitous was that I had the young actress in An Awfully Big Adventure take part in a production of James Barrie's Peter Pan.
Researching Barrie I discovered he had been a great friend of Captain Scott, the Antarctic explorer. I thought what a strange couple, but of course, the idea of lost boys in Never Never Land leads logically (to my mind) to my next book, The Birthday Boys. And that led to the Titanic.
INTERVIEWER
Was it difficult to return to fiction after this time away from it?
BAINBRIDGE
No.
INTERVIEWER
And Duckworth was still your publisher?
BAINBRIDGE
Yes. Then Colin Haycraft died, at a time when Duckworth was going bankrupt. So there I was with the three important men in my life—my father, my husband and my publisher—all bankrupt. But even before Colin died I told him that I was going to find a new publisher. He agreed. At that same time, my son wanted to buy a house but he couldn't get a mortgage unless he had some money for a down payment. After Colin's death new money was put into the firm. I had heard of three-book deals, when authors get a bit of money, and I said to my agent that I had these three ideas for books—the Titanic, the Crimean War and Dr. Johnson. When Robin Baird-Smith, the man who took over the firm, asked me what I wanted, I said, I want seventy-eight thousand pounds up front. Now. He sat down and wrote a check. I could have asked for more, but that is what I needed at the time.
INTERVIEWER
What made you think of those three ideas?
BAINBRIDGE
As I said, Barrie led to Captain Scott, and that story to the Titanic, whose sinking happened a month after Scott and his companions had died in their tents in Antarctica.
INTERVIEWER
Those events were emblematic, as they seemed to presage what lay ahead—the First World War and all that followed.
BAINBRIDGE
Yes. Nothing was the same after 1918.
INTERVIEWER
That is what George Orwell said—that whatever the outcome of the Great War, England would never be the same and it would lose its position in the world. What about the Crimean War? What made you think of that?
BAINBRIDGE
About six years ago, I saw in the Times that Sebastopol was to be opened to the public. It had been closed for years because of the Black Sea Fleet and the cold war. There was a photograph with the article, showing high-rise blocks, and I thought, All those buildings were built on bones. All I knew about Crimea was Tennyson's poem: "Into the Valley of Death rode six hundred . . ." I couldn't think of a plot. So again I sent to the London Library and looked up the Times for 1846. There was a little item saying, Oxford Don discovered in house of ill repute, dead. Great scandal. I then read about Oxford dons and learned that they were not allowed to marry, so either they became gay or they went to prostitutes, and this poor chap had gone to a prostitute's house and died on the job. I thought, That's it! Master Georgie is mildly gay because in those days you were either married, or went to prostitutes. As men seem to be programmed at a moment's notice to "get it up," presumably they had gay relationships without going the whole way. That seemed to be normal.
INTERVIEWER
How did you think to link those two things together, though, to form the character of George Hardy? How does the character himself come out of these two seemingly unrelated inspirations for a story?
BAINBRIDGE
I don't know. It just seems to happen.
INTERVIEWER
Novels based on historical facts or characters need a great deal of research, and often it shows in a lot of padding. I mean that the story of Master Georgie in the hands of a lesser novelist would have run to hundreds of pages of details culled from archives. Your book is wonderfully economical, less than two hundred pages. How do you use your research?
BAINBRIDGE
I am keen that it be accurate. My way of doing research is peculiar. I get all these books and I start reading them. Then I begin to keep a notebook, but I either lose the notebook or I can't remember what I read. For example, my next book is about Dr. Johnson. I didn't want to touch Boswell, though of course I read him. I am interested in old books about the subject, not modern ones, and I buy them in second-hand bookshops. I start reading them, thinking, I must not skip the pages, but I always do skip them, and then the moment comes when I have to start writing. In theory, everything is going to be well organized—entries under A, B, C . . . but look here, G is empty and P has been torn off to light a fag . . . But I do write twelve pages to get one page, and I cut all the time.
INTERVIEWER
Does the research ever interfere with the plot? Can the facts point you in a way you hadn't intended to go?
BAINBRIDGE
Actually, what is amazing is how certain coincidences occur. For example, in Master Georgie I was writing about Potter wandering around in the battlefield, stepping over a corpse, and the word blue came to my mind. So I wrote that Beatrice suddenly saw a little blue flower and picked it. Months later I went to the Crimea for a TV show; it was February, and on the slopes above Inkerman where the battle took place, underneath the grass that covered the bones, there was this tiny blue flower.
INTERVIEWER
An example of what Horace Walpole called serendipity.
BAINBRIDGE
Exactly. But in the case of Dr. Johnson, what is terribly difficult is the language. I have to be careful to get it right. For Master Georgie I took out a video of Charles Wood's film The Charge of the Light Brigade, just as for Scott I watched John Mills in the film Scott of the Antarctic. I saw the military paintings of Lady Butler about the Crimea, and of course Roger Fenton's photographs, which I had blown up to see the details. It was long after the book was finished that on my way to the town center I saw a plaque on a building saying, Roger Fenton's studio was here. I had passed the spot hundreds of times before without noticing it.
INTERVIEWER
What interested you in Dr. Johnson as a subject for a novel?
BAINBRIDGE
Mainly that Colin Haycraft gave me Boswell's Life of Johnson, and he talked about him so often that I felt I knew him.
INTERVIEWER
Did you ever think of Haycraft while writing According to Queeney? Or about what he would have thought of the book?
BAINBRIDGE
Not really . . . sometimes . . . often.
INTERVIEWER
I would like to talk about your style. Is style a conscious elaboration on your part, or has it evolved over the years?
BAINBRIDGE
Well, I don't like to be obvious or spell things out. In The Bottle Factory Outing, one of the women breaks her neck and is killed. I didn't want the reader to know which one, because I didn't know myself—it could have been anybody, and the reader could choose. In the early books I knew more or less what I was doing because it was all about my Mum and Dad and aunts . . . When I came to write about Scott, the Titanic, and the Crimea, I didn't know what I was doing. But I knew how to knit the plot together.
INTERVIEWER
So the style comes from the plot?
BAINBRIDGE
The language is very important. Take the Liverpool expression "you haven't got the nous," meaning "you aren't clever enough." My American editor queried it, saying that surely the word nous was later than the 1850s. So I looked it up in the OED, which said it came about as early as the eighteenth century. So I do check the language carefully. But the style is dictated by the period you are in, which means that you can't use certain phrases.
INTERVIEWER
You also get the various voices right, the nuances in the way your characters talk that differentiate them. How do you work on that?
BAINBRIDGE
With difficulty. I walk up and down the room and say the sentences aloud. It comes from acting—you rehearse it. I don't go to a second paragraph until the first paragraph has been written ten or twelve times. So when the first page is done, I print it and read it aloud. Then at night I read it again. Suppose I'm on page seventy, I will read seventy pages, rocking backward and forward. I do that every night. Sometimes a word jars, or a sentence. I'm lucky the children have left home.
INTERVIEWER
Do you have a strict routine?
BAINBRIDGE
When I'm writing, yes. I work day and night. I don't go out. I sometimes don't go to bed, but just nap on that sofa. I often don't have a bath, because the treat of having a long bath after five days and washing my hair revitalizes me. I smoke, but I don't drink. When I'm writing journalism, I sometimes have one drink, or if I get stuck in a book, I might have a shot. I live like that day and night for about four months, then it is over, the book is finished and I have a long bath. But by then, often the paperback of the previous book is out, or the American edition, and one has to do the publicity for it, with all that it entails by way of traveling and so on. Lately it has been a rat race.
INTERVIEWER
Do you write directly on the word processor, or do you first handwrite?
BAINBRIDGE
I write directly on the word processor, but I use the machine as a posh typewriter and print out every page the moment it's finished.
INTERVIEWER
Death, often linked with love, chance, the helplessness of human beings in the face of destiny and history—these seem to be recurrent themes in your work, despite the variety and the comedy. Are they conscious choices?
BAINBRIDGE
I was heavily influenced towards tragedy and perhaps horror, owing to being taken as a schoolgirl to see the documentary footage of the Belsen concentration camp. One has to remember that I hadn't seen any television or been subjected to any violent films, so the image of human skeletons being piled into mounds by bulldozers has remained imprinted on my mind.
INTERVIEWER
A character in Master Georgie says, There is no more brutal species than man. You seem to demonstrate that although brutal, cruel, and destructive, human beings are also fragile, vulnerable and sometimes noble. In Young Adolf you even managed to make Hitler funny and human, without giving him any sympathy. There is a certain quality in your books, especially the recent ones, which one can call love—dare I say Christian love? Did your conversion to Catholicism as a young girl have something to do with it?
BAINBRIDGE
I became a Catholic at seventeen, which was rather late. The reason was that after the war many actors became converts to Catholicism—at the Liverpool Playhouse, nine out of twelve members in the company were converts. This greatly influenced me. However, in English law at the time, under a certain age one couldn't change one's religion without parental consent. In Scotland, the same law did not apply, so I became a Catholic while living in Dundee as a member of the rep company there. But by the time I converted, the Catholic church was abandoning the old rituals, the Latin mass for example. They were also giving up hellfire and brimstone, which is the bit I was interested in. I think it is only the fear of hell that keeps one from doing the wrong thing. The tenderness and compassion you mention is not so much Christian as it is an early recognition, due to my home life, that people can't really be blamed for anything—except the Nazis.
INTERVIEWER
Now that you've finished with Dr. Johnson, what will you do next?
BAINBRIDGE
I would like to write a Western. And I would love to write a Whitehall farce. Wouldn't that be good? Because if the farce worked, you'd never have to work again—the money just rolls in, and it would be wonderful to make people laugh.
INTERVIEWER
But you do make people laugh in the novels, and cry.
BAINBRIDGE
That is Liverpool. It is black humor, very black. I think they don't want to sound too serious. Maybe it is the Irish—many Liverpudlians come from Ireland. They'd be talking about something serious and end up with a joke. Recently I went to see The Weir, a play by an Irish writer—Conor McPherson. There is a moment when a woman character is telling a terribly tragic tale about her dead child telephoning her. And another character says, You're sure it wasn't the wrong number? and the audience felt they shouldn't laugh, but they couldn't help laughing. It is that sort of thing.
INTERVIEWER
Do you still worry about money? You said somewhere that you always give it away, especially to your children?
BAINBRIDGE
I meant that I don't believe in hoarding. In my experience, if you give money away it comes back double. Anyway, it is better giving it to your children than letting it go to death duty. So give it away, I say. That is what money is for, to be given away.

Author photograph by Nancy Crampton.