Interviewed by Dennis O'Driscoll
Issue 173, Spring 2005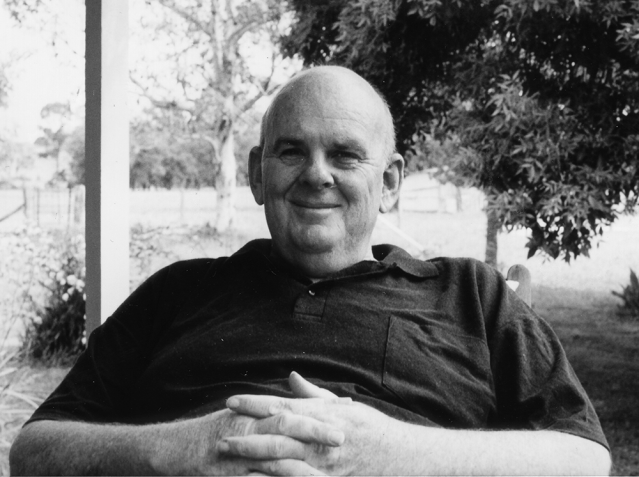 © Valerie Murray
The dairy farm at Bunyah where Les Murray grew up is located between Forster and Gloucester in the Manning River area of New South Wales; or—to adopt the Aboriginal names—it lies between the districts of Coolongolook and Bucca Wauka. According to one of his most moving poems, "The Steel"—which concerns the death of his mother at age thirty-five, when he himself was twelve—the era in which Murray grew up could be characterized as "late pioneer." An only child, he was born in 1938. Though he has lived in Australian cities for much of his adult life, he returned to Bunyah in 1986 and reestablished his roots there.

Apart from the death of his mother, the most scarring experience of Murray's childhood was the relentless bullying and name-calling ("a plethora of fat-names") he suffered when, in the mid-1950s, he attended school in the town of Taree. Later, as a student at Sydney University, he concentrated less on prescribed reading lists than on a serendipitous exploration of the university's library stock, and was, he says, blase about the examination system. Nonetheless, his brilliance as a linguist won him a position as a scientific and technical translator at the Australian National University in Canberra. By 1971, while working in the Commonwealth Department of Education, Murray had resolved to forego secure employment and to seek his literary fortune; his subsequent earnings have come from his work as poet, essayist, reviewer, and editor. Grants from the Australian Literature Board and the earnings of his wife, Valerie, as a teacher made a vital contribution to the household for many years. The Murrays, who married in 1962, have three sons and two daughters. When their son, Alexander (born in 1978, and the subject of the poem "It Allows a Portrait in Line-Scan at Fifteen") was diagnosed with autism, it prompted Les Murray to realize that he himself displayed mild autistic traits. Throughout his life, he has also suffered from bouts of debilitating clinical depression. A particularly severe breakdown ended in Newcastle's John Hunter Hospital in 1996 when, in his fifty-eighth year, he recovered consciousness after a three-week coma (resulting from a liver abscess) and found that his depression had lifted. His poem "Travels with John Hunter" credits his surgeons with having killed "the Black Dog . . . with their scalpels".

His twelve poetry collections extend from The Ilex Tree (1965), copublished with his friend Geoffrey Lehmann, to Poems the Size of Photographs (2002). He has also written two verse novels, The Boys Who Stole the Funeral (1980) and Fredy Neptune (1998). The Paperbark Tree (1992) contains a selection of his prose writings. Received into the Roman Catholic Church in 1964, he has prefaced several of his books with the dedication "To the glory of God." "Over Mount Euji and the North Pole/I'm bound for Europe in a reading role," Murray writes cheerfully in "The International Terminal"; and it is evident that he feels quite missionary about readings, regarding them as the most accessible and enjoyable way of introducing poetry to a general nonacademic audience. It was on one such reading tour by Murray—in November 2003, shortly after his sixty-fifth birthday—that I caught up with him in England. Ironically, the location, Oxford, could scarcely have been a more academic one and he had given a reading the previous evening to the Oxford University Poetry Society. The setting Murray selected for the interview, the Quod Bar & Grill on High Street, is part of a former Barclays Bank building, now converted into The Old Bank Hotel. We were the Quod's first customers of the day; Murray, having explained to the manager that we had "some paperwork to do," selected a round wooden dining table, at the edge of the stone-floored room.

When the volume of the Muzak, and the chatter of the waiting-staff as they rehearsed the Iunchtime specials, began to overwhelm Murray's surprisingly soft-spoken remarks, we retreated to an adjoining courtyard. Although fierce in his convictions, Murray is enthralling company; even his most querulous sentiments can suddenly prompt some droll analogy or witty anecdote on his part, culminating in an explosion of hearty, high-pitched, contagious laughter. Wearing a black "Country Road" baseball cap on the day of the interview, his brightly striped shirt was visible above a round-necked slate blue woolen sweater flecked with gray and orange. He informed me that the sweater—which was hand-knit by the poet Jennifer Conipton (who had named the garment "The Vasty Fields of France")—is his favorite "traveling sweater": "It can absorb any amount of spilt gravy; it's very forgiving!"

A natural storyteller (or "yarner," as he terms it), Murray speaks quickly but clearly: He is a man with much on his mind and a rich vocabulary—drawn both from Standard English (Sir James Murray, who pioneered the Oxford English Dictionary, is a kinsman) and from the Scots dialect of his settler ancestors—in which to express himself with characteristic candor and a refreshing absence of cant. A poet with a panoptic vision of—and for—Australia, he has not only enhanced the literary standing of his country but has also contributed to the shaping of its destiny: influencing its arts policy, proposing a design for its flag, drafting its vote of allegiance, celebrating its indigenous plants and creatures, urging fellow Australians to shake off what he regards as their colonial mind-set and to allow their country to mature into a republic.

Often spoken of, along with Seamus Heaney and Derek Walcott, as one of a select group of major contemporary English-language poets who emerged from outside of the established literary centers, Les Murray told me that, while feeling "some fellowship" with Heaney and Walcott, "it irks me that that category of outsiders is still forced on us, as if the 'centers' had some sort of validity."


INTERVIEWER
In "The Year of the Kiln Portraits," addressed to your wife, you pay tribute to her artistic gifts; but the poem ends in bewilderment: "But it's / crazy: you're not driven. Not obsessive" you say to her. Are you driven and obsessive?
LES MURRAY
I am obsessive, I fear. It goes with being mildly autistic. There is so much of life we Aspergers are inept with, we often overdo the aspects we can manage. I'm also fascinated to discover just what I can play on this marvelous instrument I picked up at the end of my teens. It was a very great epiphany for me to realize that poetry is inexhaustible, that I would never get to the end of its resources.
INTERVIEWER
Do you agree with Czeslaw Milosz that poems should be written "under unbearable duress and only with the hope/that good spirits, not evil ones, choose us for their instrument"?
MURRAY
I think Professor Milosz dramatizes the matter a bit, speaking of "unbearable" duress, though maybe he was also thinking of a cumulative effect, the withdrawal symptoms we get when we don't write any poetry for too long a while. That's a duress that's hard to bear. I agree with his second line, though: Evil spirits do have to be driven out, and may leave their names in a line or two as they fly forth. Duress again, there.
INTERVIEWER
You mention the "withdrawal symptoms" associated with not writing. Did the depression you suffered for years interfere with your writing—or did it sometimes stimulate it?
MURRAY
If inspiration stays away for too long, I begin creating nets of words in the hope of catching it, hanging bottles on low bushes to attract it. I may not be able to see whether or how depression interfered with my writing, in the years when it gripped me. I suspect it did make me a bit stupid, slow to learn things, slow even to see that depression was what had me in its grip. When I got sick enough, I took the only weapon I had, the poetry, and started trying to write the bad stuff down, and out. Poetry can work as the highest form of talking cure, but you have to tell the absolute truth, so far as you can dredge that up. I'd always disapproved of the idea of poetry as therapy; but get sick enough and you'll shed any such snobberies! I said to the Black Dog: "You bastard, you make me cry, I'll make you sing . . . "
INTERVIEWER
A few years ago, Les Murray: A Life in Progress by Peter F. Alexander appeared, with your full cooperation. It must be a strange experience to read an account of your own life.
MURRAY
I did provide information by the cartload—but I kept right away from the writing of Professor Alexander's book; and Valerie and I resolved not to censor anything. Others managed to get a few things suppressed by the use of that word lawsuit, which turns publishers to water. But the book itself, well, it was me objectified and represented, inevitably lacking dimensions that I guess only I fully live in.
INTERVIEWER
Such as?
MURRAY
One such was necessary forgetting: all the unutterable gaucheries and lunacies of my earlier lives, things I'd shuddered at and grown out of. We do compose a soul for ourselves, I think, an inner biography that has this grace of selection—the poem of ourself, if you like. I don't think I suffered much pain from reliving old episodes apart from this process I've just spoken about—and there I do suffer a fair bit, from unconquerable memory. People hear me babbling to myself as I try to blank out some forty-year-old gaffe with verbal noise. Among things learned from the book, which I hadn't known at all, was an aspect of my mother's death, which Valerie had in fact sussed out by herself. I hadn't fully realized just how much of my poor father's lifelong grief at Mum's tragedy was guilt at having muffed the job of getting a dopey town doctor to send an ambulance for her when our old car was broken down and she was hemorrhaging from her third miscarriage. I'd written a poem, "The Steel," detailing all I'd been told about her death; and Peter Alexander discovered crucial bits I hadn't heard. I decided to discard the poem, but an Aboriginal cousin of mine—a professional historian—made me keep it and rework the inaccurate bits. Dad had been incapable of breaking the taboo he'd grown up with, against discussing women's matters, especially when the gossip he most loathed was certain to be listening in on the phone exchange, since she ran it. He could only say, "She's having a bad turn" with desperate urgency and hope the doctor would understand. The appeal fell into a linguistic chasm between social classes. "Aboriginal people die that way all the time," my cousin Vicki told me. Dad was dead five years when the biography came out. Perhaps that was merciful for him; but I was sorry I hadn't fully known the sources of his plight. Peter was very good, I'd add, in bringing to light the whole long tragedy Dad and his father were trapped in. That's more of a story than my bookish career.
INTERVIEWER
Do you have a sense of a shaping fate at work in your life, a sense of things pointing, in retrospect, to a significance that wasn't necessarily evident at the time?
MURRAY
I get a sense of having been protected, sometimes, and given better than I deserved; but no sense of fate. Looking back, what I see are themes here and there—among them, a sense of repeated deep moral shock at the things that can be done. I'm cursed with a strong sense of the dark side of everything; I was brought up on the idea that whatever you do will fail, that sooner or later it will crash. One thing I dare to be proud of: I managed to wrestle life onto my terms without ever rising socially.
INTERVIEWER
What aspects of your life were most crucial to your development as a poet?
MURRAY
I was a freak, but happily my freakishness was in language—not, say, in classifying antique crankshafts. We seem to get a word-freak once or twice a century in the Murray family. Sir James Murray of the Oxford English Dictionary was my cousin, for example. When I'd argue points in the OED with my Russian fellow-translator at the National University in Canberra, I'd tell him we Murrays owned the damn language! Being some other kind of freak has its attractions, mind you. I envy painting its impasto and sheer color-play, how it's not held in by that stubborn insuspendable lexicality that words have. I get out into nonsense as far as I can. Lord knows, though never for nihilist ends . . . There's also the wonderful advantage of music and painting and sculpture, that they don't have to be translated.
INTERVIEWER
It was said—in a review of your work—that to be a farmer's son is the equivalent for a poet of being born with a silver spoon in his mouth. Can you tell me what is silver, gold, and tin for a writer from a farming background?
MURRAY
Gold, I guess, would be the brotherhood with fellow creatures and nonhuman entities, with the weather and the elements—a godsend if you're an only child deficient in people skills. Poetry beckoned to me from the start by its not putting humans above other subject matter. You could work on the basis that whatever subjects you wrote about, your readers would relate them to the human for you, and that wouldn't be inaccurate! Another gold bit might have been the sheer contradiction farming represents in relation to the majority of the world. Farming's a world where having outside employment is a curse and a thing of shame, something you resort to if the farm's a failure. It's where stark poverty can be a thing of pride, when it's caused by hanging on to your land and your independence beyond mere reason. I was happily crippled for being an employee by where I came from.
INTERVIEWER
Silver?
MURRAY
Silver might be the strong oral culture I grew up in, just before radio and TV, and the intricacies of pride and lies that went into family and ancestor worship. Probably half of longer-established Australian rural families have some Aboriginal admixture; and yet most are still in denial about it, dead scared of it, even as educated town folk start gingerly to yearn after that connection. An immense common property of black and white rural folk is what we've been learning to call "country," an intense connection with one's home region as a resource not just of survival but of the spirit. That has probably saved my life, more than once.
INTERVIEWER
Tin?
MURRAY
Tin is probably mainly the taste of being relegated and scorned, as a country bumpkin, an uncultured yahoo, all that sanctified anti-rural prejudice that goes right back to classical times and which no antidiscrimination law or postcolonial rhetoric ever protects you from—so to hell with those. It's fair to say that anti-rural bias became steadily more vicious in Australia during my lifetime. It only relaxed and returned to a frail new sanity about five or six years ago. I don't trust that respite to last. Tin is a funny word in Australian idiom: tinny means both cheap and lucky, among other meanings. Won the lottery? You tinny bugger!
INTERVIEWER
Can you tell me about the farming undertaken in your district of New South Wales by your father and your Murray forebears?
MURRAY
My paternal ancestors were part of that ancient European rural tenantry that saw the New World as their golden chance to become landowners. They got their land cheaply, a pound an acre—from the government, or from the Australian Agricultural Company, which was instrumental in getting them to come to Australia. But they had precious little capital and even less knowledge of how to farm on a dry continent. Still, it took them a century to up all the primeval fertility in the poor North Coast soils; in that time, as many as could shifted from mixed and subsistence farming to cattle-raising, which actually suits that country. Farmers without enough land to run cattle—with, say, 200 or 300 acres rather than 600 or 1000—went over to dairy farming. Dairying wasn't so much hard as unremitting. Seven days a week, whatever the weather, you had to milk fifty to eighty cows twice a day. You couldn't go anywhere farther away than would allow you to get back by the next milking time. Men enlisted for the wars to escape the cowyard! I have to confess I only came to love cows when I got free from the milking regimen, though we were bound together like family long before that. My heavy, bony sisters, they made a half-Hindu of me. Or a half-Swiss.
INTERVIEWER
What kind of house did you live in?
MURRAY
Our house, on the 130 or so acres Dad rented from his father, was a pretty typical example of the first kind of house settlers built in the mid-nineteenth century: made of planks hand-sawn in a pit and stood upright on ioists to make the walls. No lining on the inside of those walls, no ceiling under the tin roof, which I gather had originally been bark sheets. Wind poured in through the joints in the walls and rain dripped in through nail holes. Most of our furniture was shop stuff, though, and my mother cared for it doggedly, as a consolation. She was proud of the good crockery and crystal glasses that were displayed on the sideboard in the lounge room and terrified by my obsessive game of stacking the crystal up in trembling towers whenever I got the chance. I had superb balance and never lost a goblet. But, oh Lord . . .
INTERVIEWER
Did your family have a sense of yourselves as poor, or was your condition essentially invisible to you because there were so few points of comparison?
MURRAY
My parents might have been far less troubled by their poverty if it had not been unnecessary, something imposed on them by my grandfather as part of his war on Dad. He'd neither give the farm to Dad as he'd promised to do, as belated wages for seven years' timber-getting with axe and saw and bullock teams, nor let Dad buy it. And if they left, why, then it would be forfeit. So they couldn't develop anything much, or build a better house, and they felt shamed to the marrow, and furious. I felt none of that myself. I'd never been on Earth before, so I had no great expectations and, to me, home was home. But I wasn't allowed to invite other kids there and let them go home and tell their parents how we lived. Anything Dad's mother had given him was sacred and that played a role in Mum's death, because the Dodge car Granny had given Dad was on the blink when desperately needed. It had carried scores of people to doctors and hospital during the petrol-rationing times of World War II; now it was falling apart, but couldn't be replaced hecause it signified maternal love.
INTERVIEWER
For which tasks did you have an aptitude around the farm? Was there ever a serious possibility that—despite the treatment meted out to your father—you might have chosen to become a farmer?
MURRAY
I was okay at nearly all farm jobs, but they quickly bored me. Physical work wasn't my trance. I couldn't stay at it. My dart was such few books as the district afforded: the 1923 edition of Cassell's Encyclopaedia, the Aberdeen Angus studbook, and The Yates Seed Catalogue (the best-selling book in Australian history!). . . There were no public libraries near us till the 1970s. On long walks I'd tell myself endless serial stories. Dad had got me going on those by spinning hours of tales to me as I followed him about. He was a master of impromptu storytelling. Mum, by contrast, was modern and factual, like the nursing sister she'd been.
INTERVIEWER
How much did your Scottish ancestry influence life and language in Bunyah?
MURRAY
The first two generations in New South Wales spoke Border Scots all their lives and many of Grandfather's and even Dad's generation could slip into it, in moments of emotion. The men kept a fossilized Scotland in their minds, and some toasted it all too often, in any sort of rotgut spirits they could get. I detested Robert Burns for a long time, as the presiding evil spirit of their scary drunkenness and loss of all dignity—their ruin, in some cases. It's a risk all cultural nostalgia runs and exposes its descendants to. There were lots of carryover Border words in our speech: agen, in place of by the time that; fraid for ghost; elder for udder; sawney for mentally handicapped; and more . . .
INTERVIEWER
Was your mother from farming stock also?
MURRAY
My mother was of Cornish and English descent; no farmers in her line for centuries, so far as we can tell. Her Cornish grandfather was an industrialist who suddenly up and left Truro in his fifties and starved trying to be a farmer in New South Wales. It killed him in two years and stranded his three children there. My grandfather Fred Arnall became a miner in a mountain alum mine at fourteen and a coal miner down in the Hunter Valley a few years latei; after he'd married Emily Worth, from the little river port of Coolongolook, iust east of where I live now. An uncle of hers, back in Europe, was Charles Frederick Worth, who founded the Paris fashion dynasty, the Maison Worth, and, really, invented modern couture as an industry. Fred was a coal-mine manager when Mum was a little girl; his lungs had been so badly dusted he'd had to retrain and work in the office. He died, though, in 1930 at the height of the Great Depression; the Arnalls who weren't already in jobs of their own crashed into poverty and retreated to Newcastle. Mum actually finished high school, I suspect with financial help her elder brothers and sister, and became a nurse. She and Dad met at a tennis match at Worth's in Coolongolook. I hope their thirteen years together were happy, down below all the pain and shame of their needless poverty and the miscarriages they kept having. It was a miscarriage, as I mentioned earlier, that killed my mother. I suspected my own birth had led to it, so I had a sense that sex brought death. I went to such trouble to erase my mother from my mind, after she died, that I still have trouble recalling her. I don't remember her touching me at all; but I was probably too autistic to allow it. I may have hurt her by rejecting touch, I don't know. Dad sometimes found me an appallingly cold bugger, with no human instincts.
INTERVIEWER
Were there any superstitions in your family?
MURRAY
I doubt I ever heard all of Dad's odd beliefs. You couldn't bring yellow flowers into the house, or white lilies; you must not sleep with your feet to the east; a bell note in your ear meant someone near had died—I've heard that one among Aborigines too. I don't recall a single upbeat belief, that such-and-such meant good news coming. Dad was fey, like his mother before him, and could claim some remarkable feats of prescience. Some were neutral; most were bad news, though, about deaths. Granny saw her son Archie killed by a dislodged treetop around four hours before it happened, and rode to the bush in search of her husband and Archie and Dad, but couldn't find them. That death was the heart of what lay between Dad and his father, because Grandfather had bullied his younger son into felling a tree Dad had told him was dangerous and not worth felling. Granddad couldn't allow Dad to be a better bushman than he, and it killed Archie. I have no real superstitions, except that if I ever start doing a lot of translating, it will signify that poetry has left me. It's a pity, because I'm not a bad translator; but I believe that one. I've crafted a superstition for myself that I should never send just one or two letters at a time: It bas to be three, or else seven, or nine, or twelve . . . This is the only way I can get near to keeping up with my correspondence.
INTERVIEWER
You didn't start school until you were nine—how long in total did you spend at schools?
MURRAY
Seven years, all up. Too many. I should have had access to a really good library instead. The best was Nabiac Central School, where, by tacit arrangement with the head, I truanted most of the time—though I was always there on Wednesdays, when we had films. And you could attend there barefoot. I learned to read by myself, spelling out the names on food tins, then from a rag book of the alphabet which Mum got for me, then her encyclopedias and school prize books. I was in full flight by the time I was four. My first school was called Bulby Brush Public. It had one big room, timber, painted yellow inside and out, plus a cloakroom and a verandah. The playground would have been two or three acres; there were deep pit toilets well away from the classroom. Sixteen of us were taught in the same room. We were of all ages and sat at long old-pattern desks with inkwells that spilled blue government ink down the front of your shorts. I wasn't in the least misunderstood at that school—or at Nabiac Central, with 150 pupils from kindergarten up to halfway through the secondary syllabus. I used to travel there by milk lorry and home by bus. I then had a year off, daydreaming about being a soldier, but opted for university or art school instead. Both required matriculation, so I went off to board in Taree and go to that severe school—the first and only town school I ever went to. Nowadays, I never tell the story of having been bullied, except as a case study for the guidance of others. More than anything else what got me
through those two years was the film From Here to Eternity, with Monty Clift as the persecuted bugler and ex-boxer, Frank Sinatra as his faithful mate who gets knifed by a brutish sergeant, and Burt Lancaster as the strong, competent top sergeant who runs the company to cover for his weak commanding officer. I played all the male roles in it in my head. When American students asked me many years later what I thought about the Columbine massacre, I horrified them by saying, "We're shooting back now." I didn't condone mass murder, but I understood it. The Japanese at Pearl Harbor thought they were shooting back at a bully. People made desperate sometimes lash out.
INTERVIEWER
As well as bullying, you detest relegation of all kinds: the belittlement, that is, of certain people (rural folk in the eyes of city folk, which you've already mentioned; uneducated people in the eyes of the intellectuals and so on). Why do you feel so strongly about this?
MURRAY
Because it is vile and contrary to all pretense of decency or civilization. I underwent my practical classes in ostracism and psychic castration at Taree High School. Out in the timber villages and the little districts, I'd never suffered any rejection, so I walked into the middle classes with no warning or briefing, in the very year teenagers were invented (or, anyway, imported into Australia). Other people have endured infinitely worse than I. It's a deep dirty secret, in Australia, that I'm the wrong class to be a poet. That is never spelled out in reviews or articles, but it is signaled in the codes. Bias against rural folk does have an unspoken racial component, as well as the redneck stereotypes. Class is always at bottom racial.
INTERVIEWER
But, at the same time, doesn't it tell us something reassuring about the literary world that someone from your background could become internationally prominent in poetry?
MURRAY
It does, it does. And it's ungracious of me, after all the real affection and praise I get abroad, even to whisper that I have the advantage of not being on overseas poets' turf, and thus not being a direct competitor. I remain an exotic—and that suits me and everybody else.
INTERVIEWER
Among the Australian poets whom you have refused to relegate are the nineteenth-century newspaper poets. Indeed, you included them in the New Oxford Book of Australian Verse.
MURRAY
With the Oxbook, I was concerned to survey absolutely the whole field of poetry in Australia, at least all that had been created or translated into English since white settlement. And that long-lived British Empire style of newspaper verse, out of which Rudyard Kipling and many others emerged, helped me to dream of a restored unfussed public acceptance of poetry, a wide readership again after the age of aristocratic modernism.
INTERVIEWER
How much do your own ballad poems—say, "The Ballad of Jimmy Governor" or "The Ballad Trap"—owe to the newspaper verse? Given your Scottish ancestry, are the Border ballads of Scotland somewhere in the background also?
MURRAY
I guess "The Ballad Trap" is ahout the oral ballad tradition rather than an example of it. "The Ballad of Jimmy Governor" is a sort of enhanced oral-style ballad, the sort that sometimes got into newspapers in the later nineteenth century but often stayed oral too, especially if editors disapproved of the sentiments expressed. In convict times, some ballads were banned out-and-out by the authorities, and only collected from oral sources many decades later. One thing the Border ballads gave me was a license to go long and tell the whole of a story, with all the ins and outs.
INTERVIEWER
Does your strong belief in the importance of the poetry reading, as a way of "reading over the heads of the elite" (to cite your own phrase), connect in some way with growing up in a largely oral culture?
MURRAY
No, but I'm proud of the phrase; it sums up half of my politics!
INTERVIEWER
Does your preference for direct communication with the reader—without critical or academic intervention—also mean that you try to make your work "accessible"? Would you deliberately avoid using some literary or historical reference that an average reader might find obscure?
MURRAY
Oh dear, no. Readers would be rightly insulted if they felt I'd assumed they were less smart or less sophisticated than I am. That would be unbearably condescending. And anyway they like some puzzlement, some baroque, perhaps, and certainly some material that doesn't release all its savor at a first lick. Really, writers and readers alike, as you know, we work beyond our own intelligence; necessarily so. That's the raison d'etre, the road to the trance that art exists to provide. The significances in a poem ought to be latent as well as patent: You find them as a matter of pleasure as you are reading; you don't need a critic to tell them to you.
INTERVIEWER
Colloquial speech has always been important to you—the notion of using an everyday language in poetry rather than one that is literary or grandiloquent. And, of course, the first collected edition of your work was titled The Vernacular Republic. What does the term "vernacular republic" signify for you?
MURRAY
You need to be able to interweave and contrast all the levels of language, so I don't proscribe any. In Australia, "modernist" is mostly code for "totalitarian"; but there is one benign effect it had, of permitting and promoting use of the full range of language. I meant "the vernacular republic" to signify that Australia partly was, and potentially could be, a social equivalent of this fusion of levels and registers, a republic of the inclusive middle voice.
INTERVIEWER
Can language ever be too "low" for poetry?
MURRAY
Language is as language does; and there are effects to be got from using any level of it. I find it's unwise to sustain very shocking language, because it causes resistance that may outweigh its worthwhile effects. But "low" in the sense of demotic? Hell, I've written a narrative of 10,000 lines in that—and shown that it will carry the numinous perfectly well. Fredy Neptune was such a marvelous holiday from the received sociolect in which literature's supposed to be written.
INTERVIEWER
I'm curious about how your early interest in the very un-"low" poetry of Gerard Manley Hopkins arose.
MURRAY
Hopkins fascinated me with the sheer compressed power that came out of the defamiliarizing grammar he used. He gave me the baroque—highly elaborated and symbolic art—as an instant gift; and that's been a lasting resource for me. I didn't take much notice of his Catholicism, oddly. That came to me by quite other paths. Hopkins's Catholicism looked a bit Gustave Dore to me. He probably touched the deep nerve of my depressive inheritance, though. I'm still driving gingerly along those cliffs of fall.
INTERVIEWER
You grew up in what was—even if the outside worid wasn't paying a lot of attention—a strong period for Australian poetry (A.D. Hope, Kenneth Slessor, Judith Wright, and so on). Did you nonetheless feel, at the beginning, that you suffered an inherent disadvantage coming from Australia rather than from some prominent and prestigious literary culture?
MURRAY
Not much. For years, I was preoccupied by catching up with the best Australian work, and probably a bit fatalistic about the Empire mind-set that barred us from a natural readership throughout the English-speaking world. I only gradually took that on, as an enemy to overcome. All the same, I was quite deliberate about not going to London when my contemporaries did—folk such as Clive James, Germaine Greer, Barry Humphries. It was amusing to set myself the handicap of not only succeeding at poetry, but doing so without expatriation. I have to confess, though, that I probably knew in my secret heart that I wasn't yet ready to take on the Big Game when those others did.
INTERVIEWER
Did you assume that you would have to settle for whatever readership Australia alone could supply—or were you always confident of a more global readership?
MURRAY
If you'd told me, say, in the mid-1960s, that I was confident I would one day have an international readership, I'd have gulped in amazement but realized that you were right. I did always expect one, though I hid the fact from myself. My writing would have withered, I think, if I'd had to be content forever with just a home readership.
INTERVIEWER
As someone determined to see Australian poetry given its due, were you inclined as a young poet to resist, even reject, poetry from England or were there English poets whose work served as a model for you? I know that writing from the Celtic tradition was important to you.
MURRAY
I went to live in Wales in 1967 just when Anthony Conran's wonderful Penguin Book of Welsh Verse in translation came out and blew my mind. Irish and Scots Gaelic material in translation had fascinated me for years before that, when I was a young student reading for the indiscriminate joy of it in the bowels of Fisher Library at Sydney University. These traditions had powerfully underlain the development of British and Australian culrure; and yet they had no place at all in our education system. They were the occult and unconscious of our civility and they taught me the dimension of the shaman. Crazily, there were canonical English poets I avoided reading, but never because they were English. I avoided them for being on university English courses. That would have been complicit with the exam system and worse! The proscribed ones were only ever those I didn't enjoy anyway, like Keats and Shelley. Byron could cut through my defenses with ease, not with his histrionic things, but with Don Juan. I had a very special relationship with Shakespeare. I acknowledged him as a master craftsman; but I couldn't forgive his writing three whole plays against one fat man. Eifteen acts about me at Taree High! Guess which plays were set for study the years I was there? I loved the Metaphysicals and everything from before the Reformation. But really my main model poet has always been Anthologus: bits from everywhere and nearly everybody.
INTERVIEWER
What about American poets—Dickinson, Whitman, Dickey, Jeffers, Frost, Bishop? You have drawn attention to the enormous influence on Australian poets of Donald Hall's anthology Contemporary American Poetry.
MURRAY
Emily Dickinson won't fade. But I never took to Whitman, except some of his short Civil War poems, which have a lovely winding movement to them. I did have a solid crush on the work of Jeffers, forty-odd years ago, and a fainter crush on that of Frost. Much later, I delighted in Dickey's work. Having been rated highly. Dickey was suddenly vilified because he took "the wrong side" on Vietnam. I didn't stay impressed with Snyder for long. Donald Hall's anthology was a complete phase-shift in its time; so matchlessly cool in its snobbery, too . . . Among those practicing now, I like Mary Jo Salter and the South Carolina poet Ron Rash. Some of Sharon Olds. Mary Jo and her husband Brad Leithauser are strong advocates for the poetic quality of Cole Porter and that whole period of song lyrics. The Tin Pan Alley lyrics were—like old Welsh poetry—masterpieces not so much of content as of style and ingenuity. They were one of the great American art forms. With Elizabeth Bishop—as with the Polish poet Wislawa Szymborska—I love the enormous tact, the refusal to close a poem. Both Bishop and Szymborska keep giving you more, they don't sign off.
INTERVIEWER
When you were living a bohemian existence as a student—"on the road" for months as a hitchhiker; sleeping rough; living in a commune—did you feel any identification with American Beat poetry?
MURRAY
That bohemian period of mine, I dimly realized even at the time, was a benign depressive breakdown. Dissociativeness. I simply floated off the surface of the everyday, without pain. I sold or gave away everything I'd owned and drifted around the country for a couple of years as a homeless person, sleeping rough in building sites and sometimes in parks and golf courses. And then it lifted off, like a cloak being snatched away into the sky; I moved back into the world, got married, found a congenial job . . . I never lived in a commune; but I did move up from sleeping in the bush and in building sites to camping in a Push house. The Push were an Australian bohemia from before the Vietnam era, a milieu where anarchists and racecourse denizens met and socialized with university intellectuals and writers. The usual stuff. The rule there was painstaking inversion of everything that the wider society believed in: marriage, career, and so on. I was never a member of the Push but I was friends with some people in it. I was swimming up out of a very far, deep place and needed a breather on the way back. I never admired the Beats. I found them very portentous and orotund, relaxing out of human solidarity into a fierce disguised lust for cultural power.
INTERVIEWER
Did you enjoy your years at Sydney University?
MURRAY
It was a good time to be there, in the late 1950s. The great wave of politics was still five or six years away in the future. We were arty and theatrical instead. My own loopy otherworldliness, full of books and films and conversation and fantasies, was going to segue into madness by the end of the decade. That was my necessary training course and the breakdown was integral to it. I was lamentably weak in exam technique—I'd write a monster essay on Question One and leave no time for any others. Nothing except the German grammar and vocabulary I learned back then remains true or accepted today. The very best thing I got out of Sydney University was the acquaintance of Valerie Moreili, whom I married. We met through the German department, too.
INTERVIEWER
Did you take jobs during your university years?
MURRAY
Part-time jobs I avoided till just before I came unglued. There was one full-time one, when I thought I was merely dropping out. It was boredom visible, a dry nightmare, cheap deal desks under a fibro ceiling in a wartime cardboard longhouse called the PMG Telephone Accounts Branch. The boss sat behind a glass-and-plyboard screen that long years of diligence had brought him; and the poor folk who worked there couldn't understand that I was horrified; they rightly resented me for it. I fled headlong and was soon unrolling my blanket and plastic sheet under wet shrubbery. I had a temporary job or two after Valerie and I married, while she was still studying for her Diploma of Education. One such was in the complex brickwork bowels of Central Railway Station in Sydney, packing panniers of hot pies for stations hundreds of miles away on the New South Wales Railways network. When I resigned in a dudgeon from there, mistakenly, after a towering row with the foreman, which I'd won, a mate and I defiantly ate the Railways Commissioner's turkey, which had been baked for him as his dinner en route south to meet his Victorian counterpart and finalize a common standard gauge rail link. I've had pangs of conscience and reminiscent greed about that turkey for about forty years now. We then moved to Canberra, where I was a translator of scholarly material for the Australian National University for four years. Then, back in Sydney, the public service offered me a job in the Department of National Service and that would have meant sending kids to Vietnam. I didn't want anyone's blood on my hands. I wasn't sure enough about the war, for one thing; for another, I wouldn't want to send poor people to their death no matter what it was.
INTERVIEWER
Moving on to another topic, could I ask you about religion?
MURRAY
The Murrays were old-style Free Kirk Presbyterians. They ranged from devout to indifferent, but most had at least a touch of that Calvinist moral snobbery I'm myself still not free of. They were prone to have a good conceit of themselves, as the old family toast went. Only two of us that I've heard of ever converted to Catholicism, my cousin Alice Gleeson and I. My father was so disgusted that he never, in nearly forty years, deigned to speak of my perfidy. Or not to me. Many folk assume I converted because of Valerie, who was and is Catholic. But not a bit of it—I came in because it is the best and only reliable Big Poem. I'd never taken much notice of Catholicism in my childhood or youth. But at university, I began to get a feeling—from people I started meeting—that they had another culture, hated by many but having some very interesting features. It had morals, in a different way from the Calvinist shame-culture I'd grown up in; and it had forgiveness. Catholicism was something of a bulwark against the Nazism of sex that I'd observed everywhere in society already, and would see even more of after the Pill came along: worship of youth and beauty; ruthless relegation of the dowdy, the unhandsome and the shy. And I would gradually discover that orthodox sacraments had the answer to human sacrifice, which I saw was regularly demanded by all ideologies. Really, I think my assent to the full sacramental dimension of the Church happened long before I realized it had. And that's what I have held on to. The crux for me is summed up in lines from The Boys Who Stole the Funeral spoken by a dead World War One digger: "The true god / gives his flesh and blood. Idols demand yours off you."
INTERVIEWER
Now that we've broached the topic of religion, we might as well move on to politics. Where would you place yourself on a left-right axis?
MURRAY
I would never place myself on any left-right axis. That's "bullet in the back of the head" language, gulag language. To hell with it. That is the terminology of those who are out to co-opt art and prevent it from moving on. It's the currency of those who fund our weak poets on condition that the baby boomers will never be superseded. One of my ideals is to get to the places beyond argument—I don't like conflict: of ideals, of values. There's a hit of it around the edges of my work but my happiness is always in places where there is no conflict. My politics are best discovered by reading Fredy Neptune . . . The only politics I believe in is unconditional polite welfare: Anybody who needs should have their needs supplied—and politely. I'm a dissident author; the deadliest inertia is to conform with your times.
INTERVIEWER
Doesn't Quadrant, where you are literary editor, have a certain political slant? Maybe you could say something about this and about your approach to editing in general.
MURRAY
As an editor, I have always tried to keep open the door of pluralism. I have slight misgivings ahout Quadrant because it has a political program. That program comes from the Cold War: It was the anticommunist magazine, like Encounter. It's now more or less a free-speech magazine, in which you don't have to toe a line; it's also the best magazine in the country, the only one that isn't conformist. And it's probably the only one that would tolerate me! All the same, I'd rather be in a magazine with less of politics. I'd like to have a magazine of my own that published no letters to the editor, no criticism, just short stories, good essays and poetry, poetry, poetry . . . And possibly also photographs.
INTERVIEWER
Just one more politically related question. How did you happen to help draft a pledge of allegiance for Australia?
MURRAY
That was fun. The Labor Party's minister of justice, Michael Tate, asked me to revamp the old Oath of Allegiance. I pointed out to him that the term oath should be dropped because Jesus had forbidden Christians to swear oaths; and agnostics and atheists didn't feel bound by them. This left only our minorities of Jews and Muslims able to take an oath in good faith. The text I came up with, after sleeping on it, was meant to be simple and easily speakable by a new settler whose English might still be shaky:
(Under God) from this time forward
I am part of the Australian people.
I share their democracy and freedom.
I obey their laws.
I will never despise their customs or their faith
and I expect Australia to be loyal to me.
"Under God" was optional; and by "their faith" I meant whatever tradition sustained them and underwrote their own good faith. The minister's public servants liked my text down to that line, but were scared stiff of the last line. Here was a social revolution in a paragraph; The people made themselves into citizens and immediately demanded loyalty from the nation, as if the premise of democracy were actually true and the people were sovereign. The contrast with subjecthood under a mighty crown could not be more absolute, or sudden. The first part of the pledge survived in the recasting. The citizen still makes the essential move and constitutes himself as such. But the last two lines fell away, as I expected, and every epithet was doubled to give an appearance of weight. It was turned into legalese, in fact, and the rhythm was gone along with the daring.
INTERVIEWER
Could you ever settle abroad? Has travel been a form of further education for you?
MURRAY
Travel abroad has been my Oxford and Sorbonne, without having to write the essays! I've been away from home two and a half months in every twelve, I calculate. It's enjoyable, mostly, except when the tempo slows and you get homesick or when you get hopelessly snarled in the alchemical windings of medieval streets. I couldn't settle permanently abroad. I'd get huki, as Aborigines call it: homesick for my piece of the country. Also, I wouldn't give the totalitarians the satisfaction of running me out of Australia, away from my home readers.
INTERVIEWER
Do you write best at home in your own study? What kind of room is it?
MURRAY
Sadly, I can't usually write—except in my head—when I'm traveling; I write the results down when I get home. My study was built to be the coolest room in the house and looks out on a corner of the sitting room and a glass door that indistinctly frames leaves and an epitome of the weather. Auden was right that we shouldn't have a view from our study. It's a small room, half filled by a public service desk from Canberra and a swivel chair I found on the street in Sydney and had re-covered. Book-lined, with all the reference books within reach. I've got a Swiss photo of my favorite phobia, a high road with a steep fall on one side. I got the poem "The Annals of Sheer" from that picture. There's a photograph of Mum on her wedding day; a picture of the poem "Dreambahwe" someone gave me; stars by our daughter, Clare; the Quebec and Quebec City flags; some peacock feathers in a hlue bottle; a Javanese wooden sun; the ripped-off cover of the Otago phone book; and some awards. Papers heaped on every surface; a blower heater for my feet. I write between eight and noon or so, and at other times too if the deep fish are really running. Usually, I use a plastic ballpoint pen on ordinary lined paper. When I type a poem out, I use an old electric Adler given to me by the main local supplier of computers, in generous recognition that I was never going to go online.
INTERVIEWER
Any stimulants?
MURRAY
I don't drink very much and never when driving the pen. Cigars gave me up in 1988 when I came unglued again in my second depressive breakdown. Smoking left me in a single day and I've never been ahle to stand it since, though other people's smoke doesn't bother me. I was at Sydney University in the amphetamine age and—for a while after I went to work at the Australian National University—I thought speed might stretch my hours of wakefulness and give me time for writing as well as earning the living, but it was useless. It gives the wrong sort of consciousness. I drink black tea and instant coffee, for fun and hydration rather than stimulus.
INTERVIEWER
At what point in writing a poem do you move from longhand to typewriter keyboard?
MURRAY
I can't compose on a keyboard till composition reaches the stage where it's half editing. Then I find the keyboard indispensable. But there's also a stage before handwriting when I compose on the page of the mind. That's a vital stage for my imagination, when it's freest. I often don't have many drafts in handwriting; usually it's just one or maybe two. The drafts before that are in the mind; the ones after are typed, scribbled on and retyped. One more retype the next day will often solve hiatuses and infelicities you didn't even realize were there. Misgivings, too. Sometimes only the appearance of near-finality will let you see that something's wrong in a poem and that it needs recasting. You've been too hotly in the aura of it to notice, perhaps.
INTERVIEWER
How can you tell that a poem is finished?
MURRAY
Knowing when a poem is finished is intricate. I'm apt to hurry them into print and only get them truly refined later on. There is a point when the poem has lost its magical intimacy with you and become an external object. That's when you usually know whether it has failed or succeeded—and if it has failed whether there is reason to tackle it afresh, perhaps after letting it stand for a while. I haven't got many discarded poems around.
INTERVIEWER
Are there people on whom you try out the poem prior to publication?
MURRAY
Valerie is the first to see most poems and is a good judge of them, not least because poetry isn't her art form. What she revels in is music, and she's encyclopedic on some forms of it, especially the Tin Pan Alley tradition. In the end, I rely on my own judgment, though there are a few folk I might show a poem to if I'm excited about it.
INTERVIEWER
As someone whose poems suggest a certain fascination with machines, why haven't you migrated from typewriter to computer?
MURRAY
The computer isn't a machine, it's a traffic with spirits. I'm no good with keyboards and I'm private enough not to want everything I write or miswrite being open to surveillance forever in the akashic record of cyberspace. Writing on the computer is a bit like sculpture: You sculpt the poem on the screen. Or it's a kind of patchwork; then all the patches disappear and you've got something where all the elaboration and work that has gone into it has vanished. The poem looks as if it's been published, but old mistakes still come up ghostlike from behind the process.
INTERVIEWER
I'd like to ask you about Eliot (whom you "resisted early on"). Pound, and the modernists. The experimentalism of a book like Translations from the Natural World runs counter to the image of you, presented by some critics, as a conservative writer, perhaps even a formalist.
MURRAY
The conservative and formalist charges are just that, charges—not criticism or scholarship, but Marxist policing of a dissident writer. Our cultural world in Australia is almost totally Marxist, the New Left version, and in that world charges don't have to have any merit. They carry code, and warn off defenders, and that's all they have to do.
Eliot's high tone offended me; but what offended me worse was his ratting on the New World and sucking up to the aristocratic aesthetics of the old. And doing it so well! He won the contest, though. I used to recite whole passages of his early verse and that's what counts. Unfair tactics: He won me with his poetry. I realize now that poor Pound was mainly a man like Howard Hughes, one who slid so gradually into insanity that people were slow to detect it. He was a resourceful translator of languages he half knew. His work in the Cantos was like an encyclopedia printed on glass and shattered, I first thought; and I'd learned to read from an encyclopedia in a place as remote to the world's view as the one Pound came from, so I was willy-nilly a bit sympathetic. But it quickly got to feel like a man printing footnotes and supporting an industry of fools. Essentially, Pound was a pasticheur. He couldn't be fully original; he had to lean on other writers and other traditions. He was a hanger-on of European aristocracy in its last decline and went mad while pursuing that career.
INTERVIEWER
And Yeats?
MURRAY
I love Yeats—a matchless phrasemaker. I came at Yeats in a very concentrated way in my early twenties, reading the Collected Poems and some of the plays. I read him again fitfully and I thought he couldn't tell me much more, hut he's still a beautiful experience to come back to. And I liked his dabblings in the Golden Dawn and all the other mystagoguery that upper-class modernism of his time was rife with. It was his shaman training, which we al! have to get from somewhere, to be artists.
INTERVIEWER
Your poem "On the Borders" includes the observation that "Too much /of poetry is criticism now." What do you mean by this?
MURRAY
It's true, isn't it? Too much of poetry is written in the same Literary Studies sociolect that criticism is written in, and out of concerns that come from criticism. It's secondary and has yielded primacy to criticism. It follows that the intellectuals, once they tire of shamanism, dismiss us altogether and have their spiritual adventures in their own idiom.
INTERVIEWER
You have said that a thought is the worst thing to try to write a poem with.
MURRAY
Yes, an idea is the worst thing to start building a poem from. By that I mean a formed idea that you've already worked out in advance of starting the—though I gather Yeats always worked this way, from a prose epitome, which he'd then deepen to a music. We have three minds, I reckon, one of which is the body, while the other two are forms of mentation: daylight consciousness and dreaming consciousness. If one of these is absent from a work, it isn't complete; and if one or two of them are suppressed, kept out of sight, then the whole thing—whatever it is you've created—is in bad faith. Thinking in a fusion of our three minds is how humans do naturally think, at any level above the trivial. The questions to ask of any creation are: What's the dream dimension in this? How good is the forebrain thinking, but also how good is the dream here? Where's the dance in it, and how good is that? How well integrated are all three; or if there is dissonance, is that productive? And, finally, what larger poem is this one in? Who or what does it honor? Who does it want to kill?
INTERVIEWER
Where do you stand on the question of formal and free verse?
MURRAY
Where do I stand? Shudder! That has the inquisitorial tone . . . I use rhyme when the poem requires it—maybe twenty percent of the time. Very often, I'll start with what looks like a regular rhyme scheme and then vary it and chime it till what I'm doing is a form of jazz. I love masculine/feminine rhyme: prance/tolerance. I'm restless in the matter of form, trying to find new devices and layouts all the time. But I never forget that rhyme is one of the resources available to poetry. I hew more closely to a concern for rhythm; it's far more important.
INTERVIEWER
Are there any words you regard as "favorites" of yours?
MURRAY
I have a head full of beloved plain terms I suspect have little or no resonance abroad: tankstand, downpipe, paperhark, tank water, blady grass, joey, stringhalts, and so on and on. I often wonder just what overseas audiences are hearing and understanding when I read to them. I guess they hear the important thing, those people, that there's a world in my work, strange but valid. It used to be a new idea, one we had to fight for, the notion that there weren't just one or two valid forms of English, but a constellation of Englishes. Now it's a commonplace. Favorite words of mine are legion and ever-changing: cobble, cullet, solar wind, liftoff, king parrot, jink, mirrory, watermelon, shofar, curd, burnished, halo, biplane, trance, pomander, asperge, Bildschirm, Eingeweide . . .
INTERVIEWER
Huckleberry Finn was important to you as a child. Do you think the book influenced your attitude toward the use of dialect in language?
MURRAY
Huck Finn was an account of how Dad and I lived together in the years between Mum's death and my going away to university. Dad's equivalent of booze was guilty grief; and Jim's real name is poetry—he's still right here with me. I suspect Jim was the real name of Mark Twain's talent, too. If you want a picture of that time when Dad and I bached together, it's probably clearest in a poem called "The Lake Surnames." The basis of Fredy Boettcher's English in Fredy Neptune is the rural Australian idiom of my father's youth, with an undercurrent of German. The exact bushie language we spoke to one another is what I wrote Dad's requiem in, the poem titled "The Last Helios." I write all my poems from the point of view of a countryman—worse, of a hushie. That remains true and always did.
INTERVIEWER
Did your time in the city help you to heal the wounds inflicted by your school experiences? Were you in effect running away?
MURRAY
Going away to Sydney got me out of the funeral life with Dad. But all of my radioactive stuff hid itself deep in my mind and had its secret will of me till I began digging it up and exposing it to the sun, in my fifties. It decays faster in the sunlight. About two years after we moved back, I met one of my old Taree High tormentors at a reading. She trotted out one of my nicknames from way back when. I then began to go mad, as you go home to do. That depressive breakdown, my second, lasted eight years, and ended when I nearly died of a liver abscess in 1996. It gave me a stormy book, Subhuman Redneck Poems, and probably Fredy Neptune as well. So it was productive. The Subhuman Redneck Poems were colored by depression. I wouldn't repudiate them—but I'd have done them with more finesse and delicacy later. I was savage at that point.
INTERVIEWER
As someone who had been such a loner when young, were you surprised to find yourself becoming the husband of Valerie and eventually a father of five children?
MURRAY
I'm a friendly loner and we became really good friends. That has lasted. I was less good at parenthood, no great shakes at it ever . . . I got the hang of it to a degree with Clare, our third child. With Valerie's help, I found enough resources in myself for the really big job, dealing with our autistic son, Alex. I'd have heen a different writer if I hadn't met Valerie; but not a better one, I'm certain. Most likely much poorer and more limited.
INTERVIEWER
Did Valerie's Hungarian background enrich your sense of yet another culture—that of Central Europe?
MURRAY
Valerie and her parents and grandfather and their friends didn't enrich my sense of Central European culture, they created it. Her parents and brother didn't wholly like me, and I avoided them, to her sorrow. I responded fully to her fabulous grandfather—the gambler, lawyer, duelist, Austro-Hungarian horse artillery officer memorialized in my poem "Jozsef," which he approved of. Valerie's parents did fear my apparent indigence, when we first met . . . What do I mean "apparent"? It was entirely real. And I never embraced their dress code. I was fascinated by their stories and memories, though, and I admired her father as a master survivor. That was their one sense of triumph: They had all got through World War II alive.
INTERVIEWER
Can you describe the house where you and Valerie live?
MURRAY
We have two houses: timber-framed, walled with ticky-tacky, and joined by a conservatory. The first was a kit house, designed for the beach, with a lot of rooms packed into a smallish compass. I designed the second house, which has higher ceilings and a crazy chimney covered in a patchwork of many different tiles. Valerie's workroom and her beloved bathtub are in that house, as are my study and our bedroom and a sitting room.
INTERVIEWER
Have you kept any animals or grown any crops since returning to Bunyah?
MURRAY
Two bantam roosters lived with us for a decade or more, a White Silky and a Mediterranean fit to be painted on a majolica plate. We called them Patrick and Manoly, to the shock of literary folk who came by. We have three cats, who wear bells to protect the wild birds. We've lost a dog and a cat to snakebite since coming back. But, as Saint Moling told Saint Mochua, when the latter's pet fly perished, only grief can come from the lust to own things.
INTERVIEWER
One aspect of your attitude to literature, which you have attributed to your country upbringing, is a longing "to celebrate something without giving it away." You have spoken of a wish to write "a highly secretive book." Does part of you feel that literature is a form of betrayal?
MURRAY
Oh yes. That's why it felt so good, in Fredy Neptune, for once not to be translating the culture and life of working people into the upper-middle-class sociolect of Literature. I have to watch that register of language like a hawk, or it will slip into its inbuilt habits of scorn. And of course I was brought up on the distinction between what could be said among one's own and what was hidden from strangers and authorities. Telling some of the best stories from up home involved a lot of masking and deflection. How thin you could carve the masks has been the study of a lifetime.
INTERVIEWER
Fredy Neptune must—at 10,000 lines—be one of the longest poems in English in the twentieth century and one of the most ambitious, touching on so much of the life and death of the first half of that century and positing as its hero a man who is immune from physical pain. Where did the impetus to write the poem come from?
MURRAY
I'd read a searing poem by the Armenian poet Atom Yarjanian about the public incineration of Armenian women in Turkish streets during the great genocide that descended on his people—ironically, on April 25, the very day of the Allied landings in the Dardanelles (Anzac Day, as we call it). The poem stayed with me; then suddenly, in 1993, Fred stood up in my mind and commanded me to write his story. I started it off in continuous form; but that quickly broke down. I cast about for a day or two till I hit upon the eight-line stanza in rough hexameter, mostly unrhymed but allowing rhyme when appropriate. I also resisted my notion of basing Fred on some tale out of the myth kitty. I told myself, "No, you don't recycle an old story at this length, you invent a fresh new one. You make a new myth for your times."
INTERVIEWER
You mentioned having used in Fredy Neptune the kind of colloquial rural speech with which your father would have been comfortable. Did you note down actual phrases he used?
MURRAY
I never had to note down any bits of Dad's speech. I rarely take notes at all, on anything—odd lines or images, maybe, nothing else . . . By the way, the latest James Bond movie has a villain who can't feel pain and the current film Pirates of the Caribbean has a whole crew who can't feel at all. Eredy's getting around! I've invented a new motif in storytelling and it's doing the right thing—it's moving into the bloodstream of the culture.
INTERVIEWER
Did you try out any of Fredy Neptune on your father?
MURRAY

No. That was never part of our life together. I tried a few of my early things on him, decades before, and he took no real notice. He was proud my books had gained me credit and renown; but he cared nothing for what might be in them, so long as it didn't attract trouble or disgrace. By 1994, his last year, he was beyond receiving much from outside himself. He was giving out his last self-assertions, not taking new stuff on board. And that was always his character: He gave out but was reluctant to take in.
INTERVIEWER
Have you any interest in writing a prose novel?
MURRAY
No. Prose isn't here to stay. And, seriously, prose is the medium of criticism, which so readily becomes policing. Poetry gives us a slight distance from that. I did dabble in short stories very early on, but I hated the plotting. Plots are too akin to fates, but even cheaper and nastier, being human attempts to manufacture fate, to simulate it. It's a tormenting of mental slaves. With Fredy Boettcher, the world's horror produced a reaction in him, a dreadful two-edged gift that came out of shock. He then found his own way. I was his amanuensis. I never let myself plan his course, but worked always by way of surprises and discoveries. I never even knew how the poem would end till I got to that last page. And I try to keep that true in all my poems.
INTERVIEWER
The sound of a poem is clearly very important to you; indeed some of your poems ("Pop Music," "Bats' Ultrasound," "On Removing Spiderweb") could almost be termed "sound poems."
MURRAY
I love sound imagery! I've always been a little bit deaf, as well as slow to grasp what the humans are saying. Sound is the extra, celestial conversation that showers in on me between the intended meanings. I love catching the sounds of life. They have a way of being the fresher, weirder imagery, beyond the visual—as with "stucco stucco" in "The Shining Slopes and Planes," which caught the sound of running shoes on a hot tin roof and lifted that whole poem. That one's all the better for being just a wee bit off, as an image, with some misleading nuances I think work better than full aptness would have. Sound's a mystery, though—I think I'll keep it so, for myself. And it may be another refuge from the thought police!
INTERVIEWER
What about other art forms involving sound—film, for instance? And music?
MURRAY
Film's my other favorite art, too expensive for me ever to get into, and requiring collaboration, which I'm not well fitted for. I have learned lots from it, probably more than I can consciously itemize. I have no confidence in my grasp of music. A lot of my attitude to it is in a poem called "Music to Me Is Like Days," and another sequence titled "The Barcaldine Suite." I do know Celtic music can get through to me and reduce me to tears. World Music gets to me often, the more hypnotic the better; and Indian ragas make me coil with pleasure in my cobra basket. The movie Amadeus taught me things that are all beyond speech.

INTERVIEWER
Do you have any hobbies?
MURRAY
My work's my hobby. I collect images, postcards, photos, bits of verse, weird newspaper snippets, labels. They all go into big old-style ledger books to which Clare gave the title "The Great Book," pronounced in Scots: "When you cark it, Dad, I'm to have 'The Great Buik,' okay?" I'm on the second volume now, having started in I think T987. I guess they're a portable raree-show or old-style cabinet of curiosa, those books. I don't go for sport, partly because it nearly always involves crowd scenes; and Elias Canetti was right about crowds. I like poetry partly because you invent a new sport to play each time, and don't go on elaborating an old one.