Interviewed by Nelson Aldrich
Issue 20, Autumn-Winter 1958-1959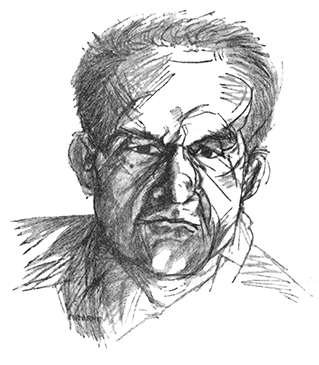 Sketch by Birnkrant, 1958.
James Jones was interviewed in the sitting room of his rented apartment on the Île de la Cité, where he lives with his lovely wife, Gloria, and a Burmese cat called Hortense who was any moment expecting an expensive (a hundred and fifty dollars per kitten) litter of her kind. The sitting room is furnished with an overstuffed day bed; an old wooden table littered with half-empty bottles of Scotch, Haut-Brion, and quarterly magazines; and an odd assortment of straight-backed chairs variously upholstered in bright red, blue, and royal purple. Although the Joneses are quick to deny responsibility for the discord of color that plays about the room, they are proud of the many paintings they have bought since coming to Paris. One of these is a delightful representation of the view from the window, which Jones commissioned from a ten-year-old boy whom he had seen the previous summer painting along the Seine. This view is of the quay, the river, and, across the river, the Hôtel de Ville. Barges churn by under the window, and to the right, upstream, one sees the water swirling under the stern of the Île Saint-Louis. It is what Jones looks out upon as he sits each morning over the typewriter, chain-smoking, writing in bursts of stenographic speed.
Although it was evening when we began and Jones had left his desk some hours before, he was still dressed for work. Tight khaki pants and a loose green sweater set off his slim hips, heavy round-shouldered torso, and thick neck. From time to time as he talked, Jones would get up and pace the room with a peculiar rolling gait which spoke more of the former Golden Gloves contender than of the ex-soldier who had loved close-order drill. He speaks with slow concentration, the Illinois drawl very evident; and one has the impression that he prefers an Anglo-Saxon obscenity to a word with a Latin root. But if violence is always near the surface of Jones's talk, his voice and manner are warm and gentle; the violence is in his own struggle with language itself. One feels finally that he is happier in questioning and listening, which he does with an intensity that is almost disconcerting. Though increasingly wary of interviews, Jones was on this occasion as generous with his time and thoughts as he is always with his whiskey. By way of a warm-up he suggested a game of darts, but in spite of Jones's anxious coaching, the interviewer proved an indifferent player, and the session was quickly elevated to a discussion of less serious matters.
INTERVIEWER
For a starter, let's talk about why you have come to Paris. I understand you have sold the house you had built in Illinois and have moved here more or less permanently.
JAMES JONES
Well, I suppose my prime excuse, at least in the beginning, was a novel I had planned to write about Americans in Paris, Americans of my generation as distinct from Americans in the twenties. That in itself is fascinating: the difference in flavor between the two generations. It's a lot more complicated than that, but essentially it will have to do with jazzmen, some French and some American, and writers too. But the original idea was to build it around the life and character of Django Reinhardt, the gypsy guitarist.
INTERVIEWER
Yes, I remember that you wrote something about him in From Here to Eternity.
JONES
That's the guy. I've always loved his music, better than any other single jazz musician I've heard. Because of that, I got fascinated by what I read and heard about him. He seems to have been a total individualist, in the sense that gypsies often are: without loyalty of any sort to any country; I mean totally amoral in any political sense. And the jazz part of it fits in here too, you see, because jazz and the jazz life are, after all, semi-illegal. Always have been—from the early days of Storyville and the riverboats: I mean, whorehouses, boozing, bars, dope, even crime, all that stuff. I think that's one of the reasons jazz has attracted each succeeding generation of young Americans. It's a pretty amoral sort of life really, and is one way of escaping the increasingly encroaching controls of a bureaucratic government. Jazz and jazzmen live pretty much on the edge of the law—no matter how the propagandists of any country try to drag them by the hair into the national morality. They are never really outlaws, or outlawed, but they can always be found somewhere on that amorphous fringe. So what I want to explore in this novel is whether Django's type of individuality can exist today in any form. And I think that if it can survive it will be there, in jazz and that type of life, in near illegality if you will, that we will have to look for it.
INTERVIEWER
Having left America as you have, do you think of the move as a political gesture, a cutting off of national affiliation?
JONES
Oh no. Not at all. I'm an American, and always will be. I happen to love that big, awkward, sprawling country very much—and its big, awkward, sprawling people. Anyway, I don't like politics; and I don't make "political gestures," as you call it. I don't even believe in politics. To me, politics is like one of those annoying, and potentially dangerous (but generally just painful) chronic diseases that you just have to put up with in your life if you happen to have contracted it. Politics is like having diabetes. It's a science, a catch-as-catch-can science, which has grown up out of simple animal necessity more than anything else. If I were twice as big as I am, and twice as physically strong, I think I'd be a total anarchist. As it is, since I'm physically a pretty little guy ... No, in fact, one reason I left was because I believe it is good for an American writer to get outside his country—outside his continent—and see it from a vantage point outside its pervading emotional climate.
INTERVIEWER
Do you mean to imply that the American climate of opinion is essentially hostile to the kind of individuality that Reinhardt, and this kind of life, expressed?
JONES
I think any national climate of opinion would be, in the world of today. My grandfather had a saying he used to say to me when I was a kid: "Bodder," he would say (that was a nickname he had for me), "always remember that I'm always for you, but I'd rather be for you when you're right than when you're wrong." Well, that's the way I feel about America. There's no use trying to say we haven't done a lot of things that were bad. We have. Like McCarthy, and the Subcommittee hearings, forcing Americans to rat on their friends, putting Ring Lardner and those others in jail for refusing to, forcing still others to abscond, refusing others the right to work and blacklisting them. That's a pretty black mark to have to live down. But those things are changing some now. And guys like Arthur Miller can still get up and fight back, and make it stick. And at least in America a writer can still write pretty much what he wants to say—at least, he can say more of it than anywhere else in the world today. Except maybe England.
INTERVIEWER
Incidentally, did you have any difficulty in getting Eternity published?
JONES
Well, some, I guess. But it was all sexual, not political. My editor and I went over it with the lawyers beforehand, and we had to cut some scenes and a lot of four-letter words. Then about two years after it came out there was some talk about banning it from the mails. Some devout Catholic postal inspector had discovered it. But it never was. We had to cut some of the sex in Some Came Running, too. I find it a curious comment on the world we live in that we make such a distinction between what we can say, and do, and be, in private—and in public. My two books and what we had to cut from them are a good example of this.
INTERVIEWER
Well, now that you're settled here in Paris, do you ever plan to go back to America to live?
JONES
Oh, sure. Eventually. But I've also got a book with an Italian background I want to do before we go home. Both of these novels, the Paris one and the Italian one, will be really major novels. Or I hope they will. Both are pretty big bites to chew, if they come off like I am planning them. I've been making notes on both for several years. So it'll be a pretty long time before we go back.
INTERVIEWER
Do you feel that your attitude toward your work has changed since living here?
JONES
No, no. I find it easy enough to work anywhere ... that is, if I don't get too drunk every night. Although it was not very long ago that I discovered this. In getting married, leaving Illinois for New York and then Paris, I sort of resolved a question in my own mind, which was whether I could live from day to day with a family and friends around me and continue to do the kind of work I want to achieve. I was afraid I couldn't; I was afraid I had to be isolated in order to write.
INTERVIEWER
Was it to provide this isolation for other writers that you built (largely with the profits of Eternity, I believe) a writers' colony in Marshall, Illinois?
JONES
Well, that idea was part of my own make-up at the time, yeah. But it wasn't for isolation so much. A colony like that had always been one of my dreams. I honestly believed that if you gave guys who wanted to write a place to do it where they could live and eat free, then they would write. Take away the economic worry factor. But it didn't work. It cost me a lot of dough, too. To learn that there was a lot more to it than that. It just doesn't work. I guess we all want to believe people are better than they are. But most of those guys there, even though they all wanted desperately to write, even though they had food and no rent and their utilities, still didn't write. I guess you just can't pick up any Joe off the street and turn him into a writer by setting him down to copying the great books. And besides, if you are young (and most of them out there were), twenty-five or so, that's not going to be enough to write about all the rest of your life. Anyway, they just wouldn't work, most of them. You have to really work at it to write. I guess there has to be talent first; but even with talent you still have to work at it, to write. Anyway, three pretty good novels came out of that thing; and two of the guys have finished second novels.
INTERVIEWER
Could you tell me something about your own work habits?
JONES
They're pretty normal, I guess. I get up earlier than most guys—between seven and eight—but only because I like to go out in the afternoons while there's still sun. After I get up it takes me an hour and a half of fiddling around before I can get up the courage and nerve to go to work. I smoke half a pack of cigarettes, drink six or seven cups of coffee, read over what I wrote the day before. Finally there's no further excuse. I go to the typewriter. Four to six hours of it. Then I quit and we go out. Or stay home and read.
INTERVIEWER
How much do you get done in a day?
JONES
It all depends. It might be two typescript pages, or it might be even less. Or, if it's a dialogue or a scene I had well fixed in my mind, I might get as much as ten or twelve. Usually, though, it's a lot less. Three pages maybe. And then I often have to go back over it all the next day because I'm still dissatisfied. I guess I've got some neurotic compulsion to make everything as perfect as I can before I go on.
INTERVIEWER
You do a great deal of revision, then?
JONES
Oh, yes. For instance, take this scene—this chapter, or section, really—that I've been working on lately. You see, because of the nature of the book I'm working on now, I'm doing it in ... well, in sections, very long chapters of around a hundred pages, which will be interlarded with what I call "inter-chapters," very short pieces from another time and viewpoint. It just has to be done that way, or in some similar way. I won't go into details but actually I've been working for two months now on about forty pages—which I now think are good enough to let go. Well, out of those forty pages there are maybe six, maybe seven pages of dialogue which I wrote in about half an hour. Half an hour out of two months' work, but I haven't changed a word of it. It's good.
INTERVIEWER
You find, then, that writing dialogue is easier than straight narrative?
JONES
Yes. That's what I'm saying. But I have a reservation. Dialogue is almost too easy. For me. So much so that it makes me suspicious of it, so I have to be careful with it. I could find myself evading problems of true expression because dialogue's so easy for me to do. There are many important issues and points of subtlety about people, about human behavior, that I want to make in writing, and it's easy to evade these—or do them superficially, do them halfway—by simply writing good dialogue. And it becomes increasingly easy as I get to know the people better. But good dialogue just isn't enough to explain the subtler ramifications of the characters and incidents that I'm trying to work out now. Not realistic dialogue, anyway. Perhaps if you used some kind of surrealistic dialogue, but then it would read like a dream episode. It wouldn't be real talk. For instance, it's obvious enough that in almost any conversation things are happening to the people in the conversation that they do not and cannot express. In a play it is possible for a good actor to imply that he is thinking something other than what he is saying. But it's pretty slipshod and half-assed, because he cannot convey what he's thinking explicitly. In prose, and especially in the novel form, this can be done. If the man is using a subterfuge, it can be explained explicitly, and why. Actually, in life, conversation is more often likely to be an attempt at deliberate evasion, deliberate confusion, rather than communication. We're all cheats and liars, really. And the novelist can show just how and why we are.
INTERVIEWER
I have heard you say that Some Came Running was the best novel you have written to date. Do you have favorites among your characters as well?
JONES
It's true that I think Running is my best work. It was—among a lot of other things, of course—an experiment, an experiment in the use of colloquial forms in expositional and narrative writing. I think that a classic style in writing tends to remove the reader one level from the immediacy of the experience. For any normal reader, I think a colloquial style makes him feel more as though he is within the action, instead of just reading about it. And—
INTERVIEWER
Do you always keep a sort of abstract potential reader in mind, when you write?
JONES
I think one has to. I know there are a lot of writers who say to hell with "the reader"; if he has to work to read me, then let him work, if he wants to read me. I don't know what I feel, myself. I guess I would fall somewhere in between the two extremes. I think the writer ought to help the reader as much as he can without damaging what he wants to say; and I don't think it ever hurts the writer to sort of stand back now and then and look at his stuff as if he were reading it instead of writing it.
INTERVIEWER
What were you saying about Some Came Running?
JONES
Another reason I like Running so much is because of the characters. They are much more like real people, more subtle and devious than the characters in Eternity. And that's why I think it is much better writing. Running gets down deeper into its people than Eternity. But as for my preference for any one of the characters in my books, I have two kinds. One is sentimental and the other is professional. For instance, old Jane Staley is one of my favorites sentimentally, but from a professional point of view I'm more fond of Dave Hirsh than any character in Eternity. Largely because my study of Dave Hirsh reaches much deeper levels, gets down much closer to that self-delusive deviousness we humans all labor under.
INTERVIEWER
Do you draw your characters from life?
JONES
I guess so, yes. But by the time I'm done with them, they're not like anybody else but themselves. It would be better to say I use them as springboards. It's funny; I've been accused by various reviewers or critical writers of portraying myself—autobiographically—in nearly all of my characters. It's been said that I was Prewitt; it's been said that I was Warden; it's been said that I was Dave Hirsh. I couldn't be them all. I've actually had people, who of course romanticized Prewitt as a hero, flatly refuse to believe I didn't draw Prewitt from myself, even when I told them I hadn't. I guess it's true that when I was younger and more romantic, I would have liked to be Prewitt, and Warden too, for that matter. On the other hand, I certainly wouldn't want to be Dave Hirsh. But by and large, I guess I take my characters from people I've known at one time or another. Sometimes, though, it's simply an event that strikes me and then I try to imagine a character who would fit into that event. For instance, the man who was killed by Fatso Judson in the stockade, Blues Berry, I never knew him at all.
INTERVIEWER
Were you ever in the stockade?
JONES
You mean the post stockade at Schofield Barracks? No, I never was personally. But more than that I wouldn't like to say.
INTERVIEWER
Let me ask you a more abstract question, then. Novels as long as Eternity and Running must have presented enormous organizational problems. Can you describe how you go about building the structure of a novel?
JONES
I don't "go about it." I work it out as I go along. I begin with a problem that interests or excites me, like that of individualism and the fringe-society of jazz that we were talking about a while ago. Then I take a character who, to some extent, represents the abstract idea of the problem. Not as a symbol, though; I don't like making symbols out of characters. No human being is really a symbol. In The Pistol, Mast and the other characters are deliberately symbolic of various aspects of humanity, all hunting for some kind of salvation, which is symbolized by the pistol itself, and the story itself is a symbol of all the ridiculous, outrageous cruelties people will perpetrate upon each other when they think they can acquire salvation for themselves by doing so. The whole thing of The Pistol is an experiment in writing a deliberately symbolic little novella. It's okay, for an easy job, an easy out. But human beings themselves are never that easy to symbolize; they're never all black or all white like that, or else they aren't really human. That's why it's so easy to kill real people in the name of some damned ideology or other; once the killer can abstract them in his own mind into being symbols, then he needn't feel guilty for killing them since they're no longer real human beings. And symbolizing characters like that is just as easy an out for the writer as for the ideological killer. I prefer to write about characters who aren't that easily categorized. In this type of novel, the problem is there, and I can actually give it a concrete written definition. I always try to do that. But instead of laying out the abstract idea—if A is put against B then C will result—I take the people, one of whom will more or less represent A (but who has the right to not represent A, if he so chooses), and one of whom will more or less represent B. Then when I set A against B, maybe Z or X will result, instead of C. Because by allowing that unknown to exist in there, I won't actually be able to know what will happen until it writes its own answer. Because after all, this problem, whatever it is, is a question which I haven't answered, and a question which I don't feel qualified to answer, wouldn't presume to answer, for myself or anybody else. And by doing it that way I'm letting the people write their own story themselves. For example, I had written three hundred pages of Eternity before I realized that Warden was going to have an affair with Karen Holmes. So I had to go back and bring that about. But even then I didn't know how it would end. I knew only that because of their situation it wouldn't—couldn't—work out. And in Running, I guess I worked on that book for three years before I knew whether Dave Hirsh would actually marry that slob, Ginnie Moorehouse, and then it was another year before I was able to find out whether he would leave her or not after he did marry her. But as for the structure of Running, I think it is sound. If I may flatter myself a little in this interview without making too many enemies, I would like to say that I believe I have a knack, or whatever you want to call it, for structural organization. I'll grant much of the—
INTERVIEWER
—Criticism?
JONES
Hell! Criticism is hardly strong enough a word for what was said about me. I'll grant it is too long perhaps in places; but I feel I have the right to overwrite now and then if it's something that interests me and I want to put it in—as long as it is accurate within the framework of the characterization. So anyway, I think it could have been cut a little more than we actually did. Maybe even as much as another hundred pages plus the hundred-fifty that we did take out of the original twenty-five hundred typescript pages. But a good case in point is the "road-driving" episode where 'Bama teaches Dave how to drive well, which has been bombed and strafed and shot off at the ankles by so many critics. Sure, it could have been cut without damaging the essential story; but it is an American phenomenon that I, anyway, have never seen written about, and I think it's interesting and I'm glad I left it in. If I hadn't, this facet of American life on that long, flat continent might never have been written about in just that way. So what the hell?
INTERVIEWER
Another critic, Leslie Fiedler, has written a more ambitious essay on From Here to Eternity. He entitled it "The Bum as American Culture Hero," and his point was that the Ishmael figure, which is almost constant in American literature, was recast in the novels of Steinbeck and Dos Passos as the man on the bum. He goes on to say that with Prewitt the bum turns up again, this time at the end of his wandering, in the army. But in the army he is recognized as an artist. The army gave him his bugle, but it was being on the bum that made him an artist.
JONES
Well, okay. But so what? I mean what's his conclusion from all this? I don't say I especially disagree with him, at least not yet—except on one point. I don't agree that it was being on the bum that made Prewitt an "artist." What made Prewitt an artist, in my interpretation, was that his old man used to beat up his old lady, as well as himself; and that his old man, like so many human male animals, didn't give a damn about him one way or the other. He was always competing, in a sense, with this image of his father that he was always trying to please. But as for the bum heroes of Steinbeck and Dos Passos, whether they're the inheritors of Ishmael or not—and I guess they are—the main point about them is that they were all involved in the social revolution that came in the thirties. What's interesting is that if Prewitt is their heir, Prewitt as the wanderer had no place left to go except into the army—where he became, artist or not, a ward of the government. Which is what is happening everywhere, today, even with businessmen. A government ward who, whatever else he is, is first of all at the call of government to fight for it, or what have you. But the army that Prewitt entered in the late thirties was not then the same total tool of government that the army of today is. It was not, in actual effect, the army that Dewey Cole and Hubie Murson went back to after four years of meaningless civil life after World War II, in Some Came Running. And that makes it even more grim.
But I would like to make the point here, also, that if it is true that what Fiedler calls a "bum" is a culture hero of some modern American writers, I think it is because these writers are tired of the phoniness of superficial culture and the shallow kind of relationships that this makes for. Another critic, Edmund Fuller, says somewhat the same thing as Fiedler, but much more complainingly. He calls it the "slob philosophy." And he calls them slobs: the "hero-bums." I don't think Prewitt is a slob, but to a man of Mr. Fuller's caliber he probably is a slob. He is crude, vulgar, and Fuller probably thinks he's insensitive as well. The same would be true of Dave Hirsh.
INTERVIEWER
I think Dave Hirsh is a slob.
JONES
Well, in many ways he is; but that's part of the point of the book, the end of which is when he ceases to be a slob. And this has been a very painful thing for him to learn.
But these fellows like Fuller take an unfair advantage of my characters with their superficial social categorizing. I think of a slob as someone who has an inordinate ego which makes him close his mind down around his small beliefs and prejudices. By that definition even an intellectual like Mr. Fuller might qualify. I don't give a damn whether Dave Hirsh has a Ph.D. or whether he has even gone to school or not. I don't think education can make a man more sensitive. I think only the experiences in his life, if he is able to face and accept them, can do that. In that sense, education can even help make a man a "slob," by my definition, because he can take refuge in it by pretending to be sensitive when in fact he is not.
INTERVIEWER
Do you feel that an academic education can injure a writer?
JONES
I think it can very easily. Though it doesn't necessarily have to. Most of the desultory courses that I've taken in literature have had a peculiar snobbism about them. An adulation of certain writers is inculcated in the student by the instructor (who is probably a frustrated writer anyway), to the point where the student finds himself asking whether he has anything to say that Tolstoy or James haven't already said better. Moreover, most of the instruction seems to be concerned with writings rather than with how to write, which is impossible to teach anyway.
INTERVIEWER
What authors have most influenced your own writing?
JONES
I guess the same writers that have influenced most of my generation: Faulkner, Hemingway, Fitzgerald, Dos Passos, Steinbeck. The older writers, too: James, Hawthorne, Thoreau, Emerson. What do you want, a list? Joyce too, of course. In a more profound way, I think first Stendhal and secondly Dostoyevsky have influenced me a great deal in the direction I've taken and my idea of what I'd like to accomplish. More than anybody else. Everybody has talked about the influence Wolfe has had on me as a writer, because I once admitted publicly that it was reading Wolfe that first decided me I wanted to be a writer. I have been accused of taking up all of Wolfe's flaws (if they are flaws), such as lack of selectivity and stylistic overwriting and a number of others. All of which I don't think is true. Wolfe actually did influence me a great deal toward becoming a writer, and I am not one of those people who indulge the current fashion of knocking Wolfe. I think he was a great writer. But I think I've moved a long way from him in viewpoint and style and even in selectivity; certainly I have in structuring novels. [Jones takes a penknife from his pocket and flicks it open.]
INTERVIEWER
Do you carry that for protection?
JONES
No. I guess you saw that damned picture of me in Time magazine. No. I just carry it to clean my nails with. Look. See? It's got scissors, too. As well as a nail file. And a screwdriver, and a bottle opener—which doesn't work well, incidentally.
INTERVIEWER
Well, I was just wondering. There is so much physical violence in your novels.
JONES
Yes, that's true: there is. But then physical violence does exist in life, and theoretically a man ought to be able to protect himself against it. I mean that the perfect ideal would be that a man who is essentially nonviolent would be able to defend himself against any form of violence. But this is very rare in life. But this raises one of the most important themes in Eternity, why Prewitt does not shoot back at the MPs who kill him as he tries to get back to his unit after his murder of Fatso Judson. You see, when Prewitt kills Fatso he is carrying the theory of vengeance by violence to its final logical end. But the thing is that Fatso doesn't even know why he is being killed; and when Prewitt sees that, he realizes what a fruitless thing he has done. Then at the end, when he does not fire on the men who are going to kill him, it is because he has accepted the ultimate logical end of passive resistance, which is death.
INTERVIEWER
Are you a pacifist?
JONES
Well, I would like to be. You see, as I go along I've come to consider bravery as just about the most pernicious of virtues. Bravery is a horrible thing. The human race has it left over from the animal world and we can't get rid of it. Take any situation in which a man is attacked; the natural thing for him to do is to fight back. But that's an animal reaction, and I'm about convinced that in the end the only measure by which human beings will be judged as human—by themselves or by others—will be according to what they will do in this situation. If he were truly human, a man would not fight back. But then you get the paradox of such a situation, in that he would be concurring in his own destruction. It's the rebel's suicide in Camus.
There're so many young guys, you know—young Americans and, yes, young men everywhere—a whole generation of people younger than me who have grown up feeling inadequate as men because they haven't been able to fight in a war and find out whether they are brave or not. Because it is in an effort to prove this bravery that we fight—in wars or in bars—whereas if a man were truly brave he wouldn't have to be always proving it to himself. So therefore I am forced to consider bravery suspect, and ridiculous, and dangerous. Because if there are enough young men like that who feel strongly enough about it, they can almost bring on a war, even when none of them want it, and are in fact struggling against having one. (And as far as modern war is concerned I am a pacifist. Hell, it isn't even war anymore, as far as that goes. It's an industry, a big business complex.) And it's a ridiculous thing because this bravery myth is something those young men should be able to laugh at. Of course the older men like me, their big brothers, and uncles, and maybe even their fathers, we don't help them any. Even those of us who don't openly brag. Because all the time we are talking about how scared we were in the war, we are implying tacitly that we were brave enough to stay. Whereas in actual fact we stayed because we were afraid of being laughed at, or thrown in jail, or shot, as far as that goes.
As a matter of fact, I am at the moment trying to write a novel, a combat novel,* which, in addition to being a work which tells the truth about warfare as I saw it, would free all these young men from the horseshit which has been engrained in them by my generation. I don't think that combat has ever been written about truthfully; it has always been described in terms of bravery and cowardice. I won't even accept these words as terms of human reference any more. And anyway, hell, they don't even apply to what, in actual fact, modern warfare has become. And I would like to try to write about combat from outside this framework entirely. I say "try" because I have this fear of being thought a coward, too, you see, myself. I don't know if I can actually be truthful to the spirit of what I actually felt. But I've made some strides in trying to understand myself, I think. And I think that in my life I'm less afraid of being thought a coward than I used to be.
INTERVIEWER
Your speaking of this combat novel which "will tell the truth" as you saw it reminds me of a question you make the young novelist, Wally Dennis, ask of himself in Some Came Running. He says, "I wonder if a guy could really write a book about people as they really are and still make it interesting enough to read?"
JONES
Yes. But I guess I should have said "intelligible" instead of "interesting," though. I have always had the feeling that each character I've created has been made into a better human being than he or she would really have been under any set of circumstances, or than the more-or-less model was in real life. Wally Dennis, you remember, goes on about that, about his own mother, what a stupid slob and selfish old bat his mother really is. I don't think people like to read about themselves or about others as they really are. It would be too horrifying. After all, we have to give ourselves a little of the feeling that we're human beings with a capital H and B. So we do that, and every now and then the real truth surges up to plague us from that limbo to which we've suppressed it—in that violence you were speaking about before, some form of it or other.
INTERVIEWER
So in the past you consciously romanticized your heroes?
JONES
I don't know how much was conscious and how much wasn't. What I'm trying to do now is deliberately romanticize them less. I am wondering if you can create a hero—I don't like that word—a protagonist without romanticizing him at all. I think it might be almost unintelligible. I don't believe anyone would believe human beings were that bad, and yet we are all that bad.
INTERVIEWER
Bad? In what ways?
JONES
Bad according to the various moral codes we profess to live by. I mean that everyone's actions and thoughts are so entirely contrary to that code of ethics which we all try to set up for ourselves that people would recoil in horror if this were shown to them.
INTERVIEWER
But you are now trying to write just such a completely realistic novel?
JONES
Yes, I am. But I don't like that word realism much. I have been called a realist and a naturalist but I don't know what I am. What the hell is a realist or a naturalist anyway? Edmund Fuller's definition of a realistic writer is someone who is essentially dirty—under the arms as well as in his mind. You know, not very gentlemanly.
INTERVIEWER
Let's go back to the contents of your novels for a minute. I was struck as I read them by the number of games—poker, chess, boxing, surfboarding, et cetera—that figure very prominently in your work. How do you account for this, other than by the fact that games do exist?
JONES
Well, yes, of course games do exist. And it is true that I have been and still am fascinated by them. Last Sunday, for instance, I spent eight hours straight playing English darts with some friends. We would have gone on all night if our wives hadn't stopped us. Why did we do it? I think one reason is that we got completely lost in it, in competing, and for a time thus were able to forget everything else: bills, atom bombs, can I write? am I mad? is humanity mad? And if you win, it's great for your ego; but if you lose, well, it isn't really so bad after all. It's like dope, or getting blind drunk, or gambling. But beyond that I think games are significant in people's lives because in a game everything is clearly defined. You've got the rules and a given period of time in which to play; you've got boundaries and a beginning and an end. And whether you win, lose, or draw, at least something is sure. But life ain't like that at all. So I think that people invent and play games in order to kid themselves, at least for a time, into thinking that life is a game; in order to forget that at the end of life there is nothing but a big blank wall.
INTERVIEWER
Well, I guess in winding up I should ask you that one great question put to every author: Why do you want to write?
JONES
Well, I suppose you could say that I want to impose my personality upon the world. Or, you could say that I want people to know that I have lived—all depends on your viewpoint and the mood you're in. Both are true, I guess. But I do think that the quality that makes a man want to write and be read is essentially a desire for self-exposure, and is masochistic. Like one of those guys who has a compulsion to take his thing out and show it on the street. I guess I wrote that somewhere. Stendhal understood this very well, and Dostoyevsky. But Tolstoy did not operate this way, and that is why I think he is less great than these other two. You must really want to tell the truth about yourself (and no matter what any writer says, every character he creates is a part of himself, romanticized or unromanticized), but in order to do this you have to get down into yourself and try to find out what it is that makes us desire certain things and be afraid of certain other things. But then to write what you have found is essentially masochistic. I'm sure that some damned psychiatrist who doesn't write could probably show you how this is all tied in with what I feel about violence and the need for passive resistance, but I don't know how useful that would be in telling you how a man becomes a writer. This is all getting pretty high-flown and pompous, don't you think? Let's go somewhere and have a drink. I should make it plain, though, that boozing does not necessarily have to go hand in hand with being a writer, as seems to be the concept in America. I therefore solemnly declare to all young men trying to become writers that they do not actually have to become drunkards first.
* The Thin Red Line.