Interviewed by Peter A. Stitt
Issue 53, Winter 1972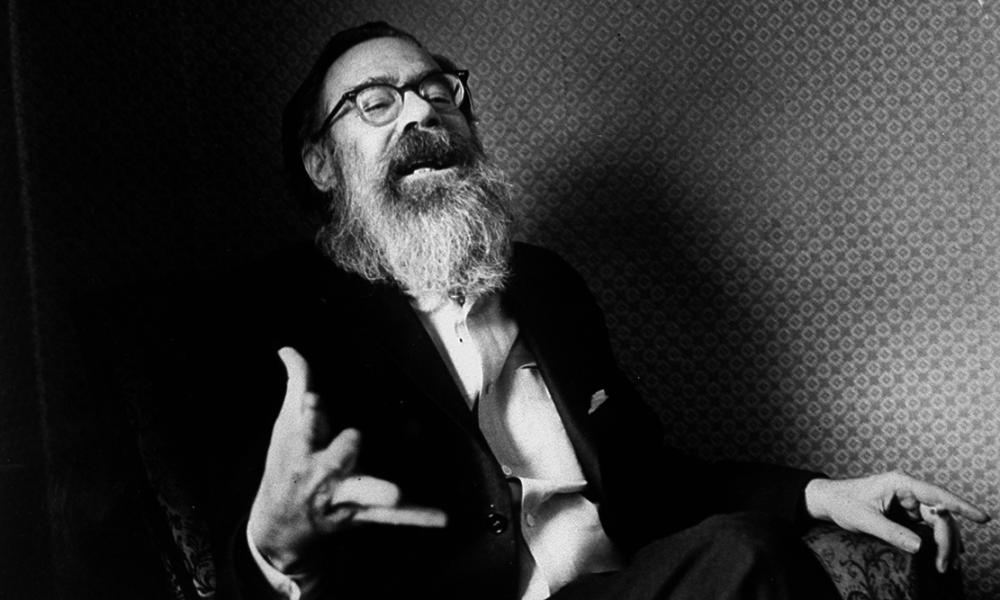 On a Sunday afternoon in late July 1970, John Berryman gave a reading of his poems in a small "people's park" in Minneapolis near the west bank campus of the University of Minnesota. Following the reading, I reintroduced myself—we hadn't seen each other since I was his student, eight years earlier—and we spent the afternoon in conversation at his house. He had had a very bad winter, he explained, and had spent much of the spring in the extended-care ward at St. Mary's Hospital. I asked him about doing an interview. He agreed, and we set up an appointment for late October.
Berryman spent a week in Mexico at the end of the summer and had "a marvelous time." A trip to upstate New York for a reading followed, and by early October he was back at St. Mary's. It was there that the interview was conducted, during visiting hours on the twenty-seventh and twenty-ninth of October.
He looked much better than he had during the summer, was heavier and more steady on his feet. He again smoked and drank coffee almost continually. The room was spacious, and Berryman was quite at home in it. In addition to the single bed, it contained a tray table that extended over the bed, a chair, and two nightstands, one of which held a large AM-FM radio and the usual hospital accoutrements. Books and papers covered the other nightstand, the table, and the broad windowsill.
Berryman was usually slow to get going on an answer, as he made false starts looking for just the right words. Once he started talking, he would continue until he had exhausted the subject—thus, some of his answers are very long. This method left unasked questions, and the most important of these were mailed to him later for written answers. In contrast to the taped answers, the written answers turned out to be brief, flat, and even dull. (These have been discarded.) By way of apology, he explained that he was again devoting his energies almost entirely to writing poetry.
An edited typescript of the interview was sent him in January 1971. He returned it in March, having made very few changes. He did supply some annotations, and these have been left as he put them.
INTERVIEWER
Mr. Berryman, recognition came to you late in comparison with writers like Robert Lowell and Delmore Schwartz. What effect do you think fame has on a poet? Can this sort of success ruin a writer?
JOHN BERRYMAN
I don't think there are any generalizations at all. If a writer gets hot early, then his work ought to become known early. If it doesn't, he is in danger of feeling neglected. We take it that all young writers overestimate their work. It's impossible not to—I mean if you recognized what shit you were writing, you wouldn't write it. You have to believe in your stuff—every day has to be the new day on which the new poem may be it. Well, fame supports that feeling. It gives self-confidence, it gives a sense of an actual, contemporary audience, and so on. On the other hand, unless it is sustained, it can cause trouble—and it is very seldom sustained. If your first book is a smash, your second book gets kicked in the face, and your third book, and lots of people, like Delmore, can't survive that disappointment. From that point of view, early fame is very dangerous indeed, and my situation, which was so painful to me for many years, was really in a way beneficial.
I overestimated myself, as it turned out, and felt bitter, bitterly neglected; but I had certain admirers, certain high judges on my side from the beginning, so that I had a certain amount of support. Moreover, I had a kind of indifference on my side—much as Joseph Conrad did. A reporter asked him once about reviews, and he said, "I don't read my reviews. I measure them." Now, until I was about thirty-five years old, I not only didn't read my reviews, I didn't measure them, I never even looked at them. That is so peculiar that close friends of mine wouldn't believe me when I told them. I thought that was indifference, but now I'm convinced that it was just that I had no skin on—you know, I was afraid of being killed by some remark. Oversensitivity. But there was an element of indifference in it, and so the public indifference to my work was countered with a certain amount of genuine indifference on my part, which has been very helpful since I became a celebrity. Auden once said that the best situation for a poet is to be taken up early and held for a considerable time and then dropped after he has reached the level of indifference.
Something else is in my head; a remark of Father Hopkins to Bridges. Two completely unknown poets in their thirties—fully mature—Hopkins, one of the great poets of the century, and Bridges, awfully good. Hopkins with no audience and Bridges with thirty readers. He says, "Fame in itself is nothing. The only thing that matters is virtue. Jesus Christ is the only true literary critic. But," he said, "from any lesser level or standard than that, we must recognize that fame is the true and appointed setting of men of genius." That seems to me appropriate. This business about geniuses in neglected garrets is for the birds. The idea that a man is somehow no good just because he becomes very popular, like Frost, is nonsense, also. There are exceptions—Chatterton, Hopkins, of course, Rimbaud, you can think of various cases—but on the whole, men of genius were judged by their contemporaries very much as posterity judges them. So if I were talking to a young writer, I would recommend the cultivation of extreme indifference to both praise and blame because praise will lead you to vanity, and blame will lead you to self-pity, and both are bad for writers.
INTERVIEWER
What is your reaction to such comments as: "If Berryman is not America's finest living poet, then he is surely running a close second to Lowell"?
BERRYMAN
Well, I don't know. I don't get any frisson of excitement back here, and my bank account remains the same, and my view of my work remains the same, and in general I can say that everything is much the same after that is over.
INTERVIEWER
It seems that you, along with Frost and several other American writers, were appreciated earlier in England than in America.
BERRYMAN
That's true. More in Frost's case. Stephen Crane is another.
INTERVIEWER
Why do you think this is true?
BERRYMAN
I wonder. The literary cultures are still very different. Right this minute, for example, the two best reviewers of poetry in English, and perhaps the only two to whom I have paid the slightest attention, are both Englishmen—Kermode and Alvarez. Of course, that's just a special case—ten years ago it was different, but our people have died or stopped practicing criticism. We couldn't put out a thing like the Times Literary Supplement. We just don't have it. Education at the elite level is better in England, humanistic education—never mind technical education, where we are superior or at least equal—but Cambridge, Oxford, London, and now the red-brick universities provide a much higher percentage of intelligent readers in the population—the kind of people who listen to the Third Programme and read the Times Literary Supplement. They are rather compact and form a body of opinion from which the reviewers, both good and mediocre, don't have to stand out very far. In our culture, we also, of course, have good readers, but not as high a percentage—and they are incredibly dispersed geographically. It makes a big difference.
INTERVIEWER
You, along with Lowell, Sylvia Plath, and several others, have been called a confessional poet. How do you react to that label?
BERRYMAN
With rage and contempt! Next question.
INTERVIEWER
Are the sonnets "confessional"?
BERRYMAN
Well, they're about her and me. I don't know. The word doesn't mean anything. I understand the confessional to be a place where you go and talk with a priest. I personally haven't been to confession since I was twelve years old.
INTERVIEWER
You once said: "I masquerade as a writer. Actually I am a scholar." At another time you pointed out that your passport gives your occupation as "Author" and not "Teacher." How do your roles as teacher and scholar affect your role as poet?
BERRYMAN
Very, very hard question. Housman is one of my heroes and always has been. He was a detestable and miserable man. Arrogant, unspeakably lonely, cruel, and so on, but an absolutely marvelous minor poet, I think, and a great scholar. And I'm about equally interested in those two activities. In him they are perfectly distinct. You are dealing with an absolute schizophrenic. In me they seem closer together, but I just don't know. Schwartz once asked me why it was that all my Shakespearean study had never showed up anywhere in my poetry, and I couldn't answer the question. It was a piercing question because his early poems are really very much influenced by Shakespeare's early plays. I seem to have been sort of untouched by Shakespeare, although I have had him in my mind since I was twenty years old.
INTERVIEWER
I don't agree with that. One of the dream songs, one of those written to the memory of Delmore Schwartz—let me see if I can find it. Here, number 147. These lines:
Henry's mind grew blacker the more he thought.
He looked onto the world like the act of an aged whore.
Delmore Delmore.
He flung to pieces and they hit the floor.
That sounds very Shakespearean to me.
BERRYMAN
That sounds like Troilus and Cressida, doesn't it? One of my very favorite plays. I would call that Shakespearean. Not to praise it, though, only in description. I was half hysterical writing that song. It just burst onto the page. It took only as long to compose as it takes to write it down.
INTERVIEWER
Well, that covers scholarship. How about teaching? Does teaching only get in the way of your work as a poet?
BERRYMAN
It depends on the kind of teaching you do. If you teach creative writing, you get absolutely nothing out of it. Or English—what are you teaching? People you read twenty years ago. Maybe you pick up a little if you keep on preparing, but very few people keep on preparing. Everybody is lazy, and poets, in addition to being lazy, have another activity which is very demanding, so they tend to slight their teaching. But I give courses in the history of civilization, and when I first began teaching here I nearly went crazy. I was teaching Christian origins and the Middle Ages, and I had certain weak spots. I was OK with The Divine Comedy and certain other things, but I had an awful time of it. I worked it out once, and it took me nine hours to prepare a fifty-minute lecture. I have learned much more from giving these lecture courses than I ever learned at Columbia or Cambridge. It has forced me out into areas where I wouldn't otherwise have been, and since I am a scholar, these things are connected. I make myself acquainted with the scholarship.
Suppose I'm lecturing on Augustine. My Latin is very rusty, but I'll pay a certain amount of attention to the Latin text in the Loeb edition, with the English across the page. Then I'll visit the library and consult five or six old and recent works on St. Augustine, who is a particular interest of mine, anyway. Now all that becomes part of your equipment for poetry, even for lyric poetry. The Bradstreet poem is a very learned poem. There is a lot of theology in it, there is a lot of theology in The Dream Songs. Anything is useful to a poet. Take observation of nature, of which I have absolutely none. It makes possible a world of moral observation for Frost or Hopkins. So scholarship and teaching are directly useful to my activity as a writer.
INTERVIEWER
But not the teaching of creative writing. You don't think there is any value in that for you as a poet.
BERRYMAN
I enjoy it. Sometimes your kids prove awfully good. Snodgrass is well known now, and Bill Merwin—my students—and others, and it's delightful to be of service to somebody. But most of them have very little talent, and you can't overencourage them; that's impossible. Many of my friends teach creative writing. I'm not putting it down, and it certainly is an honest way of earning a living, but I wouldn't recommend it to a poet. It is better to teach history or classics or philosophy or the kind of work I do here in humanities.
INTERVIEWER
You have given Yeats and Auden as early influences on your poetry. What did you learn from them?
BERRYMAN
Practically everything I could then manipulate. On the other hand, they didn't take me very far because by the time I was writing really well, in 1948—that's the beginning of the Bradstreet poem and the last poems in the collection called The Dispossessed—there was no Yeats around and no Auden. Some influence from Rilke, some influence from a poet whom I now consider very bad, Louis Aragon, in a book called Crèvecoeur—he conned me. He took all his best stuff from Apollinaire, whom I hadn't then read, and swept me off my feet. I wrote a poem called "Narcissus Moving," which is as much like Aragon as possible, and maybe it's just as bad. I don't know. Then the Bradstreet poem—it is not easy to see the literary ancestry of that poem. Who has been named? Hopkins. I don't see that. Of course there are certain verbal practices, but on the whole, not. The stanza has been supposed to be derived from the stanza of "The Wreck of the Deutschland." I don't see that. I have never read "The Wreck of the Deutschland," to tell you the truth, except the first stanza. Wonderful first stanza. But I really just couldn't get onto it. It's a set piece, and I don't like set pieces. I'll bet it's no good—well, you know, not comparable with the great short poems. Then Lowell has been named. I see the influence of Lord Weary's Castle in some of the later poems in The Dispossessed. There's no doubt about it. In the Bradstreet poem, as I seized inspiration from Augie March, I sort of seized inspiration, I think, from Lowell, rather than imitated him. I can't think, offhand—I haven't read it in many years—of a single passage in the Bradstreet poem which distinctly sounds like Lowell. However, I may be quite wrong about this since people have named him. Other people? I don't think so.
INTERVIEWER
How about Eliot? You must have had to reckon with Eliot in one way or another, positively or negatively.
BERRYMAN
My relationship with Eliot was highly ambiguous. In the first place, I refused to meet him on three occasions in England, and I think I mentioned this in one of the poems I wrote last spring. I had to fight shy of Eliot. There was a certain amount of hostility in it, too. I only began to appreciate Eliot much later, after I was secure in my own style. I now rate him very high. I think he is one of the greatest poets who ever lived. Only sporadically good. What he would do—he would collect himself and write a masterpiece, then relax for several years writing prose, earning a living, and so forth; then he'd collect himself and write another masterpiece, very different from the first, and so on. He did this about five times, and after the Four Quartets he lived on for twenty years. Wrote absolutely nothing. It's a very strange career. Very—a pure system of spasms. My career is like that. It is horribly like that. But I feel deep sympathy, admiration, and even love for Eliot over all the recent decades.
INTERVIEWER
You knew Dylan Thomas pretty well, didn't you?
BERRYMAN
Pretty well, pretty well. We weren't close friends.
INTERVIEWER
Any influence there?
BERRYMAN
No. And that's surprising, very surprising, because we used to knock around in Cambridge and London. We didn't discuss our poetry much. He was far ahead of me. Occasionally he'd show me a poem, or I'd show him a poem. He was very fond of making suggestions. He didn't like a line in a poem of mine, later published by Robert Penn Warren in The Southern Review, called "Night and the City"—a very bad poem modeled on a poem by John Peale Bishop called "The Return." Well, Dylan didn't like one line, and so he proposed this line: "A bare octagonal ballet for penance." Now, my poem was rather incoherent, but couldn't contain—you know, in the military sense—it couldn't contain that! I was very fond of him. I loved him, and I thought he was a master. I was wrong about that. He was not a master; he became a master only much later on. What he was then was a great rhetorician. Terrific. But the really great poems only came towards the end of World War II, I think. There was no influence.
INTERVIEWER
Do you think he had an impulse toward self-destruction?
BERRYMAN
Oh, absolutely. He was doomed already when I first knew him. Everybody warned him for many years.
INTERVIEWER
Can one generalize on that? So many of the poets of your generation have encountered at least personal tragedy—flirting with suicide, and so on.
BERRYMAN
I don't know. The record is very bad. Vachel Lindsay killed himself. Hart Crane killed himself, more important. Sara Teasdale—quite a good poet at the end, killed herself. Then Miss Plath recently. Randall—it's not admitted, but apparently he did kill himself—and Roethke and Delmore might just as well have died of alcoholism. They died of heart attacks, but that's one of the main ways to die from alcoholism. And Dylan died in an alcoholic coma. Well, the actual cause of death was bronchitis. But he went into shock in the Chelsea, where I was staying also, and they got him to the hospital in an ambulance, where he was wrongly treated. They gave him morphine, which is contraindicated in cases of alcoholic shock. He wouldn't have lived, anyway, but they killed him. He lay in a coma for five days.
INTERVIEWER
You were there, weren't you?
BERRYMAN
I was in the corridor, ten feet away.
INTERVIEWER
What was it like to take high tea with William Butler Yeats?
BERRYMAN
All I can say is that my mouth was dry and my heart was in my mouth. Thomas had very nearly succeeded in getting me drunk earlier in the day. He was full of scorn for Yeats, as he was for Eliot, Pound, Auden. He thought my admiration for Yeats was the funniest thing in that part of London. It wasn't until about three o'clock that I realized that he and I were drinking more than usual. I didn't drink much at that time; Thomas drank much more than I did. I had the sense to leave. I went back to my chambers, Cartwright Gardens, took a cold bath, and just made it for the appointment. I remember the taxi ride over. The taxi was left over from the First World War, and when we arrived in Pall Mall—we could see the Atheneum—the driver said he didn't feel he could get in. Finally I decided to abandon ship and take off on my own. So I went in and asked for Mr. Yeats. Very much like asking, "Is Mr. Ben Jonson here?" And he came down. He was much taller than I expected, and haggard. Big, though, big head, rather wonderful looking in a sort of a blunt, patrician kind of way, but there was something shrunken also. He told me he was just recovering from an illness. He was very courteous, and we went in to tea. At a certain point, I had a cigarette, and I asked him if he would like one. To my great surprise he said yes. So I gave him a Craven "A" and then lit it for him, and I thought, Immortality is mine! From now on it's just a question of reaping the fruits of my effort. He did most of the talking. I asked him a few questions. He did not ask me any questions about myself, although he was extremely courteous and very kind. At one point he said, "I have reached the age when my daughter can beat me at croquet," and I thought, Hurrah, he's human! I made notes on the interview afterward, which I have probably lost. One comment in particular I remember. He said, "I never revise now"—you know how much he revised his stuff—"but in the interests of a more passionate syntax." Now that struck me as a very good remark. I have no idea what it meant and still don't know, but the longer I think about it, the better I like it. He recommended various books to me by his friend, the liar, Gogarty, and I forget who else. The main thing was just the presence and existence of my hero.
INTERVIEWER
William Faulkner once ventured to rate himself among contemporary novelists. He rated Thomas Wolfe first, himself second, Dos Passos third, Hemingway fourth, and Steinbeck fifth.
BERRYMAN
Oh, no! Really? That's deluded! The list is abominable. I think what must have happened is this. There are two ways to rank writers: in terms of gift and in terms of achievement. He was ranking Wolfe in terms of gift. Wolfe had a colossal gift. His achievement, though—to rank him first and Hemingway fourth is openly grotesque.
INTERVIEWER
Would you be interested in doing this, in ranking yourself among contemporary American poets?
BERRYMAN
I don't think I could do it. I'll tell you why. First, most of these characters are personal friends of mine, and you just don't sit around ranking your friends. After I published The Dispossessed in '48, I quit reviewing poetry. By that time I knew most of the people writing verse, and how can you deliver a fair judgment of the man you had dinner with the night before? Preposterous! It's supposed to be easy, but actually it's impossible. My love of such poets as Schwartz, In Dreams Begin Responsibilities; Roethke; and Lowell, Lord Weary's Castle, is very great. I would love to be in their company, and I feel convinced that I am, but I don't want to do any ranking. It's just not a sweat.
INTERVIEWER
In The Dream Songs there is a passage about assistant professors becoming associate professors by working on your poems. How do you feel about being cannon fodder for aspiring young critics and graduate students?
BERRYMAN
As for the graduate students, some of the work they do is damned interesting. A woman somewhere in the South did an eighty-page thesis investigating the three little epigraphs to the 77 Dream Songs and their bearing on the first three books of the poem. I must say that her study was exhaustive—very little left to be found out on that subject! But it's good, careful work. I take a pleased interest in these things, though there is ineptness and naïveté, and they get all kinds of things wrong and impute to me amazing motives. Another woman thought I was influenced by Hebrew elegiac meter. Now my Hebrew is primitive, and I don't even know what Hebrew elegiac meter is—and, moreover, neither does she. It's a harmless industry. It gets people degrees. I don't feel against it, and I don't feel for it. I sympathize with the students.
The professional critics, those who know what the literary, historical, philosophical, and theological score is, have not really gone to work yet, and may not do so for a long time yet. I did have a letter once from a guy who said: "Dear Mr. Berryman, Frankly I hope to be promoted from assistant professor to associate professor by writing a book about you. Are you willing to join me in this unworthy endeavor?" So I joined him. I answered all his questions. I practically flew out to pour out his drinks while he typed.
INTERVIEWER
I would like to change the subject now and talk about your work. Let's start with The Dream Songs. As you know, there is some controversy over the structure of the work—why it was first published in two volumes, why it consists of seven sections of varying lengths, and so on. What structural notion did you have in mind in writing it?
BERRYMAN
Several people have written books about The Dream Songs, not published, and one of them, a woman, sees it as a series of three odysseys, psychological and moral, on the part of Henry, corresponding vaguely to Freud's differentiation of the personality into superego or conscience, ego or façade or self, and id or unconscious. Each has a starting point and a terminus and so forth. I don't know whether she is right or not, but if so, I did not begin with that full-fledged conception when I wrote the first dream song.
I don't know what I had in mind. In Homage to Mistress Bradstreet my model was The Waste Land, and Homage to Mistress Bradstreet is as unlike The Waste Land as it is possible for me to be. I think the model in The Dream Songs was the other greatest American poem—I am very ambitious—"Song of Myself"—a very long poem, about sixty pages. It also has a hero, a personality, himself. Henry is accused of being me and I am accused of being Henry and I deny it and nobody believes me. Various other things entered into it, but that is where I started.
The narrative, such as it is, developed as I went along, partly out of my gropings into and around Henry and his environment and associates, partly out of my readings in theology and that sort of thing, taking place during thirteen years—awful long time—and third, out of certain partly preconceived and partly developing as I went along, sometimes rigid and sometimes plastic, structural notions. That is why the work is divided into seven books, each book of which is rather well unified, as a matter of fact. Finally I left the poem open to the circumstances of my personal life. For example, obviously if I hadn't got a Guggenheim and decided to spend it in Dublin, most of Book VII wouldn't exist. I have a personality and a plan, a metrical plan—which is original, as in Homage to Mistress Bradstreet. I don't use other people as metrical models. I don't put down people who do—I just don't feel satisfied with them.
I had a personality and a plan and all kinds of philosophical and theological notions. This woman thinks the basic philosophical notion is Hegelian, and it's true that at one time I was deeply interested in Hegel. She also thinks, and so do some other people, that the work is influenced by the later work of Freud, especially Civilization and Its Discontents, and that is very likely. For years I lectured on the book every year here at Minnesota, so I am very, very familiar with it—almost know it word by word. But at the same time I was what you might call open-ended. That is to say, Henry to some extent was in the situation that we are all in in actual life—namely, he didn't know and I didn't know what the bloody fucking hell was going to happen next. Whatever it was he had to confront it and get through. For example, he dies in Book IV and is dead throughout the book, but at the end of the poem he is still alive, and in fairly good condition, after having died himself again.
The poem does not go as far as "Song of Myself." What I mean by that is this: Whitman denies that "Song of Myself" is a long poem. He has a passage saying that he had long thought that there was no such thing as a long poem and that when he read Poe he found that Poe summed up the problem for him. But here it is, sixty pages. What's the notion? He doesn't regard it as a literary work at all, in my opinion—he doesn't quite say so. It proposes a new religion—it is what is called in Old Testament criticism a wisdom work, a work on the meaning of life and how to conduct it. Now I don't go that far—The Dream Songs is a literary composition, it's a long poem—but I buy a little of it. I think Whitman is right with regard to "Song of Myself." I'm prepared to submit to his opinion. He was crazy, and I don't contradict madmen. When William Blake says something, I say thank you, even though he has uttered the most hopeless fallacy that you can imagine. I'm willing to be their loving audience. I'm just hoping to hear something marvelous from time to time, marvelous and true. Of course The Dream Songs does not propose a new system; that is not the point. In that way it is unlike "Song of Myself." It remains a literary work.
INTERVIEWER
Christopher Ricks has called The Dream Songs a theodicy. Did you have any such intention in writing the poem?
BERRYMAN
It is a tough question. The idea of a theodicy has been in my mind at least since 1938. There is a passage in Delmore's first book, In Dreams Begin Responsibilities, which goes: "The theodicy I wrote in my high school days / Restored all life from infancy." Beautiful! He is the most underrated poet of the twentieth century. His later work is absolutely no good, but his first book is a masterpiece. It will come back—no problem. So that notion's always been with me. I can't answer the question. I simply don't know. I put my stuff, in as good condition as I can make it, on the table, and if people want to form opinions, good, I'm interested in the opinions. I don't set up as a critic of my own work. And I'm not kidding about that.
INTERVIEWER
You once said that, among other things, a long poem demands "the construction of a world rather than the reliance upon one already existent." Does the world of The Dream Songs differ from the existent world?
BERRYMAN
This is connected with your previous question. I said that The Dream Songs in my opinion—only in my opinion—does not propose a new system, like Whitman. But as to the creation of a world: It's a hard question to answer. Suppose I take this business of the relation of Henry to me, which has interested so many people, and which is categorically denied by me in one of the forewords. Henry both is and is not me, obviously. We touch at certain points. But I am an actual human being; he is nothing but a series of conceptions—my conceptions. I brush my teeth; unless I say so somewhere in the poem—I forget whether I do or not—he doesn't brush his teeth. He only does what I make him do. If I have succeeded in making him believable, he performs all kinds of other actions besides those named in the poem, but the reader has to make them up. That's the world. But it's not a religious or philosophical system.
INTERVIEWER
Where did you get the name Henry?
BERRYMAN
Ah, big sweat about that, too. Did I get it from The Red Badge of Courage or A Farewell to Arms or what? OK, I'll tell you where it came from. My second wife, Ann, and I were walking down Hennepin Avenue one momentous night. Everything seemed quite as usual, but it was going to puzzle literary critics on two continents many years later. Anyway, we were joking on our way to a bar to have a beer, and I decided that I hated the name Mabel more than any other female name, though I could mention half a dozen others that I didn't like, either. We had passed from names we liked to names we disliked, and she decided that Henry was the name that she found completely unbearable. So from then on, for a long time, in the most cozy and affectionate lover kind of talk—we hadn't been married very long at this time—she was Mabel and I was Henry in our scene. So I started the poem. The poem began with a song that I killed. I've never printed it. It set the prosodic pattern, but for various reasons I killed it. It had not only a hero but a heroine. It was mostly about Henry, but it also had Mabel in it. It began:
The jolly old man is a silly old dumb
with a mean face, humped, who kills dead.
There is a tall who loves only him.
She has sworn "Blue to you forever,
grey to the little rat, go to bed."
I fink it's bads all over.
It winds up:
Henry and Mabel ought to but can't.
Childness let's have us honey—
Then, for reasons which I don't remember, I wiped Mabel out and never printed that song. For a long time after that, every now and then Ann would complain that Mabel didn't seem to be taking any part in the poem, but I couldn't find myself able to put her back in the poem, so it has no heroine. There are groups of heroines, but no individual heroine. By the way, that first song sounds quite good. Maybe I ought to pull it out.
INTERVIEWER
You once said in speaking of Homage to Mistress Bradstreet that you started out thinking you would write a fifty-line poem and ended up with fifty-seven stanzas. When you started The Dream Songs, did you know how long it was going to be, or how far you were going to go?
BERRYMAN
No, I didn't. But I was aware that I was embarked on an epic. In the case of the Bradstreet poem, I didn't know. The situation with that poem was this. I invented the stanza in '48 and wrote the first stanza and the first three lines of the second stanza, and then I stuck. I had in mind a poem roughly the same length as another of mine, "The Statue"—about seven or eight stanzas of eight lines each. Then I stuck. I read and read and read and thought and collected notes and sketched for five years until, although I was still in the second stanza, I had a mountain of notes and draftings—no whole stanzas, but passages as long as five lines. The whole poem was written in about two months, after which I was a ruin for two years. When I finally got going, I had this incredible mass of stuff and a very good idea of the shape of the poem, with the exception of one crucial point, which was this. I'll tell you in a minute why and how I got going. The great exception was this: It did not occur to me to have a dialogue between them—to insert bodily Henry into the poem . . . Me, to insert me, in my own person, John Berryman, I, into the poem . . .
INTERVIEWER
Was that a Freudian slip?
BERRYMAN
I don't know. Probably. Nothing is accidental except physics. Modern physics is entirely accidental. I did not have the idea of putting him in as a demon lover. How he emerged was this. The idea was not to take Anne Bradstreet as a poetess—I was not interested in that. I was interested in her as a pioneer heroine, a sort of mother to the artists and intellectuals who would follow her and play a large role in the development of the nation. People like Jefferson, Poe, and me.* Well, her life was very hard in many, many ways. The idea was to make it even harder than it had been in history. There is a lot of history in the poem. It is a historical poem, but a lot of it is invented, too. I decided to tempt her. She was unbelievably devoted to her husband. Her few really touching passages, both in verse and in prose, are about her love for her husband, who was indeed a remarkable man—and she was a remarkable woman, and she loved him, with a passion that can hardly be described, through their whole life together, from the age of sixteen on. I decided to tempt her. I could only do this in a fantasy; the problem was to make the fantasy believable, and some people think I have completely failed with that. It is not for me to judge. I am deeply satisfied. I only do the best I can—I think I succeeded, and some other people do, too.
So, with the exception of the dialogue in the middle—that's the middle third of the poem—all the rest was one whole plan, but it took a series of shocks to get it going. What happened. My wife and I were living in Princeton, had been for a year. She was in the hospital in New York for an operation, what they call a woman's operation, a kind of parody of childbirth. Both she and I were feeling very bitter about this since we very much wanted a child and had not had one. So I had very, very strong emotions and solitude. Second, at this point Saul Bellow had almost finished Augie March, his first important novel and one of the great American novels, I think. His later novels are far more important still, but Augie March is a landmark. He had almost finished that and wanted me to see it. We didn't know each other very well—since then he has become perhaps my best friend—but he was living just a few blocks away. I remember sitting in my chair, drinking as usual, reading the typescript. It was very long, about nine hundred pages. I was amazed. The word "breakthrough" has become kind of a cliché. Every two minutes somebody in Life, Time, or Fortune has a breakthrough. But the term does describe something that actually happens. A renaissance. Suddenly, where there was pure stasis, the place is exploding. For example, the twelfth century—suddenly Europe was blazing with intelligence and power and insight, fresh authority, all the things that had been missing for centuries. I recognized in Augie March a breakthrough—namely, the wiping out of the negative personality that had created and inhabited his earlier work. Some critics like those novels, but in my opinion they're shit. They're well written, and if you look closely, you can see a genius coming, but the genius is absolutely not there—he is in a straitjacket. In Augie he's there.
My plans for the Bradstreet poem had got very ambitious by that time. I no longer had any idea of a fifty-line poem. That was five years before. My idea was now very ambitious. The Bradstreet poem is just as ambitious as The Dream Songs. Saul once said to me that it is the equivalent of a five-hundred-page psychological novel. That is exactly my opinion, also—in spite of the fact that it is short, the poem is highly concentrated. So I was exhilarated. One of my pals had made a major attempt. You know, these things don't happen very often. Most even very fine artists don't try to put up the Parthenon, you know, and most of those who do turn out to be impostors. Merely grandiose, like Benjamin Haydon, Keats's friend. A very good, very minor painter who thought he was Michelangelo, then killed himself. It's hard to take the risk of joining that terrible, frightful company. Contemptible, pathetic, they move your heart, but they draw you to scorn. Saul had decided to make a big attempt, so my idea of my poem improved.
And the third thing was that I had recently reread, for the first time in many years, Anna Karenina, which I think is the best portrait of a woman in world literature. You just can't mention any other attempt at a woman, except perhaps Madame Bovary. I recently reread it for a seminar I am giving, and I have a very high regard for it. It's a beauty. It deserves its reputation, which is saying a lot. But Anna Karenina is even greater. The only woman in American literature is Hester Prynne, and she is very good. I have great respect for her and the book, but Mistress Bradstreet is much more ambitious. It is very unlikely that it is better, but it attempts more.* So again my notion of my poem expanded. The fourth thing that got me going was this. I had been in group therapy. The analyst who had been treating me individually for several years set up a group. There were two lawyers, a chemist, an alcoholic housewife, a psychiatric social worker, and me. I tried to run the group, of course, and they all killed me. I would leave, and come back, and so on, but it was a shattering business—I mean, emotionally shattering—much more so than individual therapy had been. That had been kind of cozy. Well, I got fed up and left the group forever, and this left me blazing with hostility and feelings of gigantism, defeated gigantism. So these four things—the deep wound of Eileen's tragic operation, Saul's wonderful daring, Tolstoy's commanding achievement, and the emotional shock of my experience with the group—swung me into action, and suddenly I was on fire every second.
INTERVIEWER
What was your method of composition on that poem? You must have worked very hard to finish it in two months.
BERRYMAN
I started out writing three stanzas a day, but that was too much, so I developed a more orderly method. I got one of those things that have a piece of glassine over a piece of paper, and you can put something in between and see it but not touch it. I would draft my stanza and put it in there. Then I would sit and study it. I would make notes, but I wouldn't touch the manuscript until I thought I was in business—usually not for hours. Then I'd take it out, make the corrections, put it back in, and study it some more. When I was finally satisfied, I'd take it out and type it. At that point I was done—I never touched any stanza afterward. I limited myself to one a day. If I finished at eleven in the morning, I still did not look at the next stanza until the next morning. I had a terrible time filling the hours—whiskey was helpful, but it was hard.
INTERVIEWER
Do you consider your latest book, Love & Fame, a long poem?
BERRYMAN
Love & Fame is very shapely and thematically unified, and in that it resembles a long poem. But it is absolutely and utterly not a long poem at all; it's a collection of lyrics. The last eleven all happen to be prayers, but even there each poem is on its own. This is even more true in the earlier sections. It is unified through style and, because most of the poems are autobiographical, based on the historical personality of the poet. By historical I mean existing in time and space, occupying quanta.
INTERVIEWER
How does the composition of Love & Fame compare with that of your earlier work? Did you write these poems more quickly than the long poems?
BERRYMAN
The composition was like that of the Bradstreet poem, and to some extent like that of The Dream Songs, many of which were also written in volcanic bursts. Not all. I worked daily over a period of years, but sometimes I would write fifty in a burst and then not write any for months. The Bradstreet poem, as I say, took two months. Love & Fame took about three months.
INTERVIEWER
What made you turn back to the short form after having written two long poems?
BERRYMAN
When I finished The Dream Songs two years ago, I was very tired. I didn't know whether I would ever write any more poems. As I told you, it took me two years to get over the Bradstreet poem before I started The Dream Songs. Your idea of yourself and your relation to your art has a great deal to do with what actually happens. What happened in this case was something that contradicted my ideas, as follows. I saw myself only as an epic poet. The idea of writing any more short poems hadn't been in my mind for many years. The question after The Dream Songs was whether I would ever again attempt a long poem, and I thought it improbable, so I didn't expect to write any more verse.
But suddenly one day last winter I wrote down a line: "I fell in love with a girl." I looked at it, and I couldn't find anything wrong with it. I thought, "God damn it, that is a fact." I felt, as a friend of mine says: "I feel comfortable with that." And I looked at it until I thought of a second line, and then a third line, and then a fourth line, and that was a stanza. Unrhymed. And the more I looked at it, the better I liked it, so I wrote a second stanza. And then I wrote some more stanzas, and you know what? I had a lyric poem, and a very good one. I didn't know I had it in me! Well, the next day I knocked out a stanza, changed various lines, this and that, but pretty soon it looked classical. As classical as one of the Rubáiyát poems—without the necessities of rhyme and meter, but with its own necessities. I thought it was as good as any of my early poems, and some of them are quite good; most of them are not, but some are. Moreover, it didn't resemble any verse I had ever written in my entire life, and moreover, the subject was entirely new, solely and simply myself. Nothing else. A subject on which I am an expert. Nobody can contradict me.* I believe strongly in the authority of learning. The reason Milton is the greatest English poet except for Shakespeare is because of the authority of his learning. I am a scholar in certain fields, but the subject on which I am a real authority is me, so I wiped out all the disguises and went to work. In about five or six weeks I had what was obviously a book called Love & Fame.
I had forty-two poems and was ready to print them, but they were so weird, so unlike all my previous work that I was a little worried. I had encouragement from one or two friends, but still I didn't know what to do. I had previously sent the first poem to Arthur Crook at the Times Literary Supplement. He was delighted with it and sent me a proof. I, in turn, was delighted that he liked the poem, so I corrected the proof and sent him five more—I didn't want the poem to appear alone. So he printed the six, which made up a whole page—very nice typographically—and this was further encouragement. But I still wasn't sure. Meanwhile, I was in hospital. I was a nervous wreck. I had lost nineteen pounds in five weeks and had been drinking heavily—a quart a day. So I had my publisher in New York, Giroux, xerox a dozen copies, which I sent out to friends of mine around the country for opinions. It is a weird thing to do—I've never heard of anybody else doing it—but I did it, looking for reassurance, confirmation, wanting criticism, and so on, and I got some very good criticism. Dick Wilbur took "Shirley & Auden," one of the most important lyrics in Part I—some of the poems are quite slight, and others are very ambitious—and gave it hell. And I agreed—I adopted almost every suggestion.
I also got some confirmation and reassurance, but there were other opinions as well. Edmund Wilson, for whose opinion I have a high regard, found the book hopeless. He said there were some fine lines and striking passages. How do you like that? It is like saying to a beautiful woman, "I like your left small toenail; that's very nice indeed," while she's standing there stark naked looking like Venus. I was deeply hurt by that letter. And then other responses were very strange. Mark Van Doren, my teacher, an old, old friend and a wonderful judge of poetry, also wrote. I forget exactly what he said, but he was very heavy on it. He said things like "original," and "will be influential," and "will be popular," and so on, but "will also be feared and hated." What a surprising letter! It took me days to get used to it, and it took me days even to see what he meant. But now I see what he means. Some of the poems are threatening, very threatening to some readers, no doubt about it. Just as some people find me threatening—to be in a room with me drives them crazy. And then there is a good deal of obscenity in the poems, too. And there is a grave piety in the last poems, which is going to trouble a lot of people. You know, the country is full of atheists, and they really are going to find themselves threatened by those poems. The Saturday Review printed five of them, and I had a lot of mail about them—again expressing a wide variety of opinion. Some people were just purely grateful for my having told them how to put what they'd felt for years. Then there are others who detest them—they don't call them insincere, but they just can't believe it.
INTERVIEWER
There has always been a religious element in your poems, but why did you turn so directly to religious subject matter in these poems?
BERRYMAN
They are the result of a religious conversion which took place on my second Tuesday in treatment here last spring. I lost my faith several years ago, but I came back—by force, by necessity, because of a rescue action—into the notion of a God who, at certain moments, definitely and personally intervenes in individual lives, one of which is mine. The poems grow out of that sense, which not all Christians share.
INTERVIEWER
Could you say something more about this rescue action? Just what happened?
BERRYMAN
Yes. This happened during the strike which hit campus last May, after the Cambodian invasion and the events at Kent State. I was teaching a large class—seventy-five students—Tuesday and Thursday afternoons, commuting from the hospital, and I was supposed to lecture on the fourth Gospel. My kids were in a state of crisis—only twenty-five had shown up the previous Thursday, campus was in chaos, there were no guidelines from the administration—and besides lecturing, I felt I had to calm them, tell them what to do. The whole thing would have taken no more than two hours—taxi over, lecture, taxi back. I had been given permission to go by my psychiatrist. But at the beginning of group therapy that morning at ten, my counselor, who is an Episcopalian priest, told me that he had talked with my psychiatrist, and that the permission to leave had been rescinded. Well, I was shocked and defiant.
I said, "You and Dr. So-and-So have no authority over me. I will call a cab and go over and teach my class. My students need me."
He made various remarks, such as "You're shaking."
I replied, "I don't shake when I lecture."
He said, "Well, you can't walk, and we are afraid you will fall down."
I said, "I can walk," and I could. You see, I had had physical permission from my physician the day before.
Then the whole group hit me, including a high official of the university, who was also in treatment here. I appealed to him, and even he advised me to submit. Well, it went on for almost two hours, and at last I submitted—at around eleven-thirty. Then I was in real despair. I couldn't just ring up the secretary and have her dismiss my class—it would be grotesque. Here it was, eleven-thirty, and class met at one-fifteen. I didn't even know if I could get my chairman on the phone to find somebody to meet them. And even if I could, who could he have found that would have been qualified? We have no divinity school here. Well, all kinds of consolations and suggestions came from the group, and suddenly my counselor said, "Well, I'm trained in divinity. I'll give your lecture for you."
And I said, "You're kidding!" He and I had had some very sharp exchanges. I had called him sarcastic, arrogant, tyrannical, incompetent, theatrical, judgmental, and so on.
He said, "Yes, I'll teach it if I have to teach it in Greek!"
I said, "I can't believe it. Are you serious?"
He said, "Yes, I'm serious."
And I said, "I could kiss you."
He said, "Do." There was only one man between us, so I leaned over and we embraced. Then I briefed him and gave him my notes, and he went over and gave the lecture. Well, when I thought it over in the afternoon, I suddenly recalled what has been for many years one of my favorite conceptions. I got it from Augustine and Pascal. It's found in many other people, too, but especially in those heroes of mine. Namely, the idea of a God of rescue. He saves men from their situations, off and on during life's pilgrimage, and in the end. I completely bought it, and that's been my position since.
INTERVIEWER
What about the role of religion in your earlier works? I remember that when the Sonnets came out, one critic, writing in The New York Review of Books, spoke of "the absence of thematic substance" in your poems generally. Another critic, writing in The Minnesota Review, picked this up and disagreed with it, pointing out what he felt was a firm religious basis in the sonnets—the question of guilt and atonement, etc. What would you say about the role of religion generally in your poetry?
BERRYMAN
It's awfully hard for me to judge. I had a strict Catholic training. I went to a Catholic school and I adored my priest, Father Boniface. I began serving Mass under him at the age of five, and I used to serve six days a week. Often there would be nobody in the church except him and me. Then all that went to pieces at my father's death, when I was twelve. Later, I went to a High Church Episcopalian school in Connecticut, called South Kent, and I was very fond of the chaplain there. His name was Father Kemmis, and although I didn't feel about him as I had about Father Boniface as a child, I still felt very keen and was a rapt Episcopalian for several years. Then, when I went to Columbia, all that sort of dropped out. I never lost the sense of God in the two roles of creator and sustainer—of the mind of man and all its operations, as a source of inspiration to great scientists, great artists, saints, great statesmen. But my experience last spring gave me a third sense, a sense of a God of rescue, and I've been operating with that since. Now the point is, I have been interested not only in religion but in theology all my life. I don't know how much these personal beliefs, together with the interest in theology and the history of the Church, enter into particular works up to those addresses to the Lord in Love & Fame. I really think it is up to others—critics, scholars—to answer your question. By the way, those addresses to the Lord are not Christian poems. I am deeply interested in Christ, but I never pray to him.* I don't know whether he was in any special sense the son of God, and I think it is quite impossible to know.* He certainly was the most remarkable man who ever lived. But I don't consider myself a Christian. I do consider myself a Catholic, but I'd just as soon go to an Episcopalian church as a Catholic church. I do go to Mass every Sunday.
INTERVIEWER
Let's turn to new directions. What has happened to the poem about heaven set in China, titled "Scholars at the Orchard Pavilion," which you were working on a couple of years ago? Are you still working on that?
BERRYMAN
I intended that to be rather a long poem. As with the Bradstreet poem, I invented the stanza—it's a very beautiful, sort of hovering, seven-line stanza, unrhymed—and wrote the first stanza and stuck. I then accumulated notes on Chinese art history in most of the major forms. Chinese art is much more complicated than ours—they have many forms. I have a whole library on Chinese art and early Chinese philosophy, Chinese history, Chinese folk tales, ghost stories, all kinds of Chinese stuff. I even tried to learn classical Chinese one time, but I decided after a few days that it was not for me.
Anyway, I finally decided that I was nowhere, that all this accumulation of knowledge was fascinating and valuable to me, but that I was personally not destined to write a Chinese epic. So at that point I felt fine, and I wrote a second stanza, and a third stanza, and a fourth stanza. They're not as good as the first stanza, but they are all pretty good. And then I put some asterisks, and that's what I'll publish sooner or later. I may say, "Scholars at the Orchard Pavilion: A Fragment."
INTERVIEWER
Where do you go from here?
BERRYMAN
I have written another book of poetry called Delusions. It won't be out for some time yet, however. We're doing a volume of my prose, probably spring or fall of '72. After that—I am very much interested in the question, or will be when I get my breath back from the composition of the last nine months. I've written over a hundred poems in the last six months. I'm a complete wreck. I'm hopelessly underweight and the despair of about four competent doctors. When I get my breath back—it may be next spring—maybe I'll begin to think. I don't know whether I'll ever write any more verse at all. The main question is whether I will ever again undertake a long poem, and I just can form no idea.
There are certain subjects that have interested me for a long time, but nothing commanding and obsessive, as both the Bradstreet poem and Dream Songs were. What is involved in the composition of a long poem, at least by my experience, is five to ten years. I don't know how long I'll live. Probably I wouldn't be able to begin it for—well it took me two years to get over the Bradstreet poem. I finished The Dream Songs only two years ago, and I've written two more books since, besides a lot of other literary work. I've been working on a play, an anthology, and revising the volume of my criticism. I probably wouldn't get to it for at least three to five years. That makes me getting on to sixty. Taking on a new long poem at the age of sixty is really something. I have no idea whether I would still have the vigor and ambition, need, that sort of thing, to do it.
I have a tiny little secret hope that, after a decent period of silence and prose, I will find myself in some almost impossible life situation and will respond to this with outcries of rage, rage and love, such as the world has never heard before. Like Yeats's great outburst at the end of his life. This comes out of a feeling that endowment is a very small part of achievement. I would rate it about fifteen or twenty percent. Then you have historical luck, personal luck, health, things like that, then you have hard work, sweat. And you have ambition. The incredible difference between the achievement of A and the achievement of B is that B wanted it, so he made all kinds of sacrifices. A could have had it, but he didn't give a damn. The idea that everybody wants to be president of the United States or have a million dollars is simply not the case. Most people want to go down to the corner and have a glass of beer. They're very happy. In Henderson the Rain King, the hero keeps on saying, "I want. I want." Well, I'm that kind of character. I don't know whether that is exhausted in me or not, I can't tell.
But what I was going on to say is that I do strongly feel that among the greatest pieces of luck for high achievement is ordeal. Certain great artists can make out without it, Titian and others, but mostly you need ordeal. My idea is this: The artist is extremely lucky who is presented with the worst possible ordeal which will not actually kill him. At that point, he's in business. Beethoven's deafness, Goya's deafness, Milton's blindness, that kind of thing. And I think that what happens in my poetic work in the future will probably largely depend not on my sitting calmly on my ass as I think, "Hmm, hmm, a long poem again? Hmm," but on being knocked in the face, and thrown flat, and given cancer, and all kinds of other things short of senile dementia. At that point, I'm out, but short of that, I don't know. I hope to be nearly crucified.
INTERVIEWER
You're not knocking on wood.
BERRYMAN
I'm scared, but I'm willing. I'm sure this is a preposterous attitude, but I'm not ashamed of it.*
* Get the delusion (J. B., March 1971).
* Delusion (J. B., March 1971).
* Delusion (J. B., March 1971).
* Situation altered; see "Ecce Homo," poem to be published in The New Yorker (J. B., March 1971).
* Delusion (J. B., March 1971).
* Delusion (J. B., March 1971).