Interviewed by Benjamin DeMott
Issue 58, Summer 1974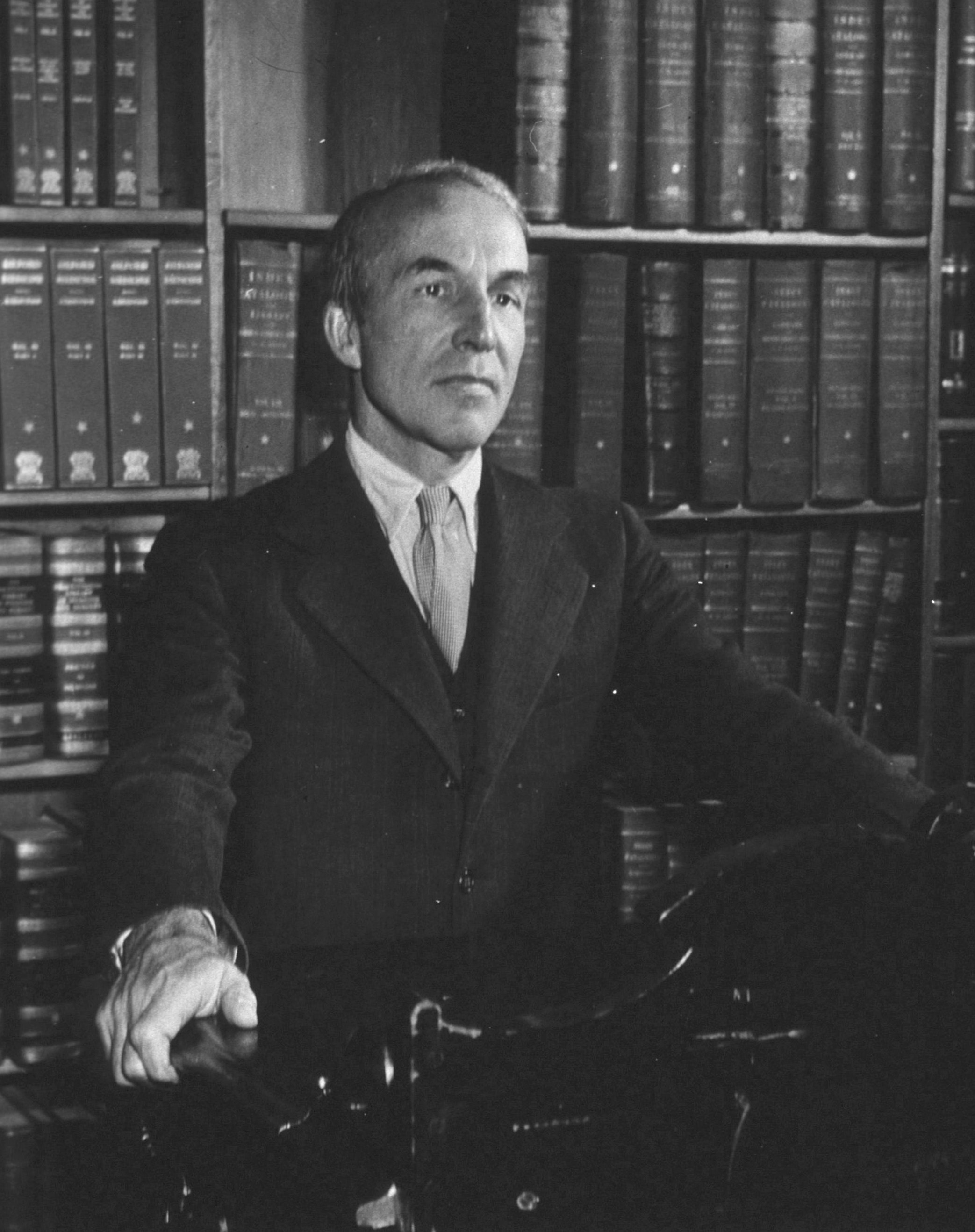 Archibald MacLeish, ca. 1944
Archibald MacLeish winters in Antigua, but the bearable portion of the year finds him at Uphill Farm, a country place in Conway, Massachusetts, bought in the twenties on the MacLeishes' return from Europe. The region has meaning for him because his Connecticut Yankee mother's family, the Hillards, "knew these hills well." His Hillard grandfather was a Congregational minister who worked his way north up the Connecticut River in the years of the Civil War, fighting with his deacons—many of whom were Copperheads—and finally ending his journey in the 1880s when he crossed the Massachusetts state line and eventually settled in Conway itself. The poet greets his guests in countryman clothes—fine confident head, a manner of kindly command—and leads the way to the pool. The impression everywhere—sharpest in MacLeish's style of talk, but no less evident in the domestic arrangements—is of a world well managed. MacLeish is a short man with bearing—powerful shoulders give good drive to his crawl in the pool. There are drinks outside, soufflé, salad, and Riesling in a dining room with a mountain view, and some jokes with Mrs. MacLeish, whose voice Joyce praised, about certain of her husband's poems making her out to be U.S. Champion Homemaker and Breadbaker and omitting she sings Poulenc. MacLeish laughs hardest at himself and his wife takes back her complaint charmingly: "I never minded at all." Thereafter a descent down stone stairs to the music room—past a wall of framed honorary degrees, pictures of treasured friends (Felix Frankfurter, for one), a huge photo of the moon. The poet speaks graciously of his hope that someday there'll be a conversation, not just a tape, and then it's time to work.
INTERVIEWER
Can we start outside the gates and work in? You're seen as a writer with unusual experience of the public world—perhaps as a "public man." Is A. MacLeish as a public man recognizable to you?
ARCHIBALD MACLEISH
No, but I've had him pointed out to me. I suppose all writers have that experience sooner or later—the double personality—the "other" you're supposed to be and can't remember ever having met. Except that in this case the problem is complicated by the fact that those who see me as a "public man" don't always mean it kindly. There are those on the fringes of the art who think that poetry and the public world should be mutually exclusive—as though poets were the internists of the profession and should stick to their bowels. I've been hearing from them for some time. After my tour of public duty during the Second World War, I published a poem called "Actfive," which was a kind of report on the look and feel of things "out there." Random House published it, and before it appeared Bob Linscott, then an editor at Random House, warned me that I was to be disciplined as a renegade. I didn't believe him, but so it turned out. There were no reviews. There were even letters to the Times about there being no reviews.
INTERVIEWER
The silence meant somebody thought the "public man" thing had violated the poet?
MACLEISH
Something like that. Though the poem itself, if they had read it, wouldn't have given them much comfort. I suppose it is now the most frequently reprinted—quoted from—of my books. No, it was the usual ideological nonsense: the usual nonsense to which ideology leads unthinking men—even unthinking critics. I don't know how it was with Terence, to whom nothing human was indifferent, but I do know how it is with the practice of the art of poetry. You can't cut off a part of human life by critical fiat and expect your poets to be whole. Poetry is the art of understanding what it is to be alive and a poet isn't alive by quarter-acres or front feet. He's alive as a man. With a world to live in. No poet down to very recent times—not even the privatest, the most confessional—ever doubted that. And the greatest of recent poets is the most convincing proof that the old poets were right. It was when Yeats broke through the fences around the Lake Isle of Innisfree and took to ranging the public world of Ireland that he became what he became. Discovering his time he discovered himself. And what was true for Yeats in 1914 is even truer for us in the angry and bewildered world we live in. Take away a poet's public life by critical edict in a time like ours and what do you leave him? Not, certainly, himself.
INTERVIEWER
But staying in touch with the whole self is tough work, isn't it, if you're trying to make reasonable words in the media about Apollo 8 or the Pentagon Papers? You don't feel squeezed?
MACLEISH
Tougher, you mean, than keeping in touch with the whole self when you're writing about a private part of your experience? It isn't the subject that betrays a writer, but the way he takes the subject. Rhetoric, in the bad sense of that abused word, is just as bad in confessional writing as it is out in the open air. What matters in either case is the truth of the feeling—the feel of the truth. If you can break through the confusion of words about a political crisis like the Pentagon Papers to the human fact—such as the human reality of an attorney general's behavior—you have written the experience. And the fact that the writing appears in The New York Times won't change that fact for better or worse. Journalism also has its uses—and to poets as well as to journalists. You spoke of the Apollo flight—the first circumnavigation of the moon—the one that produced that now familiar, but still miraculous, photograph of the earth seen off beyond the threshold of the moon . . . "small and blue and beautiful in that eternal silence where it floats." This was one of the great revolutionary moments of the human consciousness, but the moment was not explicit in the photograph nor in the newspaper accounts of the voyage. Only the imagination could recognize it—make imaginative sense of it. Are we seriously to be told that the imagination has no role to play here because the event is in the newspapers? Or is it the publication in the newspapers of the imaginative labor which offends?
INTERVIEWER
The way the writer "takes the subject"—that depends a lot on what the writer knows about it, right? How far around and in he's been? Can I ask about the uses of public range, social reference, all that? Is there a way of getting beyond the cliché about "the value of the experience," saying something true about how general knowledge ought to sit in a writer?
MACLEISH
I don't know that anything as essential as experience can ever be a cliché, even when parroted in the way you mean. You have to live to write in more senses than one, and no one can ever live enough—there will always be cracks in the knowledge and they will always show. But we have been talking about this rather factitious distinction between the public world and the private world, and that does raise the question of knowledge of the public world. Well, there is one thing you can say about that, because poetry has said it over and over from the first beginnings. One of the dimensions of great poetry—one of the dimensions by which poetry becomes great—is precisely the public dimension: that vast landscape off beyond—the human background, total human background—what we call "the world." It is there in Shakespeare: Even in Hamlet, the most inward of the great plays, Denmark is behind the scene—beyond the garden where the king is murdered. And so too, obviously, of Dante: Dante's Hell is under Italy—actual Italy, historic Italy. As Homer's Troy, Homer's Aegean, contains the poems. So Tu Fu's China. So the Thebes of Oedipus. Oedipus Rex is, I suppose, by common agreement one of the keys to the secret human heart, but what would the play be without Thebes?
The Greeks regarded what we call "public" experience as part of human experience. That's what a man was: He was a member of his city. And if he was a poet he was a poet who was a member of his city. This is what gives such ground and scope and humanity to Greek poetry at its greatest. The Greek poets knew what a city was to them—what a war was, a people. They knew. Compare them with Pound. I have great admiration for Pound: He is aware of the city, of the well-ordered state, of the long tradition—the enduring ethic. But he doesn't know. He hasn't been there. And it shows. Carl Sandburg was one of the few contemporary poets who was able to take the state in his stride. Perhaps he took it in too easy a stride: Edmund Wilson thought so—you remember his contemptuous dismissal. But Carl will have the last word there. This is perhaps one way of answering the question: that a man who excludes, who really—not perhaps willfully or explicitly but by subconscious habit, by conforming unthinkingly to the current fashion—excludes the public part of his experience is apt to end up finding himself excluded. We talk about the play within the play: there is also a play without the play—which contains everything.
INTERVIEWER
What about the question of work life and art life—say in Stevens? Poetry here, business there. Aren't we headed into a time when there's a demand that a writer get himself wholly together—mean it across the board? He'll be hung for fraud if he finds a condition of marginality acceptable for poetry.
MACLEISH
Wallace Stevens "meant it": the fact that he had a living to earn affected that no more than it affected Shakespeare. Stevens was the head, as I understood it, of the whole trial operation of the Hartford Accident, with lawyers all over the country trying cases for him. He tried very few cases himself, but he oversaw the trying of cases and was helpful and very intelligent, a good lawyer and useful and a well-paid officer of the Hartford Accident. I think very well paid. In other words, his life, his professional life, what you called his work-life, was successful. His poetry was something else. The trying of cases, the defending of who ran over a child and so forth, never, as such, enters his poetry. It might have if he had had a little streak of Masters in him. It might have, but it didn't. His metaphysical mind escaped—and escaped is the right word—escaped out of Hartford Accident into those deeper and deeper examinations of the metaphysical universe. So that the question with Stevens isn't really a question of public against private because his business life was private also. I don't think he was ever interested in a political question in his life. I never heard him mention one. But he is perfect example—perhaps the most successful and admirable example—of a man who made a go of poetry and business. Your word is the right one. Poetry and business in the modern world. I never made a go of it. I tried everything from the law through journalism and government service to teaching at Harvard, and for each one I had to pay a price. Stevens made the art and the work go together. He fitted them together. He had, as you say, carefully planned work habits. Does this have anything to do with the "marginality" of poetry in contemporary life? I don't think so. I think it has to do with the "marginality" of poetry in Stevens's life. In terms of the hours of his life, poetry was necessarily pushed to the margin. But in the margin it was his life. And it was superb poetry. Not in a relative sense: superb as poetry. Nothing else matters. Nothing matters with any man but the work. The rest is biography.
INTERVIEWER
Every man his own margin maker, is that it? I mean, every poet . . .
MACLEISH
We look back at Mr. W. S. and we say to ourselves, well, we don't know much about him. We know he was an actor. Anyway, he supported himself somehow or other in the theater. Shall we say the theater makes poetry marginal except when Mr. W. S. practices it? Shall we make a distinction between a poet supported by patrons (or, in the contemporary world, by poetry audiences) and a poet who supports himself? Is the second "marginal" whereas the first isn't? Because the first is free to devote all his time to writing? But is he? He usually has to please his patron and that can be fairly time-consuming. The truth is that neither you nor I have ever known a poet who wasn't more or less in that situation—who wasn't with the left hand trying to store up enough birdseed so he could go on with the right hand and write some poetry.
INTERVIEWER
Marginal or not, the theater is a cooperative enterprise. It forces the writer into a public situation. How do you feel about losing control? Is that a special hell?
MACLEISH
It could be, I suppose. I have had two very different approaches to Broadway production. In the first I had no intention of a Broadway production whatever. I wrote J. B. because I had a theme that wouldn't leave me alone. I knew that it had to be a verse play and that was about all I knew to begin with. So I wrote it as a verse play and published the first part of it in the Saturday Review and the finished poem with my publishers, Houghton Mifflin. I thought that was the end of it. It never occurred to me that anybody would want to produce it. Then Curt Canfield, who was dean of the Yale Drama School, said he wanted to produce it at Yale. I said, "Fine, great." No changes of any kind except some cuts for length. Don Oenschlager designed the set—very handsome—and Curt directed with student actors and we opened. Brooks Atkinson came up to see it and reviewed it in the Times, and the next morning nine producers were on the telephone. Alfred de Liagre Jr., with more courage, I thought, than sound sense, took it on and he interested Gadge Kazan, who was the great director of the generation. Gadge came up here during the summer and he and I spent weeks in this room going over and over the play. Still very little rewriting—almost none. Things for purposes of stage continuity. The real problems occurred during tryout in Washington. In other words, I was deep in a Broadway production before I rightly realized that I was headed for Broadway. It was in Washington we discovered that we had no "end"—that the end of the play had to be reconceived. But even then I did not "lose control" of the play. By this time Gadge and I were closer than brothers—communicated almost without words. We both knew the end was wrong, but what to do about it was my problem. So I rewrote the end of the play and rewrote it and rewrote it, and was very unhappy about it. And then we opened in New York. The publicity people were in a terrible situation. They had a verse play on a Biblical theme on their hands. And as if that wasn't enough, the newspapers were struck, so that everything was against us. Well, what happened was that we ran on Broadway for a year.
INTERVIEWER
And weren't ground up in a machine.
MACLEISH
Nor was I in the second Broadway play, Scratch, though Scratch was a Broadway project from the start. By which I mean that it began not with a play but with a producer. Stuart Ostrow wanted to make a musical out of Steve Benét's short story, "The Devil and Daniel Webster," with Bob Dylan and me as the concocters. I had little interest in that, and less and less the more I heard of it, but eventually I became excited about a straight play based on Steve's story, or what lay behind it, and Ostrow, when he read the first draft, gave up the idea of the musical. Scratch, in other words, was written not only for the Broadway stage, but practically on the Broadway stage. And yet, even so, I never felt I had lost control. It was a joint undertaking certainly—producer, director, actors, playwright—but the theme was mine from the start and the words were always mine—the play.
But if I were to generalize about this, I think I'd say J. B. was right and Scratch was wrong—wrong I mean for me. For a man who is primarily not a playwright, not a theater hand, to start out on Broadway is probably a mistake, Broadway being what it has become in the last ten years. If I were ever to write a play again—which I won't—I'd start with a play as I did in J. B., get it produced, if I could, in one of the fine repertory theaters outside New York, and keep it outside until it was ready for the buzzards.
INTERVIEWER
That implies self-restraint. Where do you buy it in a culture that teaches writers they "personally" matter? Can you say anything about that?
MACLEISH
I don't know if there is anything I can say about it, but by God something ought to be said. Let me begin with two people whom I knew, one very well and one quite well: Ernest Hemingway and Scott Fitzgerald. The tragedy—and it is a tragedy—of Hemingway's fame is that his life and his dramatization of himself have been built up, not by him, or let me say, not altogether by him, to such a point that the myth of the man is more important than the achievement—the work. And the same thing is true of Scott, Scott having done less about dramatizing himself, but having had more done for him. In each case the literary figure—capital "L", capital "F"—has been so blown up, so exaggerated, that the work has been diminished. You would know better than I how permanently, but in any case damage has been done. And the same thing is true of Robert Frost. Robert was himself the villain there, because, as anybody who knew him knows, he worked very hard at his own reputation even when he had no need to—when his greatness was acknowledged. This was damaging only to him. But the real question is what you do about this sort of thing. I don't know that pontificating about it does any good. My own conviction is that the literary person as such just doesn't count—doesn't matter. Some are interesting and some are dull. The only thing that matters is the work. And the amplification of the amplifying device, which is the man himself, is not good for the art of writing, is not good for the writer, is not good. Ernest used to love to come up and go to the nightclubs in New York. Why? To be recognized? But, for God's sake, he had been recognized in better ways before. I am not throwing off on Ernest. He is still the great prose stylist of the century. But if ever there was a cult of personality . . .! Well, the one thing a young writer ought to swear to on his sword never to do is never to dramatize himself, whatever he may want to do about his work.
INTERVIEWER
What are the other dangers a writer might be wise to look out for?
MACLEISH
Innumerable, of course, like all the ills humanity is heir to, but self-dramatization will stand for a lot of them. The essential is not to think of one's self as a writer and to do nothing which will put one's self in that popinjay attitude. You don't write as a writer, you write as a man—a man with a certain hard-earned skill in the use of words, a particular, and particularly naked, consciousness of human life, of the human tragedy and triumph—a man who is moved by human life, who cannot take it for granted. Donne was speaking of all this when he told his congregation not to ask for whom the bell tolls. His learned listeners thought he was speaking as a divine—as a stoic. He was speaking from his poet's heart: He meant that when he heard the bell he died. It's all in Keats's letters—that writer's bible which every young man or woman with this most dangerous of lives before him should be set to read. Keats is already a poet in these letters—he is certain, in spite of the reviewers, that he will be among the English poets at his death. But they are not the letters of a poet. They are the letters of a boy, a young man, who will write great poems. Who never postures. Who laughs at himself and who, when he holds his dying brother in his arms, thinks of his dying brother, not the pathos of the scene. You can put it down, I think, as gospel that a self-advertising writer is always a self-extinguished writer. Why do anonymous writers speak to us most directly? Why are the old, old writers—the old Chinese and the vanished Greeks—most truly ours?
INTERVIEWER
What about the company a writer does keep. Does it matter?
MACLEISH
I don't suppose anything matters more. The subject of art is life. You learn life by living it. And you don't live it alone—even on Walden Pond—as Walden proves on every page. You live it with and by people—yourself in your relation with people, with and by living things, yourself in your relation to living things. The mistake is Scott Fitzgerald's mistake, for example—to lump all this as something called "experience" and to put yourself outside it looking in like a kind of glorified journalist of the ultimate reality. Scott dancing around the dance floor beside a couple of pederasts, asking them intimate questions, as though the answers would be answers. Ernest's urgent feeling that he had to know all sorts and kinds, as though he were still a reporter for the Kansas City Star. What you really have to know is one: yourself. And the only way you can know that one is in the mirror of the others. And the only way you can see into the mirror of the others is by love or its opposite—by profound emotion. Certainly not by curiosity—by dancing around asking, looking, making notes. You have to live relationships to know. Which is why a lifetime marriage with a woman you love is a great gift, and five marriages in a raddled row is a disaster to everyone, including the marrier. The great luck—the immeasurable luck—for a man trying to write the poem of his life is to have known good men and women and to have loved them well enough to learn the differences from himself. It won't guarantee the poem will get written but it is immeasurable luck. A Jim Agee. A B. Hand. A Mark Van Doren. Felix Frankfurter. Jack Bate. Mac Bundy. Carl Sandburg. Dean Acheson . . . my wife.
INTERVIEWER
What about writers as friends? Easy friends, I mean. Can the relation be other than competitive? I remember your story about traveling out to Montana when Hemingway had that car accident.
MACLEISH
You mean Hemingway's remark that I had come out to watch him die? You can't generalize from Hemingway. He knew I'd come at considerable cost and inconvenience (travel on Northwest Airlines in those days was anything but a pleasure), and it embarrassed him. Also, he had grown his first beard—the first I saw, anyway—and looked like anything but a dying man; Pauline had to fight the nurses out of the room. But to answer your question . . . my own observation had been that writers can be "easy friends" and often are—but not as writers. Mark Van Doren and I are the easiest of friends. Hemingway and I were friends—close friends, I won't lean on the "easy"—from '24 or '25 until along in the thirties. Dos was a close friend always. So was John Peale Bishop. But these were—are—human friendships, friendships between men, not literary friendships. Reading Scott Fitzgerald's letters to Ernest is illuminating in this connection: you see at once what was wrong with that friendship. Scott writes as a writer. And in friendship, in human relations, in life, there is no such thing as a writer: there is merely a man who sometimes writes. I can't imagine anything shallower than a friendship based on a common interest in the production of literature. Look at those letters of Scott's! They throw light on Scott's novels, sure, but on the relation of two remarkable men . . .?
INTERVIEWER
What are the prices? What are the necessary disciplines of writing?
MACLEISH
The first discipline is the realization that there is a discipline—that all art begins and ends with discipline, that any art is first and foremost a craft. We have gone far enough on the road to self-indulgence now to know that. The man who announces to the world that he is going to "do his thing" is like the amateur on the high-diving platform who flings himself into the void shouting at the judges that he is going to do whatever comes naturally. He will land on his ass. Naturally. You'd think, to listen to the loudspeakers that surround us, that no man had ever tried to "do his thing" before. Every poet worth reading has, but those really worth reading have understood that to do your thing you have to learn first what your thing is and second how to go about doing it. The first is learned by the difficult labor of living, the second by the endless discipline of writing and rewriting and rerewriting. There are no shortcuts. Young writers a while back, misreading Bill Williams, decided to ignore the fact that poems are made of words as sounds as well as of words as signs—decided not to learn the art of words as sounds, not to be bothered with it. They were not interested in poems. They were interested in doing their thing. They did—and that was that.
INTERVIEWER
Who do you read now? Who counts?
MACLEISH
Read for pleasure or read from necessity? I suppose I read for pleasure as everyone else does—what comes along. What's "new," as Ezra used to say. (Not much is what it says it is, but one always hopes.) But necessity is something else. You have to read in order to write, no matter what you pretend to yourself. Art is a seamless web, and we all latch into it where we find a loose end. But the problem is to find the connection. And hence the necessity. What astonishes me about myself is that my necessities haven't changed over fifty years. You would think they'd have to in a time like this, but they don't. Robert Frost is out of fashion—or so they tell me—but fashion is irrelevant: Robert is still what he always was, and still necessary to me. So, even more, is Yeats. So is Perse. So is Pound. Eliot. That particular, unique, and irreplaceable tone—timbre—of Carl Sandburg. And back of the men of my own time the necessity leads by the same curious—oh, it is curious enough—path: Hopkins, Rilke, Rimbaud, Emily, Emerson, Keats, Milton, Donne, and so to the great inland ocean of Shakespeare and back of that to Chaucer and Dante and the Greeks and off around the world to Li Po and Tu Fu. No pattern I or anyone else can see, but all of it somehow making a whole—all of it necessary. Necessary as bread. More than bread—water. Still. Fifty years later.
INTERVIEWER
Fifty years ago means the twenties. You have reason to remember the twenties; why does everyone else want to? Why all this nagging of that time?
MACLEISH
No idea. From any point of view, the decade of the twenties was a terrible decade: It was self-indulgent, it was fat, it was rich, it was full of the most loathsome kinds of open and flagrant moneymaking. All the worst aspects of the French came out as the franc dropped. And yet that decade in Paris was perfect. I suppose it was the right period for us. Because of the war, I was a lot older than I should have been to do what I was doing—trying to learn an art. But I was trying to do it alone, which is the best way to try to do it, and I was living in a city where you could be alone without ever being lonely, and I had Ada with me. She—I don't need to tell you—was a singer. A lovely singer with a beautiful, clear, high voice, and a superb musician. She was going great guns singing new songs for Stravinsky and Poulenc and Copland. So we were right in the middle of the most exciting period in almost a century of music. Also, the people who drifted along—Ernest, Dos, Scott, Gerald Murphy, above all, the Murphys—were people of extraordinary interest who were also—or became, most of them—close friends. I can see why this still interests me—I love to go back to it in my mind—but why anybody else forty, fifty, sixty years younger should be interested in it, I just don't understand.
INTERVIEWER
What was the special pull of the Murphys? Why did they give up that mode of life? Did Gerald Murphy's friends try to persuade him to stick to the arts?
MACLEISH
Three questions. The last two are tragically easy to answer. Gerald gave up painting when his youngest child, Patrick, who had had tuberculosis and, he thought, recovered, became ill again. Gerald wasn't Irish for nothing. He bore the stigmata—including the deep Puritan wound which afflicts Irish Catholicism and distinguishes the Gaels of Eire from the Gaels of the Scottish islands in the Hebrides. Gerald took that second (and fatal) illness as a judgment on himself. He hadn't "earned" the right to art. When, after the agony was over, the Murphys settled in New York, Gerald threw everything out of his room but the bed and a chair—white plaster walls, a white bed and chair. Did his friends try to dissuade him? How could they? And yet I remember an ambiguous scene. A Paris concert hall. An "occasion" of some kind: the Murphys are in a box and Ada and I with them. Picasso appears in front of the box looking at Gerald—smiling at him. Gerald stares over his head. Picasso turns away. But I am not answering your questions. Why did they give up "that mode of life"? It was the other way around. Their older son, Baoth, who had always been well, happy, a golden child, died suddenly, brutally, at sixteen. Then Patrick—an extraordinary human being, "un monsieur," as Picasso said, "qui est par hazard un enfant"—died after years of dying, also at sixteen. Then there were the consequences of all that doctoring and hospitalization—years in Montana-Vermala, in the Adirondacks, Depression income. Their money was all but gone. They had never been "rich" by American standards, but they had always spent money as though they were, having a blithe contempt for money as such—a healthy conviction that money should be used for the purposes of life, the living of life, the defeat of illness and death. One has to pay for a faith like that, and Gerald and Sara paid without a whimper. He went back to Mark Cross, the business his father had founded. I never heard him complain of anything except the boredom. But he put up with that, supported his wife and daughter, saved his sister's holdings, and made Mark Cross, for a few, vivid years, a creative enterprise . . . not necessarily profitable, but real. "Merchant prince" he used to call himself in those days, mocking his life. But when he was dying (of cancer), René d'Harnoncourt, then the head of The Museum of Modern Art, told me I might tell him the museum had accepted his Wasp and Pear for its permanent collection. I feel sure he died thinking of himself as a painter. He should have. He was a painter. And a man. A man who loved life and learned how to live it. And how to die—something not all men learned, even in that generation.
That or something like it would be the answer to your first question—the "special pull," I think you said. No one has even been able quite to define it. Scott tried in Tender Is the Night. Dos tried in more direct terms. Ernest tried by not trying. I wrote a "Sketch for a Portrait of Mme. G——M——," a longish poem. They escaped us all. There was a shine to life wherever they were: not a decorative added value, but a kind of revelation of inherent loveliness, as though custom and habit had been wiped away and the thing itself was, for an instant, seen. Don't ask me how.
INTERVIEWER
Did the Americans in Paris in the twenties know who they were? Was there any sense among them that what they were doing would have overwhelming impact before they were through?
MACLEISH
I can only answer for myself—what I saw and heard. Everyone was aware, I think, that work was being produced in Paris which was magnificent by any standard. This was true of all the arts—the arts generally—the arts as practiced by artists of many nationalities: French, Spanish, Russian, Irish, German, Greek, Austrian. We knew we belonged to a great, a greatly creative, generation—that we lived in a generative time. Everything seemed possible—was possible. To be young in a time like that was incredible luck—to be young and in Paris. That much is certain; the witnesses are innumerable. But when you narrow the circle to the American the answers are not so easy. American letters at the turn of the century had reached something which looked to my generation like rock bottom, and the achievements of Eliot and Pound during and after the First World War, though they had raised our hearts, had not wholly persuaded us that we belonged in this great resurgence of all the arts which was evident in Paris—this world resurgence of great art. So our excitement, real enough, was a little hesitant, a little tentative. Hemingway's In Our Time was the first solid American proof to appear on the Seine—proof that a master of English prose had established himself and that this master was indubitably American, American not only by blood but by eye and ear. But In Our Time was a collection of short stories. Would there be a great novel? A great American novel? We didn't know in Paris in the twenties. We only knew anything was possible.
INTERVIEWER
In that twenties community, how much exchange of ideas went on . . . reading of each other's manuscripts, advice sought and given . . . ?
MACLEISH
None. None so far as I was concerned. I met Hemingway a year or so after we got to Paris and Gerald Murphy about the same time . . . Dos, Estlin Cummings, Bishop, Scott . . . but there was no "community" in the sense in which you, I think, are using the word. No Americans-in-Paris community. That notion is a myth concocted after the event by critics with fish to fry. There was the literary-tourist world of the Dôme and the Rotonde but no work came out of that. The real "community" was, of course, Paris—the Paris of Valéry and Fargue and Larbaud—the world center of art which had drawn Picasso from abroad, and Juan Gris and Stravinsky and all the rest of that great international generation including, first and foremost, Joyce. The world center of poetry which held Aléxis St.-Léger down at the Quai d'Orsay in his anonymity as St.-John Perse. That community—real community—drew and sustained the young Americans who lived in Paris in those years, but they didn't belong to it nor did they communicate with it, except to watch and wonder like the rest of the world. I knew Fargue and Larbaud, and Jules Romains through Adrienne Monnier. Alexis Léger became a close friend many years afterward, when all this was gone and Paris was a Nazi slum. I knew Joyce and marveled at him. But I was not part of that Paris nor were any Americans I knew, with the possible exceptions of Tom Eliot and Ezra Pound, who sometimes appeared. In a touching letter toward the end of his life, Scott speaks of "the last American season" in Paris. If there ever was an "American season" in Paris in the twenties, Paris was not aware of it. Nor, I think, was anyone else.
INTERVIEWER
Can I try instant analysis about why we're so interested in that time, that romance? Part of what the period means, part of the reason people come back to it, is that the glamour is forgivable in a way that glamour isn't forgivable now. People could live as they lived without the sense that all around was an active enmity to their values, their standards, their way of perceiving. In a sense going back to the twenties—you called it that "self-indulgent" time—is trying to find a release from the pressure of justifiable hostility. Possible?
MACLEISH
I'm not sure I'd use the word "glamour"—not, certainly, of our life, Ada's and mine. But there was a certain relaxation. We were all of us out of that "worst of wars." Ernest had been shot up. Scott had not really been involved in it, but that was tragedy too. I had had a year of it in France. My brother had been killed. Almost everybody that we saw—certainly all the French, and all the English in Paris at that time—had lived through it. So the whole city gave off a sense that you had something coming to you—just what, you never asked . . . or learned.
INTERVIEWER
You were talking at lunch about people perceiving themselves as images of themselves rather than as genuine functions in the world and so on. Do you think that being a writer now is essentially a different kind of act from what it once was, a different kind of performance?
MACLEISH
Not "essentially"—essentially there is only one life a writer can live. But different—yes. Because the world is different. The economic "reality" is different. The Republic doesn't have the self-generated surge forward that it seemed to have a generation ago. We've come in out of the dream, and we have to think about the world we see around us, do something about it, at least be sensitive to it. Which means be sensitive to it as poets. And yet all the time and in spite of the changes in the world—the rapid and incoherent changes—the question at the center, the poet's question, remains the same: Who am I? The figures out on the lawn playing croquet have changed. They are not playing croquet anymore. They aren't dressed as they once were, and there's somebody with a gun back of the bush. But the question remains. So that the problem is to answer the old question in a new scene, a new setting, with other angles of light, refractions of sound, shadows moving—but still, somehow, to answer it.
INTERVIEWER
So writing now is different. But more difficult?
MACLEISH
Well, I have just had the experience, as I've said, of writing a play—Scratch—the whole purpose of which was to try to find out what has become of the Republic in this new world we've been talking about. I found the critic of the Times, who exercises the power of life and death in the New York theater, totally impenetrable by this idea, buttoned up, occluded. He was an Englishman at that period—an Englishman and an authority on the dance—and he simply didn't understand what was being said on the stage twenty feet in front of him. Which suggests to me that the problem of writing about the public world may have become more difficult than it was forty years ago. Or perhaps it is only the problem of getting through that particular infarct to the live audience behind him.
INTERVIEWER
I remember when you were teaching you were strong for "alive" and "living" as "critical terms." What are the referents, anyway? What gives the edge?
MACLEISH
To start negatively, "alive" is what is not "literary." Or, in positive terms, what has a speaker—a voice. No writing is alive which is merely written. Donne, for example. Why is Donne so present? Why is Hopkins so much Hopkins? Or Cummings? Or Mark Van Doren? Or Agee? Cal Lowell? Wilbur? Not because they write well but because they speak. Each with his own voice. There's a man there, a woman—Emily. The lawyers have a useful word—"fungible." Wheat is fungible: substitute one bushel for another. Poets can't be substituted. Each has his own, let's call it breath, except that it goes on and on with the words—doesn't end with the man. So that the words remain his. And alive.
INTERVIEWER
Breath?
MACLEISH
Well, the use of the language. The way a man uses it. You don't choose a word if you're a writer as a golf pro chooses a club with the shot in mind. You choose it with yourself in mind—your needs, your passions, feelings. It has to carry the green, yes, but it must also carry you. Not only your "meaning," but you yourself meaning it. You're quite right—this does seem to me the fundamental criterion in the use of language as material for art. You create your words in choosing them. You make them yours—spoken with your breath. Youngsters tend to think the trick is to break down the syntax—be careless—write the way they think they talk. Nothing could be farther from the truth. To make a word your own is a year's labor—maybe a life's.
INTERVIEWER
The MacLeish poems I like best give this sense that metaphors are racing and expending energy fiercely—the edge of a moment. "Cook County," "You, Andrew Marvell," "The Genius," for example. Did they come in a rush?
MACLEISH
Those are golden words; I shouldn't let myself think about them. Because even at my age a man shouldn't let himself believe what he most wants to believe. You delight me by saying some of my poems sound as though they had come in a rush, but none of them have with the exception of "You, Andrew Marvell," which was there at the end of a morning and finished by night. I am sure—I mean I am not sure at all but I believe—the master poets must come at their poems as a hawk on a pigeon in one dive. I can't. I chip away like a stonemason who has got it into his head that there is a pigeon in that block of marble. But there's a delight in the chipping. At least there's a delight in it when your hunch that the pigeon in there is stronger than you are carries you along. There is no straining then nor are you strained—all assurance and confidence. Oh, you can be fooled, of course—there may be nothing there but a stone. But until you are . . .
I said something a minute ago about a long breath that sustains itself. If you find anything like that in any poem, then the impulse which drove the poem at the start is still alive in the poem printed on the page. So that the length of that poem is not the length (endless) of the work but the length of the impulse: exhausted—and achieved—in a breath.
I used to run into students who thought impulse meant idea: You got an idea and somehow you made a poem of it. A poem made out of an idea could run on forever. No single breath there. Impulse as one finds it in this art—maybe in all art—is a glimpse. Of a relationship, a possible relationship—Baudelaire's analogie universelle. The impulse, the urge, the emotion, begins in that cloudy glimpse, and the whole labor of art is to create the form which will contain the relationship—turn glimpse into image. But in such a way that the poem—if you are lucky, if there is a poem at the end—will carry not only the image but the impulse which produced it, that single breath—its own.
INTERVIEWER
If I understand it, then really it's all in the end of "Reasons for Music"—"meaning the movement of the sea." Can you say that in any other way? Can you translate?
MACLEISH
Why do we labor at the poem?
Out of the turbulence of the sea,
Flower by brittle flower, rises
The coral reef that calms the water.
Generations of the dying
Fix the sea's dissolving salts
In stone, still trees, their branches immovable,
Meaning,     
the movement of the sea.
Translate? Well, I am not one of those who believe that poems can't be translated; it would be an impoverished world if they couldn't. But not, I think, out of their images. Suppose you say that poets, like those tiny coral insects—generations of the dying—fix the sea's dissolving salts in stone, still trees, their branches immovable, which means—what? The movement of the sea. What have you gained? It's obvious what you have lost: the rhythms which suspend the words in a relationship of their own without which the world of the poem—of any poem—collapses. (A fact of art which one of my admired contemporaries, Bill Williams, tried to forget, misleading a whole generation of the dying as a result.) But, still, what have you gained? Why do we labor at the poem? To hold the evanescent still in its evanescence. I think the poem says it better—but perhaps I should not attempt to judge.
INTERVIEWER
There's a struggle going on in the stillness, though. I'm thinking about "Captivity of a Fly" . . . "My heart against the hard-rib bone beat like a fly." What is the theme exactly—"a prisoner of the open wall"? It comes back in Job, too, as though it were a "personal remark" in some way. "It had gone free, my heart, it might have gone free, but the shining world so shone."
MACLEISH
The image, of course, is the commonest of all images—the fly against the windowpane that "flings itself in flightless flight." "So it loves light." And the refraction of the image is as obvious. We are all "prisoners of the open wall." What else is "the burden of the mystery" which so weighed on John Keats? Easy enough to turn away from the glass and go free—but not if you're a fly. Easy enough to put off the burden of the mystery—but not if you're human. You spoke of Job. Of course. Easy enough for Job to get down from his dung heap and walk off—if he could stop being Job, the man with a passion for justice and therefore the need to confront God. Job is the opposite of the existentialist as he is the opposite of the "good Catholic." His world has to mean, because God made it. It is because he loves God that he is certain there are meanings—not the other way around. What satisfies Sartre won't satisfy Job. Nor what satisfies Job's friends. He sees the light and so is prisoner of the glass.
INTERVIEWER
Are you ever completely satisfied with a finished work?
MACLEISH
Not at first. Not while the thing is still malleable. It's like the homicide experts in the movies who judge by the stiffening of the corpse: you can tell—God knows how—when a poem has settled into itself. After that you touch it at your peril: The whole thing may disintegrate if you change a word. It's for that reason I formed the habit long ago of putting new poems into a desk drawer and letting them lie there to ripen (or the opposite) like apples. I suppose everyone else does the same thing. I learned early and by sad experience never to publish a green poem. Who in hell wrote that? Instead, I pull them out after a few weeks or months and say, "Well . . . possibly . . ." and start all over. Or consign the whole thing to the wood fire and hope the seed, whatever it was, will sow itself again. I doubt if it does. It's sick of me by that time.
INTERVIEWER
Could we talk for a minute about "reputation"? Can a good writer make his way without cultivating his own reputation? Interviews, luncheons, appearance, backscratching, all that crap. A lot of people still feel there is an Establishment to be cracked or supplanted before they can start to breathe.
MACLEISH
That word, "Establishment," has a lot to answer for. If it is intended to refer to anything more than the distinction between the old men now established and the young men who want to be—if, that is to say, it is intended to imply a kind of conspiracy by a few established characters to suppress les autres—it is a fraud, or worse, a kind of escape mechanism . . . an excuse. The real question is the one you put first: how to "arrive" in the world (if it is one) of the arts in our time, a world on which all those monsters you name—television and luncheons and appearances and the rest—batten and feed. Do you have to "arrive"? Not really, but it's convenient if you want to eat regularly. But suppose you do want to eat regularly, do you have to submit to all that nonsense? Because most of it, though there are some intelligent interviewers, is nonsense. I don't think so. The fact is that nothing matters ultimately in any art but the work of art—the poem, the fiction. That comes first and it is that which remains at the last. Cal Lowell began with a poem. So did Dick Wilbur. Frost began with a book of poems. To go at it the other way around is to invite disaster: straw without bricks. Believe in the work. Believe in your own work. No poem was ever suppressed—if it was a poem. Belayed, yes. Muffled. Ignored for a generation or a century. But not suppressed.
INTERVIEWER
You wrestled once with the problem of reputation in the arts—in "Poetical Remains." You talked about leaving behind an "anthological rubble," "mind mingled with mind," "odd and even coupled." What is the state of feeling behind the words?
MACLEISH
I suppose you start out (I can only suppose, because it must be a very private experience for each man) with that lust for fame to which Keats confessed and to which, I guess, we should all confess—all of us who practice an art, certainly. That lust for fame is a lust for personal fame. You want to be distinguished from the others who are remembered—if anybody indeed is going to be remembered. And then, as time goes by and you begin to get a little hindsight, you look back. What really does happen to poets? Most of them leave a few fragments which go into the rubble heap, where the next generation can feed on them. They don't intend to but they do. Well, eventually, thinking about all this, you get to the point where you realize that personal fame is not at all what you're concerned with really—that old Robert was right when he said he hoped to leave half a dozen poems that would be hard to get rid of. Wonderful way of saying it. You begin to see that what is really going to happen is not that half a dozen but two, three, four poems, or maybe lines of poems, or fragments—some things may get shelved, shored up, or left behind. But left behind not alone but in a conjunction. So that you begin to think of yourself in terms of the others who were with you in this place—your contemporaries. "Oh living men, Remember me, Receive me among you." And you realize that's how you are really going to end up. You're going to be part of that, of them. And finally you begin to think, that's the way it ought to be. You ought to make the world fruitful that way. Rot! Leaving those fragments—those few poems that will be hard to get rid of.
Obviously, these are very subjective emotions. But I think, even so, even if they are subjective, one can make some generalizations about them. How to go about it? Let me try this way. I think, as you move along . . . now, this may simply be a result of the blessed accident that befell me when I found myself, far too old, teaching at Harvard. I began to understand then, by teaching a course in which I tried to find out for myself what poetry is, what it really is. I began to understand that it is a part of a process which extends beyond poetry but which is most apparent in poetry, of trying to see human experience, trying to see "the world." "The world" being what a man feels about the world. Now if you realize this—what the purpose of your art is—you come to see that you are laboring at your art not only to make works of art but to make sense of your life—those dark and bewildering moments of experience. And to make sense of it not only for yourself. In other words, those poems are not works to be published for the glory of A. MacLeish—so that A. MacLeish may be spoken of. Not at all. They are steps in an attempt to stop time in terms of time so that it may be seen. To stop time, but to stop it on its own terms. Let men see it. Make it visible to men. Therefore, whatever you leave behind you exists in terms of those others who have read it, who were aware of it, who were moved by it. And the consequence is that you do have a totally different attitude toward fame. It isn't that you want to be admired any the less. Of course you want to be admired. Any poet wants to be admired—to be a great poet. But who is a great poet? Maybe a handful in the world's history. So that's irrelevant. What's really going to come out of your work is something else. If you have succeeded at all you have become part—however small a part—of the consciousness of your time. Which is enough. No?