Interviewed by Adam Begley
Issue 162, Summer 2002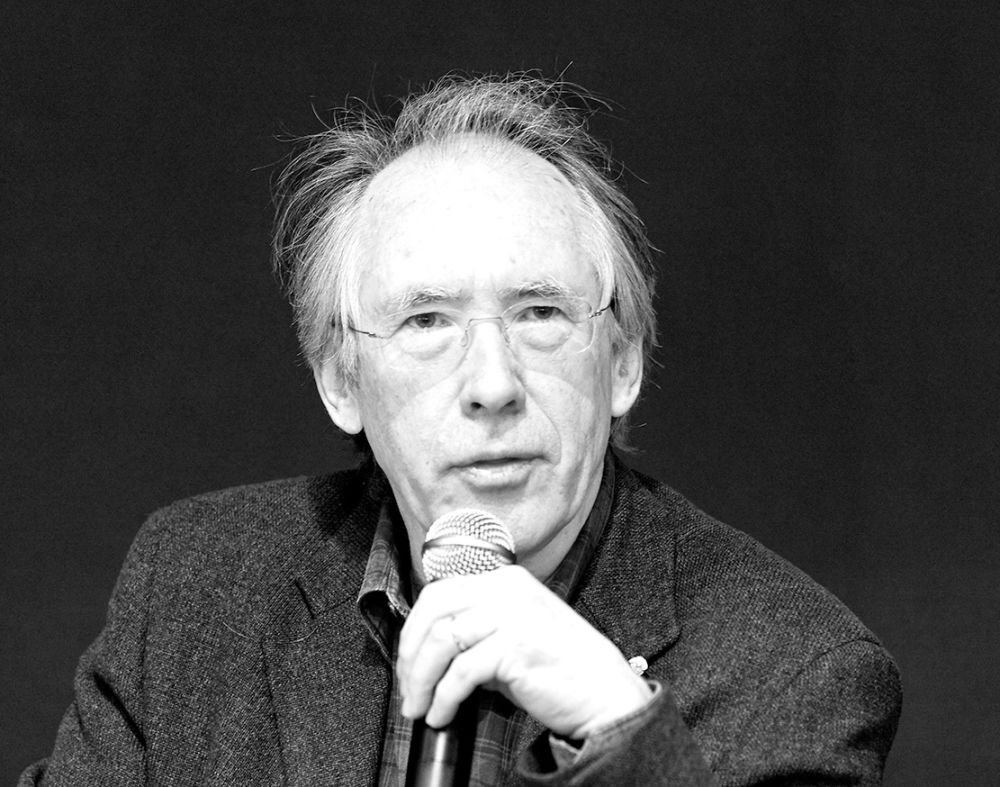 Ian McEwan, ca. 2011. Photograph by Jean-Frédérick Thesupermat
Ian McEwan's early success came hand in hand with a lurid reputation: his books were said to be twisted and dark. And in fact, his earliest work—two collections of short stories, First Love, Last Rites (1975) and In Between the Sheets (1978), and two slim novels, The Cement Garden (1978) and The Comfort of Strangers (1981)—contain many painfully vivid, highly disturbing scenes, quite a few involving children. These books earned him a nickname in the British press—Ian McAbre.
The tags that attach themselves to writers can prove annoyingly sticky. McEwan's next four novels, The Child in Time (1987), The Innocent (1990), Black Dogs (1992), and Enduring Love (1997), are more ambitious than the earlier books, more thoughtful—and equally vivid. They're often remembered, respectively, for a snatched child, a dismembered body, a pair of terrifying canines, and a horrific ballooning accident. And yet the sensational elements, and the strikingly effective writing that makes the shocking episodes memorable, should not obscure the fact that this was a new, more mature phase in McEwan's career. Amsterdam (1998), a black comedy with a cruel satiric bite, signaled yet another change of direction: here was a playful McEwan novel devoid of attention-grabbing set pieces. It won the Booker Prize, and thereby helped pave the way for the huge commercial and critical success of his next novel, Atonement (2001), which is both McEwan's best book and conclusive evidence that novelists evolve. Atonement is as much a novel of ideas as Black Dogs or Enduring Love, as socially acute as Amsterdam, as dangerously violent as The Comfort of Strangers, as sexy as Cement Garden—yet in Atonement these diverse elements are masterfully integrated.
McEwan has written one book that can be enjoyed by adults and children alike, The Daydreamer (1994); several screenplays, including The Ploughman's Lunch (1985); and several scripts for television. When he's not writing, he likes to hike.
A trim, handsome man, careful, exacting, and (for a writer) curiously un-neurotic, McEwan lives in a sparklingly clean Georgian-style row house in a quiet, well-tended neighborhood in Oxford. His wife, Annalena McAfee, is a prominent newspaper editor.
This interview began on a day in 1996 when McEwan had a terrible cold (the tape of our conversation is punctuated by thunderous nose blowing). We met thereafter whenever McEwan finished a book—thinking each time that we were done. Our last session was in the winter of 2001, when Atonement was high on the British best-seller lists, a few months before its triumphant reception in America.
INTERVIEWER
In your third novel, The Child in Time, we meet the parents of the narrator, and I suspect that they resemble your parents. How true to life is the portrait?
IAN McEWAN
Fairly close, though somewhat idealized. My parents had a difficult relationship without ever conceding the fact, and it was hard to write about when they were both still alive. I was born in 1948 on the edge of Aldershot, a rather ugly Victorian garrison town. My father at that time was a sergeant major. He was a Glaswegian who had lied about his age and joined up in 1933 to escape the unemployment along the Clyde.
He makes an appearance in Atonement. In 1940 he was a motorbike dispatch rider and he was wounded in the legs. He teamed up with another soldier who'd been shot in the arms, and between them they worked the controls of a motorbike. They pass Robbie on the road into Dunkirk.
David McEwan was very handsome, erect, with a dangerous look about him. A hard-drinking man, quite terrifying. He was a great stickler for all the spit and polish of traditional army life, and at the same time he adored me as I grew older. But my earliest recollections are of weekday idylls with my mother interrupted at weekends by the loud appearance of my father, when our tiny prefabricated bungalow would fill with his cigarette smoke. He didn't have much talent for communicating with small children. He was a man who liked the pub and the sergeants' mess. Both my mother and I were rather frightened of him. She grew up in a small village near Aldershot and left school at fourteen to go into service as a chambermaid. Later she worked in a department store. But for most of her life she was a housewife, with her generation's fierce pride in the orderliness and gleam of the family home.
INTERVIEWER
There's a scene in The Child in Time where the mother is weeping. We don't know quite why—all we get is the vague sense that there's something wrong.
McEWAN
My father's drinking was sometimes a problem. And a great deal went unspoken. He was not particularly acute or articulate about the emotions. But he was very affectionate towards me. When I passed exams he was very proud—I was the first one in the family to get any tertiary education.
INTERVIEWER
What were you like as a kid?
McEWAN
Quiet, pale, dreamy, very attached to my mother, shy, average in class. There's something of myself in Peter of The Daydreamer. I was an intimate sort of child who never spoke up in groups. I preferred close friends.
INTERVIEWER
Were you a reader from an early age?
McEWAN
My parents were keen for me to have the education they themselves never had. They weren't able to guide me towards particular books, but they encouraged me to read, which I did, randomly and compulsively. At boarding school in my early teens I had more direction. When I was thirteen I was reading Iris Murdoch, John Masters, Nicholas Monsarrat, John Steinbeck. L. P. Hartley's The Go-Between made a huge impression on me. I was also reading popular science—Asimov on the blood, Penguin Specials on the brain, and so on. I thought seriously about studying science. When I was sixteen I came under the influence of a very effective English teacher, Neil Clayton, who encouraged wide reading and had the knack of making writers like Herbert, Swift, and Coleridge seem like living presences. I thought of Eliot's The Wasteland as a highly accessible rhythmic Jazz Age poem. Clayton was something of a Leavisite. I began to think of literature as a kind of priesthood that I would one day enter.
I went to the University of Sussex, one of the new universities. It had a lively, radical sense of what an educated person should be. You were encouraged to read across subjects, in an historical context. Reading Kafka and Freud in my final year made a big impression on me.
INTERVIEWER
What were you in university for? What did you see yourself becoming?
McEWAN
I'd abandoned the priesthood idea after the first year. I simply thought I was getting an education. But I was beginning to feel excited about writing. As is often the case, my wish to be a writer preceded any clear notion of subject matter. After graduation I found out about a new course at the University of East Anglia, which would allow me to write fiction along with the academic work. I phoned the university and amazingly got straight through to Malcolm Bradbury. He said, Oh, the fiction part has been dropped because nobody has applied. This was the first year of the program. And I said, Well, what if I apply? He said, Come up and talk to us and we'll see.
It was a wonderful stroke of luck. That year—1970—changed my life. I wrote a short story every three of four weeks, and I'd meet Malcolm in a Norwich pub for half an hour. Later on I met Angus Wilson. They were both generally encouraging, but they did not interfere at all, and gave no specific advice. That was perfect for me. Meanwhile, I was expected to write papers on Burroughs, Mailer, Capote, Updike, Roth, Bellow—and they were a revelation. The American novel seemed so vibrant compared to its English counterpart at the time. Such ambition and power and barely concealed craziness. I tried to respond to this crazed quality in my own small way, and write against what I saw as the prevailing grayness of English style and subject matter. I looked for extreme situations, deranged narrators, obscenity, and shock—and to set these elements within a careful or disciplined prose. I wrote most of First Love, Last Rites that year.
INTERVIEWER
How did those short stories get from the pub to the publishing house?
McEWAN
Transatlantic Review published my first story sometime in 1971. But by far the most important editor at the beginning of my career, and the first to take me on seriously, was Ted Solotaroff at New American Review. He started publishing my stories in 1972, and he was a very helpful and perceptive editor. His Review was a quarterly in the form of a paperback book and every issue contained gems by writers I had not heard of. I think of him as a key figure in American letters. I'm much in his debt. The thrills of publication early on in a writer's life can never really be repeated. Solotaroff once put my name on the cover of the Review along with Günter Grass, Susan Sontag, and Philip Roth. I was twenty-three and I felt like an impostor, but I was also very excited. About this time I took off on the hippie trail with two American friends. We bought a Volkswagen bus in Amsterdam and we drove it to Kabul and Pakistan. On the road I often dreamed of being back under undistracting gray skies, writing fiction. After six months I was desperate to get to work. Soon after I returned, Tom Maschler at Cape offered to publish a collection of my stories. In the winter of 1974, I moved to London from Norwich. This was about the time that Ian Hamilton's New Review was getting going. He died in December of 2001, and all of us who knew him are still in mourning for him. The magazine was also a milieu—the unofficial office was the Pillars of Hercules pub in Greek Street. Ian presided over a lively, chaotic, drink-fueled scene. I met many writers who became lifelong friends and whose work I have followed closely since—James Fenton, Craig Raine, Christopher Reid. I met Martin Amis around that time and Julian Barnes, who was writing a column for the New Review under the name of Edward Pygge. All of us were about to publish our first books. It was a delightful entry for me—a kind of literary country mouse—into a metropolitan literary scene that seemed extraordinarily open to newcomers.
INTERVIEWER
"Homemade" is the first story in your first collection— that's the one with the teenage narrator who tricks his kid sister into incest.
McEWAN
It was intended as a parody of a Henry Miller narrator whose sexual boasting would extend in single sentences across whole paragraphs. It was also a genuflection in the direction of Roth's Portnoy.
INTERVIEWER
"Homemade" introduces some choice topics—coitus, incest, self-abuse. Despoiled virginity. Did you ever regret having started out with such a bang?
McEWAN
It was fun at the time. These days it has its occasional drawbacks, this Ian McAbre thing. Sometimes I think I'll never quite escape my early reputation. Even a reflective review by Updike of Atonement was flagged, tabloid style, by The New Yorker as "Lust and Disgust."
INTERVIEWER
When you published the early stories did you consider yourself daring?
McEWAN
Impatient rather than daring. Among my friends, conversation was so scabrous much of the time anyway. We'd all read Burroughs and Roth and Genet and Joyce, all things were sayable, and had been said. I didn't think of myself as an iconoclast. In fact, I thought I was writing a rather well-mannered, conservative prose. I did think there was a certain self-limiting dullness about English fiction, with its fine nuances of everyday life and every shade of gray—minutiae of dress, accent, class. The social codes, the way you can manipulate them or be destroyed by them. It's a rich field, of course, but I knew nothing about it and wanted nothing to do with it.
INTERVIEWER
Because of your background?
McEWAN
There was something curiously dissociated about my background. When my father was commissioned from the ranks, our family entered a no-man's-land of class, no longer at one with the ordinary soldiers, nor proper members of the officer class. And my boarding school was a state-run experiment in propelling working-class boys from central London into the educated middle classes. Then I went to two new universities, which were, in English terms at least, aggressively déclassé. I had no particular place or allegiance in these convoluted strata, and my early fiction was written with complete indifference to the whole business. My fascination with Kafka made me think that the most interesting fiction involved characters who could hang free of historical circumstance. But, of course, nobody hangs free. English reviewers were quick to identify my characters as "lower-middle class." Useful, as Larkin might say, to get that learned.
INTERVIEWER
How about children? They can hang free of history. There are lots of children in First Love, Last Rites.
McEWAN
It's true, you don't have to describe their jobs or their marriages and divorces.
INTERVIEWER
Did you have other reasons for writing about children?
McEWAN
A twenty-one-year-old writer is likely to be inhibited by a lack of usable experience. Childhood and adolescence were something I knew. Many writers at the beginning of their careers go through a kind of imaginative recapitulation. Childhood perceptions are so bright I find them hard to forget. They creep in if you can relax your attention sufficiently—they don't have to be effortfully recalled; they're just available.
INTERVIEWER
One of the glories of Atonement is Briony's point of view in the early chapters, when she's still a precocious little girl with an itch to write and a dangerous taste for melodrama. Did it feel like a return to something to be again imagining the world from a child's perspective?
McEWAN
It seemed a far deeper immersion. Not wanting to shock people or indulge the grotesque allows far greater freedom psychologically. It's always a problem doing children in fiction—the restricted viewpoint can become stifling. I wanted to be able to portray a child's mind while drawing on all the resources of a complex adult language—as James does in What Maisie Knew. I didn't want the limitations of a childlike vocabulary. Joyce does this in the opening pages of A Portrait of the Artist as a Young Man. We've all tried to imitate it. He holds you there in a little boy's sensory and linguistic universe, and it's a piece of magic that glows—and then it's gone, just like childhood itself. Joyce moves on, the language spreads. My way round the problem was to make Briony my "author" and let her describe her childhood self from the inside, but in the language of the mature novelist.
INTERVIEWER
How prominent were you before The Cement Garden came out?
McEWAN
Disproportionately. In the mid-seventies when Amis and I were first published there didn't seem to be that many young novelists around. We got all the attention.
INTERVIEWER
By that time you had developed regular writing habits?
McEWAN
I'd be at work by nine-thirty every morning. I inherited my father's work ethic—no matter what he'd been up to the night before, he was always out of bed by seven a.m. He never missed a day's work in forty-eight years in the army.
In the seventies I used to work in the bedroom of my flat at a little table. I worked in longhand with a fountain pen. I'd type out a draft, mark up the typescript, type it out again. Once I paid a professional to type a final draft, but I felt I was missing things I would have changed if I had done it myself. In the mideighties I was a grateful convert to computers. Word processing is more intimate, more like thinking itself. In retrospect, the typewriter seems a gross mechanical obstruction. I like the provisional nature of unprinted material held in the computer's memory—like an unspoken thought. I like the way sentences or passages can be endlessly reworked, and the way this faithful machine remembers all your little jottings and messages to yourself. Until, of course, it sulks and crashes.
INTERVIEWER
What's a good day's output for you?
McEWAN
I aim for about six hundred words a day and hope for at least a thousand when I'm on a roll.
INTERVIEWER
In the introduction to A Move Abroad you write, "There's a degree of self-pleasuring in imaginative writing which is not even remotely assimilated by literary theory." Can you give me an example of that?
McEWAN
The joy is in the surprise. It can be as small as a felicitous coupling of noun and adjective. Or a whole new scene, or the sudden emergence of an unplanned character who simply grows out of a phrase. Literary criticism, which is bound to pursue meaning, can never really encompass the fact that some things are on the page because they gave the writer pleasure. A writer whose morning is going well, whose sentences are forming well, is experiencing a calm and private joy. This joy itself then liberates a richness of thought that can prompt new surprises. Writers crave these moments, these sessions. If I may quote the second page of Atonement, this is the project's highest point of fulfillment. Nothing else—cheerful launch party, packed readings, positive reviews—will come near it for satisfaction.
INTERVIEWER
In the introduction to The Imitation Game you write about your envy for busy filmmakers with their urgent meetings, always speeding around in taxis.
McEWAN
If week after week you do nothing but commune with ghosts, and move from your desk to your bed and back, you long for some sort of work that involves other people. But as I've grown older, I've become more reconciled to the ghosts, and slightly less interested in working with other people.
INTERVIEWER
Have you ever written a screenplay with which you were satisfied?
McEWAN
I've been happy with quite a few. It's what happens afterwards that can cause the heartache. I was spoiled by my first experience, The Ploughman's Lunch, which went without a hitch. Richard Eyre and I decided we'd like to do a movie with a state-of-the-nation atmosphere. Over several months I gathered up odd bits of material—I hung around a BBC newsroom, read books about the Suez crisis, visited the party political conferences, and watched the making of some TV ads. Later I went to Poland at the time of Solidarity, and thought about how a nation dreams itself up.
Graham Greene has a good image for this process; there are moments of inspiration that he calls pools. Making a novel consists of digging the trenches between the pools. My pools were nothing so grand as inspirational—they were simply the settings or scenes I wanted. When I'd worked out a way of connecting them all up, I wrote out a plan for the movie on a couple of pages and showed them to Richard one lunchtime at the National Theatre, where he was working. He read them and said instantly that this was the kind of thing he wanted to make.
I wrote the screenplay in six weeks. Richard had some useful suggestions like, It would be nice if the main figure went home so we could see what his background was like. The Falklands War began and provided some interesting parallels with Suez. But really, those two sheets of paper I showed Richard at the beginning were more or less the movie as it was made. The experience was sweet and simple. Nothing went wrong. I had no idea at the time how unusual this was.
INTERVIEWER
And what was your experience with the film of The Innocent?
McEWAN
Protracted, messy, painful. I knew it was a bad idea to adapt my own novel for the screen, but I allowed myself to be talked into it. I was drawn by the opportunity of incorporating the fall of the Berlin Wall, which happened months after I finished the novel in June of 1989. All the separate elements were fine—a wonderful cast, with Isabella Rossellini, Anthony Hopkins, Campbell Scott, and with John Schlesinger directing. But there was no chemistry, as they say. It was not a happy set. Only the rushes looked good, which, of course, they always do . . .
INTERVIEWER
Where did the idea for The Cement Garden come from? I always think it's a book about "infinite municipal sadness"—a line from your "Two Fragments."
McEWAN
I'd delayed writing a novel for years. I came back from an exhilarating first visit to the U.S.A. in 1976. I was toying with ideas about children trying to survive without adults—this is the setup in any number of children's books, and of course, it's the essence of Lord of the Flies. I was thinking about an urban version I might write of that story, but I had no clear route in. At the time I was living in Stockwell, south London. It was a desolate neighborhood of high-rises and weed-covered wasteland. One afternoon as I was at my desk, these four children, with their distinct identities, suddenly rose before my imagination. I didn't have to build them up—they appeared ready-made. I wrote some quick notes, then fell into a deep sleep. When I woke, I knew that at last I had the novel I wanted to write. I worked obsessively for a year, paring the material back all the time because I wanted the novel to be brief and intense.
INTERVIEWER
Was it a kind of exorcism?
McEWAN
Well, more of a kind of summary. This and my next novel, The Comfort of Strangers, brought to an end a ten-year stretch of writing—formally simple and linear short fiction, claustrophobic, desocialized, sexually strange, dark. After that I felt I had written myself into too tight a corner. I turned away from fiction for a while. I wrote a television film set against the code-breaking operation at Bletchley Park during the war. Then The Ploughman's Lunch, and an oratorio for Michael Berkley. By the time I set out on a new novel in 1983, The Child in Time, I was thinking in terms of precise physical locations, and times—even time itself—and of social texture and a degree of formal ambition.
INTERVIEWER
The Child in Time begins with the abduction of a child—one of those moments of life-changing drama that became something of a hallmark.
McEWAN
Yes. I was still interested in writing at the edge of human experience. But now I was beginning to take character more seriously. These moments of crisis were to become a way of exploring and testing character. How we might withstand, or fail to withstand, an extreme experience, what moral qualities and questions are brought forward, how we live with the consequences of our decisions, how memory torments, what time does, what resources we have to fall back on. At the time this was hardly a conscious choice or a systematic program; it was simply how it came out in a number of novels, beginning with this one. And of course, these scenes—the stealing of the child, the black dogs, the fall from a helium balloon, and so on—offered attractive fictional possibilities in themselves. They presented challenges of pace, description, a sort of drumbeat of sentences, cadences you can only get from action scenes. They also offered a means of exerting a hold over the reader. And I could have action and ideas. I developed a taste for these various elements over a period of time.
In 1986 I was at the Adelaide literary festival where I read the scene from The Child in Time in which the little girl is stolen from a supermarket. I had finished a first draft the week before and I wanted to try it out. As soon as I was done, Robert Stone got to his feet and delivered a most passionate speech. It really seemed to come from the heart. He said, Why do we do this? Why do writers do this, and why do readers want it? Why do we reach into ourselves to find the worst thing that can be thought? Literature, especially contemporary literature, keeps reaching for the worst possible case.
I still don't have a clear answer. I fall back on the notion of the test or investigation of character and of our moral nature. As James famously asked, what is incident but the illustration of character? Perhaps we use these worst cases to gauge our own moral reach. And perhaps we need to play out our fears within the safe confines of the imaginary, as a form of hopeful exorcism.
INTERVIEWER
You've talked about the pleasure you took in writing The Innocent. Some readers might find that hard to understand, given the novel's bloody reputation—a minute description of a body being carved up limb by limb and packed into a suitcase.
McEWAN
That reputation rests on half a dozen pages. For the rest, as far as I was concerned, The Innocent was a new departure for me into the historical novel. The transfer of power from the British to the American empire was a long, slow process, and came to completion in the 1950s, culminating painfully for the British in the humiliation of Suez. I've always been drawn to situations in which events on the large scale find a reflection in the private life. An awkward young Englishman, a telephone engineer, coming of age in Cold War Berlin in the midfifties, discovering for himself the power of American money and confidence, the reach of its military, the seductions of its food, music, and movies; and a city emerging from its ruins, haunted by the ghouls of its recent past—all this absorbed me completely. I was lost to old maps and photographs. I became a telephone engineer.
I stayed away from Berlin while I was writing the novel, which is mostly set in 1955. However, in the final chapter, set in 1987, the aging hero, Leonard, decides to revisit the city, and I thought I would, as it were, go with him. I arrived with a heavy dose of flu. This brash, opulent Western half of the city was not the ruined place I had come to know so well. I walked about, feeling old and bewildered. I visited the apartment building where Leonard used to stay with his lover, and I felt ridiculous pangs of love for a nonexistent girl. I went out to the southwest corner of Berlin to the site of the spy tunnel. I climbed a fence to get into an abandoned lot. Watched through binoculars by East German border guards in their observation tower, I poked about among the mounds and trenches, finding bits of old telephone cable, pieces of sacking made in Chicago, a bit of old switching gear. And again, I felt nostalgia for a time I never knew. I'd come as far as I possibly could from those short stories and two short novels in which I thought time and place were irrelevant distractions. Now I was in a foreign city, feeling the passing years and tricking myself into thinking I was one of my characters.
INTERVIEWER
You tricked yourself in the way you hoped to trick your readers.
McEWAN
Generally one would like to avoid tricking oneself.
INTERVIEWER
Did you do medical research for The Innocent?
McEWAN
I went to have dinner with Michael Dunnill, who was the University Lecturer in Pathology at Merton. I told him I was planning a scene in which an inexpert and frightened man cuts up a body—
INTERVIEWER
And he said, Oh, you must be Ian McEwan.
McEWAN
He said something even more frightening. When I asked him how long would it take to saw through an arm, he invited me to one of his regular early Monday morning autopsies. You come along, he said, and we'll cut an arm off and see. I said, But what about the relatives? And he said, Oh, my assistant will sew it back on and it won't show at all.
I began to have serious doubts about this Monday morning appointment. I felt the writing was going well and I didn't want to be blown off course. At the same time, I felt it was my novelist's duty to go. Then, very fortunately, I had supper with Richard Eyre, who thought I was crazy to go. He said, You'll invent it much better than you'll describe it. Immediately he said this, I knew he was right. Later, I showed my scene to Michael Dunnill, and he passed it. Had I gone to the autopsy, I would have had to become a journalist—and I don't think I'm a good journalist. I can describe accurately the thing that I imagine far better than the thing I remember seeing.
INTERVIEWER
There are writers who say that their basic unit of thought is the paragraph. And there are writers who say that their basic unit of thought is the sentence. And there are some people who work in scenes.
McEWAN
It's hard of course to separate them out, but I suppose I'd opt for the sentence. That's where the work at any moment has to be carried out. I feel that if I don't get the sentences right in the first draft, it's going to be hard to get them right later. Not impossible, naturally, but hard. So I work slowly, as if the first draft is the last. I read aloud completed paragraphs—it's a vital unit too, and I like to hear how the sentences sound against each other. First drafts of whole chapters I read aloud to my wife, Annalena. Or I save two or three of them up to read to her on holiday. I like to think of the chapter as an intact, independent entity with a distinct character of its own, a kind of short story—so that's an important building block. Then there are times when all these distinctions break down, and there's only the scene, and I'll work ten or twelve hours at a stretch to get it down. These are usually the set pieces we were talking about earlier. They go down relatively fast, and need a lot of slow revision.
INTERVIEWER
Wendy Lesser, at one point in a review of your work, claims that Graham Greene is "the shadowy eminence who colors the plot of Black Dogs."
McEWAN
Greene's name gets evoked whenever a writer attempts to combine the dramatic in an exotic location with a degree of moral or religious reflection. Tropical lassitude, a gun, a whiskey bottle, an unresolvable dilemma . . . It's a tribute to Greene that he made this territory so very much his own. I read him with interest, and I like the things he says about the nature of fiction itself, but I'm not a great admirer. The prose is a little too flat for my taste.
INTERVIEWER
Let me quote Wendy Lesser again: "The great novelist (unlike the clever, tricky novelist . . .) does not construct an entirely new fictional world each time he writes a novel. He cannot choose to do that as his inferiors can because the world he visits in his fiction has a reality for him that is not entirely of his own willed making."
McEWAN
It seems an odd notion to me, that a great novelist should be less free than a so-called inferior. But I know what she means. I'd leave greatness out of the equation. All novelists, except perhaps the genre writers, are to varying degrees helpless before their subject matter. It chooses you, is the useful cliché. And the personality of the novelist leaves its ineradicable traces. I'm sure this is the case also for sculpture and music and all art forms. But the novel is a special case. As a form it's so rich in explicit meaning, so intimately concerned with other minds, with relationships, and with human nature, and so extended too—tens of thousands of words—that the writer is bound to leave his or her personality behind on the page. There's nothing we can do about it. The form is total in its embrace. I like to think that each book I start is a completely new departure, that Atonement and Amsterdam are entirely different worlds. But I've learned that whatever you do, readers will have no difficulty assimilating it into what you've done before.
INTERVIEWER
There's a passage in Black Dogs about a photograph of June and Bernard as a young couple. Looking at this snapshot, the narrator realizes that it is "photography itself that creates the illusion of innocence. Its ironies of frozen narrative lend to its subjects an apparent unawareness that they will change or die."
McEWAN
When the past is mediated by photography it acquires a spurious innocence. Fiction has this over photography: it doesn't condescend, it doesn't have this in-built posthumous irony—that's Susan Sontag's phrase. Novels help us to resist the temptation to think of the past as deficient of everything that informs the present. When we read Pride and Prejudice or Middlemarch, we're not tempted to believe that because the characters wear funny hats, get about by horse and don't talk explicitly about sex that they're innocents. This is because we are allowed full access, or carefully arranged partial access, to their feelings and thoughts, their dilemmas. Assuming we've been carried along by the narrative, they appear before us, these characters, intact, as contemporaries, unscarred by unintended ironies.
INTERVIEWER
It takes courage to write without irony. To write, for example, about Evil with a capital E.
McEWAN
Especially when you don't believe in it. Where there's no God, it's difficult to give much intellectual credence to evil as an organizing principle in human affairs, as a vaguely comprehended supernatural force. In Black Dogs, June believes in evil in these terms and her husband Bernard does not. But he knows it's a potent idea. It's a useful way of talking about a side of human nature, and it's metaphorically rich and, for that reason, hard to live without. Harder to live without evil, it would seem, than without God.
INTERVIEWER
In Enduring Love, evil takes the form of mental illness. What part of the novel came first? Was it the attempted assassination in the restaurant, the part excerpted in The New Yorker?
McEWAN
The first chapters were about a man thumbing through his address book, looking for someone he might know with criminal connections, and then going out to buy a gun from some aging hippies. At that point I had no idea why he wanted the gun, or who he was. But I knew I wanted this scene. It was one of Graham Greene's pools. The first trench I dug led me to the attempted murder in the restaurant. That was how Enduring Love began, with random scenes and sketches, whistling in the dark. I wanted to write in celebration of the rational. Since Blake, Keats, and Mary Shelley, the rational impulse has become associated with the loveless, the coldly destructive. In our literature, it's always the characters who fail to trust their hearts who come unstuck. And yet our capacity for rational thought is a wonderful aspect of our natures, and often is all we have to put against social chaos, injustice, and the worst excesses of religious conviction. In writing Enduring Love, I was responding to an old friend who once said to me that he thought that Bernard, the rationalist in Black Dogs, never gets a proper crack of the whip. It's true, June's spiritual interpretation of her experience dictates the central metaphor of the novel.
INTERVIEWER
Do you think that science becomes a character in Enduring Love in the same way that history becomes a character in The Innocent and Black Dogs?
McEWAN
Not exactly. The boundaries of science have expanded in recent decades in a rather interesting way. Emotion, consciousness, human nature itself, have become legitimate topics for the biological sciences. And these subjects of course are of central interest to the novelist. This invasion of our territory might be fruitful. There was a possibility with this novel of integrating the science more successfully than I could in The Child in Time.
There's a moment in Enduring Love when Joe is remembering a conversation he had with Clarissa about a baby's smile. Joe quotes E. O. Wilson, who speaks of the smile as a "social releaser," an element in human behavior that has been selected out to gain that baby a greater share of parental love. All perfectly reasonable of Joe, up to a point. It's clearly not learned behavior—even blind babies smile. It's hardwired, as they say. But Clarissa thinks this is hardly an adequate description of a baby's smile. And Joe—this is a flaw in his character—Joe presses on, wearing her down thoughtlessly, insensitively, because even he knows that what they are really talking about is the absence of a baby in their lives.
I wanted to do more than simply raid science for interesting metaphors. Biological thought has made it possible to rub the emotional against the scientific in a small scene like that. It's far more interesting than trying to assimilate a quantum mechanical view or a cosmological view of time into a novel. It's riper; it's on a human scale.
INTERVIEWER
The appendix to Enduring Love, with its clinical case history, fooled some critics in America.
McEWAN
I had fun writing that appendix. One critic castigated the novel for adhering too closely to the case study on which it was based.
INTERVIEWER
Joe is obviously sympathetic to evolutionary biology. To what degree does this reflect your own beliefs?
McEWAN
Only religious zealots would want to deny that we are products of biological evolution. The question is how much our evolutionary past explains us to ourselves. My guess is, more than we previously liked to think, and a little less than the exponents of the "just so" stories of evolutionary psychology would want. We can describe a human nature, a set of predispositions, that exists across cultures, and we can make educated guesses at the adaptive pressures that have produced it. But I'm not sure how far, how deep, this can take us into the fine grain of individual behavior. Culture, the social environment, which itself has helped shape our genes, gives out an overwhelming and fascinating signal. It's hard to separate out. Clearly, there's a sense in which our lives make us what we are. But we are not born tabula rasa, and we cannot take on any shape. Our differences do not occur within an infinite range, and the ways people are similar is at least as interesting as the ways in which they vary. This is an area in which novelists and biologists should have a lot to say to one another, and it was one of the reasons I wrote Enduring Love.
INTERVIEWER
What was the genesis of Amsterdam?
McEWAN
It grew out of a long-running joke I had with my old friend and hiking companion, Ray Dolan. We speculated lightheartedly on an agreement we might have: if one of us began to go under with something like Alzheimer's, rather than let his friend succumb to a humiliating decline, the other would take him off to Amsterdam and have him legally put down. So whenever one of us forgot a vital piece of hiking equipment, or turned up at the airport on the wrong day—you know the sort of thing that starts happening in your midforties—the other would say, Well, it's Amsterdam for you! We were walking in the Lake District—actually along the route that the character Clive Linley takes—and I thought of two characters who might make such an agreement, then fall out and lure each other to Amsterdam simultaneously for mutual murder. A rather improbable comic plot. I was halfway through Enduring Love at the time. I sketched the idea out that night, then put it away for a rainy day. It wasn't until I started writing it that the characters appeared, and then it seemed to take on a life of its own.
INTERVIEWER
Amsterdam is very different from your previous novels.
McEWAN
The four novels that preceded it—The Child in Time, The Innocent, Black Dogs, and Enduring Love—all grew out of a wish to explore certain ideas. By comparison, Amsterdam felt irresponsible and free. I had a simple scheme and I went along with it to see where it might lead. Some readers considered the novel a lighthearted diversion, but for me, even at the time, it seemed as much a turning point as The Child in Time had been. I thought I was giving the characters more space. There were certain intellectual ambitions I wanted to wean myself away from. I could not have written Atonement without first writing Amsterdam.
INTERVIEWER
To go back to Graham Greene—he used to make a distinction between his serious novels and his "entertainments." Would you put Amsterdam in the entertainment category or serious novel category?
McEWAN
I think Greene abandoned the distinction by the end, and one can see why. But I catch your drift. I had enormous pleasure writing Amsterdam, and I remain pleased with it. It was well received when it came out, but its (as opposed to my) misfortune was to win the Booker Prize, at which point some people began to dismiss it. For that reason alone I'd want it to be judged seriously along with everything else I've written. I certainly wouldn't bracket it off as an entertainment and hope for more lenient treatment.
INTERVIEWER
How did Atonement get started? Was it Briony?
McEWAN
Cecilia came first. Like Enduring Love, this was a novel that grew out of many months of sketches and doodling. One morning I wrote six hundred words or so describing a young woman entering a drawing room with some wild flowers in her hand, searching for a vase. She's aware of a young man outside gardening whom she wishes both to see and avoid. For reasons that I couldn't explain to myself, I knew that I had at last started a novel.
INTERVIEWER
Because that's the hook, the love story?
McEWAN
I knew nothing. Slowly I pieced together a chapter—Cecilia and Robbie go to the fountain, the vase breaks, she strips off and plunges into the water to retrieve the pieces, she walks away from him without a word. Then I stopped, and for six weeks or so I pondered. Where is this? When is this? Who are these people? What have I got? Then I started again, and wrote the chapter about Briony attempting to put on a play with her cousins. By the time I had finished, the novel was coming into focus. A whole household was emerging, and I had the vaguest notions that Dunkirk and St. Thomas's Hospital lay far in the future. Crucially, I realized that Briony was the author of both these chapters, that she was going to commit a terrible error, and that writing a series of drafts throughout her life would be her form of atonement. Later, when I had finished part one, I swapped these two chapters round and rewrote them many times.
INTERVIEWER
What kind of novels do you think Briony wrote when she wasn't writing Atonement—when she wasn't doing her atonement?
McEWAN
She was a sort of Elizabeth Bowen of The Heat of the Day with a dash of Rosamond Lehmann of Dusty Answer and, in her first attempts, a sprinkling of Virginia Woolf. In an early draft I wrote a biographical note for inclusion at the end of the book. Then I decided against it. But here it is. The point about Greene (he keeps coming up) is that he was always prepared to give a younger writer a kindly puff, however bland. July of 2001 was when I made my last changes to the proofs.
About the author: Briony Tallis was born in Surrey in 1922, the daughter of a senior civil servant. She attended Roedean School, and in 1940 trained to become a nurse. Her wartime nursing experience provided the material for her first novel, Alice Riding, published in 1948 and winner of that year's Fitzrovia Prize for fiction. Her second novel, Soho Solstice, was praised by Elizabeth Bowen as "a dark gem of psychological acuity," while Graham Greene described her as "one of the more interesting talents to have emerged since the war." Other novels and short-story collections consolidated her reputation during the fifties. In 1962 she published A Barn in Steventon, a study of domestic theatricals in Jane Austen's childhood. Tallis's sixth novel, The Ducking Stool, was a best-seller in 1965 and was made into a successful film starring Julie Christie. Thereafter, Briony Tallis's reputation went into decline, until the Virago imprint made her work available to a younger generation in the late seventies. She died in July 2001.
INTERVIEWER
Do you think that you possibly let Briony off too easily in giving her long life and literary success?
McEWAN
She never acted out of malice, and besides, in her circumstances, with much to reflect on, long life was no great reward. The real villains, Paul and Lola Marshall, had success, happiness, and a long life. Psychological realism demands that sometimes the wicked prosper.
INTERVIEWER
Did you grow up hearing stories from your father about being evacuated from Dunkirk?
McEWAN
Yes. Towards the end of his life (he died in 1996) the retreat to Dunkirk was much on his mind and he went over and over his experiences. I was sorry that I was never able to show him my own version. I suppose his death was unconsciously reflected in the number of absent fathers in the novel. The men who straggled towards Dunkirk would have been aware that their fathers had died or fought in this same stretch of northern France. My father ended up in the same hospital, the Alder Hey in Liverpool, where his father had been treated in 1918.
INTERVIEWER
We haven't talked much about The Daydreamer. What was it like to switch gears after Black Dogs and write for children?
McEWAN
It's not very different at all.
INTERVIEWER
What were your ground rules?
McEWAN
No mentions of income tax, no explicit sex scenes. Of course, there's subject matter that one avoids. But there's very little you cannot discuss with a ten year old, if you can find the right language. And I've always liked a clear, precise, and simple prose of the kind I think children would enjoy and understand. I avoided any moral heavy breathing—I don't like children's fiction that tells them how to behave. I wrote the chapters as twenty-five-minute bedtime stories and read them to my sons. I incorporated various familiar household details—our cat, the untidy drawer in the kitchen, and so on. The boys helped with suggestions, and later on they saw the proofs, the cover design, the reviews. They saw how a book was made. At the time, I was working on Black Dogs, so it was a very agreeable diversion.
INTERVIEWER
In The Child in Time, Stephen talks about the best children's books having a quality of invisibility. Did that come back to you, that phrase, when you sat down to write The Daydreamer?
McEWAN
I don't remember, but it's certainly something to aim for. Children are not going to sit back and admire the grace and density of your imagery. They want the language to work on them and take them right into the thing itself. They want to know what happens. Perhaps that kind of invisibility belongs to an age of lost innocence, and is therefore all the more appropriate in a children's book.
INTERVIEWER
You're about the only member of your generation who seems to aspire in that direction. There's Amis's verbal display, Rushdie's exuberance, Barnes's erudition.
McEWAN
Well, hang on, we were talking about children's fiction. After a century of modernism, its experiments and fallout, this kind of invisibility we're talking about is impossible in serious writing. My ideal would be a canvas of pale eggshell to which is added a set of vivid strokes. These strokes would take you right into the prose, and ideally propel you with greater force out the other side into the thing named, into the thing itself. Having it both ways . . . but that's merely an aspiration.
INTERVIEWER
How much does this have to do with writerly self-consciousness?
McEWAN
I sometimes feel that every sentence contains a ghostly commentary on its own processes. This is not always helpful, but I don't think you can ever quite escape it. At best, you can take it for granted, and not become enslaved to self-reference, and remain faithful also to the sensuous, telepathic capabilities of language as it transfers thoughts and feelings from one person's mind to another's.
INTERVIEWER
Do you think you will write more books like The Daydreamer, for both children and adults?
McEWAN
When people ask me that, or whether I'll write a stage play, I always lie and say yes automatically.
INTERVIEWER
Why?
McEWAN
I don't want to close down the possibility. But at the same time, I know that between books I'll simply wait and see what comes up. This is a process you can't have, and don't want, under your full conscious control. Of course I'd like to write a play, or another children's book, or a stunning sonnet sequence. But what does that really mean? What it means is that I'd like to have one already written. This reminds me of a recurring dream I have. I'm at my desk, in my study, feeling particularly well. I open a drawer and see lying before me a novel I finished last summer that I've completely forgotten about because I've been so busy. I take it out and see at once that it's brilliant. A masterpiece! It all comes back to me, how hard I worked on it, then put it away. It's brilliant and I'm so happy to have found it.
INTERVIEWER
So is there a punch line to that, like the novel is signed Martin Amis?
McEWAN
No, no. It's a happy dream. It's mine. I don't have to do a thing but put it in the post and try not to wake up.

Author photograph by Nancy Crampton.