Interviewed by James Atlas
Issue 162, Summer 2002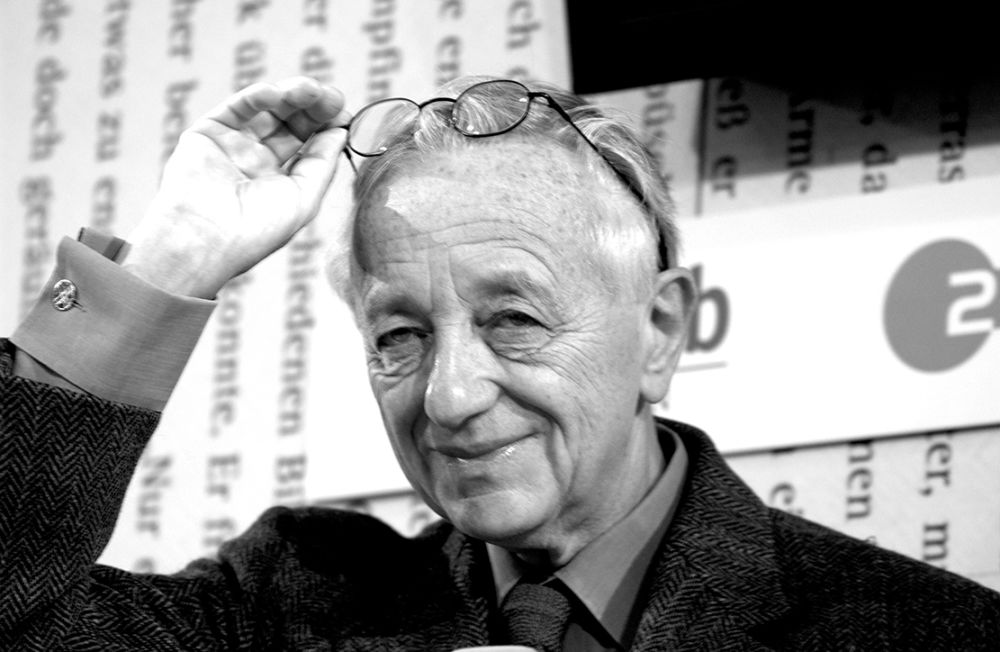 Louis Begley, ca. 2003. Photograph by Courtesy Das Blaue Sofa / Club Bertelsmann
Louis Begley was a lawyer with the distinguished whiteshoe firm of Debevoise & Plimpton when he surprised his colleagues—and the literary world—by publishing his first novel, Wartime Lies, about a young Polish Jew caught up in the inferno of the Holocaust. The novel appeared in 1991, when Begley was fifty-seven, and had great success, winning the PEN/Ernest Hemingway Foundation Award for a First Work of Fiction and the Irish Times-Aer Lingus International Fiction Prize. In the decade since, Begley has published five novels: The Man Who Was Late (1992), As Max Saw It (1994), About Schmidt (1996), Mistler's Exit (1998), and Schmidt Delivered (2000). One of the most striking features of his work is the rapidity with which he developed, relatively late in life, a singular and self-assured literary voice.
Born in Stryj, Poland, in 1933, Begley—then Ludwik Begleiter—survived the Holocaust through circumstances that closely parallel the trials endured by Maciek, the protagonist of Wartime Lies. Separated from his father, a physician, the blue-eyed, fair-skinned Begley and his mother managed to survive the war by passing as Aryan. Reunited after the war, the Begleys immigrated to New York, where they adopted a new name and a new language. Louis Begley spent two years at Erasmus Hall High School in Brooklyn, the alma mater of Bernard Malamud and many other Jewish children who achieved fame in later life. At Harvard, from which he graduated in 1954, he was a member of The Harvard Advocate, the nation's oldest college literary magazine.
It was in his capacity as president—and, for a time, as treasurer—of The Advocate's board of trustees that I got to know Begley; I joined the magazine's board in 1990, a year before his literary debut. When we first met, he was a lawyer known among friends and associates for his discerning literary taste—but not himself a writer. Urbane, soft-spoken, impeccably attired in dark suits, he radiated a lawyerly calm; only the barest trace of some indistinguishable accent (or was it simply a refined elocution?) suggested that he hadn't sprung from the pages of a Louis Auchincloss novel.
Yet there is nothing Auchinclossian about Begley's work. Its outwardly civilized milieu is often a stage for corruption, betrayal, the exercise of unruly appetites—even, in his first book, barbarity. Proustian in their attachment to the past, his novels demonstrate a robust knowledge of the world as it is. Their absorption in the mechanics of high-level finance—stock options, trusts, sharing-of-proceeds agreements—reminds me of Balzac. Begley's long experience as a working lawyer has served him well in his new career; among other things, About Schmidt is an engaging treatise on how to avoid estate taxes.
Like all great fiction, Begley's work follows the contours of its time; it would be possible to reconstruct from his shelf of work, in archaeological fashion, the cultural and political events and currents of the last four decades—the prissy simplicity of the Eisenhower era; Vietnam, the anti-war protests and the cultural revolution of the sixties ("1965! The year of the vaginal orgasm!"); the disgrace of Nixon; the decline of old forms and the rise of new men and new fortunes in the eighties and nineties. He chronicles the places where certain social types lived, the clothes they wore, the food they ate and the wines they drank. And yet—again like all great fiction—his work operates against the dominant intellectual tendencies of its own age.
In person, Begley is a reserved but quietly authoritative presence. He prefers not to talk about himself, expressing the hidden complexities of his character in his work. Though he is now an established writer as well as a prominent and busy lawyer, little has changed outwardly in his life; he still maintains a strenuous schedule, putting in long hours at his firm's office on Third Avenue. He writes on weekends, during a month's summer vacation at his home in Sagaponack, and during his annual spring visit to Venice.
Our first interview took place in Begley's office on a day when the corridors of Debevoise & Plimpton were especially hushed; the lawyers were off at a company picnic. A few months later, we met in the living room of his elegant Park Avenue duplex on a sun-warmed Sunday morning, surrounded by beautiful objects: a chinoiserie cabinet, a Louis XVI desk, a comical oil portrait of Proust. Scattered on end tables were photographs of his family in silver frames. Begley is married to the biographer Anka Muhlstein, and has three grown children from a previous marriage: Adam, the books editor of The New York Observer; Peter, a painter and sculptor living in Rome; and Amey, an art historian and novelist. Begley was in casual mode that day: dressed in slacks and a flannel shirt, he puffed on a thin cigar as we talked. He was concerned that we had devoted too much attention to his life and not enough to his work, so we concentrated on the craft of fiction—how he composes his novels.
Over the following year, we sent versions of the interview back and forth. Toward the end of our labors, I provoked Begley into a passionate outburst by proposing that Schmidt was a "bounder," eliciting thereby his longest and most eloquent answer. I wasn't sorry.
INTERVIEWER
You published your first book, Wartime Lies, when you were fifty-seven. How do you account for such a late beginning?
LOUIS BEGLEY
I'm not sure I can, and I'm not sure that it was, in fact, such a late beginning. Penelope Fitzgerald, for instance, whose work I admire intensely, especially The Blue Flower, was even more ancient than I when she wrote her first novel. It may be simply the case that some novelists need a longer period of development than other, more precocious, writers. I think it's also likely that if one hasn't written a novel in a burst of enthusiasm when one is very young, for instance in one's twenties, one becomes cautious, perhaps excessively so. Caution and self-criticism then act as a brake.
INTERVIEWER
There must have been some moment when you grabbed a pen and decided to do it.
BEGLEY
I didn't grab a pen. I typed Wartime Lies on my laptop. I remember exactly how it happened. In 1989, I decided to take a four-month sabbatical leave from my law firm, and I started the book on August 1, which was the first day of the sabbatical. I did not announce to my wife, Anka, or even to myself that this was what I was going to do. But, just a week before the sabbatical began, in a torrential downpour, I went to a computer store and bought a laptop. Now why would I have bought a laptop if I wasn't going to use it? So I must have had the book in my mind. I sat down that first day and wrote, and then wrote every day that followed. We stayed in Long Island until mid-September; afterward, we went to Venice, and then to Grenada and Seville. We spent November in Paris. I finished the first draft on the last day of our stay in Seville, and finished the revisions during the month in Paris.
INTERVIEWER
Did you know that it was good enough to be published?
BEGLEY
I knew that some of it was very good. Anka reads everything I write. She said it was very good. My older son, Peter, who was with us during some of the time when we were in Europe, read it and said it was good. I didn't have much of a question about it being a good book; I had a terrible moral problem. A dilemma, because if, as I feared, writing an accurate memoir about Poland in the war was the only permissible way to write about that time and the events that took place, then clearly I was not going to write about them. I didn't think I could write a memoir, and I didn't want to. I am not an historian. So I thought that I might have done a bad thing by fictionalizing that war material, making a novel out of it. I considered putting Wartime Lies away in some box or drawer. Anka thought I was completely nuts. Michael Arlen read the manuscript and told me I was nuts. I have enormous respect for Michael (and for my wife, too!), so I said so be it, and sent the manuscript to Georges Borchardt, who was already Anka's agent and Adam's. Adam is my younger son. Georges is now our family agent.
INTERVIEWER
Why is it called Wartime Lies?
BEGLEY
Because the protagonist, the little boy Maciek, and his aunt and grandfather survive by lying, by denying and falsifying their identity. Little by little, the quantity of lies grows; the authenticity and validity of practically everything becomes suspect. At least for Maciek. I do not mean to suggest for one second that the family were wrong to lie, that the lies were not completely justified, but living within an invented identity is not without consequences. Maciek is not only deprived of a childhood—the sort of childhood one may imagine he might have had if Hitler hadn't come to power, if Germans hadn't invaded Poland, and so forth—but also of his self. Its place is taken by something fabricated. A lifesaving invention. Of course, Tania, the beautiful, outrageous, and heroic aunt, is also deprived of the sort of life she would have had as a young woman, the one to which she certainly felt she was entitled. But for a grown-up, particularly a grown-up with a strong, fully formed character, the lies and distortions are less corrosive. In any event, that is my theory.
INTERVIEWER
Tania is based on your own mother.
BEGLEY
She has many things in common with my own mother. And she has some traits that I wished my mother had had, but didn't have. Perhaps no real woman could have had them.
INTERVIEWER
Is the scene in the Warsaw railroad station where she persuades the official to take her and Maciek off the train to Auschwitz, is that something that was imagined or is true?
BEGLEY
I won't answer that question.
INTERVIEWER
Or what you saw the German officer do—take a baby out of the line of march and drop it into a sewer.
BEGLEY
That is something I saw.
INTERVIEWER
I know this is a very fraught question, but how did you deal with the autobiographical element in your book? Of course, it's now the fashion for everyone to read all books as pure autobiography, and some are more pure than others. But just how autobiographical is your work?
BEGLEY
Wartime Lies? I would have never written that novel if I hadn't had the wartime experiences I had, but, as I keep on insisting, Wartime Lies is a novel, not a memoir. Putting aside the barrier created by my modesty—in the sense of pudeur—I didn't have enough memories to write a story of my own life. Invention was necessary to fill out the story, and to carry the story along. Had there been no invention, had I written down only what I remembered, I would have had a boring text of perhaps forty-five pages. Possibly even shorter. I will try once more to make myself clear. I have no interest in writing confessions, in deliberately baring myself to my readers. I prefer to remain behind a screen. The novel as a form is a very convenient screen, and it is one that I need. I intend to stay behind it.
INTERVIEWER
Why won't you answer the other question?
BEGLEY
Because I do not believe in unscrambling scrambled eggs. It is contrary to the best interest of one's novel to tell the reader, Look, I imagined this, I really experienced that. I am willing to do it to a very limited extent, as in the case of the incident with the baby, because it involved facts that were simple although particularly gruesome. The railroad station scene you have asked about is much more complex, and I would need to take it apart piece by piece. I don't want to do that. I don't want to do that with regard to any scene or incident that is important and in which I used both real experiences, however altered, and material I invented. I will give you instead a general answer: There is not a single thing in Wartime Lies, including inventions, that is not supported by my personal experiences, but my personal experiences have been altered, by additions and subtractions, in a way that made me able to use them in my novel.
INTERVIEWER
To back up fifty years . . . You came to this country with your parents after the war. You studied English literature at Harvard?
BEGLEY
My major was English literature. But I took courses like John Singleton's "Dante," Harry Levin's "Proust, Joyce, and Mann," and Renato Poggioli's "Symbolist Poets." I took every course in French literature I could squeeze in. If a comparative-literature major had existed at Harvard College for undergraduates I would have surely gone in that direction.
INTERVIEWER
And you were on The Advocate, Harvard's undergraduate literary magazine, so you had a literary bent. You wanted to write.
BEGLEY
I did. But in the spring of my junior year, while I was taking Albert Guerard's creative-writing course, I came to the belief that I should stop trying to write fiction. The reason was very simple. I thought that there was nothing of significance I had to say or, even more important, that I wanted to say. That belief stayed with me almost forty years.
INTERVIEWER
Why was that?
BEGLEY
When I went to Harvard College, in 1950, I was only sixteen. My parents and I arrived in the United States in March 1947, when I was thirteen. We had left Poland some months earlier, in 1946. My decision, when I was eighteen, that I shouldn't try to write came, therefore, at a time when it was reasonable for me to believe that the only material I possessed, and more or less understood, and could draw on for use in fiction, came out of my experiences in Poland during World War II. But I was busy trying to become an American and I was very determined to live in the present. Concentrating on Polish material, and writing about it, seemed to interfere with these ambitions. Right or wrong, that was the feeling I had. And I didn't think I could write about my American present. I believed I didn't understand it. What I did understand, I was ambivalent about. Of course if I had been cleverer or bolder, or if someone had made the suggestion convincingly, I suppose I might have tried to write about not understanding my identity or my new surroundings or my place in these surroundings. That idea didn't occur to me.
Perhaps there was something else at work, too—my belief that the wartime material would be opaque and indigestible for an American audience. That no one cared. Don't forget that Holocaust studies had not yet been invented. In fact, the word holocaust had not acquired its present meeting. The word genocide did not exist. Nothing in my surroundings encouraged me to go on writing stories about a Jewish boy in German-occupied Poland, which was what I was doing in the Guerard course, and what I had done before I took that course.
INTERVIEWER
What made you able finally to deal with this subject?
BEGLEY
It certainly wasn't the emergence of Holocaust literature as a genre. In fact, I have read very little of it: Primo Levi, but only in the 1980s; and Jerzy Kosinki's Painted Bird, and a novel by a French writer, André Schwartz-Bart, Le dernier des justes (The Last of the Just), a marvelous work that seems to have been forgotten. Nothing else by way of belles lettres. I think it was the passage of time that made writing Wartime Lies possible. I had matured emotionally and intellectually. I had become infinitely more sure of myself. I was finally able to make a story I thought was worth telling out of experiences I had sometimes talked about but, in the most profound sense, had kept under lock and key, to find a voice for Wartime Lies with which I could be comfortable, and to put myself at a sufficient distance from the story. I don't like self-pity or sentimentality. I don't think I would have known how to avoid it if I had tried to write something like Wartime Lies too early.
INTERVIEWER
One of the most startling things about Wartime Lies is that it's not lachrymose. In fact, given the tragic nature of the material, it's rather dry-eyed. And yet, as I read it, I kept thinking: Doesn't the knowledge of this experience, the terror and human brutality of what you saw, what you witnessed, what's described in this book, set you apart in some unbridgeable way from the world that you've since come to inhabit?
BEGLEY
It does. Certainly I have felt, ever since the war ended, ever since I could stop pretending to be someone I wasn't—a Polish Catholic instead of a Polish Jew—which had been necessary in order to survive the war—that in spite of all my efforts to become normal, to be like everybody else (these efforts, I should add, stopped some time ago), I remained irremediably different. I have always been aware of an uncomfortable distance separating me from other people. Perhaps also a distance separating the real me from the other visible me that you, for instance, are talking to right now. I have worried that this distance manifests itself as a lack of spontaneity, a tendency to be aloof and stand aside. Sometimes, half in jest, I call it being a zombie.
I am speaking now of what I call my personal life. Oddly enough, I have had no such worries in my life as a lawyer. I have been practicing law for more than forty years. In legal practice, in the representation of clients, I have always felt deeply engaged, serene, and not all inclined to stand aside. I have always done whatever needed to be done, and have usually gotten my way. Perhaps that is because when I am a lawyer I am able to stop thinking about myself. One reason for my fondness for the practice of law may be just that—I don't need to take it personally.
INTERVIEWER
And your emotional life?
BEGLEY
I thought that we had been talking about my emotional life. But even in my personal life, I am not always a zombie. Somehow I have managed to be deeply and happily in love with Anka, who is my second wife—we have been married for almost twenty-eight years—and to have very close and loving relationships with my three children from my first marriage as well as with my two stepsons.
INTERVIEWER
So much for the crippling effect of the war.
BEGLEY
Perhaps it doesn't sound like much of an effect. It certainly hasn't been "crippling" so far as my getting along in life is concerned, but I can assure you that the feeling that I am different, that I can't get close to people, has weighed heavily on me. You might also ask yourself why I should be crippled to any greater extent. If you compare me with other Jewish boys who survived the war in Poland, nothing very bad happened to me. I was never in a ghetto or a concentration camp. I wasn't beaten. I was never separated from my mother. When I was sick I suffered from nothing worse than the normal childhood diseases, perhaps somewhat aggravated by the confined life I led and lack of first-class medical care.
INTERVIEWER
But you were shot at . . .
BEGLEY
You are referring to the adventures of little Maciek, in Wartime Lies. As I have said over and over, Wartime Lies is not my autobiography. What I am trying to put across is that my wartime hurts were psychological: fearing for my life, imagining what it would be like to be tortured, denying my identity, lying, and being ashamed of the lies. Much worse things could have happened to me.
INTERVIEWER
But it isn't as though nothing had happened to you because, leaving aside the autobiographical versus fictional elements of the book, certainly one has to make the assumption that one truth, one narrative truth, one biographical truth that resonates throughout this book is the necessity of hiding your identity. This is something that happened to you. You were hunted because of who you were and so you had to create a false identity. We can say that much, right?
BEGLEY
Yes, and that ties in with what we were discussing before, my decision at Harvard College to stop writing. I had a strong reluctance to expose the fear and shame I had felt during the war any more than I had already exposed it, in the sort of short stories I had been writing and sometimes to girls I courted. I didn't want to be different. I wanted very much to have a normal life and a normal understandable persona.
INTERVIEWER
Your father was reunited with you after the war?
BEGLEY
Yes. A bewildering and joyous reunion: those are the two adjectives that come to mind in connection with my father's return.
You see, there was no particular reason to believe that he would come back. My mother had heard rumors, which I now remember only dimly, that in fact he was dead—perhaps he had been killed during the Russian retreat, perhaps he had just died. We thought he might have been sent to a camp in Siberia. But he turned up, very much alive, in fact looking quite well and fit. He hadn't been in Siberia, and certainly not in any sort of camp. Nor had he been in a frontline hospital. He spent those Russian years in Samarkand, practicing medicine. I don't remember whether it was in a military or civilian hospital.
At the time, it was impossible for me not to envy him. He had been so lucky. In addition, there was the romantic aspect of his having lived in Asia Minor, which was enhanced by his mustache and his Soviet army uniform. I had never known him to have a mustache. How he managed to return to Poland so quickly—it was barely two or three months after the end of the war in Europe, and perhaps even earlier—I don't recall, and I am not sure that he ever told me. I suppose that, when he realized that the German front was collapsing, and the Soviet army was going to push the Germans out of Poland, he just got going and followed the advancing Red Army. I find it amazing that he managed it, because ordinarily he was not adventurous. You wouldn't say that he had street smarts. He must have been propelled by some irresistible instinct: like a salmon swimming upstream.
Adding to the initial bewilderment and joy was the difference between his experience of the war and my mother's and mine. However much he loved us, however much he tried, it seemed to me that he couldn't really understand what had happened to us. Now I know that there was no reason why he should have understood. It was not something that a sane and moral man could imagine. At the time, there wasn't available the sort of abundant testimony of survivors and witnesses that has, so to say, popularized life under German occupation: concentration camps, the ghetto, having to pass as Aryans, and so forth.
INTERVIEWER
Amazing. And then you decided to go to Paris?
BEGLEY
No, my mother and father decided. I was just the lucky suitcase they took along. We left Paris at the end of February 1947 to go to America. My mother had a rich uncle in New York. She managed to get in touch with him. He sent us money and helped us get entry visas. I am not sure that the uncle was ultimately thrilled by our arrival. But he did do the necessary, decent thing.
INTERVIEWER
You share with Conrad, another great Polish-born writer, the fact that English is your second language. When did you first learn it?
BEGLEY
I began to study English in Kraków, right after the war ended, with a tutor. He and his successors must have taught me well, because by the time I got to Erasmus Hall, which is the high school I ultimately attended in Brooklyn, I spoke and wrote English correctly. In fact, during my senior year at Erasmus Hall, in 1950, I won a citywide short-story contest administered by New York University.
INTERVIEWER
How does that history affect your style? What is it like to have come to a language that late and developed a style of your own?
BEGLEY
I think I am less self-assured when I write English than I would be if I were writing in my first language. I have to test each sentence over and over to be sure that it's right, that I haven't introduced some element that isn't English.
INTERVIEWER
Maybe that's what makes it so lapidary?
BEGLEY
Yes, or it could be the lack of spontaneity that marks me in all regards.
INTERVIEWER
Why did you make Dante your guide in Wartime Lies?
BEGLEY
At times I thought I would suffocate while I was writing that book. I needed relief, some way to suffer less. I love The Divine Comedy so my thoughts turned to Dante, as though to a friend. Also, paradoxically, the penitentiary system that Dante created, explained, and justified furnished analogies that I could contend with. I thought that my digressions about the Inferno enabled me to move my story to a different, perhaps higher moral level.
INTERVIEWER
Did writing Wartime Lies come to you easily?
BEGLEY
Easily? I don't know. I doubt it. I often cried as I wrote it.
INTERVIEWER
Who are your literary models, your sources of inspiration?
BEGLEY
I have no models. I do not believe that my work is inspired by any of the writers I admire.
INTERVIEWER
But surely there is a genre or a period of style you admire, that has somehow seeped into your work.
BEGLEY
That's a very different question. There are many novelists I admire. Some of them I admire passionately. The list, if I were to make one, would not be particularly original. Proust, Flaubert, Stendhal, and Balzac would be at the top among French writers; among novelists writing in English, surely Conrad, Henry James, Trollope, Dickens, Melville, F. Scott Fitzgerald, Anthony Powell, and, yes, Hemingway and Waugh; both Dostoyevsky and Tolstoy; Kafka, and Thomas Mann, and Thomas Bernhard, when I think of authors writing in German; Witold Gombrowicz, the Polish writer of genius. Then there are novels—as opposed to an entire oeuvre—that mean very much to me. Madame de La Fayette's Princesse de Cléves; Le Monde désert (The Desert World) and Hécate by Pierre-Jean Jouve. It is impossible to have read and reread these authors without learning from them. Perhaps you mean learning from another writer when you speak about what may have "seeped" into my work. But the fact that I think A la recherche du temps perdu is the greatest novel ever written does not translate into my trying to write like Proust, to give an obvious example.
Rather, Proust, just as James, has taught me about the gap between what ostensibly goes on in a novel—and in life—and the more important action that takes place unseen, and about the mysteries of memory. To take other examples, I have no doubt benefited from the way Powell manages dialogue. Kafka, Gombrowicz, and Bernhard are particularly instructive when it comes to making use of a novelist's intoxicating freedom: the ability to order what happens in a novel exactly as you wish, to impose your point of view.
I suppose I should mention that when I wrote Wartime Lies, and was trying very hard to keep my voice in the key in which I thought it belonged, Princesse de Clèves was constantly in my mind alongside The Divine Comedy. Obviously not because the adventures of Tania and Maciek had anything to do with the goings-on at the court of Henri II, but because I was seduced by the chasteness of Madame de La Fayette's narration, and thought I should attempt something analogous in the wildly different circumstances of my characters. Similarly, Jouve's speed of narration, his daring—he simply leaves out of the story anything that doesn't interest him in Le Monde désert—and the remarkable mixture of cruelty and tenderness with which he considers his three principal characters, Jacques de Todi, Pascal, and Baladine, encouraged me when I was writing The Man Who Was Late. I acknowledge that debt in my novel, by the references I make to Jouve's work.
INTERVIEWER
After Wartime Lies, your novels seem very different, what might be called novels of domestic life, in that they deal with marriages and love affairs, children and parents, friends and business associates. What prompted this radical shift in perspective?
BEGLEY
The thing that really surprised me after Wartime Lies was certain people's expectation that I would continue to write the same kind of book. How could that be? If Wartime Lies had been an autobiography, which it wasn't, could I have written another autobiography covering the same period in my life? I was six years old when the war broke out, and eleven when it ended. Writers like me write novels out of their experiences. It's their only capital. How much experience can a child of the age I was accumulate? Surely not enough to create a whole novelistic universe, and draw upon it in novel after novel. I have such a universe now. It consists of the experiences I have accumulated in my much longer and richer American life.
INTERVIEWER
How do you account for the fact that, although you didn't become a writer until relatively late in life, you now write books with such regularity?
BEGLEY
I think it was necessary for me to write Wartime Lies first. I have been asked often whether it was a manner of exorcising my demons. It wasn't; the demons are still there and torment me, especially when I dream. It would be more accurate to say that I wrote Wartime Lies to take care of unfinished business. I don't think I could have written about other subjects, derived from my American life, without having first dealt with the matter of Poland.
INTERVIEWER
Did it make you unhappy not to write between college and 1989, for some thirty-five years?
BEGLEY
No, it made me unhappy for about two months to have given up Guerard's creative-writing course, to have dropped it in mid-semester, because I felt I couldn't and shouldn't go on. I had never done such a thing before and I haven't done it since.
INTERVIEWER
How do you balance your writing with your work as a lawyer?
BEGLEY
I don't balance it. My work as a lawyer and my work as a novelist coexist. I practice law during the week, and do my writing on weekends and holidays if I am not interrupted by office work. Naturally, I have had to give up taking naps, going to the movies even when there is a film I very much want to see, and, much more painful, reading as much as I would like.
INTERVIEWER
Do you write very rapidly?
BEGLEY
On a very good day I can do five to six pages. Is that rapid? On a mediocre day I can do three pages. On a bad day I am lucky if I can do one.
INTERVIEWER
Do you revise?
BEGLEY
I revise incessantly from the beginning to the end of the first draft because I can't advance unless I am comfortable with what I have already written. I do that on my laptop. Then, when I think I have a clean draft on the screen, I print it out and correct the hard copy. My secretary makes the changes, and once more I begin to revise.
INTERVIEWER
Do you ever get stuck?
BEGLEY
Of course I do. Because I interrupt my writing so constantly to take care of legal work, sometimes I lose the thread of the story or the feeling of excitement that was pushing me forward. The usual cure is to rewrite a part of what I have already done. Or, if I have run out of steam in the middle of a writing day, to lie down and sleep for half an hour.
INTERVIEWER
When you finish a book does the next book present itself to you as an idea right away?
BEGLEY
It has happened that way, yes.
INTERVIEWER
When you begin a book, do you have it all in your mind beforehand?
BEGLEY
I have a fairly clear image of the protagonist and of the protagonist's predicament. I also know how the predicament will resolve itself, which is another way of saying that I know how the novel will end. I don't set out in my little boat to cross the sea without a compass or a quadrant.
Perhaps I should be clearer. When I think of starting a novel, I do not have general themes in mind that I want to discuss. And I do not prepare the outline of a plot. The point of departure is, instead, the protagonist and the predicament. That is why I know how the story must start, and also the finish line. What comes in between is the hard work of invention. That is when I invent, word by word and sentence by sentence, using as material my observations and experience of persons in the milieu in which I have lived, and of its many landscapes, the incidents that get me to the finish line and enable me to cross it.
INTERVIEWER
In Mistler's Exit, speaking of boats, did you know from the start how that book was going to end?
BEGLEY
Yes. I knew the book's structure and its ending, although (as is the case with each of my novels, including Wartime Lies) it wasn't entirely clear to me how I was going to get from the beginning—which I knew—to the end, which was also known.
INTERVIEWER
Did you know when you began that strong image of what happens in the last scene?
BEGLEY
At the Bucintore boat club? Yes. I wanted to put that extraordinary building into my novel, and I knew that observing the building and the racing shells in it would make a man like Mistler think how he might take out a single skull and row with all his might into the night and perdition.
INTERVIEWER
And The Man Who Was Late, did you always have the final scene of the bridge as your vision of how Ben was going to do away with himself?
BEGLEY
Oh yes, absolutely. I thought of the story that became The Man Who Was Late for many years before I wrote it. At the time when I wasn't writing novels, and wasn't planning on writing any, occasionally I made up stories that I carried around in my head. Ben's story is one of them. It has its germ in an experience that is connected to Geneva, one that made me desperately unhappy. I remember walking across that bridge and thinking how suitable it would be to kill myself right there—if only I were sure that it would work. Not that I had any intention of jumping—I've never wanted to commit suicide—but I found the thought that this means was at hand if I made up my mind to end my misery was quite irrepressible. So I knew the end of Ben's story.
INTERVIEWER
Ben falls on a herse. It's the last word in the book, quite an uncommon word.
BEGLEY
Herse is another word for harrow. I was thinking of the electricity-generating machine at the Pont de la Machine, on the Rhône, as being a herse—a harrow—and that its teeth would tear at Ben's flesh when he fell on it. There is a slight connection there with The Penal Colony.
INTERVIEWER
Were you having a joke with your readers, to make them look the word up?
BEGLEY
No. I knew the word. I think it's a very beautiful one. I wasn't sure that harrow was as gorgeous. It never crossed my mind that I was sending readers to the dictionary. I wrote herse in all innocence.
INTERVIEWER
And Véronique of The Man Who Was Late? Does she have a real-life model?
BEGLEY
She's a composite of various ladies. She's not any person in particular; I've never, even to create a minor character, simply copied some acquaintance.
INTERVIEWER
Does she do things that surprise you?
BEGLEY
Oh, absolutely.
INTERVIEWER
Did it surprise you, for example, that she sits in an airplane and is molested and goes to bed with that dreadful man who did it?
BEGLEY
No. That did not surprise me.
INTERVIEWER
Because it happened?
BEGLEY
Let's just say that this sequence of events did not surprise me.
INTERVIEWER
I don't know writers who write about sex better than you do.
BEGLEY
Thank you. I enjoy doing it.
INTERVIEWER
Why do writers have trouble writing about such things?
BEGLEY
I suppose they are inhibited. I am assuming that they can write. If they can write, but can't write about sex, it's probably because they never got over their puritanical upbringing—the sort of upbringing that I didn't have. It helps that when I am in the right mood I will say—and write—anything that comes into my mind.
INTERVIEWER
I think the frankness of it is what makes it so sexy.
BEGLEY
It could be. I agree that those scenes are good. I'm not ashamed to admit that occasionally I've found myself aroused by my own descriptions of sex.
INTERVIEWER
How would you compare your last four books to each other in terms of their tone? I mean is there some language they share? Do they have a "Begleyan" quality?
BEGLEY
I think they have one unifying element, and that's me!
INTERVIEWER
How do you rank your novels?
BEGLEY
In terms of merit? I try to avoid doing that. It's like telling someone which of your children you love the most, which is something one must never do. I can tell you about my relation to my books, which is a different matter.
INTERVIEWER
What is that relation?
BEGLEY
In some ways I think I am furthest removed from Wartime Lies. It was very difficult for me to write that novel, and it is still very difficult for me to think about it. It exists as a book on tape, and I haven't been able to bring myself to listen to it.
I feel very close to The Man Who Was Late. I gave myself a great deal of freedom in it, more than in any other novel I have written, with the possible exception of my most recently published novel, which is Schmidt Delivered.
INTERVIEWER
The Man Who Was Late was the book that followed Wartime Lies.
BEGLEY
Yes. After that "chaste" story, I wanted very much to write a rascally book and I think I succeeded.
INTERVIEWER
What do you mean by "rascally"?
BEGLEY
Perhaps the word is wrong. I wrote The Man Who Was Late resenting bitterly what had happened to the protagonist, Ben, my heart overflowing with my own love for Véronique, the woman Ben loves, but doesn't love enough or, in any case, boldly enough. I didn't want to let anyone off, not for a moment. Not Jack, the decent, self-righteous WASP, not his relations, so secure in their privileged lives, not Rachel, the man-eating Boston heiress. For once, I thought, I would say aloud what I had been mumbling under my breath.
INTERVIEWER
And the novels that followed?
BEGLEY
As Max Saw It, About Schmidt, Mistler's Exit, and Schmidt Delivered each deals with a predicament that's very important to me. I think they are successful. When I read passages from them on book tours and similar occasions, or when I review translations, I find that I am not embarrassed. Indeed, I am pleased.
INTERVIEWER
I'm curious about the eponymous protagonist of your most recent novel, Schmidt Delivered. You have a way of writing sympathetically about unsympathetic characters—and of making your readers care about them—that intrigues me. Schmidt is indisputably something of a bounder, who cheats on his wife, gets involved with a local waitress decades his junior, has problems with his only child—yet is capable of eliciting warm feelings from the reader. This is true of many of your characters, who go through life with a brittle, defensive armature of emotions—I think of Ben in The Man Who Was Late, of Mistler, of Schmidt. How do you achieve this feat?
BEGLEY
I disagree with your characterizing my characters as unsympathetic, and I certainly don't think Schmidt is a bounder. Yes, he has been unfaithful to his wife. So have most of the men I know. I might add that I don't think I know many wives who are not on occasion—or systematically—unfaithful to their husbands. Why does Schmidt's occasional adultery, about which he has tried very hard to be discreet, make him a bounder? It makes him like other people. And what is wrong with his getting involved, after his wife has died, with a local waitress decades his junior? He isn't seducing a minor. The girl goes after him.
Schmidt, in fact, is clearly a gentleman. A gentleman who has, like most, at times behaved badly. I betray his confidence sufficiently to reveal three instances of such misbehavior in Schmidt Delivered. Schmidt's judgment about them and about himself is severe. There is no self-pity and no hiding behind easy excuses.
As for Schmidt's problems with his daughter Charlotte, are they entirely of his making? I wouldn't think so. He may not be especially adroit as a father, but isn't she a particularly provoking and ungrateful child?
Of course, I have sympathy for my principal characters. They are complex, imperfect, and intelligent people. I recognize myself in them, and so do my readers. Isn't inducing that sort of recognition the classical and recommended means of eliciting sympathy, the warm feelings you have mentioned?
By the way, I wonder about readers and professional critics who are troubled by the fact that the protagonist of a novel is "unpleasant." Let's put aside the question whether Ben or Max or Charlie Swan or Mistler or Schmidt really is unpleasant. The more important question is, why shouldn't they be unpleasant? I have never thought that nice or pleasant are adjectives I would as a matter of course try to fit to great literary personages and then use the fit as a test of the novel's quality. Let's see whether you will disagree: Take the Narrator, Baron de Charlus, or any other principal character (the mother and grandmother excepted) in A la recherche du temps perdu; Kate Croy in The Wings of the Dove; Joseph K. in The Trial, Vautrin in Les splendeurs et misères des courtisanes and the other Balzac novels in which he appears; Ahab in Moby-Dick; the nameless narrator in Notes from the Underground (surely the fountain from which flows all serious modern fiction); or for that matter Tolstoy's Vronsky and Anna Karenina. I put it to you that none of them is "nice." They are closer to "unpleasant."
The principal characters in English Victorian novels are in a different category. They are the product of a certain sort of society and its special expectations.
INTERVIEWER
You haven't told me much about Ben or Mistler. You have certainly covered Schmidt!
BEGLEY
That's because you have provoked me into delivering a tirade. In fact, I would like to speak about my other characters.
I'll start with Ben. Frankly, I find it difficult to understand why one would find him "unpleasant" or difficult to sympathize with. What is he like really? To begin with, he is an Eastern European refugee from World War II, rather young to be at college, who nevertheless finds himself at Harvard in the early 1950s, completely over his head. His academic preparation is inadequate. His social preparation is close to zero. We don't find out what happened to him during the war, but it can't have been good. He knows he has not had the childhood he should have had to be at ease in the world of his classmates. Vacations, sailboats, lack of worries, happy supportive parents, aunts and uncles, friendships with other kids who would also end up at Harvard, a sense of belonging where he is, as of right—all that is missing. It's too late to catch up. In place of happy memories, he has memories that terrify him, that he would like to shut off forever, behind a bronze gate, as he says. Rather early in his college career, however, he is initiated into the mysteries of a world he has been looking at enviously, his nose pressed against the windowpane. Luck or misfortune, he has an affair with an older woman—a rich, proper Bostonian—widowed, with twin daughters. She prefers him to the men he envies. He marries her.
Of course, he is an overachiever and manages to start on a career appropriate for her, if not his, station in life. Wonder of wonders—remember that we are in the second half of the 1950s, before such things were commonplace—this very bright little Eastern European Jew goes to work for a whiteshoe Wall Street investment bank and fits in. Does that make Ben and Rachel, his wife, live happily forever after? Certainly not. Performing one of those almost ritual operations of the 1960s—a woman who respects herself must get a divorce to show that she has the right stuff—she throws him out and breaks his heart. But it's too late to stop Ben. He becomes a partner in his investment bank, moves from Central Park West to Paris, where he will head his firm's office, he buzzes around the world, and all the while is having a sort of nervous breakdown. The existential problem—his feeling that it's too late: that his successes, his understanding of himself, have been reached too late to be of any use to him, or his parents, or even the woman he married—is acute. Then he meets Véronique and falls in love with her. There is something quite mad about that young woman. She scares him. He is afraid of commitment and of imperfection, in her and in him. Their story ends badly.
Why would anyone dislike Ben? I don't really know, but one or two more or less negative reviews in the American press and a couple of vicious reviews in English papers may provide a partial answer. These reviewers picked on Ben's frequenting fine restaurants, choosing expensive wines, staying in first-class hotels, and wearing clothes that were made for him. In other words, his high style—or, if you like, his high standard of living. Also, his cold and unpleasant way of looking at sex—and my descriptions of having sex. As for the "high standard of living," what those critics missed is that Ben doesn't glory in material pleasures or comforts. They are like a skull that a hermit keeps before his eyes, to remind him that all is vanity and dust, and of his mortality. That is because, successful though he is, Ben has been unable to get the one thing he wants: to be able to love, and to be loved in return, to break out of his dreadful solitude. Therefore, all the material trappings of his success serve as a bitter reminder of his failure, and that is how they are intended. And my descriptions of sex? To me the sexual drive is all important. For many reasons. Among them is making it possible to break out of one's loneliness and attain a unique form of communication with another human being.
I should add that, overall, the critical response to The Man Who Was Late in the United States, France and Germany, and even England, was positive.
INTERVIEWER
Does that mean you would ever cater to critical disapproval and have a future Ben go to less fashionable restaurants?
BEGLEY
No, I don't write looking over my shoulder to see what reviewer X or reviewer Y might say.
Let's turn to the principal characters of As Max Saw It. There is the narrator, Max: a well-meaning, academically brilliant, and yet slightly dim Harvard Law School professor. I describe him accurately and make him a real person. He bumbles his way through the novel and grows up as he sees what goes on in the great world around him, principally the tragic love affair between his demiurgic college classmate, Charlie Swan, and a beautiful boy called Toby. Charlie Swan, by far more striking than Max, is a torrent of a man: violent and gentle, scornful and humble, devious and brutally truthful. Is Charlie "nice"? No, he isn't. Is he someone from whom you would withhold sympathy? Not unless there is something fundamentally wrong with you. If you are like me, you will be friends with him.
That takes us to Mr. Thomas Mistler, the eponymous protagonist of Mistler's Exit. He learns that he is going to die in short order of cancer of the liver and decides that, before he enters the "war zone," he will have a week or ten days off—in Venice, the city where nothing irritates him—without his wife and without his only son. Once there, he divides his time between taking care of an unfinished business problem and examining his conscience. The business problem involves some sharp dealing by Mistler. Is he therefore a contemptible crook? He is the first to look down on himself, and in fact, if he were conducting himself with his habitual punctilio, I think he would have behaved better. He also has a sort of four- or five-night stand with a young woman who has chased him from New York to Venice, and an encounter with an old flame. Both are highly charged sexually, both reflect the sort of disgust with life and with himself that a man like Mistler who is in Mistler's situation might be reasonably expected to feel. But most important to Mistler and to me, he tries desperately to come to terms with his only son. All in all, is Mistler unpleasant, not worthy of sympathy? I do not believe I would find him such if I had the good fortune to meet him. It's true that he is not politically correct. Come to think of it, none of my principal characters comes even close to meeting that high standard.
INTERVIEWER
And as for Schmidt Delivered? Suffice it to say the title was vindicated in the end. We won't say from whom or what . . .
BEGLEY
Precisely.
INTERVIEWER
What qualities does one look for in a writer?
BEGLEY
In the first place there has to be love of words, a sense for what a good sentence is, for how you make a good sentence. Then, I suppose, comes something I will call literary intelligence, which doesn't mean that you're the brightest person in the world. It means knowing how to tell a story. How it begins and how it ends. What kind of things can be made to happen in between.
INTERVIEWER
Discipline?
BEGLEY
Of course. There is no such thing as literary creation without hard work.
INTERVIEWER
Being in the legal profession helps that, does it not?
BEGLEY
I think it does.
INTERVIEWER
I take it you don't regret having become a lawyer?
BEGLEY
I have never regretted my life as a lawyer, in fact I have loved it. The only trouble with being a lawyer is that your work never seems to end. The result is that my life as a lawyer, and—since I began to write, in mid 1989—also a novelist, has been quite hard.
INTERVIEWER
Would you like to be a full-time writer?
BEGLEY
I suppose that I would, and that, before too long, I will become one. All my law-school classmates seem to have retired, and so have many younger lawyers I have been used to seeing around me, some of them being in fact my partners. The time to follow their example may be at hand.
INTERVIEWER
A gift to literature!
BEGLEY
That depends entirely on whether there is water left in the well. One never knows.
INTERVIEWER
How much water is in the well now?
BEGLEY
Right now? I don't know. I am finishing a novel—it would be more accurate to say that I am finishing the first draft of something that I hope will seem to me to be a novel after I have written the last page and reread the draft from beginning to end. Both the present and the future will be clearer after I have made that judgment.