Interviewed by Daniel Stern
Issue 61, Spring 1975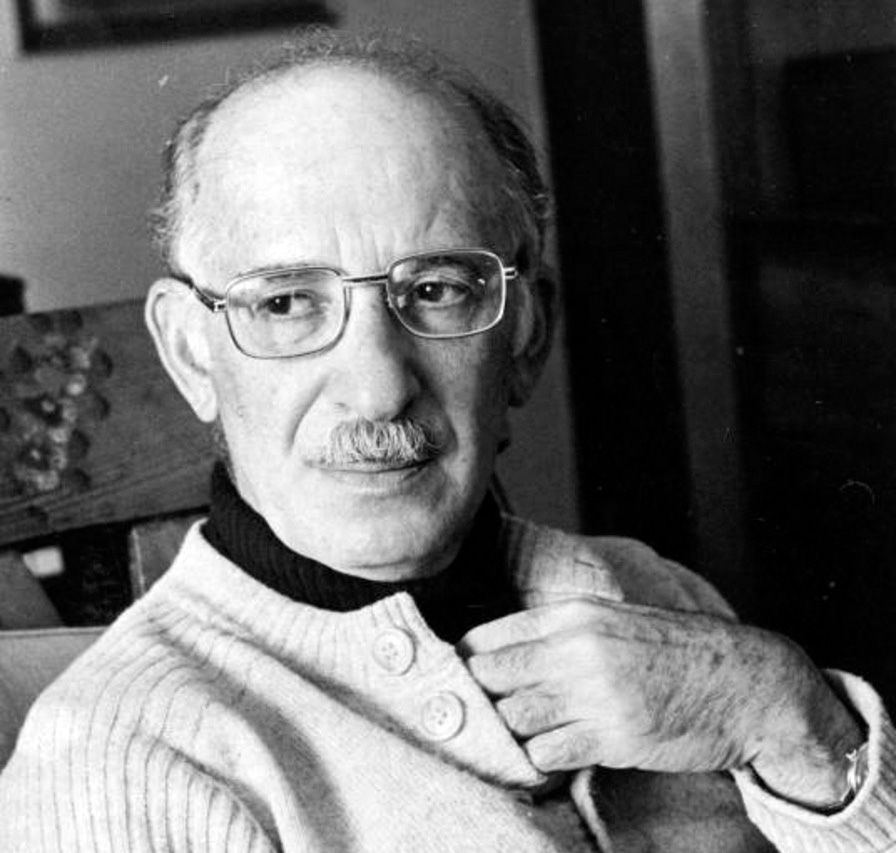 Bernard Malamud lives in a white clapboard house in Bennington, Vermont. Spacious and comfortable, it sits on a gentle downward slope, behind it the rise of the Green Mountains. To this house on April 26, 1974, came friends, family, colleagues, and the children of friends to celebrate Malamud's sixtieth birthday. It was a sunny weekend, the weather and ambience benign, friendly.
There were about a half-dozen young people taking their rest in sleeping bags in various bedrooms and in a home volunteered by a friend and neighbor. Three of them, from nearby universities, were children of friends who were on the faculty of Oregon State University more than a dozen years ago.
On Saturday night there was a birthday party, with champagne, birthday cake, and dancing. At the end of the evening the young people drummed up a show of slides: scenes of past travels; in particular, scenes of Corvallis, Oregon, where Malamud had lived and taught for twelve years before returning East.
Bernard Malamud is a slender man with a graying mustache and inquisitive brown eyes that search and hide a little at the same time. He is a quiet man who listens a lot and responds freely. His wife, Ann, an attractive, articulate woman of Italian descent, had planned the party, assisted by the young people from Oregon and the Malamuds' son, Paul, and daughter, Janna.
The taping of the interview began late Friday morning, on the back porch, which overlooks a long, descending sweep of lawn and, in the distance, the encircling mountains. It was continued later in the book-filled study where Malamud writes. (He also writes in his office at Bennington College.) At first he was conscious of the tape recorder, but grew less so as the session—and the weekend—continued. He has a quick laugh and found it easy to discourse on the questions asked. An ironic humor would seem to be his mother tongue.
INTERVIEWER
Why sixty? I understand that when the Paris Review asked you to do an interview after the publication of The Fixer, you suggested doing it when you hit sixty?
BERNARD MALAMUD
Right. It's a respectable round number, and when it becomes your age you look at it with both eyes. It's a good time to see from. In the past I sometimes resisted interviews because I had no desire to talk about myself in relation to my fiction. There are people who always want to make you a character in your stories and want you to confirm it. Of course there's some truth to it: Every character you invent takes his essence from you; therefore you're in them as Flaubert was in Emma—but, peace to him, you are not those you imagine. They are your fictions. And I don't like questions of explication: What did I mean by this or that? I want the books to speak for themselves. You can read? All right, tell me what my books mean. Astonish me.
INTERVIEWER
What about a little personal history? There's been little written about your life.
MALAMUD
That's how I wanted it—I like privacy, and as much as possible to stay out of my books. I know that's disadvantageous to certain legitimate kinds of criticism of literature, but my needs come first. Still, I have here and there talked a little about my life: My father was a grocer; my mother, who helped him, after a long illness, died young. I had a younger brother who lived a hard and lonely life and died in his fifties. My mother and father were gentle, honest, kindly people, and who they were and their affection for me to some degree made up for the cultural deprivation I felt as a child. They weren't educated, but their values were stable. Though my father always managed to make a living, they were comparatively poor, especially in the Depression, and yet I never heard a word in praise of the buck. On the other hand, there were no books that I remember in the house, no records, music, pictures on the wall. On Sundays I listened to somebody's piano through the window. At nine I caught pneumonia, and when I was convalescing my father bought me The Book of Knowledge, twenty volumes where there had been none. That was, considering the circumstances, an act of great generosity. When I was in high school he bought a radio. As a kid, for entertainment I turned to the movies and dime novels. Maybe The Natural derives from Frank Merriwell as well as the adventures of the Brooklyn Dodgers in Ebbets Field. Anyway, my parents stayed close to the store. Once in a while, on Jewish holidays, we went visiting, or saw a Jewish play—Sholem Aleichem, Peretz, and others. My mother's brother, Charles Fidelman, and their cousin, Isidore Cashier, were in the Yiddish theatre.
Around the neighborhood the kids played Chase the White Horse, Ringolevio, Buck-Buck, punchball, and one o'cat. Occasionally we stole tomatoes from the Italian dirt farmers, gypped the El to ride to Coney Island, smoked in cellars, and played blackjack. I wore sneakers every summer. My education at home derived mostly from the presence and example of good, feelingful, hard-working people. They were worriers, with other faults I wasn't much conscious of until I recognized them in myself. I learned from books, in the public schools. I had some fine teachers in grammar school, Erasmus Hall High School, and later at City College, in New York. I took to literature and early wanted to be a writer.
INTERVIEWER
How early?
MALAMUD
At eight or nine I was writing little stories in school and feeling the glow. To anyone of my friends who'd listen I'd recapitulate at tedious length the story of the last movie I'd seen. The movies tickled my imagination. As a writer I learned from Charlie Chaplin.
INTERVIEWER
What in particular?
MALAMUD
Let's say the rhythm, the snap of comedy; the reserved comic presence—that beautiful distancing; the funny with sad; the surprise of surprise.
INTERVIEWER
Please go on about your life.
MALAMUD
Schools meant a lot to me, those I went to and taught at. You learn what you teach and you learn from those you teach. In 1942 I met my wife, and we were married in 1945. We have two children and have lived in Oregon, Rome, Bennington, Cambridge, London, New York, and have traveled a fair amount. In sum, once I was twenty and not so young, now I'm sixty inclined on the young side.
INTERVIEWER
Which means?
MALAMUD
Largely, the life of imagination, and doing pretty much what I set out to do. I made my mistakes, took my lumps, learned. I resisted my ignorance, limitations, obsessions. I'm freer than I was. I'd rather write it than talk. I love the privileges of form.
INTERVIEWER
You've taught during the time you were a professional writer?
MALAMUD
Thirty-five years—
INTERVIEWER
There are some who say teaching doesn't do the writer much good; in fact it restricts life and homogenizes experience. Isn't a writer better off on the staff of The New Yorker, or working for the BBC? Faulkner fed a furnace and wrote for the movies.
MALAMUD
Doesn't it depend on the writer? People experience similar things differently. Sometimes I've regretted the time I've given to teaching, but not teaching itself. And a community of serious readers is a miraculous thing. Some of the most extraordinary people I've met were students of mine, or colleagues. Still, I ought to say I teach only a single class of prose fiction, one term a year. I've taught since I was twenty-five, and though I need more time for reading and writing, I also want to keep on doing what I can do well and enjoy doing.
INTERVIEWER
Do you teach literature?
MALAMUD
If you teach prose fiction, you are teaching literature. You teach those who want to write to read fiction, even their own work, with greater understanding. Sometimes they're surprised to find out how much they've said or not said that they didn't know they had.
INTERVIEWER
Can one, indeed, teach writing?
MALAMUD
You teach writers—assuming a talent. At the beginning young writers pour it out without much knowing the nature of their talent. What you try to do is hold a mirror up to their fiction so, in a sense, they can see what they're showing. Not all who come forth are fully armed. Some are gifted in narrative, some shun it. Some show a richness of metaphor, some have to dig for it. Some writers think language is all they need; they mistake it for subject matter. Some rely on whimsy. Some on gut feeling. Some of them don't make the effort to create a significant form. They do automatic writing and think they're probing themselves. The odd thing is, most young writers write traditional narrative until you introduce them to the experimental writers—not for experiment's sake, but to try something for size. Let the writer attempt whatever he can. There's no telling where he will come out stronger than before. Art is in life, but the realm is endless.
INTERVIEWER
Experiment at the beginning?
MALAMUD
Sometimes a new technique excites a flood of fictional ideas. Some, after experimenting, realize their strength is in traditional modes. Some, after trying several things, may give up the thought of writing fiction—not a bad thing. Writing—the problems, the commitment, the effort, scares them. Some may decide to try poetry or criticism. Some turn to painting—why not? I have no kick against those who use writing, or another art, to test themselves, to find themselves. Sometimes I have to tell them their talents are thin—not to waste their lives writing third-rate fiction.
INTERVIEWER
Fidelman as a painter? The doubtful talent?
MALAMUD
Yes. Among other things, it is a book about finding a vocation. Forgive the soft impeachment.
INTERVIEWER
In Pictures of Fidelman and The Tenants you deal with artists who can't produce, or produce badly. Why does the subject interest you so much? Have you ever been blocked?
MALAMUD
Never. Even in anxiety I've written, though anxiety, because it is monochromatic, may limit effects. I like the drama of nonproductivity, especially where there may be talent. It's an interesting ambiguity: the force of the creative versus the paralysis caused by the insults, the confusions of life.
INTERVIEWER
What about work habits? Some writers, especially at the beginning, have problems settling how to do it.
MALAMUD
There's no one way—there's so much drivel about this subject. You're who you are, not Fitzgerald or Thomas Wolfe. You write by sitting down and writing. There's no particular time or place—you suit yourself, your nature. How one works, assuming he's disciplined, doesn't matter. If he or she is not disciplined, no sympathetic magic will help. The trick is to make time—not steal it—and produce the fiction. If the stories come, you get them written, you're on the right track. Eventually everyone learns his or her own best way. The real mystery to crack is you.
INTERVIEWER
What about the number of drafts? Some writers write only one.
MALAMUD
They're cheating themselves. First drafts are for learning what your novel or story is about. Revision is working with that knowledge to enlarge and enhance an idea, to re-form it. D. H. Lawrence, for instance, did seven or eight drafts of The Rainbow. The first draft of a book is the most uncertain—where you need guts, the ability to accept the imperfect until it is better. Revision is one of the true pleasures of writing. "The men and things of today are wont to lie fairer and truer in tomorrow's memory," Thoreau said.
INTERVIEWER
Do you teach your own writing?
MALAMUD
No, I teach what I know about writing.
INTERVIEWER
What specific piece of advice would you give to young writers?
MALAMUD
Write your heart out.
INTERVIEWER
Anything else?
MALAMUD
Watch out for self-deceit in fiction. Write truthfully but with cunning.
INTERVIEWER
Anything special to more experienced types?
MALAMUD
To any writer: Teach yourself to work in uncertainty. Many writers are anxious when they begin, or try something new. Even Matisse painted some of his Fauvist pictures in anxiety. Maybe that helped him to simplify. Character, discipline, negative capability count. Write, complete, revise. If it doesn't work, begin something else.
INTERVIEWER
And if it doesn't work twenty or thirty times?
MALAMUD
You live your life as best you can.
INTERVIEWER
I've heard you talk about the importance of subject matter?
MALAMUD
It's always a problem. Very young writers who don't know themselves obviously often don't know what they have to say. Sometimes by staying with it they write themselves into a fairly rich vein. Some, by the time they find what they're capable of writing about, no longer want to write. Some go through psychoanalysis or a job in a paint factory and begin to write again. One hopes they then have something worth saying. Nothing is guaranteed. Some writers have problems with subject matter not in their first book, which may mine childhood experience, or an obsession, or fantasy, or the story they've carried in their minds and imagination to this point, but after that—after this first yield—often they run into trouble with their next few books. Especially if the first book is unfortunately a best seller. And some writers run into difficulties at the end, particularly if they exclude important areas of personal experience from their writing. Hemingway would not touch his family beyond glimpses in short stories, mostly the Nick Adams pieces. He once wrote his brother that their mother was a bitch and father a suicide—who'd want to read about them? Obviously not all his experience is available to a writer for purposes of fiction, but I feel that if Hemingway had tried during his last five years, let's say, to write about his father rather than the bulls once more, or the big fish, he mightn't have committed suicide. Mailer, after The Naked and the Dead, ran into trouble he couldn't resolve until he invented his mirror image: Aquarius, prisoner of Sex, doppelgänger, without whom he can't write. After he had invented "Norman Mailer" he produced The Armies of the Night, a beautiful feat of prestidigitation, if not fiction. He has still to write, Richard Poirier says, his Moby Dick. To write a good big novel he will have to invent other selves, richly felt selves. Roth, since Portnoy, has been hunting for a fruitful subject. He's tried various strategies to defeat the obsession of the hated wife he almost never ceases to write about. He'll have at last to bury her to come up with a new comedy.
INTERVIEWER
What about yourself?
MALAMUD
I say the same thing in different worlds.
INTERVIEWER
Anything else to say to writers—basic stuff?
MALAMUD
Take chances. "Dare to do," Eudora Welty says. She's right. One drags around a bag of fears he has to throw to the winds every so often if he expects to take off in his writing. I'm glad Virginia Woolf did Orlando, though it isn't my favorite of her books, and in essence she was avoiding a subject. Still, you don't have to tell everything you know. I like Updike's Centaur, Bellow's Henderson. Genius, after it has got itself together, may give out with a Ulysses or Remembrance of Things Past. One doesn't have to imitate the devices of Joyce or Proust, but if you're not a genius, imitate the daring. If you are a genius, assert yourself, in art and humanity.
INTERVIEWER
Humanity? Are you suggesting art is moral?
MALAMUD
It tends toward morality. It values life. Even when it doesn't, it tends to. My former colleague, Stanley Edgar Hyman, used to say that even the act of creating a form is a moral act. That leaves out something, but I understand and like what he was driving at. It's close to Frost's definition of a poem as "a momentary stay against confusion." Morality begins with an awareness of the sanctity of one's life, hence the lives of others—even Hitler's, to begin with—the sheer privilege of being, in this miraculous cosmos, and trying to figure out why. Art, in essence, celebrates life and gives us our measure.
INTERVIEWER
It changes the world?
MALAMUD
It changes me. It affirms me.
INTERVIEWER
Really?
MALAMUD
(laughs) It helps.
INTERVIEWER
Let's get to your books. In The Natural, why the baseball-mythology combination?
MALAMUD
Baseball flat is baseball flat. I had to do something else to enrich the subject. I love metaphor. It provides two loaves where there seems to be one. Sometimes it throws in a load of fish. The mythological analogy is a system of metaphor. It enriches the vision without resorting to montage. This guy gets up with his baseball bat and all at once he is, through the ages, a knight—somewhat battered—with a lance; not to mention a guy with a blackjack, or someone attempting murder with a flower. You relate to the past and predict the future. I'm not talented as a conceptual thinker but I am in the uses of metaphor. The mythological and symbolic excite my imagination. Incidentally, Keats said, "I am not a conceptual thinker, I am a man of ideas."
INTERVIEWER
Is The Assistant mythological?
MALAMUD
Some, I understand, find it so.
INTERVIEWER
Did you set it up as a mythology?
MALAMUD
No. If it's mythological to some readers I have no objection. You read the book and write your ticket. I can't tell you how the words fall, though I know what I mean. Your interpretation—pace S. Sontag—may enrich the book or denude it. All I ask is that it be consistent and make sense.
INTERVIEWER
Is it a moral allegory?
MALAMUD
You have to squeeze your brain to come up with that. The spirit is more than moral, and by the same token there's more than morality in a good man. One must make room in those he creates. So far as range is concerned, ultimately a writer's mind and heart, if any, are revealed in his fiction.
INTERVIEWER
What is the source of The Assistant?
MALAMUD
Source questions are piddling but you're my friend, so I'll tell you. Mostly my father's life as a grocer, though not necessarily my father. Plus three short stories, sort of annealed in a single narrative: "The Cost of Living" and "The First Seven Years"—both in The Magic Barrel. And a story I wrote in the forties, "The Place is Different Now," which I've not included in my story collections.
INTERVIEWER
Is The Fixer also related to your father's life?
MALAMUD
Indirectly. My father told me the Mendel Beilis story when I was a kid. I carried it around almost forty years and decided to use it after I gave up the idea of a Sacco and Vanzetti novel. When I began to read for the Sacco and Vanzetti it had all the quality of a structured fiction, all the necessary elements of theme and narrative. I couldn't see any way of re-forming it. I was very much interested in the idea of prison as a source of the self's freedom and thought of Dreyfus next, but he was a dullish man, and though he endured well he did not suffer well. Neither did Beilis, for that matter, but his drama was more interesting—his experiences; so I invented Yakov Bok, with perhaps the thought of him as a potential Vanzetti. Beilis, incidentally, died a bitter man, in New York—after leaving Palestine, because he thought he hadn't been adequately reimbursed for his suffering.
INTERVIEWER
Some critics have commented on this prison motif in your work.
MALAMUD
Perhaps I use it as a metaphor for the dilemma of all men: necessity, whose bars we look through and try not to see. Social injustice, apathy, ignorance. The personal prison of entrapment in past experience, guilt, obsession—the somewhat blind or blinded self, in other words. A man has to construct, invent, his freedom. Imagination helps. A truly great man or woman extends it for others in the process of creating his or her own.
INTERVIEWER
Does this idea or theme, as you call it, come out of your experience as a Jew?
MALAMUD
That's probably in it—a heightened sense of prisoner of history, but there's more to it than that. I conceive this as the major battle in life, to transcend the self—extend one's realm of freedom.
INTERVIEWER
Not all your characters do.
MALAMUD
Obviously. But they're all more or less engaged in the enterprise.
INTERVIEWER
Humor is so much a part of your work. Is this an easy quality to deal with? Is one problem that the response to humor is so much a question of individual taste?
MALAMUD
The funny bone is universal. I doubt humorists think of individual taste when they're enticing the laugh. With me humor comes unexpectedly, usually in defense of a character, sometimes because I need cheering up. When something starts funny I can feel my imagination eating and running. I love the distancing—the guise of invention—that humor gives fiction. Comedy, I imagine, is harder to do consistently than tragedy, but I like it spiced in the wine of sadness.
INTERVIEWER
What about suffering? It's a subject much in your early work.
MALAMUD
I'm against it, but when it occurs, why waste the experience?
INTERVIEWER
Are you a Jewish writer?
MALAMUD
What is the question asking?
INTERVIEWER
One hears various definitions and insistences, for instance, that one is primarily a writer and any subject matter is secondary; or that one is an American-Jewish writer. There are qualifications, by Bellow, Roth, others.
MALAMUD
I'm an American, I'm a Jew, and I write for all men. A novelist has to, or he's built himself a cage. I write about Jews, when I write about Jews, because they set my imagination going. I know something about their history, the quality of their experience and belief, and of their literature, though not as much as I would like. Like many writers I'm influenced especially by the Bible, both Testaments. I respond in particular to the East European immigrants of my father's and mother's generation; many of them were Jews of the Pale as described by the classic Yiddish writers. And of course I've been deeply moved by the Jews of the concentration camps, and the refugees wandering from nowhere to nowhere. I'm concerned about Israel. Nevertheless, Jews like rabbis Kahane and Korff set my teeth on edge. Sometimes I make characters Jewish because I think I will understand them better as people, not because I am out to prove anything. That's a qualification. Still another is that I know that, as a writer, I've been influenced by Hawthorne, James, Mark Twain, Hemingway, more than I have been by Sholem Aleichem and I. L. Peretz, whom I read with pleasure. Of course I admire and have been moved by other writers, Dostoyevsky and Chekhov, for instance, but the point I'm making is that I was born in America and respond, in American life, to more than Jewish experience. I wrote for those who read.
INTERVIEWER
Thus S. Levin is Jewish and not much is made of it?
MALAMUD
He was a gent who interested me in a place that interested me. He was out to be educated.
INTERVIEWER
Occasionally I see a remark to the effect that he has more than a spoonful of you in him.
MALAMUD
So have Roy Hobbs, Helen Bober, Willie Spearmint, and Talking Horse. More to the point—I prefer autobiographical essence to autobiographical history. Events from life may creep into the narrative, but it isn't necessarily my life history.
INTERVIEWER
How much of a book is set in your mind when you begin? Do you begin at the beginning? Does its course ever change markedly from what you had in the original concept?
MALAMUD
When I start I have a pretty well-developed idea what the book is about and how it ought to go, because generally I've been thinking about it and making notes for months, if not years. Generally I have the ending in mind, usually the last paragraph almost verbatim. I begin at the beginning and stay close to the track, if it is a track and not a whale path. If it turns out I'm in the open sea, my compass is my narrative instinct, with an assist by that astrolabe, theme. The destination, wherever it is, is, as I said, already defined. If I go astray it's not a long excursis, good for getting to know the ocean, if not the world. The original idea, altered but recognizable, on the whole remains.
INTERVIEWER
Do characters ever run away from you and take on identities you hadn't expected?
MALAMUD
My characters run away, but not far. Their guise is surprises.
INTERVIEWER
Let's go to Fidelman. You seem to like to write about painters.
MALAMUD
I know a few. I love painting.
INTERVIEWER
Rembrandt and who else?
MALAMUD
Too many to name, but Cézanne, Monet, and Matisse, very much, among modernists.
INTERVIEWER
Chagall?
MALAMUD
Not that much. He rides his nostalgic nag to death.
INTERVIEWER
Some have called you a Chagallean writer.
MALAMUD
Their problem. I used Chagallean imagery intentionally in one story, "The Magic Barrel," and that's it. My quality is not much like his.
INTERVIEWER
Fidelman first appears in "Last Mohican," a short story. Did you already have in mind that there would be an extended work on him?
MALAMUD
After I wrote the story in Rome I jotted down ideas for several incidents in the form of a picaresque novel. I was out to loosen up—experiment a little—with narrative structure. And I wanted to see, if I wrote it at intervals—as I did from 1957 to 1968—whether the passing of time and mores would influence his life. I did not think of the narrative as merely a series of related stories, because almost at once I had the structure of a novel in mind and each part had to fit that form. Robert Scholes in The Saturday Review has best explained what I was up to in Fidelman.
INTERVIEWER
Did you use all the incidents you jotted down?
MALAMUD
No.
INTERVIEWER
Can you give me an example of one you left out?
MALAMUD
Yes, Fidelman administering to the dying Keats in Rome—doing Severn's job, one of the few times in his life our boy is engaged in a purely unselfish act, or acts. But I felt I had no need to predict a change in him, especially in a sort of dream sequence, so I dropped the idea. The painting element was to come in via some feverish watercolors of John Keats, dying.
INTERVIEWER
Fidelman is characterized by some critics as a schlemiel.
MALAMUD
Not accurately. Peter Schlemiel lost his shadow and suffered the consequences for all time. Not Fidelman. He does better. He escapes his worst fate. I dislike the schlemiel characterization as a taxonomical device. I said somewhere that it reduces to stereotypes people of complex motivations and fates. One can often behave like a schlemiel without being one.
INTERVIEWER
Do you read criticism of your work?
MALAMUD
When it hits me in the eye; even some reviews.
INTERVIEWER
Does it affect you?
MALAMUD
Some of it must. Not the crap, the self-serving pieces, but an occasional insightful criticism, favorable or unfavorable, that confirms my judgment of my work. While I'm on the subject, I dislike particularly those critics who preach their aesthetic or ideological doctrines at you. What's important to them is not what the writer has done but how it fits, or doesn't fit, the thesis they want to develop. Nobody can tell a writer what can or ought to be done, or not done, in his fiction. A living death if you fall for it.
INTERVIEWER
That narration, for instance, is dead or dying?
MALAMUD
It'll be dead when the penis is.
INTERVIEWER
What about the death of the novel?
MALAMUD
The novel could disappear, but it won't die.
INTERVIEWER
How does that go?
MALAMUD
I'm not saying it will disappear, just entertaining the idea. Assume it does; then someday a talented writer writes himself a long, heartfelt letter, and the form reappears. The human race needs the novel. We need all the experience we can get. Those who say the novel is dead can't write them.
INTERVIEWER
You've done two short stories and a novel about blacks. Where do you get your material?
MALAMUD
Experience and books. I lived on the edge of a black neighborhood in Brooklyn when I was a boy. I played with blacks in the Flatbush Boys Club. I had a friend—Buster; we used to go to his house every so often. I swiped dimes so we could go to the movies together on a couple of Saturday afternoons. After I was married I taught for a year in a black evening high school in Harlem. The short stories derive from that period. I also read black fiction and history.
INTERVIEWER
What set off The Tenants?
MALAMUD
Jews and blacks, the period of the troubles in New York City; the teachers strike, the rise of black activism, the mix-up of cause and effect. I thought I'd say a word.
INTERVIEWER
Why the three endings?
MALAMUD
Because one wouldn't do.
INTERVIEWER
Will you predict how it will be between blacks and Jews in the future?
MALAMUD
How can one? All I know is that American blacks have been badly treated. We, as a society, have to redress the balance. Those who want for others must expect to give up something. What we get in return is the affirmation of what we believe in.
INTERVIEWER
You give a sense in your fiction that you try not to repeat yourself.
MALAMUD
Good. In my books I go along the same paths in different worlds.
INTERVIEWER
What's the path—theme?
MALAMUD
Derived from one's sense of values, it's a vision of life, a feeling for people—real qualities in imaginary worlds.
INTERVIEWER
Do you like writing short stories more than you do novels?
MALAMUD
Just as much, though the short story has its own pleasures. I like packing a self or two into a few pages, predicating lifetimes. The drama is terse, happens faster, and is often outlandish. A short story is a way of indicating the complexity of life in a few pages, producing the surprise and effect of a profound knowledge in a short time. There's, among other things, a drama, a resonance, of the reconciliation of opposites: much to say, little time to say it, something like the effect of a poem.
INTERVIEWER
You write them between novels?
MALAMUD
Yes, to breathe, and give myself time to think what's in the next book. Sometimes I'll try out a character or situation similar to that in a new novel.
INTERVIEWER
How many drafts do you usually do of a novel?
MALAMUD
Many more than I call three. Usually the last of the first puts it in place. The second focuses, develops, subtilizes. By the third most of the dross is gone. I work with language. I love the flowers of afterthought.
INTERVIEWER
Your style has always seemed so individual, so recognizable. Is this a natural gift, or is it contrived and honed?
MALAMUD
My style flows from the fingers. The eye and ear approve or amend.
INTERVIEWER
Let's wind up. Are you optimistic about the future?
MALAMUD
My nature is optimistic but not the evidence—population misery, famine, politics of desperation, the proliferation of the atom bomb. My Lai, one minute after Hiroshima in history, was ordained. We're going through long, involved transformations of world society, ongoing upheavals of colonialism, old modes of distribution, mores, overthrowing the slave mentality. With luck we may end up in a society with a larger share of the world's goods, opportunities for education, freedom going to the presently underprivileged. Without luck there may be a vast economic redistribution without political freedom. In the Soviet Union, as it is presently constituted, that's meant the kiss of death to freedom in art and literature. I worry that democracy, which has protected us from this indignity, especially in the United States, suffers from a terrifying inadequacy of leadership, and the apathy, unimaginativeness, and hard-core selfishness of too many of us. I worry about technology rampant. I fear those who are by nature beastly.
INTERVIEWER
What does one write novels about nowadays?
MALAMUD
Whatever wants to be written.
INTERVIEWER
Is there something I haven't asked you that you might want to comment on?
MALAMUD
No.
INTERVIEWER
For instance, what writing has meant to you?
MALAMUD
I'd be too moved to say.
Author photograph by Nancy Crampton