Interviewed by Peter A. Stitt
Issue 77, Winter-Spring 1980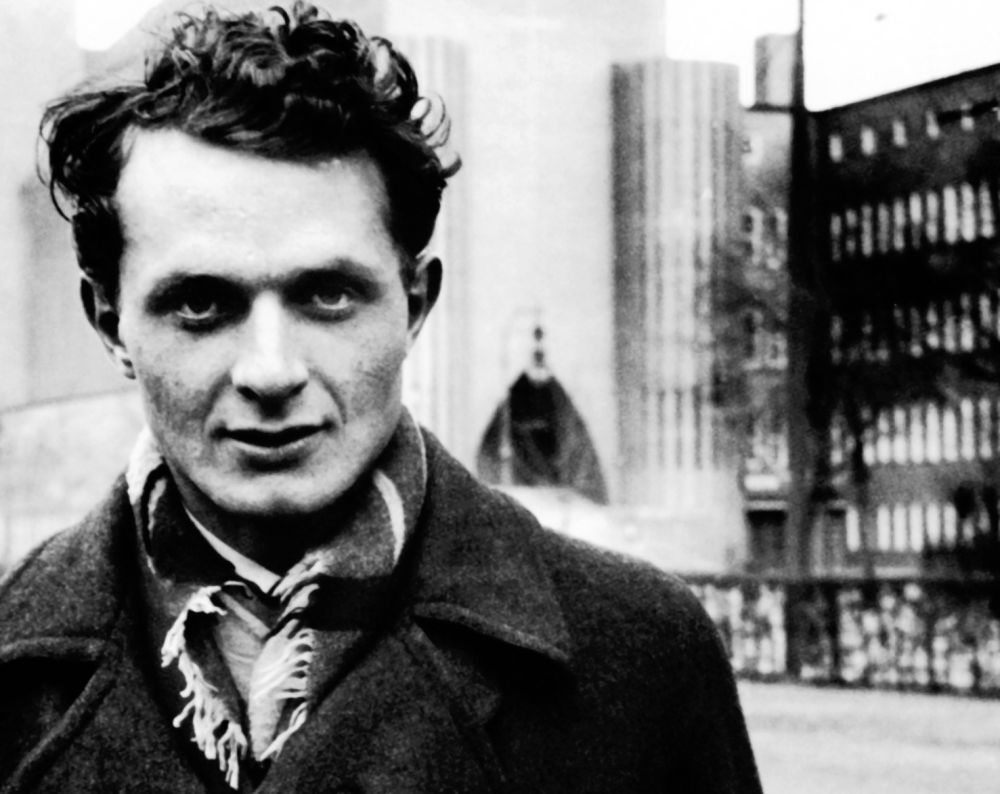 The strength of Mr. Spender's literary reputation, which is international in scope, has made him something of a nomad as scholar and poet. His homes are in St. John's Wood, London, and Maussanne-les-Alpilles, France, where he spends his summers; but he is often on the road, giving readings and lectures and serving as writer in residence at various American universities. This interview took place in May, 1978, at the end of Mr. Spender's stint as visiting professor of English at the University of Houston.
Mr. Spender's domicile in Houston was a penthouse apartment atop a high-rise dormitory on the university campus. The walls of the apartment are glass and afforded the poet a 270-degree view of America's self-proclaimed twenty-first-century city. His fellow residents in the dorm were mostly athletes, a fact that especially delighted Mr. Spender at breakfast, for with them he was served steaks, sausage, ham, eggs, biscuits, and grits.
At the time of the interview, Mr. Spender was busy with several projects; besides preparing for his imminent departure and saying goodbye to his many friends, he was completing the text for Henry Moore: Sculptures in Landscape, which was published in 1978. He had also been invited by the university to deliver its commencement address, an event that took place on the afternoon of May 13, just hours after our last taping session. "I've never even been to a commencement before. What does one say?" he had asked. "I suppose I will tell them to read books all their lives and to make a lot of money and give it to the university."
INTERVIEWER
I'd like to begin by asking about some people you may have known. Were you at all close to William Butler Yeats?
STEPHEN SPENDER
I met Yeats, I think probably in 1935 or 1936, at Lady Ottoline Morrell's. Ottoline asked me to tea alone with Yeats. He was very blind and—I don't know whether he was deaf, but he was very sort of remote, he seemed tremendously old. He was only about the age I am now, but he seemed tremendously old and remote. He looked at me and then he said, "Young man, what do you think of the Sayers?" I hadn't the faintest idea what he was talking about—I thought perhaps he meant Dorothy Sayers's crime stories or something—I became flustered. What he meant was a group of young ladies who chanted poems in chorus. Ottoline got very alarmed and rushed out of the room and telephoned to Virginia Woolf, who was just around the corner, and asked her to come save the situation. Virginia arrived in about ten minutes' time, tremendously amused, and Yeats was very pleased to meet her because he'd just been reading The Waves. He also read quite a lot of science—I think he read Eddington and Rutherford and all those kinds of things—and so he told her that The Waves was a marvelous novel, that it was entirely up to date in scientific theory because light moved in waves, and time, and so on. Of course Virginia, who hadn't thought of all this, was terribly pleased and flattered. And then I remember he started telling her a story in which he said, "And as I went down the stairs there was a marble statue of a baby and it started talking in Greek to me"—that sort of thing. Virginia adored it all, of course.
Ottoline had what she called her Thursday parties, at which you met a lot of writers. Yeats was often there. He loosened up a great deal if he could tell malicious stories, and so he talked about George Moore. Yeats particularly disliked George Moore because of what he wrote in his book Hail and Farewell, which is in three volumes, and which describes Yeats in a rather absurd way. Moore thought Yeats looked very much like a black crow or a rook as he walked by the lake on Lady Gregory's estate at Coole. He also told how Yeats would spend the whole morning writing five lines of poetry and then he'd be sent up strawberries and cream by Lady Gregory, and so Yeats would have to get his own back on George Moore. Another thing that amused Yeats very much for some reason was Robert Graves and the whole saga of his life with Laura Riding. He told how Laura Riding threw herself out of a window without breaking her spine, or breaking it but being cured very rapidly. All that pleased Yeats tremendously.
I remember his telling the story of his trip to Rapallo to show the manuscript of The Tower to Ezra Pound. He stayed at the hotel and then went around and left the manuscript in a packet for Pound, accompanied by a letter saying: I am an old man, this may be the last poetry I'll ever write, it is very different from my other work?—all that kind of thing—and: What do you think of it? Next day he received a postcard from Ezra Pound with one word on it putrid. Yeats was rather amused by that. Apparently Pound had a tremendous collection of cats, and Yeats used to say that Pound couldn't possibly be a nasty man because he fed all the cats of Rapallo. I once asked him how he came to be a modern poet, and he told me that it took him thirty years to modernize his style. He said he didn't really like the modern poetry of Eliot and Pound. He thought it was static, that it didn't have any movement, and for him poetry had always to have the romantic movement. He said, "For me poetry always means 'Yet we'll go no more a-roving / By the light of the moon.'" So the problem was how to keep the movement of the Byron lines but at the same time enlarge it so that it could include the kind of material that he was interested in, which was to do with everyday life—politics, quarrels between people, sexual love, and not just the frustrated love he had with Maud Gonne.
INTERVIEWER
I believe you were an early admirer of Dylan Thomas.
SPENDER
I knew Dylan from very early on. In fact, I was the first literary person he met in London. Edith Sitwell made the absurd claim that she'd discovered Dylan Thomas, which is rubbish. All she did was write a favorable review of his first book. There was a Sunday newspaper called Reynolds News at that time, and it had a poetry column which was edited by a man called Victor Neuberg. He would publish poems sent in by readers. I always read this column, being very sympathetic with the idea of ordinary people writing poetry. And then in one issue I saw a poem which I thought was absolutely marvelous—it was about a train going through a valley. I was very moved by this poem, so I wrote to the writer in care of the column, and the writer wrote back. It was Dylan Thomas, and in his letter he said first of all that he admired my work, something that he never said again. Then he said he wanted to come up to London and that he wanted to make money—he was always rather obsessed by money. So I invited him to London, and may have sent him his fare. I felt nervous about meeting him alone, which is what I should have done, so I invited my good friend William Plomer to have lunch with us. We took him to a restaurant in Soho. He was very pale and intense and nervous, and Plomer and I talked a lot of London gossip to prevent the meal from going in complete silence.
I think he probably stayed in London—he was a friend of Pamela Hansford Johnson, who became Lady Snow. Then, right at the end of his life, Dylan wrote me a letter saying he'd never forgotten that I was the first poet of my generation who met him. He was thanking me for some review I'd written—this was the most appreciative review he'd had in his life, I think he said, something like that. Mind you, he probably wrote a dozen letters like that to people every day. And he certainly said extremely mean things behind my back, of that I'm quite sure. I don't hold that against him at all—it was just his style. We all enjoy doing things like that. After those very early days I didn't see Dylan often; one reason is that I never get on well with alcoholics. Also he liked to surround himself with a kind of court that moved from pub to pub. And Dylan was expected to pay for everyone, which he always did, and he was expected to be "Dylan." Of course when I was at Horizon with Cyril Connolly, Dylan was always coming in, usually to borrow money. Richard Burton was funny telling me about Dylan. He was a young actor and absolutely without money. He would be playing somewhere and Dylan would turn up to borrow a pound. When he left, Burton would always hear a taxi carrying the pauper away.
INTERVIEWER
How well did you know Ernest Hemingway?
SPENDER
Hemingway I knew during the Spanish civil war. He often turned up in Valencia and Madrid and other places where I happened to be. We would go for walks together, and then he'd talk about literature. He was marvelous as long as he didn't realize that he was talking about literature—I mean he'd say how the opening chapter of Stendhal's La Chartreuse de parme was the best description of war in literature, when Fabrizio gets lost, doesn't know where he is at all in the Battle of Waterloo. Then I'd say, "Well, what do you think about Henry IV, do you think Shakespeare writes well about war?" "Oh, I've never read Shakespeare," he'd say, "what are you talking about? You seem to imagine I'm a professor or something. I don't read literature, I'm not a literary man"—that kind of thing.
He was very nice when one was alone with him, but the public Hemingway could be troublesome. On one occasion, I remember we went into a bar where there were girls. Hemingway immediately took up a guitar and started strumming, being "Hemingway." One of the girls standing with him pointed at me and said, "Tu amigo es muy guapo"—your friend is very handsome. Hemingway became absolutely furious, bashed down the guitar and left in a rage. He was very like that. Another time, my first wife and I met him and Marty Gellhorn in Paris. They invited us to lunch, someplace where there were steaks and chips, things like that, but my wife ordered sweetbread. Also she wouldn't drink. So Hemingway said, "Your wife is yellow, that's what she is, she's yellow. Marty was like that, and do you know what I did? I used to take her to the morgue in Madrid every morning before breakfast." Well, the morgue in Madrid before breakfast really must have been something.
Hemingway always said of me, "You're okay. All that's wrong with you is you're too squeamish." So he would describe modern war. He'd say, "If you think of modern war from the point of view of a pilot, the city that he's bombing isn't all these people whom you like to worry about, people who are going to suffer—it's just a mathematical problem. It's like shading in a circle with dark areas where you drop your bombs. You mustn't think of it in a sentimental way at all." At that same meeting in Paris, he told me again I was squeamish, and then he said, "This is something you ought to look at, it will do you good." He produced a packet of about thirty photographs of the most horrible murders, which he carried around in his pockets. This toughened one up in some way. He told me that what motivated him really, while he was in Spain, wasn't so much enthusiasm about the republic, but to test his own courage. He said, "Only if you actually go into battle and bullets are screeching all around you, can you know whether you're a coward or not." He had to prove to himself that he wasn't a coward. And he said, "Mind, you shit in your pants with fear. Everyone does that, but that isn't what counts." I don't remember quite what it is that counts—but he always wanted to test his own courage. Physical courage to him was a kind of absolute value.
INTERVIEWER
Given Auden's general air of superiority, a quality that seems to come through over and over, was it possible really to feel close to him as a human being?
SPENDER
Yes, because there was a kind of nonseriousness about Wystan, a kind of buffoonery, which undercut the superiority. He wasn't intellectually arrogant. He was extremely clever and quite demanding, I should say, and he criticized one's work with authority, but he never had the air of a critic. He really was a born teacher. He would say, "If I were you, I wouldn't put in the word like here," for instance. Or, "That line's marvelous, but the rest is absolute trash." He'd talk like that, but he wouldn't give you the feeling that he was preaching at you. Of course I was a bit in awe of him, being two or three years younger than he was. But still there was a great deal of fun, of playfulness, in all that he said. In fact his whole relationship with a person like Isherwood seemed one long farcical dialogue. If you'd heard our kind of conversation, it would probably have seemed quite frivolous. In fact, there always was a strong strain of frivolity, which one cannot imagine in a conversation, say, between F. R. Leavis and Mrs. Leavis about literature. He always had a deep-down desire not to be taken seriously. For instance, after the war, quite late on, he once gave me a terrific lecture about my behavior and my life. I was quite impressed by this, and so I said, "Oh, you are quite right, Wystan, I think I'll change my whole life." He buried his head in his hands and said, "Please. What are you talking about? Don't you realize I'm not serious? I don't in the least want you to be any different from what you are. The thing that I can't bear about America is that everyone always takes me seriously."
There was a constant streak of absurdity about him. I stayed the night with him once in Greenwich Village, and when I got up in the morning, I naturally pulled the curtain. Immediately the whole thing—curtains, rods, everything—clattered to the floor. Auden said, "Why on earth did you draw the curtain?" And I said, "Well, because I wanted the daylight." And he said, "I never draw the curtain, I just always leave it closed." About two weeks later I returned, and the curtain was still on the floor, exactly where it had fallen. Auden always had a sort of Beatrix Potter quality to him, a sort of Mrs. Tickeltedemal. And that he was camp—I mean it is difficult to think of a serious critic who is camp, isn't it? Oscar Wilde, for instance, would not give you a serious lecture on first principles of literary criticism. You'd have to take yourself so seriously.
Another interesting thing about Auden is he didn't like seeing people in twos and threes. He'd put up with a party, quite enjoy it, as a kind of ceremony. But otherwise he liked seeing one alone, and he really resented another person being introduced into the situation. On one occasion I was to have dinner with him in Greenwich Village. Well, I ran into an old friend of ours from Oxford, Rex Warner, so I rang up Auden and asked if I could bring him to dinner. Auden said, "Yes, of course, bring him along." This was about ten o'clock at night, when I rang him, and Auden was probably drunk. Anyhow, he forgot completely about it, and when I turned up with Rex Warner, he just looked at him and said, "Why are you here?" So I said, "You invited Rex." "No I didn't. I never invited Rex. I expected you." Then he said, "Anyhow there's nothing for Rex to eat. There's only enough for Stephen and me." Then he recovered himself a bit and said, "Well, never mind, I'll eat some hamburger or something. Stephen and you can have the two chops I've prepared." He did this in a very ostentatious way. Poor Rex was deeply hurt.
INTERVIEWER
I've heard Auden could be selfish or miserly in small ways.
SPENDER
An important thing to remember is that most people who are famous have a kind of public relations side to their character; they are careful to hide certain things about themselves. But Auden didn't care. For instance, one of the things he most detested was people taking his cigarettes. On one occasion he was staying on Ischia when a yacht I was traveling on called there. In the course of the afternoon that I spent with him, I happened to take one of his cigarettes. He said, "Why don't you have cigarettes of your own?" And I said, "As a matter of fact, I would have bought some but I don't have any Italian money—I have just English money with me." "Well," he said, "I'd be happy to change some for you. Give me a pound." Then he looked up the rate of exchange in the Herald Tribune, and he said, "Well, my dear, I am afraid the pound's doing very badly. I can only give you a hundred lira, but now you can go downstairs and buy some cigarettes." If you wanted to make up a story to show the utter stinginess of someone, you could not do better than that. But then a few months later, Auden was staying with us in the country, in England. Our daughter at that time was always talking about having a horse. But we couldn't quite afford it, so Auden said, "Well, look, Stephen, what Lizzie wants most in this world is a horse. Here's fifty pounds towards buying her one." This was the same person. I don't think it is so odd, what he did. What is odd is that he made no attempt to conceal the odd quirk of meanness.
INTERVIEWER
In your new book, you speak of Herbert Read describing Eliot as lacking in affection for perhaps everyone. Did you find him to be this cold a person?
SPENDER
No. He was extremely discriminating and mannered, I should say, and his life was very much governed by conventions of behavior. One would never ring him and say, "May I come round and see you?" Everything had to be elaborate and courteous. But I think that he was quite affectionate, in a rather remote way, towards people. I think probably Herbert Read felt like a junior partner to Eliot all his life. He seemed to resent the fact that Eliot had a greater reputation than he did, that people read Eliot's poems but not Herbert Read's. He didn't seem to understand that Eliot was much better than he was. I was in a rather similar position in regard to Auden, but in my case I did have a very clear idea that Auden was much better than I, which prevented me from resenting him. Eliot himself, to some extent, didn't understand his own reputation and thought of it as a bit unfair. He once told me that he felt Conrad Aiken had all his own qualities, that he was as serious and as dedicated, and that all of his life he'd felt it an injustice that he'd got so much attention while Conrad Aiken had been so neglected. But I don't think he felt that about Herbert Read.
I think Eliot was fond of me and of other people, but he was always rather distant. I mean if one gets on fairly good terms with someone, you immediately feel that you know them well. There is a kind of break-in period, after which, instead of just being an acquaintance, you somehow feel that you know the person completely. Well, Eliot never allowed one to have that feeling. There was nothing casual in his relationships. Of course, he had confidantes—Geoffrey Faber, who was his closest friend and his partner in Faber and Faber, probably knew him better than anyone. He certainly knew more about Eliot and his troubles with his first wife than anyone else did. Yet it was Geoffrey Faber who drew my attention to a story of Richard Aldington's, which is obviously about Eliot. It describes a man who has a completely spurious reputation but who manipulates it very adroitly. He has a wife whom he treats with extreme correctitude but without any sort of warmth or passion; he freezes the relationship between them through his conventionality and his perfect manners. It is an odious portrait, really; and Aldington was a man of no talent. The funny thing is that Faber said, "If you really want to understand Eliot, read that story—there's a streak of truth about that." He said that early on, certainly before Eliot's second marriage. Eliot changed greatly with his second marriage. But of course one has also to remember that Faber himself was a rather stuffy, correct man with strangely repressed passions. I think another important thing about Eliot is that he was one of those people who is always acting himself, his own role, whatever he is at a given moment. The poet who is a bank clerk, the perfect gentleman, all that sort of thing. And I think this element of acting was inseparable from the irony and made other people conscious of the irony.
INTERVIEWER
That sounds like trying to "prepare a face to meet the faces that you meet."
SPENDER
That's it exactly, yes.
INTERVIEWER
Eliot made such a point of the impersonality of poetry, especially of his own poetry, and yet there seems to be a resemblance between the character of Eliot and that personality, even neurotic personality, which is projected in "Prufrock," The Waste Land, and some of his other early poems. Do you think that maybe he was violating his own rule, that actually there is more of his own personality in those poems than he would let on?
SPENDER
Yes. I think he indicated as much really when he later described The Waste Land as "one man's grouse." But at the same time one has to remember that nearly all of Eliot's early criticism is extremely polemical, and so if he says that poetry has to be impersonal it's because he's thinking of the Georgian poets, who made a cult of self-expression. They were all wearing their hearts on their sleeves; their poetry was written to show that you were a poet in your whole being. When I was young, if you talked to those people about a poem, they'd say, "Oh, yes, the poet is there, the poet is in those lines." A poem like, say, "The Lake Isle of Innisfree" is exactly that, really. It's the poet being The Poet in the poem and the poem being inseparable from the poet and the reader liking the poem because he's put in contact with the poet. I think it's that view of poetry that Eliot is really reacting against. In fact, what he's always saying is that a poem ought to be made objectively, with tools and technique, as a carpenter turns a table leg with a lathe. And of course when he talks about the impersonality of the poet, if you'll remember, he puts in an escape clause at the end. He says, "But, of course, only those who have personality and emotions know what it means to want to escape from these things"—which is very sly, and shows in a way that he has his tongue in his cheek.
This also has to do with the international movement towards modernism, which goes back to the 1890s. In English poetry, this means a strong French influence through such things as Arthur Symons's book on the symbolists. From all this comes the idea of the persona or the mask, the idea that the poet must never be himself in his poetry, but must invent an artificial self, must be a mysterious person whom other people don't understand. Laforgue had this idea, and Eliot completely identified with Laforgue. In fact, his second marriage was held in the same church in London where Laforgue had been married. For myself, I can't imagine inventing a persona. I think it was very much something that generation did. Of course, the most elaborate mask of all is Pound's Hugh Selwyn Mauberly. It is elaborate to the point of confusion, and one wonders whether it doesn't really show a kind of mental confusion on Pound's part.
INTERVIEWER
You say that Eliot was the most approachable and helpful poet of his generation to younger poets. Was he helpful to you when you were a younger poet?
SPENDER
Yes, he was. The letters he wrote to me when he was a young man—they were the letters of a person with real affection and real concern. He was also a bit of a taskmaster, saying "You ought to discipline yourself," and so on. But he was always very kind to us, always helpful. Occasionally one got upset about things the critics wrote about one's work. Eliot always stood by one, and said, "Why do you worry about that? Just ignore them. This work will add to your reputation." In a rather unobtrusive way, he couldn't have been more encouraging.
INTERVIEWER
I take it that the editors of Scrutiny were not similarly encouraging.
SPENDER
No, they weren't. When I was in the London Fire Service, there was a fellow fireman who would never really look at me. And then one day he said, "Don't you realize who I am?" His name was Peacock. Then he said, "Well, I'm the person who wrote that terrible attack on your first book in Scrutiny." And he said, "The reason I did it was because I was instructed by Leavis to do it, and told exactly what to say." So it was a very different kind of thing. I think that Eliot might have given us a bit more criticism, as a matter of fact. No one knows to this day what Eliot really thought about Auden's poetry. Well, of course he admired it, and he published it, but he never really said anything about it. He was rather mysterious about it.
INTERVIEWER
Why do you think Leavis would have that kind of attitude? Was he just the kind of person who loves to attack young poets?
SPENDER
A great difficulty about criticism is that critics really form their judgments on the basis of past work, don't they? You may be an extremely good critic of past work but totally incapable of judging modern or contemporary work. A critic always feels that his knowledge, which may be vast, and the critical standards that he has derived from a study of past work, ought to apply. And so he will only like the kind of work by living writers in which they do apply. This argument is obviously based on a false logic. One may be an extremely good judge of art, say, up to 1910, but be incapable of judging later work because it contains an element that is unprecedented in the art which one is able to judge. When I was editing Encounter, I once asked Auden whether I shouldn't write to Leavis and ask him to write a column in which he'd be completely free to say whatever he liked. And Auden said, "That would be extremely irresponsible of you, because, although he is a very good judge of what he likes, Leavis is quite incapable of judging what he doesn't like. So you'd get good criticism of the things that he liked and then you'd get savage attacks on things that don't happen to come within his conspectus."
INTERVIEWER
You mentioned your critic, Mr. Peacock of the fire service. Did you not know who he was because you'd never met him before or because you hadn't paid any particular attention to his attack on your work?
SPENDER
No, I'd been very upset by it. I think one has to remember that attacking writers, especially when they are young, may be extremely damaging to them. I myself was very discouraged by the attacks of Scrutiny and other things like that. Of course it is difficult to decide, because on the other hand I think that criticism has to be centered, you have to have standards, don't you? My own experience of criticism is that of course one sometimes attacks something because one thinks the work criticized may be very bad. But there's always an element of pleasure in doing this. I think an attack is never really objective. What you say may be objective, your standards may be objective, but there is actually a kind of pleasure nevertheless, which is a strongly subjective element. Of course critics pretend that this isn't so, but I think it is so, and it is very difficult for a critic to resist that.
INTERVIEWER
Doing frank reviews, and especially having negative things to say about people who were your friends—did that ever cause you trouble? Did you ever find that a difficult thing to do?
SPENDER
Well, it probably annoyed them on occasion, but my friends always behaved very nicely to me; they never held it against me and very rarely showed their annoyance. Auden himself had total self-confidence, of course. He just thought that he was cleverer than anyone else, but without arrogance, really, just out of his own judgment, which may or may not have been right, but which nevertheless was never arrogant. He knew exactly what he was doing, and he was totally indifferent to what anyone said about it. And then being a "psychoanalyst" helped him a great deal. For instance, when he was so attacked by Randall Jarrell in 1947 or so, he said, "He must be in love with me; I can't think of any other explanation." Well, that isn't what one usually thinks about being attacked in print. He was genuinely puzzled. He didn't think it was a damaging attack in any way.
INTERVIEWER
You have been an editor yourself, especially well-known for your years at Encounter, from which you resigned in some heat.
SPENDER
Encounter was supported by an organization called the Congress for Cultural Freedom, which was funded by about forty different foundations. Irving Kristol and I were the first editors of the magazine, then Irving went back to America and I stayed on with another American editor. In 1968, with all the exposure about the CIA, it was revealed that these foundations were simply channeling money for the CIA. So the two English editors, Frank Kermode and I, we both resigned. Encounter was a good magazine, and we editors had a free hand with what we published. So lots of people used to ask, "What was wrong with the CIA connection?" What was wrong with it was that we ought to have known.
INTERVIEWER
To get back to the people that you've known, did you have much contact with Ezra Pound?
SPENDER
In around 1936, I was in Rapallo, so I wrote to Pound saying I wanted to come and see him, but I never got any reply. There may have been hundreds of reasons for that—probably it was because he thought I was a hopeless case of leftism and he didn't like my poetry anyhow. But I saw him when he was in St. Elizabeths Hospital, and he was then always extremely friendly. Then I used to see him every year for some years at the Spoleto Festival. He recognized in Gian Carlo Menotti a person who really patronized the arts in a quite sacrificial way. He practically never said anything, but on one occasion did say something that moved me very much. About five or seven poets, two of whom were Ezra and myself, all read their poems, and at the end of the reading, as we moved off the platform, Ezra Pound took my arm and said, "Why do you and I do this? We realize it's all vanity and useless." Then he said, "Oh, for a touch of real sincerity." I was rather touched that he said that to me.
INTERVIEWER
But of the Pound who directed the course of modern poetry for so many years, or supposedly did, you did not see that side of Pound?
SPENDER
No. I think Pound had very little influence on the English poets of my generation. He did not mean much to Auden, I know. Auden really just couldn't be bothered with The Cantos, I think. I've grown to admire Pound, but only in patches. I've been reading The Cantos again recently, and to me they are unrelated lyric poems of very great beauty—marvelous language and also this marvelous feeling for light in the Mediterranean. I think what does come through is his wonderful reverence for civilization—Mediterranean civilization. I once asked him about The Cantos. I said, "Will there be a complete edition of The Cantos?" This was in the 1950s. And he said, "Forget about them, just forget about them."
INTERVIEWER
Do you think he was turning his back on them?
SPENDER
I think that Pound, when he became silent, was undergoing some kind of remorse, and I think he probably felt that his whole political career and his arrogance had been a terrible mistake. Perhaps as a result of that he condemned everything that he wrote during that period. That's a possible explanation. Of course it may have been a result of mental illness. And it may have been both.
INTERVIEWER
I want to ask you about the politics of Yeats, Eliot, and Pound. Do you think that there is possibly an incredible level of naïveté in their politics, as though for them politics was a game or a symbolic or even aesthetic activity, in which they ignored the realities of fascism?
SPENDER
Yes. I think you might call their politics the politics of civilization, or of their concept of civilization. They connected the idea of civilization with the idea of tradition. The logic of this position, which is a cultural position, is that, if challenged, you have to extend it into politics. If you extend it into politics, the only people whom you can admire are the reactionaries. It is very much this way with T. S. Eliot. His attitude towards the external world of society originally was taken from Baudelaire. What he got from Baudelaire was a hatred of the idea of progress and industrialization and a hatred of the materialism of middle-class society. Baudelaire was also a classicist writing in a modern idiom—writing the poetry of the city in the language of Racine. So in these respects, Baudelaire was the model for Eliot, who in any case looked very largely to France for his view of civilization and politics.
So when Eliot, Yeats, and Pound looked around in the contemporary world for leaders to admire, they found such guardians of the tradition as Mussolini, Franco, and General O'Duffy. But from our point of view, it wasn't serious. I think we would have felt antagonistic to the politics of Eliot and Pound and Yeats if we'd regarded them seriously as fascists, but we couldn't do so, even today, although Pound, in particular, considerably incriminated himself by supporting Mussolini and being very anti-Semitic. But we admired these writers so much as writers. And even from the cultural point of view, one could admire their attitude. It was simply the extension of it into political action that we didn't agree with. One thing we used to discuss in the 1930s was whether a fascist could be a good writer. We always decided that he couldn't because fascism was stupid and inhuman. So by definition a person who was a good writer might call himself a fascist, but couldn't really be one.
INTERVIEWER
Didn't you also later decide that a programmatic communist could not be a good writer?
SPENDER
Yes. In the early days, though, before the nature of Stalinism became apparent, there was a lot we admired about Soviet art. We admired Soviet movies extremely, and I think they had a great influence on my work, perhaps also on Isherwood's work. Christopher Isherwood and I used to study the Berlin newspapers to see what Russian movies there were, and we'd always go and see them. Their imagery, using industrial machinery as a kind of poetic symbolism, like the tractor, the railway engine, factory chimneys, that kind of thing, to us was rather heroic.
The language used by the government itself, on the other hand, was so consistently stilted. A friend of mine in the Spanish civil war, a communist in the international brigade, used to laugh about the communists for their hackneyed propaganda. He said that on one occasion someone got up at a meeting and said, "Comrades, let's send a spontaneous telegram to Stalin."
INTERVIEWER
With respect to communist literature and the rather hard words you have had for some of it, would you revise this at all in view of more contemporary writers like Yevtushenko, Voznesensky, and perhaps even Pablo Neruda?
SPENDER
Well, I cannot really consider Pablo Neruda a communist at all. His kind of communism was almost entirely rhetorical; he was a sort of highly privileged propagandist. He was banqueted all the time by the Russians, was given all sorts of awards in Russia, and so on. I refused to review his autobiography because he treats all this so casually. As for the others, I've never been able to admire Yevtushenko. I consider him to be an operator. On the other hand, it may be that, in a devious way, he is working for greater freedom in Russia. Of course, the same applies to Voznesensky, whom I prefer to Yevtushenko, but I'm not a Russian scholar. Then there is Joseph Brodsky, whom I'm very fond of and admire greatly. He holds extreme anti-Soviet views, which I would hold if I were in his position. I think it is a tragedy that the Russian defectors turn out to be so anti-communist that they consider the Western anti-communists as comparative weaklings.
INTERVIEWER
As a poet with a passionate interest in world politics, does it seem to you that poetry can have any real effect on society or its direction?
SPENDER
I think only in certain situations. For instance, always at the beginning of a war there is a demand from editors that poets should write war poetry. This comes from a recognition that, in a situation in which patriotic feelings are required, poetry may stimulate those feelings. I imagine the sonnets of Rupert Brooke at the beginning of the First World War probably did make some people join up to fight the Germans. During the Spanish civil war, the poetry that was written probably helped the international brigade. Then in a much wider sense poetry can be politically effective as well. Surely one can trace the sources of the movement for Italian unity to the fact that Dante decided to write The Divine Comedy in idiomatic Italian and not in Latin, which would have been the correct thing for him to have done. And Goethe, who created, really all by himself, modern German literature, also contributed greatly to the idea of German unity through doing this. He created a German culture and taught Germans that they could respect themselves in relation to France, especially, and other countries.
But I think it is wrong to believe that poetry is really very effective in politics. And politics can certainly be very bad for poetry. I was discussing this with Denise Levertov when she was here. She read a political poem, which was based on her visiting Hanoi and being taken round by the North Vietnamese to see damage done to hospitals by American aircraft. Of course she had extremely strong feelings about this, and I don't want to call it just a propaganda operation on the part of the North Vietnamese, but somehow to enter almost as a tourist into that kind of suffering and to make propaganda out of it is not what a poet should be doing. For a journalist it's all right, but a poet has to go in for an act of the imagination, which is on a deeper level. I mean, if you penetrate to the depths of the suffering, you see that it is not just inflicted by one side; it's something that human beings do to one another. Also if you write what one has to call propaganda poetry, you lay yourself open to a kind of argument, which is all right in politics but which oughtn't to occur in poetry. Someone will say, "Well, if the North Vietnamese had had airplanes, they'd have done the same thing," which you can't really dispute. I don't think that poets ought to get themselves into that kind of argument.
There are, of course, political situations so absolutely unspeakable that they become quite literally unimaginable. It would be impertinent, for example, to imagine what was happening in the concentration camps during the 1930s and 1940s. The only way to know that suffering was to be a part of it, but if you became a part of it, you were destroyed. As a matter of fact, at the end of the concentration-camp era, when various poets, particularly in Poland, emerged from the camps, they hated poetry. They regarded poetry as the greatest betrayal because it always in some way offers pleasure. It would therefore have to extract some kind of comfort, something pleasurable, from all these horrors. And so they started writing what they called anti-poetry.
INTERVIEWER
What about the effect of war on poets who were not as closely involved?
SPENDER
In some ways war is a suspension of every other activity that makes life interesting, like art and conversation. Also, war is a kind of dictatorship, one cannot say certain things. On the other hand, though, in London during the war there was a blackout; one saw the stars, and all that was very charming. Some of the descriptions that came out of the war had a sort of surrealist effect. One felt during the war that surrealism had come true.
INTERVIEWER
To turn to another subject, there was, in the 1920s, an intense migration of American writers to Europe. Then, in the 1940s and later, we find many English writers—Auden, Isherwood, Gunn, yourself—migrating from England to America. How does one account for this?
SPENDER
Well, I think in a Marxist way one ought to say that both migrations had some economic basis. The Americans went in large numbers because they could live very cheaply in Europe in the 1920s. Because of the tremendous inflation in France, the American writers could eat French food, enjoy French mistresses, and absorb French civilization at a very low price. Then for those of us who have come this way across the Atlantic, there again is a very strong economic reason. And that is that, for just being what we are, being poets and doing a little teaching and lecturing, we can make a living in America. In fact, we are rather handsomely rewarded in America. This simply did not happen before the war in England, where you'd be rather surprised to get even ten dollars for giving a lecture or reading. Today you get up to a hundred dollars for giving a reading, simply because the whole thing is subsidized by the arts council. That is one reason. Another is the excitement of America, the pleasure of finding oneself with American colleagues. I think I've talked much more about poetry and about things I care for with American colleagues than I ever have with English ones—whole generations of them. America is, among the poets, a place where everything is openly discussed, and it's really immensely more interesting than the scene in England.
INTERVIEWER
Is there a greater serious audience for poetry in America than in England?
SPENDER
The United States, when it takes it seriously, takes it deadly seriously. In England, on the other hand, no one would expect it to be taken seriously. An English poet writes, I think, just for people who are interested in poetry. An American poet writes, and feels that everyone ought to appreciate this. Then he has a deep sense of grievance, because he may only be appreciated by two thousand people.
One of my great surprises when I was in America was about twenty-five years ago in Harvard, hearing Randall Jarrell deliver a bitter attack on the way poets were neglected. Yet there were about two thousand people present, and he was being paid five hundred dollars for delivering this attack.
INTERVIEWER
Did you know Robert Frost?
SPENDER
I met him only two or three times. He had a number of sides to his nature, as we know, including a very black one. He showed me his vain side. I had to give a dinner party for him, and had someone bellow in his ear the names of all the other people and had all their place names written out very large so he could see them at the table. He sat next to E. M. Forster, and asked, "And what magazine do you write for?" He just didn't take these people seriously, and didn't bother to find out who they were.
INTERVIEWER
You have said that there is a strong American influence in the work of Ted Hughes, but also that there is a good deal of Englishness about his work. I'm not, in asking this question, particularly interested just in Hughes's work, but rather in the terms, the qualities you are talking about. What characteristics do you have in mind when you speak of American and English qualities in poetry?
SPENDER
The American to me would be the kind of turned-on, confessional aspect of Hughes, the violence, really. The English would be that he is still very much a nature poet. He lives in Devonshire and writes poetry about the countryside, very beautiful I think, which I consider to be a very English kind of thing. Of course American poets write nature poetry, but not in the same way. English nature poetry has a more rooted quality, more the feeling that the poet lives in this landscape, has always lived in this landscape. But in quite a lot of recent American poetry about nature, say Gary Snyder's, you feel that he has only just arrived with his knapsack and tent. I suppose that Frost was much more like an English poet in this respect, and maybe this is why he was first published in England and was so very much admired in England.
INTERVIEWER
It has been said that, over the last twenty or thirty years, American poetry has been more lively than British poetry. What do you think of this hypothesis?
SPENDER
Well, there's been a great deal more of it. As material I should think it is more interesting to read, but that might be true of journalism also. On the whole, America since 1950 or so has been the place where things happen. America has, in the twentieth century, very much the role England had in the nineteenth. England in the nineteenth century was where the consequences of the industrial revolution were most acutely felt. Therefore all English literature of the nineteenth century, including poetry, contains a great deal of news about the problems of living with child labor and the destruction of the landscape and that kind of thing. This is essentially what you find in American poetry of this century—things like reacting to pollution and trying to heat up personal values through confession or drugs or any kind of stimulus in order to compete with the depersonalization caused by the industrial society. Of course it is interesting and exciting. I think as a matter of fact that some of the best English poets, particularly Philip Larkin, are making a virtue of the unexcitingness of England, insisting on the quietness of England.
INTERVIEWER
Speaking of Larkin, you have written of the insular type of English poetry, citing Betjeman and Larkin as examples, a type of poetry that Donald Davie speaks of in his book on the Hardy tradition. You've also said that you yourself are not of this type. How would you characterize yourself, your own work?
SPENDER
I think I'm international—I've always thought that I was. When I was young, the feeling for Englishness, for being English, was so strong that I inevitably felt like a foreigner. I'm one-quarter German-Jewish, a quarter German, and half-English. In America this wouldn't mean anything, but in the England of the upper classes and middle classes when I grew up, before the 1930s, this made me feel like a foreigner. I was always very conscious of Englishness, as though it were something very beautiful, worthy of one's strongest admiration, but just a little apart from myself. I always felt twice as much alive the moment I left England. The excitement of just waking up in the morning and thinking, "This is foreign, I'm abroad," has always been very stimulating. I think that's why I've always been going abroad, getting away from England.
INTERVIEWER
Early in your life, Auden told you, apparently at Oxford, that you were essentially an autobiographer, as a writer. This is something that you have mentioned periodically throughout your career, accepting the characterization. I think that most readers, looking at your career, recognizing the many prose works that you have written, would still say that poetry is at the center of your achievement and is what holds it all together. What do you think of this; is it poetry or is it autobiography that lies at the heart of your career?
SPENDER
I don't at all regret having written autobiography, and hope to write more of it one day. What I do regret is that I've spent so much time writing criticism rather than writing more creative works. I am quite well qualified as a critic, and I suppose I have quite a lot of critical sensibility. I also have a rather inventive mind, and I keep on thinking of fascinating ideas for books. I ought to think them up for other people to write rather than me. Love-Hate Relations is a good example of this. It's a very good idea for a book, but, because I didn't really have the time to read all the matter, I found it a tremendous chore after having started it. Someone else could have done it so much more easily than I, and without sacrificing other work. What I really do reproach myself for is that I ever wrote a successful critical work as a young man; The Destructive Element was published when I was twenty-six, in 1935. I wish it had been so bad that I'd have had to stop, but it was sort of half-good and rather helped me along. Really, it all came from accepting advances. Publishers will offer you advances for a book of that kind, but not for other kinds of books. So what I really think is that I ought to have written novels, plays, stories, poems, anything that was creative. Writing autobiography is rather inhibiting in two ways. First of all, you are writing about yourself, and I've always felt the egotism is indecent, even though I have such quantities of it. I can't bear to read aloud poems of mine that are very autobiographical—some of them I think are my best poems, but I just can't read them aloud to an audience. And secondly, of course, autobiography tends to be self-consuming and repetitious. An autobiographical writer is constantly using up his material, or he is constantly wanting to use the same material again. The same anecdote will fit into thirty or forty different pieces, you see.
As regards poetry, I'm feeling very self-critical at this stage in my life. I feel that I understand my work much better than I did and my whole life much better than I did. I think that a lot of my poetry was spoiled by my not knowing how to write my own kind of poem. I think that I only really grasp it now. For instance, I recently looked again at a poem of mine called "The Marginal Field." It is about the theory of economics that describes something called "the margin of profit." There is a field somewhere, say, where it is just worth sowing corn because, although it is terribly stony and unproductive, you can just make a profit out of it. Somehow there are certain ideas in economics, and even in politics, that are true as economics but also true as poetic metaphors. So I wrote this poem, which is really quite beautiful in theory, in which I describe a field at the edge of cliffs. The person who is tilling it is sheeted in sweat and thinking about another field, which is very profitable, where the corn is waving and golden. Now looking at that poem, I thought, "Oh, I must write that poem." It's as though it wasn't written at all; I think perhaps I can still write that poem. The reason I couldn't write it then is because I was unable to draw a clear enough distinction between the abstract part of the poem and the imagistic richness of the poem. I just didn't know how to work at it really. I have always worked rather hard at my poems, and I feel now that I know how to work. I feel that if I'd written much more poetry without worrying whether it was good or bad, and been prepared to make many more mistakes, I'd have been much better off in the end. But I've always felt terribly sensitive to criticism, and I've suffered agonies from critical remarks. I've always felt that perhaps it's true, I oughtn't to do this, I'm not a poet. And that can be really inhibiting. There's a marvelous remark in The Pisan Cantos, where Pound, in his mood of contrition, talks about his arrogance, his pride, saying "Pull down thy vanity." But then he immediately answers himself with the opposite opinion, which says that if you accept a negative evaluation of yourself, then you will never accomplish anything: "Here error is all in the not done, / all in the diffidence that faltered . . ." I felt tremendously the force of those lines when I first read them, and have had them in my mind ever since.
INTERVIEWER
You have said of many poets that you had the sense when you read their work, poets who were dead, at the end of their careers, that they hadn't started yet. Is this in the back of your mind as you talk about your own career?
SPENDER
Yes. I want to do another autobiography, revise World Within World and make it about twice as long. That's an important aim I have. And I want to do this play. Then I'd like to do a proper volume of collected poems, and write many more poems. That's about it. It would be nice just to have about three books that were really worthwhile.
INTERVIEWER
Robert Lowell, in a review of Stanley Kunitz's book The Testing-Tree, spoke of the movement toward a more relaxed, more open, less formal verse as "the drift of our age." Do you feel that your work has evolved in this direction?
SPENDER
No, not at all. And if it is the drift of our age, then I am in favor of going against the age. I have a strong feeling that the interesting new poet would be formal and even artificial, someone who would push language always to the point where it has the fascination of artifice and is not just straightforward. If Lowell hadn't believed that, he probably would have written much better poetry in the last twenty years of his life. I think he suffered from a compulsion rather like Picasso toward the end of his life, to overproduce simply to prove to himself that he was the greatest poet producing the greatest quantity of poetry. I think he produced much of his best poetry when he was under pressure of his illness. But in later years he was getting drugs that kept him sort of half-ill, half-well the whole time, and so his poetry came to lack pressure. Then he should have written less and concentrated more on just a few poems. Some of his later poems are very good, but many are not, and someone is going to have to make a careful selection. He was one of the most distinguished and interesting poets of his time. However lax he became, there was still his tone of voice; you always hear him speaking, and this is exactly what lacks in the people who criticize him. A distinctive tone of voice is one of the rarest things in poetry; I think it is what makes the great poet.
INTERVIEWER
Many writers of your generation are now gone. John Berryman used to speak in his romantic way about being a "lone survivor." How do you feel about being, in a sense, the survivor of your generation?
SPENDER
I feel that I ought to do my best as representative of my generation. I have even thought that I oughtn't to write anything that is a waste of the reader's time anymore. I often feel, in a mysterious way, that I am showing my work to members of my generation, writing it for them, particularly Auden, because I was closest to him. Perhaps I might just say something about the writers I am usually classified with. Cecil Day-Lewis I liked very much, though I never quite understood why he wrote the kind of poetry he did. It always seemed to me that he was over-literary in some way, that he was somehow turning his experiences into literature as he lived them, long before actually writing about them.
Louis MacNeice was tremendously gifted, I think, a most marvelously gifted technician. I think it's significant that one of his best works is his translation of Faust. It is a marvelous English poem, very close to Goethe in language and even in its shifts of meter, which is miraculous considering he didn't know German. He did the translation with a friend who did know German. I've always thought that MacNeice had limitations of temperament. He sometimes seems to be writing a jazzy, crazy kind of poetry, but when you look closer you realize that it's always perfectly controlled. Inside MacNeice there was always an academic scholar pulling in the rein. He was actually a very reticent man. In his autobiography, he reveals that his mother went mad when he was very young, and I think that the effect of this was to repress his emotional life and to make him avoid at all costs the confessional.
Auden seemed the man of very real genius, very great talent. It is curious that, when we were at Oxford together, he knew almost nothing about form, so the poems he wrote then are really free verse. I remember him once showing me a poem that he said was a sonnet. I asked him why he called it a sonnet, and he said, "Because it only has eleven lines." Then he suddenly began to study form, to the point where he became a virtuoso. I think his mastery of form is what allowed him to incorporate ideology, his ideas, into his poetry so that he eventually became an intellectual, meditative poet. He was very conscious of his own mental superiority. Once I happened to remark to Auden how, when one is a child, one somehow establishes one's position in relation to the other children by knowing whether they are cleverer than you or not. Auden looked at me in an odd way and said, "I always knew that I was brighter than anyone else." I think he did always know that, and it affected him greatly. I think that my relationship to him was very much that of a less clever younger brother. I had two elder brothers who have died. One was a scientist, an incredibly competent person who knew all about machinery, engineering, that kind of thing. As long as he was alive I couldn't do anything, I couldn't even drive a car. And in some funny way, the death of Auden has seemed a release to me. I never resented being overshadowed by Auden, but at the same time I think it held me back. Auden was also very preoccupying. When he went back to live in England, we saw a great deal of him, and if you saw Auden it was difficult to do anything else. He was rather temperamental and required quite a lot of attention, demanded great punctuality at meals, that kind of thing. So if Auden announced he was going to come and stay for three weeks, although I was delighted because it was nice to have him there, I also knew that I wouldn't be able to work for three weeks. He had that sort of effect on me—on everyone, in fact.
INTERVIEWER
There is a generation of American poets who seemed to feel that it was necessary to be unhappy to write poetry, to be alcoholic and even suicidal. How do you feel about that?
SPENDER
I should have said really quite the opposite. I think it's almost a duty to be happy. Unhappiness is something one can absolutely count on; one is bound to have a great many worries and one is bound to be very conscious of other people's unhappiness. To me it seems important to realize that other people's unhappiness is probably greater than one's own, that there's a scale of unhappiness in the world. To me it is the attitude of a very spoiled person even to say, "I'm unhappy." It seems really astonishing, in the age in which there've been concentration camps and seven million people asphyxiated, that people can seek unhappiness. Also I do see very much the point of Yeats. That if you're writing a tragic poetry, the unhappier it is, the more energetic and the more vitalizing you must make the language. You don't want to make the reader identify with your own unhappiness, but to make him enjoy the depiction of unhappiness in some way, perhaps to make it cathartic. I think this is one of the profoundest things in Yeats. It led him to rather brutal utterances sometimes, but I think that when you apply this, say, to Shakespeare, to Lear, it throws real light on the fact that one very much enjoys King Lear's misery. And the more miserable Lear is, the more magnificent the language, and the more enjoyable.
INTERVIEWER
Could you say something about the process of writing a poem? What comes first? A line? The intellectual concept?
SPENDER
Often, a very vivid memory, usually visual, that suggests that it could be realized in concentrated written language, in a form that is adumbrated dimly, not yet clear . . . to be discovered. Above all, the feeling that the poem is there—if only I can release it. When I write a poem I do not know consciously how it will develop, but I feel I know this unconsciously. Writing is the gradual revelation of a wholeness already felt when one has the idea for the poem.
INTERVIEWER
Can you give an example of this?
SPENDER
Well, there are two theories of inspiration. One idea is that poetry can actually be dictated to you, like it was to William Blake. You are in a hallucinated state, and you hear a voice or you are in communication with something outside, like James Merrill's poetry, which he says is sometimes dictated through the Ouija board by Auden and other people.
The other idea is Paul Valéry's, what he calls une ligne donnée, that you are given one line and you try to follow up this clue, pulling the whole poem out of it. My own experience is that a rhythm or something comes into my head, which I feel I must do, I must write it, create it.
For example, I recall looking out of a railway window and seeing an industrial landscape, factories, slag heaps, and the line coming into my head, "A language of flesh and roses." The thought at the back of this was that the industrial landscape was a language, what people have made out of nature, the contrast of nature and the industrial, "A language of flesh and roses." The problem of the poem was to work this connection out, trying to go back to remember what you really thought at that instant, and trying to recreate it. If I think of a poem, I may spend six months writing, but what I am really trying to do is remember what I thought of at that instant.
INTERVIEWER
Can you finish a poem in a burst? Or is revising a large part of the creative process?
SPENDER
Occasionally, I can write a poem straight off. Usually I revise a great deal—a hundred or more rewritings. One good remark Virginia Woolf makes somewhere in her journals is that too much rewriting is symptomatic of a failure of imagination. Mea culpa. But if you put a poem aside, when you look at it again it tends to rewrite itself, because your remembered intention criticizes the failures of expression.
INTERVIEWER
What are the disciplines necessary to keep working on a poem for an extended period of time?
SPENDER
The poet Walter de la Mare said that if there is a leak of attention when you are trying to concentrate, the leak can be stifled by smoking a cigarette, or in Schiller's case, by inhaling the rotten apples that he kept in a drawer.
INTERVIEWER
Is a poem ever truly completed? Can you read over what you've done without wanting to worry it some more?
SPENDER
If poems have been anthologized a lot, I feel they probably should not be touched—they do not belong to me. Other poems I want to change if I feel that things in them are a false or incompletely expressed memory of what I intended to write. A poem may, if one is happy with it, lay a ghost to rest by one's expressing objectively something that one needs to express subjectively.
INTERVIEWER
What do you make of Virginia Woolf's somewhat peremptory insistence that one should not publish before the age of thirty?
SPENDER
I think all she meant was that she hadn't published before she was thirty, so she didn't think anyone else should do so.
INTERVIEWER
I wonder if you could say what the most common faults of experienced poets might be?
SPENDER
The most common fault of experienced poets is that they acquire facility, which reduces tension in their art. Tension usually comes from the sense of difficulty—that the poet has to struggle with language and form.
INTERVIEWER
Do you have to bother with any rituals?
SPENDER
The only important ritual for me is to write in such a way that I shut out all consciousness of my public. Journalism is for the public; poetry is a kind of secret vice. If someone asks me what I am writing, I hate to say, "a poem."
INTERVIEWER
Robert Lowell once said that it is harder to be a good man than a great poet. He seemed to feel that there is something about being a poet that makes leading a normal life unusually difficult. What do you think of this notion?
SPENDER
Well, it is hard to be a good man, of course, and a poet is perhaps especially conscious of this. The great poet or writer is faced by the dilemma that in order to accomplish his art he must be a selfish person. Think how James Joyce, for instance, sacrificed his family. The poet may feel he is justified in doing something because his art demands it. On the whole, artists take this attitude, and perhaps this attitude is right. You feel, perhaps, that you must fall in love, and if other people suffer for it, well, it is justified by your poetry. So the artist says something quite arrogantly, which the ordinary man probably would not say. I don't think even an automobile manufacturer would say, "I must be unfaithful to my wife for the good of General Motors," whereas a poet is a person who does say that kind of thing. A poet like Lowell is conscious of this dilemma. He may have felt that his imagination offered him a choice—he could have been a good man, in which case he may not have written poetry. But he chose to write poetry, and seems to have felt he had to justify doing things that he probably wouldn't morally have approved in people who weren't poets. Lowell caused quite a lot of suffering to other people, and he was a good man. His poetry is really just one long justification for the pattern of his life. At the same time, he was really very self-aware; he was a good and kind and generous man, who never turned on his attackers, who never said anything mean, except in gossip and amusement, about anyone. A particularly good man, I would say.
INTERVIEWER
I see that our time is about up. Is there anything we haven't covered that you would particularly like to say?
SPENDER
I have recently been amused and taken by surprise several times at my poetry readings. For instance, a woman in Dallas asked me, "Mr. Spender, how will your gossamer dreams help to save the world?" And on another occasion, a man asked, "How many movies have been made of your poems?" Alas, there've been none, none at all.

Author photograph by Gerard Malanga.