Interviewed by Karen Saum
Issue 89, Fall 1983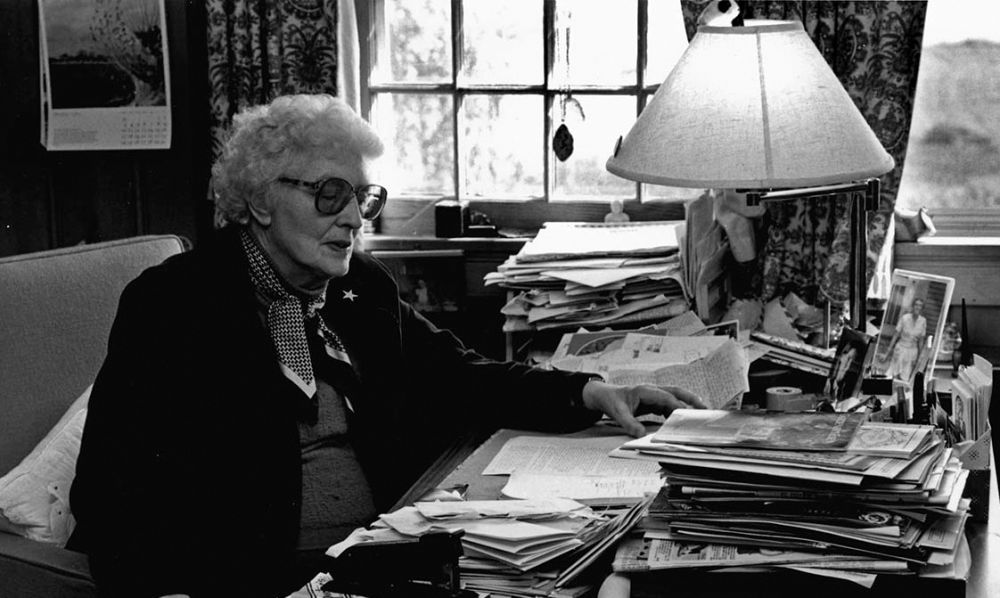 The author of a remarkably varied body of work, May Sarton lives by herself in York, Maine, in a former "summer cottage," quite isolated, at the end of a long dirt road. The road curves through a well-kept wood ending at "The House by the Sea" (the title of one of her journals). The house, formal in design, is of pale yellow clapboard fronted by a flagstone terrace. It faces, across a rolling meadow, the deep blue of the ocean marked here and there by a line of white foam. It is a late November afternoon and growing cold. The flower beds around the house, running along the fence and at the edge of the terraces, are all banked for winter. Her little Sheltie, Tamas, alerts her to the arrival of a guest, and she comes to greet me at the gate.
Possessed of that profound attentiveness characteristic of true charm, May Sarton has, at the same time, an exuberant nature. Her voice, full of inflection and humor, expresses the range of her personality. It has been called a "burnished" voice and it makes for spellbinding poetry readings, which she gives frequently—at places from small New England churches to the Library of Congress, and at colleges everywhere.
In the library, a fire is blazing, and Bramble, the once wild cat, is asleep on the couch. Sarton brings in a tea tray, complete with cinnamon toast and cookies. In this room, with the shelves of her work—novels, books of poems, memoirs, and journals— and the shelves of her father's works (George Sarton was the noted Harvard historian of science), under the benign gaze of Duvet de la Tour, "The Ancestor" ("always referred to as if he were the only one"), the interview begins.
INTERVIEWER
Would you say a word about your work as a whole?
SARTON
My first book was a book of poems, Encounter in April, followed by my first novel, The Single Hound. There was quite an interval before the second novel, The Bridge of Years. And then Shadow of a Man. Then it goes on and on for a long time with a book of poems between every novel. That was my wish, that the poems should be equal in number, that the novels should not be more important than the poems because the poems were what I cared about most. Much later, when I was forty-five or so, I began to do nonfiction—first the memoirs and finally the journals, which came as the last of the forms which I have been using. Altogether now I think it amounts to seventeen novels, I don't know, five or six memoirs and journals, and then twelve books of poems, which are mostly in the collected poems now.
INTERVIEWER
Has it been easy to shift amongst all these different forms?
SARTON
Sometimes the demon of self-doubt comes to tell me that I've been fatally divided between two crafts, that of the novel and that of poetry, but I've always believed that in the end it was the total work which would communicate a vision of life and it really needs different modes to do that. The novels have been written in order to find something out about what I was thinking, questions I was asking myself that I needed to answer. Take a very simple example, A Shower of Summer Days. The great house that dominates the novel was Bowen's Court. What interested me was the collision between a rich nature, a young girl in revolt against everything at home in America, and ceremony, tradition, and beauty as represented by the house in Ireland.
INTERVIEWER
Is it safe to assume that the rebellious young woman is based partly on you?
SARTON
Not at all. It's a complete invention. The only person who is not invented in that book is the husband of Violet, and he is based on Elizabeth Bowen's husband. The house is, as I said, Bowen's Court. I stayed there.
INTERVIEWER
And you knew Elizabeth Bowen.
SARTON
Oh, yes. I was in love with her. I've said what I really want to say about her in the portrait [A World of Light]. She was a marvelous friend. A very warm and giving person.
INTERVIEWER
What intrigues me in your portrait of her is that although she had a tremendous effect on you emotionally, she had no influence on you artistically. You never emulated her work.
SARTON
No. Very little influence. None. Her style is too mannered. At her best, in The Death of the Heart, it's marvelous, but in the later books her style became too literary in a not very attractive way to me. For instance, a sentence is very rarely a straight sentence.
INTERVIEWER
It's convoluted?
SARTON
It's convoluted and put upside down. "Very strange was the house" instead of "The house was very strange." Incidentally, Elizabeth Bowen appears in my novel A Single Hound, as the lover of Mark. I made her into a painter.
INTERVIEWER
We were talking, before this digression, about why you write novels. You say you write them to find out what you are thinking, to answer a question. Could you give another example?
SARTON
In the case of Faithful Are the Wounds, the question was: how can a man be wrong and right at the same time? This book was based on the suicide of F.O. Matthiessen during the McCarthy era. At that time, people outside his intimate circle, and I was never an intimate of Mattie's, did not know that he was a homosexual, so that is only suggested in the novel. But what interested me was that Mattie believed that socialists and communists could work together in Czechoslovakia and had gone way out on a limb to say this was possible and was going to happen and might be the answer to world peace. Then the communists took over and the socialists were done in. It was a terrible blow to Mattie and some people thought the suicide came from that. I wrote the novel partly because I was very angry at the way people I knew at Harvard reacted after his suicide. At first, as always happens with a suicide, people close to him thought, "What could we have done?" There was guilt. Then very soon I heard, "Poor Mattie, he couldn't take it." That was what enraged me, because these people didn't care that much, were not involved. And Mattie did care. I'm sure the suicide was personal as well as political, and perhaps everything was all wound up together at that point . . . but he was right in the deepest sense, you see, only he had bet on the wrong horse. His belief that people could work together, and that the Left must join, not divide, was correct. It proved to be unrealistic. But he wasn't nearly as wrong as the people who didn't care. That's what I wrote the novel out of.
INTERVIEWER
You've spoken of the novel. Earlier, you spoke of the body of your work as a whole. Would you talk about how the different parts fit together?
SARTON
The thing about poetry—one of the things about poetry—is that in general one does not follow growth and change through a poem. The poem is an essence. It captures perhaps a moment of violent change but it captures a moment, whereas the novel concerns itself with growth and change. As for the journals, you actually see the writer living out a life, which you don't in any of the other forms, not even the memoirs. In memoirs you are looking back. The memoir is an essence, like poetry. The challenge of the journal is that it is written on the pulse, and I don't allow myself to go back and change things afterwards, except for style. I don't expand later on. It's whatever I am able to write on the day about whatever is happening to me on that day. In the case of a memoir like Plant Dreaming Deep, I'm getting at the essence of five years of living alone in a house in a tiny village in New Hampshire, trying to pin down for myself what those five years had meant, what they had done to me, how I had changed. And that's very different from the journals. I must say, I'm not as crazy about the journals as some of my readers are. I get quite irritated when people say the journals are the best thing. God knows, I've struggled with certain things in the journals, especially about being a woman and about being a lesbian. The militant lesbians want me to be a militant and I'm just not.
But as for the vision of life in the whole of my work, I would like to feel that my work is universal and human on the deepest level. I think of myself as a maker of bridges—between the heterosexual and the homosexual world, between the old and the young. As We Are Now, the novel about a nursing home, has been read, curiously enough, by far more young people than old people. It terrifies old people to read about other old people in nursing homes. But the young have been moved by it. Many young people write me to say that they now visit elderly relatives in these places. This is the kind of bridge I want to make. Also, the bridge between men and women in their marriages, which I've dealt with in quite a few of the novels, especially in the last one, Anger.
So what one hopes, or what I hope, is that the whole work will represent the landscape of a nature which is not primarily intellectual but rather a sensibility quite rich and diverse and large in its capacities to understand and communicate.
INTERVIEWER
How do you see your novels fitting into the tradition of the novel form?
SARTON
Well, they are quite traditional. I certainly haven't broken the forms. This is true in the poetry too. I think this may be one reason I have not had a great deal of critical attention, because the critics, I mean the real critics, not just the reviewers, are interested in the innovators. I suppose that Mrs. Stevens Hears the Mermaids Singing is innovative in that the material had not been dealt with as openly before, or at least not quite in the same way. But the technique isn't extraordinarily radical.
I have done all kinds of things with points of view in my novels, but I prefer the omniscient view, which I used in Kinds of Love. I think it's better for me, and perhaps for a poet, because you are able to describe things. In a novel like Crucial Conversations, the point of view is that of a friend of the marriage, an observer, and there is so much you simply cannot describe. You can't describe the atmosphere, the landscape, the interior of a house, say, without being quite awkward in the way you do it. "He walked in and noticed the roses were faded on the little eighteenth-century table." It's a little self-conscious. Ever since Henry James, there has been this big quibble about the point of view. As I say, I prefer the omniscient view although it's very unfashionable and is constantly pounced upon by the critics.
And the dialogue, of course. Elizabeth Bowen has said the great thing about dialogue: "Dialogue is what people do to each other."** Anger is a perfect example. The war between these two characters is a war of dialogue. To some extent also in Crucial Conversations and even in an old novel of mine, Shadow of a Man, which I dipped into the other day because people are reading it now that it's in paperback, a great deal happens in the dialogue.
INTERVIEWER
For which of the novels do you have the greatest affinity?
SARTON
Mrs. Stevens, I think, Faithful Are the Wounds, and As We Are Now would be my three . . . and A Reckoning. Those four. Of course, they are all very different. Faithful Are the Wounds is a passionate political book, and I haven't done that any other time. In As We Are Now I think I did succeed in making the reader absolutely identify with Caro, the old woman who is stuffed into a ghastly rural nursing home and who is trying to stay alive emotionally. I look at As We Are Now as a descent into hell in which there are different steps down. The first is the person being captured, so to speak, and put in jail. The final step is when genuine love is made dirty. Caro had come alive again because a gentle nurse came into this terrible place and she sort of fell in love with her. Then that love is made dirty by the people who own the home. She tries to run away at that point. That's the final step; after that she begins to go mad and suffers despair. That's when she decides to burn the place down. She has a long conversation about God with her minister. One thing I like about this book is that there is a good minister in it. Ministers are almost always treated ironically in fiction, or made into monsters of some kind. This minister really listens. He isn't trying to tell her something. He's interested in what she has to say.
INTERVIEWER
So the end represents madness, not in any way a cleansing.
SARTON
Well, it's partly a cleansing action for her. The end has been questioned, and I myself question it because she burns up innocent people in the fire. But I felt it had to end that way. The innocent people were just vegetables, and so ill-treated that one felt death was better, really. And Caro probably does feel this way, only it isn't quite sane; she has all the inventiveness of the mad person who has an idée fixe of how she is going to proceed.
INTERVIEWER
At what point does the end become inevitable?
SARTON
When genuine love is defiled. That's when everything goes. There is nothing left. Then she is in hell.
INTERVIEWER
And the reason for your particular affinity with the novel A Reckoning?
SARTON
The origin of the book is rather interesting. I wrote it before I myself had cancer, and a mastectomy. But at an earlier date I thought I had cancer, and for a few days while the biopsy was being done I had an immense feeling of relief that I could lay the burden of my life down, get rid of all the clutter, and for the last six months of it, simply live and look at the world . . . look at the sun rise and not do anything that I ought to do. And then when I heard that I was all right and had to pick up the burden again of answering letters and living my life, which is a very good one but very demanding, I cried. I went out to Raymond, the gardener, and said, "I'm all right, Raymond," and burst into tears.
That was the clue to the novel, you see. Then I thought, "Ah! I'm going to write it. What would it have been like if I had had cancer, and six months to live my own death?" Really, the book is about how to live as much as it is about how to die. From much that I hear about it, I know it has been a helpful book. It's used in the hospices, and in nursing homes, and often read by nurses and people who are dealing with the dying. It has been useful, there is no doubt, and that is a wonderful feeling.
INTERVIEWER
Have any particular novelists been mentors?
SARTON
Yes. Certainly Virginia Woolf. She was the novelist who meant the most to me when I was learning. But she is a dangerous mentor from the technical point of view because she can't be imitated. It's too much her own genius. My first novel is written in a very Woolfian way. There's a description of a woman walking down some steps and it's summer and it's like a pastiche of Woolf. I never did that again.
INTERVIEWER
You've written in your journals about your meetings with Virginia Woolf, but can you cast your mind back and describe the very first moment you met her?
SARTON
I had left my first book of poems at her door, with some flowers, and the darling maid opened the door just then and said, "Oh, won't you come up?" I said, "Oh, no, I wouldn't think of it." I just left the book. Elizabeth Bowen knew that I wanted to meet Virginia Woolf desperately, so she invited the two of us and a couple of other people to dinner. That was when I first met her. She walked in, in a "robe de style," a lovely, rather eighteenth-century-looking, long dress with a wide collar, and she came into the room like a dazzled deer and walked right across—this was a beautiful house on Regent's Park—to the long windows and stood there looking out. My memory is that she was not even introduced at that point, that she just walked across, very shyly, and stood there looking absolutely beautiful. She was much more beautiful than any of the photographs show. And then she discovered that I was the person who had left the poems.
She was very canny . . . she answered my gift of that book with a lovely note, which is now in the Berg Collection, just saying: "Thank you so much, and the flowers came just as someone had given me a vase, and were perfect, and I shall look forward to reading the poems." In other words, never put yourself in a position of having to judge. So she never said a word about the poems. But she was delighted to find out that I was the person who had left them.
Then, later, we talked—Elizabeth and Virginia Woolf and I. The gentlemen were having their brandy and cigars in the other room. We talked about hairdressers. It was all like something in The Waves! We all talked like characters in a Virginia Woolf novel. She had a great sense of humor. Very malicious. She liked to tease people, in a charming way, but she was a great tease.
INTERVIEWER
Did you feel shy?
SARTON
Of course! But she put me at ease and I saw her quite often after that. Every time I was in England I would have tea with her, which was a two-hour talk. She would absolutely ply me with questions. That was the novelist. I always felt the novelist at work. Where did I buy my clothes? Whom was I seeing? Whom was I in love with? Everything. So it was enrapturing to a young woman to be that interesting to Virginia Woolf. But I think it was her way of living, in a sense. Vicariously. Through people.
INTERVIEWER
But you've written that you felt a certain coldness, in spite of . . .
SARTON
Yes. She was never warm. That's true. There was no warmth. It was partly physical, I think. She was a physically unwarm person. I can't imagine kissing her, for instance, I mean on the cheek. But she was delightful, and zany, full of humor and laughter. Never did you feel a person on the brink of madness. That has distorted the image, because she was so in control.
INTERVIEWER
You were speaking of influences. Whom else would you add?
SARTON
The person who influenced me the most has been François Mauriac. I greatly admired the economy and thrust of his books. He was able to create so much between the lines. I was aiming for that. I was aiming to eliminate what at first I was praised for, a so-called "poetic style." I wanted to get rid of that and to make the poetry less obvious, to make it sharper and purer and simpler. I've worked to get a more and more clarified style, but I think this has been misunderstood in my case. Somebody said of As We Are Now: "A ninth-grader could have written it"—meaning the style. I mean, this person simply didn't get it! Other people did get it, fortunately. Of course, the thing that is so tremendous with Mauriac, and isn't possible for me because I don't belong to the Church, is the Catholic in him, which gives this extra dimension to everything that he wrote. I envy him that.
INTERVIEWER
How was it that you began to write the journals?
SARTON
I wrote the first one, Journal of a Solitude, as an exercise to handle a serious depression and it worked quite well. I did have publication in mind. It wasn't written just for me. I think it's part of the discipline. It keeps you on your toes stylistically and prevents too much self-pity, knowing that it's going to be read and that it will provide a certain standard for other people who are living isolated lives and who are depressed. If you just indulge in nothing but moaning, it wouldn't be a good journal for others to read. I also found that by keeping a journal I was looking at things in a new way because I would think, "That—good! That will be great in the journal." So it took me out of myself, out of the depression to some extent. This happened again with Recovering.
INTERVIEWER
You write for publication; do you have an imagined audience?
SARTON
It's really one imaginary person.
INTERVIEWER
Would you talk a little about this imaginary person?
SARTON
Well, I don't mean that when I sit down I think, "Oh, there is that imaginary person over there I'm writing for," but . . . yes! Somebody who sees things the way I do, who will be able to read with heart and intelligence. I suppose somebody about my age. It used to be somebody about forty-five; now it's somebody about seventy. But then Journal of a Solitude brought me a whole new audience, a college-age audience. That was very exciting because until then my work had appealed mostly to older people.
INTERVIEWER
Isn't it true that lately you have been embraced by the spiritual establishment?
SARTON
Yes, this has happened only recently and has been extremely moving to me. I have come out as a lesbian. And although I have no shame about this at all, I still feel it's quite extraordinary that religious groups would be so receptive to me, as the Methodists were, for instance. They asked me to be one of the speakers at their yearly retreat for pastors. The other speakers were religious in a way that I am not. Then, the Unitarians gave me their Ministry to Women Award last year and I was touched by what they said . . . that I'd helped women by my honesty. The Methodists also talked about honesty.
I must say it was quite brave of me to come out as I did in Mrs. Stevens, in 1965. At that time it was "not done." When I spoke at colleges I would never have stated, "I'm a lesbian." But this all changed in the seventies. It's marvelous now that one can be honest and open. At the time Mrs. Stevens was published, it was sneered at in reviews and I lost a couple of jobs. They weren't terribly important jobs but I did lose them. Now I don't think that would happen. It might if you were a professor in a college, but coming as a visiting speaker you can be absolutely open. Women's Studies have helped me enormously, there's no doubt about it. This is one way my work is now getting through.
I know of no other writer who has had such a strange career as I've had. When I started writing, the first novels were received with ovations. In 1958, I was a finalist for the National Book Award in two categories, fiction and poetry. But after my fifth novel, Faithful Are the Wounds, the one that was nominated, this never happened again and I began to have bad reviews. I was no longer in fashion. I can't think of another writer who has had as hard a time with reviewers over a period of twenty years as I have but whose work has been so consistently read. It's word of mouth. It's people . . . every day I get letters saying things like: "I loved such and such a book and I'm buying five copies to give to people." That's how books get around. And then the public libraries. Without the public libraries, serious writers, unfashionable serious writers like me, really wouldn't have a chance. Again, I hear from people, "I was wandering around the library and saw the title Plant Dreaming Deep. It caught my attention . . . now I'm reading everything you've written." It's wonderful to have this happen at the age of seventy.
INTERVIEWER
Will you talk about the relationship between the poet and the Muse?
SARTON
Many of my poems are love poems. I'm only able to write poetry, for the most part, when I have a Muse, a woman who focuses the world for me. She may be a lover, may not. In one case it was a person I saw only once, at lunch in a room with a lot of other people, and I wrote a whole book of poems. Many of these poems have not been published. But this is the mystery. Something happens which touches the source of poetry and ignites it. Sometimes it is the result of a long love affair, as "A Divorce of Lovers" poems, the sonnet sequence. But not always. So who is the audience for my poetry? The audience is the loved one for me. But usually "the loved one" isn't really interested in the poems.
INTERVIEWER
You, and Robert Graves with his White Goddess, are perhaps the only modern poets to be so strongly and personally inspired by the Muse as a mythological figure. A literal figure. Do your Muses, diverse as they must be, possess any one thing in common?
SARTON
Maybe so. The word that popped into my mind when you asked the question was: distance. Maybe there is something about the Distant Admired Person. I had a curious experience in Berkeley recently, where I stayed with a friend I went to school with, the Shady Hill School, in Cambridge, Massachusetts. She had saved a book of poems that a group of us had written. We used to meet, four of us, and read our poems to each other and savagely criticize them. These poems were passionate love poems to our teacher, Anne Thorp, the person I'm now trying to write a novel about. I was absolutely floored by the intensity of these poems! We were completely inexperienced. In that generation there was no sex, I mean nothing like what goes on now. We were asexual because we just didn't know anything yet. But we felt so intensely. And I saw that I haven't changed that much. I'm not innocent in the way I was then, but my feelings have remained very much as they were.
INTERVIEWER
If Anne Thorp had possessed all those qualities you worshiped, but had been a man . . . could you have been writing those love poems to a man?
SARTON
Yes, it's possible. I just don't know. The three other people did not become homosexual. Only I among the four.
INTERVIEWER
You have spoken of poems as coming from the subconscious.
SARTON
It's not the poem that comes from the subconscious so much as the image. Also the single line, la ligne donnée. If I'm truly inspired, the line comes in meter and sets the form. But what comes from the subconscious is only the beginning. Then you work with it.
In the case of metaphor, it has everything to teach you about what you have felt, experienced. I write in order to find out what has happened to me in the area of feeling, and the metaphor helps. A poem, when it is finished, is always a little ahead of where I am. "My poem shows me where I have to go." That's from Roethke. His line actually reads: "I learn by going where I have to go."
INTERVIEWER
So you write novels to find out what you think, and poems to find out what you feel?
SARTON
Yes, it works out that way. In the novel or the journal you get the journey. In a poem you get the arrival. The advantage of free verse, for instance in "Gestalt at Sixty," is that you do get the journey. Form is so absolute, as if it had always been there, as if there had been no struggle. The person who sees the lyric poem on the page doesn't realize there may have been sixty drafts to get it to the point where you cannot change a single word. It has been worked for. But something has been given, and that's the difference between the inspired poem and what Louise Bogan calls the imitation poem. In the inspired poem something is given. In the imitation poem you do it alone on will and intelligence. I mean, you say something like: "It might be a good idea to write a poem about a storm down here at the end of the field when the fountains of spray come up." And so you go ahead and do it. But the difference is simply immense, as far as the poet goes. He knows, or she knows, what is inspired and what is imitation.
INTERVIEWER
Would the reader know?
SARTON
I think so.
INTERVIEWER
What about the advantages and disadvantages of form?
SARTON
Form is not fashionable these days. What's being thrown out, of course, is music, which reaches the reader through his senses. In meter, the whole force is in the beat and reaches the reader, or the listener, below the rational level. If you don't use meter, you are throwing away one of the biggest weapons to get at the reader's subconscious and move him. The advantage of form, far from being "formal" and sort of off-putting and intellectual, is that through form you reach the reader on this subliminal level. I love form. It makes you cut down. Many free verse poems seem to me too wordy. They sound prose-y, let's face it. When you read a poem in form, it's pared down, it's musical, and it haunts. Very few free verse poems are memorable. You don't learn them by heart unless they are very short. But a lyric poem is easy to remember.
INTERVIEWER
You have written poems in free verse.
SARTON
Oh, yes, a lot. I find it exhilarating.
INTERVIEWER
How do you know when you're finished?
SARTON
That's the problem. I can go on revising almost forever. But with form, at a certain point it's all there. Another problem, or danger, with free verse, is that it depends almost entirely on the image, so you get people using what I call "hysterical images," images which are too powerful because you've got to hit the reader over the head with something big . . . like talking about love in terms of the Crucifixion. Or the Holocaust. A tremendously strong image to say something which doesn't deserve that intensity and only shocks the reader, but in a rather superficial way.
INTERVIEWER
What poets have had the most influence on you?
SARTON
H. D., when I was young. It was the age of Millay. Millay was the great . . . well, everybody adored her. And I did too. I loved those lyrics. But I was fascinated by H. D. because of the freshness she managed to get into free verse. Then the other women lyric poets: Elinor Wylie certainly influenced me, and later on Louise Bogan, who I think was probably the most distinguished pure lyric poet of our time. There you get that marvelous economy and music and depth and also the archetypal images. And then Valéry, whom I translated with Louise Bogan.
INTERVIEWER
Because your parents were European, and you yourself were born in Belgium, has that made a difference to you as a poet?
SARTON
I think an enormous difference. Because the things that touched me most, the literary things, were mostly in French, and later on, at fourteen, I came under the influence of Jean Dominique.
INTERVIEWER
What about those very early years?
SARTON
During the first two years of my life we lived in a small heaven of a house in Wondelgem, Belgium. Then we were driven out by the war and went to England. In 1916, when I was four, we settled for good in Cambridge, Massachusetts. Even so, every seven years, when my father had a sabbatical, we all went to Europe. It took me until I was forty-five to become an American at heart. It was in 1958, after my parents were both dead, that I bought a house in Nelson, a small village in New Hampshire, and settled in for fifteen years and made roots. I describe that in Plant Dreaming Deep. I planted the dreams then and became an American.
But for very long, all my youth, from nineteen on anyway, I went to Europe every year. Although we never had much money, my father gave me a hundred dollars a month allowance, and an extra three hundred dollars, which at the time covered a boat round trip, tourist class. I either stayed with friends, or, in London, in one of those dreary one-room flats which cost £2 a week with an English breakfast thrown in. I felt European partly because—I still believe this—the emotional loam is deeper in Europe. People are less afraid of feeling. The lesbian part of me came into this because in the Bloomsbury society of the thirties there was no trouble about that. I didn't feel like a pariah. I didn't feel that I had to explain myself. And among my mother's generation there were passionate friendships between women that were probably not sexually played out, but it was common for women to be a little in love with each other. It was taken for granted. It wasn't a big issue.
One of the themes in all I have written is the fear of feeling. It comes into the last novel where Anna asks, "Must it go on from generation to generation, this fear of feeling?" I want feelings to be expressed, to be open, to be natural, not to be looked on as strange. It's not weird, I mean, if you feel deeply. And, really, most Americans think it is. Sex is all right, but feeling is not. You can have five people in your bed and no one will worry much, but if you say, "I've fallen in love at seventy," people's hair is going to stand on end. They'll think, "The poor thing, there's something awfully wrong with her."
INTERVIEWER
Young people read Halfway to Silence and quote the poems . . . it goes so much against our cultural norms, the idea of a woman of sixty-five writing a passionate love poem to another woman.
SARTON
Yes, I know. And I have done it more than once. The poem "Old Lovers at the Ballet" is really about this: how is the sexuality different for an older couple, old lovers watching these magnificent bodies which they don't have and the grace which they no longer have? I suggest that what they do have is something else, an ability to communicate spiritually through sex. I believe that at its deepest, sex is a communication of souls through the body. That can go on forever.
INTERVIEWER
Did you ever write poems in French?
SARTON
I wrote poems for Jean Dominique in French, but I didn't know the language well enough, the prosody, and so they have a certain charm but nothing more. I'd never publish them.
INTERVIEWER
So the European influence is in the emotional climate more than anything.
SARTON
Yes. But as I said, the seminal influences in my writing were French; Mauriac for the novels, Valéry for the poetry, and also Gide at a certain time, particularly in the journals.
INTERVIEWER
Would you talk about the poems you're writing now?
SARTON
I'm writing new poems now called "Letters from Maine." It's a new form for me. I've written so many poems in sonnet form, or in other forms, and I wish I could find something a little freer which is not free verse. These are a sort of loose iambic pentameter. They don't rhyme, and they flow. It's impossible for me to tell whether they're any good. In six months I'll look back and say, "That was a bad idea, it didn't work," or I'll say, "These are really quite good." Then I can begin to revise.
The poems come from a new Muse. A very distant one whom I probably won't see very much of. But it's opened up that mysterious door again. It's amazing, so mysterious, so extremely hard to talk about. Why should it happen that among all the people, the great many women whom I see and am fond of, suddenly somebody I meet for half an hour opens the door into poetry? Something is released. The deepest source is reached. Some of my best poems have been written for occasions which did not materialize, if you will. "In Time Like Air" is an example. "In time like air is essence stated" is the final line. Here is an example of an image which haunts for years, an archetypal image, salt, which I got from the French philosopher Gaston Bachelard. Bachelard has written a whole series of books analyzing images. In one of them he talks about the image of salt, and says it is a Janus material because it dissolves in water, crystallizes in air. I put that in a notebook and carried it around for years. Then I met somebody who started poetry for me again. I realized that salt was the image I needed. A metaphysical poem about love. And time. Love and time. There's only that one poem.
INTERVIEWER
You've discussed the different forms, or modes, you use to express your vision of life: poetry, novels, journals, memoirs. Were you ever tempted to write short stories?
SARTON
I did at one time write a number of stories when I was living in Cambridge and making very little money. I sold some to the then slicks, a lot of which don't exist anymore, and also to places like Redbook and Ladies' Home Journal. There are about thirty stories. I broke some taboos. For instance, I wrote about a woman dying of cancer and you weren't supposed to do that—write about it, I mean. Ladies' Home Journal published that. But they were not wonderful and I wouldn't like to see them reprinted. They were just . . . well, I sold one little piece for $600, which to me was a fortune, so that sort of set me off. I thought—Well! This is great! I'll write lots! And I did write quite a few but I finally had to stop because when I sat at the typewriter dollar signs were floating around in my eyes. It was the money. I somehow couldn't handle it.
INTERVIEWER
Could you write stories now?
SARTON
The form doesn't appeal to me very much. The short story is too much like a lyric, so that side goes into poetry.
INTERVIEWER
You have spoken with great admiration of Yeats, who changed his style and grew in poetic power even when he was an old man. Earlier, you mentioned the new form of your latest poems. Using that sort of comparison, how does it feel to be seventy?
SARTON
For the first time in my life I have a sense of achievement. I've written all these books and they're there! Nobody can take that from me. And the work is getting through at last. For so long I felt there were people who would like to read me but didn't know I existed. So I'm more relaxed inside now, less compulsive . . . somewhat less compulsive.
INTERVIEWER
You don't find that your past achievement acts as a brake on further achievement?
SARTON
Not at all. I feel much more creative now that I'm not carrying around that load of bitterness and despair because I was getting so little critical attention and therefore the readers weren't finding my work. Now they are finding it.
INTERVIEWER
You once wrote that to be worthy of the task, the poet moves toward a purer innocence where "the wonderful is familiar and the familiar is wonderful . . ."
SARTON
That's a quote from Coleridge, of course. Where did I say that? In Writings on Writing, maybe. One of the good things about old age is that one often feels like a child. There is a childlike innocence, often, that has nothing to do with the childishness of senility. The moments become precious.
Ideally, one would live as if one were going to die the next day. I mean, if you were going to die the next day it would be well worth sitting and watching the sun set, or rise. It might not be worth doing a huge laundry.
INTERVIEWER
Your aspirations for yourself when you were young were quite lofty . . .
SARTON
Where did you read that?
INTERVIEWER
You told me.
SARTON
What do you mean? Of course my ambitions were lofty. I knew that I was a poet. This, like mathematical or musical gifts, you know when you are very young. My first poems were published in Poetry magazine when I was seventeen-five sonnets which open the first book, Encounter in April. Of course, I did think for a long time that I was going to be in the theater because I had fallen in love with a theater, the Civic Repertory Theater founded by Eva Le Gallienne in New York. She accepted me as an apprentice. I could have gone to Vassar, but I chose the theater. It was a difficult decision for my parents to accept, but in the end they backed the whole precarious plan.
INTERVIEWER
If you could be the seventeen-year-old looking at the woman of seventy, what would you think?
SARTON
I think I would be proud of myself. I've done what I set out to do and without a great deal of help. I never took permanent jobs in the academic world, which most poets have to do, not that they want to, and this has cost me something because the critical acclaim comes from the academic world, which launches a poet. But yes, I think that if at seventeen I'd known there'd be twelve books of poems (at that time I never imagined novels at all), I would feel pretty good. I'd say, "You did what was in you to do."
But I don't sit here and think, "Oh, how wonderful you are, Sarton." I think, on the contrary, "Oh, how much there is still to do!"
INTERVIEWER
You often see other poets and writers at conferences. Are you stimulated by this mixing with your peers, so to speak?
SARTON
I don't like writers. I don't like seeing writers. I'm not good at it. It upsets me. It's been too hard a struggle. I'm very competitive, and that side comes out. I'm uncomfortable with writers. I love painters and sculptors.
In relation to writers, the people whom I did love to see were the people who I felt were way ahead of me, like Louise Bogan and Elizabeth Bowen and Virginia Woolf. People from whom I had everything to learn and where my position was that of a neophyte. That I enjoyed. I have one very good new friend, a poet, Bill Heyen. He's a marvelously good poet, I think. But I really like to see what I call "real people"—who are not writers!
INTERVIEWER
One theme I wanted to ask you about is the phoenix.
SARTON
The phoenix, yes. The mythical bird that is consumed by fire and rises again from its ashes. That was D. H. Lawrence's symbol. I've appropriated it. I think I have died and been reborn quite a few times. One renewal from the ashes, to stick to the symbol, is recorded in my latest journal, Recovering, which describes a combination of the end of a love affair, a mastectomy, and a third very hard blow: an attack on my novel A Reckoning. I knew this novel was going to have value for people who were dying, and for their children and friends and so on, and it was more or less damned in the New York Times as a lesbian novel. This hurt. So I was getting over a lot of things. Again, as with Journal of a Solitude, I used the journal as a way of coming to terms with depression, and that journal is helping a lot of people. I get many letters about it.
INTERVIEWER
Have you been reborn recently?
SARTON
Yes. Yes, I have. I had gotten to a very sterile place because I was seeing so many people this summer and making so many public appearances, and yet at the center there was a kind of emptiness. I began to feel like a well that had gone dry. And then I did meet a woman who started the poems again, and has centered everything again for me. It's quite miraculous.
INTERVIEWER
Would you talk about the theme of the creative woman as a monster?
SARTON
Ruth Pitter, the poet, said in a letter to me once, "We are all monsters," meaning women poets. Le monstre sacré. As I say in the poem "My Sisters, Oh My Sisters," I think that was to some extent true. It isn't now. Now it's possible for women to have much more complete lives, and that's what we're working towards, really.
But let me go back for a minute to the phoenix. You see, at twenty-six I had been in the theater for six or seven years, first as an apprentice to Le Gallienne and then, when her theater failed, I kept the apprentices together and founded something called the Apprentice Theater. We did a season at the New School for Social Research in New York—rehearsal performances of Modern European plays in translation that had never been seen on Broadway. We got quite a lot of notice. It was a kind of first off-Broadway theater. But then we had to go into production in order to be a theater. I was offered a small theater in Hartford and we did a season there which was not a great success. I was looking all the time for new American plays and didn't find one. Finally we opened in Boston the following year and failed immediately, having spent $5,000 that I had managed to raise. So at twenty-six I faced failure, the complete failure of my dream of making a studio theater a little bit like the Moscow Art Theatre Studio. This was one of the times when the phoenix died and had to be reborn again and I was reborn as a writer. I was very ill after the theater failed. I guess I had what used to be called a nervous breakdown. My mother announced, "May has to rest," and took over. I rested for three months, just lay out on a chaise longue. I was exhausted. Emptied out. But one has extraordinary powers of remaking oneself. I learned it physically with the mastectomy. I was amazed at the power of the body to come back after such a shock. For that reason, the mastectomy was a thrilling experience, odd as it sounds. The body has this power, and so does the mind and the soul, to remake itself. That is the phoenix.
INTERVIEWER
Given your experience in the theater, might you not have been reborn as a playwright? Especially since you have such a strong sense of dialogue.
SARTON
I've written two full-length plays.
INTERVIEWER
Should I know that?
SARTON
No, you shouldn't. They were never produced, although Archibald MacLeish thought one of them had real possibilities and tried to get Robert Brustein at Yale to do it. The other one won a prize but I can't even remember what sort of contest it was. I wrote them quite fast, in about three weeks each, which is probably why they weren't better! But I wrote them long after the theater failed. Ten years, at least. Maybe twenty years.
It was like a fever, the theater, for me, but it was so closely connected with the Civic Repertory and Eva Le Gallienne and that marvelous theater which was so pure. The theater is heartbreak. I admire people who have the guts to take it.
INTERVIEWER
Apart from the informal teaching arrangements, you've earned your living entirely by your writing, isn't that true?
SARTON
Yes. I've never had a bonanza, but my books have been consistently read and now many of them are in paperback. It's been tough at times, but my writing has kept me afloat financially.
INTERVIEWER
Everyone wants to know about a writer's work habits . . .
SARTON
I do all my work before eleven in the morning. That's why I get up so early. Around five.
INTERVIEWER
Have you pretty much stuck to the same kind of discipline over the years?
SARTON
Yes, I have. That I got from my father. I think the great thing he gave me was an example of what steady work, disciplined work, can finally produce. In not waiting for "the moment," you know, but saying: "I'm going to write every day for two or three hours." The trouble, for me, is the letters. They interrupt, and I give much too much energy to that. It's an insoluble problem.
INTERVIEWER
Would it be helpful, say, if you were stuck in your work, to switch over to the letters?
SARTON
I sometimes start the day with the letters. Just to get the oil into the machine.
INTERVIEWER
Do you have other ways of getting oil into the machine?
SARTON
Music. I play records, mostly eighteenth-century music. I find that the Romantics—Beethoven—don't work for me. I love them to listen to, but not to work with, alongside of, whereas Mozart, Bach, Albinoni . . . Haydn, I love. I feel the tremendous masculine joy of Haydn. That gets me going.
INTERVIEWER
It gets you going, but do you keep it going?
SARTON
Yes. It's probably a terrible thing to do to the music but it does a lot for me.
INTERVIEWER
You have mentioned that you are writing a journal, and there are the new poems . . .
SARTON
And a novel. I'm hoping now to get back to a novel that went dead on me before I wrote Anger, called The Magnificent Spinster. I'm looking forward to doing it because it will be rather rich and poetic in a way that Anger was not. Anger was a novel like a blow, trying to get at things almost brutally.
This brings up an interesting point, I think. Here I have this novel, which I set aside for a long time and which I am going back to. In other words, you can plan for a novel. You can say, "I'm going to write a novel next year" and then go ahead and do it. Except that it might not work out, but still you can plan for it. You simply cannot do this with poems, they come out of a seizure of feeling. You can't plan for a seizure of feeling, and for this reason I put everything else aside when I'm inspired, because, as I've said, you can't summon a poem. You can try, but it won't be much good if it's written on command.
INTERVIEWER
You've written movingly about your parents in A World of Light.
SARTON
That is a memoir recapturing twelve different people, a celebration of great friendships. All of the people were dead, or "gone into the world of light" —the Henry Vaughan quote—at the time I wrote it, except one. I included my parents because their friendship has weighed on me all my life. Their influence was the most difficult to deal with, and the most inspiring. I've spoken about the value of memoirs as the past considered, as essences. In "The Fervent Years," the chapters in I Knew a Phoenix, I talk about my parents' youth. It taught me an awful lot about them, and about a whole period. They were tremendously idealistic people. They had the nineteenth-century vision of life, the perfectability of man. Ever since the Holocaust, something has happened to people, to all of us. We've had to face certain things which make it impossible for us to foresee a much better future. We're faced with a whole lot of choices that are pretty depressing. Whereas my parents still had that well of idealism and faith in humanity which runs through all of my father's work.
INTERVIEWER
What about your phrase "usable truth . . ."?
SARTON
This is the function of poetry. To make people experience. That's where it's completely different from philosophy, where you think something out but don't have to experience it in your whole being so that you are changed. It's perfectly stated by Rilke in the sonnet "To the Archaic Torso of Apollo." One must visualize this ideally beautiful sculpture with no head and no eyes. The poem ends, "Here there is nothing that does not see you. You must change your life." That is what art is all about.
* Nom de plume of Marie Closset of the Institut Belge de Culture Française.
** Actual quote: "Speech is what the characters do to each other."