Interviewed by Edwin Frank, Andrew McCord
Issue 94, Winter 1984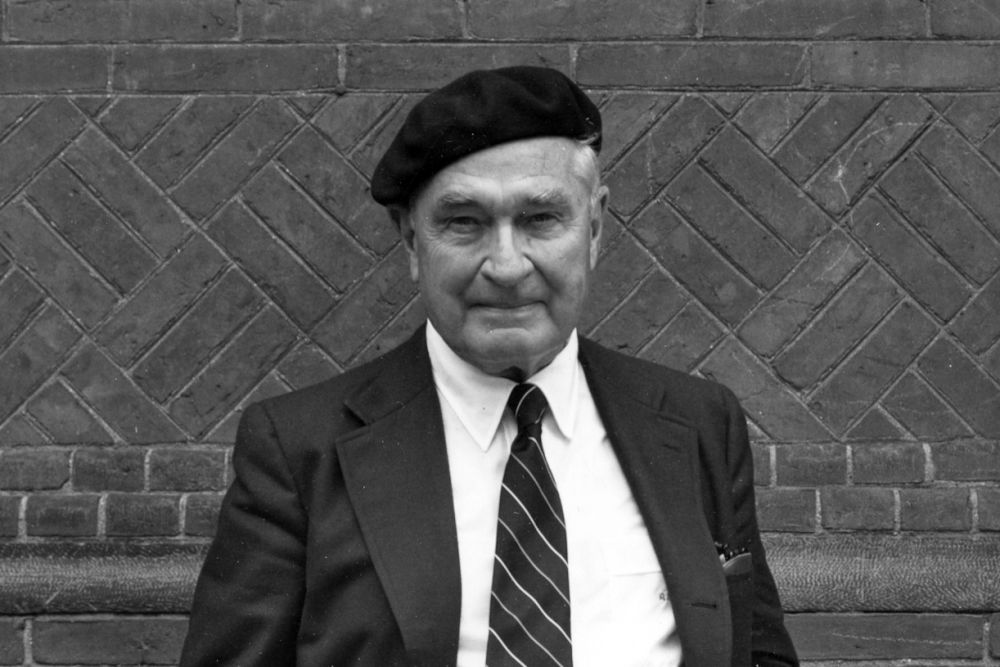 Photograph by K. Kelly Wise.
Robert Fitzgerald met us in his office in Harvard's Pusey Library one morning in August 1983. The day was muggy; Fitzgerald was wearing a blue seersucker suit and a sport shirt. He carried a worn book bag over his shoulder, announcing, "I've brought some exhibits!"
Pusey Library is a new building and Fitzgerald's office is a small, durably carpeted room, somewhat longer than it is wide. A bookshelf hangs over a desk. In the room there's just enough space for an easy chair and a straight chair. Standing at the door, we could see out a narrow window at the opposite end of the room onto a courtyard, where grass and a few thin trees were trying to grow. Fitzgerald shook an old, pocket-sized copy of Virgil out of his bag onto his desk. We sat down, and the interview began.
Fitzgerald speaks slowly and very deliberately. When he finds a quotation or phrase or word that seems particularly telling, he marks the occasion with a small click of the tongue. We talked for about an hour and a half, and then went to lunch.
INTERVIEWER
First, we thought we'd ask you what made you want to be a writer?
ROBERT FITZGERALD
I don't think it comes on that way . . . wanting to be a writer. You find yourself at a certain point making something in writing, and this seems to be great fun. I guess in high school—this was in Springfield, Illinois—I discovered that I could put words together and the results were pleasing to me. After I had discovered the charms of verse, I wrote verse all the time. Then when I was a senior, a great, kinetic teacher named Elizabeth Graham conducted something called the Scribbler's Club for a few seniors. It was a class, but it called itself a club, and was engaged in writing throughout the year. They put out a little magazine. I guess that was when the whole thing came to a head. I wrote a lot of verse and prose. So it wasn't so much wanting to be a writer as having a knack or fondness for putting things into verse.
INTERVIEWER
Were there any writers whose work you particularly admired at that time?
FITZGERALD
Well, I was greatly taken by a story called "Fifty Grand" in Scribner's Magazine, which came into the Scribbler's Club. I thought it was really wonderful. That was Ernest Hemingway's story about the boxer who's offered $50,000 to throw a fight and, though double-crossed and fouled, still goes on to throw it. It's a faultless story. I was also greatly taken at that time by Willa Cather's Death Comes for the Archbishop. And in verse, well, you know, you come across the work of William Butler Yeats at a certain point and your head endures fraction.
INTERVIEWER
Where did you go when you left Springfield?
FITZGERALD
I went to the Choate School in Wallingford, Connecticut. When I got out of high school in Springfield, Illinois, in 1928, I had applied for and had been admitted to Yale. My family felt that since I was only seventeen, it would be a little premature to put me in college. So, I went to Choate for a year. While at Choate, I met Dudley Fitts, who was one of the masters there. He had been at Harvard, and I got the idea that where Fitts had gone to college was the place for me to go.
INTERVIEWER
What sort of influence did Fitts have on you?
FITZGERALD
He encouraged me to learn Greek. I would never have gone in for it unless he had dropped the word that it was nice to know a little Greek. So when I got to Harvard, I enrolled in a beginning course. And Fitts was up on Pound and Eliot and Joyce. He read me The Waste Land, which changed my life.
INTERVIEWER
Your early poems are full of dislocated, unidentified speakers, images of night and darkness, glinting lights. What drew you to such imagery?
FITZGERALD
I think that the life of the undergraduate, now and certainly in those days, was nocturnal, quite a lot of it.
INTERVIEWER
Do you still feel close to those poems?
FITZGERALD
I recognize them as my own and I don't disown them or feel silly about them. I think some of them are still pretty good, for what they are. I wouldn't have put them in my collection unless I thought they were worth including.
INTERVIEWER
One of your poems, "Portraits," is a portrait of John Wheelwright. How did you get to know him?
FITZGERALD
It must have been Fitts who introduced me to Wheelwright, and also to Sherry Mangan, a very spectacular literary figure. Both of these gents were socialists and political thinkers. Eventually, Sherry Mangan, whose early poetry was highly stylized and affected, settled into a life of dedication to the Trotskyite cause: socialism without the horrors of Stalinism. Wheelwright, too, was of this persuasion. Well, you probably know something of Wheelwright's place among the eccentrics of Boston of his time. He was always in his great big raccoon-skin coat and he belonged to the best Boston society of the time. Yet after an evening with friends, wherever the Brahmins of the time congregated, he would go out and do a soapbox turn on the Common, lecturing the cause of socialism in his tux and so on. He was also a devout Anglo-Catholic. These figures, along with B. F. Skinner, who was the white-haired boy of psychology around here at that time, and a physicist named Cuthbert Daniel, were all intellectuals of considerable—what?—presence and audacity and interest. None of them had any money and at that time—this was '32, '33—this country had already felt the very cold grip of the Depression. The mystery of what in the world was going on to deprive people of jobs and prospects, and of what was the matter with American society, occupied these guys constantly. I remember that my senior year I went in to see my tutor and I found this man, a tutor in English, reading Das Kapital. When I noticed it, he said, "Yes. I don't intend to spend my life taking care of a sick cat"—by which he meant capitalist society.
INTERVIEWER
Were you sympathetic to revolutionary causes too?
FITZGERALD
Not very, although I had to realize that something was going on. It had been taken for granted in my family that I would go to law school after college. It turned out that the wherewithal to go to law school had vanished, so I had to go to work. I went to work on a New York newspaper, The Herald Tribune. But I could never get passionate about revolution, at that time or later—it was a passion that was denied me.
INTERVIEWER
So that when, in the poem about Wheelwright, you speak of "the class machine" . . .
FITZGERALD
I've forgotten.
INTERVIEWER
It goes:
But [he] saw the heads of death that rode
Within each scoundrel's limousine,
Grinning at hunger on the road
To incorporate the class machine;
FITZGERALD
Those were images drawn from Wheelwright's own work and his way of looking at things.
INTERVIEWER
Do you admire his work?
FITZGERALD
Well, up to a point. I think it extremely peculiar and difficult and always did. The fantasy can be wonderful, figuring "some unworldly sense." Lately, there's been a little fashion of taking it up. John Ashbery, for example, thinks highly of it. A lot of it simply baffles me and I'd rather not get into it.
INTERVIEWER
Another early poem of yours, "Counselors," is about someone who considers resorting to various professionals for advice, experts in this and that, but decides that on the whole it wouldn't be worth his while. Did you think of Vachel Lindsay, or T. S. Eliot, or Yvor Winters, perhaps, as true counselors?
FITZGERALD
I thought that Vachel was a really great fellow, molto simpatico, and very good to me. I wrote about him, by the way, in a recent issue of Poetry. And later, Winters always seemed to me, crotchety as he was, to have applied himself with great independence and great purity to the literary business. When I was working at Time, in New York, I suppose I held him as an exemplar of serious application to the problems of poetry and literature. I remember in June 1940 I was sitting in my office when the office boy came in with the afternoon paper, which was the old World-Telegram, and threw it down on the desk. The front page consisted of nothing but one large photograph of the Arc de Triomphe, with German troops marching through it down the Champs Elysées. The headline was: Ici Repose un Soldat Français Mort pour la Patrie. That was all. Think of a New York newspaper doing that! That's when I knew that in a year or so we'd be in that affair. There was no question. So, I walked into the managing editor's office and said, "I resign." I'd saved up enough money to live on for a year and I thought I'd do what I could with my own writing until I got swept up in what I knew was coming. They very kindly turned my resignation into a year's leave of absence. I thought, "Now's the time to see Winters." I went to Palo Alto, got a room in a hotel, and called on him. Winters was very kind. He suggested I go to Santa Fe if I were going to make my effort. So, eventually, I'd say in September or October, I found myself, and my then-wife, in Santa Fe, working at poetry, working at Greek—I translated Oedipus at Colonus—and spending the year as best I could.
INTERVIEWER
What was your experience of the war?
FITZGERALD
It was very mild. I was in the Navy, and I worked at a shore station in New York. Late in '44, I was assigned to CINCPAC—the Commander-in-Chief Pacific Ocean—at Pearl Harbor, and when that command moved to the Marianas, to Guam, I went along on staff, to do various menial jobs. From, say, February to October of that year, I had nothing to do when I was off-duty but to read. I took three books in my footlocker. One was the Oxford text of the works of Virgil, one was the Vulgate New Testament, and the other was a Latin dictionary. I went through Virgil from stem to stern. That's when I first really read the Aeneid. I never took a course on Virgil in college or anything like that. I think that's of some interest . . . that with reference to my eventually doing the translation, my first real exposure to the Aeneid was hand-to-hand, with nothing but a dictionary—no instructor, no scholarship, nothing but the text itself, and the choice, evening after evening, of doing that or going to the Officers' Club and getting smashed.
INTERVIEWER
In your memoir of James Agee, which appears as the introduction to Agee's collected short prose, you speak of how difficult it was to write during the thirties and forties; you seem to mean that it was not only financially difficult to get by as a writer, but also that it was hard to know what to write. Was that so?
FITZGERALD
Well, let's take my first job on the Herald Tribune. There was no newspaper guild, no union. It was a six-day work week. For a good part of that year and a half I was coming in, as everybody did, at one-thirty, two o'clock in the afternoon, to pick up assignments—you'd get two or three. Then off you'd go on the subway, up and down the town. From two to six you'd gather the dope. You'd come in around six and knock off, if you could, two or three of these stories. These would be small stories and the result would be a couple of paragraphs each, if anything. Then you'd go to the Automat, let's say, and eat something, and then you'd come back and get more assignments. You'd be through, with luck, around midnight. It would be a ten-hour day, and you'd have six of these in a row. I can promise you that on your seventh day, what you did, if you could manage it, was to stay in bed. I can remember literally not being able to move with sheer fatigue. How then were you going to arrange to turn out three hundred Spenserian stanzas per year? What added to the difficulty, for me, was that I do not and never could write fast. God knows how I got through it. I really don't. There was the same problem at Time, with the additional element that you had to be pretty clever. A Time story had to have a good deal of finish, in its way.
INTERVIEWER
Agee and you once planned a magazine. What was it to be like?
FITZGERALD
I have his letters but I didn't keep copies of mine, so I don't know what I was proposing. Anyway, it was to be the perfect magazine.
INTERVIEWER
How did you meet T. S. Eliot?
FITZGERALD
I got to know him earlier, when I was in England in '31–'32. Vachel had written to him, and he wrote me at Cambridge to invite me, saying, "Do drop in." You know, at Faber and Faber. I did. I went to see him and we talked about Cambridge, where I was working in philosophy. He was familiar with the people at Cambridge who were then my teachers or lecturers, C. D. Broad and G. E. Moore. This, of course, was a continuing interest in his life. He had, after all, done his dissertation on Bradley. Had he gone on in that direction, he was going to be a philosopher in the philosophy department here at Harvard. I think on the second or third of my visits I had the courage to hand him a poem. He looked at the poem for a long time. Great silence. He studied it, then he looked up and said, "Is this the best you can do?" Whoo! Quite a thing to say! I didn't realize then what I realized later—that it was an editor's question: "Shall I publish this or shall I wait until he does something that shows more confidence?" What I thought at the time, and there was also this about it, was that it was fraternal. Just talking to me as one craftsman to another. A compliment, really.
INTERVIEWER
You've said that The Waste Land shook your foundations, and that Ash Wednesday always seemed to you something that was beyond literature. How so? Particularly Ash Wednesday.
FITZGERALD
Well, the music is unearthly—some of it. It seemed that way to me then, and it still does. And the audacity! "Lady, three white leopards sat under a juniper-tree." Whoo! Who is the lady? Whose is the juniper tree? What are the leopards doing there? All these questions were completely subordinate to the audacity of the image—and in what would be called a very religious poem. It needs to be said of Eliot that although in the end the whole corpus has settled in people's minds as a work that comes to its climax with the Four Quartets, and is definitely religious (Pound in his kidding way referred to him as the "Reverend" Eliot), that the genius was a fury, a real fury! Only a fury could have broken the molds of English poetry in those ways at that time. That's what excited us all. The Waste Land was a dramatic experience too. It's very hard, in a few words, to get across the particular kind of excitement, but people ought to realize that at its height this gift was the gift of a Fury—capital F.
INTERVIEWER
What led you to translate Homer?
FITZGERALD
Now we come to, say, 1950, '51, '52. We were living in Connecticut and having a baby every year, and I was frantically teaching wherever I could, whatever I could, in order to keep everything going. It occurred to me one day—I was teaching at Sarah Lawrence at the time—driving from Ridgefield, Connecticut, to Bronxville, that the best place to get help with the household and the children was overseas. And how could I manage to get abroad? Well, at this time, in the colleges and universities, humanities courses were being developed, and everyone agreed that a good verse translation of the Odyssey was something they would love to have. There weren't any. Lattimore had done the Iliad, published, I think, in '51. I had reviewed it, admiring it very much. I wrote to Lattimore and I said, "Do you plan to do an Odyssey or not?" And he wrote back and said he did not. He had other things he wanted to do. So I thought, "Why don't I try for a Guggenheim with the project of translating this poem?" I felt quite confident I could do something with Homer. Then I went to a publisher, to see if I couldn't set up a contract to do this, maybe entailing advance of a royalty. There was a very bright young man named Jason Epstein, just out of Columbia, who had invented the quality paperback (Anchor Books) at Doubleday, and had made a great killing with these things. So I ended up in the Doubleday office talking to him and, by God, he gave me a contract for an Odyssey. This was extraordinary at the time, gambling on me with this contract which assured me of three thousand dollars a year for five years while I was doing the translation. And I got the Guggenheim. So, Guggenheim, advance—off we went, to a part of the world where domestic help could be obtained. That's how that worked out. Just a number of favoring circumstances, a concatenation of things, combining to assure me of support, or enough support. We lived very frugally in Italy for several years—no car, no refrigerator, no radio, no telephone—everything was very simple. And so the work began and got done. It was the hand of Providence, something like that, working through these circumstances.
INTERVIEWER
You've said in the past that you came to translate Homer as a kind of amateur or freelancer, without a full-blown academic background in classics. How did that affect your work?
FITZGERALD
It may have had some ill effects; it wouldn't have done me any harm to have been a better scholar. It wouldn't have done me any harm to have known German. During the whole nineteenth century, you know, German scholars were it in Homeric studies. That was a disadvantage.
INTERVIEWER
But don't you think that laboring under that disadvantage perhaps contributed to the immediacy and continuity of your contact with the text?
FITZGERALD
Right. Weighing one thing against the other, I'd rather have had that immediacy than the scholarship. A direct and constant relationship between me and the Greek—that was indispensable. Having the Greek before me and the job of matching the Greek, if I could, from day to day, hour to hour—that was what kept it alive.
INTERVIEWER
Did you set to work with any inviolable principles of translation?
FITZGERALD
Yes, one or two. One was that it didn't matter how long it took. I'd stay with it until I got it right. The other was, roughly, that whoever had composed this poem had imagined people in action and people feeling and saying things out of what they felt; that work of imagining had to be redone. I had to reimagine it, so that it would be alive from start to finish. What had kept it fresh for so many centuries was the sensation you had, when reading it, that this was alive.
INTERVIEWER
What considerations went into finding an English equivalent for Homeric Greek?
FITZGERALD
Diction. One wanted the English to be, as I've already said, fully alive. That this should be so, the colloquial register of the language had to enter into it. How far should you go with colloquialism? Would slang be useful? Answer: practically never. One would avoid what was transient in speech. The test of a given phrase would be: Is it worthy to be immortal? To "make a beeline" for something. That's worthy of being immortal and is immortal in English idiom. "I guess I'll split" is not going to be immortal and is excludable, therefore excluded.
INTERVIEWER
Were there any modern English poets who gave you some insight into what kind of line to take in doing the translation?
FITZGERALD
There was, of course, Ezra Pound and his fondness for the Odyssey. He had helped W. H. D. Rouse. Rouse was trying to do a prose version and there was a correspondence between them. I always felt that Pound was really dissatisfied and disappointed in the end with what Rouse did. Before I went to Europe, I went to see Pound at St. Elizabeths. I wanted to tell him what I was going to try to do. I told him what I felt at the time—which was that there was no point in trying to do every line. I would do what I could. I'd hit the high spots. He said, "Oh no, don't do that. Let him say everything he wanted to say." So I had to rethink it and eventually I did let Homer say everything he wanted to say. I sent Pound the first draft of the first book when I got that done in Italy that fall. I got a postcard back, a wonderful postcard, saying, "Too much iambic will kill any subject matter." After that, I was very careful about getting singsong again. Keep the verse alive, that was the main thing. That's what he meant. And then, at a certain point I came across the Anathémata, by David Jones, which I thought was beautiful, like a silvery piece of driftwood that you could carry around with you. I carried it around just because of the texture of parts of it, a wonderful texture. I really couldn't pinpoint or put my finger on anything in my work that was directly attributable to David Jones. It was a kind of talisman that I kept with me.
INTERVIEWER
Did you find your trip to Greece and Ithaca to be useful?
FITZGERALD
That was wonderful. It corroborated my sense of the place. There, for example, was the wine-dark sea.
INTERVIEWER
How did you work on the translations?
FITZGERALD
I had this whole routine worked out while doing the Homer. I wrote out every line of Greek in my own hand, book by book, a big notebook for each book. One line to two blank lines. As I went through the Greek and copied it out in my own hand, I would face the difficulties—any crux that turned up, questions of interpretation—and try to work them out. I accumulated editions with notes and so on as I went along. So before I was through, I had acquired some of the scholarship that was relevant to my problems. But always, in the end, it was simply the Greek facing me, in my own hand, in my own notebook.
INTERVIEWER
How different is it when you compose your own verse?
FITZGERALD
You don't have any lines of Greek. And you're not riding the groundswell of another imagination as you are in translating. You have your own imagination.
INTERVIEWER
Would you revise as you went along, book by book, or did you wait until it was over with?
FITZGERALD
Both. It was heavily revised before I got the typescript more or less as I wanted it. Then the routine was for me to send in to the publisher what I had done during that year and at the same time send revisions for what had been submitted the year before. Then at the end, I spent a summer going through the whole damn thing from start to finish. Revising was interminable.
INTERVIEWER
How long did it take altogether?
FITZGERALD
Seven years of elapsed time. I'd say six full working years went into this poem.
INTERVIEWER
What were the peculiar satisfactions of translation?
FITZGERALD
Well, this is exaggerating a little bit, but one could say that I eventually felt that I had him, the composer, looking over my shoulder, and that I could refer everything to him. After all, it was being done for his sake, and one could raise the question with him, "Will this do or won't it?" Often the answer would be no. But, when the answer was yes, when you felt that it was yes—that is the great satisfaction in writing. It's very precious. Writing is very difficult. It's pure hell, in fact, quite often. But when it does really click, then your little boon is at hand. So that happened sometimes.
INTERVIEWER
Your own poems seem to have fallen off since you began translating Homer.
FITZGERALD
I wonder if they did. I don't know. I think that what roughly happened with my own poems was that, indeed, I had taken on a very large job. The magnitude of that job did rather put in the shade the adventure of making a wonderful page, which is, as I would put it, the pleasure and satisfaction of making a poem: to make which really has about it something wonderful, as a good lyric poem has. On the scale of what I was trying to do, that rather faded away, and I guess I would no longer feel the complete satisfaction that in the old days had come of making a poem. I must have begun to feel that there was a slightness in comparison with the big thing. That's one way of looking at it. And then I think that when I got to Harvard and began teaching, and putting a lot into the teaching, that also took care of a certain amount of what had been taken care of in the old days by making a poem. Instead of making a poem, I was helping other people make poems, and on quite a steady basis too. I was handing it out to other people instead of keeping it. Maybe, anyway. That's possible.
INTERVIEWER
After you finished the Iliad, you said that you weren't going to do any more translations. What led you to take up Virgil?
FITZGERALD
Well, the circumstances are really very clear. My first teaching job after the war, at Sarah Lawrence, was to give a course in poetry. I could do anything I liked, so I devised a little course called "Virgil and Dante." Each year I would take a small group of students through the Aeneid and through The Divine Comedy, using the original languages. When I moved to Harvard after the long interval with Homer, I devised a little course called "Studies in Homer, Virgil and Dante." That kept the Virgil, so to speak, abreast of the Homer. Kept it alive in my mind. So, in 1978, four years after the completion of the Iliad, I was sitting in Boston's South Station waiting to get a train, and going over in my mind the Latin of certain lines at the beginning of Book Two of the Aeneid. I found these Latin lines taking English shape in my mind. Aeneas is beginning his remarks to Dido, the queen: a little story of the fall of Troy. So, he says: "Infandum, regina, iubes renovare dolorem, / Troianas ut opes et lamentabile regnum / Eruerint Danai . . ." And he goes on: "Et iam nox humida caelo / Praecipitat suadentque cadentia sidera somnos." "The humid night is going down the sky . . . and the sloping stars are persuading slumber"—a literal translation, the sort of translation that a kid would make in class. So, I found myself uttering this sort of thing: "Now, too, the night is well along, with dewfall / Out of heaven, and setting stars weigh down / Our heads toward sleep." Well, I said to myself, "My God, I've got that!" Now, too: dewfall—the end of the line is symmetrical with the beginning of the line. Out of heaven, and setting stars weigh down: Out at the beginning of the line; down at the end. The secrets of music in this business are very subtle and strange; I did not see these sound patterns at the time, but eventually I realized that what I had had that kind of quality to it. Having done that, I said to myself, "Hmm, if I can do a few lines with this pleasure, why don't I do the whole thing?" And so I did.
INTERVIEWER
Translating Homer, you avoided Latinisms as much as possible and made words of Anglo-Saxon origin the backbone of your language. But in the Virgil you seem to have employed a more Latinate vocabulary. Is the effect of Latin words in Latin really akin to that of Latin-derived words in English, where they've developed new connotations?
FITZGERALD
It's absolutely true that I avoided Latinisms in doing Homer; the Latin forms of the names of people and places were avoided in favor of the Greek. I wanted the Greekness of the thing to come across, and a lot of Latinate phrases would irresistibly have taken you back to the neoclassical, which I wanted utterly to skip . . . I wanted to skip Pope and Chapman because they all came to Greek so much through Latin. Their trots were in Latin, and kids in school, of course, learned Latin so thoroughly. Greek was always second for educated people in the seventeenth and eighteenth centuries. I wanted to skip all that and, if possible, to make it a transaction between Homer, 700 b.c., and Fitzgerald, 19-whatever. Between that language at that time and our language at this time. I don't think that these criteria were very much altered in doing the Virgil. A living English in our time had better be careful about Latinisms. Latinisms are so associated with mandarin English, with the English of Englishmen, not of Americans.
INTERVIEWER
In your introduction to Dryden's translation of the Aeneid, you speak of Dryden's clear perception of the difficulties any translator of Virgil faces. In Latin words there are, on the whole, as many vowels as consonants, whereas English words are cluttered with the latter. Latin is inflected, English is not, so that Virgil could rearrange word order at will for musical effect. Virgil exploits a nearly endless stock of figurative terms. How did you grapple with these problems?
FITZGERALD
Well, Dryden's despair, you know. I wouldn't say that I was overthrown very often by it, though it is true, toward the end of the poem, that more and more of what Dryden calls "figurative, elegant, and sounding words" keep coming in. The vocabulary is freshened. One copes with that. One keeps on doing the best one can with the problem of the moment, whether it be in speeches or in narrative, always, first of all, making sure that it's idiomatic English . . . that it's not muscle-bound or stiff.
INTERVIEWER
Arnold said that the distinguishing feature of Homer's verse is its rapidity. What quality of the Aeneid did you consistently try to bring over into English?
FITZGERALD
Well, I ventured to put as an epigraph to the book the line "Aeternum dictis da diva leporem," from De Rerum Natura of Lucretius. This is a plea that the goddess (whom we may understand as Venus in Lucretius's case, or indeed as the Muse) should give eternal charm. Charm to the work. That the product should have an incantatory quality, as a charm, pronounced in the enchanter's way. Insofar as one can make a conscious effort to achieve this kind of thing, I suppose that here and there I've made it. "And setting stars weigh down / Our heads toward sleep" is an example.
INTERVIEWER
When you speak of the music of poetry, what exactly do you mean?
FITZGERALD
Well, take from Ash Wednesday: "A pasture scene / And the broadbacked figure drest in blue and green / Enchanted the Maytime with an antique flute . . ." That's music. And one notices in the sounds. "Enchanted the Maytime with an antique flute"—ant, ant, flute. What comes into the Maytime thing, the colors blue and green, what the air is like on a day in mid-May, under the magnolias, the lilacs. The little echoing in the line—that's a kind of music, it seems to me. "Formosam resonare doces Amaryllida silvas." This is from the First Eclogue. Ryllida, silvas—again an echoing, like a note in the bass on the piano, although in fact the right hand is carrying another melody, so you have this repetition in the left hand which insists on doing a second melody there. What the line is saying is one melody. What in counterpoint these little repetitions of sound are doing is another. The music is enriched as the music in a fugue is enriched by two things going on at once.
INTERVIEWER
In translating, do you try to mimic the music of the original?
FITZGERALD
That, or make an equivalent. It's what I meant when I said in the afterword to the Odyssey that translating the Greek of Homer into English is no more possible than translating rhododendron into dogwood. On the other hand, suppose you make dogwood?
INTERVIEWER
But wouldn't you want some relation?
FITZGERALD
You would like to convey as exactly as possible what is being conveyed in the Latin narrative. You want what is happening to be exactly what's happening in Homer's imagination, if you can, and then you want an English equivalent of the Latin music. The Latin music is very elaborate. Listen to this: "Vertitur interea coelum, et ruit oceano nox, / Involvens umbra magna terramque polumque / Myrmidonumque dolos." That's the full orchestra, really, the full orchestra. Let's see what the Latin turns out to be in English: "As heaven turned, Night from the Ocean stream / Came on, profound in gloom on earth and sky / And Myrmidons in hiding." There is at least the matching of the series of long vowels—night, ocean, stream, came, profound, gloom, sky, hiding—long open vowels that by their succession and echoing give something like the effect of the Latin. But it's English, it's carrying the story on. You don't have to listen to this music. If what you want to hear is the story, read the story.
INTERVIEWER
Robert Lowell wrote a little piece on epics in which he said, "Homer is blinding Greek sunlight. Virgil is dark, narrow, morbid, mysterious, and artistic. He fades in translation." What do you think of those adjectives Lowell racks up?
FITZGERALD
Well, too much has been made of texture. One of the things that I tried to bring out more fully, as I went along, was the pure narrative interest of this thing as a story. It's Aeneas's story, some of which he tells himself, and most of which he doesn't. The narrative, if it's properly rendered, is extremely interesting and exciting. What happened to Virgil (partly because of the curse of his being a text in the fourth year of secondary school, and also because of his having supplied so many tags for speakers in the House of Lords) is that the poem has been fragmented. The arc, the really quite magnificent arc of the original narrative, has been rather lost to view. Nobody ever reads the entire Aeneid. They read in school, if they read anything, Books Two, Four, Six, maybe, if they're lucky. That's it. Nobody ever reads the last six books. Yet in the last six books the whole thing happens, really. That's the man at war. That's the arma and the virum. I would love to think that the whole story will be restored to view. People can read it, and will read it, because it turns out to be readable.
INTERVIEWER
It certainly seems that in the first half, Aeneas is an oddly stunned sort of hero, while in the second half he is commanding, even horrifyingly so.
FITZGERALD
Exactly. The tragic import of all this is what happens to a man wielding power, especially in hostilities of that kind. He goes as berserk as anybody. The point is very abundantly made that the Roman state was founded on war, on their being very good at war. I happened to reread Caesar, The Battle for Gaul, during the composition of the last six books, to see what, in fact, war was like in the generation preceding Virgil. Virgil certainly knew, as every Roman did, what it cost, and the exertion that was made to defeat these hordes of extremely hard-fighting Germans and Gauls. No doubt about the carnage, the incredible carnage: field after field left absolutely soaked in blood, with dismembered individuals for miles. The scene was one of great terror and desolation, all of this in order that Julius should become first consul and have his career. One does sense throughout the Aeneid the tragic import of Roman power, of what they were proudest of: their ability to defeat the tribes that came against them and then to create some kind of civil order in the provinces they conquered. But the cost of that, and the dreadful effects of these encounters of armed men, is very vividly brought out, and is one of the things that Virgil meant to bring out, along with the pro forma praises of the Roman heroes. A Roman gladius, or short sword, honed on both edges, was like a cleaver! A two-edged cleaver! Just imagine turning twenty thousand men with two-edged cleavers loose on the opposition!
INTERVIEWER
You once said that English poetry "hungers for a sound metaphysic," but that its history is largely a record of a failure of supply. What did you mean?
FITZGERALD
English poetry "hungers for a sound metaphysic"? I was, I think, at the time, interested in the superior precision of Aristotle's De Anima as contrasted with Coleridge. I was thinking in particular of the difference between the Aristotelian and the Coleridgean views of what happens in creative work of the mind. I made my remarks, that's it. I never went out to argue.
INTERVIEWER
In the Agee memoir you speak of your brotherhood in the arts with him. Did you have a similar relationship with Lowell or Berryman or Auden? Did you consult them when you were working on your translations?
FITZGERALD
I certainly did. Not W. H. Auden, though, because we met so rarely. John Berryman saw what I was working on at the time and made a suggestion or two on word order which I adopted. Randall Jarrell also saw what I was working on one summer. He had an excellent notion. His notion, to put it briefly, was that if you're going to be colloquial, you can achieve the colloquial thing by gradation. You depart from the formality a little bit and then a little bit more, and then you're colloquial, and then you modulate away from it—modulate toward and modulate away from it. Such a beautiful idea! I don't know whether I really obeyed this or not. And Cal Lowell just said, "You've got it! This is a bull's-eye!" There is, after all, a brotherhood among people who are working at the same craft, who show each other what they're doing from time to time. The result's likely to be more helpful if your pal simply runs his hand down the page, stops, and does not say a word. Just stops. You see something's wrong where the finger's pointing, and that's enough.
INTERVIEWER
How did you get to know Lowell?
FITZGERALD
I met him through Randall Jarrell. Jarrell was teaching at Sarah Lawrence the first year I taught there, and we therefore saw one another every week and got to be friends. He brought Lowell along some evening or other and we had the evening together.
INTERVIEWER
Nowadays people tend to praise Jarrell's criticism and downplay his poetry. Do you think that's fair to his work?
FITZGERALD
No, I don't. I think quite a few of his poems are very good indeed. No one ever did anything remotely like what he did for the Air Force, for the carrier pilots, and all the rest of that.
INTERVIEWER
You've often said that you think poetry should be "chiefly hair-raising." At the same time, however, you've spoken of the desirability of a strong bond between the poet and the community he lives in—a bond that you seem to believe has been broken in modern times. Do you see any contradiction or tension between such social concern and the requirement that poetry be, above all, hair-raising?
FITZGERALD
Well, don't we have Emily Dickinson, the wondrous lady of Amherst, as an authority for that: "It's a poem if it makes you feel as though your head were taken off"? And A. E. Housman: 'If while I am shaving a line of poetry strays into my mind, my beard bristles so that I can't cut it'? This is an extreme, and this kind of poetry is part of the extreme literary experience—extreme both for the maker and for the reader. That's at one end of the spectrum. At the other end there is Dryden, sitting in his coffeehouse, turning out couplets to insult someone whom he feels like insulting. So, one has the gamut between what is essentially a private, we might say a metaphysical experience, and the other which is simply a refinement of prose—verse devoted to wit, or to the quotidian purpose of making something clear or making somebody ashamed, of exposing somebody, of putting into a witty form someone's foibles . . . which can be read with amusement and without a touch of the other extreme, which is private and rare and precious. I don't see why we can't live with a decent consciousness of these two poles of poetic experience. I once said, too, that poetry is at least an elegance and at most a revelation. That says it pretty well—"is at least an elegance"—something that is well formed, readable, and then again something that takes you up.
INTERVIEWER
How close is the revelation of poetry to the religious experience of revelation?
FITZGERALD
Very close, I think. Very close indeed.
INTERVIEWER
You've spoken of a "third kind of knowledge" that came out of moments of vision you had as a young man. How important were they?
FITZGERALD
Terribly important. I don't think that anything could be more important than to be reminded that, as Flannery O'Connor used to say, "The church is custodian of the sense of life as a mystery." We get so used to it that we lose the sense. To have the sense restored to us—which the religious experience does and which the poetic experience at its extreme does as well—is a great boon.
INTERVIEWER
You say that you came back to the Church with a "terrific bump." What brought you back?
FITZGERALD
Well, a number of things that I really don't think I can satisfactorily speak of in this context.
INTERVIEWER
Do you think that the integration of poetry and the university since World War II has been harmful?
FITZGERALD
Maybe. At Harvard in my time there was Robert Hillyer's course in versification, and beyond that, very little indeed in the way of writing courses. An exceptional teacher at that time would be au courant with what was living and exciting about writing. Hillyer was exceptionally the other way. He was deliberately blind, deaf and dumb to what was going on in the avant-garde. I think one felt, in general, one wasn't going to get much attention from the faculty. If you wanted to put things in the undergraduate literary magazine, The Advocate, okay. The Advocate was . . . The Advocate. I don't think that people on the faculty paid much attention to these half-baked manifestations of literary ambition on the part of the undergraduates.
INTERVIEWER
Can we ask you about Flannery O'Connor and how you came to know her?
FITZGERALD
Flannery O'Connor came with Cal Lowell. Lowell and she and Elizabeth Hardwick turned up in New York together. They'd been at Yaddo and there was a dustup at Yaddo in which I'm afraid Lowell had begun to go off his trolley. At that point nobody really understood that this was the case, but we all understood it before it was over, very thoroughly. It was one of Lowell's very early, maybe his earliest breakdown. We met Flannery in the course of that, really, and then, of course, we went on independently of Lowell.
INTERVIEWER
You seem to have been something of a counselor to her. She would send her work to you, seeking your comments.
FITZGERALD
I wouldn't want to build myself up. No, no, she knew what she was about. Owed nothing, I don't think, to me so far as the essence of these things was concerned. I supplied her with one title, "The Life You Save May Be Your Own." I'd been driving through the South, and it just happened this was something one saw on the road signs. And I supplied her with some reasons for undertaking a revision of her novel, The Violent Bear It Away, which she did. I think she was better pleased with it after she'd done the revision. Those would be practically the only instances in which I had any effect on what she did. She was a good friend. One liked to see what she was working on. That was always great fun to see.
INTERVIEWER
Are there any younger poets whose work strikes you as outstanding?
FITZGERALD
I think that Robert Shaw has done quite beautiful work. He's a good critic and a good poet. He was here ten years ago; he was in my classes and performed very well in them. He went on to teach here and at Yale. Now he's at Mount Holyoke. He's very good. Who else? Brad Leithauser. He was in my writing class and turned out some amazingly good poems. His wife, Mary Jo Salter—she's also very good. And Katha Pollitt. James Atlas went on to do that good biography of Delmore Schwartz. I risk forgetting others who are just as interesting.
INTERVIEWER
So you think the world of poetry prospers apace?
FITZGERALD
That reminds me of Eugenio Montale's great piece on the encouragement of poetry, particularly by the state—National Endowments and things like that. He was very skeptical about the utility of encouraging poetry on a grand scale. Is encouragement what the poet needs? Open question. Maybe he needs discouragement. In fact, quite a few of them need more discouragement, the most discouragement possible.
INTERVIEWER
Has your career so far differed from your early expectations of it? Or didn't you have any expectations?
FITZGERALD
I don't know that I had any. I just hoped to keep on. I suppose I'd have been amazed when I was twenty to hear that before I was through, I would have translated Homer and the Aeneid. The notion that I should go in for these gigantic labors would have been completely out of this world. As I remember, when I was signing Elizabeth Bishop's Iliad for her, her only remark was, "My, all that work!"