Interviewed by J. D. McClatchy
Issue 169, Spring 2004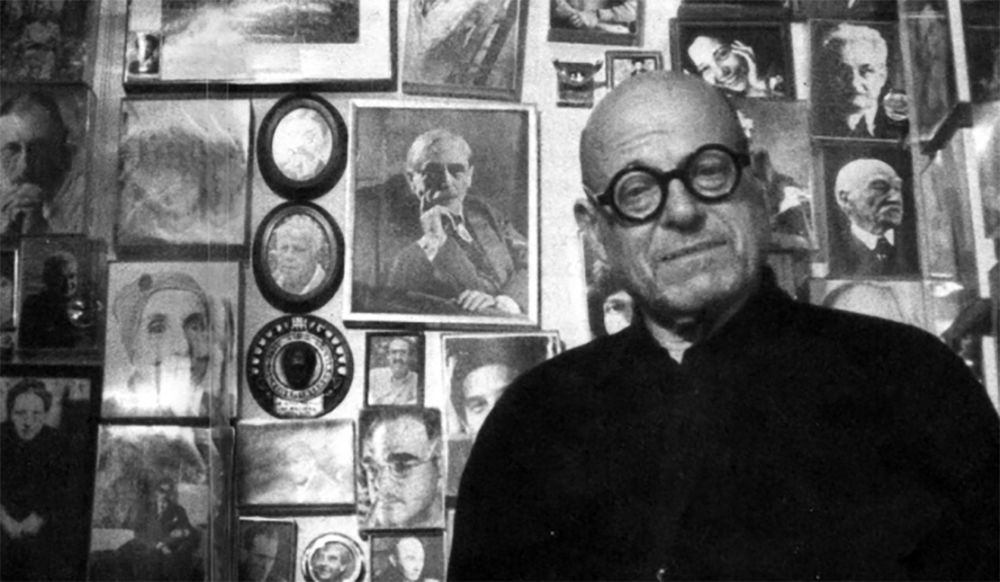 Visiting Richard Howard in his Greenwich Village apartment, I brought with me a photograph I'd discovered of the two of us, taken not long after we'd met, thirty years ago. What's startling is to look up from the picture to the man in front of me and see how little he has changed. Time has done its usual thickening and thinning, but frugally. The same gleam is in the eyes, the same taut energy in the figure, and on his face the same look of intense concentration he brings to his work today.
Over the years, that work has piled up elegantly. Howard's first collection, gathering poems written over the previous fifteen years, was Quantities, which appeared in 1962. It was followed by The Damages (1967) and Untitled Subjects (1969), which was awarded the Pulitzer Prize. That same year, his critical study, Alone with America: Essays on the Art of Poetry in the United States Since 1950, was also published, and his position as a major figure in the world of poetry was solidified. New books followed regularly: Findings (1971), Two-Part Inventions (1974), Fellow Feelings (1976), Misgivings (1979), Lining Up (1984), No Traveller (1989), Like Most Revelations (1994), Trappings (1999), and Talking Cures (2002). In a 1974 anthology, Preferences, he juxtaposed poems by contemporary masters with their favorite poems of the past, and his commentary is beguiling. He has over the years been our preeminent translator from the French, and among the many books he has brought over into English—from Gide to General de Gaulle, from Cocteau to Camus—none has been more impressive than his version of the complete Les Fleurs du mal of Baudelaire (1982), for which he received the American Book Award in translation. Next fall, to celebrate his seventy-fifth birthday, Farrar, Straus, and Giroux will be publishing his Selected Poems, along with a new collection of his essays, called Paper Trail. Last but not least, it should be noted that he has served as poetry editor of this magazine since 1994.
Except for his student days uptown at Columbia, Howard has always lived in the Village, preferring its smaller scale. He walks his dog—a six-year-old French bulldog named Gide—four times a day around Washington Square. For some years now he has been back teaching at his alma mater, as a Professor of Practice in the writing division of Columbia's School of the Arts. Every term, he offers two courses. One is a large lecture, each year on a different topic. In the recent past, he has taken up Difficult Love, Powers of Childhood, and Powers of Irrationality (nicknamed by students Cuckoo, Gaga, and Nuts), huge subjects that are emblems of his enormous erudition. This semester, for two hours every Tuesday, he is addressing himself to primitivism, a subject he explores beginning with Mallarmé's faun, on through Brecht, Brancusi, Freud, Gauguin, Stravinsky, and Isadora Duncan, on down to Lord of the Flies. The second course—one other teachers make a workshop—is a seminar on contemporary American poetry, from Ransom to Ammons. He refuses to consider student work in the classroom and instead has his writing students visit him at his apartment for half-hour tutorials as soon as they have accumulated three or four new poems for his inspection.
Howard lives in a veritable Aladdin's cave. It is a small (maybe thirty-five feet by twenty) one-room apartment, subdivided into what he calls "uterine chambers"—foyer, dining area, sleeping quarters, and work space. On one side is an arrangement of comfortable couches and chairs, and a cocktail table in front dominated by a grand faux-Tiffany lamp. Across from the table is the large L of Howard's desk, on one flange his computer, on the other his black Selectric. He was a reluctant convert to the computer, but now uses his typewriter only to address envelopes. He has files crammed with the correspondence of a lifetime, though letters from writers are usually tucked into copies of their books.
Books! They are everywhere. Floor to high ceiling, shelves and recesses, books behind books. Thousands of them—and thousands more in his Columbia office. Nearest to his desk is any writer's treasury—his reference books. Copies of his own books are there too, though the books he has translated—over two hundred by now—are on high shelves over the entrance to his bathroom. To the front of many shelves are attached pictures, most by friends, others given to him by admirers. Over one shelf, for instance, is a drawing by Dorothea Tanning, flanked by sketches by Jean Cocteau and John Button. Two etchings are prominent—Manet's rendering of Baudelaire and Baskin's of Pound. Everywhere are images. To accommodate more, there's even a small postcard rack, stuffed with favorites. Stacks of CDs and art books, the literature of several languages, even several of his parents' old elegant sets—of Kipling and Conrad and Hazlitt—the evidence of a life spent accumulating culture, less for its own sake than to enlarge his capacities for understanding experience.
On the way in or out of his apartment, the visitor will note Howard's bed in a nook (on it is a large stuffed gorilla named Mildred) and a kitchenette that doesn't seem much used but sports his collection of pig pictures. In the foyer, by the front door, hang several of his medals and decorations; by far the snazziest are two bestowed by the French government, one naming him a Chevalier de l'Ordre des Arts et Lettres, and the other making him an Officier of the Légion d'Honneur. But surely even more remarkable is his tiny bathroom. On every surface of this room—the walls, the ceiling, the back of the door, even inside the shower—are photographs, well over a hundred of them, of his friends and literary heroes in small frames or plastic display boxes. In one line down the back of the door, for instance, are staring at you as you sit there the faces of Thomas Mann, Willa Cather, Sergei Diaghilev, André Malraux, Susan Sontag, and Benjamin Britten. Odder still are the accidental juxtapositions—Valéry next to Frost, Peter Taylor by Emily Dickinson, Harold Bloom adjacent to Mark Twain.
When we spoke, Howard and his companion of twenty-five years, David Alexander, were just back from days in London and Paris; in a couple of months, they are off to Naples. His appetite for museums and architecture, for ruins and cathedrals, seems insatiable, and is a part of his general restlessness—an almost driven curiosity about human beings and their imagination. For this interview, he took a seat at his desk and fixed on me from behind his signature glasses with their thick, round frames.
INTERVIEWER
This apartment certainly brings to mind that old term man of letters. Does it mean anything anymore, or has it gone the way of the steam locomotive and finger bowls?
RICHARD HOWARD
I suspect you are right: man of letters is a largely—or slightly—decorative term. For most people, the phrase looms through a cloud of pejorative associations having to do with mealy-mouthed filler to be encountered in the columns of such persons as Sir Edmund Gosse and the late J. Donald Adams of The New York Times, whom one of my professors at Columbia, Fred Dupee, used to call J. Donald Duck. After all, to be referred to as "literary" these days, in almost every connection, is a term of opprobrium, one I encounter frequently, and although I have considerable regard for Sir Edmund, for Andrew Lang, and for Agnes Repplier, you will note that these are explicitly Victorian or Edwardian figures, disregarded when not despised.
INTERVIEWER
References here and there in your essays mention your parents' library—shelves of tooled bindings and gilt edges. It seems to have been a sort of golden treasury that cast a spell on you as a child.
HOWARD
It was my grandfather's library, a grand room with a coffered ceiling, full of beautiful and untouchable matched sets. I spent most of my childhood there until I was twelve, and if I frequently mention the contents of that magic chamber in my criticism, it is because the books there seem to have served two functions: as a register of middle-class taste (there were sets of Meredith and Conrad, Kipling and George Sand—the latter in terrible translations—but no Henry James, no Flaubert), and also as an emblem of social and economic status. I appear to have been the only member of the family or the household allowed if not encouraged to consult these ominously handsome volumes—my grandfather, who amassed them, was a gent who liked to move among fine bindings.
INTERVIEWER
It's impossible not to think of your having been a precocious child.
HOWARD
Yes. The point, I suppose, is to have stopped. I am somewhat alarmed by your finding it impossible not to think of my having been such a thing. My grandmother, in whose splendid mansion we lived, taught me to read—in response to insistent demands to do so—when I was two and a half years old. Reading became a major resource then and there, a solace and an escape, as well as a matrix of learning. Of course, what precocity gave, socialization took away, and I hope the rather nasty designation "precocious child" faded away before (at least!) adolescence.
INTERVIEWER
You were an adopted child, and in one of your poems you referred to yourself, oddly, as a borrowed book. Can you calculate now the cuckoo's-nest effect of having been an adopted child?
HOWARD
Though I was the sole child in a rather large family of elderly adults, your cuckoo's-nest metaphor is somewhat misleading. I was cherished and even celebrated as a welcome addition to the family circle, proud of having been "chosen," and certain—as many children are in fantasy—of an ulterior princely status handsomely observed by my mother, some of her husbands, my grandmother, and the three or four adept servants who constituted the rest of the household.
INTERVIEWER
On the other hand, you've always looked away from home—back in time, or "over there," as if, in your peculiar version of the family romance, history and high culture were your real home.
HOWARD
You've got it right: History and high culture were indeed my real home, and I found them right there in our house—in the library which became, indeed, my precocious playroom. Reading was an interior exile, so that I didn't have to look away from home, as you put it, just further in.
INTERVIEWER
When you came to Columbia—or perhaps it would be better to say you came to Manhattan—it must have seemed like a release.
HOWARD
Yes, a much anticipated release: My parents had brought me to New York twice a year for vacations and I was determined to lodge myself in the city, so Harvard or Antioch would not do. Columbia was inevitable, though Morningside Heights turned out to be something of a wasteland—altogether different today—and the exploration of New York an expeditionary venture. The release from Cleveland was not an intellectual matter, or even about the discovery of a strident erotic life in the queer bars of Greenwich Village—I think the principal discovery and fulfillment was movies, especially foreign films. It was possible in the late forties, because of several film societies and theaters like the Thalia on Ninety-fifth Street, to learn the entire repertoire of French, Russian, German, and Italian film, as well as "experimental" work of the Americans. The experience was overwhelming as well as rewarding, and I am still so besotted by the medium itself that I find it hard to be appropriately critical, as I believe I soon was with regard to the other attractions and allurements of Manhattan.
INTERVIEWER
Many of your classmates in those years turned out to have distinguished careers of their own, and the faculty in those days was fabled. But as a student, how did they strike you?
HOWARD
My immediate predecessors at Columbia were Louis Simpson and Anthony Hecht, who occasionally flashed before me in Hamilton Hall. Louis was the first of the Columbia poets known to me to publish a volume—The Arrivistes—and the example was enthralling in a grim sort of way. John Hollander, Bob Gottlieb, and, a little later, Allen Ginsberg were the students with whom I contended for the attentions, in and out of class, of Lionel Trilling, Fred Dupee, Andrew Chiappe, Mark Van Doren, and Quentin Anderson. These men—there were no women teachers at Columbia then—were the major constellation, and indeed a glittering one; the mere mention of a book in their classes would precipitate us to Carpenter Library. We were impatient to get our hands on The Romantic Agony, for instance, or The Golden Bowl. Remember, there were no paperback books at this time, and Mario Praz and the terminal phase of Henry James had to pass from hand to hand—sacred books. While I was an undergraduate, Andrew Chiappe (who taught the Shakespeare course for undergraduates, and with whom I produced a discouraging sequence of poems in what was called Special Studies in those days) selected the first series of Anchor books for Jason Epstein (another fabled predecessor whom I regarded with awe), and the famous paperback revolution followed thereupon. But the bulk of my reading had to be dug out of the Columbia libraries' holdings, and the access thereto was much contested among us. I can remember how hard it was to persuade John Rosenberg to release Yeats's Autobiographies into my care for a weekend. But perhaps the difficulty in getting hold of the books our great teachers happened to mention was a further inducement: There was a certain necessity about reading when the entrée was so narrow. Columbia College was a very small institution within the university, and there were not so many of us who needed these rare books; all the same, there was a certain competition to have read, say, Jessie Weston or William Empson.
INTERVIEWER
How was it that you, let's say, adopted French as a second language? And when exactly did you learn the language?
HOWARD
French was not adopted, but proposed by a relative sharing the backseat of my grandmother's LaSalle sedan on the way to Florida when I was five. The family caravan (three cars, if I remember) was headed for Miami Beach instead of the annual trip to Europe, which by the mid-thirties had become unfeasible for Jews, especially my people, who were fond of vacationing in the Schwarzwald. My "aunt" (she was in fact a rather remote cousin) decided to beguile the languors of the drive from Cleveland to Miami by teaching me French en route. Her method was to provide an eager five year old with the alternative terms for everything we saw out the window and indeed for the window itself, so that by the time we drove up to that neo-Hispanic art nouveau pavilion that was to be our residence for some weeks, I had amassed a formidable vocabulary of nouns and even a rudimentary stock of verbs. The game continued for some months upon returning to Cleveland, and I suppose French has always incarnated a glamorous sort of, well, lingua franca.
INTERVIEWER
Your work as a translator must have occasioned friendships with more than a few of your authors. I would expect that Cioran and Barthes must stand out.
HOWARD
Yes, Cioran and Barthes were the writers whom I have translated in extenso and with whom I developed a certain intimacy, or even an uncertain one. There were others who loomed over the edges of my acquaintance with a certain luminous warmth—Julien Gracq, for example—but I think I might qualify the entire relation with the range of the men and women you call "my authors" as somehow erotic rather than filial or fraternal. The practice of translation is essentially, insofar as it concerns writing, a matter of erotic submission, and even erotic imposition.
INTERVIEWER
How so?
HOWARD
The writer's relation to his editor and to some extent his reader thereafter is essentially filial or fraternal. The translator's relation to his to-be-translated writer, or victim, is essentially erotic and an exchange of mental fluids that cannot be entirely justified or explained.
INTERVIEWER
Who were some of the other French authors you knew in Paris?
HOWARD
There were other French writers whom I did not serve as a translator but whom I was fortunate enough to know—to meet in Paris, for example, while I was otherwise committed—Raymond Aron, Nathalie Sarraute, and Jean Genet. (Actually I did serve Genet as a translator under rather lurid conditions. I was sequestered by the Black Panthers in an adjoining room to Genet's in their apartment in New York, having to translate his Yale address without a dictionary, without any reference except the author's presence in the next room. When consulted, Genet was cooperative but somewhat baffled by my failures to comprehend his meaning. However, he explained until a light dawned.) Being a translator in Paris in the fifties and sixties afforded opportunities for "contact" that were constructive and entirely educational; I remember sitting next to Henri Michaux at the générale of Les Nègres and engaging in a rather scary conversation with him about American racism. Certainly the most exciting connections of this sort were with Jean Paulhan and Dominque Aury (the author of Histoire d'O), whose generous introductions to luminaries like Jouhandeau and Jouve made me feel inside French literature, just as any American might feel that all of Paris is really inside, somehow preposterously enclosed and housed in one enormous chamber, and a salon at that! The pride of it all and the horror, as I left it in Paris in the mid-sixties, was that it kept and keeps going on, apparently able to assimilate whatever is proposed, even whatever is opposed, a myth of our human happening. Perhaps this was the chief significance for me of a life in French, this endless sense of stylization—the only unpunished French vice, and certainly the only unpublicized one—an accommodation that may operate either upward or downward, as Fred Dupee, my old mentor, had once pointed out: we may get something like Steinbeck-ou-les-nobles-sauvages, or we may get Hamlet-ou-le-distrait. Recuperative, burrowing, exorbitantly metropolitan, the voice I used to hear in Paris, almost to the extinction of any accents of my own, abided the resonance of an entire human survival, the interminable, unnameable gossip in which, for the seasons I was on the scene, Mr. Beckett had the last word, the last adjective . . .
INTERVIEWER
Your first job after you came home was as a lexicographer in Cleveland. How did that come about?
HOWARD
I returned from Paris to Cleveland because my mother was divorcing another husband and needed, if that is the word, my presence and support in establishing a new residence in the full sense of the word. I was twenty-five and had never worked in my life, except as a student and an aspiring writer. The World Publishing Company, in Cleveland, was about to launch a new dictionary, and someone suggested (perhaps aware of Samuel Johnson's definition of a lexicographer) that I might be an apt recruit. I worked under David Guralnik for five years as a definer on the team, which produced a good modern dictionary. Guralnik was a man with a conscience, and I certainly came to a pervasive sense of the morality of our task, as well as of its commercial necessities.
INTERVIEWER
It was at this same time that you were writing the poems that eventually became your first book. Were your dictionary chores an influence on your writing?
HOWARD
I suspect they were, but they did not define my poems; they defined, or rather identified my dealings with the words that went into them and came out of them. In the same way that my thirty years of transactions with French must have some influential character in the composition of what I write in English, my initiation into and practice of lexicography must pertain, to some degree, to my use and perhaps abuse of English. Surely everything one does enters into anything one writes.
INTERVIEWER
Your first book, Quantities, appeared in 1962. It seems Audenesque certainly, with its syllabics, its crisp rhythms and slant rhymes, with lines like "Water is sour, the air is lonely here / And all the noises of this natural shire / From stable or from sty are not enough." Was he the first tutelary spirit?
HOWARD
Not in time, but in temper, Auden was the first among the chorus of tutelary spirits, as you call them, to whom I listened with perhaps slavish adoration. I had found Auden for myself back at Columbia along with Wallace Stevens, whom John Hollander had shown to me; these were the poets whose poems I seemed to be rewriting for so many years. I think it was the fact that Auden was living in New York—one saw him at the theater or the opera, one heard him giving lectures and readings—and it was this figure of Citizen Auden as well as the possible vernacular that his poems enforced that made him so particular a tutelary spirit.
INTERVIEWER
Five years later, The Damages struck out toward otherness. It's more literary—and thereby perhaps, in your own mind, more personal. More to the point, its voice takes on a certain knowingness, no?
HOWARD
Your observations about The Damages are diverting, but I cannot confirm them. The book seems to me now, as then, part of the same enterprise that I had embarked on with Quantities.
INTERVIEWER
How would you describe that enterprise?
HOWARD
The undertaking was entirely a matter of trying to find lines of verse that would articulate and exemplify my struggles with meaning.
INTERVIEWER
Then all heaven broke loose with Untitled Subjects in 1969. The praise, the prize . . . the project. It seemed suddenly that the dramatic monologue had found you. How did it all come about?
HOWARD
There were a couple of poems at the end of The Damages, especially the attempt at dramatizing a possible Bonnard and the portrait of a novelist—"The Author of Christine," who was, in fact, the writer Sanford Friedman, whom I was to live with for nineteen years—that led to the release of Untitled Subjects.
But let me say, in a more limited sense, that with the poem about, or to, Wilkie Collins in that book, I had found a means of access to my real life, which of course was the life that other people had lived, but which I could perceive as a likely lie. I don't think I understood very clearly the nature of the dramatic monologue (it was rather hit-and-miss for most of Untitled Subjects) until later—the necessity of the secret that the speaker, who does not know it, must reveal. Nonetheless, the poems of that third book (which I had thought of calling Rejected Addresses until Harry Ford persuaded me otherwise) seem to have found me and in some sense to have written me, rather than its being I who had written them. I suppose it was the collusion of all that reading and what Harold Bloom (or Freud) might call a defense against that reading, and a certain longing to get back into poetry the kind of storytelling or playacting that characterized—no, that constituted so much of my actual life.
INTERVIEWER
Which is your favorite now of the poems in that book? And why?
HOWARD
There are three poems in Untitled Subjects that I cherish beyond or regardless of their merits: the poem "1889, Alassio," which is spoken by a Corvo-like expatriate homosexual who concentrates (if any poem of six pages can be said to be concentrated) all the attitudes and awfulness of homosexual life that I most deplored and feared in my future; the poem "1891, An Idyll," which I wrote for my friend Mark Strand and tried to make, in its depiction of Tennyson, something of an affabulation—for any poet, but especially at the beginning and at the end for Mark himself—of the vital (perhaps mortal) prospect of a career; the third poem, of course, is "1915, A Pre-Raphaelite Ending, London," which I think is a real dramatic monologue, as I have characterized the genre, and which I favor for its formal properties emergent from the voice that is responsible for them.
INTERVIEWER
Next you moved from dramatic monologue to dramatic encounter, and added a second speaker to the poems in Two-Part Inventions. In retrospect, it seems a natural move, but did it at the time?
HOWARD
I think we discussed earlier that a lot of my childhood was spent in my grandfather's library, and that many voices emerging from those books became my admired and sometimes abhorred friends. It was not difficult for me to hear and, in some sense, to differentiate voices as discrepant as those of Robert Browning and Mrs. William Morris and a nameless expatriate who sought refuge in the south of France, after exhausting Venice and other cosmopolitan hideouts, for the expression of his amours interdits. This came about partly because my intensive readings had made me so familiar with nineteenth-century dictions, and partly because they were not the dictions of my own life and times. I could project myself into the past and even use the past to speak for intensely personal and what might be called "modern" experiences, but I needed that century of perspectival diction and never got much closer than World War I in the speech patterns of my "inventions." Most recently, I have managed, in "Our Spring Trip," to speak in the voice of a fifth-grader from my progressive school during the late 1930s. He might well be me, but even here I noticed I could manage the voice only if it was a child speaking, children being, to my certain knowledge, as infinitely other as any historical or "period" utterance might suggest.
INTERVIEWER
My favorite poem in Two-Part Inventions is "The Lesson of the Master" with its remarkable conversation, in the backseat of a Delage touring car on its way to Versailles, between an imperious Edith Wharton and young Gerald Roseman. And I remember seeing a staged version of the poem at a little theater in the Village. Did you think of the poems from the start as "stagings"?
HOWARD
After the book was published, Michael Feingold, an old friend as well as my favorite theater critic in New York, came to me with a proposal that he stage—with costumes, music, and all other distracting appurtenances—two of the poems: "Wildflowers," which concerned a meeting between the young Oscar Wilde on a lecture tour of the United States and the sick but still savory Walt Whitman; and "The Lesson of the Master," an elaborately plotted dialogue between Mrs. Wharton and the young man, almost a stranger to her, whom she discovers to have been the lover of her much-admired friend whose ashes she is taking to the cemetery in Versailles for a burial, which will certainly lay to rest her own aspirations for some sort of romantic interlude with the deceased. Feingold staged the two pieces "after hours"—a normally scheduled play occupying this stage until, say, ten. We filled the little theater for perhaps eight performances, and I was quite struck—stagestruck, certainly, by hearing audiences react to my jokes and to my questionable coups de théâtre. I think I was delighted to discover that the poems were no longer mine, and indeed that the audience regarded them not as poems at all, but as mere entertainment. Eight performances were enough mere entertainment, and when two more of the "Inventions" were performed in summer theater in Massachusetts, I began wanting to recover my poetic properties from the mouths of actors and from the amusement of audiences.
INTERVIEWER
Having so often written poems in voices, have you ever tried to write what they call a straight play?
HOWARD
It did occur to me, rather quixotically, that I could write a straight play, and indeed I went off to a villa outside Florence one summer in order to do so. It was to be a verse play (inevitably) about Cavafy and his mother, and only one act out of two was ever completed; there were six characters (or five, if I could have "doubled" Cavafy's mother with the madam of the whorehouse upstairs). I found I wasn't a dramatic writer at all, merely a theatrical one, and that I had no ability to keep my handful of people engaged with each other unless I put most of them (and probably the audience) to sleep. Subsequent efforts in writing for the voice (or voices) have remained, whatever they may be called, two-part inventions, and for the most part, I fall back (revealing myself completely) on monologue, the kind of solo voice that includes overheard citations and remembered talk of others besides the speaker.
INTERVIEWER
Let me stick for the moment with that word invention. R. P. Blackmur once wrote that "good poets gain their excellence by writing an existing language as if it were their own invention." Your own style could be described as ornate, so how do you go about making a distinctive voice for so many different characters?
HOWARD
I'm not at all certain that's what I do. It seems to me I choose (or with luck invent) characters whose register I know I can coax—or even force—into mine. And in fact do I even have a register? I have a modulable energy, a verbality that can be persuaded by what I know or have tried to learn, and a certain mimic gift that allows the reader to suppose (often quite fallaciously) that it is a "distinctive" voice that is raised—or lowered.
INTERVIEWER
Obviously, a good deal of nosing around in the biography and milieu of your characters is required, but how much—say, of a poem like "November, 1889"—is made up, and how much is cribbed?
HOWARD
Fortunately, my only answer must be that nothing is made up and nothing cribbed—everything is imagined and everything realized from what I know and have learned. It is why such poems can never be suggested or commissioned—why don't you write us something about old Thomas Hardy? My good dramatic monologues are good because the monologuist is me, the poem is not a game of cribbage.
INTERVIEWER
Your extraordinary sequence "Homage to Nadar," which trails across two books and takes on so many nineteenth-century sacred monsters, reminds me of your fascination with a certain kind of personality—driven, energetic, prodigious, larger-than-life. There are more such personalities to be found in Europe and in the past, it seems, than here in the United States. Do you share Henry James's frustration with America as subject matter?
HOWARD
It's hard for me to conceive of Henry James's frustration in any literary regard. Surely from the very first novels and tales, he concerned himself with his countrymen as his subjects (The American, after all), and although you are quite right about the Nadar poems being concerned, necessarily, with European figures, I have increasingly concerned myself with American subjects. Edith Wharton, James himself, Whitman (twice), Wallace Stevens, Robert Frost, Hart Crane—and I can assure you that others are in the hopper. I think I turned my attention to those great Victorians you mention because it was there that my readings were strongest and I managed, I believe, to find appropriate or plausible voices as I've grown older (I dare not say "developed"). I think I've entered an American phase with some conviction and perhaps even some success.
INTERVIEWER
Many of your longer poems have such complicated syllabic schemes and patterns of indentation—giving them a wonderfully architectural look—that I wonder if such poems are not easier to compose directly on a computer. Do you write your first drafts in longhand or on a computer?
HOWARD
Until the advent of the computer, I typed my poems, and I've never written any of them in longhand. The progressive school I went to never taught me script with any consistency, and I've been quite comfortable thinking onto a keyboard, though most of the writers, prose and verse, that I know do produce holograph copy. Certainly the computer (a blessing to poets and translators, who are of necessity fanatics of revision) has facilitated my perception of the shape of poems on the page even more than the typewriter, but that's merely a matter of convenience, not of choice.
INTERVIEWER
And what is it that especially appeals to you about syllabics? To me, its pleasures seem more private than those of other organizing maneuvers, a device meant to prompt the poet rather than be heard by the reader.
HOWARD
I think for a long time I was uncertain about writing an extended poem in traditional verse patterns, because I doubted my capacity to sustain such forms with appropriate variety. It's not that syllabic verse is easier, but it produces an effect of a certain metathesis that I think I found suitable for the longer poems I have been writing since my fourth book. I might observe that most of my shorter poems are accentual verse, not syllabic, and they frequently rhyme as well, however inaudibly.
INTERVIEWER
Two glinting preoccupations your poems have, I think, are with the visual and the erotic. Is there any connection between these two impulses?
HOWARD
You're pushing me to the wall here, but I suppose I'm just a fairly regular scoptophiliac.
INTERVIEWER
"The Masters at the Movies," in your latest collection, Talking Cures, is an instance of your taking a couple of givens—in this case, a famous author and a famous movie—and bringing them together in ways historically impossible. This is a kind of freedom that I assume you cherish.
HOWARD
It was not so much freedom I was after but a prod to my imagination, which in the case of those movies and of those authors seemed to respond with a certain costive vigor. It was a way of proposing a sort of dialogue with the other side; it was posthumous history that was my Ouija board.
INTERVIEWER
Older poets, in my experience, take less and less interest in the work of the young—returning instead to old standbys, old nostrums. You, on the other hand, in your teaching and editing and correspondence, keep a sharp eye—sometimes encouraging, sometimes critical, but always engaged—on what young poets are up to. How do you sustain that particular energy?
HOWARD
The pleasure of seeing new work become expert and characteristic of the new poet never fails. It has nothing to do with my own poetry, which I find difficult to recommend to the young, but I suppose I have a pretty even balance of interest in the poetry of the past and the poetry coming into being. The energy necessary for both interests doesn't have to be sustained—it sustains me.
INTERVIEWER
That leads me back to Alone with America, the like of which still can't be found on the shelves, and was all the more astonishing in 1969. The attempt was not just to explain the era's "poetry scene," but to shape history's sense of it all.
HOWARD
I wrote the book not for the sense of history, but for myself, knowing that a relation to one's moment was essential to getting beyond the moment. As I quoted Shaw in the book's preface, if you cannot believe in the greatness of your own age and inheritance, you will fall into confusion of mind and contrariety of spirit. The book was a rescuing anatomy of such belief, the construction of a credendum—articles of faith, or at least appreciation.
INTERVIEWER
And when you look back on your definition of the most significant development of postwar poetry as its having abandoned the Midas touch of formal control for a poetic technique more free and rangy, does that still seem the best way to account for things?
HOWARD
It was a plausible way in 1970, though I think I needed then, as I am certain I require now, to recognize other modes of "formal control" besides those with which I was familiar when I wrote the book.
INTERVIEWER
Now that a certain formalism has been returning to poetry, do you see things moving in reverse? Or is it rather a loosening of all orthodoxies?
HOWARD
In the poetry I read as an editor, a teacher, and a reviewer, I don't see much formalism "returning" to poetry. Some formalism, as we call it, is always there in greater or less measure, but I still do not find much highly organized formal procedure in the work of the new poets I am familiar with. It is a peculiar time for poetry, of course; there is so much of it and so few people are interested in it or enjoy it. I have the suspicion that impatience in the readers has communicated itself to the poets, and we observe a certain impatience about formal procedures after a certain point.
INTERVIEWER
In 1969, which of your peers and pères did you think most likely to be king of the mountain in 2004? The reign of Bishop might have been hard to predict then, and the fading of Lowell. But would you ever have imagined that so obscure a figure in 1969 as John Ashbery would have come to such literary prominence?
HOWARD
For me there were never lone monarchs of the poetic glen; there were always the fifteen or twenty figures whom I wanted to read entire. This has continued, and I suppose I find, say, a dozen poets who are as obscure now as you say Ashbery was in 1969, who seem to me compelling masters. One difference, I suppose, is that there are more women among us than there used to be—Muriel Rukeyser, Amy Clampitt, May Swenson, Marie Ponsot, Jane Cooper, Mona Van Duyn, Pattiann Rogers, Madeline Defrees—just saying the names of these senior figures, as Mr. Auden remarked in another connection, is ever so comfy.
INTERVIEWER
We spoke earlier of the influence of Auden. But I want to ask you a question not about your teachers but about contemporaries. Which of them, over the years, did you rush to read, and why?
HOWARD
Thinking about these poets who have a special distinction in my memory suggests the propriety of anecdote. Here are two stories concerning two beloved masters—one my poetic father, one my contemporary. There was a period when I used to see something of Auden with a certain regularity—he lived not far away, and I would join him for drinks after five, once a week or so. I remember his asking me once what had happened to Bernie Weinbaum—did I hear from him any more, wasn't he one of my friends, as well as Wystan's? Oh no, I can still hear myself saying, I can't manage to keep up with him; he always calls everybody—everybody else—either a kike or a cocksucker, and since I might be said to be something of both, I found it difficult to endure the obloquy. To which Wystan returned, My dear, I never knew you were Jewish.
I also cherish an observation of James Merrill's, when we had attended together a poetry "conference" in northern Minnesota, which turned out to be a very regional affair; at various meetings, both James and I found ourselves quite off the map, and I think if either of us had mentioned one more European poet, we would both have been tarred and feathered before leaving Minnesota: You see, dear Richard, this is what happens when the Great Plains meet the great fancies.
INTERVIEWER
Other of your literary friendships seem less likely. With the reticent Archie Ammons or the blustery James Dickey, for instance.
HOWARD
My enthusiastic affection for Ammons's poems—registered after his first book, and not including Ommateum—went a long way toward overcoming Archie's reticent suspicion of literary types. We enjoyed (on both sides, I trust) a very lively friendship. Don't you think such relationships are often encouraged by counter-type casting? I remember seeing Archie and his wife, Phyllis, off on some Italian liner—this was when the Italian Lines still had Atlantic crossings, not just cruise ships. It was a very auspicious occasion: Archie had won a Prix de Rome, and his year abroad was to be facilitated by the fact that Phyllis was a first-generation Italian-American who would—and could!—translate for the monolingual poet. And then, a couple of weeks later, I got a call from Cornell: it was Archie, and he was back from Rome—for good! It was the birds, Richard, the Italians kill any bird they can shoot. They eat them! They eat all the birds! And our intimacy continued undistracted by songbird massacres. I remember sitting in the poet's modest backyard, for instance, in Ithaca, when Archie "explained" his idea of an event: Look at the quince bush, Richard, see that? The wind blowing through that quince bush? Now that's an event. That's something a poem can be accountable for.
The friendship with Dickey (it went far enough for the poet to ask me to be his literary executor) was divided into two parts: the good times with Jim and Maxine whenever they came to New York, following my several essays on his work (Jim always wanted to keep his fans on his side), and the nervous encounters with the frequently drunk and always trying post-Deliverance poet—occasions that had their comic aspects. Jim asked me to come to the New York premiere of the film version of his novel, and there he was, outside the old Trans-Lux, in a turquoise sombrero, telling the folks waiting in line that he was to be seen in the film, as well as having written the book and the screenplay. He did not tell them that John Boorman had barred the author from the lot for making so much trouble for the director and the cast, of which he was a very testy member. This was long after Maxine had died, and Jim wanted some friend to be with him and his sons for the show. The boys and I were sitting up in the balcony, and suddenly when one of those backwoods perverts was about to force one of the heroes into an act against nature, Burt Reynolds transfixed him with one of his steel arrows—remember that?—and from the orchestra somewhere came an exultant shout—hot damn!—as the bow saved masculine honor once again. At the dinner afterwards, I remember Chris Dickey saying, with evident disgust, You know that time when some guy shouted out during the movie? That was Dad. Jim was not only a wonderful poet, a distinguished novelist, and a remarkable reader, but always his own best audience.
INTERVIEWER
Mention of Dickey reminds me to ask you about stimulation. So far as I can see, your effervescence comes from seltzer rather than alcohol. Have you ever wanted or needed the kind of "help" a drug offers—as a corridor to the unconscious, say?
HOWARD
I always wanted to get out of the unconscious. The corridor leading into the conscious life seems to me the right tunnel to find light at the end of. But you know, for thirty-two years, I had an enzyme deficiency that made me allergic to alcohol, even a minimal amount. So I became a reluctant but severe abstainer—and I was of the wrong generation, I guess, for other drugs. Now, of course, I can drink—wine, at least—with the best of them, and it's too late, surely, for such indulgences to mark the habit of composition, wouldn't you say?
INTERVIEWER
Can you name me three poems you wish you'd written, and why?
HOWARD
No, but I can name thirty, or three hundred. I dislike fetishizing my longings in this realm, but I don't want to seem fractious. Let me just name three off the top of my head, and leave the reasons why for you to speculate: the poem by Milton known as "Comus," Valéry's sonnet "Un Feu distinct," and naturally "My Last Duchess."
INTERVIEWER
And do you have in mind an unwritten poem you want to get working on one day soon?
HOWARD
Surely the unwritten poem one still wants to write is a good place to bring these inquiries to an end. Of course it is not in the mind that the unwritten poems are carried about, visited, and occasionally deserted. If anywhere in one's person, it is in the feet—the unwritten poems are investigated while walking—there are pages of illustration from Wordsworth, from Stevens, from Archie Ammons . . . There is—beyond the poems that are currently on the stocks (is that the expression I want, or is that an allusion to the pillory?)—a likely site as well for the enterprise of composition. But what I mean is, beyond the poems actually in some process of production, however nugatory, there looms still a long piece about the meeting between me and my sister or half-sister, probably a grandmother by now, born a couple of years after me and adopted (it was two years after the crash of 1929) by a prominent Jewish family in Toledo, Ohio. She was "offered" to my own adoptive parents, but wealthy families were wary of expansion after the stock-market disaster, and my sister or half-sister grew up in another family, something of a musical and mathematical prodigy, I was always told, and I know nothing about her "real life." I've planned out the whole thing, our encounter on the coast of Spain in 1815, modeled on Euripides's version of the encounter between Orestes and Iphigenia in Tauris. You may not recognize us in our post-Napoleonic garb, but I have my reasons for the drag as well as for the classical model . . . Isn't that a good place to stop? Any more and I'll never write the damn thing at all.