Interviewed by Robert Phillips
Issue 99, Spring 1986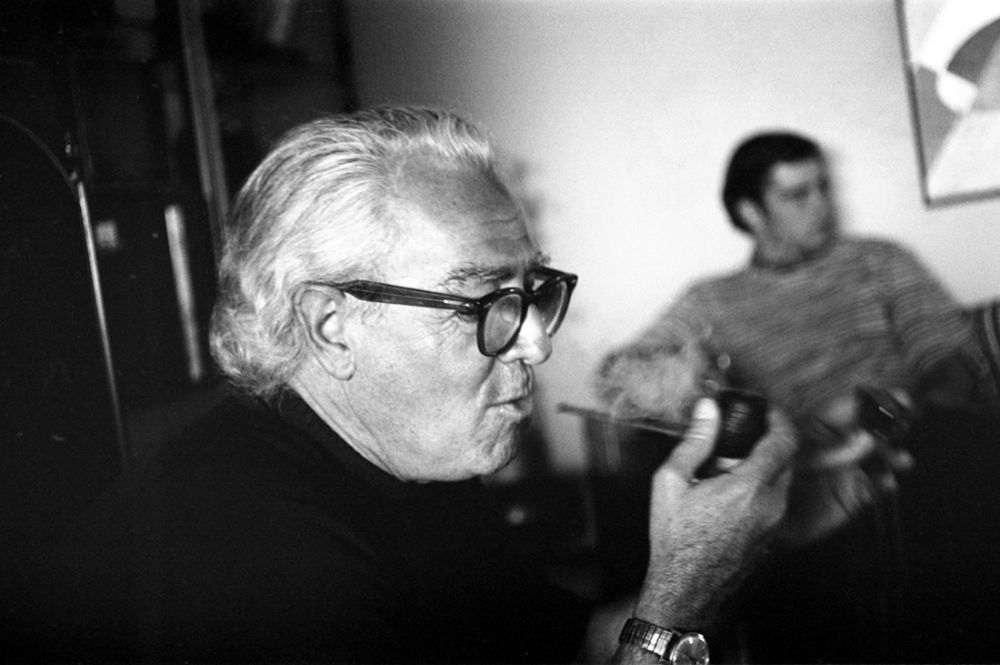 After living for decades in California, Karl Shapiro now lives at least half the year on New York's Upper West Side, twenty blocks north of Zabar's, the landmark food emporium, and ten blocks south of Columbia University. This interview took place in his Morningside Heights apartment, where he lives with his third wife, the translator and editor Sophie Wilkins. The eleventh-floor view from their book-lined apartment overlooks the enormous Cathedral of St. John the Divine. At the time of the interview, late December 1984, Shapiro was busy with two projects—putting together his thirteenth book of poems, and finishing his autobiography. During his lifetime he has received numerous honors, including the Pulitzer Prize in 1945 for his second volume of verse, V-Letter and Other Poems; the Bollingen Prize in Poetry in 1969 for his Selected Poems, a three-hundred and thirty-three page collection from thirty years' work; appointment as Consultant in Poetry to the Library of Congress; and membership in the National Institute of Arts and Letters. Perhaps his best-known volumes of outspoken criticism are To Abolish Children and Other Essays (1968), and The Poetry Wreck: Selected Essays 1950–1970.
Now seventy-two, he is an energetic and handsome man with a full head of white hair and expressive dark eyes behind plastic-rimmed glasses. What strikes one are his gentleness, his fine manners, and his soft voice—from his essays, one would expect a bit of a wildman. During the hours of the interview—done in one long session—he chain-smoked and sipped a little wine.
INTERVIEWER
You were in the army, during World War II, when your first two books of poems, Person, Place and Thing and V-Letter and Other Poems came out in this country. When you returned from the War, were you aware of having become the literary spokesman of your generation?
KARL SHAPIRO
Words like "spokesman" and "touchstone" took me completely by surprise. For very real reasons. Not only had I been out of the country when my first two books were published, but I have always been "out of the country" in the sense that I never had what ordinarily is thought of as a literary life, or been part of a literary group. What psychiatrists nowadays call a support system. I never had any of that and still don't. I've never been magnetized toward a center like New York. I never even thought of living in New York. When I first started to publish single poems, the place I thought of was Chicago, since Poetry magazine was there. And you didn't have to live in Chicago to have something printed by them. I thought Poetry was preferable to any magazine that I knew of in New York except perhaps Partisan Review, and that was relatively new and wasn't specifically poetry anyway. So when I was in the army in New Guinea and finally got the reviews that people sent of my first book, they were all very heady to me. Using words like "spokesman." I was baffled. I wasn't sure what the reviewers were talking about, because I had no associations with anybody. I had never met a poet in my life before winning the Pulitzer in 1945. Well, that's not strictly true; when I went to Johns Hopkins in 1939, W. H. Auden gave a private reading to a group of special literature students, and I was one. I shook hands with him. As it happened, at that time he was my idol, above all others as a modern poet, and that experience was a very sustaining one. But I could hardly say I "knew" him.
INTERVIEWER
How old was Auden then?
SHAPIRO
Well, in 1939—he was born in 1907—he was quite young. He looked it. And he did something that impressed me no end. He read at this club called the Tudor and Stuart, at Johns Hopkins, and he didn't have his book with him. He recited almost the entire book beautifully, and it included the elegy on Freud and the one on Yeats. That was a magnificent experience! But from my point of view, it was something like a rustic going to the opera. At that time I hadn't published a thing except a privately-printed book.
INTERVIEWER
Is it true that your wife put your first and second books together during the war in your absence?
SHAPIRO
The first really was an adaptation of a long group of poems that James Laughlin at New Directions had printed in an anthology called Five Young American Poets. Those were published just at the time I was about to be sent overseas, and I begged Laughlin to publish a separate book of mine instead of putting them in that anthology. Well, I was unknown and he wouldn't do it. He never did a book of mine. But that anthology was the occasion of my first reviews, and they were good ones. After I went overseas, my wife, Evalyn, in fact moved from Baltimore to New York for the purpose of getting more of my work published. She was working as a secretary in some office in Baltimore and had no real ties. She did have friends in Manhattan. I'd send Evalyn individual poems as they were finished. I had no way of sending them to magazines. We were on the move all the time and mail was heavily censored and all mail at that time was sent by ship, which took three to four months. It wasn't until later in the war they began to photograph letters, those letters called "V-letters" that gave the title to my second collection. Then the mail became faster. Anyway, Evalyn did meet publishers, especially Reynal and Hitchcock, who were then a new firm. Albert Erskine, my lifelong editor, was the editor there and he accepted the book that I called Person, Place and Thing. And when that firm died, I followed Erskine to Random House.
INTERVIEWER
What were the physical circumstances of your writing during the war? Did you have much time off?
SHAPIRO
I was drafted a year before the war, when it was a one-year peacetime draft that people have forgotten about now. And I was in almost a year when Pearl Harbor happened, so I couldn't get out. But because I was from Baltimore, I was sent to the Medical Corps—all of us who were drafted from Baltimore that first day were sent to the Medical Corps. I guess they knew the war was coming and were trying to build it up. A lot of us were orderlies from hospitals but many were clerks, stenographers, and so on. I was studying in a library school at the time, I was going to be a librarian. But I couldn't take the final exam because I was drafted. Nobody had ever heard of a student deferment in those days. Because of my background of two years of college at Johns Hopkins, they put me in the company headquarters office and gave me a typewriter.
INTERVIEWER
Did you have access to a typewriter throughout the war?
SHAPIRO
I did. Because I became the company clerk and even in very bad situations, like combat, my job was to be on the typewriter. Although I carried a .45 and a carbine like everyone else.
INTERVIEWER
But what about the availability of a library? You also wrote Essay on Rime when you were stationed in the South Pacific area. It's full of quotes from Eliot, Auden, Yeats, Cummings, Crane . . .
SHAPIRO
There weren't that many quotes. Besides, I had a book. I'd met William Van O'Connor [later a literary critic] in New Guinea and we became friends right away. He was stationed at Fort Morely and so was I. We were waiting to go someplace else and Bill gave me his copy of the Oxford Book of Modern Verse, which Yeats had edited. I had that book and I had quotes in my head and there was always a Bible. And that was about it. I later heard there was an army library nearby, but if there was I had never heard of it. Anyway, I wrote Essay on Rime to amuse myself. We had been told that we were going to be in one spot for ninety days with nothing to do. So we were just sitting there waiting to be shipped to the Dutch East Indies. Well, I had the office and the typewriter and the paper, so I blocked out a poem. I figured I wanted to write a poem about poetry, an essay like Pope's. And I actually diagrammed it—I had never done that before in my life. But I diagrammed how many sections there would be, how many lines per section, how much on prosody and how much on language, and so on. I figured precisely how many lines I would write a day to get the book done in ninety days, and I did it. It was thirty lines a day, and I went to the office every day and wrote those thirty lines. I had no reports to write. The office was deserted.
INTERVIEWER
It's a prodigious feat.
SHAPIRO
Well, yes, but you see, I had it all in my head—I had read everything on prosody before I was drafted. Don't forget I'd been working in a big library and I knew a lot about prosody. Nobody ever read prosody books except me. And the rest of the stuff in the poem was simply my ideas about Auden and Williams and the rest.
INTERVIEWER
Then you mailed the book off to your wife?
SHAPIRO
Not all at once. I sent her sections, and a piece appeared in the Kenyon Review and another in the Southern Review.
INTERVIEWER
This was in the days before duplicating machines. Did anything ever get lost in the mail?
SHAPIRO
I don't recall that it did. I kept carbons. But it took a year for the bound copy of my first book to reach me. It nearly drove me crazy, waiting.
INTERVIEWER
When did you realize you were going to become a writer?
SHAPIRO
Probably when I was in high school, because I already had a reputation of being a poet. The English teachers always liked what I did and put my stuff up on the bulletin boards. I never had any idea of publication, though. In high school, in Baltimore, I wrote a sonnet about Mahatma Gandhi. From which I can only remember one line, "Dim adumbration of a dim intent." Not bad for high school, but it was supposed to be a favorable poem about Gandhi! I would play hookey from school in Baltimore, which is an historic place, and go to places like Federal Hill, where you can see where the American flag was that inspired Francis Scott Key to write "The Star Spangled Banner." I would go there and write love poems. I was seventeen or eighteen—a little late for high school, because I had to transfer to three different schools because of my family moving about.
INTERVIEWER
Somewhere I read you said you only had a "half-education."
SHAPIRO
Well, "half" is an exaggeration. I went to the University of Virginia and quit after the first semester. Then five years later I went to Johns Hopkins and studied English literature, Greek, Latin, French, and history. I was there only two years. I was in some kind of accelerated thing. I was supposed to go for two years, then enter the graduate school. But I had to drop out. So what I don't have is a formal education in the sense that I could pass the Graduate Record Exam, or whatever they call it. My education is at best spotty.
INTERVIEWER
What did your father do?
SHAPIRO
He was a salesman. So many fathers of American writers were—Arthur Miller's, Tennessee Williams's. My father was ingenious. He made special products out of the waste products of oil. I think he was the first one whose idea it was to put motor oil into cans and sell them in grocery stores. He did things like that and got people to produce his ideas for him. Before Baltimore we lived in Virginia, in Norfolk, where he had his own business. But during the Depression I never was able to find a job. My father would beg me to, but it was impossible. So until he finally invented jobs for my brother and me, I was allowed to stay home and write.
INTERVIEWER
Most war poems aren't remembered. But several of yours are among your best. Is war still a factor in your dreams or outlook? Did the war permanently change you?
SHAPIRO
Oh yes, I think it did. It probably does to anybody who was ever in a war. The first book review I ever wrote was for Poetry magazine, in the thirties. They asked me to write a review of the poets of the First World War who had just published new collections. There was Siegfried Sassoon, and Edmund Blunden, and others. And I went and dug their old books out of the library and noticed they hadn't been read since the First World War. It struck me as very sad that these men who were now probably in their fifties or so, and had never gotten over their experiences, were forgotten. Passed over. They were all in the trenches too. I remarked in my review that war seems to be a permanent tattoo, or scar, on those who have been in it.
INTERVIEWER
Some of your later poems—"The Phenomenon" and "In the Waxworks"—seem concerned with nightmares, whereas your earlier work is very rational, almost idealistic. Are you aware of undergoing any personality changes that could account for that?
SHAPIRO
I'm not aware of any changes in personality or outlook. "The Phenomenon" might be called a war poem, too. I was very surprised when The New Yorker accepted it. The other one was about the honky tonk in Baltimore, where the low bars and cheap hotels and burlesque houses are. I was writing about the unconscious part of a civilized city. Of all the stuff that drifts to the bottom.
INTERVIEWER
In your early poems, it strikes me you were somewhat of a verbal voluptuary. A poem like "Buick," for instance, which I love to read aloud just for the sounds of it. Were Hopkins or Hart Crane influences?
SHAPIRO
Oh, definitely, both of them. And even to this day, I have never lost my admiration for and involvement with them. I very much resented the critical treatment of Crane by people like Yvor Winters. "Buick" was a love poem, so I was trying to make it as sensuous as possible. I always felt that poem was perhaps the first Pop poem: you know, taking a beer can and making it six feet high. I was taking the image of this car, the Buick itself, which is still a voluptuous automobile, I tell you—I was in one recently.
INTERVIEWER
The Buick in your poem—was that a car you owned?
SHAPIRO
I never owned one. If you want to know how I got the idea of writing that poem, I was hitchhiking back to the army base one night between Petersburg, Virginia, and Baltimore, and an officer from my camp stopped for me. He drove what appeared to be a new Buick. Now there is a straight road that goes from Richmond to Fredericksburg and at that time of night there were no cars on it. He got this thing up to 100 mph. And that was like flying—all those beautiful lights on the dashboard moving around!
INTERVIEWER
Do you still hold Auden's work in as high esteem as you did?
SHAPIRO
Yes I do. And unlike most critics I've read, I think that Auden's later work is his best—those poems written in a kind of adaptation of the Horatian Odes, which he did so well and which served him so well—all the poems he wrote while he lived in Austria at the end of his life. I think they are certainly among his finest. They are not the big portentous poems, like "For the Time Being," though things like "For the Time Being" are magnificent.
INTERVIEWER
In the middle or late fifties, Whitman became very important to you—almost in religious terms. Can you comment on that? And what about Poe?
SHAPIRO
As a matter of fact, I was born under the same roof where Poe died, the same Baltimore hospital where there is a plaque on the wall. Whenever people came from out of town, I would always take them to Poe's grave, which was in a slum of the city even when I lived there. It is a very ugly tombstone. The decorations on it were sent from France.
INTERVIEWER
Why did the French love Poe?
SHAPIRO
Because Baudelaire discovered him and, well, his symbolism. Poe was the father of symbolism. Now, I am on the other side of the railroad tracks from symbolism, so Poe never appealed to me. Every kid read his stories and his poems. We used to memorize "The Bells." I could never take Poe seriously. On the other hand, there was Whitman. Whitman to me is the most fascinating of American poets. Whitman started to write the great poetry from scratch after he had written all that junk for newspapers, the sentimental lyrical poems. All of a sudden he wrote Leaves of Grass. When I was teaching at the University of Nebraska, my friend James Miller was chairman of the English Department. He wrote the first book attempting to make a parallel between the structure of Leaves of Grass and the steps of the mystical experience as in St. John of the Cross. I was completely bowled over by this, not having been able to explain how Whitman came to write "Song of Myself," which is unlike anything not only in American literature, but unique in all the world. The parallels to it are mystical literature. Miller tried to show that there was actual evidence for this kind of experience, which evidently happens at a particular moment in someone's life.
INTERVIEWER
Whitman wasn't fashionable at the time you took him up.
SHAPIRO
When I saw the negative reaction to Whitman with the great ruling critics of the time, I couldn't believe it. Eliot never really gave up hammering away on Whitman, neither did Pound. Although Pound makes little concessions. Whitman, you know, didn't have any influence in this country until Allen Ginsberg came along. I am not crazy about the Whitman element in Ginsberg; it seems to me Ginsberg knew what Whitman was doing, but Ginsberg is a programmer and a propagandist and a politician. His poetry has suffered very badly. There's some great stuff—poetry of lamentation and so on—but so much of it is theatrical and phony.
INTERVIEWER
We can see the Cathedral of St. John the Divine from here. I saw you at the dedication of the new Poets' Corner there. Who would you honor next, if it were up to you?
SHAPIRO
Let's see . . . who were the first three? Emily Dickinson, Walt Whitman, and Washington Irving, for some reason. Poe would have to be in there, and Melville and Emerson. And they should certainly install T. S. Eliot first among the moderns.
INTERVIEWER
What about Wallace Stevens?
SHAPIRO
Oh yes. I'd put him neck and neck with Eliot.
INTERVIEWER
Robert Lowell?
SHAPIRO
Well, yes, if it comes to that.
INTERVIEWER
We forgot Pound.
SHAPIRO
If I have an objective opinion about Pound, it is that he remained more of a novice. He never really achieved what he set out to do. There is a very strange thing that happened to the modern poets, the famous ones. They all had one goal in common—to discover a form, or the form. Something like alchemists looking for the secret. Auden found his form—the ode. And William Carlos Williams wrote his best work in that kind of tercet form that he stumbled on after many years. But Eliot and Pound never succeeded in discovering the form in which they could write naturally. The Cantos remains a scaffolding for a structure that was never built.
INTERVIEWER
Can you think of a good poet who has a bad ear?
SHAPIRO
Yes, but I can't say this on tape. The author of All the King's Men.
INTERVIEWER
You didn't name him.
SHAPIRO
Of course not! It astonishes me that this can be. That there's a poet who has a tin ear. Some people say this is also true of Thomas Hardy. Hardy was a wonderful poet, but I don't think he was as tone deaf to the musicality of words as the other gentleman I alluded to. It happens infrequently, but it does happen. I imagine the Victorians said it about Browning. But it's certainly not true of the famous modern poets like Williams and Eliot and so on.
INTERVIEWER
You once wrote that an astonishing fact about the twentieth century is that it is without its poet. Do you feel that is still true today?
SHAPIRO
Oh no, I've changed my position on that. As some others already have said, in terms of English and American poets, it would be quite just to call this The Age of Auden. Not only because Auden was such a dominant and successful poet, but because he went through all the contradictory ideological phases, from Marx to God. He really is representative in that sense. When Auden and his colleagues were writing their social revolutionary stuff in the late thirties, they were really representative of what the good poets were doing at the time—with the exceptions of Eliot and Pound. And Auden finally capitulated to the Church of England and Christianity and all that. I think he was the poor shadow of the kind of ideology which in one way or another pervades the poetic atmosphere today. We have a lot of politically-biased poetry, even when it is political-feminist. So the Age of Auden is as good as any name for where we are now. It could hardly be called the Age of Eliot or Pound or Williams or Ginsberg. Because they didn't have that umbrella.
INTERVIEWER
In 1964, when you published The Bourgeois Poet, you made a clean break—not only with the poems of your past, but it seemed with all European art before the Renaissance. When did you recognize the futility of the well-made formal poem? And did you have a model—Ginsberg?
SHAPIRO
Certainly not Ginsberg! Influence is strange. Because one can be influenced powerfully in every way but technique. For instance, I would think Walt Whitman probably had more influence on my whole poetic thinking than anybody, but I never dreamed of trying to write in the Whitman manner. My precedent for the style of The Bourgeois Poet is French poetry. When I shipped out overseas, from Boston to Australia, it took forty days. I carried a baggage sack full of books, which is an awful thing to do because I had to carry them. There were no porters for a private or corporal. Among the books I took was Baudelaire's Flowers of Evil in a bilingual edition. I also had a French dictionary and did some translations of my own on the ship. I think it was then and there I fastened on the manner of The Bourgeois Poet poems. When I got to Australia, I published a privately-printed book in which my first poems appeared. They're in that style. In fact, I still keep two of those poems in my latest collected poems: "The Dirty Word" and "The New Ring." I liked writing in that style very much, but at the time it seemed a dead end. It wasn't until the early sixties that I returned to the model and did more.
INTERVIEWER
Was The Bourgeois Poet conceived and written as a book, or as individual poems that somehow came together?
SHAPIRO
No, no, as a book. I had a Guggenheim, to go to Europe, and I wanted to write a kind of autobiography in verse. But I didn't know exactly how to do it. I took all the letters I had written to Evalyn. I carried them in a metal case. She still has those letters, incidentally—she's trying to sell them. With my permission, of course. Anyhow, I was trying to write about becoming a poet, using some of those letters as a basis. I found I could not write in Italy. I've since discovered that I can't write when I'm traveling. Later trips to Rome, London, all ended the same way. I love Europe, but whenever I go there, I feel I'm catching a disease. So I cut that trip short and came home. I lived in Nebraska then and I had a study built in my garage. When it was done, I sat down and wrote The Bourgeois Poet poems straight off. I wrote one every day. There were ninety-four in the book, some quite long.
INTERVIEWER
Did you complete more than the ninety-four?
SHAPIRO
God yes. I had quite a lot I wanted to say then—either about the past or the present or from the point of view of a middle-class American poet, Jewish, and living in the middle of the United States and having come through certain things.
INTERVIEWER
Will you publish some of the unpublished ones?
SHAPIRO
Probably not. I had given all that stuff to the Library of Congress a few years ago, and when I put together my recent volume of new and selected poems, I sent to the Library and asked to see what was there. They sent me a stack a foot high. But I found almost nothing I would subsequently use. Albert Erskine thought I'd sent him too much to begin with. I don't think he ever really liked the book, although he published it. There was no real editing involved. He just told me to put it into some kind of sequence. It was too random at the beginning, he said. "This is Random House, isn't it?" I replied. He was not amused. So I found an order, and it was a book. My best-selling one, I believe.
INTERVIEWER
You wrote in that book that you are of the race to whom "the audience brings me news of my death." Have you been conscious of trying to overcome a critical decline, or to live up to your early reputation?
SHAPIRO
Well, no. When I wrote that I was, you know, very well received. I think I took that expression from Freud. Certain people were wrecked by success, like Dylan Thomas and Delmore Schwartz. I've continued. In fact, I'm not so sure when I used that phrase, in that context, that I meant the race of Jews and not the race of poets.
INTERVIEWER
Oh. I took it to mean poets.
SHAPIRO
Good. Because I always had this feeling—I've heard other Jews say—that when you can't find any other explanation for Jews, you say, "Well, they are poets." There are a great many similarities. This is a theme running all through my stuff from the very beginning. The poet is in exile whether he is or he is not. Because of what everybody knows about society's idea of the artist as a peripheral character and a potential bum. Or troublemaker. Well, the Jews began their career of troublemaking by inventing the God whom Wallace Stevens considers the ultimate poetic idea. And so I always thought of myself as being both in and out of society at the same time. Like the way most artists probably feel in order to survive—you have to at least pretend that you are "seriously" in the world. Or actually perform in it while you know that in your own soul you are not in it at all. You are outside observing it. You must know exactly what I mean.
INTERVIEWER
I do. What does it mean to you to be a Jew? Christ is certainly one of your myths. What has being Jewish done to your work?
SHAPIRO
Just everything, in a way. I went through a period like many middle-class Jews in which I consciously drew away from the religion and everything Jewish in my life. And I think for a long time, say in the 1930s, I felt completely cured of the religious virus. And of course at that time, everybody was enveloped in radical politics and nobody really took religion seriously. Even among poets—except Eliot. During the war I became more interested in Christianity. I had a friend who used to write me enormously long letters. She was a very religious Catholic who wanted to become a nun. And she tried to convert me. She sent me a missal and a rosary, the works. I think I was hypnotized—she almost succeeded. I actually went to the Catholic chaplain at the time and asked for instruction. But he was too busy or didn't want to be bothered. That was the end of that. I think this is a phase many Jews go through. When I came back from the war, I returned to my original position of neutrality. I didn't think about religion and I didn't care. I felt I didn't have any personal stake in that kind of thinking. I had by then become known as a poet and was given very good jobs—teaching in universities, Consultant in Poetry at the Library of Congress. I considered myself above religion.
INTERVIEWER
This doesn't sound like the author of Poems of a Jew speaking.
SHAPIRO
The actual turning point in my life was the voting of the Bollingen Prize to Ezra Pound. This sounds real crackpot, but it is true! I was one of the people on that jury, and I was the only one who voted against giving the prize to Pound. There was an enormous amount of publicity about it. It was a great blow to me, the publicity and scandal. I was suddenly forced into a conscious decision to stand up and be counted as a Jew. Jewish organizations got in touch with me, Jewish papers wanted me to write things for them, make me a spokesman.
INTERVIEWER
Were you against his getting the prize because you didn't think the Pisan Cantos good poetry, or because you abhorred Pound's politics?
SHAPIRO
Both. But I would have voted for the Pisan Cantos if it hadn't been for all the anti-Semitic and anti-American propaganda in them. Well, when the Bollingen Prize was kicked out of the Library of Congress and went to Yale, I was kept on the committee for two years, then dropped. From that point on, I began to write essays, like my book In Defense of Ignorance, in which I pointed to the politics in poetry. For instance, there is no question that Allen Tate and Eliot were attempting to set up an equivalent of the French Academy in the Library of Congress. They seemed to have the backing. People like Robert Lowell, who was young but definitely on the make as a critical culturalist and wanted to be in charge. From that point on, I became a kind of guerrilla fighter and sniper.
INTERVIEWER
That does seem to be your reputation!
SHAPIRO
I was at Notre Dame just a few years ago, and one of the professors there said to me, "You don't know what effect In Defense of Ignorance had. It ripped the whole academic community in half!" I'm glad I wrote the book. I like it, and I still stand by my observations, although I wouldn't write it so violently now. I guess I really am in the Whitman tradition. The Eliot lecture I gave in Cincinnati also caused an uproar. Some of the professors got up and walked out in the middle of it. Then when the piece was published in Saturday Review, it caused another stir. All I did was call Eliot a theologian gone astray, a failed poet who hates originality. I said his importance exists only in the minds of a few critics. That's all. Oh, yes—I also called Four Quartets a deliberately bad book.
INTERVIEWER
Do you feel upset when people walk out of your lectures?
SHAPIRO
I don't think about it. For two reasons. First, I have a sort of special status around English departments. I'm not really a professor, but a sort of mad guest. Second, I really wasn't alone in my feelings about Eliot and modernism. When I was at the University of Nebraska, there was a core of people who felt the way I did—James Miller, Bernice Slote, others.
INTERVIEWER
Do you deliver your lectures off the cuff?
SHAPIRO
Hardly. I write them out very carefully, the product of much rumination. Except for my Henry Miller piece. I did that one just a couple of days before I had to deliver it. I was sitting in a beautiful house overlooking a golf course and drinking Scotch. I wrote it while I was bombed, but it came out just the way I wanted. The woman who lived in that house left and put a whole bottle of Scotch in front of me. Which I drank. I had to get drunk to write that essay, because Evalyn couldn't stand the name of Henry Miller. She didn't want any of his books around the house. And she was with me at the time, so I couldn't write the essay in the hotel where we were staying. So I wrote it on the side, in a borrowed house. It's a kind of secret lecture.
INTERVIEWER
You regarded Miller as a holy man. You called him "Gandhi with a penis." Do you still think of him in that way?
SHAPIRO
As a matter of fact, I don't. But you have to remember that when I wrote about Henry Miller, he was completely banned. I had always been a crusader against censorship. That was part of the reason for my strong stand. The books of Miller's I owned were all smuggled into the States by friends who would visit Switzerland and get them past customs. I had illegal books, and this is great fun. But it was very important to me because Miller never claimed that he was a writer. Henry James was a writer; Miller was a gabber, a prophet. And as far as pornography goes, he didn't aim to write erotica. He aimed to write the whole truth about the life he knew, which included sex. As a matter of fact, it is Miller who was the twentieth-century reincarnation of Whitman, not Ginsberg.
INTERVIEWER
Let's return to The Bourgeois Poet one last time. That was your first and last thematic book of poems?
SHAPIRO
That was the only one of its kind, and I knew when I had come to the end of it too. Actually, there is a plot in that book. It has to do with a female graduate student I was involved with.
INTERVIEWER
It sounds as if the subject matter spilled over into your novel Edsel.
SHAPIRO
Subject matter, yes. But the technique of The Bourgeois Poet I'd invented for myself, out of Baudelaire. And I invented the typographical form, which I got partly from a poet named Byron Vazakas. Do you remember him? Williams liked his stuff. He wrote prose poems in the shape of the state of Oklahoma. And when I did the book, I didn't want my paragraphs to look exactly like prose, so I reversed the indentation process and had the body of the poems indented and the initial line extended to the left-hand margin. Like a pan handle.
INTERVIEWER
So you call that book prose?
SHAPIRO
No, no. A lot of it is the sort of old-fashioned free verse of the King James Bible. It was an unconscious imitation of the Old Testament declamatory poetry. But that is a step backwards from the straight prose style in terms of versification. What I was sure of at the time was that the two traditional attributes of poetry—rhyme and versification—were not only nonessential, but artificial impediments to the poetic process.
INTERVIEWER
But in your next book after that, White-Haired Lover, you returned to traditional verse forms.
SHAPIRO
I did and I didn't. Most of them are in conventional forms like a sonnet, but they're not what anyone would call good sonnet form. The meters are too bumpy. And there's no intent to conform to, say, the iambic pattern. There's no inversion in the second foot and that kind of thing. I didn't pay attention to that. In fact, I was doing what Eliot succeeded in doing when he discovered his own kind of iambic and free verse, which he called Websterian. Whether or not Webster was just a bad versifier, or trying to make the line conform to whatever speech was in his time, I don't know. But Eliot succeeded in adapting Webster to get a line which both is and is not iambic. And so, in other words, is loose.
INTERVIEWER
Did the critics know what you were up to?
SHAPIRO
Not really. Those who liked The Bourgeois Poet style criticized the sonnet business, and said, "Who the hell writes sonnets in 1968?" That sort of thing.
INTERVIEWER
A religious magazine once called you "the Mort Sahl of literary criticism." Do you take your critics seriously?
SHAPIRO
I try to avoid reading them. I forget who made that crack about Mort Sahl. It must have been during the time I was writing inflammatory stuff. There are a lot of critics who are very offended and irritated by my kind of criticism, and they attack me. I naturally expect that. Cleanth Brooks published a book in which he said he didn't know how to categorize me. I thought that was very flattering.
INTERVIEWER
Do you want to talk about Dylan MaGoon?
SHAPIRO
Oh sure. That was perhaps naive of me, but I was very upset when I saw that Random House—my publisher—was publishing Rod McKuen too. I had been invited to talk at the American Library Association, and I used that as an example of the degeneration of publishing poetry. I didn't want to throw in his real name, so I made him a mixture of Bob Dylan and Rod McKuen. In fact, McKuen's agent heard about it and got angry. He didn't do anything, though.
INTERVIEWER
Have you ever been involved in a lawsuit?
SHAPIRO
Only over my suicide. Put "suicide" in quotes.
INTERVIEWER
One would hope.
SHAPIRO
Yes, I'd like to get this in. I beat the American Medical Association in a lawsuit because of a libelous accusation. When I signed the settlement with their lawyers, there was a clause that said I would never publish anything about this. So let's publish it by all means! Here's what happened. Someone sent me a copy of the Journal of the American Medical Association. In it a professor of psychiatry had published an article about Sylvia Plath and the plight of American authors and poets who commit suicide. At the beginning she gave a list, including Hart Crane, Hemingway, John Berryman, Randall Jarrell (which is risky—he may not have jumped), and so on. And I was on the list of suicides. I wrote this woman a letter demanding an explanation. She replied saying she hoped I still had my sense of humor. I did. She was a graduate student who got a Ph.D in English and then an M.D.—very ambitious. So I forgot all about it, because I didn't know anybody who read the Journal of the American Medical Association. I just asked her to retract my name or take it out in case the thing was ever reprinted. A year later, she sold the article—intact—to The Saturday Evening Post. She'd never taken my name out. Now, I never see that magazine, either, but one of my students came to me waving it and said, "Have you seen this?" I was so upset and furious, I got a lawyer. It dragged on for two years. I had my local country lawyer and the American Medical Association had a battery of Chicago lawyers. I sued the University of Iowa Medical School and the woman who wrote the article; I sued the The Saturday Evening Post and the Curtis Publishing Company. My lawyer was even thinking of sending me to actors school to learn how to act on the witness stand. I thought, my God, I can't take this. I lost twenty pounds in about two weeks. I had night sweats and all the symptoms of TB without spitting blood. It was the first serious illness I ever had in my life, all apparently psychosomatic. We finally made a settlement and it was enough for Teri, my second wife, to buy two houses and get into the real estate business. And the woman who wrote the article was promoted.
INTERVIEWER
Of course. You've edited two magazines as well as teaching. Was editing better for your writing than teaching?
SHAPIRO
My editing was fortuitous. I had no training in it—does anybody? I worked purely by instinct. Writers told me I was a good editor, and I know I had some successes in people and pieces I discovered. But when I was happy teaching, it was because I was teaching things like modern poetry, not teaching writing at all. But as it happened, more of the non-writing academics moved in on the teaching of modern poetry and squeezed us out. They figured this was their business and I should shut up about teaching literature and let them do it. So for years and years, I taught nothing but this creative writing class—which disturbed me a lot. Because there was so little I could do and there was no necessity for it except conviviality. It was a very pleasant way to spend the day. I used to have the students come to my house and we'd have wine. They'd read their poems and I'd attempt to comment. Recently I went down to Philadelphia to give a writers' workshop, and it was all adults. I felt I failed them completely. I read their poems carefully, I said what I had to say about them, but I didn't have that much to say. And the conversations degenerated into, "Do you think this word will be better than that word?" I felt I hadn't earned my money.
INTERVIEWER
What about when you edited Poetry in Chicago?
SHAPIRO
It wasn't good for my writing. For five years there was a constant involvement with poets from all over the world, not only corresponding with me, but coming to the office, too. But, you know, when I did write, I accomplished some of my best poems while working at Poetry—"Adam and Eve" and "The Bathers" and "The Alphabet." Actually, I never had a conscious idea of how fast one must work or how much work one must turn out. I never understood that. And I have never written poetry with the view of having a book. I guess that is true of most poets who write our kind of poetry. You write the individual poem. This is unlike Yeats, who was a thematic poet. And he knew he was. Each book was going to represent some great mythological whatever.
INTERVIEWER
Wasn't there some unpleasantness during the latter days when you edited Prairie Schooner?
SHAPIRO
A bit. It involved local morality. I was an editor in the middle of Nebraska. I accepted a short story by a man who was quite good, named Irving Krauss. It was a very good clean story about a man who had been a graduate student who comes through a town similar to Lincoln, Nebraska, and stops off to see a woman he used to make love to. She is a beauty parlor operator. (That's where I got the idea for the beauty parlor operator in Edsel.) During the course of the story, the ex-graduate student recollects that, when he used to sit in the coffee room of the English department, the homosexual professors would gather to talk and gossip. I was going away, and had accepted the story and it was in galley proof. When I returned, there was a note from the administration (who weren't supposed to have anything to do with this publication). They said the story had to be removed. I went to see them and said, "Hey—what's this?" They said, "The homosexual business." There were quite a few people in the closet at the time, and they didn't want to risk an investigation. They threatened to withdraw funds for the publication. I told the vice chancellor I had accepted the story and I was committed to print it. Since they thought it was so perilous or something, I was going to read it on the radio. (There was an FM station in Lincoln that played good music and even read some poems.) The station manager was delighted. And again I was threatened that I'd be arrested if I read it on the air. When I arrived, the sheriff's car was there, and everybody in Lincoln listened to their radios. I went ahead and read this story, which was really rather sweet. And nothing happened. But after that the handwriting was on the wall for me at the University of Nebraska. I looked for another job.
INTERVIEWER
You seem to thrive on controversy. Your essay on the desirability of abolishing children, for instance. Do you ever get hate mail?
SHAPIRO
Not really hate mail. During the 1960s some students and young instructors at the University of California referred to me as a fascist. And when I published some poems making fun of the protest movement in Esquire, one of the San Francisco poets wrote me saying, "I see you're now publishing in men's fashion magazines." Pretty tame stuff.
INTERVIEWER
How was your experience as consultant in poetry at the Library of Congress?
SHAPIRO
Very stormy, as a matter of fact. There was no job as such, because there were no duties as such. It was really at the beginning of the appointments. I think I'm the one who turned it from an honorific into a job. I created work.
INTERVIEWER
You refused membership when you were first elected to the American Academy and Institute of Arts and Letters. Why?
SHAPIRO
No particular reason, except I didn't see what it was for. I disliked the idea of cultural academies. In a democracy, it can easily turn into something else. I gave the example of Thomas Jefferson stopping George Washington when George founded the Society of Cincinnatus, which was going to be an hereditary officer corps, and Jefferson said, "You can't do that, George." You can't, by God!
INTERVIEWER
Who are your best friends? Other writers?
SHAPIRO
Not necessarily. Most of my friends have been made outside the occupation. I enjoy writers I think more than anybody else, any other kind of people. But I never go out of my way to be in a writers' situation. I've never accepted an invitation to go to a writers' colony, for instance. I don't see the point. I'm always writing what I want where I happen to be.
INTERVIEWER
Then you can write anywhere?
SHAPIRO
Yes, except in a foreign country, as I said.
INTERVIEWER
What are your normal working hours?
SHAPIRO
I don't have normal working hours. Although since I've been writing my autobiography, I've been working about three or four hours a day. Usually in the late morning or early afternoons.
INTERVIEWER
At the typewriter?
SHAPIRO
I write prose on the typewriter. I don't like to work in the evening or after, partly because when I use the typewriter, I think I'm keeping people awake upstairs.
INTERVIEWER
This apartment must be a good working environment for you.
SHAPIRO
Oh, it's just perfect. It's got everything.
INTERVIEWER
I haven't heard other people in the building.
SHAPIRO
There are children upstairs and sometimes they trample around on Sunday morning. But that's rare. Do you know what woke me up this morning? Somebody got a saxophone for Christmas. A saxophone is such a city sound. It's quite wonderful.
INTERVIEWER
Was writing your novel a different process from writing poems?
SHAPIRO
Completely. It had nothing to do with poetry and I—never having written fiction, just one short story—didn't have any inhibitions. I wrote Edsel so fast, I wrote parts of it sitting on a beach with a portable typewriter in Tampa, Florida. There were some friends who were on that trip with us, and they would wait for me to finish a chapter. Then they would run across the sand and get it to read.
INTERVIEWER
It's a very inventive novel, very unpredictable. The reader can't guess where he's going next.
SHAPIRO
That's because I didn't know. It was written that fast. I once read that E. M. Forster said, when interviewed about A Passage to India, that he knew when those people got into the cave, something terrible was going to happen. He just didn't know what. I felt the same way about Edsel. The fascination, you know. It was a marvelous experience for me—I had something I wanted to say, and I think I said it.
INTERVIEWER
In the novel, Edsel says that there is nothing more ridiculous or moving than a poet on the podium. Do you feel that way about poetry readings?
SHAPIRO
In the beginning I was terrified. Then I got to like them. It's hard now to remember when there were practically no poetry readings. People used to invite Archibald MacLeish, but only because he was sort of Undersecretary of State. When I grew up, poetry readings consisted of maybe ten people in a living room. Later, when Eliot read at Wisconsin, he filled the football stadium! Imagine.
INTERVIEWER
Edsel also says, "I don't see how anybody gets past adolescence without committing suicide at least twice." Was your own adolescence so bad?
SHAPIRO
Worse. Terrible. It might have been because I was brought up in a rather strict Jewish family, and didn't have enough intercourse—if that's the word—with girls. Social intercourse, I mean.
INTERVIEWER
Of course, of course. Is Edsel the definitive schlemiehl?
SHAPIRO
I thought of him more as the schlimazel. You do know the difference? The schlemiehl spills the soup in the schlimazel's lap. In other words, a schlimazel is someone with chronic dependable bad luck. That's not the same as the schlemiehl who is maladroit, whose trouble is his own lack of coordination, social grace, whatever. Edsel's problem is his foreignness, his being a foreign body in academia—he doesn't fit in, and he doesn't fit out, either. So that his schlemiehlism is partly a comic tragedy of his situation.
INTERVIEWER
In the novel you say the hardest thing for a poet is to separate his actual feelings from his poetic feelings. Is there that distinction?
SHAPIRO
There is. I might have had in mind Eliot's statement about aesthetic distance and personal emotion. It's a question of judgement and taste. Suppose I liked Kate Smith and Bing Crosby. At the same time, I'd feel disgusted with myself for liking them. You see?
INTERVIEWER
But you would admit liking them publicly?
SHAPIRO
Oh, sure. Old Kate Smith records bowl me over.
INTERVIEWER
Edsel described his poems as all jagged glass and rusty nails. Is that how you viewed your own poems at the time?
SHAPIRO
Some. That's how I viewed American poetry generally. You know Louis Simpson's poem on the subject: "Whatever it is, it must have / A stomach that can digest / Rubber, coal, uranium, moons, poems . . ."
INTERVIEWER
In the one poetry textbook you edited, you represent yourself only by the "Adam and Eve" sequence. Is that the favorite of your poems, and if so, why?
SHAPIRO
It's the only thing of its kind I ever wrote. There's nothing else even remotely similar. I don't know really how or why I wrote it. I am genuinely fond of it. I like to read it at readings. I remember while I was writing it, I was editing Poetry and some friends of mine, one was an artist and had a gallery, asked if I would read at the opening of his show. And I said, okay, I have a poem that I'll finish. And I finished it for his deadline. I write very well for deadlines.
INTERVIEWER
Do you keep a notebook?
SHAPIRO
No. I used to, for years, and one time when I was about twenty-three I destroyed all my notebooks. I've been sorry ever since. They were full of poems, and I put them all in the furnace.
INTERVIEWER
Why do you think you did that?
SHAPIRO
I think at the time I was writing stuff that annoyed me. Imitation Elizabethan plays and tragedies. It was probably a good idea to burn the lot.
INTERVIEWER
What are you working on now?
SHAPIRO
For about two years, I've been writing this autobiography of sorts. It's funny how I began the book. My brother, Irvin, who was a child prodigy, asked me on the telephone, "Karl, how did you become a poet?" And I didn't know the answer. So I started trying to find the answer in this book. The first thing I wrote about was meeting a professor in a railroad station, trying to get a scholarship to the university after I'd already dropped out of school. So you can see, the thing has no chronology. It's not thematic. It may even be a new form. I'm doing something which I think is interesting. I didn't want to name people, let alone drop names—I didn't even want to name myself. So I talk about myself in the third person, as The Poet, which I think of as the fourth person, because it's the poet standing outside himself looking at all these other people, which include him. I'm getting somewhere. I've got enough material now to know that I have the making of the creation of a character—the self-creation of a character who becomes a poet and discovers his identity that way. I've read parts of it to audiences and they really like it. Because it's like conversation. It's not like writing.
INTERVIEWER
Does it have a title?
SHAPIRO
At the beginning I called it Scratchings, and I still like that. Then I thought of Auto-Mobile, with a hyphen. And I think I like that better—referring to my car poems, of course: the Buick, the Cadillac, the ambulance, the auto wreck, as well as myself. Of course, I may be kidding myself, thinking people know those poems today.
INTERVIEWER
Some do. But how bad is cultural illiteracy, based on your teaching experience?
SHAPIRO
It's very bad. I used to write about it and get flack from the writing professors, the ones who were teaching boneheading. It's begun to improve a little in the last five years. But I don't think we'll ever get back to the point at which college students used to know English when they got to the universities. The discipline has not only disappeared, it's changed so completely that there's now a greater tolerance for non-structured teaching of language. And the so-called linguists themselves, in trying to create a new vocabulary of grammar and so on, have interfered with the pedagogy of the whole thing. You can no longer make a student learn a definition of an adverb, because the theorists will tell you that those definitions are spurious. It's like the shake-up caused by the New Math, if you remember that. I'm of two minds about whether we should go back to the old Latin discipline of teaching English the way I learned it—English on the basis of Latin grammar and roots. Maybe that day is past. But I don't know who's going to provide norms or standards for the ordinary language of communication if there is not a model.
INTERVIEWER
How does this affect your creative writing classes?
SHAPIRO
My "creative" writing classes which I abhor? The subject of linguistic knowledge among the poets is something that really bothers me. It seems to me they not only read very little, but they also have no ambition to increase vocabulary and subtle grammatical structures. They don't study the niceties and the subtleties of language the way it's supposed to be their business to do. And once they get to the level in the colleges and universities where they're always taking creative writing, it's insulting to them to say, "You don't know your own language." Which in most cases is God's truth.
INTERVIEWER
Do you have a sense of a public for your own work, for whom you write poems?
SHAPIRO
I'm surprised from time to time when I find evidence that people have learned something from me, or when people tell me they have. I've always tried to achieve a certain tone of voice, which I think I now have under control. It's not simply a question of locution and syntax, it's a question of hearing the tones in which people communicate with each other on various levels. And that generally involves idiom—if idiom is a synonym for a rich, spontaneous kind of language. Randall Jarrell was extremely good at this, although if you try to write like Jarrell, you're only imitating him. And Delmore Schwartz, as in his poem, "The Beautiful American Word, Sure."
INTERVIEWER
Would you encourage young people today to adopt writing as a way of life?
SHAPIRO
I've never encouraged anybody to do that. I think it's not only presumptuous, it's dangerous. When I first started teaching, I encouraged a few students in a couple of cases. But you can change the whole course of their career—a terrible responsibility. I wouldn't do it now. But if I ran across a talented student, I'd encourage him or her as much as I could. I used to try to direct those writing students to a job or a profession. I had a student at Davis who was very good, who said to me one day, "I'm going to go to the Academy of the Merchant Marine and be a ship's captain." I said, "Gee, that's wonderful! That'll be terrific for your poetry." Well, he went and he's still a captain of a ship somewhere. I haven't seen any more poetry from him. That still may be better than hanging around the academy all one's life.
INTERVIEWER
Are you about to become a New Yorker?
SHAPIRO
Perhaps a part-time New Yorker. Because of Baltimore and having lived my entire life in other parts of the country—Chicago, Nebraska, California—I find it hard to think of being here full-time. The thing I love best about living in New York is you can be as isolated as if you were in Iowa if you want to be, but if you get the sudden urge to go to a concert, it's right there. You live in Iowa, you could drive two hundred miles each way just to find something to do that night! We're also thinking of moving to San Francisco. Next to New York, that's the liveliest place.
INTERVIEWER
The last question: Why do you write?
SHAPIRO
I don't know why, but it's a compulsion. I feel that after working a long time, I've really learned how to do what I do. I enjoy it. I don't think there's anything more satisfying than turning out a good stanza or a good piece of prose. And when you're satisfied enough, you want to show it to other people. That's called publication.