Interviewed by Regina Weinreich
Issue 103, Summer 1987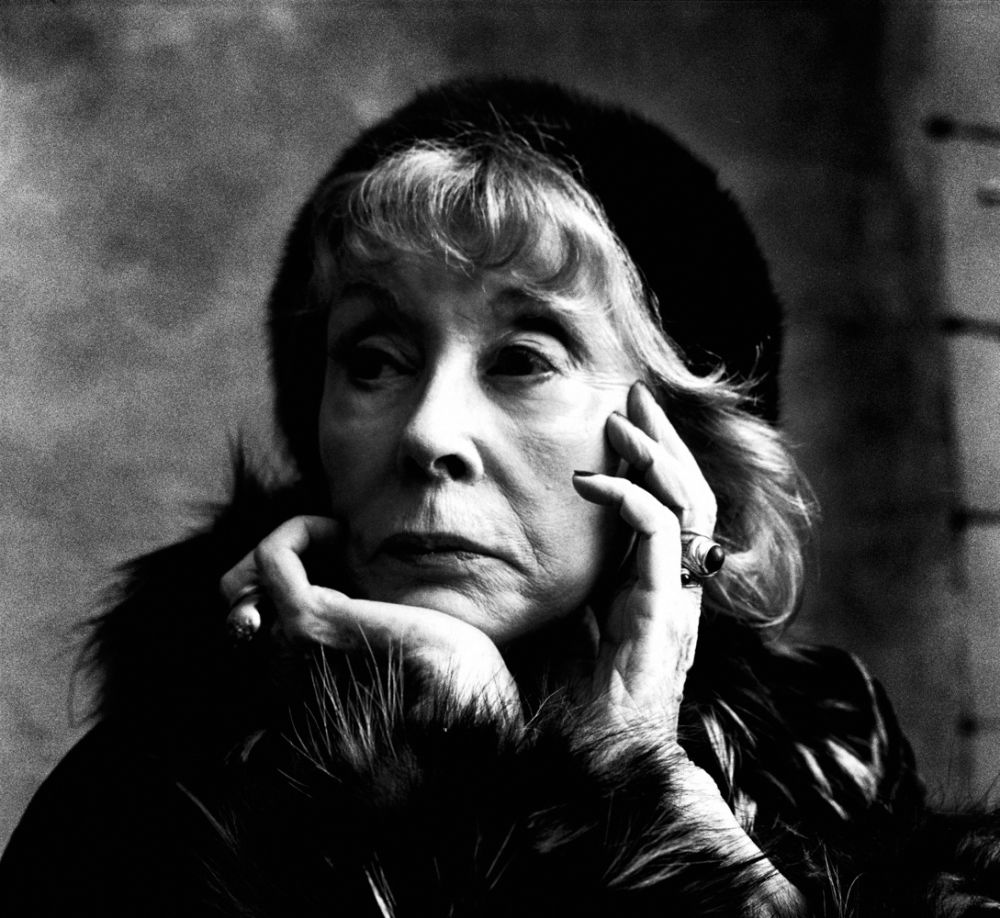 I first met Francine du Plessix Gray in Morocco in 1983. Gray had interrupted the completion of her third novel, October Blood, and was en route to Paris to finish her articles about Gestapo chief Klaus Barbie and the French Resistance, which would appear in Vanity Fair that fall and for which she would receive the National Magazine Award for Best Reporting.
Gray was born in the French Embassy of Warsaw in 1930 where her father, a specialist in Slavic languages, was a member of the French diplomatic corps. After he died in 1940, his plane shot down by Fascist artillery, she and her mother emigrated to America and her mother married Alexander Liberman. Her mother was a noted hat designer and her stepfather is the painter, sculptor, and editorial director of Condé Nast. Francine du Plessix attended the Spence School, Bryn Mawr, and two summer sessions at Black Mountain College before graduating from Barnard where she majored in philosophy. She was the only woman on the nightshift at United Press International for two years and was a fashion reporter in Paris. In 1957, she married painter Cleve Gray and later had two sons, Thaddeus, now a banker, and Luke, now an artist. For the first years of her marriage she painted, a vocation for which she had had a yearning since childhood. She returned to writing by doing art criticism for Art in America, where she was book editor in 1964; and in 1965, she began to contribute fiction and political essays to The New Yorker. Her first two books were nonfiction: Divine Disobedience: Profiles in Catholic Radicalism (1970), for which she won a National Catholic Book Award, followed by Hawaii: The Sugar-Coated Fortress (1972). Three novels followed: Lovers and Tyrants (1976), World Without End (1981), and October Blood (1985). Her new collection of essays, Adam & Eve and the City (1987), displays her keen observations of the political, literary, and domestic scene. Gray has taught at the College of the City of New York, Yale University, Columbia University, and Princeton University, and was writer in residence at the American Academy in Rome.
We began the interview at her home in Warren, Connecticut, a town so small it does not have its own post office. So much of her time is spent traveling, she has found this remote area of New England a perfect refuge from urban and social distractions, and a fine place for work. We met in winter, a week before Christmas. Pushkin and Sabaka, companion standard poodles, accompanied us on a tour of the stone farmhouse: huge hearths, a labyrinth of small, dark eighteenth-century rooms alternating with lighter, newer spaces, walls lined with bookcases and contemporary paintings. The tiny bedroom where she spends her early morning hours reading is painted a dark green. By contrast, her study, a barn that used to be Cleve's studio, is airy and white. It is furnished with an IBM word processor, and such varied classics as St. Augustine's Confessions, Finnegans Wake, the complete works of Samuel Beckett and of Roland Barthes, The Perfectibility of Man in Christian Thought, and E. R. Dodds's The Greeks and the Irrational. Postcards of particularly beloved paintings—by Titian, Piero della Francesca, Caspar David Friedrich—are tacked to the bookcases above her desk.
We paused only for dinner by the fireplace of the Grays' living room, and lunch in an historic nearby town; most of our day and a half talk took place in Francine's study where she sat in front of a picture window. Dressed casually in somber-hued slacks and sweater, she could be taken for a one-time fashion model: tall, elegant, fine-boned, with intensely intelligent and aristocratic features; her manner is warm, friendly, and gracious. On one occasion she wore glasses and took notes as we spoke, wishing to make her remarks as thorough as possible. The following morning she was up early, carefully expanding upon statements made the evening before. Her accent and intonations are still distinctly European. "How odious!" she might exclaim, or "Formidable!"
Gray honed my edited version of the transcripts of our conversation on her word processor, condensing the lengthy original. We made our final changes just before the publication of her collection of essays, Adam & Eve and the City.
INTERVIEWER
If you had another life to live, would you choose to be a writer again?
FRANCINE DU PLESSIX GRAY
Hell no. Have you ever met a writer who'd want the same karma a second time round? I doubt if one exists. We write out of revenge against reality, to dream and enter the lives of others. The next time round I'd like to be a great athlete with a political mission, like Billie Jean King or Arthur Ashe, or perhaps a lieder singer. However if you'd confine me to a literary trade for another life, I might like to be a sane poet, as long as I could be sure to be very, very sane. Poetry was my first and greatest love, my gate to literature. Long before I knew I'd be a writer, I memorized the whole of Milton's "Lycidas" by heart, or all three hundred lines of Valéry's Cimetière Marin. A need to stay in touch with sumptuous verbal cadences, internalize the glory of language. To this day the first aspect of prose that grabs me, as a reader, is its tonal texture, its musicality. Prose is only as good as its approximation of the condition of poetry—that condition in which not a rhythm, not a particle of sound can be changed without upsetting the entire page.
INTERVIEWER
Yet poetry is one of the few genres in which you haven't published.
GRAY
A secret vice, probably inherited from my remarkable mother. As a girl during the Russian Revolution, she helped to keep her family alive by reciting poetry to Soviet soldiers in exchange for hunks of bread. To this day, in her late seventies, she has a phenomenal memory for verse, and can recite hundreds of lines of Pushkin, Lermontov, Akhmatova by heart. Her love for poetry has colored my life, and may have made me a writer.
INTERVIEWER
You've worked in a great variety of genres. Has any one form been particularly helpful to your general progress as a writer—fiction, essay, criticism, journalism?
GRAY
Well, I think I needed the discipline of journalism more than many other writers because I've always had a terrifically painful ambivalence of love and terror towards the act of writing. So being forced at the age of twenty-two to sit at a typewriter on the night shift of United Press and turn out radio stories in a matter of minutes—sometimes a matter of seconds, since we were always trying to beat AP to the radio wire—this took some of the fear away. Like five percent. That was 1953; another decade passed before I dared to submit any sample of personal writing for publication. The sample was "The Governess," which The New Yorker bought in 1963, and served as a green light to Go Ahead. I'd written its first version in my senior year at Barnard, ten years before. In 1975, twenty years after that first college version, twelve years after it was published in The New Yorker, it became the first chapter of my first novel, Lovers and Tyrants. So—an elephantine gestation for fiction, with all the terror this length of time implies.
INTERVIEWER
Could you explore some of the roots of that terror?
GRAY
One childhood episode stands out as particularly vivid, in Paris, in the 1930s. My father was an eccentric, extremely conservative Frenchman who deplored most aspects of the twentieth century, particularly the laxness of its education. And, according to his wishes, I spent my first nine years confined to my room, tutored at home by a governess quite as tyrannical as my father. She was a rabid hypochondriac, convinced that the mere sight of another child might lead me to catch some deadly germ . . . I lived in extreme isolation. Once a week we commuted to a correspondence school where I'd receive the assignments for the following week—typically French, didactic, desiccating assignments, memorizing Latin verbs and the dates of battles won by Napoleon. But when I was eight years old an unprecedented event took place—a new teacher came in and gave us the following assignment: Write a Story About Anything You Wish. I was filled with excitement and anguish by this novel freedom. I began as a severe minimalist. Here's the cautionary tale I wrote: "The little girl was forbidden by her parents to walk alone to the lake at the other end of the green lawn. But she wished to visit a green-eyed frog who could offer her the key to freedom. One day she disobeyed her parents and walked to the lake, and was immediately drowned. The End." The following day, during his daily visit to the study room my father perused the composition and raised a storm. "Pathetic dribble! You dare call that a story? What will become of you if you don't ever finish anything!" And he grabbed the paper from my little desk and tore it to shreds. It was a May evening in 1939, fourteen months before he died in the Resistance. My father had been the love of my life, and he'd warned me that I should never write again. I didn't attempt fiction again for over thirty years.
INTERVIEWER
Yet when you came to the United States as a child, in the 1940s, didn't you immediately excel in English literature?
GRAY
Ah yes, but solely as a critic and journalist. I arrived at the age of ten not speaking a word of English and I did learn it very fast—I won the Spence School spelling bee just fourteen months later. Throughout high school I was an accomplished essayist and reporter, always editing the school paper, and when I went up to Bryn Mawr I came in second in the freshman essay contest with a study of Rilke's Notebooks of Malte Laurids Brigge. Throughout college I barely took one literature course beyond freshman English. It seemed too easy. I'm an explorer, I preferred getting C's in physics or B's in seminars on Kant or on medieval theology; nothing short of St. Thomas seemed much fun. Throughout my first two years of college I'd aspired to be a medievalist. When I transferred to Barnard an extraordinary philosophy professor, John Smith, converted me to the nineteenth century. Yet while writing my senior thesis on Kierkegaard something inspired me to enter a writing contest, and I wrote three little autobiographical texts about my childhood in Paris, and won something called the Putman Creative Writing Award, and with the prize money I bought a third-hand Plymouth and went down to New Orleans for the summer with a band of jazz musicians. I didn't do much else but hang out and listen to George Lewis and drink a lot of bourbon.
INTERVIEWER
The college writing prize didn't encourage you to write yet?
GRAY
No, I didn't experience it as terror at the time, simply as dalliance, procrastination. Saint Augustine said "Give me chastity and continence, but not quite yet." I needed to do something iconoclastic, and perhaps I sensed that my writing was too staid at the time to satisfy me. Time Inc. had come to Barnard recruiting earlier that year and offered me a job, but I sure wasn't ready for anything as staid as that. I was very much of a tomboy, and also under the spell of the budding Beat generation. At United Press I was the only woman on the graveyard shift—midnight to eight a.m.—which partly satisfied my needs for a counterculture. And in the following decade, before I "became a writer," I worked as a journalist in Paris, and when I returned to the United States and married I painted for eight years. I'd had an early gift for drawing; it took me much probing, until my mid-thirties, to choose between painting and writing and several other aspirations. So, to answer your original question: My deepest affinities lie at the very opposite pole from journalism, in dense, subjective, meditative texts; fiction has been a very late vocation, and most painful in execution, though paradoxically the days when I'm writing fiction are quite the happiest days of my life. Yet the practice of journalism has allayed the terror I felt towards the act of writing, it's been a great source of reassurance, the only kind of writing I knew I could always do very well.
INTERVIEWER
Do you feel you're a better journalist than novelist?
GRAY
I don't know what that means, because I look on my work as a total entity, with each form influencing the others. Even if nonfiction of the kind I've published in Adam & Eve and the City is my best form, it's because I have the discipline of observing life in a novelistic way—listening to the nuances in people's conversations, observing the flower here, and everywhere the crooked little edge of lace. It's the capacity to observe such details that differentiates a terrific first-rate journalist like Pete Hamill, say, from great lyrical nonfiction writers like Joan Didion or George Orwell.
INTERVIEWER
You're an avid journal keeper.
GRAY
Yes, here they are on the shelf, twenty-five years and forty volumes of them.
INTERVIEWER
Spiral notebooks, like high school students'. Do you keep them with any regularity?
GRAY
Until ten years ago I'd feel wretched if I didn't write in them every day. Recently the compulsion has been less intense, a week or two can go by and then I catch up in my big streak: angers and anxieties and sarcastic reports on overhead conversations, any snazzy metaphors that come to mind, phrases and ideas for current projects, a lot of nature notes—smells, sounds, colors, birds. I sometimes wonder why I have to look back and record precisely what I was experiencing on such and such a day. No one's given a satisfactory explanation for this compulsion writers have to keep a laundry list of the soul: Virginia Woolf, her need to jot down who came to tea every day, and the pitch of Lytton Strachey's voice and the kind of cucumber sandwiches she served. It's as if we feel constantly other from the person we were the day, the hour before, and this sense of flux is terrifying, we have to crystallize, fix every moment of ourselves in order not to disappear altogether, as if our very identity were constantly threatened with dissolution.
INTERVIEWER
How is imagination linked to this process of "fixing" reality in journals?
GRAY
It's a way of keeping the imagination fed, of storing sensory data in hope that it'll eventually kindle, fire the imagination. Even more basic: the daily discipline of verbalizing all sensory data greatly sharpens the sensations received. One of my more terrifying gurus, Charles Olson of Black Mountain, used to compare journal keeping to the process of sharpening a pencil. Our emotions, and, one hopes, the power of our inspirations and of their expression, are kept at maximum clarity and intensity by the daily routine of being inserted into the sharpening edge of the journal.
INTERVIEWER
What's the balance of reality and imagination in your fiction?
GRAY
Lovers and Tyrants is very "real" in the sense that it traces the course of a woman's life in many ways akin to my own. Yet World Without End is in many ways more autobiographical because its protagonist, Edmund, with his hangups about his impoverished European ancestry, his envy of the American WASP milieu he's thrust into as an immigrant child, his aspirations for an academic career, is much more my alter ego than Stephanie ever was—my greatest ambition, when still in college, was to do a lot of doctorates, as Edmund did, and become a college prof, though I would have opted for philosophy, theology. As for October Blood: it's set in the tyrannical frivolity of the New York fashion world in which my mother and stepfather made their living, but its characters are as fictional as can be, perhaps too fictional for my comfort. I see all that as an absolutely average, normal dosing of life into fiction. We ain't got but one life to work with, and we all squeeze it dry before we're through.
INTERVIEWER
I'm only posing the autobiographical question because you've often stated the impact of psychoanalysis on your work, and the way it enabled you to finish your first novel, Lovers and Tyrants.
GRAY
I'm said to be a very gifted analysand. No restraints, no self-consciousness, little pudeur, it all spouts out with volcanic, Slavic candor. I can accomplish in eighteen months of analysis what it would take most other persons five years. Doctors weep and mourn after we part, keep tabs on me for years to come, as if they don't want to lose touch with this phenomenal fount of candor. And yet I have considerable scruples and great control over what I want to reveal in my writing. In real life, off the couch or off the page, I'm a very private, rather secretive person. There are numerous anguishes I don't reveal to my husband or children or closest friends. I'm a great keeper of secrets, both other people's and my own. Perhaps that's why I need a journal as a confessional release.
INTERVIEWER
What precisely was the relationship between your psychoanalysis and the progress of your fiction?
GRAY
It forced me to acknowledge the fact of my father's death, thirty years after the fact, and it literally allowed me to become a novelist. In the middle of my analysis, in 1974, I was motivated for the first time to visit my father's grave, in the family chapel near Nantes. And when I returned I wrote the last three chapters of Lovers and Tyrants in some six months—a book whose first chapter I'd drafted twenty-three years previously, in college!
INTERVIEWER
Are there any other anxieties that inhibit or motivate your writing?
GRAY
Over the years I've come to realize that my greatest fear in life is a dread of a certain kind of solitude, of abandonment. And I've come to know that by writing I'm creating a presence that fills that solitude, which takes the place of some ideal Other. Mind you, I'm not afraid of any chosen solitude—I'm fiercely independent, I love traveling alone, going to restaurants and theater alone—I'm only terrified of abandonment. This is rooted certainly in the evenings of my childhood. Night was a very threatening time. I don't remember having one single dinner with my parents during all of my childhood in Paris. They were each off in a different direction every night, and there I was in the dark apartment alone with this terrifying predatory governess who I felt was always ready to ravage, destroy me. So the act of writing—I'm dealing with the most primitive, elemental fears here—the act of writing, this creation of a controllable presence, seems to be a mature way of exorcising the fear of abandonment, the dread of annihilation that filled my early years. The text in progress is like a fire in the room; an animal, it speaks, hollers, barks, growls back at me, like a magical dog guarding my body from evils, guarding me against the threat of void, of extinction.
INTERVIEWER
Wouldn't this defy the French semiologists who see writing as "absence" rather than presence?
GRAY
That's an interesting issue. They're referring to the gap between the signified and the signifier, to the difference between the rich fullness of experienced emotion and the relative poverty of the scripted text. This discrepancy has haunted most great writers from Plato on. Saint Augustine, Rousseau, Roland Barthes have expressed it very poignantly. According to them the written sign might indeed be seen as "absence," in the sense that it is a weak replacement for the buzzing, blooming richness of the signified emotion. But one can't always reconcile semiotics—abstract theories of signification—with the existential, talismanic quality of the written speech act. Rousseau made the point that writing becomes necessary when speech fails to protect our identity. The written word may be a weak second best to lived experience, but it's still pretty powerful—our only path to meaning and inner order. I keep being haunted by this phrase of Valéry's: "I thought to erect a minor monument of language on the menacing shore of the ocean of gibberish."
INTERVIEWER
Which brings more "inner order," fiction or nonfiction?
GRAY
Oh, fiction is a much mightier, more capable watchdog against the threat of inner disorder, of gibberish. I've given some thought to this, because I've a few friends who try to flatter me out of writing novels by saying: Dozens of people around can do that better than you, so why not stick to nonfiction since very few writers can do it as well as you; you could be the John Gunther of your generation, blah blah. And so I've had to analyze why I'm impelled to go on writing novels, and I know it's because even at the beginning of a fictional text, when it's no more than a vapor, a perfume in my head, there's a whole world hovering by me, a most protective and consoling presence. Whereas in months when I'm only writing reportages, when I have no ideas for fiction, it's like returning to the dreaded dark rooms of my childhood evenings, it's like every close friend is out of town and there's no one to talk to. Then another important difference between the two genres: Fiction is so autoerotic! That's why we all want to keep on doing it. By that I mean, you keep surprising yourself to a degree you can't ever surprise yourself in nonfiction, and surprise is the most basic element of any erotic experience. Still another difference: You'd think that one learns more about "the world," or "reality," by writing nonfiction, but that's wrong.
INTERVIEWER
Why?
GRAY
One learns much more by writing fiction, because the insights come from those deeper subconscious levels where the greater and more interesting truths lie. Aristotle put it this way in his Poetics: Poetry is more philosophical than history. And the word philosophical meant considerably more in Aristotle's time than it does in ours, it meant more true and more real in the deepest possible sense of those words. I'd agree with that, I'd say that history opens us to the possible, whereas fiction, by opening us to the unreal, leads us to what is essential in reality. Mind you, this doesn't mean that fiction is a higher, more noble genre. The quality of any literary text depends on formal rather than referential values. Nonfiction—think of Gibbon's, Montaigne's, Baudelaire's prose—can produce works of art as great as any novel. I'm merely answering your question, comparing the shamanistic and educational aspects of different literary forms as I've experienced them.
INTERVIEWER
Can you cite instances of your fiction in which you learned more about yourself than in writing autobiography, or more about "the world" than in writing reportage?
GRAY
Oh sure, all the time. While writing World Without End, for instance, and coursing through the life of its protagonist, Edmund, who begins as a painter and then spends twenty years as an art historian, I learned the extent to which I myself was torn between the vocation of painting and of writing, the extent to which I'm still more drawn to the company of visual artists than to that of writers. I was a good painter, and it was a hard choice, at least a decade in the making, but it was a division in myself which I'd never previously admitted to in any autobiographical essay, not even in a journal entry. Or else, for instance, in writing October Blood, I realized, more powerfully than I could have through reading or writing dozens of essays on that theme, the awesomely powerful hold most mothers have over their daughters, that "choreography of guilt and love" most mothers and daughters must perform to emancipate themselves from each other and attain a measure of peace. Well, one last example: If I wished to know more than I do about my own mother, who is a most private and uncommunicative person, I'd learn more by writing a novel about her than by doing a memoir. No amount of research about her, of reading through her correspondence, would let me discover as much as I'd discover through writing a novel; for much of my real knowledge of her lies buried inside me, in those subliminal levels that can only be tapped by poetry or fiction.
INTERVIEWER
Tell me how you work.
GRAY
I get up fairly early and have an overabundant physical energy in the early hours, even without caffeine, which I gave up decades ago. I'm rather like a hyperactive child in the morning, it's very hard for me to sit still and concentrate on any writing then. So those hours are reserved for the more passive work: reading what I call my sacred texts, poetry or the Bible or the classics; recently I've gone through Lattimore's translation of Homer, and Virgil's Aeneid in the Fitzgerald translation, and a history of the cabala. Then after this most treasured hour of the day, which I always spend alone upstairs in my room, with some tea and fruit and honey, I go about the business of life: notes to friends, shopping and planning for the family, answering phone calls, thanking people for this and that, thanking the world. As if I have to earn the right to write by being a good girl—all about me must be perfectly rinsed and dusted before I can start working. That's in part due to my great fear of interruptions, but even more to an excessive proclivity to order and neatness that prevails in my mother's family. Compulsive Slavic hospitality, and a tedious dutifulness and domesticity, are probably my most time-consuming vices.
INTERVIEWER
What happens if all the rinsing and dusting—women's work, in effect—takes up your whole day?
GRAY
I'm so punctual that it doesn't happen too often, and when it does I'm quite philosophical about it. I've always chosen life above art, quite passionately so. That great story of James, "The Lesson of the Master," if I'd been its protagonist I would have grabbed the girl and run with the good juicy life, with no qualms whatsoever. I have no sense of my writing or anyone's writing being permanent. I was too steeped in war and death in my early years, too affected by the Holocaust, to have any veneration of art—after all the single most literate and art-revering nation in the world, Germany, was responsible for the greatest horror in human history. I'm also very pessimistic about the fate of the planet; since I fear we're all doomed to extinction in the next century, I feel much more greedy about cultivating compassion, harmony with my surroundings, maintaining close, loving ties with my family and friends. So my two ruling maxims are the following: The old Jewish proverb, Live every day as if it were the last day of your life, which means we must constantly, from a fairly early age, prepare ourselves for exiting in a state of utmost serenity and order, both physical and spiritual. Maxim two: Compassion is not freaking out. So those times when I live the whole day as if it were the last, simply putting order in the garden of life, I don't freak out, and have little understanding of people who do.
INTERVIEWER
But let's take a day when you're finished with chores by mid-morning.
GRAY
I like to get to this studio a little before eleven, ideally, and stay here until six thirty or seven. Three to seven p.m., that's when the best ideas come, and if I started at nine a.m. my back would never hold up until four p.m.—I've had severe back problems, like many writers, and in my case only exercise brings relief. So during the six or seven hours I spend in this room I like to take an athletic break: yoga, swimming forty laps, a few sets of tennis singles or a two-mile walk, depending on the season. And in summer there's my beloved vegetable garden to weed and pick and freeze from. Mind you, during the time I sit here very little "writing" goes on—I write first draft by hand, on yellow legal pad, before putting it into my terrific new IBM computer. I write very impulsively, so terribly fast only I can decipher my scrawl. But only one quarter of this first outpouring, at the most, is usable, so actually, I work very slowly. It's mostly pacing, researching, brewing endless cups of herb tea while I think of how to annotate these terrible earlier drafts. Hours are spent figuring how to rewrite one single sentence—I've never managed to write anything, even a book review, in fewer than three or four drafts. Again, the most important aspect of coming to this room for several hours a day is a talismanic one—it's here, for the past twenty years, by creating a presence of words alongside me, that I've slowly become something I can begin to call myself, and traveled away from that "ocean of gibberish" that menaces us throughout life.
INTERVIEWER
You're able to write fiction and nonfiction almost simultaneously. For instance, most of the essays and reporting collected in Adam & Eve and the City—five hundred pages of them—were written while you were at work on one of your novels. And you must have taken off six months to do the pieces on Klaus Barbie alone. How do you juggle acts like that?
GRAY
No great problem. I'm a very political animal, and the historical moment can be more compelling to me than any fictional task. Any one of my novels was delayable; Barbie was not. I knew I could write about him in a way very few Americans could because I had a very intimate link with the theme—the role of the Vichy government in the extermination of French Jews.
INTERVIEWER
What stops you from taking a story like Klaus Barbie's and creating a novel about it?
GRAY
I've read enough about the Holocaust to know that only two truly great novels have been written about it—Schwarz-Bart's The Last of the Just and This Way for the Gas, Ladies and Gentlemen by Tadeusz Borowski, published in the extraordinary Penguin series of Writers from the Other Europe, which Philip Roth edited. Anyhow, your very question, Why not write a novel about it?, presupposes a very outmoded division between fiction and nonfiction, a division in part created by odious consumer pressures. I've always played down that division, and looked on every act of writing as pure "text." Isn't that much more liberating?
INTERVIEWER
That's become a trademark of your teaching process, hasn't it?
GRAY
Indeed. Whenever I'm invited to teach "writing" at some university, I refuse to ever use the fiction and nonfiction labels, and I particularly resist the word creative as applied to writing—that's the most vulgar of them all. I only agree to one title, The Writing of the Text, and I only use teaching texts that transcend and defy traditional categories—Flaubert's Dictionary of Accepted Ideas, William Gass's On Being Blue, Fitzgerald's The Crackup, Peter Handke's A Sorrow Beyond Dreams. We've been brainwashed by the myth that fiction and poetry are more "creative" than criticism or reportage, a strictly American hang-up exploited by our universities to plug their seedy little Creative Writing departments, a notion that makes for very bad literature. Look at masterpieces like Max Frisch's Sketchbooks, or James Agee's Let Us Now Praise Famous Men, or Orwell's Down and Out in Paris and London, texts that defy most classifications and are as considerable works of art as any novel published in the West in the past years.
INTERVIEWER
Well this hierarchy of genres you're fighting, this tagging and labeling, has much to do with the marketing aspect of contemporary literature, doesn't it?
GRAY
It sure does. And it's worth discussing, because it has to do with issues of power, with the audience's need to control the writer. Naming, labeling, pegging, tagging will always increase the audience's sense that it can control if not curb the writer. Just the way our readers constantly want us to repeat and write more of the kind of text that has pleased them in the past, whenever we strike out into a totally different direction, from sentimental liberal feminism to black satiric humor for instance, they're disappointed because they want us to continue giving them more of the same. They're terrified that some subversive, abrasive new aspect of any writer's sensibility will disturb that philistine bourgeois experience: the reader's pleasure.
INTERVIEWER
Which means that if we want to write a first book that might have a chance of being published we ought to mimic Stephen King.
GRAY
Oh sure, there are twenty thousand people all over the country trying to mimic Stephen King. I'm not certain it's that easy. I have a fair gift for satire, but however hard I tried I couldn't write a Jacqueline Susann beyond a page of pastiche. I'd love to make that money but I can't.
INTERVIEWER
What would you do with that kind of money if you ever made it?
GRAY
I'd give many birthday parties for friends I love—in pretty restaurants, so as to consume less of my working time. And I'd take masses of lessons, all kinds of lessons, Hebrew lessons, singing lessons, how-to-swim-an-impeccable-crawl lessons, more tennis lessons. My sons always teased, saying, If mom ever made money we'd never see the end of lessons. I'm the most perennial student you'll ever meet. Learning any new discipline—a new language, a new sport, a new philosophy—is as perfect a joy as any I know.
INTERVIEWER
You mentioned your love for satire, and that makes me return to your last novel, October Blood. There's so much rich satire there. Is that the only way you could handle that material without diminishing it?
GRAY
Any novel about the world of fashion must remain on the satiric level, because most people in that world are themselves in a constant state of self-satire, self-imitation. When the editors shout: Give me more fans, more wind, I want her hair all the way out to Outer Mongolia, I bet they're in good part saying that for hype, as an attention-getter. And they say it with all the terror and anxiety actors feel, they're constantly on stage, on parade and display. So in a novel dealing with such persons we're working at a double remove, parodying characters who in real life parody themselves.
INTERVIEWER
What particular difficulties did that "double remove" pose?
GRAY
It exposed the problematic relationship between character and dialogue. The kind of personae I was working with reveal themselves early on through dialogue, through their outrageous way of using language. So the first building tools I had were a rich set of lines—"Civilization is built on endless, glorious waste"— and my first drafts I was working from dialogue back to character. That can be the proper process for nonfiction—in reportage of the kind collected in Adam & Eve and the City, the pieces on the Vietnam years, on the Moonies cult, character is mostly revealed by dialogue—but for fiction this direction is often wrong, it creates a very flat, two-dimensional texture. It's as if I'd sculpted them "in the round." As any artist knows, that can't be done. You have to start all over again!
INTERVIEWER
Was that the central problem in that particular novel?
GRAY
Not exactly. The most important lesson I learned from October Blood is that in any decent writing one must observe with cruelty, describe with cruelty, yet end up with some sense of mercy. The fashion-plate women I was dealing with lend themselves so readily to parody and pastiche that it was subtle and difficult to express my empathy for them—which I do have, for their world is anything but evil. Evil comes from those who lay claim to extreme goodness—like leaders of nations, doctors, lawyers. Only an angel could have fallen as low as Satan fell. The world of fashion had no pretensions whatever to goodness or justice, it's mostly about dressing up dolly, it's about kindergarten. Moreover its denizens are often anxious, suffering persons, people who're terrified that they're suddenly going to cease existing if they're not constantly seen in their frippery. But instead of turning to writing as you and I do to allay that dread of non-identity, of extinction, they have to feel perpetually observed, it's their only way of making sure they won't—poof!—suddenly disappear altogether.
INTERVIEWER
At the end of October Blood I did sense that you have empathy with your characters. Does fashion mean much to you?
GRAY
I'm coquettish, which is a little different from being vain or narcissistic. Come to think of it, how many women writers have been style-conscious, fastidious about their get-ups! George Sand, Edith Wharton, Colette, Isak Dinesen . . . how carefully Virginia Woolf chose her tweeds and jerseys! Numerous other writers come to mind, writers deal a great deal in self-image, we can't help but be solicitous about how we project it physically. And don't listen to the knee-jerk radical feminists and all their claptrap against the beauty industry, the issue of adornment is a very deep and fascinating one. Look at all the great minds who've given thought to it: Hazlitt, Baudelaire, Levi-Strauss. Did you know that Roland Barthes's very first published book was about fashion? Système de la mode, his densest, most difficult text! But to answer your question: I suffer from a combination of coquetry and thrift. I love good clothes but detest spending money on them. My favorite clothes are gifts from well-off friends who give me their Paris or Seventh Avenue castoffs. I'm keenly aware of the fact that I could have remained in the world of couture and chose not to, and that the only time I tried to live in it as an adult, when I was a fashion reporter in Paris in the fifties, it came near to destroying me.
INTERVIEWER
You ended up with a nervous breakdown?
GRAY
Close to. It began as acute mononucleosis with 105 degree temperature and internal hemorrhages, and the French doctors always say, You need altitudes! So I went to high Swiss mountains. I probably should have gone to a sanatorium but the notion depressed me. Instead I went to a little hotel by myself and ended up profoundly depressed, taking a lot of medications and drinking much wine in an attempt to cure my insomnia. In a matter of weeks up there on the mountain I realized that I'd been made ill—mononucleosis is a disease related to high stress—by living a life that was entirely unsuited for me. As I've written somewhere, during those two years in the Paris fashion world I'd been "racing for my mother's love," trying to recreate and relive those values which she had striven for in Paris as a young woman in the 1920s and '30s, when she was fulfilling her own youthful aspirations for the Paris beau monde.
INTERVIEWER
Yes, I like that line you used for that situation in Lovers and Tyrants: "Fucking goons for mom," a very delicate line. Do you consider yourself an American writer?
GRAY
Technically, yes, I've had an American passport since the age of twenty-one. Yet I've experienced my nationality in a very different way from Jewish Americans or Puerto Rican or Chinese or Italo-American immigrants. They've all been able to join an ethnic subculture in this country, whereas there was never any French subculture for me to enter. Of all the major nations or cultures in the West, the French have perhaps emigrated less than any other. I never had a shtetl, a tribe, any welcoming community as other immigrants had. And a lot of my solitude as a person, much of the search for community that is the prevailing theme of all my work, is due to this sense of rootlessness and isolation. So since this nation is a melting pot constantly receiving foreigners, I sure am an American writer. But unlike those other immigrants I've mentioned I'm a loner straddling many different ancient cultures: the French and Russian cultures of my blood lineage, much Celt and Tartar in those strains, the Roman Catholicism of my early years, the Anglo-Saxonness of my later education.
INTERVIEWER
How do you feel that background has affected the diction, the style of your writing?
GRAY
I haven't been aware of honing words more carefully than other writers, but Anne Tyler has written to that effect in reviewing me. We've never met, so it's an objective judgement on the part of a most perceptive critic. I was bilingual in French and Russian until the age of eleven, when I learned English, and I've remained fluent in my first two languages. When you're brought up that way you're keenly aware of all the different syntactical structures any emotion can pour itself into. It's like living with a panoramic screen on which you constantly see inscribed all the different forms any one sentence could take on, and all that voluptuous choice of positions gives you a very erotic, very sensuous contact with the text. By erotic I mean the diverse possibilities and surprises, the luxury of choices. No missionary positions in émigré prose! The great danger is to get too voluptuous, lapse into lushness, purpleness.
INTERVIEWER
Might you still borrow specific phrasings from other languages which come off as mistakes in English?
GRAY
Oh yes, and often I'm slow to learn the corrections. I tend to hang on to them as talismans, relying on my husband to correct them. I show him most everything I write before I send it off. One instance: It took me forty years—until last year, in fact—to drop the habit of saying I arrived to New York in 1941. I was aping the French syntax, Je suis arrivée à New York. Last year I said to myself, Let's become a big girl and catch it before Cleve does.
INTERVIEWER
Do you show your writing to anyone other than Cleve before it's published? Any friends?
GRAY
I don't think I showed Lovers and Tyrants to anyone beyond Leo Lerman and Joanna Rose, my closest friends since adolescence, who've saved my sanity many a time since I've been eighteen. I showed World Without End to a few art historians to be sure all of Edmund's doctoral dissertations on Titian and other matters were all right. I showed October Blood to more pals than I'd shown any other texts because there were so many highly specialized issues dealing with frippery to check out—I needed invaluable corrections such as Balenciaga never used greens, only reds. So I was getting increasingly open and less fearful about sharing unpublished texts with dear friends; it was wonderful. But then suddenly when I had a finished manuscript of Adam & Eve I didn't show it to anyone beyond my family. It's my most important book but I felt both fatalistic and private about it—twenty years of worrying about the state of the world, bless it, there it went.
INTERVIEWER
The mother-daughter theme recurs in several of the essays in Adam & Eve, and all forms of matrilineal legacy recur in your novels. I'm particularly thinking of Babushka, the great-grandmother in Lovers and Tyrants. How does that fit in with your general feminist vision?
GRAY
My views of men have grown in some ways more lenient with the years, in some ways much harsher. I'm increasingly obsessed with the civilizing impact of women in history; as Henry Adams put it, we have "preserved the customs of civility." Throughout the millenia men have gone off to war and left us behind to preserve the tribal memory, to safeguard most social rituals that bond communities together. At times it's even been up to women to purify language of the boorish influence brought it by their warrior men. Seventeenth-century France, when the women of the salons effected an immense catharsis on the nation's spoken and written speech, is only a case in point. You see, I'm struck by how relatively antisocial men are, compared to women.
INTERVIEWER
They tend to have very few friends!
GRAY
They often think they don't need friends, which is always a delusion. And when they do make friends, pathetically few of them are able to bare their hearts. And their self-absorption! Guests come to the house and for hours a man won't even think of offering them a cup of coffee, or he'll stick them into bedrooms with no sheets on the beds or shades on the windows. Some of the most brilliant men I've known are social basket cases, barely able to introduce their sisters to their office colleagues. So that's how the matrilineal theme may have crept into my novels—my sense that much ritual life crucial to civilization has been preserved through the efforts of women, my growing awareness of men's frailty and helplessness, women's greater self-control, versatility, ingenuity. On the other hand, in each of my novels I've moved to an increasingly moderate feminist view according to which women have to take total responsibility for whatever happens to them. We simply can't go on blaming the overbearing men who've attempted to suppress us—the submissive female can be her own worst tyrant. We've all got to be like Golda Meir, who ran away from home at age fifteen to finish high school; the fathers in her Jewish community were not allowing their daughters to finish high school, only wanted to prep them for marriage, so she split. You've got to split early like Golda or you'll be a goner. My Paula of October Blood realized that too late, and I myself barely made it.
INTERVIEWER
Your remarks concerning some men's incivility . . . what old-fashioned stress you put on courtesy, decorum!
GRAY
Oh yes, yes, I'm appallingly old-fashioned in that sense. In part, it's a rebellion against the increasing boorishness that prevails among many of my colleagues, left-wing intellectual jet-setters, if you will, who seldom answer mail or invitations or acknowledge books, who accept teaching positions at universities for lavish fees and appear no more than five times out of the twelve-week term, who swagger into symposiums in their leather duds to amuse the audience by savaging their colleagues' reputation—this crudeness is poisoning the very core of academic life. Many scholars have such chutzpah about their star status that they barely even prepare decent papers anymore, they simply take their money and run after an hour of self-indulgent mumbo jumbo, and I've seen this at Princeton, Yale.
INTERVIEWER
Is this a characteristic of American intellectuals?
GRAY
Oh not at all. The new academic boorishness is becoming an international disease. The rudest, most uncouth behavior I've seen comes from French scholars. I wouldn't share a cup of tea with such people . . . you know, I was born into relative poverty and a great aristocracy of manners, and I'm faithful to my heritage. Courtesy, punctilio, are more than surface-deep, they're ethical categories that create more charitable bonds between us, refining forces without which we'd never have advanced beyond the Stone Age.
INTERVIEWER
And your remarks concerning men's infrequent friendships. It strikes me that throughout your books friendship is seen as the very cement of all human relationships: the key essay on friendship in Adam & Eve, Father Gregory in Lovers and Tyrants, the Platonic bond among the three protagonists in World Without End. And in October Blood, the childhood bond between Paula and Nicolas seems much stronger than the one she has with her husband, Julian.
GRAY
That simply reflects my own experience. Our lifetime friendships can be more steadfast and trustworthy than any marriage, and considerably more treasurable. Those few persons whom I gained as friends before the age of twenty-five, for example. Nothing they would ever say or do would diminish my love and esteem for them. It's as if they were grafted upon me.
INTERVIEWER
What about a marriage three decades old like yours and Cleve's? Certainly that could only have survived through friendship?
GRAY
But he's an extraordinary man, one of the great spirits of our time. I'm not sure I could have pulled it off with anyone else. It's only after two decades or more of marriage that the truest and most interesting bonding takes place, after you've passed through the marriage's childhood and adolescence. You've been kids together and grown up together, there's so much to recount and recollect—oh, the treasures of shared decades! Then the most fascinating of life's challenges arises, how to infuse new lyricism and imagination into this steady ancient marriage, how to keep it both mystical and erotic through the element of surprise. I repeat that word a great deal and it's a key word to me in all areas of experience—surprise is the opposite of the cliche, of the predictable, it's the only remedy against the deadness of the self-evident, whether in love or faith or literature. Ivan Illich once said to me "Faith is a constant readiness for surprise." And why is this phrase of Nabokov's so erotically beautiful? "She came towards me through the cricket-mad dusk of a small train station." "Cricket-mad dusk," language liberated before us into pure surprise.
INTERVIEWER
Yet notwithstanding your unusually happy marriage I sense some bitterness in you about the time-consuming "women's roles."
GRAY
Well I do resent, in my own life and in that of other women, the amount of time we splurge helping and consoling others. Most women seem driven to do this balancing act, however vigorous their careers. Well, I half resent, half accept it. Mind you, I'm not expressing regret here when talking about the energy I've lost as a woman; regret is a prissy bourgeois sentiment. I'm kvetching, which is a healthy loud-mouthed tribal activity.
INTERVIEWER
Men's lives have been greatly impoverished by their reluctance to nurture.
GRAY
Really? Their writing sure hasn't shown it. Up to now numerous thousands of emotionally paraplegic males, through their mobility and freedom, have been able to infuse their work with much richer political texture than one could ever find in women's literature.
INTERVIEWER
Let's explore the political issue for a while. You've said that the contemporary writers you admire most are those who combine formal innovation with a very muscular political message, like Salman Rushdie, Milan Kundera, Nadine Gordimer.
GRAY
That's a delicate issue and I must qualify this statement, for there's a sense in which our first political responsibility is to literary form. Only bad writing is unpolitical writing. Bellow's Mr. Sammler's Planet and Cynthia Ozick's The Cannibal Galaxy are political novels that deal with the Jewish consciousness of the post-Holocaust era—with ageing, with memory and generations. But they're only made political because they communicate these themes with consummate lyricism and metaphoric depth. Put them into the hand of a commercial hack and they could turn into I'll Take Manhattan. Edna O'Brien, Amy Hempel, Deborah Eisenberg, to cite some of the fiction writers whom I've most enjoyed in the past years, write about women with great political power because they constantly search for renewal and freshness in their form and diction. The Sartrian notion of "engaged" political writing has been thoroughly ousted, I would hope. It solely stressed the thematic duty of dealing with "the masses," and without attaining innovative structure and metaphoric power such writing ends up being a replica of the schlockiest social realist fiction being touted by the literary apparatchiks of the Soviet Union . . . the only literature, alas, that this great people has been legally allowed to consume until now.
INTERVIEWER
The issue of religion suffuses all your work. It's central to Adam & Eve and the City, and in your novels characters lose their faith, strive to regain it . . . What does that mean to you in real life?
GRAY
I guess I'm always speaking out, through my protagonists, my own dialogue with Him/Her/It out there. As in most areas, unfortunately, I've been very isolated in my dealings with the Church. A Catholic father who was rather cynical about religion; my mother, stepfather, husband, my marvelous sons Thaddeus and Luke, all agnostics. As a child I was very attracted by both the Roman and Russian Orthodox Church, very given to meditation. It was my Jewish agnostic stepfather, curiously, who enjoined me to remain a practicing Catholic. He said: "It's extremely important for each of us to have nothing to do for an hour a week but meditate," and that phrase sticks with me. Alex Liberman and his own remarkable father, Simon Liberman, had a more important intellectual impact than anyone else on my adolescence. When I went to Bryn Mawr I started going to Quaker meeting and that greatly deepened my sense of what true religion might be about, it offered a social commitment, which Catholicism completely lacked at that time. In my last two years of college, I was heavily into comparative religion, did my senior thesis on Kierkegaard's view of the Death of Christianity—I've had a curious, contradictory need all along to fight and to embrace the faith. I guess I'm a cultural Catholic—the Church is a fundamental part of my identity. The day John Kennedy died, when the news broke on the radio, the only thing I could do was rush into a church and stay there for many hours on my knees, weeping. I've always retained some close contact with my Catholic roots, if only through a certain practice of meditation. I sense the strength of some vast Presence out there that gave me life and is the ground of my being—which is why I'm so adamantly opposed to suicide. Short of the most dire straits it's a slothful and self-pitying act, but above all our life is not our own to take away! And this Presence . . . I might as well pay homage to it through the rituals of the faith into which I was born, rather than shop around in the cafeteria of the absolute for some more esoteric rite.
INTERVIEWER
But you don't remain "a faithful daughter of the Church"?
GRAY
I don't quite know what that means any more. There's a lot of pruning and selecting to do in Mother Church. We have to distinguish the Church-as-She from the Church-as-It—a precious metaphor given me by Ivan Illich. The Church-as-It is that often corrupt bureaucracy that deals out such nonsense as edicts against birth control and divorce, or the marvelous new edict put out some months ago by the Holy Father—get this!—we're to be granted indulgences if we watch him on television! Sometimes I think I remain a Catholic because it satisfies my love for the comic, the absurd. The Church-as-She, however, is the eternal message of compassion given us by Christ and Buddha—there's only one truth, and many prophets for it. It's rooted in time and can never be institutionalized. The darn problem is that in order to maintain our contact with that grace we might have to practice some form of communal ritual, for the Spirit only works through community. And liturgy—that complex of architecture, incense, chanting, formalized gestures—serves to alter our consciousness in the most necessary way, to crack it open and lay bare those subconscious levels, which alone are receptive to the Numinous. Martin Buber said it so well: "Bad liturgy hides His Face." Which is the case, alas, with most parish liturgy in this country. One must go to the monastic orders—Trappists, Benedictines—to experience revealing liturgy.
INTERVIEWER
Do you believe in a life after death?
GRAY
Oh yes, but again, not in any orthodox terms. I feel that we survive, above all, in whatever acts of compassion we can bring about during our lifetime, that this aggregated mercy, through which we return to the Holy Spirit, is our most precious heritage, that we survive through it in a much more genuine way than we survive through art: a rather Buddhist view that sometimes makes it very hard for me to get to work every morning. Our lives are sacrificial meals to be shared by all, and they're perhaps more sacredly shared through compassion than through art. Few novels are more eloquent on that issue than E. M. Forster's Howard's End. Mrs. Wilcox is very much of a secular saint; such a person, in real life, might add quite as much or more to a redemptive aggregate of charity as her creator in fiction, Mr. Forster. Much sacredness, goodness and great art is perhaps hidden from us, that's the beauty and mystery of it all.
INTERVIEWER
I see a quotation of T. S. Eliot's pinned above your desk: "Be still and wait without hope / For hope would be hope for the wrong thing, wait without love / For love would be love of the wrong thing; there is yet faith / But the faith and the love and the hope are all in the waiting / . . . So the darkness shall be the light, and the stillness the dancing." Is that what it's about?
GRAY
"East Coker." Quite. Whatever hopelessness I feel about the issue of art, or grace, or anything of import, I keep in mind that one must retain a quality of very patient waiting. It can not be an anxious waiting—that would be too acquisitive. Our relationship with the Almighty is much akin to that of the villagers with the Lord on the hill, in Kafka's The Castle. He's very whimsical, that One, a big teaser, you never know when he's going to answer your phone call or knock at your door. He's unfathomable and capricious, we must always set an extra place for him at the table, as we do for Elijah at seder, and during that long wait we must always remain as compassionate with ourselves as we are with others. That was the great sin committed by the hero of The Castle, K. He lost his compassion, he freaked out.
INTERVIEWER
Let's return to the issue of contemporary women, and their writing. You've devoted much time, as a critic, to that issue.
GRAY
Where to start! Well. Everyone's wondering why the extraordinary flowering, in our time, of women's short fiction, of short stories by women. I'll toss out one crazy idea. Women may have been made increasingly aware, by the feminist movement, that their view of things is very corrective of the general world view imposed upon us by millenia of male domination. And this sudden confrontation between two fundamentally different visions lends itself particularly well to the short-story form; for it functions by way of epiphany, through one sudden revelation, rather than through the gradual revelations that structure novels. If you read the forty or fifty finest short stories written by women in the past century I'd say that this is the overall vision: they seem to be detained in childhood longer, they tend to be presented as terrified misfits, oppressed daughters of sorts. And they come in as messengers bringing warnings, warnings that privileged male authority is not as powerful or secure as it would like to think it is. They come in like ambassadors in chains. I think of Flannery O'Connor's story "Revelation." And most particularly of one by Doris Lessing, "The De Wets Come to Kloof Grange," in which a very smug Afrikaaner planter's wife who's been totally colonized by male authority, never doubted a word her husband had told her, is suddenly confronted by the arrival of an unruly, childlike woman who's come to work on her farm. The child-woman shatters every ounce of Major and Mrs. Gale's white supremacist smugness by teaching them the necessity of anxiety and self-examination, by teaching them that it's not enough to be kind to the blacks, that one must also identify with them. So there it is. We remain oppressed daughters with a heavy burden of secret life, and many of our short fictions deal with our epiphanic jolting of an adult world traditionally led by men.
INTERVIEWER
What else makes contemporary women's writing so distinctive, in all its forms?
GRAY
Well paradoxically, I think it's as fine as it is because we still live with a memory of oppression. In a society as permissive, as hedonistic and ego-centered as ours, it might be difficult for middle-class white male writers to find the proper medium of resistance, to express that tension between the individual and the social order that has always been the marrow of the best fiction. So much of contemporary American men's writing is mired in sexual hang-ups, in the most self-indulgent male narcissism! Women, on the other hand, however far they've advanced in the past decades, are offered that essential tension by the very memory of submission. And women writers from ethnic minorities—Maxine Hong Kingston, Jamaica Kincaid, Alice Walker—feel that tension with double, triple force. The same comparison holds when you compare current American writing with the extraordinary literature coming out of authoritarian, repressive societies, be it Nadine Gordimer and Athol Fugard in South Africa, or Soviet bloc writers like Solzhenitsyn and Milan Kundera. Many American writers—mostly men, of course—feel this poignantly. The ultimate irony is to hear them say, and I've heard it, "Oh to live in Warsaw, how easy it would be to write good fiction there!" Most perverse! Nostalgia for fascist-socialist repression, as the cure for the indolent narcissism of late capitalist opulence!
INTERVIEWER
But do you feel women still have some way to go to fulfill their potential gifts as writers?
GRAY
Yes, they certainly do. Even in the past two centuries they simply have not created a literature as innovative and revolutionary as men's. Apart—perhaps—from Virginia Woolf and Gertrude Stein, when have they broken through form as radically as Rimbaud, Apollinaire, Joyce, Borges, Beckett? You see, we still seem to remain stuck, after all these decades of so-called liberation, in our ancient need to seduce, in our damn need for love and approval. Throughout history, seduction and society's approval have been women's only path to survival, and we still may be in deadly fear of losing that esteem and support. In literature and in many other realms, we still don't dare take the risks, don't hazard to be as shocking, brutal, abrasive in our writing as men have. We've begun to risk a lot in terms of themes, we've traveled far since the days of Jane Eyre, when Charlotte Brontë was judged to be subversive and appalling for describing the particulars of a woman's sexual passion, and of her need for independence. But in the way of revolutionizing the forms of literature, our contribution has been most meager. Give me a female Beckett, and then I'll begin to be satisfied.
INTERVIEWER
Do you sense any backlash against "liberated" women in current men's writing?
GRAY
Oh yes, most amusingly so. An exemplary case is a recent fiction of Frederick Barthelme's in which the protagonist's second wife strikes up a very passionate relationship with his first wife and the guy gets ousted from his own house, and ends up in a motel, living on junk food. I suspect there's a paranoia among many men about the very close ties of friendship fostered among women by the feminist movement, a paranoia which goes: Yipes, they're going to turn gay and drive me out of my very bed!
INTERVIEWER
What about the intense new stress on family expressed in your novels and in most other women's writing?
GRAY
That's interesting and very present. Like a few other admirable women's concerns—such as the drive to abolish pornography—it may have its dangers; it risks sharing common ground with the moral majority, though in the realm of fiction, the return to the family is above all being expressed in a close scrutiny of matrilineal structures. You find it in Alice Munro, Bobbie Ann Mason, Mary Gordon, Jayne Anne Phillips, Mona Simpson, the best work. It's amazing how our very titles reveal the theme: The Company of Women, A Mother and Two Daughters, The Good Mother.
INTERVIEWER
The search for family—biological or synthetic—is at the very root of your work, also.
GRAY
Yes, I'm no exception. And I think we've only seen the tip of the iceberg in this preoccupation with family. It's once again becoming as monumental an obsession as it was in Tolstoy's time. You see, in a society as dehumanized by technology and bureaucracy and media seduction as ours is, as threatened by uncontrollable risks such as that of a nuclear apocalypse, the family is the only traditional human refuge we have. The family is one of the few realities impervious to technology and bureaucratization, the only unit, perhaps, that can't be computerized! As brutally repressive as the family can be, it's the only social medium in which you can still clearly name and define the oppressors, in which you can battle them through discussion or rebellion, or by just plain splitting.
INTERVIEWER
You've written that the first stages of literary feminism expressed a liberation of the body, whereas the current stage, what you call post-feminism, is expressing a liberation from the body. Would you explain?
GRAY
Yes, I think there's a striking new chastity, an almost Amazonic retrenchment from the world of men in our current literature that is radically different from the more promiscuous forms of liberation we had to tout in the sixties and seventies. It's most beautifully summed up in a phrase spoken by the protagonist of Mary Gordon's The Company of Women: "I don't want to have sex again for another thirty years, it muddles the mind." The current striving is for increased intellectual clarity, not for a renunciation of sex but certainly for a certain sublimation. Many of us are undergoing a dizzying reversal of roles, what I've called the Odysseyizing of women, the Penelopizing of men, and yet we seem increasingly in need of returning to traditional family structures, to balance our professions with warm and orderly domestic lives. I find the new chastity in women's letters very healthy, very purging.
INTERVIEWER
How important is teaching to you?
GRAY
Well it's the fulfillment of an ancient Walter Mitty–type dream. As I've said before, to become a college prof was one of my earliest ambitions. But beyond that, it's rather akin to my need for living in deep country. For here's a major point of tension in most writers' lives: How can we rub enough with the world to nourish our writing, while keeping the world enough at bay to safeguard our creative energies? I like living where I do, in southern New England, because I can better control my impulsive, innate gregariousness. It's easier to resist temptations here and yet I can get into New York in two and a half hours, a few times a month, to sample that week's zeitgeist. In a similar manner, teaching offers me a form of human contact that I find deeply satisfying yet less draining than most other social engagements. Listening to students' problems, inciting them to read Plato or Colette, the heatedness and fun of class discussions—that's one of the most nourishing and inspiring things I know. And the sheer boredom of most other traditional social contacts, the literary party circuit in the Hamptons or the Vineyard for instance, could lead me to the loony bin in the space of a weekend. The vapid tiddledy-winks conversation, and the tedium of the endless cocktail hours! Cocktails is one American custom I continue to find loathsome; I can't abide dining with anyone who'll make me wait more than twenty-five minutes for dinner. There's a lot of the pedant in me; my idea of a good time is to sit under a tree with some close friends over a picnic of bread and cheese and wine and talk about Ficino's influence on Titian's concept of love, or chew over some new insights into William James. Now that's the greatest fun. So teaching is something born into me that I love deeply, and it's the form of fraternizing that I find least draining, most inspiring and nourishing. I suppose it also satisfies my great passion for the company of the young, now that my own children are away. If I had another life to relive, I'd ask for better health and a capacity for perfect sleep, so as to have had the energy to work somewhat as I have, and bring up four or five children instead of two. Yes, I so love children that I'd ask for more of them rather than for a more substantial oeuvre.
INTERVIEWER
Of the books and writers we've mentioned, which have had the most direct influence on your novels?
GRAY
My very first passion in the way of prose, in my teens, was Dostoyevsky, and I suppose I've retained the religious anxiety. And later, the feminist bildungsroman as it evolved through Brontë's Jane Eyre and Kate Chopin's The Awakening and Virginia Woolf's To the Lighthouse—women striving for identity in a fairly hostile male world—straight on to Mary McCarthy's and Doris Lessing's fiction. That's for theme. In terms of form and structure, I'm not that self-conscious of major influences, many twentieth-century texts with voluptuous textures, I guess—Colette, Proust, Nabokov, and the late, lyrical Roland Barthes, his A Lover's Discourse, and among my American contemporaries, Elizabeth Hardwick's, Susan Sontag's essays . . . I like a dense, rich verbal texture, I search for language fueled by desire, the desire to recapture the bliss of experience through the energy of the ever-renewed sign. As in Nabokov: "the open window whence the wounded music came."
INTERVIEWER
Any aspects of language you're conscious of struggling against?
GRAY
Oh God yes, we must all struggle against all that is cautious, already seen, fatigued, shopworn. I battle against what my admirable colleague William Gass calls pissless prose, prose that lacks the muscle, the physicality, the gait of a good horse, for pissless prose is bodiless and has no soul. Of course this holds equally true for fiction as for essays, reporting, a letter to a friend, a book review, a decent contribution to art criticism—in sum I search for language in which faith intertwines with desire, faith that we can recapture, with erotic accuracy, that treasured memory or vision which is the object of our desire. I'm keen on the word voluptuous, a word too seldom heard in this society founded on puritanical principles. I think back to a phrase of Julia Kristeva's, the most interesting feminist thinker of our time, who speaks of "the voluptuousness of family life." I would apply the same phrase to the prose I most admire, prose I can caress and nurture and linger on, diction that is nourished by the deep intimacy of familiar detail, and yet is constantly renewed by the force of the writer's love and fidelity to language.
INTERVIEWER
We haven't talked about one of the most memorable aspects of your writing, humor. Does humor come easily to you?
GRAY
One of the things that led me to write seriously after a decade of procrastination, of dallying with painting and philosophy and art history and journalism, is that I have a gift for very black satiric table talk. I'll readily admit it: like most writers I know, I love being on stage. I've sublimated the dramatic urge by teaching and by making people laugh . . . that black table talk, I'd particularly dole it out to my dear friend Ethel de Croisset, whom I only see twice a year or so because she lives in Paris. And each time I'd see her I'd regale her with many eccentric observations, mimic every acquaintance I'd seen, and one day in the early sixties she said, "You've got to write down all you tell me, I'll be very annoyed if you don't put your comic sense to use." So comedy, social satire, was the first tone I was encouraged to by this immensely influential and nurturing friend; my first literary impulse was towards savage, brutal parody, as it stands in the early chapters of Lovers and Tyrants—and in some of the political essays in Adam & Eve and the City—the girls in the WASP school, the vain French narcissist lover. To this day outrageous black dialogue such as October Blood's, "Only fashion survives wars, pestilence, economic crises," or "I could use a good church service, kneeling is so good for the thighs"—this trivia comes more easily to me than any other passages and such lines are the only ones that never need any editing, that stay in first draft when everything else requires up to ten drafts. Which means that somewhere under my veneer of pretty manners and Catholic-Quaker pacifism and sweet domesticity there lurks someone truly violent, mean and savage. If writing is a revenge against reality, humor is the number one revenge par excellence, and if I didn't have that outlet I'd probably be knifing people to death, don't you think?

Author photograph by Nancy Crampton.