Interviewed by Jordan Elgrably
Issue 108, Fall 1988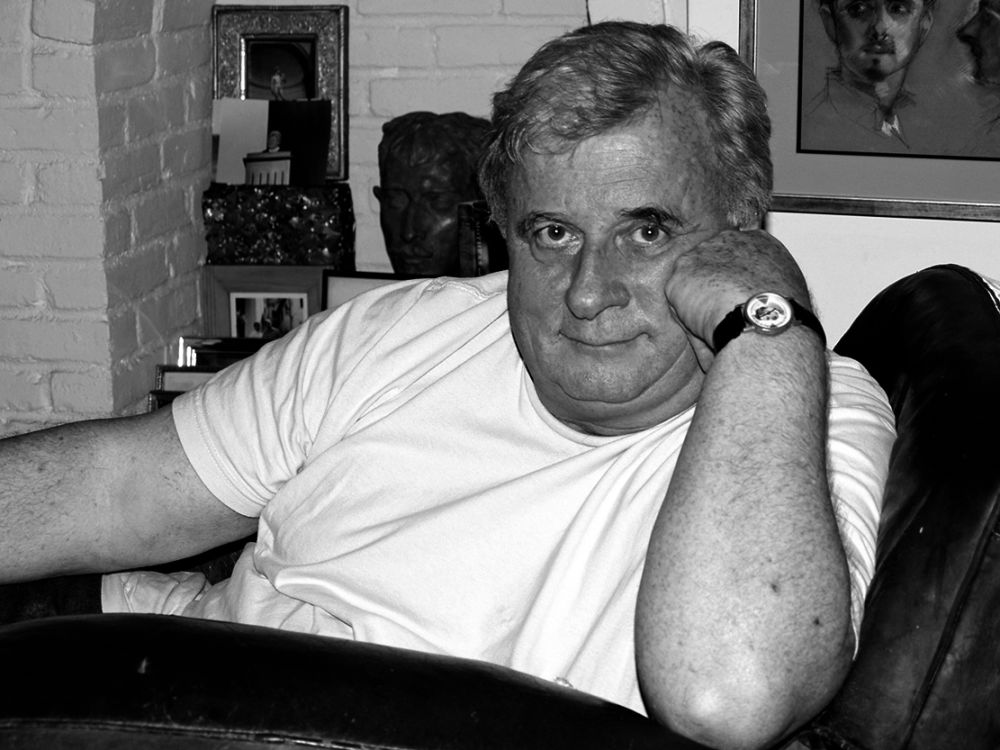 Edmund White, ca. 2007. Photograph by David Shankbone
I first met Edmund White following his move from New York to Paris in 1983. His novel A Boy's Own Story (1982) had been recommended to me by Odile Hellier, in whose American bookshop, The Village Voice, White was scheduled to read. On the evening of the reading, the upstairs wing of Hellier's store was packed with curious newcomers. White's generous and genial personality, as well as his affective reading of his autobiographical novel—the first in a tetralogy dealing with gay experience in America—won White many new readers and inspired me to ask him to sit for an interview for the International Herald Tribune in April, 1984.
Over the next four years, White and I ran into each other often at various Paris gatherings, or at Village Voice literary evenings, and I meanwhile followed his essays and reviews in The New York Review of Books, The New York Times Book Review, and American Vogue, where he is a contributing editor. White's previous novels, Forgetting Elena and Nocturnes for the King of Naples, and States of Desire: Travels in Gay America, had already identified him as a fresh, original voice in American fiction as well as one of the country's most eloquent representatives of the gay community, but it was with A Boy's Own Story that he acquired a wide international readership. French critics praised his Proustian sensibility and compared his prose to that of Henry James; in England the novel sold well over one hundred thousand copies and began White's regular contributions to the Times Literary Supplement and The Sunday Times, among others. His fourth novel, Caracole, was described by the British magazine Time Out as "something to revel in: elegant, fabulous, almost sublime." Earlier this year, White's second autobiographical novel in the tetralogy, The Beautiful Room Is Empty, appeared. At present, White is at work on a biography of Jean Genet.
Our interview took place on a Sunday afternoon in mid-April, 1988. We met in White's apartment, a three-room walk-up in a seventeenth-century building that looks directly out onto the church of St.-Louis-en-L'Ile. Edmund White's persona is very much that of his nameless autobiographical narrator in A Boy's Own Story and The Beautiful Room Is Empty—a man who yearns for beauty and love, yet who often lives at the edge of the society he so painstakingly observes, his highest good is the truth of the imagination.
INTERVIEWER
You've been variously congratulated by your peers as one of America's outstanding prose writers today, as a master of language and imagination. How does the kind of encouragement you need now differ from when you were just starting out?
EDMUND WHITE
I feel I'm getting all the encouragement I need. I almost feel spoiled. I wish I were more disciplined and taking better advantage of the time I have now.
INTERVIEWER
Are literature grants such as the Guggenheim, which enabled you to settle and write in Paris, healthy for an author's sense of independence? Does the writer remain nonpartisan to the politics of the supporting institution?
WHITE
Oh yes, there are no strings attached. You don't have to do anything but write and you don't feel compromised in any way. And often one may have no idea what those politics are.
INTERVIEWER
Do you think there are enough grants available to writers who are just starting out?
WHITE
There ought to be more grants that go to people in their late twenties and early thirties. That's a crucial age, although it's very hard to judge who is worth supporting and who is not. Looking back on my own life, I see that was the period when I was closest to giving up as a novelist and when I most needed some encouragement. I didn't get anything published until I was thirty-three and yet I'd written five novels and six or seven plays. The plays, I should point out, were dreadful.
INTERVIEWER
How were you making a living?
WHITE
I was working for Time-Life Books from 1962 to 1970, as a staff writer, and after that I was a journalist. Eventually I became an editor at The Saturday Review and Horizon.
INTERVIEWER
These positions didn't allow you to think of yourself as a writer?
WHITE
No, because a journalist and novelist are not quite the same thing. I was writing all the time and I was considered a good journalist but I had no idea if I could write a novel. Part of my problem as a young writer was that I was too much a New Yorker, always second-guessing the "market." I became so discouraged that I decided to write something that would please me alone—that became my sole criterion. And that was when I wrote Forgetting Elena, the first novel I got published. In my courses later I always forbade my writing students to discuss in class the commercial side of publishing. I wanted to save them the time I'd lost; I wanted them to be serious, artistic, free of all constraints. I believe it was Schiller who said that the only time a human being is free is when he or she makes a work of art; if that's true, then art is sacred and shouldn't be compromised by mere ambition.
INTERVIEWER
You taught writing at Yale, Columbia, and Johns Hopkins University. What do you, as a confirmed novelist, acquire from teaching experience?
WHITE
These are positions that are offered to you once you've already published a few books. I began teaching in 1977. In the beginning it served to clarify my thinking about my own methods. Then I used teaching to improve my work. For instance, I saw I was a weak plotter and so I would talk a lot in class about how to write strong plots, and how to analyze other peoples' novels and stories from that angle. That helped me to some degree; I was teaching myself. After a point, however, you become too immersed in other people's work to be able to think about your own, and it seems almost vulgar to write. You're surrounded by all of these struggling egos and it seems sort of impertinent. And yet being able to work out some of my own ideas about fiction was admittedly a useful process. I estimate there is a period of seven or eight years when you can do it, but then you burn out and I think you should stop for a few years before starting again.
INTERVIEWER
Would you elaborate?
WHITE
When I was teaching, some of my students were much better educated than I, and so I felt I really had to struggle to keep up with them and be worthy of their level of seriousness. I was also aware of just how much money they were spending in tuition and felt I had to give them their money's worth at every moment. I tended to overprepare, or let's say to prepare very, very carefully, for which I think they were grateful. But it's true that at the same time I was pursuing my own interests. Certain writers interested me, for instance Proust, whom I'd read many times in my life though never with enough care. I taught a course in Proust, which was a way of making myself read him with great attention. In the same way, I taught a course in Pynchon. Though I had admired Gravity's Rainbow, I'd never been able to get through it. I think it is a great but boring book.
INTERVIEWER
In terms of lack of action?
WHITE
Of suspense.
INTERVIEWER
Is this inability to write fiction while teaching similar to the unwillingness to read novels while you're writing one?
WHITE
Not in my case. I enjoy reading novels while I write. First, to steal ideas from other writers, particularly the classic ones—they remind you of just how good you have to be to be any good at all. It's very easy for one's standards to slip. I mean that I'm not an especially anguished writer; I tend to like what I write and am possibly satisfied too readily. When you finish reading a book like Lolita you feel that there's nothing more wonderful in the whole world than writing a novel; you feel challenged and awake and alive, and you have a desire to write with the same keen response to the sensuous world. Nadine Gordimer once said to me she felt that one of the things that goes out of writing as you become more mature is an attention to sensuous detail. I thought that was probably true but a terrible thing if it is true, and I've always tried to guard against what may be an inevitable process by reading some of my touchstone writers who never lost that love of sensuous detail, such as Colette, Nabokov, and Knut Hamsun.
INTERVIEWER
There isn't a fear that a spark of originality might be taken away from you by reading earlier novels?
WHITE
No, no, I find, for instance, that when Cocteau wrote what I think is one of his best novels, The Impostor, he thought he was copying The Charterhouse of Parma; or when Raymond Radiguet wrote Le Bal du Comte d'Orgel, he thought he was copying La Princesse de clèves by Comtesse de LaFayette—but you could read those two novels and never suspect their antecedents. There are many writers who enjoy seeing their books as a kind of homage to an earlier book. And yet very few readers would suspect such a link unless it was explicitly pointed out.
INTERVIEWER
There may also be some truth in the notion that a good novel should have the ingredients to spawn a hundred other good novels, so that a succeeding novelist ought to be able to seize upon the ideas of a predecessor and somehow further them in his own work.
WHITE
I think there is also this balance between the literary and the human interest in a book, if we can make that distinction. For instance, a novel like Caracole maybe errs in the direction of being too literary, without being sufficiently human. I think that Lolita is the greatest of all novels because it is both simultaneously. I mean that for those people who are interested in literature, it makes reference to a whole library of French poetry and fiction—everything from Carmen to Arthur Rimbaud. But for those who don't care about literature, they can read the book and be swept up by the strictly human interest of it, by the passions. I think that probably a novel like the one I've just finished, The Beautiful Room Is Empty, is very human in its orientation and may be the kind of book that pleases most readers—it holds a mirror to life; whereas Caracole, which is literary and fantastical and not obviously mimetic, has a much smaller readership.
INTERVIEWER
From reading the French reviews of your work, one learns that they consider you very much an author in the European tradition. To what do you attribute this?
WHITE
I believe they are struck by the echoes of Proust, in both Nocturnes For the King of Naples and A Boy's Own Story, and I think by that they mean a non-Freudian, psychological analysis written in a nuanced, flowing style. Americans don't necessarily associate that style with Proust; I think we usually attribute it to James, who is much more our figure.
INTERVIEWER
Would you say the European literary tradition differs from its American counterpart more in style and form rather than in content or concerns?
WHITE
It very much depends on which period you're talking about. I think that the nineteenth century in America is extraordinarily different from the twentieth century. There may be certain preoccupations that are similar, such as the individual versus nature, or the dynamics of male companionship, or the loss of innocence—you could tack those as three concerns that unite the nineteenth with the twentieth century, but those are moral preoccupations. In terms of style, nothing could be more different than the prose of Emerson and, say, Richard Ford, or that of Raymond Carver and Hawthorne.
INTERVIEWER
Isn't this more a question of evolutionary progress in terms of writing technique?
WHITE
Yes, but style has evolved more rapidly in the States. I would say that there's more uniformity between the styles of Angelo Rinaldi and Proust or even Flaubert than there is between Carver and Hawthorne. Even though Europe witnessed a tremendous upheaval in experimental techniques in the twenties and thirties, namely with the surrealists (and with Joyce in English), that innovative moment has left a rather small effect, and now most French novelists, and English novelists, are writing rather like their nineteenth-century antecedents. Barbara Pym, for instance, writes like Jane Austen, and Jonathan Raban or Alan Hollinghurst like E.M. Forster—just to name some of the writers I admire. Obviously there are some changes; for instance there is a great deal more interiority in contemporary fiction than in nineteenth-century fiction, and a lot less incident, or plot. And there is far more sexuality now than then, and so on. But English novelists continue to be primarily concerned with analyzing character in terms of social class. American novelists are not at all interested in that.
INTERVIEWER
Aren't American novelists quite often less political in a worldly sense than Europeans?
WHITE
Yes. I think a novelist like Milan Kundera, for instance, could not exist in America. A person of the stature of Kundera, let's say somebody like William Gass, doesn't have a political analysis of society so much as a mythic one. A novel like Omensetter's Luck by Gass, which I consider a masterpiece, is a big, mythic, Faulknerian, highly poetic view of an almost Jungian archetype, and this is an American tendency, one which starts with the greatest of all American novels, Moby-Dick. It's a quasi-religious view of society, whereas in Europe, a novelist such as Kundera is extremely interested in questions of individual authenticity versus political "kitsch," as he would put it.
INTERVIEWER
Not to stray too far from the question of American and European literary counterpoints, it does seem somewhat odd that American novelists rarely work within a vast political framework, particularly when you evaluate U.S. interests and involvements abroad, which have of course escalated since 1945.
WHITE
I think you have to look at the social conditions under which writers live in the various countries. For instance, in France, writers have often been involved in politics as diplomats or ministers—Paul Claudel was the ambassador to Japan and André Malraux was de Gaulle's minister of culture. Carlos Fuentes and Octavio Paz were diplomats and García Márquez was a journalist who knew Castro as a friend. Alejo Carpentier was stationed for years in Paris. Most Russian or Middle European writers have suffered for their political views—they cannot afford to be indifferent to politics. Now, if you glance at the social situation of most American novelists, you'll see they are professors on small, isolated provincial campuses and the larger world of politics is not part of their experience. If you take someone like Raymond Carver, for instance, he is from a working-class family, he is a man who had a serious drinking problem. Now that he has stopped drinking and is writing very brilliantly, what he writes about is a different kind of social problem; that is, the disenfranchisement of people in America itself. This is a perfectly legitimate concern and one that I think falls within his experience. I can't imagine him writing about the American oppression of people in Vietnam or Nicaragua; it's just not in his bailiwick. Of course there are American novelists who fought in Vietnam and who have written about that. I think the truth is that novelists are not universal legislators of morality, they don't set out to write about the most important issues; they write about the ones that have actually touched their lives. I agree with you, however, that there's something very insular about American fiction. So many books are first-person novels that deal with questions of adultery, personal poverty or misunderstanding between generations—suburban problems.
INTERVIEWER
There is a paradox at work here, I think, because America has become more and more dependent on the outside world. If you took the inkwell of U.S. interests and involvements and spilled it on a map of the world, you would see how it sinks in nearly everywhere. And yet it seems that so many Americans don't want to know that they are no longer protected from the larger scale of things.
WHITE
Americans do not keep up with world events. It may be partly that people don't travel very much, or it may be a kind of arrogance. Or maybe we should blame the press, which highlights personalities, not issues.
INTERVIEWER
Occasionally one finds foreign words and phrases in your novels, and sometimes the odd word coined by yourself. How do you decide when to employ foreign words or coin new ones and when to remain within "the riches" of the English language?
WHITE
Actually, the odd thing is that since I moved to France I've probably used fewer foreign words in my fiction. While I was living in America I always had a kind of longing to live in Europe, which expressed itself in such linguistic borrowings. But now that I actually live here I'm so worried about my English becoming too Gallicized that I tend to eliminate French words. Although you think I've made up a lot of words, it's not quite true. I once knew a woman who read books for dictionaries, and she would circle unusual or substandard or odd, variant uses of words; she told me it had been a waste of her time to read my books because the usages were utterly conventional. I think that writers who invent new words, like Joyce, are admirable.
INTERVIEWER
In The Beautiful Room Is Empty, however, you chose to use the words malade imaginaire in reference to a character, instead of hypochondriac.
WHITE
If you say "hypochondriac" it suggests a mild psychiatric problem that should be cured; if you say malade imaginaire it suggests a character in a Molière play—a comic figure whom experience will chide.
INTERVIEWER
Can you talk a bit about the writers who most helped to form you as a novelist?
WHITE
Vladimir Nabokov is my favorite writer, and I like Colette a great deal—I've learned a lot from the way she uses herself as a character in her own books and tantalizes the reader with the question: Is this autobiography or is it fiction? I also love her descriptions of nature and her handling of love. She is greatly underrated in France. I read Knut Hamsun all the time for inspiration, though he's so entirely different from me. Of course, I don't like his later work, when he came under the influence of fascism. But those early novels—Mysteries, Victoria, Pan, and Hunger—are beautiful books. I'm drawn to the simple lyricism that runs through his writing. There is not much plot, but intense outbursts of feeling.
INTERVIEWER
And what is it about Nabokov that so moves you?
WHITE
It wouldn't be his intellectual high jinks, but his passion, his sensuous detail, the wonderful rendering of the physical, visual, material world around us. It's almost a spiritual way he has of describing the world; he makes it so glowing, so mouthwatering and so precise that you feel it has somehow been irradiated. Writers can use literature as a mirror held up to the world, or they can use writing as a consolation for life (in the sense that literature is preferable to reality). I prefer the second approach, although clearly there has to be a blend of both. If the writing is pure fantasy it doesn't connect to any of our real feelings. But if it's grim realism, that doesn't seem like much of a gift. I think literature should be a gift to the reader, and that gift is an idealization. I don't mean it should be a whitewashing of problems, but something ideally energetic. Ordinary life is blah, whereas literature at its best is bristling with energy. Somebody once said Balzac's only fault is that he makes all of his characters into geniuses, like himself. What a wonderful fault!
INTERVIEWER
Which of your American contemporaries do you admire?
WHITE
I like Robert Coover, John Hawkes, Richard Ford, Carver, Pynchon, Gass, William Gaddis, Robert Ferro, and especially Cynthia Ozick. W.M. Spackman is someone I admire as well. James Merrill is, I think, my favorite living writer at the moment. I feel that his trilogy The Changing Light at Sandover is a masterpiece. I've been very involved with that book, following it as each episode appeared. His entire oeuvre seems to me enormously impressive and, again, imbued with the same kind of lyric quality that Nabokov has. Both of them constantly change register. They go from slang to the most serious or elevated speech, from the medieval language of courtly sentiment to the most recent street talk—a constant movement from the hieratic to the demotic, from the historic to the contemporary. This shift in register seems to be the genius of English, going back to Shakespeare, but it is not at all the genius of French, which is more concentrated and uniform in diction.
INTERVIEWER
Principally, what have you read in French since you moved to Paris?
WHITE
Chateaubriand's Les Mémoires d'outre tombe, Stendhal's La Chartreuse de parme, and, in more recent literature, Nathalie Sarraute's Enfance, which I admired tremendously. I think her style is ideally suited for early childhood memories because it is so spare and fragmentary. Most people writing about childhood tend to inflate what are actually very small memories into a continuous and rapturous narrative. She doesn't do that. Her refusal to part from the facts, the actual phenomenological memories of experience is careful and honest . . . I've been reading both Richard Ford and Raymond Carver, whom I admire immensely—Ford, I think, may be one of the most important new American fiction writers to emerge in the last five or six years. And of course, I've been reading a lot of Jean Genet for the biography I'm writing of him, and then other writers whom he read and liked, such as Racine and Jouhandeau. And I do quite a bit of book reviewing as well. So, I do read a good amount of fiction.
INTERVIEWER
Do you find yourself reading more slowly now than, say, twenty or thirty years ago, when you were just beginning to write? Are you reading from a craftsman's point of view, or are you still able to appreciate reading fiction as a kind of nostalgic literary enterprise?
WHITE
I get quite caught up in books, but rarely in French because I'm always too aware of reading another language. But I do often get caught up in English-language novels. I don't find that technical awareness stands in the way of pleasure; it can even make that pleasure more piercing if you're constantly excited by the writer's technique.
INTERVIEWER
In A Boy's Own Story, your nameless narrator "awakened to the idea that a great world existed in which things happened and people changed, took risks . . ." What kinds of risks do you feel you take as a writer?
WHITE
Writers are always taking risks economically. You don't have a retirement plan, you don't have health insurance necessarily, and little in the way of personal savings. In other words, if you were to become ill tomorrow or if you were to write two or three bad or unpopular books, you'd be very, very poor. Nevertheless I have always made it a point of honor to write as though I had a million dollars; that is, I try to write in the most original way I know how, and that feels like a risk each time you do it. André Gide said that with each book you write you should lose the admirers you gained with the previous one.
INTERVIEWER
One takes the risk of changing audiences, or styles?
WHITE
Yes, I think so. In the nineteenth century people wrote rapidly and they wrote a great deal; books were almost like chapters in people's writing today. Then there wasn't any question of changing the basic style, or basic premises. In the twentieth century the serious writer strives to evolve. Someone once said that each good novel should also advance a theory of the novel.
INTERVIEWER
There seem to be two distinct voices in your fiction, with Nocturnes and Forgetting Elena falling into a kind of baroque, rather dreamlike reality, while A Boy's Own Story and The Beautiful Room Is Empty are in that register of possible autobiography you admire in the novels of Nabokov and Colette. (Caracole, however, is somewhere between them and in a genre of its own.) How many convincing voices or styles can a novelist hope to master, and might they reflect the nature of his or her worldly concerns?
WHITE
Caracole was consciously about society and the individual's place within it. In The Beautiful Room I was interested in showing the puritanical oppression of sexual freedom. In any event, those two books have a specific political concern. If a writer keeps changing his style, he could be accused of dilettantism—or he could be defended as someone who resists the sort of packaging designed for quick product recognition and smooth consumption. Is a stylistically unpredictable writer a luxury product—or is he refusing to be a product? More subjectively, my mercurial literary personality reflects a general feeling of unreality. Like the narrator in Forgetting Elena, I'm an amnesiac—a guilty, not an innocent amnesiac. I keep feeling I've accomplished nothing, never written a "real" novel. Today, when so many of my friends are dead or dying of AIDS, that feeling of unreality has been heightened. People say we should seize the day, but just one day turns out to be too cold (or slippery) to hold.
INTERVIEWER
Until Caracole you wrote principally of gay experience. Why did you make the departure into "straight" fiction?
WHITE
The writing of Caracole coincided with my coming to Europe. In New York, without even really noticing it, I had come to live an almost exclusively gay life (except for my teaching). I had gay friends, I dealt with gay shopkeepers, I lived in a gay community in Greenwich Village, and I was interested mainly in gay politics and read a lot of gay literature. My reference group, as a sociologist would say, was gay. But, when I came to Europe, partly because there isn't such a strong gay ghetto in Paris, I began to lead a more ordinary life. Caracole represents that renewed participation in society. I suppose that the idea for the novel came from reading, many years ago, eighteenth-century French pornographic fiction—the novels of Crébillon fils—which struck me as very odd. The heterosexual characters seemed so gay in that they were interested only in promiscuity and conquest. War was constantly a metaphor for love, and there was a highly structured and artificial nature to courtship. Sex was seen as sport, time killer, self-expression, pleasure and war—whereas in nineteenth-century conventional heterosexual fiction it's seen as an urge toward companionship, affection, familial values or lust. Crébillon showed me how one could write about heterosexual sex in a very different way.
INTERVIEWER
Did you receive any reaction from heterosexual readers either confirming or disavowing some of the experiences they read about?
WHITE
A number of heterosexual men told me they found it arousing. An English novelist said that he'd gotten very embarrassed reading Caracole in a train. A reviewer from L'Express was reportedly confused and disappointed to learn I was gay.
INTERVIEWER
Let's go back to your early years as a novelist. You mentioned you'd written several novels but couldn't get any of them published until you were thirty-three. What difficulties were you experiencing?
WHITE
I was writing gay books well before gay liberation and before there was a recognized gay reading public. One actually existed, although no publisher was aware of it. There was also a tremendous amount of self-repression among gay editors. A gay editor would turn down a gay book because if he admitted to liking it he would have to defend it in an editorial meeting, and that might lead other people to suspect he was gay.
INTERVIEWER
What became of all those unpublished novels?
WHITE
They are gathering dust. But I quarry them for other books I write. They are a source for a lot of information, particularly about the fifties and sixties. For instance, A Boy's Own Story and The Beautiful Room contain material from previous novels. I could not employ much of the actual language because I've come along as a stylist, but the material serves to refresh my memory of the years I was dealing with, when I was in my twenties and early thirties. It's very easy to rewrite the past in your mind and to assume that in the sixties you had the same sophistication—let's say politically—that you might have had in the seventies. In the sixties we harbored utopian notions that were extremely naive. I feel that it's hard to recreate that naïveté unless you're faced with documents from the period.
INTERVIEWER
Why does one write a book like A Boy's Own Story—as a coming to grips with the ghosts of childhood once and for all, a sort of final self-analysis of one's rudiments?
WHITE
I think you're making it sound a little more pragmatic than it is, but there is something crucial about the relationship in that book, for me, between the narrator and the younger self. I call it the pederasty of autobiography; the older self actually loves the younger self in a way the younger self never could have felt or accepted at the time. There is a kind of lapse in time in self-approval. One is filled with self-loathing at sixteen but when one is forty one can look back with this kind of retrospective affection at the younger self—which is very curative.
INTERVIEWER
From Nocturnes: "We label the feelings of our childhood with the names we learn as adults and brightly, confidently refer to that old 'anguish' or 'despair' or 'elation.' The confidence of liars. For those words meant nothing to us then; what we lacked as children was precisely the power to designate and dismiss, and when we describe the emotions of one age with the language of another, we are merely applying stickers to locked trunks, calling 'fragile' or 'perishable' contents that, even were we to view them again, would be unrecognizable." Is this representative of the writer's responsibility to "tell the truth"? What precisely does that mean?
WHITE
Piaget makes a very good case for the fact that the language, and even the concepts and the thoughts we have as adults, really don't fit with childhood experience. There is a radical discontinuity between childhood experience and adult experience. We complain of a kind of amnesia, that we don't recall much of our early childhood, and Freud of course said that this was because we were repressing painful or guilty desires. But Piaget argues this couldn't be true, because otherwise we would forget only those things that were painful but remember everything else—which is clearly not the case. We have an almost blanket amnesia, and Piaget argues that the terms in which we experienced our childhood are incommensurable with the terms in which we now think as adults. It's as though it's an entirely different language we knew and lost. Therefore I feel that any writer who is writing about childhood, as an adult, is bound to falsify experience, but one of the things you try to do is to find poetic approximation; an elusive and impossible task. It is like trying to pick up blobs of mercury with tweezers—you can't do it. You nevertheless attempt to find various metaphorical ways of surprising that experience. I think you oftentimes feel it's there, but you can't get at it, and that's the archaeology of writing about childhood.
INTERVIEWER
In Caracole you write, "Children never question what happens around them," although in A Boy's Own Story your narrator is quite inquisitive. Thus one's childhood becomes a kind of myth so that as an adult one is more dependent on imagination than memory.
WHITE
Yes, I think that our notion of what we experienced as children is highly infected by whatever is the prevailing philosophy of childhood. In other words, if you'd asked somebody in the seventeenth century to write a story of his childhood, he would have perceived it as a rough draft, an inferior version, of maturity—or as comical, deformed. Then in the nineteenth century the child becomes the angel, innocent and pure, who must be protected. And then in the twentieth century, with Freud, the child becomes a monster seething with vice and lust.
INTERVIEWER
Might we say that a true novel, when it is the fruit of the creative subconscious, is a kind of rendering of one's past as a mythology?
WHITE
It's curious that if you take certain facts from your childhood and perceive them in a kind of glow, and arrange them in a certain sequence, it will not only move you and your mother and sister, but also people who don't know you. It's very odd how that works and I'm not quite sure why it works. I'm always struck by it because I've invented childhoods for imaginary characters which seem to have a lot less impact on readers than my actual childhood has when I recount it.
INTERVIEWER
You underwent psychoanalysis for a time. Can you talk about that experience, and how it did or didn't help you to write?
WHITE
I started psychoanalysis very much as the narrator does in A Boy's Own Story, at the early age of fifteen, and I would say my early experiences with it were almost entirely destructive. However, towards the end of the twelve years I spent in therapy over a period of some twenty years, I did finally find a therapist who I felt approved of me in some fundamental way, and who was himself a writer. He was quite helpful to me as a writer, yet in ways that would make you smile. For instance, when I had a writer's block and I went to him, he said to me, "Well, it's very hard to write and you're feeling very frightened of it. It's simply a question of courage. You must find some courage within you and go home and write." I found that very useful advice coming from him, though I don't think I would've accepted it from anyone else. This kind of primitive advice that you could get from your grandmother turns out to be the most useful "insight" the analyst offers. And perhaps self-acceptance leads to tolerance, just as self-knowledge leads to insights into other people. I've had people say to me, not so much after reading my fiction as a book like States of Desire, that they felt I was a compassionate writer—I don't really know what they mean by that, as I can be pretty arrogant as a commentator on other people. But I suspect what they mean is that I'm able to put myself in other people's shoes and see things from their point of view without being too judgmental early on in the process.
INTERVIEWER
I was wondering if the analysis might not be destructive in the sense that you begin to feel too much guilt, and find yourself in a kind of endless process of exorcism when that guilt may be merely a minor aspect of your personality.
WHITE
I would say that writing, in its own way, is a rival to therapy. You should recognize that literature is a separate province. It has its own rules. It cannot be simply an embodiment of Freud's notions on human nature, for otherwise it will soon seem hopelessly dated and hollow.
INTERVIEWER
In A Boy's Own Story your character reflects: "I see that what I wanted was to be loved by men and to love them back but not be a homosexual. . . . It was men, not women, who struck me as foreign and desirable." When did you eventually conceive of your sexuality as healthy and acceptable?
WHITE
Well, I was actually in the Stonewall riot, the harbinger of gay liberation in New York in 1969. The riot itself I considered a rather silly event at the time; it seemed more Dada than Bastille, a kind of romp. But I participated in that and then was active from the very beginning in gay liberation. We had these gatherings which were patterned after women's and ultimately, I think, Maoist consciousness-raising sessions. Whether or not our sessions accomplished anything for society, they were certainly useful to all of us as a tool for changing ourselves.
INTERVIEWER
But what did you have to change? The fact that there was nothing to deny or repress?
WHITE
You see, many of us began by thinking that we were basically heterosexual except for this funny little thing, this sexual habit we had somehow picked up carelessly—but we weren't homosexuals as people. Even the notion of a homosexual culture would have seemed comical or ridiculous to us, certainly horrifying. We would have wanted to confine our disease to the smallest possible part of our life, to our sexual behavior and nothing else.
INTERVIEWER
You've said previously that you're writing for gays and straights. But do you think of yourself as a gay spokesman?
WHITE
It was a political act for me to sign the The Joy of Gay Sex at the time. The publisher could not have cared less, but for me it was a big act of coming out. Charles Silverstein, my coauthor, and I were both aware that we would be addressing a lot of people and so in that sense we were spokesmen. We always pictured our ideal reader as someone who thought he was the only homosexual in the world. States of Desire was an attempt to see the varieties of gay experience and also to suggest the enormous range of gay life to straight and gay people—to show that gays aren't just hairdressers, they're also petroleum engineers and ranchers and short-order cooks. Once I'd written States of Desire I felt it was important to show one gay life in particular depth, rather than all of these lives in a shorthand version. A Boy's Own Story and its sequel, The Beautiful Room Is Empty, grew out of that.
INTERVIEWER
"The world is governed by a minority, the sexually active" is one of the boy's rationales. What do you mean by designating the sexually active as a minority?
WHITE
If you look at most people in the subway or on the street they're either sick or old or ugly or crippled or crazy. That's "most" people, and they can't get sex and sex is hard to buy; it's expensive. There are a lot of Arab men in Paris, for instance, who would do anything to get a sex partner. There are a lot of black men from the Antilles, you know, who are too poor to afford sex, except occasionally, with a prostitute.
INTERVIEWER
Do you see the range, the reactions, the emotions in heterosexual love and homosexual love to be approximately similar?
WHITE
I think there is an equally complex gamut but the two experiences are not coincident. You can't say all the things a straight woman goes through in her courtship, marriage and divorce are the same as a gay man experiences in meeting another man, living with him and breaking up with him. They're not the same emotions, they don't occur in the same sequence nor do they have the same social repercussions. But there are enough similarities to permit us to speak to each other. When a straight man breaks up with his girlfriend, the break is often decisive; it's very hard for them to move from the end of their affair into an ongoing friendship. However, I would say that many—if not most—gay men who break up continue to be best friends. And they may even continue to live together. They may enter into a period of rivalry during which each of them tries to meet somebody new first. When that phase wears out their friendship gets mellower and better. This is something which seems unthinkable to most straight people; they don't know how we can do it, but there is a great deal of comradeship that lies under the discourse of homosexual love. There is a discourse of gay friendship, and then there is a kind of male/male friendship which straight men know about, and there is also a discourse of love that straight men have with women. The idea that those discourses can come together in one relationship, and that when the love ends the friendship can continue, astonishes many outsiders.
INTERVIEWER
Can you discuss your work process? When do you sit down to write, and what do you do to warm up?
WHITE
Oh, it's very tormented. I try to write in the morning, and I write in longhand, and I write in very beautiful notebooks [White displays a couple of hardbound notebooks filled with thick, hand-laid paper] and with very beautiful pens. I just write away, and then . . . This is a first go at it, and then I start crossing out, and it gets crazier and crazier, with inserts and so on. Finally, two or three years of this go by and then one day I call in a typist. I dictate the entire book to her or him. The typist is a sort of editor in that he or she will tell me what is really terrible and what's good, or what's inconsistent and doesn't make sense. I get together a whole version this way and then I stew over it some more. Eventually my editor reads it, and then he tells me to change things, and it goes on like that. If I write a page a day, I'm lucky. But I write less. And months go by without my writing at all, and I get very crazy when I write! Sick, physically.
INTERVIEWER
You are more neurotic when you write than when you don't?
WHITE
It's a very uncomfortable process; I don't like it all.
INTERVIEWER
In everyday life, what sort of things spark off your imagination?
WHITE
Other works of art, as I've said, challenge me. Then, when I'm writing, I find that my brain begins to store information in a different way than it usually does. That is, I'm out looking for things that I need, and I will grab them anywhere. And there's a magic which any writer can tell you about: the world provides you with just the information you need, it seems, just when you need it.
INTERVIEWER
Has it happened that you've been blocked and you go to sleep and upon waking the following morning you've been given what you needed?
WHITE
Yes, but my plots are rather primitive, so that is not a worry. I'm more concerned with controlling the mood. I find that when I'm writing well, I have a real zest for detail, for description. When I'm not writing well, I can't think of anything to say, and there is a lackluster, mechanical quality to the writing. But, basically, when the sentences get longer and more ornate, and there's more and more sensuous detail, that's when I'm writing happily or well. When the sentences get shorter, clearer, more pure or classical, then I'm not enjoying the book and neither is the reader.
INTERVIEWER
You seem to be more a creature of inspiration than habit, which counters the dictum many writers have about getting up every morning and writing for several hours a day, come what may.
WHITE
Writers say two things that strike me as nonsense. One is that you must follow an absolute schedule everyday. If you're not writing well, why continue it? I just don't think this grinding away is useful. The other thing they say: I write because I must. Well, I have never felt that, and I doubt most of them do either. I think they are mouthing a cliché. I don't think most people write because they must; perhaps economically they must, but spiritually? I wonder. I think many writers would be perfectly happy to lay down their pens and never write again if they could maintain their prestige, professorship and PEN membership.
INTERVIEWER
In A Boy's Own Story you describe the character as having imaginary playmates, but he thinks, "And yet I didn't really like my imaginary playmates precisely because they were so irritatingly vague and unreal." Does it ever seem to you while writing or reading that fiction is vague and unreal?
WHITE
Yes, and the stewing I'm talking about, getting ready to write, the thinking about writing and trying to find your way, all of that is meant to find a way of doing a scene that is full of energy, so that it has conviction, a sharp outline, progression and intensity. You should find that your writing overcomes the besetting feeling of vagueness and ennui that is characteristic of everyday life.
INTERVIEWER
In your New York Review of Books essay on Nabokov you wrote, "Many writers proceed by creating characters who are parodies of themselves or near misses or fun-house distortions, or they distribute their own characteristics across a cast of characters, and some especially like to dramatize their conflicts and indecisions by assigning them to different personages." How do you find yourself adapting yourself to your characters, or do they perhaps adapt themselves to you?
WHITE
Well, I do two things. One is that I pattern a lot of my characters on people I know, but there is a strictly imaginary element which creeps in after I start writing. I begin by writing a fairly close portrait of somebody I know, but then the character begins to seem real to me in his own right. If I'm stuck at some point I try to find something in my own experience that I can use, even if the character is going through something I've never experienced. I have had my writing students read Stanislavsky, and of course his whole method requires the actor to find real-life experiences to draw on for even the most improbable and wild scenes that he must portray. I think the writer must do something like that, and most writers go through that process without thinking about it. What Stanislavsky says is that you cannot hope to recuperate an emotion by going for it directly. What you can do is to reconstruct the original sensuous details of the room in which you were sitting, what you were eating, what you were wearing, whether it was hot or cold; and if you get all those things right, then the emotion will come flooding back, of its own. I think that is an important exercise for writers. People always ask: What do you teach in creative writing? People insist: There's nothing to teach. Well, of course, there is something you can teach; you teach people to find ways of tapping their own emotions.
INTERVIEWER
When you're writing, do you look more towards innovation, or towards tradition?
WHITE
Originality is important, and one of the dangers of creative writing classes, for instance, or any critical approach to literature, is that it under-emphasizes originality. After all, a professor of literature is trying to find a tradition, and influences, which can be traced. People would rather talk about Poe as the typically American genius than as the total kind of lunar nut that he really is. There is nothing typical about Poe; he's from the moon.
INTERVIEWER
How do you go about being original?
WHITE
Well, of course, if you ask this question of somebody in a Paris Review interview, he will say, "You do it by being yourself, by being true to your own vision." I think that is somewhat true. As you gain confidence as a writer, you learn to spot your own funny ways of looking at things, and you learn how to notate them—because at first, of course, it's very elusive. You've never seen your vision before, so you wouldn't know how to put it down on paper, and it might not occur to you that the vision is something suitable for writing about. After you have acquired a certain amount of technique and confidence, you learn how to notate these rather passing, elusive thoughts. A young woman came up to me once after a reading and said, "I love what you do," and I said, "What do I do?" and she said, "You completely jump over the important plot points, and then develop the minor things that nobody else would think to develop." I decided to profit from her intelligence.
INTERVIEWER
In A Boy's Own Story you evaluated your readers as "eccentric," as they were "willing to make so much out of so little." Is it not the writer, ostensibly, who must make so much out of so little?
WHITE
In Nocturnes, I thought I had been almost perverse in how few clues I gave to the reader, and I was amazed by how much was made of so little. That is, if you go back to the text, there are only the strangest little traces of slime that indicate where the snails once crawled, just a few phosphorescent, glimmering paths, and I was astonished by just how much intelligent readers were able to get out of this, and to reconstruct more or less the same picture I'd intended. It is a rather eccentric enterprise on both the part of the reader and the writer, but technically it is the reader who must be willing to take all these faint clues and reconstruct them into a novel. This is very different from the process of reading a nineteenth-century novel, where all the work has been done for you.
INTERVIEWER
The non-dit, the art of ellipsis, is certainly within the European tradition, and more noticeably so, I think, in postwar fiction. Isn't this not only a result of an increasing sophistication in readers, but also a reflection of the mass media, which tends to condense everything for quick consumption?
WHITE
It is precisely film that has promoted the use and understanding of ellipsis. In the nineteenth-century novel, the reader was oriented for a full chapter before the action began. A film, however, will begin with one man chasing another and they're desperately racing over rooftops, and then suddenly they're speeding away in cars and—who are these people, and what are they doing? You don't care; you're suddenly seized by the action. Poetry also proceeds in an elliptical way. Anyone who's studied English in America, for example, has read T. S. Eliot, Ezra Pound, and Wallace Stevens, not to mention John Ashbery, and such a reader is used to suspending a demand for instant intelligibility. They're willing to wade into line after line of language without quite knowing where they are or what's happening or what it all means.
INTERVIEWER
I was wondering how your life has significantly changed in the move from New York to Paris. Has it been good for your writing?
WHITE
French people are extremely formal and they don't call you up all the time, whereas in America total strangers look you up in the phone book and want you to read their nine-hundred-page manuscript.
INTERVIEWER
What sort of notions do you have of what a writer's life should be like?
WHITE
I wish I were more at home with writing. I can go a year or two or three without picking up my pen and I'm perfectly content. The minute I have to write I become neurotic and grouchy and ill; I become like a little wet, drenched bird, and I put a blanket over my shoulders and I try to write and I hate myself and I hate what I'm writing. Writing depends upon a fairly quiet life, whereas I am a sociable person. I think every writer goes back and forth on this question; it's a constant struggle to find the right balance between solitude and society and I don't think anyone ever does. I find it reassuring to read the complaints of Chekhov: "My country house is full of people, they never leave me alone; if only they would go away I could be a good writer." He's writing this close to the end of his life.
INTERVIEWER
Originally you moved to Paris to be in Europe for a year or two, but five years have passed. What keeps you here in Paris?
WHITE
I think mainly the quality of life is so attractive, and there is still a certain degree of exoticism for me here. And just from a practical point of view, I can make my living here as an American journalist writing for American magazines about Europe. In New York everything is done for a motive, and people are even quite frank about it, whereas here people get together simply to have fun with each other. In a way it's more like small-town America, which I like, and not like big-city life. I think New York is a city for ambition. In Paris people cultivate social life as an art form; in New York people cultivate it as a form of self-advancement.
INTERVIEWER
Do you find journalism as pleasingly painful as writing fiction? What inspired you to turn to biography and to work on Genet?
WHITE
In both journalism and biography the assignment is fairly clear, which is never true of fiction. Moreover, in journalism and biography one is obliged to study, observe, record, whereas in fiction one is left to one's own melancholic devices.
INTERVIEWER
Social life has been very important in your fiction, especially in Caracole. Aren't people too often victims of what is fashionable, whether it be a social theory or a political ideology, and isn't that moment as subject to change as the kinds of clothing they wear?
WHITE
I would say a novelist's proper job is to be sensitive to the way things look. I agree with Conrad that fiction is primarily a visual medium, and that there is something very concrete and valuable and eternal in any accurate description of the way things look. No one would ever require fiction to be totally divorced from its period; in fact, most people believe, and I believe, that the more it's anchored in a specific locale, period and milieu, the more universal it is. This is quite different from, for instance, espousing a Freudian view of sexuality and imposing that in a rigid way on your characters, and then ten years later a Foucaultian view—because then you get a roman à thèse. After all, fiction writers are not professional thinkers.
INTERVIEWER
Caracole treats fashion and la société mondaine in a context of political upheaval. Does fashion, for you, influence politics in any perceivable way? Why was the leitmotif of fashionable society so important to you in that novel?
WHITE
I was trying to show a society in which the conquerors were less evolved than their subjects and in which they were even intimidated by their victims. This is a situation that can be observed in life. Oscar Wilde unnerved his jailers. Wit, style, and intelligence can outweigh, or at least hold at bay, brute power or wealth. The Chinese intimidated their Manchurian conquerors, just as the Nazis, upon conquering Paris, became respectful of French culture and were eager to win the approval of the subjugated. Of course, Cesare Borgia respected Urbino so much he destroyed it.
INTERVIEWER
In terms of the kinds of ideas which are a writer's staple, there is something in Forgetting Elena I'd like to take issue with. You write, "We all know that human emotions are banal . . ." Is this meant to provoke the reader or, for you, is it axiomatic?
WHITE
When I say human emotions are banal I mean that they are familiar, we all have them; if we didn't we wouldn't be able to write novels that each of us could read and understand. Originality in writing is in the presentation of those emotions, or even in their occlusion—the way in which feelings are stopped or diverted or disguised.
INTERVIEWER
Writing, then, with originality should prevent the banal from creeping into the tone of the novel.
WHITE
There is a tendency to talk about the Platonic novel as though there were but one novel we're all striving to write, an ideal, perfect novel that is outside time, outside history, outside any particular cultural tradition—an eternal, floating, and perfect book. An opposed point of view, which is the one I hold, is that each person has it within him to write a novel unlike everybody's else's. If you're a teacher this is very important, because you either have a normative notion of the novel, and you struggle to make all writers ascribe to your notion of what the great novel should be, or you have a pluralistic notion, whereby each person should write a novel unlike all others.
INTERVIEWER
Is writing a way of rendering the banal beautiful?
WHITE
Or making the banal strange. There is a term that comes up in Russian formalist criticism called defamiliarization. It's a way of talking about the events of everyday life (in Tolstoy, Natasha's first ball or her first opera, for example) and making them utterly weird because they are described by an innocent or inexperienced person. Good fiction often takes the banal around us and defamiliarizes it.
INTERVIEWER
Writing from an unfamiliar point of view must be one of the great challenges of a novelist. In The Beautiful Room Is Empty, your character at one point during his university days says he thinks the Buddhists were right in their belief that the self is an illusion, although as a writer he reacts to the individuality of everyone he meets. "I was potentially everything or nothing. I could wake up one morning gay or straight . . ." I thought this seemed like a desire to convince yourself that Edmund White, writer, transcends Edmund White, self; transcends his class, race, and sexuality.
WHITE
You're right.
INTERVIEWER
Yet there are two contradictory points of view at work here.
WHITE
I'm convinced that the self is an illusion, and that actually all we are consists of several piles, or, as the Buddhists call them, skandhas, of associations and memories and so on, that the way to enlightenment is to dissolve the illusion of unity and return all these elements to their original constituents, thereby ridding oneself of the notion of identity. Although all that appeals to me philosophically, as a novelist I don't believe it. As a novelist I believe there is a kind of smell that's very distinctive about each living creature, and I enjoy being a sort of sketch artist, like a sidewalk artist, who tries to catch a likeness—and I somehow manage to believe that there are likenesses, and that they do tell you something about people.
INTERVIEWER
In A Boy's Own Story you write, "It seemed to me then that beauty is the highest good, the one thing we all want to be or to have or, failing that, destroy." One is immediately reminded of Yukio Mishima, who made youth and beauty into a cult and ultimately committed hara-kiri at the age of forty-five, already an old man by his standards. You are in the vicinity of that age now. What do you see as the "highest good"?
WHITE
Are you suggesting I make the supreme sacrifice? Artists should be honest about the tremendous glamor and impact of physical beauty. It is not fair that it should be so important, since so few people possess it, but, in fact, beauty is a glimpse of the beautiful. A beautiful person embodies in her or his flesh what an artist is struggling to represent in his work. But a writer shouldn't have too many answers. Barthes has a phrase in which he suggests that the artist is like Orpheus leading Eurydice out of the underworld. Everything is fine, the novel follows along behind the novelist, until he looks back . . .

Author photograph by Nancy Crampton.