Interviewed by Shusha Guppy
Issue 109, Winter 1988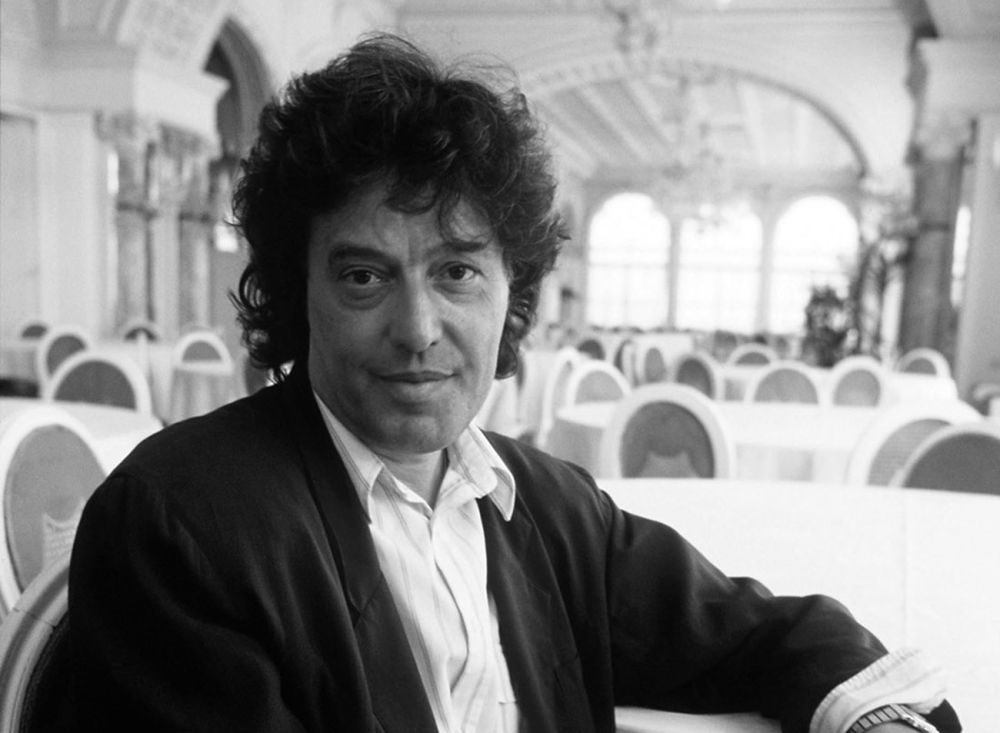 Tom Stoppard, ca. 1980
At the time of this interview, Stoppard was near the end of rehearsals for his new play, Hapgood, which opened in London in March, 1988. For the duration of the rehearsals Stoppard had rented a furnished apartment in central London in order to avoid commuting, and although he had said, "I would never volunteer to talk about my work and myself more than ninety seconds," he was extremely generous with his time and attention. Stoppard is tall and exotically handsome, and he speaks with a very slight lisp.
INTERVIEWER
How are the rehearsals going?
TOM STOPPARD
So far they are conforming to pattern, alas! I mean I am suffering from the usual delusion that the play was ready before we went into production. It happens every time. I give my publisher the finished text of the play so that it can be published not too long after the opening in London, but by the time the galleys arrive they're hopelessly out-of-date because of all the changes I've made during rehearsals. This time I gave them Hapgood and told them that it was folly to pretend it would be unaltered, but I added, "I think it won't be as bad as the others." It turned out to be worse. Yesterday I realized that a chunk of information in the third scene ought to be in the second scene, and it's like pulling out entrails: as in any surgery there's blood. As I was doing it I watched a documentary about Crick and Watson's discovery of the structure of DNA—the double helix. There was only one way all the information they had could fit but they couldn't figure out what it was. I felt the same. So the answer to your question is that the rehearsals are going well and enjoyably, but that I'm very busy with my pencil.
INTERVIEWER
What provokes the changes? Does the transfer from your imagination to the stage alter your perception? Or do the director and the actors make suggestions?
STOPPARD
They make a few suggestions, which I am often happy to act upon. In the theater there is often a tension, almost a contradiction, between the way real people would think and behave, and a kind of imposed dramaticness. I like dialogue that is slightly more brittle than life. I have always admired and wished to write one of those 1940s filmscripts where every line is written with a sharpness and economy that is frankly artificial. Peter Wood, the director with whom I've worked for sixteen years, sometimes feels obliged to find a humanity, perhaps a romantic ambiguity, in scenes that are not written like that but that, I hope, contain the possibility. I like surface gloss, but it's all too easy to get that right for the first night only to find that that was the best performance of the play; from then on the gloss starts cracking apart. The ideal is to make the groundwork so deep and solid that the actors are continually discovering new possibilities under the surface, so that the best performance turns out to be the last one. In my plays there are usually a few lines which Peter loathes, for their slickness or coldness, and we have a lot of fairly enjoyable squabbles that entail some messing about with the text as we rehearse. In the case of Hapgood there is a further problem that has to do with the narrative mechanics, because it's a plotty play, and I can't do plots and have no interest in plots.
INTERVIEWER
Yet you have produced some complex and plausible plots. So why the aversion?
STOPPARD
The subject matter of the play exists before the story and it is always something abstract. I get interested by a notion of some kind and see that it has dramatic possibilities. Gradually I see how a pure idea can be married with a dramatic event. But it is still not a play until you invent a plausible narrative. Sometimes this is not too hard—The Real Thing was fairly straightforward. For Hapgood the thing that I wanted to write about seemed to suit the form of an espionage thriller. It's not the sort of thing I read or write.
INTERVIEWER
What was the original idea that made you think of an espionage thriller?
STOPPARD
It had to do with mathematics. I am not a mathematician, but I was aware that for centuries mathematics was considered the queen of the sciences because it claimed certainty. It was grounded on some fundamental certainties—axioms—that led to others. But then, in a sense, it all started going wrong, with concepts like non-euclidean geometry—I mean, looking at it from Euclid's point of view. The mathematics of physics turned out to be grounded on uncertainties, on probability and chance. And if you're me, you think—there's a play in that. Finding an idea for a play is like picking up a shell on a beach. I started reading about mathematics without finding what I was looking for. In the end I realized that what I was after was something that any first-year physics student is familiar with, namely quantum mechanics. So I started reading about that.
INTERVIEWER
It is said that you research your plays thoroughly.
STOPPARD
I don't think of it as research. I read for interest and enjoyment, and when I cease to enjoy it I stop. I didn't research quantum mechanics but I was fascinated by the mystery that lies in the foundation of the observable world, of which the most familiar example is the wave/particle duality of light. I thought it was a good metaphor for human personality. The language of espionage lends itself to this duality—think of the double agent.
INTERVIEWER
You seem to think the success of the play has so much to do with its production. Do you, therefore, get involved with the lighting, costumes, etcetera? Please give examples, anecdotes.
STOPPARD
It is obvious that a given text (think of any classic) can give rise to a satisfying event or an unsatisfying one. These are the only relative values that end up mattering in the theater. A great production of a black comedy is better than a mediocre production of a comedy of errors. When the writing is over, the event is the thing. I attend the first rehearsal of a new play and every rehearsal after that, as well as discussions with designers, lighting designers, costume designers . . . I like to be there, even though I'm doing more listening than talking. When Hapgood was being designed, I kept insisting that the shower in the first scene wouldn't work unless it was in the middle of the upper stage, so that Hapgood could approach us facing down the middle. Peter and Carl insisted that the scene wouldn't work unless the main entrance doors were facing the audience. They were quite right, but so was I. We opened out of town with the shower in the wings, and it didn't work at all, so we ended up having to find a way to have both the doors and the shower in view of the audience. The look of the thing is one thing. The sound of it is more important. David Lean was quoted as saying somewhere that the hardest part of making films is knowing how fast or slow to make the actors speak. I suddenly saw how horribly difficult that made it to make a film. Because you can't change your mind. When you write a play, it makes a certain kind of noise in your head, and for me rehearsals are largely a process of trying to reproduce that noise. It is not always wise to reproduce it in every instance, but that's another question. The first time I met Laurence Olivier, we were casting Rosencrantz and Guildenstern. He asked me about the Player. I said the Player should be a sneaky, snakelike sort of person. Olivier looked dubious. The part was given, thank God—or Olivier—to Graham Crowden who is about six-foot-four and roars like a lion. Olivier came to rehearsal one day. He watched for about fifteen minutes, and then, leaving, made one suggestion. I forget what it was. At the door he turned again, twinkled at us all, and said, "Just the odd pearl," and left.
INTERVIEWER
Is it a very anxious moment for you, working up to the first night?
STOPPARD
Yes. You are trying to imagine the effect on people who know nothing about what is going on and whom you are taking through the story. In a normal spy thriller you contrive to delude the reader until all is revealed in the denouement. This is the exact opposite of a scientific paper in which the denouement—the discovery—is announced at the beginning. Hapgood to some extent follows this latter procedure. It is not a whodunit because we are told who has done it near the beginning of the first act, so the story becomes how he did it.
INTERVIEWER
Did you draw on some famous spies, like Philby or Blunt, for your characters?
STOPPARD
Not at all. I wasn't really interested in authenticity. John Le Carré's A Perfect Spy uses the word joe for an agent who is being run by somebody, and I picked it up. I have no idea whether it is authentic or invented by Le Carré.
INTERVIEWER
What happens on the first night? Do you sit among the audience or in a concealed place at the back? And what do you do afterwards?
STOPPARD
The first audience is more interesting than the first night. We now have previews, which makes a difference. Actually, my play The Real Inspector Hound was the first to have previews in London, in 1968. Previews are essential. The idea of going straight from a dress rehearsal to a first night is frightening. It happened with Rosencrantz and Guildenstern and we got away with it, but for Jumpers we had several previews by the end of which I had taken fifteen minutes out of the play. I hate first nights. I attend out of courtesy for the actors and afterwards we all have a drink and go home.
INTERVIEWER
How does the London theater world differ from New York?
STOPPARD
Theater in New York is nearer to the street. In London you have to go deep into the building, usually, to reach the place where theater happens. On Broadway, only the fire doors separate you from the sidewalk and you're lucky if the sound of a police car doesn't rip the envelope twice a night. This difference means something, I'm not quite sure what. Well, as Peter Brook will tell you, the theater has its roots in something holy, and perhaps we in London are still a little holier than thou. The potential rewards of theater in New York are really too great for its own good. One bull's-eye and you're rich and famous. The rich get more famous and the famous get richer. You're the talk of the town. The taxi drivers have read about you and they remember you for a fortnight. You get to be photographed for Vogue with new clothes and Vuitton luggage, if that's your bag. If it's a new play, everyone owes the writer, they celebrate him—the theater owners, the producers, the actors. Even the stage doorman is somehow touched by the wand. The sense of so much depending on success is very hard to ignore, perhaps impossible. It leads to disproportionate anxiety and disproportionate relief or disappointment. The British are more phlegmatic about these things. You know about British phlegm. The audiences, respectively, are included in this. In New York, expressions of appreciation have succumbed to galloping inflation—in London only the Americans stand up to applaud the actors, and only American audiences emit those high-pitched barks that signify the highest form of approval. But if you mean the difference between what happens on stage in London and New York, there isn't much, and there's no difference between the best. Cross-fertilization has evened out what I believe used to be quite a sharp difference between styles of American and British acting, although it is probably still a little harder to find American actors with an easy command of rhetoric, and British actors who can produce that controlled untidiness that, when we encountered it a generation ago, seemed to make acting lifelike for the first time.
INTERVIEWER
I have heard that in New York people sit up and wait for The New York Times review, which makes or breaks a show. It is not like that in London, but do you worry all night until the reviews come out the next day?
STOPPARD
Certainly I'm anxious. One is implicated in other people's fortunes—producers, directors, actors—and one wants the play to succeed for their sake as much as for one's own. If there is a favorable consensus among the reviewers, you accept it as a reasonable judgment. If you get mixed reviews, you are heartened by those who enjoyed it and depressed by the rejections. What one is anxious about is the judgment on the event rather than the play. None of us would have worked so hard if we didn't believe in the play, and so we don't need a critic to tell us whether we liked it, but whether we succeeded in putting it across. For the text is only one aspect of an evening at the theater; often the most memorable moments have little to do with the words uttered. It is the totality—to use the jargon—which is being judged. A favorable judgment means that on that occasion the play has worked, which does not mean that it always will.
INTERVIEWER
Do critics matter as much?
STOPPARD
In the long term, not at all. In the short term they give an extra push, or conversely give you more to push against; but favorable reviews won't save a play for long if the audiences don't like it, and vice versa. The play has to work.
INTERVIEWER
I would like to know what you mean by "work."
STOPPARD
It has to be truthful. The audience must believe. But the play is also a physical mechanism. Getting that mechanism to work takes an awful lot of time and preoccupation. The way music comes in and out, lights vary, etcetera. When you've got all that right you can get back to the text. Otherwise, the fact that it seems right on paper won't help you.
INTERVIEWER
Do you change things according to what the reviews say?
STOPPARD
No. But I change things according to what happens to the play, and what I think of it. Sometimes one is involved in a revival and one wants to change things because one has changed oneself, and what used to seem intriguing or amusing might now strike one as banal. Any revival in which I am involved is liable to change.
INTERVIEWER
It has been said that Kenneth Tynan was the last critic who had a definite point of view and was bold enough to express it, thereby influencing the direction of the theater. So perhaps critics do make a difference?
STOPPARD
Ken had enthusiasms. Some lasted longer than others and while he had them he pushed them. But you have to read critics critically and make the necessary adjustment according to what you know about them. When I was a critic—on my local paper in Bristol and later for a magazine in London—I floundered between pronouncing what I hoped were magisterial judgments and merely declaring my own taste. If I might quote myself from a previous interview: "I was not a good critic because I never had the moral character to pan a friend." I'll rephrase that: I had the moral character never to pan a friend.
INTERVIEWER
But Tynan introduced into England what one associates with French intellectual life—a kind of intellectual terrorism, when suddenly one author or school is "in" and another "out," and woe betide he who disagrees! He destroyed people like Terrence Rattigan and Christopher Fry and all those he called "bourgeois" playwrights, and you had to love Osborne and Brecht or else! But I recently saw Rattigan's Separate Tables and thought it very good indeed, infinitely better than some of the plays Ken had praised and made fashionable.
STOPPARD
Which shows that he didn't destroy them. However, I know what you mean, and one or two of my close friends thoroughly disapproved of Ken. But I hope they know what I mean when I stick up for him. The first time I met Ken was when I was summoned to his tiny office when the National Theatre offices consisted of a wooden hut on waste ground, and I was so awed by being in a small room with him that I began to stutter. Ken stuttered, as you know. So we sat stuttering at each other, mainly about his shirt which was pale lemon and came from Turnbull and Asser in Jermyn Street. This was in the late summer of 1966 when we wore rollneck shirts.
INTERVIEWER
You have been praised for your eloquence, your use of language—your aphorisms, puns, epigrams—as if you invented them, wrote them down, and put them into your characters' mouths. Do you?
STOPPARD
No. They tend to show up when I need them. But perhaps it is significant that very often a particular line is more or less arbitrarily attached to a particular character. I can take a line from one character and give it to another. As I just told you, there was something in the third scene of Hapgood that I had to put in the second scene. But the dialogue was not between the same two people—only one of them was the same. So the lines of a female character became those of a male, and it made no difference. In Night and Day I had to invent an African dictator, but there was no way I could do it unless he was the only African dictator who had been to the London School of Economics. You don't have to be African or a dictator to make those observations about the British press. I rely heavily on an actor's performance to help individualize a character.
INTERVIEWER
Do you act out all the characters as you write?
STOPPARD
Sometimes. I walk around the room speaking the dialogue.
INTERVIEWER
Once you've got the idea and devised the narrative, do you take notes while you're reading up on the subject?
STOPPARD
Not really. Sometimes, over the course of several months, I might cover a page with odds and ends, many of which might find their way into the play. But I don't write down in notebooks, nor jot down what I overhear—nothing like that.
INTERVIEWER
In the course of writing the play, do you get surprises, because for example, you don't know what a character is going to do next, or how the story will end?
STOPPARD
Absolutely.
INTERVIEWER
What about the order of the play, the number of acts and scenes?
STOPPARD
I don't work out the whole plot before I begin, just the general outline. The play alters as you write it. For example, inJumpers the end of the first act in my scheme turned out to be the end of the second act, followed by only an epilogue. Hapgood was in three acts and is now in two. The reason for the change is partly intrinsic and partly circumstantial. Managements prefer two-act plays because they think that audiences like only one interval, and Peter thought it would be better for the play. It shows how pragmatic the theater is, perhaps the most pragmatic art form, apart from advertising. For example, the male secretary, Maggs, used to be Madge, a woman. But when we came to choose the understudies we realized that if the secretary were male he could understudy so-and-so. It turned out to be better for the play also, because then Hapgood is the only woman surrounded by all these men. But at first it was a question of casting.
INTERVIEWER
Having got your outline, do you proceed from the beginning to the end chronologically?
STOPPARD
Yes I do. I write plays from beginning to end, without making stabs at intermediate scenes, so the first thing I write is the first line of the play. By that time I have formed some idea of the set, but I don't write that down. I don't write down anything that I can keep in my head—stage directions and so on. When I have got to the end of the play—which I write with a fountain pen, you can't scribble with a typewriter—there is almost nothing on the page except what people say. Then I dictate the play, ad-libbing all the stage directions, into a tape machine from which my secretary transcribes the first script.
INTERVIEWER
What are the pitfalls on the way? Things that might get you stuck?
STOPPARD
It is not like playing the violin—not difficult in that way. The difficulties vary at different stages. The first is that you haven't got anything you wish to write a play about. Then you get an idea, but it might be several ideas that could belong to two or three plays. Finally, if you are lucky, they may fit into the same play. The next difficulty, as I said before, is to translate these abstract ideas into concrete situations. That is a very long and elaborate period. Another difficulty is knowing when to start; it's chicken and egg—you don't know what you're going to write until you start, and you can't start until you know. Finally, in some strange, quantum-mechanical way, the two trains arrive on the same line without colliding, and you can begin. The following stage is not exactly pleasant but exciting and absorbing—you live with the fear that "it" may go away. There is a three-month period when I don't want to say good morning to anyone lest I miss the thought that would make all the difference.
INTERVIEWER
Once the play begins to take shape, what do you feel?
STOPPARD
Tremendous joy. Because whenever I finish a play I have no feeling that I would ever have another one to write.
INTERVIEWER
Do you disappear from home to write?
STOPPARD
I disappear into myself. Sometimes I go away for a short period, say a week, to think and concentrate, then I come back home to carry on.
INTERVIEWER
Where do you work and when?
STOPPARD
I have a very nice long room, which used to be the stable. It has a desk and lots of paper, etcetera. But most of my plays are written on the kitchen table at night, when everybody has gone to bed and I feel completely at peace. During the day, somehow I don't get much done; although I have a secretary who answers the phone, I always want to know who it is, and I generally get distracted.
INTERVIEWER
Do you have an ideal spectator in mind when you write?
STOPPARD
Perhaps I do. Peter Wood has quite a different spectator in mind, one who is a cross between Rupert Bear and Winnie the Pooh. He assumes bafflement in order to force me to explain on a level of banality. If I had an ideal spectator it would be someone more sharp-witted and attentive than the average theatergoer whom Peter thinks of. A lot of changes in rehearsals have to do with reconciling his spectator with mine.
INTERVIEWER
You have said that all the characters talk like you. Does that mean that you have trouble creating female characters? You once said, "There is an aura of mystery about women, which I find difficult to penetrate." Yet the eponymous character of your new play, Hapgood, is a woman.
STOPPARD
I wonder when I said that! It is not what I feel now. When I said I wasn't interested by plot or character I meant that they are not the point for me. Before writing Night and Day I thought, I'm sick of people saying there are no good parts for women in my plays, so I'll do one. It turned out not to be just about a woman, and I thought, Well, one day I'll do a Joan of Arc. But I never think, I'm writing for a woman so it had better be different.
INTERVIEWER
How important are curtain lines?
STOPPARD
Very important, because they define the play's shape, like the spans of a bridge. It's like architecture—there is a structure and a conscious architect at work. Otherwise you could decide to have an interval at 8:30, and whatever was being said at that moment would be your curtain line. It wouldn't do.
INTERVIEWER
You said that you have worked with Peter Wood for sixteen years, but are you always closely involved with your plays' productions?
STOPPARD
In this country, yes. In America I was involved with the production of The Real Thing, which was directed by Mike Nichols. But who knows what's going on elsewhere? You are pleased the plays are being done and hope for the best.
INTERVIEWER
You have been accused of superficiality; some people say that your plays are all linguistic pyrotechnics, dazzling wordplay, intelligent punning, but that they don't have much substance. How do you react to that charge?
STOPPARD
I suppose there is a certain justice in it, insofar as if I were to write an essay instead of a play about any of these subjects it wouldn't be a profound essay.
INTERVIEWER
Nowadays fame has become a thing in itself. In French the word is gloire, which is nicer because it denotes achievement; it has connotations of glory. But fame doesn't: you can be famous just for being famous. Now that you are, do you still feel excited by it, or do you think it isn't that important?
STOPPARD
Oh, I like it. The advantages are psychological, social, and material. The first because I don't have to worry about who I am—I am the man who has written these plays. The social advantages appeal to half of me because there are two of me: the recluse and the fan. And the fan in me is still thrilled to meet people I admire. As for the material side, I like having some money. The best way to gauge wealth is to consider the amount of money that you can spend thoughtlessly—a casual purchase which simply doesn't register. The really rich can do it in Cartier's; I'm quite happy if I can do it in a good bookshop or a good restaurant.
INTERVIEWER
What about the company of your peers? Harold Pinter?
STOPPARD
The first time I met Harold Pinter was when I was a journalist in Bristol and he came down to see a student production of The Birthday Party. I realized he was sitting in the seat in front of me. I was tremendously intimidated and spent a good long time working out how to engage him in conversation. Finally, I tapped him on the shoulder and said, "Are you Harold Pinter or do you just look like him?" He said, "What?" So that was the end of that.
INTERVIEWER
Going back to your work, Jumpers was about moral philosophy, and in it you attacked logical positivism and its denial that metaphysical questions are valid. . . .
STOPPARD
Ah, but remember that I was attacking a dodo—logical positivism was over by the time I wrote the play. I was amused to see Freddy [Sir Alfred] Ayer being interviewed on television. The interviewer asked him what were the defects of logical positivism, and Freddy answered, "I suppose its main defect was that it wasn't true." The play addressed itself to a set of attitudes that people didn't think of as philosophical but that in fact were. At the same time, it tried to be a moral play, because while George has the right ideas, he is also a culpable person; while he is defending his ideas and attacking the opposition, he is also neglecting everyone around him and shutting out his wife who is in need, not to mention shooting his hare and stepping on his tortoise.
INTERVIEWER
In the play you say that the Ten Commandments, unlike tennis rules, can't be changed, implying that there are fundamental moral principles that are eternally valid because of their transcendental provenance—their foundation in religion. Do you believe that?
STOPPARD
Yes, I do.
INTERVIEWER
Are you religious?
STOPPARD
Well, I keep looking over my shoulder. When I am asked whether I believe in God, my answer is that I don't know what the question means. I approve of belief in God and I try to behave as if there is one, but that hardly amounts to faith. I don't know what religious certainty would consist of, though many apparently have it. I am uneasy with religious ceremonials, because I think intellectually, and the case for God is not an intellectual one. However, militant humanism grates on me much more than evangelism.
INTERVIEWER
I would like to ask you about your early influences. What about the angry young men and the kitchen-sink school of the fifties, or Beckett, whom you are quoted as saying had the greatest impact on you?
STOPPARD
There were good plays and not-so-good plays. I was moved by and interested by John Osborne's Look Back in Anger, Beckett's Waiting for Godot, The Birthday Party by Pinter, Next Time I'll Sing To You . . . I mean when I was starting to write plays. I'd be wary of calling them influences. I don't write the way I write because I liked them. I liked them because of the way I write, or despite it.
INTERVIEWER
So if we forget about "influence," who are the writers you admire and go back to?
STOPPARD
I had a passion for Hemingway and Evelyn Waugh, and I think I will always return to them, apart from anyone else.
INTERVIEWER
Does it annoy you that people compare you to George Bernard Shaw?
STOPPARD
I don't think they do very much. I find the comparison embarrassing, by which I mean flattering. Shaw raises conversation to the power of the drama, and he does it for three acts. I sometimes do it for three pages, though the tone is very different; but my theatrical impulses are flashier. The result can be exhilarating when things go right, and pathetic when things go wrong. Anyway, one's admirations don't have much to do with the way one likes to write. I've been going around for years saying that Alan Bennett is one of the best playwrights we've had this century, and he does exactly what I don't do and can't do; he makes drama out of character study. The fact that his jokes are very good helps but he's really a social anthropologist who prefers to report in the form of plays. Incidentally, I think Bennett's comparative lack of recognition among the academically minded has most to do with a snobbishness about television—where much of his best work appears. David Mamet is another great enthusiasm of mine, and another writer who has almost nothing in common with me.
INTERVIEWER
What actually led you to write plays? Could you describe the genesis of your plays other than Hapgood and Jumpers?
STOPPARD
I started writing plays because everybody else was doing it at the time. As for the genesis of plays, it is never the story. The story comes just about last. I'm not sure I can generalize. The genesis of Travesties was simply the information that James Joyce, Tristan Tzara, and Lenin were all in Zurich at the same time. Anybody can see that there was some kind of play in that. But what play? I started to read Richard Ellman's biography of Joyce, and came across Henry Carr, and so on and so on. In the case of Night and Day, it was merely that I had been a reporter, that I knew quite a lot about journalism, and that I should have been writing another play about something and that therefore it was probably a good idea to write a play about journalists. After that, it was just a case of shuffling around my bits of knowledge and my prejudices until they began to suggest some kind of story. I was also shuffling a separate pack of cards that had to do with sexual attraction. Quite soon I started trying to integrate the two packs. And so on.
INTERVIEWER
There's another aspect of your work that I would like to talk about, that is adaptations of other playwrights' plays. Are the two activities very different?
STOPPARD
Yes, they are. I don't do adaptations because I have a thing about them, but to keep busy. I write a play every three or four years and they don't take that long—perhaps a year each.
INTERVIEWER
Does someone do the literal translation for you from the original language first?
STOPPARD
Yes, since I don't read any other languages. I have done two plays by Arthur Schnitzler, Dalliance and Undiscovered Country, one by Molnar, Rough Crossing, and a play by Johann Nestroy, which became On The Razzle.
INTERVIEWER
Do you tinker with the original text?
STOPPARD
There is no general rule. Undiscovered Country was pretty faithful. I thought of Schnitzler as a modern classic, not to be monkeyed about with. But you're not doing an author a favor if the adaptation is not vibrant. So in the end I started "helping," not because Schnitzler was defective but because he was writing in 1905 in Vienna. When you are writing a play you use cultural references by the thousands, and they all interconnect like a nervous system. In the case of Dalliance, Peter Wood started with the idea that the third act should be transferred to the wings of the opera. He did it beautifully and it worked very well. The number of critics who suddenly turned out to be Schnitzler purists was quite surprising. As for On The Razzle, that had a wonderful plot—which wasn't Nestroy's own anyway—and I invented most of the dialogue. The Molnar play was set in an Italian castle and I put it on an ocean liner called The Italian Castle. And I also made up nearly all the dialogue. So you can see there's a difference between "translation" and "adaptation."
INTERVIEWER
So far your adaptations have been of plays. Have you ever thought of adapting a novel, or a book of testimony, into a play or a series of plays? For example, Primo Levi's If This Is a Man, or Nadezhda Mandelstam's Hope Against Hope? I mention these because I know you admire them as much as I do.
STOPPARD
I think Nadezhda Mandelstam's books are two of the greatest books written in this century. But what would be the point of turning them into plays?
INTERVIEWER
To make them accessible to a larger audience, the way Olivia Manning's The Balkan Trilogy was resurrected and became a bestseller after it was shown on television as a six-part series.
STOPPARD
It would be admirable if it made people turn to the Mandelstam books. I quite agree that television would be the way to do it.
INTERVIEWER
Let's talk about another of your activities: writing filmscripts. You have never written an original one. Why not?
STOPPARD
Because I don't have any original ideas to spare.
INTERVIEWER
What if someone gave you the idea?
STOPPARD
That is possible, but it would be pure accident if you gave me the right one. The reason is that all you know about me is what I have written so far; it has nothing to do with what I want to do next, because I don't know, either.
INTERVIEWER
What is the difference between writing a play and writing a filmscript?
STOPPARD
The main difference is that in films the writer serves the director, and in the theater the director serves the writer—broadly speaking.
INTERVIEWER
Now for the first time you are going to direct your own film version of Rosencrantz and Guildenstern. Are you looking forward to it?
STOPPARD
The reason why I agreed to do it myself was that the producers gave me a list of twenty possible directors and I couldn't see why any of them should or should not do it, since I had no idea what each would wish to do. So I suggested myself, because it was the line of least resistance, and also because I am the only director willing to commit the necessary violence to the play—I've thrown masses of it out, and I've added things.
INTERVIEWER
You are friendly with Czech playwrights, like Václav Havel and others. Do you feel any special affinity with them as a result of your own Czech origin?
STOPPARD
This whole Czech thing about me has gotten wildly out of hand. I wasn't two years old when I left the country and I was back one week in 1977. I went to an English school and was brought up in English. So I don't feel Czech. I like what Havel writes. When I first came across his work, I thought The Memorandum was a play I'd have liked to have written, and you don't think that of many plays. And when I met him I loved him as a person. I met other writers there I liked and admired, and I felt their situation keenly. But I could have gotten onto the wrong plane and landed in Poland or Paraguay and felt the same about writers' situations there.
INTERVIEWER
I wanted to ask you about radio plays, because you started out writing some, and, before Rosencrantz, had a number of them produced on the radio. It is always astonishing that despite television, radio is still so popular, especially for plays. What are your feelings about radio—its technique, possibilities, and differences from other dramatic forms?
STOPPARD
Radio plays are neither easier nor harder. I'm supposed to be writing one now, and the hard part is simply finding a play to write. The pleasant part will be writing it. There is nothing much to be said about radio technique except what is obvious—scene setting through dialogue and sound effects. I'd like to write a radio play that consisted entirely of sound effects but I suppose it would be rather a short one.
INTERVIEWER
After you have seen Hapgood through, what are you going to do?
STOPPARD
I would like to write a very simple play, perhaps with two or three people in one setting. A literature play rather than an event play. Getting Hapgood ready was exhausting and frustrating—it has as many scene changes, light cues, sound cues, etcetera, as a musical. I'd like to write a play where all the time and the energy can be devoted to language, thought process, and emotion.
INTERVIEWER
It is often said that a writer's output is the product of a psychosis, of self-examination. Is there any indication of this in your case?
STOPPARD
You tell me!
INTERVIEWER
What is the most difficult aspect of playwriting?
STOPPARD
Structure.
INTERVIEWER
And the easiest?
STOPPARD
Dialogue.
INTERVIEWER
What about the curtain lines? Do they come first and then you work your way towards them, or do they arrive in the natural progression of writing the dialogue?
STOPPARD
Curtain lines tend to be produced under the pressure of the preceding two or three acts, and usually they seem so dead right, to me anyway, that it really is as if they were in the DNA, unique and inevitable.
INTERVIEWER
What are some of your favorite curtain lines—and not necessarily those in your own plays?
STOPPARD
"The son of a bitch stole my watch" [from The Front Page]—I quote from memory—and "You that way; we this way" [from Love's Labour's Lost].
INTERVIEWER
Not to put you to the test, but can you provide a curtain line for this interview?
STOPPARD
"That's all, folks."

Author photograph by Nancy Crampton.