Interviewed by James R. Baker
Issue 111, Summer 1989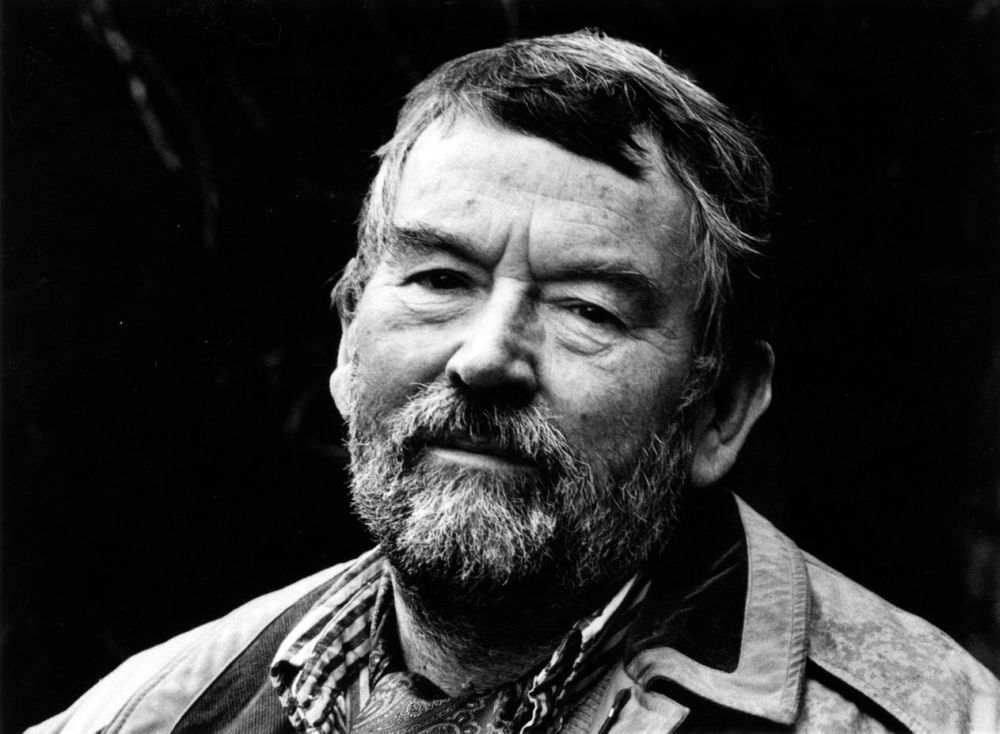 Photograph of John Fowles by Carolyn Djanogly
John Fowles was born in Leigh-on-Sea, Essex, on March 31, 1926. He attended Bedford School (1940–1944) and then served nearly two years in the Royal Marines. After his four years at Oxford (New College), where he read in French and received a B. A. (Honors) in 1950, Fowles turned away from his conservative upper-middle-class background toward a new freedom and a trying decade of apprenticeship as a writer. He supported himself through teaching jobs at the University of Poitiers, at Spetsai, Greece (where he met his wife-to-be, Elizabeth Whitton) and at various schools in and around London until his first published novel, The Collector, appeared in 1963. It became a best-seller, and was made into a film by William Wyler in 1965. These successes did not deter him from going back to earlier projects: the philosopher's notebook (begun at Oxford), in which he attempted to deal with many questions pertinent to contemporary experience, was published as The Aristos: A Self-Portrait in Ideas in 1964; a first, tortured novel he wrote (inspired largely by his own self-analysis and "conversion" to existential freedom) appeared as The Magus in 1965. In that same year he took up residence in Lyme Regis on the Dorset coast.
The view of Lyme Bay from Fowles's own Belmont House is described in the opening chapters of his most famous novel, The French Lieutenant's Woman (1969), which won the Silver Pen Award from PEN International and the W. H. Smith Literary Award. The apprenticeship was over. This pseudo-historical novel revealed a new openness to experimentation with narrative voices and an intellectual sophistication that has marked all his later fiction: The Ebony Tower (1974), Daniel Martin (1977), Mantissa (1982), and A Maggot (1985).
But Fowles the novelist, true to the humanistic tradition, has insisted upon playing other roles. He is an imaginative historian, an environmentalist, and a student of natural history—as evidenced in Islands (1978), The Tree (1980), The Enigma of Stonehenge (1980), and A Short History of Lyme Regis (1982). He has translated and commented on several classic French works, including Perrault's Cinderella and Molière's play, Don Juan. One comes to a better understanding of his art through a reading of his afterword for Alain-Fournier's famous novel of youthful quest, The Wanderer, his foreword to The Lais of Marie de France, or his satirical conte on the deconstructionist thinkers, Mantissa. Just where Fowles stands in relation to the history and culture of his own country is made clear in an early essay suggestively titled, "On Being English but Not British." In spite of a large body of critical literature on his fiction, the best description of his attitudes and procedures in the course of creative composition is the often-anthologized "Notes on Writing a Novel."
The interview was done, at Fowles's request, through written exchanges beginning in June, 1987, and concluding in April, 1989. His desire to proceed "by post" had its origin in a certain dissatisfaction with the several taped interviews he had done and perhaps with some of the academic criticism of his fiction. He would set the record straight. Yet a taped interview was the occasion for our first encounter at his home in November 1985. At that time he gave the impression of great strength and confidence, gentle manner, and enormous capacity for ambiguity and complexity. When that interview was published (in the Michigan Quarterly Review), he wrote to say that in the future he wanted time to write out more thoughtful responses. On reaching mid-point in our written exchanges, John Fowles suffered a life-threatening stroke. He wrote: "Writing, what it is to be a writer, fills one with horror in their smallness, pettiness. All one's former vanity is folly." But he had the questions before him, he had promised to reply, and partial recovery allowed him to continue. The impact of that stroke on his spirit is described in the interview, but it is most tellingly realized in his concluding quotation of the refrain from Scottish poet William Dunbar's sixteenth-century "Lament for the Makers"—Timor mortis conturbat me.
INTERVIEWER
Is it accurate to say that you did not begin to establish an identity as a writer until you went to Oxford in 1947 and entered into a rather fashionable revolt against the limitations of a suburban middle-class background?
JOHN FOWLES
Yes, completely accurate, though I think the notion of joining "a rather fashionable revolt" is a little bit wrong. You must remember my generation—I was born in 1926—had spent our late adolescence and early twenties in wartime, followed by a period of national austerity that remained psychologically like war. Oxford in the late 1940s was, I think, to all of us lucky enough to be there, a kind of wonderful escape from all that—a happy dream, an alternative world . . . in a sense a novel we had heard of, but never actually read until then. Where the individual was paramount, not the nation. I came out of the strict "order" and discipline of the British Marine Corps into the ancient indulgence of Oxford; it was a heady experience for all of us, an intoxication, hardly a matter of revolt.
I should add that in my teens I had a somewhat unusual experience for a youth, having become head boy of my large public school (in Britain really a private school, of course). Head boys were in those days responsible for all minor discipline in the school outside of class, able to give punishments and cane delinquents; we were, so to speak, appointed heads of Gestapo, with a body of lesser prefects to help us spy on and patrol, cow and bully, the several hundred other boys. It was really a very bad system, and I wish I could say that a more sensitive side of myself had revolted against it at once. It did not. The power went to my head, and it was only afterwards—when I had left the school—that I rejected it completely. I have indeed hated all forms of public authority ever since—oh, not every individual representative of it, but the general idea behind it.
Apart from anything else, head boys were largely excused from any other kind of work, and that had fatal results on my own proper "academic" career. We were also supposed to stand as models for the whole system (in my particular school, producing eventual administrators of the already dying British Empire, stiff with every supposed middle-class virtue), and that was a role I came to realize I despised and did not want. This happened in the two years or so of service in the Royal Marines between leaving school and going to Oxford. I arrived in that latter place, in other words, in a state of full rejection of everything I had been earlier taught to believe in. Oxford handsomely confirmed the revolt, rather than initiated it.
INTERVIEWER
What induced you to read in French during your four years at Oxford? What writers particularly impressed you? Was Montaigne, for example, an influence and a model in the formation of your humanistic philosophy?
FOWLES
This was largely pure chance. I had been fairly good at modern languages in school, and had a very sympathetic master there. It was sort of taken for granted that I would later do them at university. Those were, of course, the days of compulsory conscription. So I was in the Marines from 1944 to 1946, ending as a lieutenant training recruits who hoped to become commandos. I was at the time a little bit torn between joining the Marines permanently or taking the place I had been promised at Oxford. One day we had an official visit from a famous lord mayor of Plymouth, Isaac Foot. I was appointed his temporary ADC for the visit, and took the opportunity to ask his advice about my dilemma. To my surprise—we had all been brainwashed in those days into thinking the only thing that mattered was one's middle-class national duty—he said very crisply that only a fool would find it a dilemma. If I had a place at Oxford, of course I should go for that, not the Marines. Spurred by what Isaac Foot said, I applied at once.
My first year at Oxford I "read" both French and German. I liked my French tutors, did not like the German ones, and so dropped German . . . something I have regretted somewhat ever since. Despite grim experiences in the trenches and afterwards in the occupation army in Germany itself during the First World War, my own father was much more fond of German literature than French. That decision of mine did not please him. In a sense I was going against family (or Victorian) tradition in turning my back on Germany and German. But I am sure now, forty years later, that it was basically the right decision. I think it is much more useful for the future novelist—for any seeker after culture—to get to know the Latin side of Europe well, rather than the Teutonic and Nordic one. The Germans are too like the British, and the French so richly different. We need what we haven't got by nature.
I had student "love affairs" with various French writers, although some took years to take effect. I very much liked Montaigne, although I haven't read him for years now. He seems to me one of the sanest and intellectually most attractive Europeans who has ever lived and he set me on the course of humanism that I have followed ever since. We had at that time to spend a great deal of time on Old French, and used to rather groan about it linguistically; but there seeped into me eventually an affection for the early storytelling—for Marie de France, Chrétien de Troyes and the rest, the fathers and mothers of the European novel. I also liked the French comedy, especially Molière and Marivaux—not Racine and Corneille, I'm afraid, and I liked the late-nineteenth-century poets—Baudelaire, Mallarmé, Laforgue. I also particularly fell for that elegant, precise tradition of the pensée, the carefully framed apothegm and wisdom, something we've never really mastered in English—Pascal, La Rochefoucauld, Chamfort, all the rest. That admiration ruined a book I wrote later, The Aristos. I learnt my lesson there. It is not only wines that won't travel between our two countries.
By and large, I have never had much enthusiasm for the classical side of the French tradition, whose apotheosis is, I suppose, Racine. Even at Oxford I seemed to get endlessly lost in the byways, things I should not—at least for exam purposes—have been reading. I have never been particularly interested in French contemporary literature. Though I love the language, I have never learned to speak it well, though I would claim I am quite a good reader of it. But that was, I think, the aim of the old Oxford at that time: to teach one to understand France and the French, not to speak the language currently and fluently. That for me remains a vital difference between proper university "French"—or any other foreign culture and language—and its language-school variation. They are, or should be, two different things. One is for human beings, the other for business people. I don't think modern educationists have ever understood that, at least in this country.
INTERVIEWER
But weren't the existentialist writers—Sartre, Camus, de Beauvoir—important in fostering your bid for freedom from the rigid structures of your conservative background?
FOWLES
Those writers certainly came to us after the war as strange and exciting. I always liked Camus best. Sartre I often found hard to understand. I can remember giving up L'Etre et le Néant in a mixture of despair and disgust. It wasn't just a language problem, more a philosophical one, not knowing what he actually meant in real life. That applies to most of the gurus since. I don't recall having read Simone de Beauvoir then. I think the "influence" was partly from the endless amount of talk in Oxford about "the existentialists," "authenticity," being engagé and the rest, all the implicit condemnations of the bourgeois view of life, that affected me. It corresponded to feelings inside myself that I think would have emerged anyway, indeed had already emerged, if confusedly, but were certainly quickened by the existentialist writers.
Students of my work often make rather a lot of existentialism, a good deal more than I ever felt is true of myself. But that is a familiar feeling, for me, anyway. You are presented as something you never really were. Of course it's flattering to be extensively studied; but I'm not altogether happy about the intensive pursuit of living writers that seems so popular now with literary students and teachers. I write for other reasons than providing fodder for the literary faculties.
INTERVIEWER
Did you read Jung? Could his influence be linked with the theme of psychological growth so apparent in the early novels?
FOWLES
I did dabble in him, from Oxford days and after. But not as a serious student might, much more as a dilettante, picking up the ideas I needed and that appealed to me rather as a spoilt child might pick out of a lucky dip if he or she were given free range and choice. For me Jung has always been the most fruitful psychologist, that is, most fertile in his effects on any subsequent fiction. I suspect a straight analyst, more or less in Freud's footsteps, would suit me better medically, if I ever needed such attention—which perhaps I do . . . like every other novelist!
INTERVIEWER
You have said that you started writing The Aristos as a sort of student's notebook or "self-portrait in ideas" at this time. It seems an indispensable book for the serious student of your early fiction—The Magus and The Collector. Did it precede any extended effort to write fiction?
FOWLES
Like so many Oxford students, I developed very timid literary ambitions there. Such as they were, mine had far more to do with poetry than the novel. Poetry lasted as a long dream, long after I'd left university, of which the Poems that were published in 1973 were a funeral relic. I still occasionally get the urge to write poems, but usually sternly resist it. I didn't attempt fiction till the mid-1950s, and then not very seriously; it long remained a kind of second best, or faute de mieux to me. The Aristos I did begin in my last year at Oxford, 1949. I also began keeping a personal diary about that time. I am a great believer in diaries, if only in the sense that bar exercises are good for ballet dancers: it's often through personal diaries—however embarrassing they are to read now—that the novelist discovers his true bent—that he can narrate real events and distort them to please himself, describe character, observe other human beings, hypothesize, invent, all the rest. I think that is how I became a novelist, eventually. It's certainly how I tend to see my older books when I reread them, which is not at all often: that is, as a sort of past diary about myself. So that's how I felt and thought then. Not always a pleasant experience! The Aristos certainly preceded my novels, and yes, often bears heavily on them.
INTERVIEWER
You have said that you wanted to be known as a writer and not simply a novelist. You continue to make it difficult for us to separate the fiction and the nonfiction in your work. Is this a result of the early humanistic idealism—being a "renaissance man," a generalist, rather than a devotee in any single genre?
FOWLES
I've always felt that expressing myself in other literary forms is natural and desirable. Or putting it most generally, that all novelists should live in two different worlds: a real one and an unreal one. That is perhaps why my taste in fiction is towards a fair degree of realism in style and my taste in nonfiction (say in what scientists and academics write) is towards those who can exhibit qualities like tolerance of hypothesis, dislike of the rigid interpretation, a general fluidity of attitude, and a basic sympathy towards a subject . . . a touch of ordinary humanity, in a phrase.
Very important for me also is the collection of "old" books I have gathered over the years. I am a lousy bibliophile in the proper and normal sense. What I like about picking up old books is their enormous variety and the glimpses they can give into past and lost worlds and cultures. I do this quite indiscriminately, with whatever takes my fancy; the returns, in a literary sense, are infinite, but difficult to categorize. An American student to whom I mentioned this asked if she might have a list of what I had read or collected over the years. I told her it was impossible. I keep no such list. But this very miscellaneous reading I have done over the years has become a major influence for all its maddening vagueness for the students. Students nowadays seem to want to "place" precisely, to locate precisely, everything about a writer's work: what he is, what has made him or her what they are, and so on. It seems to me that to imprison it is to deny something very essential about writing. Rather the same thing has taken place in nature, or natural history—the mania to place everything in a precise species or subspecies, to discover exactly how it works, all the rest. I am opposed to the scientization of nature, the reducing of it all to species, ecological distributions, biochemical mechanisms, and so on. I feel this very strongly about writing and writers too. The world wants us caged, in one place, behind bars; it is very important we stay free.
INTERVIEWER
Like Forster, you have always distrusted Jamesian perfection of form, or at least you seemed to reject it as a worthy goal after the two early novels. Why?
FOWLES
I'm not quite sure what "perfection of form" means, unless it means obeying whatever "ideal form," that fickle thing, that the general educated taste, and in particular its leading determiners, the literary professors and serious critics and students, have decided their age must judge as "ideal." I dislike intensely the notion that a perfect form, like a sort of god, hovers over all of us, which we either cling or pay lip service to. I think whatever form is chosen by each writer is "perfect" for him or her, however imperfect it may seem to those under the delusion of some general "perfect form" and its attainability. That sort of myth of a perfect form, applicable to all, seems to me one of those things modern art has sunk beyond resurrection. I certainly try to make the form I put things in suit their matter, but I agree totally with Forster that forcing that matter into some supposed general ideal of the form best suited to it is wrong. Novels in a sense are like new scientific theories. Of course there are ways in which they have to pay homage to the past, to high past standards; but they have also to disobey and question them, to break new ground. Nothing in their cultural pasts could have allowed for or predicted, say, Tristram Shandy or Ulysses.
INTERVIEWER
I meant to suggest that the two early novels are quite highly structured compared with the later ones. They're both allegories on power, aren't they? Both novels reach for the "living myth"—the archetypal and perennial confrontation of the "aristoi" with the "hoi polloi." They're set pieces, world-weary. Doesn't The French Lieutenant's Woman show a new openness in form and mark a real change in your conception of the novel and novelist?
FOWLES
They may be allegories on power, but I really don't think I saw them particularly so at the time. The younger novelist is really so excited by the powers he discovers he has—in part—that novels grow closer to love affairs—between novelist and subject—than to the sort of serious theme you're suggesting. This is perhaps why they come to you as world-weary set pieces; they were both written in a state of excitement! In a sense the young novelist finds himself in a gymnasium, with apparatus for set exercises, and wants to try his hand at some or all of them. I think it is only when he at last has mastered that side of it, that the real work, and the freedom we all fundamentally covet, become possible. Certainly I hope that in that way The French Lieutenant's Woman marks a real change and a new openness—what the Russians now call glasnost, transparency.
INTERVIEWER
You insist in these early works on the natural inequality of human beings, but at the same time you lean toward socialism. How do you reconcile your social egalitarianism with the rather snobbish idea of an "aristoi" or elite few set apart from the many?
FOWLES
This is something of an eternal torment, or split, in my life. The idea of an elite few is, of course, nowadays something no one likes to declare a belief in. On the other hand I am absolutely sure that it is a biological—if you like, Darwinian—truth. So I am torn between this "cruel" but necessary truth—that some, perhaps most strikingly in the arts and sciences, are clearly better endowed or adapted than the others—and by that other, kinder truth that asks equality and equal justice for society as a whole. In general I confess I much prefer the company of reasonably intelligent and educated people, but I still basically hold with the contention I made in The Aristos: that being "superior" in intelligence or education does not excuse an indifference to hoi polloi, the Cleggs and "fools" they have to live among. On the other hand, some of the recent calls for greater egalitarianism seem to me absurdly unreal. You can't legislate stupidity and ignorance out of existence, or deny they aren't evolutionary disadvantages. But perhaps we'd better not go into that!
INTERVIEWER
Have your work habits and methods changed or evolved since you wrote those early, idea-driven novels? In your "Notes on Writing a Novel," you say The French Lieutenant's Woman had its genesis in an image that simply welled up from the unconscious. Just how do you now proceed in the task of writing fiction?
FOWLES
I don't think my methods and habits have changed. When I do write fiction it is still much more by instinct and feeling than by some kind of theory. I am at the moment toying with the idea of a novel about French counterrevolution in La Vendée in the 1790s. That also has come to me by something very like an image. I may not do it, but what attracts me are these image-constituted kernels of a story. How shall I put it—they seem inherently rich, they promise all sorts of potentialities in how they might grow. What is rather terrifying at my age is the prospect of all the work you are setting for yourself by allowing such images to haunt the mind. That has changed. Some stories in the past one couldn't wait to get into; the energy needed, all the hard work, seemed nothing. Now it is frankly much more difficult. My last novel, A Maggot—La Créature in French—is currently having some success in France; it has just been chosen the best book of 1987. Marvelous, most writers think. But, perversely, I find it all rather depressing; men of sixty still expect to hurdle, or run marathons, as well as they did thirty years before!
INTERVIEWER
The visual image seems very important to you, as it was to D. H. Lawrence. You constantly refer to painters and painting in your fiction. When did this interest in art and art history arise in your career?
FOWLES
I have no artistic ability whatever myself, but I do have a great fondness for the art of the past. I once said that if I weren't a novelist I would like to have been an artist. In a way I both envy and pity painters their general inability with writing and words. More practically, I think the countless wordless shortcuts the painters have to make to show their truths are of value to all writers. In semiological terms they have a whole vocabulary of signs totally beyond literature, obviously. A lot of very recent postmodernist art does not satisfy me. Upsetting tradition is justifiable; putting virtually nothing in its place is not.
INTERVIEWER
Rossetti and the Pre-Raphaelites seem to have special significance for you. Rossetti appears as a mentor, or magus, for Sarah in The French Lieutenant's Woman. Isn't he also quite close in spirit to your painter, Breasley, in The Ebony Tower?
FOWLES
Yes, I am very fond of the Pre-Raphaelites. I was sent only the other day a copy of Holman Hunt's portrait of Rossetti as a young man, and felt a very sharp sense of almost personal identity with that; something about his slightly neurotic look. I certainly didn't link him with Breasley in The Ebony Tower—I had no clear model—but perhaps there was, as there so often is in fiction, some unconscious link with him.
INTERVIEWER
Breasley is very much against abstraction and makes negative and obscene puns on Picasso's very name. He insists that great art is not mental but arises instead from nature or fullness of being. You agree with that, don't you?
FOWLES
Well, yes, I am not altogether happy about some of the developments in very modern art. The great abstract artists, fine; but far too many of the lesser ones seem to me to use the abstract to hide their own lack of basic technique and of things like draughtsmanship. It does seem to me on occasion altogether too mental, too associated—especially in New York, I'm afraid—with notions of what is commercially viable or chic today rather than with the kind of more humanistic—and human-based—traditions from the past.
INTERVIEWER
But is your attitude essentially "romantic"? Drawing a portrait of the artist based on your fiction and various statements you have made, one forms a Rossetti-like image of a rather isolated, anima-driven man, dependent upon the "muse," or unconscious forces, somewhat self-destructive, and dreaming always of a saner and greener world than the contemporary reality.
FOWLES
Here we must differ. Everything I have learnt of other writers and most artists does constitute a portrait of the sort of figure for which you blame me—certainly the isolation, certainly being driven by largely unconscious forces, certainly having to rely on idealized images from the past. I think all the arts draw on a nostalgia or longing for a better world—at root a better metaphysical condition—than the one that is. Self-destructive, I don't know, but certainly we are all victims of some form of manic depression. That is the price of being what we are. I would never choose—even if I could!—to be a more "normal" human being; I would never choose something without that emotional cost, severe though it can become.
INTERVIEWER
Doesn't all this remind you of Hardy? You sometimes seem to merge with Hardy's Jude—a man with a vision of the humanist's New Jerusalem glowing on the horizon, as Christminister appeared to Jude. You remember he carved into the milestone, "Thither, J. F." This isn't really a fair comparison, I suppose, since you don't have his naive faith in social evolution.
FOWLES
I think every writer, certainly from this part of the world, feels a bit of Hardy in him, but I wouldn't like to be compared personally to Jude the Obscure. I really can't altogether go with Hardy's general gloom and pessimism. I certainly have doubts about social evolution, especially today, and especially as so many politicians like to use the hope or promise of it in their speeches—too often merely because it's something people want to hear. By and large I retain a kind of optimism about the human condition, a belief that we will one day—even if always a later day than naive optimism expects—correct much of what is wrong in the world, or perhaps just what makes us believe it is wrong. Do I think that things will get better in any immediate future, no; that there is some kind of slow progress, despite countless wrong turnings, yes. I am working at the moment at an attempt to dramatize the debate over Darwin's On the Origin of Species at the British Association meeting at Oxford in 1860—in many ways perhaps the most important event of the whole century since it was when rational science began at last to cast off the shackles of obscurantist religion, when reason began to triumph over myth. Our present scientific world, which resulted from all that, has its faults and problems, of course, and perhaps the pendulum has swung too far. But I still can't feel, despite all the well-known intervening horrors and disasters, that the world hasn't progressed since the new reality Darwin and his followers introduced into life just over a century ago. Basically Hardy saw Darwinian theory as grist to his mill, or scientific backing for his gloom. I don't feel that. It seems to me to have represented a major clearing in the clouds over humanity.
INTERVIEWER
Granted your philosophical differences with Hardy, there does seem to be a psychological bond between you. In your essay, "Hardy and the Hag," you recognize his rather painful last novel, The Well-Beloved, as a precocious (pre-Freudian and pre-Jungian) fable on the power of the muse or the anima—the erotic—in the life of the writer. A more innocent perception of this connection is the mainstay in the life and work of another writer you have admired, Alain-Fournier. Bring in Rossetti and you have a psychological brotherhood. Isn't your Mantissa a sort of spoof on this link between the erotic and the creative impulses—a tribute to old Erato?
FOWLES
I certainly think the erotic was very important for Hardy. The avoiding any direct contact with it, or expression of it, the slipping around it, plays an enormous part in his novels. He was obviously a shy and repressed man. He liked the tryst—that first secret meeting or instinctual attraction between lovers—so much more than the fully physical side, what we should call the sex. I suppose I am the same, that is, haunted—both ravished and tormented—by the erotic; yet happiest when it is left three-quarters hidden, in secret. I spent a year of my life once writing an erotic novel—in common terms, a pornographic one. One day, when it was virtually complete, I took it and all its drafts into the garden and burnt the lot. It would no doubt have made me a great deal of money, and I was rather proud of it, for what it was. It was not prudishness that made me burn it, but much more a feeling of blasphemy, an error of bad taste. It broke that secret, bared the hidden part. That is why I dislike what I see as the unnecessary sexual explicitness in so much American fiction; it becomes infantile, destructive of the truly erotic, in the end.
Mantissa was meant to make fun of that, in part, and also of the poor novelists, like Hardy, Fournier, D. H. Lawrence, Henry Miller, and countless others, laboring under this monstrous erotic succubus they have to carry on their backs. That and the money succubus—the idiot's illusion: I must be a great writer because I make a lot of money—are the two main danger points for the male writer.
INTERVIEWER
You have told visiting academics searching for "influences" to consider nature itself—as well as your long-standing interest in natural history and in conservation—as sources. The essential connection between nature and your art is explained, I think, in the most admirable of your nonfictional works, The Tree. I refer to that perfect essay you wrote to accompany the photographs in that volume. Would you care to clarify and elaborate?
FOWLES
Thank you for liking The Tree. I am most happy at having written that. This relation, between man and nature, is far more important and real to me than that between man and God, even between man and other men. I also find it intensely pleasurable, endlessly rich. Men often bore, books often bore, all things human can bore; nature, never. I once had to be in a jury at the Old Bailey, London's principal criminal court. We had to listen to a series of very unpleasant cases, involving child abuse, incest, all the rest. I was left afterwards standing outside the court with my jury fee. I decided to go to the nearest bookshop and buy the title remotest from anything human that I could find. I bought the then standard work on British spiders, about which I knew nothing. Now, many years later, after endless peering down a microscope, I still know nothing scientific about spiders—that is, I can still not identify them safely. But at least I have glimpsed and spent many hours in their strangely complex and beautiful world.
For many years, and with rather more success, I have pursued wild orchids all over Europe and—through someone's kind gift of Luer's books—in imagination as well, all over the United States. When I was in a hospital bed just after having had a stroke recently, I was near weeping with self-rage and self-pity, reciting a mantra to myself: tenthredinifera, tenthredinifera, tenthredinifera . . . that unpronounceable name belongs to one of the most beautiful Ophrys, or bee orchids, of Europe. I had come upon it on a Cretan mountain the previous spring; and I was saying that name like a mantra because I thought I should never climb that remote mountain again. Nature regularly brings tears into my eyes; humans very, very seldom.
INTERVIEWER
Academic critics have questioned you again and again about literary influences, but of course there have been other influences. What people have impressed you? And what about the impact of your travels—France, Greece, America?
FOWLES
Very few people, I am afraid, have influenced me. I say "I am afraid" because I think one's indifference, deep down, to most other human beings is not something to be proud of; it is a form of hopelessness. Increasingly, as I grow older, I try to justify this, and perhaps do, in part, by man's bestial treatment of nature and his overwhelmingly selfish stupidity, his letting himself proliferate to such an insane degree. There are just too many of us these days. We have a dialect expression here in the west of England: "the grockles." A "grockle" is someone ugly, but necessary: a visitor, a tourist, a foreigner. It is not just here in Dorset, but all over the world: the grockles begin to ruin everything.
Places touch me, move me, far more. If I am lucky, now, in the present, visiting; but these days it seems more and more in memory they move me, what they were like. There is a beach on Spetsai in Greece I describe in The Magus. Later visitors have told me how the grockles have completely spoilt it. But I can still remember it as it once was. I do not need my own words. Words are clumsy things. In my mind I can return earlier, to the first place, my first experience, as perhaps Adam could recall lost Eden. I remember equally a site in New Mexico, that I also wrote about; and the first American woods I walked through, in Massachusetts, entrancingly new to me and strange, though it showed nothing but the commonest species.
INTERVIEWER
Orwell wrote his late books in behalf of "democratic socialism"; you write in behalf of "freedom." Apparently you mean that the individual must free himself from conventions. We must escape from the "ebony tower" of our conventional lives. Is that the key idea?
FOWLES
I have just written a conservation piece in which I suggest—not altogether humorously—that man's nearest relative is not the ape, but the sheep. I was brought up in an intensely conventional suburb not far from London by, in social terms, conventional parents. I have tried to escape ever since, and have admired the unconventional, the breakers of rules. Though often timid about that myself.
INTERVIEWER
Many of your novels are "timescapes," as they have been called, but Daniel Martin stands out as a venture into contemporary realism. Like Dan, you did live in Los Angeles for a while and worked on films.
FOWLES
Daniel Martin is certainly closer to me, or my own life, than the other books. Yes, I did briefly experience Los Angeles when William Wyler was getting ready to make The Collector. I enjoyed that, though I loathed Los Angeles and the vulgar tinsel of the film world. I wrote an account of it, very safely unpublishable for libel reasons.
I have a kind of love-hate relationship with the cinema. I admire it at its best, as an art, but I am increasingly hostile to the way it has invaded literature. I hate the way some silly people (often those who think themselves intellectuals) suppose we writers can know no greater glory than to have been filmed; almost as if we would never have written in the first place but for the prospect of being translated into the cinema. A year to two years ago my Chinese translator wrote and asked me if he could ask me a very important literary question, which all his Chinese readers would like answered. I agreed—there then came this very important literary question: What was Meryl Streep really like? I did not, and will not, answer, not because I in the least despised or disliked Meryl in The French Lieutenant's Woman—she made a very good effort at a very difficult, for an American, part—but because the Chinese were showing themselves just as foolish as the Americans and the British, totally under the tyranny of the fashionable art form, of the visual. Something in the cinema and television wants to usurp the novel totally. It will fail, I believe; in any case these visual arts will receive no help from me in their encroachment on my own art.
INTERVIEWER
There aren't many heroes in your novels. Well, in A Maggot there is Lord B., who certainly qualifies, but he turns out to be a transient incarnation of qualities found only in a better world than ours. On the other hand, every novel provides a heroine. You give women most of the virtues and you imply that our time—contrary to the public myth sustained by scientific achievement—is anything but a "heroic age."
FOWLES
I am certainly not a feminist in the militant sense, and I'm sure many such contemporary feminists would disown me. I have great sympathy for the general feminine principle in life. I find very little "heroic" about most men, and think that quality is far more likely to appear among women in ordinary, non-literary life. That ours is in general a heroic age seems to me ridiculous. We are near stifling and exterminating our planet. What scientific and technological advances we have made are flagrantly not paralleled by any moral or ethical ones. By and large men are never moral; they always let themselves be pressured into the amoral or the immoral. In terms of history men have failed; it is time we tried Eve.
INTERVIEWER
You have often said you admire Golding. Is it partly because he is so well-read in scientific literature and so often attacks the myth of "objective science"? Certainly Golding would approve your book on Stonehenge for this very reason.
FOWLES
I've long liked Golding's work. Though I have met him, I hardly know him personally. Without agreeing all the way, I have a general sympathy with what I take him to be doing. The piece I wrote for the volume in tribute to him on his seventy-fifth birthday ["Golding and Golding" in William Golding: The Man and His Books (1986)] tries to say that. I've just reviewed the last of his sea trilogy. It shows marvelous gusto in a man of his age. Thank God someone still knows what the novel is about.
INTERVIEWER
What other contemporaries, or near contemporaries, have impressed you or directly influenced your own writing?
FOWLES
None—or rather, too ephemerally for me to feel happy about talking of influence. At the moment I am for instance reading—and enjoying—a proof of Sybille Bedford's new novel, Jigsaw. I very much like her general attitude to life, her Europeanism, her slightly watercolorish writing technique, those seemingly haphazard, Dufy-like little dabs of description. She would very well answer my general notion of "a humanist." But I could not quite call this an influence. As I suspect happens with most writers and over most literature, she simply helps constitute a general tenor, or climate, that I like. I think baldly asking for specific names is really a much too clumsy—perhaps a masculine—way of probing a very vague, delicate, and obscure process.
INTERVIEWER
You say you feel time is running out. If you must abandon certain possibilities and projects in favor of others, what criteria come into play in making that decision?
FOWLES
As we both know, this has been, through my fault, a very prolonged interview. During its midstream, early in 1988, I had a mild stroke—medically, "a transient ischaemic episode." It did not, and still does not, seem the transient episode the doctors would make it, but something much more life altering. At one moment an eminent neurologist happened to lightly remark to me that of course I would have lost my writing ability. I was used to other people's indifference, but thought this a damned sight too much. He knew who I was, and I found his light insouciance monstrous. I was in complete error. What he had been talking of was "righting ability," the power to look to one side yet still to keep one's balance as one walks on—a faculty I had never before even realized I had—and which I have indeed partly lost. On bad days I go down the street like a wino, canoning from side to side.
It seems I was lucky, really. My memory was affected a little, but seems to be returning. I can still enjoy reading, I feel I can still judge books. What escapes me is composing fiction. The two main writing blocks are these: firstly, finding myself starved of alternatives. In the pre-stroke days my mind seemed automatically, and quite unconsciously, to offer ten ways of saying something. Now I am hard put to think of more than one, and that often not one I like. I never before realized I had this totally unconscious verbal dexterity; and that not having it is salutary, is reducing me to the common state of most people—this is why I've been so lucky, this is why they can't write novels.
The other bar to writing is less mysterious. It is something like abulia, loss of will, indecision; but not quite. It seems more like a loss of vanity, a not really caring what I write or have written—even worse, what anyone writes or has written. In short, I have lost all conventional faith or belief in books, in "literature," most of that superstructure of self-regard most writers have to erect between themselves and the outside world. Only the old and very successful can throw that superstructure away; and even then, often don't.
This new slowness, the intellectual equivalent of my new physical clumsiness, this doubt of "the worth of the game," have largely kept me from serious writing during this last year. I certainly don't feel barren, bereft of ideas, just of the ability to put them into practice. Nor is it basically a question of help, human or mechanical. The individual mind is just something no other mind or a word-processor can replace.
This stroke has made me feel time is running out; in other words, much more aware of death, my own and that of the one other human being I love most—and whose ghost, in one form or another, has lain close behind all those female heroines we mentioned earlier. I can imagine my own real death, but not that of Elizabeth, my wife. The one thing I try to keep writing, as I have during nearly all my adult life, is my diary. You wonder, at times, what it is all worth, the maundering on about countless things that other people will have forgotten. Yet something drives one on; man—and woman—is profoundly self-reflexive.
Years ago in The Aristos I suggested death itself was like a loved wife, a vital and essential part of me. Still today I wouldn't alter any of that part of the book. I stay an atheist, a totally unreligious man, with a deep, deep conviction that there is no afterlife. But I wrote it a little as one who writes things in novels: imagining them, not knowing them. Now the rough seas begin, and Timor mortis, though I despise it, conturbat me.

Author photograph by Nancy Crampton.