Interviewed by J. D. McClatchy
Issue 113, Winter II 1989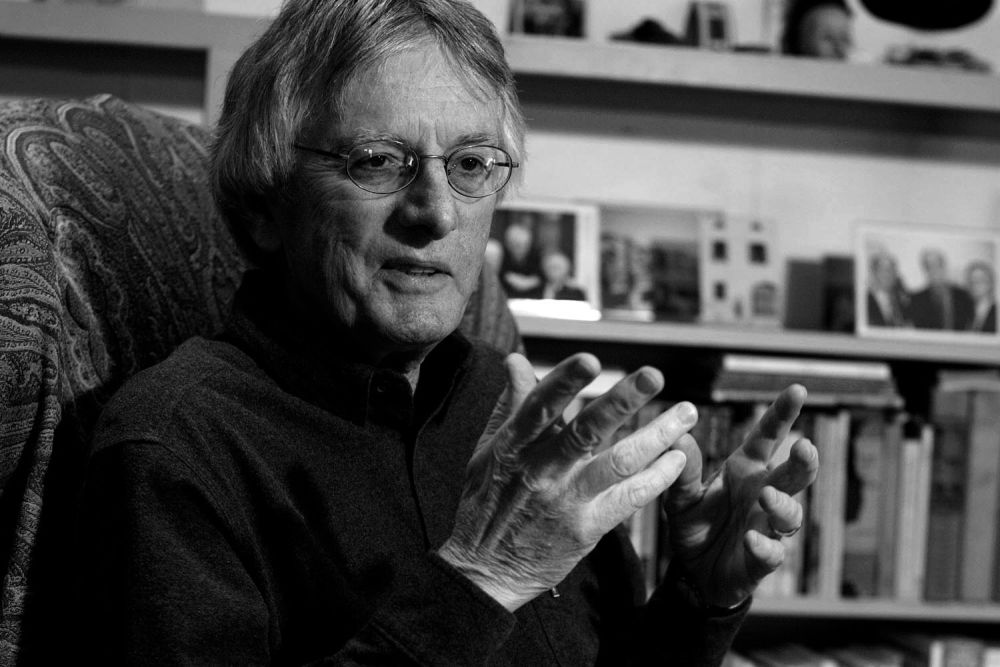 Charles Wright. Photograph by Dan Addison
From his dustjacket photographs, you might expect Charles Wright to be a dour man. In person, though, he gives a quite different impression—trim, elegant even in blue jeans, generous, with a Southerner's softspoken courtliness. Born in Pickwick Dam, Tennessee, in 1935, he grew up in the South and went to college there. And a few years ago, after a long spell of teaching at the University of California at Irvine, he returned to the South, as poet in residence at the University of Virginia.
Wright's work stands out among his generation of poets for the austere luxuriance of its textures, its mingling of domestic subjects and foreign methods, and its bold and unpretentious ambition. During the past two decades he has written eight books of poems: The Grave of the Right Hand (1970), Hard Freight (1973), Bloodlines (1975), China Trace (1977), The Southern Cross (1981), Country Music: Selected Early Poems (1983; winner of that year's American Book Award in Poetry), The Other Side of the River (1984), and Zone Journals (1988). He has also translated two volumes of poetry, by Eugenio Montale and Dino Campana—and when I visited him he was putting together a collection of prose writings.
I had been invited to dinner with the Wrights—Charles, his wife, the photographer Holly Wright, and their son Luke, who had just been accepted at Sewanee and could tell us anything we wanted to know about computers. They live in a handsome Victorian house in Charlottesville. Their dining room has been converted from a parlor, and is large enough for a fireplace and grand piano. We sat at an eighteenthcentury Sheraton walnut table. But the formality was offset by odd details—a witch ball, the bit from the horse of the infamous bandit Joaquin Murieta. Opposite my chair was an imposing oil portrait of Wright's greatgrandfather Charles Penzel, for whom the poet was named. Penzel, from minor Bohemian nobility, had emigrated to America at sixteen. No sooner had he settled down than the Civil War erupted At twentythree he took a bullet in the mouth as he yelled "Charge!" during the Battle of Chickamauga. After that tumultuous start, Penzel eventually became a banker in Little Rock, Arkansas, and even wrote poems. One, addressed to a war widow and printed up in a newspaper of the time, begins: "Beyond the flight of Time, / Beyond the reign of Death, / There surely is some better clime, / Where life is not a breath."
After dinner we went up to right's huge attic study. It's kept obsessively neat—a trait, he says, he gets from his father, a civil engineer whose desk was scrupulously organized. Here is a poet for whom—as one looks around the room—arrangements matter. On one wall of shelves his books are arranged by their size, not by author or subject. In fact, there are fewer books than one might imagine, but more images: stacks of postcards, a zebra rug, gadgets, bird skulls, an heirloom sword—totems all. We pull up chairs next to what he calls his shelf of sacred texts—his lifelong masters, the voices that enabled him to find his own. There beside us are Dante, Pound, the Bible, Plath, Hemingway, Babel, Stevens, Williams, Crane, Roethke, Whitman, Dickinson, Rimbaud, Hopkins, Montale, an anthology of Chinese verse.
Across the room from us, in a narrow dormer alcove, is his desk with its Hermes portable typewriter. Above it are photographs of his wife and of Verona, taken during his first visit there in 1959. Beside these, a drawing of Campana, and a page from an old edition of Inferno, Canto XXIV. "What I look at has everything to do with what I think," he quickly explains.
Near the desk, at the end of a daybed, is what looks like an old tin footlocker. Stencilled on the front of it is the name H. W. Wilkinson. It rings a bell.
INTERVIEWER
May I ask what you keep in the box?
CHARLES WRIGHT
Of course. Family things, mostly. Old letters, land grant deeds in Arkansas, a couple of family trees. That sort of stuff. Actually, the land grant deeds are interesting—one signed by James K. Polk, one by John Quincy Adams, and one by Andrew Jackson. Simpler presidencies in those days, when you could spend time signing grants for the territory. The whole lot was in a bottom drawer of my father's desk when he died and I've just rather unceremoniously stuck it in this tin box I bought in an antique shop in California. Family letters in almost indecipherable hands from the mid-eighteen-hundreds in Arkansas, a couple of documents from a greataunt of mine tracing the family lines on my father's side, from Maryland through Virginia to Tennessee and finally to Arkansas. A lock of Robert E. Lee's hair, if you can believe that! There are bunches of snapshots from my childhood as well. And my old arrowhead collection I had as a boy. And a skeleton or two—all the poems I wrote in Italy when I was in the army, which I have vowed to throw away every year since 1961, but haven't succeeded in doing yet. And a diary of sorts I kept the first year I was in the army, in California and Italy, before I began trying to write those poems. Wretched stuff. Execrable stuff. I can't bring myself to read it or throw it away. I'm going to do both soon. I guess I keep thinking there might be something I can use one day. But after all these years of ransacking that box for material, I should know better. A kind of poetic memento mori, I suppose.
INTERVIEWER
And one of your greatgrandfathers was a senator from Arkansas, wasn't he?
WRIGHT
Oh, farther back than that. In the late 1830s—I don't know how many greats that makes him. 1837 is the date of the picture we have of the Senate chamber down in the dining room. He's in it, along with Ambrose Sevier, the other senator from Arkansas, and a distant relative. It's an interesting engraving—Longfellow is up in the balcony, as well as Aubudon and the original Cassius Clay. His name was William Savin Fulton. I got the picture because no one else in the family wanted it. I suppose it is rather ugly, but I'm fond of it. He was the family's "illustrious ancestor." Most families have one back down the line, I guess. He's still known as Governor Fulton in the family, for some reason. I just used his recipe for egg nog at Christmas, it's a real killer. I don't know that much about him, really. I suppose there might be more in the box, in some of the letters, but the handwriting is difficult to read, and I'm not sure what else I need to know. Nothing, probably. He just shines back there, our distant star, whose name we all know, but not much else.
INTERVIEWER
Now I remember: you dedicated The Southern Cross to the same mysterious H. W. Wilkinson whose name is stencilled on that tin locker. It's meant, then—that dedication—as a gesture to your past? This trunk is really a sort of voicebox, a memory and a throat for the past. The poems in The Southern Cross have that character too.
WRIGHT
Mr. Wilkinson is as mysterious to me as he is to you. His name was on the box when I bought it, and that's all I know about him. The Southern Cross was dedicated to the box, actually, as you surmise, and not to Mr. Wilkinson per se: he's just a standin for a catchall, if such a thing is possible. A voice box is a nice way to put it, although it's been more so in the past than it is now. Especially around the time of Bloodlines and, as you say, The Southern Cross. I used some of its material also in "Arkansas Traveller," from The Other Side of the River. My greatgrandfather's obituary from the Little Rock paper in 1906, some fragments from the letters about the move from Tennessee to Arkansas in the early 1800s. Stuff like that. I guess I thought it was cute, as well, to dedicate a book ostensibly to someone I didn't know. But, as you say, the real gesture was to my past, a way of letting those speak whose voices are too faint to hear. So it's a voice box in that sense, too; it amplifies the deep and desperate whispers of those who have disappeared into a kind of request for recognition. Sort of like La Pia in Canto V of the Purgatorio, though in no way so poignant or affecting: "Deh, quando tu sarai tomato al mondol e rzosato de la lunga vial . . . recorditi dime, che son La Pia . . ." "Remember me, remember me . . ." Well, I hope that some of the poems in which I use their leftovers do remember them. And the first poem in The Southern Cross, "Homage to Paul Cezanne," takes up that charge somewhat—though the dead are not named, I did have my own family, from the box, in mind. "A throat for the past." That's a nice way of putting it.
INTERVIEWER
You've mentioned your early poems. Is it nostalgia that makes you keep them? What are they like? Or better, what did they know and not know how to do?
WRIGHT
They didn't know how to do anything. Mostly, I guess, because they didn't know what they were supposed to do. And I myself had no clue. I had read The Pisan Cantos and The Selected Poems of Ezra Pound. So I started at the end instead of the beginning, trying to write about what I was seeing—Italy—in terms of what I had been reading—Pisan Cantos. Wrong from the start—an Attic disgrace. If one has to write poorly before one can write well—which I think is true—and if that can be extended to read that one has to write deplorably before one can write extraordinarily well, then I definitely started in the right place for the latter. I suppose it's nostalgia that makes me keep them. That and the sense of duty that one shouldn't destroy one's stunted darlings. Keep them out of sight, yes, but don't abuse them. Rather like the retarded greataunt in the attic, that mainstay of Southern gothic. Soon, I know, I must harden my heart and dispose of them. Euthanasia, so to speak. But for the moment, to continue your figure from the last question, they lie there like a bone in the dark throat of my past. It's not their fault. They just never had a chance.
INTERVIEWER
Even with those early poems, it seems a bit of a late start. You were already in the army, weren't you? Why then—or rather, why not before then?
WRIGHT
Why I didn't before then is unanswerable, probably. Who knows why we don't do things? I would imagine it was because poetry was never presented to me in a way that generated any excitement. I certainly remember nothing of it either in boarding school or in college. In college, in fact, there was one creative-writing course taught every other year by the Shakespeare professor—not exactly a commitment on the school's part. And all the straight English courses I took seemed to revolve around prose, not poetry. An ongoing debility, I might add, almost everywhere. It didn't help, I suppose, that I was a history major as well. I did try to write stories in college, or what I thought were stories—mood pieces, really, purple prose on the model of Thomas Wolfe. I had no idea how to do anything, and no one told me or showed me. If I had been a photograph, I would have been underexposed and underdeveloped. As it was, I was merely undereducated. But then, my college never claimed it was in the business of turning out writers—William Styron, for instance, left after his freshman year. It turned out lawyers, doctors and Presbyterian ministers. At least back in those days it did. It wasn't until I stumbled onto The Selected Poems of Ezra Pound that I discovered a form that seemed suited to my mental and emotional inclinations—the lyric poem, a form, or subgenre, I guess, that didn't depend on a narrative structure, but on an imagistic one, an associational one. "Gists and piths," as they say, instead of intricacy of narrative line.
INTERVIEWER
Okay, but why then? What took?
WRIGHT
That's a bit easier. Mostly it's because I read a poem that just overwhelmed me, blew me away, as the saying goes. It was "Blandula, Tenulla, Vagula" by Pound, from the Selected Poems. I loved the sound of it—it was in iambic pentameter, although I didn't know it at the time, and even if I had, I wouldn't have know what that was. That it was describing the very location I was reading it in—Sirmione peninsula, in the ruins of the villa of the Roman poet, Catullus—didn't hurt either. In any case, it was enough of a thunderclap to move me swiftly through the Selected Poems, and farther down the road as well. I bought a Guanda paperback edition of The Pisan Cantos, recently translated into Italian with the original English on the facing page, and read that. Understanding almost nothing, I might add, except some place names. Pound had, a year before—this was in 1959—returned to Italy and was living above Merano, in Brunnenberg, so his books were available at the local bookstores. At least they were available in Verona, where I lived. Later I got a Faber & Faber Cantos, and bought Rock Drill and Thrones, too. But it was The Pisan Cantos that struck me, along with "Cathay" in the Selected Poems. It was the first poetry I ever bought. I was twentythree. Anyway, that's why then, finally, I began to try to write poems.
INTERVIEWER
You say you began writing in Italy. You could as easily say you began writing in the army—but you don't.
WRIGHT
Well, being in the army is physical, being in Italy is metaphysical. Or so it seemed at the time. So you could say, and I often do, that I began writing poems in the army in Italy. The metaphysics of the quotidian. The army, actually, was very good to me, much better to me than I was to it. I gave them four years of my time and they gave me back, it turned out, a life. The army was only the base, as Stevens says, but it was the base. And from it I drifted into the Italian landscape and was never the same again. I never looked at anything the same way again. I never listened to anything in the same way. My eighttofive in the army was the old way, the rest of the time was the new way. And since I never wrote poems, or what I thought of as poems, during army hours, I suppose I tend to think of my writing as being in Italy, off duty, as opposed to the army workaday world. The army was still the United States—off duty was a foreign country. The army was fact, Italy was fiction. Again, the metaphysics of the quotidian. Or, poetry is the fiction we use to prove the fact. Something like that.
INTERVIEWER
What did Pound contribute, and what did Italy prompt or can you separate them now?
WRIGHT
Pound contributed "Cathay" to listen to and The Pisan Cantos to look at. Conversational tone in a high mode in the former, emotional road maps in the latter. Italy prompted a realignment with the world and its attendant possibilities. Actually, I suppose it goes a bit further than that. Which is to say, if form imposes and structure allows, then Pound imposed and Italy allowed. Reading Pound showed me there was a way to do what I had always wanted to do—to write—and Italy somehow allowed me to do it. I don't quite know how. Aiding and abetting, I guess. The same continuous sense of discovery everywhere I turned in the country that lay everywhere I turned in the books. I can separate them, of course, but the way you separate a glove from a hand. Or a skin from a snake. Still, Pound was a temporary obsession, a jumpstart, as it were. Italy has continued in me to this day. A major battery, as it were. It has given me more than landscape, however. Montale and Campana, for instance, not to mention our main man, Dott. Alighieri. Morandi and all the painters. The fact is that I discovered, in a way, each through the other, and during the early days it was difficult to separate them. Now, though, to finish the image off, the glove is in the dresser but the hand goes on about its business. As for the snake, the less said about that the better.
INTERVIEWER
By the way, did you ever meet Pound while you were there?
WRIGHT
Actually, I never did. I came close once, in 1969, when I was living in Venice and teaching at the University of Padua. Jim Tate was visiting me and we arranged, through a mutual friend of mine and Olga Rudge's, Vittoria Cozzi, for the three of us—Vittoria, Jim and me—to call on Pound on a particular Monday. This was on a Wednesday, I think. Well, between Wednesday and Monday, Pound got a call about his honorary degree from Hamilton College and was already in the States by the time our appointment came around. It was his last trip to America, it turned out. Otherwise, I used to see him taking his walks along the Zattere off and on. I used to see him and Olga in Piazza San Marco before they left for San Ambrogio for the winter. He, as I recall, always wore (at least when I saw him) a beautiful camel's hair topcoat and a muffler. And a hat. He always wore a hat. I would see him occasionally, always with Miss Rudge, through the window at the odd restaurant. I remember wanting, early on, back when I was in the army, to go up to Brunnenberg to see him. We used to have maneuvers outside Merano, and Brunnenberg was close by—or relatively so. All this, of course, was just so much fantasy. You must remember that I hadn't even published a book and that Pound didn't speak. The closest I ever came was when I stood anonymously next to him under the porticoes of San Marco, looking at the church and the piazza one evening. But what was there to say? I like your poems. Is this the city of Dioce? Besides, it was, in the end, the best thing, wasn't it? Standing side by side with him, looking at the most beautiful square in the world, in the city he taught me to look at in ways that would change my life. Water and silence. Some words, I guess, are better left unuttered. Or so they say.
INTERVIEWER
Let's stay in Italy a moment longer, but jump ahead across the years. It seems to me that in your most recent book, as in your earliest, Italy is a kind of sacred place for you—almost a motherland, while America is your fatherland. And of course you've translated Montale and Campana. Can you tell me—can you even tell yourself—what that landscape and culture have meant to you?
WRIGHT
Well, Zone Journals is about sacred places. Sacred places, language, and landscape, and how they coexist in each other, and speak for, and to, each other. The two primary sacred places in the book are the Long Island of the Holston River in Kingsport, Tennessee, where I grew up, sacred ceremonial ground of the Cherokee nation, and northern Italy, especially the Veneto region, where I first began writing poems. The center, the exact center of the Journals, takes place during a two-month period spent in a farmhouse outside Padua in the summer of 1985, with my family and Mark Strand and his family. The center of the center, as it were, is a description of a room of Renaissance frescoes in the Palazzo Schifanoia in Ferrara. They depict the tripartite levels of existence—everyday life, allegorical life, and ideal life. It's a concept that appeals to me. Anyway, yes, that part of Italy does have "sacred place" status for me. As does language itself, the most sacred place of all. And since my own sense of language was stumbled upon in Italy, I suppose that does make it a kind of motherland, place of rebirth and nurture, let's say, for pomposity's sake.
As for what that landscape and culture have meant to me, it's obvious I can't say. For over twenty-five years I've been trying to do so, but I keep coming up short and having to try again. I'll probably keep at it until the end, and come a-cropper all the way. But the very least I can say is that it completely restructured my way of looking at the world, it reordered dramatically the list of what is important to me in life, and it reshuffled forever my ambitions. Not an unnoticeable change. Its landscape has become the inner landscape I walk through, its paintings and literature—especially Montale and Campana, as you mention, and Dante as well—have become intellectual touchstones for me. It did, in the end, what any conversion does for you—it makes the scales drop from your eyes, and it changes your name.
INTERVIEWER
Then you returned to the States in 1961, and enrolled at the Iowa Writers' Workshop. What was it like in those days?
WRIGHT
It was much smaller then, about half the size it is now, and it hadn't reached the apotheosizic state it seems to dwell in these days. It had run through only one group of poets, basically, who were to become wellknown—the JusticeLevine-Snodgrass bunch. It was probably better known for its past teachers—Lowell, Berryman, Paul Engle—than for its students. It had had Flannery O'Connor in fiction, of course. It had just finished its first twenty-five years. Also, it was its own entity, funded out of Paul Engle's pocket and what he could wheedle out of Quaker Oats in Cedar Rapids and Iowa Power and Light. Now it's part of the English department proper, with a huge budget and giant money from the James Michener Foundation. The jewel in the crown, as it were. And they've run a lot more people through it in the twenty-five years just past than they did in the first twenty-five. But it was a wonderful place for me. As I say, I'd never studied poetry as such, knew nothing about the writing of it, didn't even know what an iambic pentameter line was, had read nothing but Pound and Eliot and some Montale and Campana in Italian. Every page in my book was blank. I was twentysix in 1961 when I arrived, and had never written a proper poem in my life. The workshop itself was housed in a group of Quonset huts left over from the time of World War II—there is a parking lot, without plaque, I might add, where they used to be. I was very lucky in having some wonderful classmates who taught me what and how to read, and what and how to write. Mark Strand, primarily, and Al Lee and William Brown. Neither Brown nor Lee write any more, but they were extremely talented and helped me enormously in the early days. Strand still does. Donald Justice was our teacher and controlled the entire technical and moral fiber of the workshop. He was exemplary in all ways. I probably learned more from him than anyone else who ever went through his classes. I was absorbent and soaked up whatever spilled out in the classrooms, in the bars after classes, in the offices, everywhere. Oh, I had so much to learn. And by the time I left, I did know what an iambic-pentameter line was.
An amazing winter—at least by my standards—also led to the hothouse effect that the workshop had back then. We had twenty-five inches of snow on the ground by December 1, and didn't see the ground again until March. During one stretch of several weeks, the temperature never got above zero. God, it was cold. Nothing to do but read and write. Nowhere to go but indoors. As I say, I probably got more out of my two years there than anyone else who ever went. Even my Montale translations started there. I loved it.
INTERVIEWER
What about writing workshops? You have studied in them, taught in them—and over the years, no doubt, have seen them change.
WRIGHT
Actually, they haven't changed much, I think. At least not the ones I've had any connection with. Perhaps the students have changed—and I think they have, a great deal—but the workshops themselves are still the same process of give and take. More take than give, usually. I'm talking about from the writer's side. From the teacher's side, it's trying to give what the poem wants. More often than not, you tend to give more than the poem can take, both positively and negatively. Or more than the poem deserves. It can, of course, be very beneficial. I know of very few cases where it is destructive—and then only because of other, outside factors. I think it can be neutral, neither helpful nor harmful. But on the whole, I have found them to do what they should do—encourage the talented and discourage the not so talented.
I am, as I think I have intimated, almost a one hundred percent product of the writing-workshop system. And it was not only good for me, but necessary as well. I'm talking about graduate workshops now. The one I attended stood in for all the early writing guidance I never had, and saved me years of floundering and fooling myself that I knew what I was about when, in fact, I hadn't a clue. But not everyone was, or is, in my predicament. In fact, nowadays, almost no one is. In a sense, the original battle the workshop system had to fight, the lack of undergraduate writing instruction, has been won, and students come to the graduate programs already in possession of what we had only after a twoyear graduate stint. The undergraduate departments have been almost totally infiltrated. Every campus has its poet and its fiction writer. The graduate programs now tend to be rather like feedlots or holding pens. Productive, perhaps, but maybe not wholly necessary. Still, there seems to be a market for them.
INTERVIEWER
Could we say that workshops help the apprentice poet make the inevitable mistakes—and realize them—more quickly?
WRIGHT
Certainly undergraduate workshops do. I think they are marvelous courses, as I tried to say just now—they seem to me to be pertinent components of any undergraduate English department curriculum. It's only the graduate workshops that I am of two minds about. Any undergraduate student who takes a workshop, whether he can write a lick or not, is a better student for the time he has spent there. A better reader and, one can hope, a better writer. You can't beat that. Now if he is one of the two or three every five years who may actually turn out to be a writer, so much the better for everyone all around. The same probably holds true for the graduate workshops as well, though the students seem less willing to make the mistakes. There is still much for them to learn, but too often they don't seem to want to learn it. They are still conserving what they learned as undergraduates and all too often seem willing to hole up in that accomplishment without trying to break through into another zone of contemplation, say, or further center of attention. Graduate workshops should be just as adventurous and abyss jumping as undergraduate ones. Too often, lately, it seems to me that the students don't want to make the mistakes they need to make. It's as though the workshop were the end of something and not a prebeginning. Hemingway said, "What you win in Boston you lose in Chicago." Too many students don't want to play in Chicago, win or lose. But if you don't lose in Chicago, you can't win in Boston. So you gotta play.
INTERVIEWER
When you pick up a new book of poems—a book by someone else, I mean—what do you look for first?
WRIGHT
Hmmm . . . Music and substance, I guess, as most anyone would. One man's music, naturally, is another man's Muzak. One's ear is one's Virgil, however, leading you on. It's difficult, though, the older you get. You're harder and harder to satisfy. Meters become monotonous, measures become minimal, or nonexistent. You keep harking back to the great dead, as Dylan Thomas called them, and asking where their like are. And, of course, their like are in the tomb. "Mais où sont les neiges d'antan?" Not a good question to ask. One looks for a reach, an ambition. One looks for language, an exuberance. Well, one looks for Hart Crane and Emily Dickinson, for Ezra Pound and Walt Whitman. There seem to me to be certain absolutes in whatever field of endeavor one is in. In business and banking they may be availability and convertibility, security and safekeeping, minimal loss and steady, incremental accession. I don't think it's that way in poetry, though such values will get you to temporary high places. Brilliance is what you reach for, language that has a life of its own, seriousness of subject matter beyond the momentary gasp and glitter, a willingness to take on what's difficult and beautiful, a willingness to be different and abstract, a willingness to put on the hair shirt and go into the desert and sit still, and listen hard, and write it down, and tell no one . . . Is that asking too much? Probably. Is there going to be someone to come along who fits this description? Probably. Will we recognize him when he comes? Probably not.
INTERVIEWER
In fact, how often do you find these qualities? Or any of them separately?
WRIGHT
Not often, obviously. Very seldom, in fact. But there are other, more minor virtues and felicities to comfort one. And in my own generation there are poets who I think incorporate some if not all of the major qualities I look for. Writers like Mark Strand and Charles Simic, C. K. Williams and Louise Glück and James Tate. I think Michael Palmer is onto something as well. There are many talented younger writers now, probably more than ever before, but I do find a caution among them that is more pervasive than one would like, a timidity about taking on something outside themselves, outside their reach. Jorie Graham tries a real reach, and I admire her for that. And there are some others. The problem with all of us as we get older is that we begin writing as though we were somebody. One should always write as if one were nobody, for that's what we are. In the giant shadow of Dante's wing, for instance, we are nobody and should never forget it. So we should always write out of our ignorance and desire and ambition, never out of some sense of false wellbeing, some tinge of success. There is no success in poetry, there is only the next inch, the next handhold out of the pit.
INTERVIEWER
The subtitle of your Country Music is Selected Early Poems. At the time, you had four books to select from. How did you go about it? By 1982, when Country Music appeared, your sense of a poem—and of your own poems especially—must have changed a great deal from what it had been twenty years before, when your first poems were published. Which of them still seemed valuable?
WRIGHT
To start with, I eliminated everything from my first book, The Grave of the Right Hand, except for the five prose poems, which I used as a kind of "proem" to the larger structure I had been working on for about seven years, a trilogy of books—Hard Freight, Bloodlines and China Trace—that was sort of a past, present and future, an autobiography by fragmental accretion, as it were. Books—and poems—about family, childhood, landscape and place. And one, China Trace, about the future, a spiritual future. The trilogy also had a structural progression, from a book of disparate, individual lyrics, through one of sequences and ending with a booklength poem—granted, an odd one, but one that has a character who goes from the first poem, where he shrugs off childhood, to the last, where he ends up a constellation in the heaven of the fixed stars—not enough belief to be able to get beyond what he can see, into the empyrean. Each poem is a chapter in the book, the book a little "pilgrim's progress"—with a small p. What interested me then—and what still interests me when I have to think about it—was the accumulation of the three books, and not individual poems. Although I still have a fondness for "Skins" and "Tattoos" as poems, as well as for China Trace. Nothing actually seems "valuable," although some things, including those, seem retrievable. And even though each book one writes is in essence an apprentice volume, The Grave of the Right Hand was my major apprentice volume, so I was glad to be able to rescue anything from it. Thom Gunn once said to me that you'll like your first book much better as you get older. I've found that not to be the case for me. Which is, I suppose, the answer to part of your question: when I first started writing, I was interested in the tight weave of the surface only—technique as a statement in itself, so to speak. I no longer, in 1982, or now in 1988, believed this. Technique is half a statement in itself. It's a subject without a verb or object. As I went along, my books, I hope, started to reflect this. My interest in technical matters, the "how," has not lessened, but my interest in what I am trying to say, the "what," has become more than equal to it. Like a spider's web that is tight in its individual parts, but expandable in its larger structure, the entire poem trembles when any area is touched. Its meaning is almost invisible, but can be mortal to the right being. Or the wrong one.
INTERVIEWER
When you read through your early books today, do you have the sense of encountering a distinctive "Charles Wright" style in them?
WRIGHT
It depends on how far back you go. Before a poem called "Dog Creek Mainline" in Hard Freight, no; after it, yes. Which is to say, for the first ten years of my serious writing, no. It's odd, though, that I recognize more of what I'm trying to do now in stuff I wrote before I went to Iowa, when I knew nothing, than in the stuff I wrote between 1961 and 1971. The early stuff, as I've explained, wasn't any good—in fact, it was bloody awful—but the impulse was there, the reach and horizon were there.
Style is very important to me, actually. As far as I can see, there is no great art without great style, however sophisticated or unsophisticated it might be. All major writers are great stylists. Even Faulkner, in his way. It's too bad the term has come to be pejorative—all style, no substance. On the contrary. Major style usually, if not always, signals real substance. It's hard to think of anyone, from Hemingway to Yeats to Pound to Crane, of the major moderns who wasn't a great stylist. And it isn't, of course, restricted to this century. I yearn to have a significant style. I want people to be able to look at a poem of mine on the page, read it, and to say, as though they had seen a painting on a wall, This is Charles Wright.
INTERVIEWER
I sometimes think I can recognize one. And that's as much for what's been left out—a lot of discursive stuffing and expressionistic upholstery that clutters so much contemporary poetry—as for what's been included. There's a sound, a sweet-andsour melody. There's a look, a jagged elegance. There's a pace, the jump cuts and looping back. And above all, an ambition. Isn't that a part of style too?
WRIGHT
Well, yes, of course. But most of those, taken in the abstract, are surface. Except for the last one, the one that sends roots down and makes the thing take hold. And transforms the other three into more than meets the eye. Or ear. I mean, there is style, and there is Style. When everything clicks, style is Style, everything inextricably bound up in language and its ambitions, everything palpable in the isness, the radiance that language offers. It's a concentration of the particular, I suppose, despite the gravity of the general. Transcendence inside its own skin. In other words, it tends to be not just how you write, but what you write as well, and why you write it. I feel about style the way Heidegger felt about being. It's inside, not outside. All those things you mention, sound and look and—what was it, pacing?—and ambition, all have to come from an inner necessity, a "thereness," a haeccitas, that makes you write as you do. Jazz, for example, may be all style, but it's all soul as well. Everything that we see comes from something that we don't see. Duende or dharma or dasein, it all comes down to the same thing, you are what you are, and what you are in that secret place is what you write. Well, it's complicated, isn't it, and I haven't expressed myself very well. Clarity. Faith, hope, and clarity. Some things are more difficult to clarify than others, aren't they? Great clarity is great style, however hard it may be.
INTERVIEWER
In Bloodlines you began to write sequences of poems, and that impulse toward length, juxtaposition, complexity, a layering of voices and memories, has marked each of your books since. What is it in that kind of poem that attracts you?
WRIGHT
All the things you mention, I guess—length, juxtaposition, complexity, and layering. Especially juxtaposition and layering. Voices and memory. Actually, in Bloodlines and China Trace, though there is an extension of the understructure—sequences in one, and the other being a long poem, now in fortysix parts—the surface weave is a continual tightening, winding it down as tight as I can make it. Again, the spider's web—the web gets bigger, but the pattern gets tighter and smaller. Beginning with The Southern Cross, I set about unwinding the whole apparatus, and it gets increasingly looser through The Other Side of the River and into Zone Journals.
Montale said that all poetry rises out of prose and yearns to return to it. That sounds right to me. And the interesting place to work in is that yearning, between the two power points. Perhaps all poetry aspires toward the condition not of music, but of the prose poem. Another reason I got into lengthier gestures and juxtapositional organization was that I thought I had taken the lyric as far as I could in tightening it in China Trace. Relaxation seemed a good idea at the time. And that was about the time I began to look closely at Cezanne and Morandi, two painters who used space and structure in ways that appealed to me. I've tried to carry some of those ideas over into my poems. So, structural considerations, architecture in the poem, the use of space, design. The temporal surface, or the attempt to make a temporal surface that was extratemporal, continued, of course, as it had always been—the first obsession. Not necessarily the greater but still the first. What attracted me? Amplitude, desire, the ventriloquism of the past.
INTERVIEWER
Is that true for Zone Journals as well? They seem more relaxed, more expansive than the earlier sequences.
WRIGHT
I think so. They are verse journals, remember, and are greatly concerned with line as well as story line. They are, I suppose, in as loose a form as I can work with and still work in lines. As opposed to sentences, I mean. One of the purposes of the journals was to work with a line that was pushed as hard as I could push it toward prose, conversational in tone but with the rhythmic concentration of what we call poetry. The journals' very nature, by definition, makes them more explicit. They are more didactic than other poems, perhaps, and more emotionally open. One tends to speak one's mind more nakedly in journals. One tends to say what is really troubling one's sleep. At the same time, of course, they are poems, with all a poem's avoidances and exclusions. Still, the word journal is operative, and allows more quotidiana in, and the speculations such dailiness leads to.
One more thing. Some years ago Octavio Paz called for what I seem to remember as a "baroqueabstract" in painting. A kind of mannerism. A nonpejorative mannerism. I think that has happened in the work, say, of Frank Stella. I think it is also happening, here and there, in poetry. One could name names—Ashbery, for instance. It is a position that interests me as well.
INTERVIEWER
Let me go back to The Southern Cross. The splendid title poem of that book sets out, in a crucial sense, to be a very personal poem, but isn't by any means a conventionally autobiographical one. Autobiography seems central but intermittent in your poems. Is that a fair estimate?
WRIGHT
I think so. In fact, that's a splendid way of putting it. Central because it's always there, intermittent because it doesn't always show. Rather like the progression of the story lines in the poems themselves—central but intermittently in evidence. A submerged narrative, as it were. A kind of minus tide that runs just under everything and adds by subtraction. Anyone's autobiography, at least in his own eyes, is made up of a string of luminous moments, numinous moments. It's a necklace we spend our lives assembling. That's what "The Southern Cross" is about, saying some of those beads. But that I isn't I anymore. It's someone else, the character who plays me, someone who's a better actor than I could ever be. I'm just the writer. Someone else is starring in my part. I remember him just well enough to try to write about him. A case of the negative sublime. I guess art's always after the fact. The real is imaginary, or imagined. Reconstitution, reconstruction, representation is all we're left with. Autobiography becomes biography in the end.
INTERVIEWER
As a Southern poet, you might be expected to favor a broadly narrative poetry. Though you've called some poems "stories" or "journals," in general you shy from straight narrative. Why is that?
WRIGHT
It's simple, really. I can't tell a story. Only Southerner I know who can't. And, in truth, I have no real interest in telling one. The point of telling a story is the telling; the story itself is not the point. I always wanted to get to the end and find out what the point was. Still do.
INTERVIEWER
Let's talk for a minute about how you put a poem together. It seems to me that an apt metaphor for one of your completed poems is the X ray rather than the statue. I mean, a reader can see through its verbal "finish," back to those memories that float as they do first in the mind, as images. Is that what starts a poem going for you—a cluster of images?
WRIGHT
It does, actually. Perhaps not a cluster. One would do. Something I see, usually; something observed. The "little dropped hearts" of the camellia blooms scattered under the huge camellia bush in my backyard in Laguna Beach fifteen years ago started the poem "Tattoos." And since "Tattoos" begat "Skins," you could say that those fallen blossoms were the beginning of the entire book Bloodlines, as the other eight poems went in to accentuate or ameliorate the two long central ones. Of course, each one had its own separate trigger, but the initial pull was off the dropped blossoms. For example, "Skins" began not with an image but with a phrase, "there comes a time when what you are is what you will be." Then it went on from there. In the old days, when I was starting out—say 1959 to 1969—my poems almost always began with a rhythm, a little wordless riff I'd hear in my head. Then I'd try to fill in the blanks, even with nonsense words, if I had to, to get it down. I suppose it was because I was learning, or trying to learn, the meters—syllabics, accentuals, accentualsyllabics, and so forth. I always had these things going around in my head. There was a period when I almost thought in pentameter, and a period when every time I concentrated on something it developed into a sevensyllable line. After a while, after I came to be easier with these meters, if not at ease with them, my attention became more visual, and what I would see would begin to cluster, to use your word, around a sound pattern. When I began to work exclusively in free verse, around 1970, the images began to develop their own rhythms, I suppose, as they aggregated. Still, it's always been rhythm and image for me, as opposed to, say, ideas, that get a poem going. Mark Strand, for example, works from ideas, I'd imagine. I think very few of his poems begin with something observed. Observed physically, I mean. I often wish I were more like that myself, as I feel somewhat restricted. But I'm not. Which isn't to say an idea or two doesn't work its way in, but my poems don't start with one.
INTERVIEWER
How does memory fit into that kind of scheme?
WRIGHT
Well, memories . . . Hmmm. I suppose memory would be the invisible end of a vanishing rope, and the thing observed would be the visible end. Memory is the subjective correlative, to adopt, or adapt, the Reverend Mr. Eliot's vocabulary, of the seen object, and your job is to turn the equation around, to make the unseen seen. Instead of emotional equivalents, they become visual responses. The focus is on the unseen, and how these things are brought up into view through the unemotional lens of the tactile present. I don't know. I do like your metaphor of my poems being more like X rays than statues, though. Revealing that which is hidden, unseen but not forgotten. Showing its relationship and necessity to the working organism of the present. The memories may float in the mind, but they are fixed in their functioning places in the body of the poem. This is beginning to sound like a lot of mumbo jumbo to me. Theories always come after the poems. Theories are always secondary, no matter how intriguing we make them, or how compelling. Theories are easy. It's the poems that are difficult.
INTERVIEWER
And how do you know when a poem is, in fact, done?
WRIGHT
When I feel a theory about it coming on.
INTERVIEWER
Seriously, how do you know, if you do know?
WRIGHT
It used to be easy, as a matter of fact. In the old days—the old days are preThe Southern Cross, all the early poems collected in Country Music—when I was more interested in the traditional, selfcontained lyric, I'd know it when I got to the end, as I knew where, and what, the end was. And, in fact, I'd often start with the end, a last line or a last image, and work down to it. More recently, in the past ten to eleven years, it hasn't been that easy. If the poems nowadays are at all self-contained and boxlike, they are like Chinese boxes, boxes within boxes. But more often they are too encompassing to be analagous even to that. Something like, for instance, "A Journal of the Year of the Ox" would be more like an aircraft carrier—many small lyrics riding on its superstructure. How's that for an outrageous linkage? Of course the "Ox" poem had to finish at the end of December, 1985, as one of its structures was the length of the year. But what went in, and what ended it, was very open. When I thought, or felt, the circle had almost been completed, I stopped. The same with the earlier poem, "The Southern Cross," which relied so much on memory, or on my inability to remember. When I thought I had not remembered enough, and that some neoPlatonic, neo-circle was almost complete, I stopped. Of course, I then went back and cut out over 140 lines that seemed to me mere incidents and not true detail. If God lives in the detail, as Flaubert tells us, then only the incidental lives in the incident. You've got to be careful to distinguish between them. I guess there is more feel than formula as to where a poem ends now for me. It's probably never finished in the old sense, but just over. And given their more elaborate, incremental structures, that's probably a good thing. Or at least not a bad thing.
INTERVIEWER
Because you've published excerpts from it, I know you keep a notebook. Do you mine it regularly for poems, or does it have a distinct life, a different purpose?
WRIGHT
It's not exactly a notebook, not in the usual sense. It's a crossbreed, really, a combination commonplace book and jotting book. It has no narrative structure or ultimate purpose. Most of what goes into it has to do with poetics or ideas on art in general. The last thing I put in it was a couple of days ago, something about narrative and the image. Wait a minute, it's right over there, I'll get it. Here it is: "Narrative does not dictate the image; the image dictates the narrative." That sort of thing. Here's another: "One of the differences between poetry and prose is that—good or bad—lines are final. Sentences are never final, but are ceaselessly rearrangeable." Well, one could go on. I don't, as a matter of fact, mine it for poems, as you can imagine from those two examples. I used to write in it a lot more before I embarked on the Journals. Since part of the scaffolding of the Journals is process itself, and ideas about that process, I've been able, from time to time, to work those ideas into the texts themselves. It's especially apparent in "March Journal," for instance. Anyway, to answer your question, I suppose it does have a distinct life, or halflife, such as it is. It certainly has a different purpose. It's an escape valve for pronouncements to myself. You can hear it hissing over there if you listen hard enough.
INTERVIEWER
Your poems have struck some readers as spacey, the work of a freefloating, delicately dissociated sensibility. And some of your effects, I'll confess, are eerily like pipe dreams. Have drugs played a role?
WRIGHT
That's what Hopkins said about Keats, sort of. Wait a minute. I put it in my "London Journal"—I mean my "English Journal." Let's see. Here, it's the first stanza of Keats's birthday entry: "Hopkins thought your verse abandoned itself / To an enervating luxury, a life of impressions / In Fairyland, life of a dreamer / And lacking the manly virtues of active thought." No pun intended, I suppose. And that from someone who practically hyperventilated on the Lord! Was Keats a laudanumiead? Not that I've heard. Maybe a drop here and there, but no De Quincey he. It's funny. I just reread The Confessions of an English Opium Eater last summer. Pretty good stuff for a junkie. Not to mention The English Mail Coach, which is even better. Well, I never thought of the effects, some of the effects, in my poems as, what did you say, "spacey"? Or like pipe dreams, a word whose origin I've just seen for the first time. Opium pipe, right? Hmmm . . . your question. Drugs have played almost no role whatsoever in my work. Certainly not at all when compared to someone like Rimbaud or Nerval, poets I admire greatly. Or even poets whose work I admire somewhat, like Allen Ginsberg, for instance. No role at all. Still, I have smoked some dope in my day. And I've drunk a little whiskey. And I've done some coke, as the saying goes. And only in one case has it had any physical effect on a given poem. I learned early on that I, in any case, had to separate the drug and the word. It was especially depressing when I was in my Rimbaud phase. I felt a total failure. The problem was couldn't drink and concentrate—unlike, I understand, Faulkner could and Hart Crane could—and I couldn't smoke pot and concentrate. At least not on writing. I could certainly concentrate on nothing or nothing's trappings with a fierce intensity. The main problem always seemed to be that I wanted to have fun, and writing wasn't fun. It was work. So I smoked dope and giggled. I drank whiskey and wine and brooded, which was fun. When I was writing China Trace, back in the midseventies, I tooted some cocaine after supper one night, went into the back yard on Oak Street back in Laguna, stared at the sky and then went into the little shack out there I used as a study and wrote a poem in ten or fifteen minutes. I was amazed. Total concentration, total focus and magnification. I was even more stunned the next day when I realized I didn't have to change a thing. I published it just the way I wrote it that night. It scared the hell out of me and I never tried it again. Ever. I realized that if I did it a second time—or so I thought at the time—I'd have to use coke every time I tried to write. So much for the rational disordering of the senses. I couldn't have afforded to write poems if cocaine was to be one of their ingredients. In fact, it was soon after that I stopped doing it altogether because it just got too expensive. Fortunately for me. I kept on smoking marijuana for some years, late at night, mostly, to go to sleep, but I've given that up too now. All I've got left is a dollop of Scotch at night and a little white wine. I never did LSD or mescaline, but did some peyote in the old days. Maybe it's that my senses are disordered most of the time anyhow, and my job is to rationalize them as much as possible. And when I slip, or don't do the job properly, the poems seem "spacey" and "free floating." I've tried to anchor them as much as I could. I see no inherent virtue in ether.
INTERVIEWER
There's a story to be told about pot and your whole generation of poets, no?
WRIGHT
I suppose there is, though probably not by me. If, as Stevens said, "The book of moonlight has not been written yet," or something like that, surely the book of marijuana has not been written yet either. I guess what I'm trying to say is that there was more to the evolution of American surrealism in the late sixties and early seventies than just an injection of Spanish poetry from the thirties and Pablo Neruda and César Vallejo. They were, let's get this straight, the foundation and the "ark of the covenant," so to speak. But they also gave an artistic license or, better, an artistic alibi for the age. Nothing out of Breton was more surreal than watching tanks carrying dead and bleeding bodies, easing through the supper hour as millions swallowed the image along with their Hamburger Helper. The young poets were mirrors of the times, not the precursors. I think it's interesting that American surrealism's highwater mark was about a tenyear period, say 1965 to 1975, whose other highwater marks were found in marijuana smoking and the Vietnam War. And although, in many ways, all three are with us still, they have either been absorbed into the culture—surrealism into the mainstream of American poetry, marijuana into the mainstream of American drug abuse—or else the culture has grown around it, like a tree grows around an axehead left in its trunk. Vietnam and the American body politic. Drugs and poetry have always gone together, from earliest shamanism up to the Yage Letters and on. It's not often that an entire generation gets involved in the practice, though, and I think that's what did happen, in varying degrees with various poets, in the time we're talking about. Was it a good thing? Remains to be seen. It certainly loosened up a lot of socalled academic writers, and that's not bad. Unlike dada, which never got absorbed, or the current Language poetries, which I also think won't be absorbed—I imagine they both will remain as "examples," "exhibits," apart and behind glass—surrealism seems to have found its own current in the pluralistic American stream of poetic consciousness. If pot helped that along, far out!
INTERVIEWER
I guess what I really wanted to ask is a question about your daily routine—if there is one. Do you schedule your writing, or does it come in desultory bursts?
WRIGHT
I used to have a routine—for years I wrote in the afternoon, unlike anyone else I've ever heard of, When I was in Italy I translated Monrale in the morning, and twenty years later, in 1983, I did it again when I was working on the Campana. But that makes it sound as though I had a fixed routine, certain hours when I did certain things. And I don't have any such thing. And never did except for the hour and a half it takes me to read the newspaper each morning. Of course there's b.c., and a.d.—Before Child and After Delivery. The past eighteen years have been much different from the nine before that. And certainly better, I might add. The beginnings of my little experiments with dislocation and discontinuity, the abstracting of the story line, all took place out of necessity in my case. Time was grabbed when grabbable, what with teaching, family, and all the other emanations bidding for its services. Innovation was the child of necessity for me. My poems became, or started to become, disconsecutive, going from stanza to stanza as units rather than from beginning to end as a seamless piece. Later, in The Southern Cross, The Other Side of the River, and Zone Journals, I tended to make an aesthetic of such impulses, and to widen them. All of which really doesn't answer your question, does it?
INTERVIEWER
No, but it answers another question, and I'll ask it in just a minute. But first, let's get back to the business of your schedule, and if you have one.
WRIGHT
No, I never did have a schedule, though I was chipping away at things rather consistently. When I was working on something, I worked on it every chance I got, morning, afternoon, or evening. So work would come in bursts, but not desultory ones. For instance, on "A Journal of the Year of the Ox," I seemed to be working every day that year. Obsessively. Of course, I tend to think about writing obsessively even when I don't have a project. I'd like to be writing all the time. I seldom read novels any more because I don't want to get caught up in something that might take me three to four days, or longer, away from thinking about poems. This hardly becomes justifiable when I go, as I have done, three months or longer between poems. But one must protect one's standards, mustn't one? For a highly organized person, as I am, my writing schedule is wholly erratic.
INTERVIEWER
Now let's circle back to the answer you were giving just before. You were talking about a new kind of poem you started writinga poem of impulses, of disconnected stanzas linked by association. That gravitates toward the short poem, and our literary culture has always had an appetite for long, sprawling poems. We spoke earlier about sequences, but what about the long, throughcomposed poem? I remember some of your critics used to call on you for one. Has it ever been one of your own desires?
WRIGHT
Well, sure, of course. What redblooded American boy, etcetera. The disconnection of stanzas started in Hard Freight segued rather nicely into the sequences in Bloodlines. Then I wanted to do a booklength poem, a—as you just described it—"throughcomposed" poem. And I did, though one that was so camouflaged that almost no one noticed it as such. Helen Vendler did, and said so, and I'll always be grateful to her for that. The book was China Trace, and you and I talked about it somewhat just a little while ago, how each individual poem was a chapter in an ongoing story about a character who went from childhood to his demise and inscription in the heaven of the fixed stars. As I say, it was a series of short poems linked by an unspoken common narrative, a journey, even if it was more spiritual than actual. And that book, that poem, is where the idea of the subnarrative, the submerged narrative, started taking shape for me.
Now here's something that's kind of interesting, at least to me. Disconnection and association, as you so cleverly pointed out in your question, seem to be linked with the short poem—with the obvious exception of The Cantos, of course—and one thinks of Dr. Williams and Company. It was interesting to me to try it in longer reaches not interminably, like The Cantos—and I've made several attempts at that since I saw it emerge in China Trace. The first time was in "Homage to Paul Cezanne," and it was fairly short and crude. Eight overlays, each different, hoping to form one consistent picture. In "The Southern Cross" it got a bit more sophisticated, but it was in "A Journal of the Year of the Ox" that it became what I had hoped it might. The structural elements—the four entries about the Cherokees and the Long Island of the Holston, and the long sojourn in northern Italy—of "sacred places," as well as the natural one of the four seasons, plus the visits to the two great American medieval writers, Poe and Dickinson, and the two great Italian ones, Petrarch and Dante, etcetera, all combine to both hide and expose the story line, which is, like most story lines, circular. It deals with circumference, as Emily said her business was. It's mine, too, the outer boundary. In its way, "Ox" is a longer poem than the whole book China Trace, though probably not as vertical. Well, they are my two favorite things. Of my own, I mean. Which still, I guess, doesn't answer your question.
One of my problems has always been that I can't remember things that require sequence. I seem to remember only consequence. Which is to say I can't seem to remember ideas or principles or how to do things. I remember incidents, I remember details. Which is why, and here I'm trying to circle back to your original concern about long poems being done with the devices usually associated with short ones, all my long poems seem to me like short poems in disguise. But I suppose any nonsurface narrative poem will seem that way. Still, it's a way, isn't it, of keeping the pithy elements of the shorter lyric and holding onto the illusion of the long, effusive gesture. A kind of an American sprawl of a poem with a succession of succinct checks and balances. Epiphanic and oceanic at once. Intensive and extensive. The long and the short of it. Now that's American.
INTERVIEWER
And let me ask you about getting older—that is to say, about the effect of writing experience on your work itself. I mean, you now know your way around a poem better than you did twenty years ago. Does that make it easier to write or not? And at the same time, do your higher standards make it more difficult now?
WRIGHT
I suppose I'd have to answer yes and yes. But it's not really that easy because I don't write the same kind of poems I did twenty years ago. So, in a way, I'm where I was twenty years ago, and the answer could be no and no. Actually, it gets more difficult all the time. In the midseventies I began experimenting, in China Trace, with what I called, for lack of a better word, subnarrative—which, if I were Italian, would be sottonarrativa, "undernarrative," surely a more felicitous phrase. A story line, but one not always in evidence. But always a story line. In the poem "The Southern Cross" I started to get the hang of it, and I've been bending it and stretching it ever since. So it's always a poem, or a formal proposition, I don't quite know how to handle when I write it. Add to that the fact that one's ambitions, one's aspirations for the poem and what it can convey, are higher and harder to come to terms with the older one gets, so it's always a heavier load the farther down the road you get. I suppose if I were still writing the poems I wrote in Hard Freight, or the same kind of poems, the entire enterprise would be lighter and more acceptable, though not to me.
Since 1980, when I wrote "The Southern Cross," I have also actually written differently. Which is to say, I guess, rewritten differently. I've tended to do it more in situ, as it were. I get every section the way I think I want it instead of going back over a full draft of a poem. Perhaps it has something to do with the length, but also it has something to do with the concept of the poem and its ultimate reach. It's always difficult. Now and then. Beauty is difficult, Pound said, quoting Yeats. Beauty is difficult. So is articulation. As for getting older, I don't see much to recommend it, except that it makes you despair more of ever saying what you think you want to say. So you work harder when you work. Otherwise, as I say, I see little to recommend it. Although despair is a kind of joy, isn't it?
INTERVIEWER
I'm not quite sure I understand what you mean by "subnarrative." Could you explain it a bit more?
WRIGHT
I'm not sure I can, actually. Undernarrative, sottonarrativa, is about as close as I can get. The smaller current in a larger river. The story line that runs just under the surface. It's broken, interrupted, circuitous, even invisible at times, but always there. Which is to say, it's not a "logic of image," or a balancing of blocks or a "logic of the irrational" or whatever. It's a continuous story line by someone who can't tell a story. Subnarrative. Its logic is narrative but its effects are imagistic. It's like what Augustine says about Time, more or less: "I know what it is if I don't have to explain it. If I have to explain it, I don't know what it is." I don't know, it's just what I've come to do.
INTERVIEWER
Can a reader be expected to know what is "in" or "behind" a poem? And if he can't, then can it really be said to be in the poem at all?
WRIGHT
Well, I think so. I mean we're not talking about the Holy Ghost here, our main mover. We are talking about something that is, in a sense, tactile. It is there as surely as the story line is there in "The Pauper Witch of Grafton" and "The Witch of Coos." It's just not as continuously evident to the eye. I'll give you an example. When I was in China, we went by train from Xi'an to Chengdu, a sixteenhour trip. One part of the ride was along the Jaling River, where the roadbed ran alongside the mountains. Many tunnels. Many, many tunnels. The landscape was particularly gorgeous because of the river and the crop patterns along it, as well as the flowering fruit trees. But we were in the tunnels so much of the time that the landscape became flashes of intense color and concentration as it emerged, hung there for a while, then disappeared as we entered another tunnel. And while it was in evidence, the color and patterns and design were twice as luminous as they would have been had they remained constant and usual. Each time the landscape appeared, it was unusual, but it was basically the same landscape all the way down the river, a constant thread that you sometimes saw and sometimes didn't, but was always there. I would hope that subnarrative, sottonarrativa, would work somewhat in this fashion. It is always "in" or "behind" the poem. What was the second part of that question? Weren't there two parts?
INTERVIEWER
Yes. If the reader can't "see" the hidden narrative, can it really be said to be in the poem at all?
WRIGHT
As I say, it is in there. If he can't follow it, or know it, I guess I feel he isn't concentrating. There are always signs, there are always the openings between tunnels. And even if there weren't, if the story line were submerged totally, like a mole, say, and all you could see was the broken path under the ground and no mole at all, would you really be able to say there was no mole there, or that there had never been a mole there? We're not talking about faith here, we're not talking about the great incarnator. We are talking about something visible, something you can see if you look for it. Even when it's least visible to the eye, it's there all right. In the poem—a place the reader must be as well.
INTERVIEWER
You've just been using—I don't know how selfconsciously—some religious metaphors, and they remind me of that strain in your poetry. Not just the metaphors and rhythms and diction, but the argument itself. The poems seem suffused with the stuff of religion, but without any apparent belief—and it's the absence I mean when referring to your argument.
WRIGHT
They do, don't they? I mean seem suffused with the stuff. I guess because I was so suffused with the stuff, at such a high pitch, at such an impressionable age, and for such a long period of time—without ever believing it, really—it keeps coming back up on me. As though I had overindulged. The taste stays in my mouth, a taste that is not displeasing to me, but it is not exactly something I anticipate with pleasure. I think I probably would like to believe. I believe in belief, for instance. And it is the greatest myth going, isn't it? All those fabulous aspirations and assumptions! I mean, if it were true, what could be better? Everlasting life! I'll take a hit off that, thank you very much. Just because you don't believe it doesn't mean you don't like to talk about it, or think about it. Besides, I do believe in the efficacy of things unseen. It's just that I don't believe in this particular one. And there's no point in just believing in the trappings, in the manifestations. Flannery O'Connor was right about that, I think–if it's just a metaphor, the hell with it. Or words to that effect. I mean, what could be better than being raised incorruptible in the body like Saint John?
Hmmm . . . Even though I don't have anything more to say, I feel as though I should say something else. I mean I'm sort of surprised myself it should seem so suffused with this stuff. After all these years of running away from it so hard, it's rather perplexing to find that it's invaded my subconscious like the invisible worm that flies in the night. Well, so be it. I guess if one considers, as I do, the true purpose of poetry to be a contemplation of the divine—however you find it, or don't find it—then it isn't so strange that my work is so suffused with the stuff of religion. We take the vocabulary we are given—in my case, Christian—and use it to our own ends. We try to develop and expand what we are given.
INTERVIEWER
A contemplation of the divine. I guess that should include the textures of the world as well as an outline of the infinite.
WRIGHT
I would hope so. Certainly that's what I've been saying for the last five years, explicitly, in the Journals I've been writing. And, for the twenty years previous, implicitly in just about everything I ever wrote. The textures of the world are an outline of the infinite. Stevens said, or at least I seem to remember that he said, the thing seen becomes the thing unseen. He also said that the reverse way was impossible. Roethke wrote that all finite things reveal infinitude. What we have, and all we will have, is here in the earthly paradise. How to wring music from it, how to squeeze the light out of it, is, as it has always been, the only true question. I'd say that to love the visible things in the visible world is to love their apokatastatic outline in the invisible next. I think all this, you understand, in my better moments. In my darker ones I'm afraid I rather think the way Philip Larkin did—not anxious for an "endless extinction." But we are defined by our better moments, aren't we? Surely we are. Otherwise, God help us.
INTERVIEWER
And language, finally, is both texture and outline?
WRIGHT
Language is the element of definition, the defining and descriptive incantation. It puts the coin between our teeth. It whistles the boat up. It shows us the city of light across the water. Without language there is no poetry, without poetry there's just talk. Talk is cheap and proves nothing. Poetry is dear and difficult to come by. But it poles us across the river and puts a music in our ears. It moves us to contemplation. And what we contemplate, what we sing our hymns to and offer our prayers to, is what will reincarnate us in the natural world, and what will be our one hope for salvation in the What'sToCome.

Author photograph by Nancy Crampton.