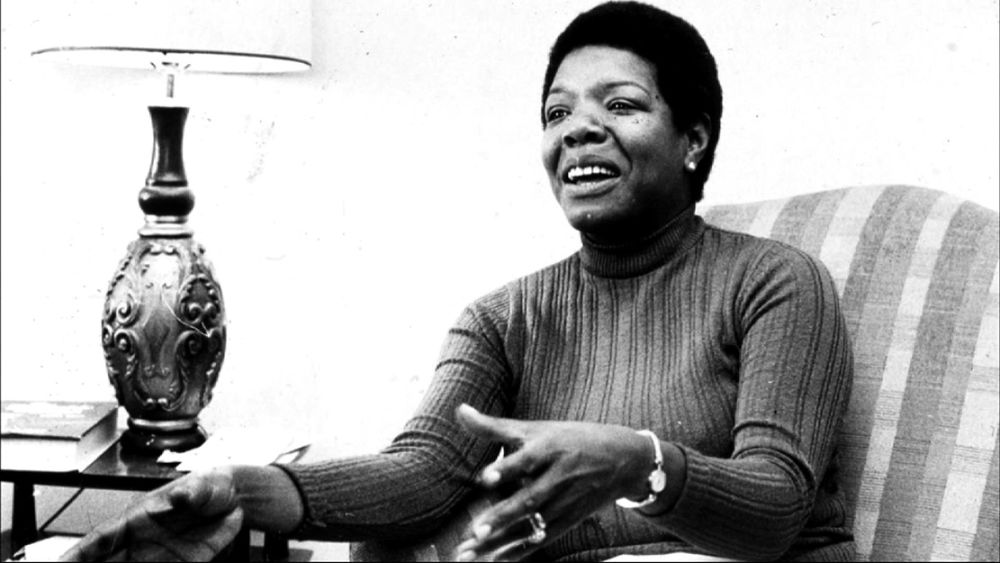 This interview was conducted on the stage of the YMHA on Manhattan's upper East Side. A large audience, predominantly women, was on hand, filling indeed every seat, with standees in the back . . . a testament to Maya Angelou's drawingpower. Close to the stage was a small contingent of black women dressed in the white robes of the Black Muslim order. Her presence dominated the proceedings. Many of her remarks drew fervid applause, especially those which reflected her views on racial problems, the need to persevere, and "courage." She is an extraordinary performer and has a powerful stage presence. Many of the answers seemed as much directed to the audience as to the interviewer so that when Maya Angelou concluded the evening by reading aloud from her work—again to a rapt audience—it seemed a logical extension of a planned entertainment.
INTERVIEWER
You once told me that you write lying on a made-up bed with a bottle of sherry, a dictionary, Roget's Thesaurus, yellow pads, an ashtray, and a Bible. What's the function of the Bible?
MAYA ANGELOU
The language of all the interpretations, the translations, of the Judaic Bible and the Christian Bible, is musical, just wonderful. I read the Bible to myself; I'll take any translation, any edition, and read it aloud, just to hear the language, hear the rhythm, and remind myself how beautiful English is. Though I do manage to mumble around in about seven or eight languages, English remains the most beautiful of languages. It will do anything.
INTERVIEWER
Do you read it to get inspired to pick up your own pen?
ANGELOU
For melody. For content also. I'm working at trying to be a Christian and that's serious business. It's like trying to be a good Jew, a good Muslim, a good Buddhist, a good Shintoist, a good Zoroastrian, a good friend, a good lover, a good mother, a good buddy—it's serious business. It's not something where you think, Oh, I've got it done. I did it all day, hotdiggety. The truth is, all day long you try to do it, try to be it, and then in the evening if you're honest and have a little courage you look at yourself and say, Hmm. I only blew it eighty-six times. Not bad. I'm trying to be a Christian and the Bible helps me to remind myself what I'm about.
INTERVIEWER
Do you transfer that melody to your own prose? Do you think your prose has that particular ring that one associates with the King James version?
ANGELOU
I want to hear how English sounds; how Edna St. Vincent Millay heard English. I want to hear it, so I read it aloud. It is not so that I can then imitate it. It is to remind me what a glorious language it is. Then, I try to be particular and even original. It's a little like reading Gerard Manley Hopkins or Paul Laurence Dunbar or James Weldon Johnson.
INTERVIEWER
And is the bottle of sherry for the end of the day or to fuel the imagination?
ANGELOU
I might have it at six-fifteen a.m. just as soon as I get in, but usually it's about eleven o'clock when I'll have a glass of sherry.
INTERVIEWER
When you are refreshed by the Bible and the sherry, how do you start a day's work?
ANGELOU
I have kept a hotel room in every town I've ever lived in. I rent a hotel room for a few months, leave my home at six, and try to be at work by six-thirty. To write, I lie across the bed, so that this elbow is absolutely encrusted at the end, just so rough with callouses. I never allow the hotel people to change the bed, because I never sleep there. I stay until twelve-thirty or one-thirty in the afternoon, and then I go home and try to breathe; I look at the work around five; I have an orderly dinner—proper, quiet, lovely dinner; and then I go back to work the next morning. Sometimes in hotels I'll go into the room and there'll be a note on the floor which says, Dear Miss Angelou, let us change the sheets. We think they are moldy. But I only allow them to come in and empty wastebaskets. I insist that all things are taken off the walls. I don't want anything in there. I go into the room and I feel as if all my beliefs are suspended. Nothing holds me to anything. No milkmaids, no flowers, nothing. I just want to feel and then when I start to work I'll remember. I'll read something, maybe the Psalms, maybe, again, something from Mr. Dunbar, James Weldon Johnson. And I'll remember how beautiful, how pliable the language is, how it will lend itself. If you pull it, it says, OK." I remember that and I start to write. Nathaniel Hawthorne says, "Easy reading is damn hard writing." I try to pull the language in to such a sharpness that it jumps off the page. It must look easy, but it takes me forever to get it to look so easy. Of course, there are those critics—New York critics as a rule—who say, Well, Maya Angelou has a new book out and of course it's good but then she's a natural writer. Those are the ones I want to grab by the throat and wrestle to the floor because it takes me forever to get it to sing. I work at the language. On an evening like this, looking out at the auditorium, if I had to write this evening from my point of view, I'd see the rust-red used worn velvet seats and the lightness where people's backs have rubbed against the back of the seat so that it's a light orange, then the beautiful colors of the people's faces, the white, pink-white, beige-white, light beige and brown and tan—I would have to look at all that, at all those faces and the way they sit on top of their necks. When I would end up writing after four hours or five hours in my room, it might sound like, It was a rat that sat on a mat. That's that. Not a cat. But I would continue to play with it and pull at it and say, I love you. Come to me. I love you. It might take me two or three weeks just to describe what I'm seeing now.
INTERVIEWER
How do you know when it's what you want?
ANGELOU
I know when it's the best I can do. It may not be the best there is. Another writer may do it much better. But I know when it's the best I can do. I know that one of the great arts that the writer develops is the art of saying, "No. No, I'm finished. Bye." And leaving it alone. I will not write it into the ground. I will not write the life out of it. I won't do that.
INTERVIEWER
How much revising is involved?
ANGELOU
I write in the morning and then go home about midday and take a shower, because writing, as you know, is very hard work, so you have to do a double ablution. Then I go out and shop—I'm a serious cook—and pretend to be normal. I play sane—Good morning! Fine, thank you. And you? And I go home. I prepare dinner for myself and if I have houseguests, I do the candles and the pretty music and all that. Then after all the dishes are moved away I read what I wrote that morning. And more often than not if I've done nine pages I may be able to save two and a half or three. That's the cruelest time you know, to really admit that it doesn't work. And to blue pencil it. When I finish maybe fifty pages and read them—fifty acceptable pages—it's not too bad. I've had the same editor since 1967. Many times he has said to me over the years or asked me, Why would you use a semicolon instead of a colon? And many times over the years I have said to him things like: I will never speak to you again. Forever. Goodbye. That is it. Thank you very much. And I leave. Then I read the piece and I think of his suggestions. I send him a telegram that says, OK, so you're right. So what? Don't ever mention this to me again. If you do, I will never speak to you again. About two years ago I was visiting him and his wife in the Hamptons. I was at the end of a dining room table with a sit-down dinner of about fourteen people. Way at the end I said to someone, I sent him telegrams over the years. From the other end of the table he said, And I've kept every one! Brute! But the editing, one's own editing, before the editor sees it, is the most important.
Want to keep reading?
Subscribe and save 33%.
Subscribe Now
Already a subscriber? Sign in below.