Interviewed by Shusha Guppy, Anthony Weller
Issue 117, Winter 1990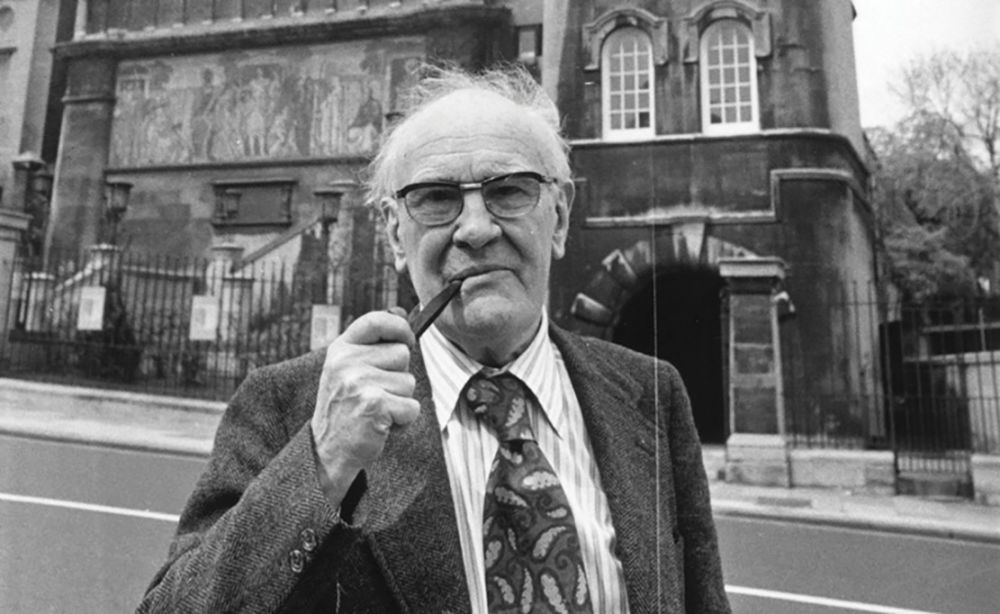 V. S. Pritchett was born on December 16, 1900. Over the past two years he has published a collection of six decades of travel essays, a biography, and his ninth volume of literary criticism. At ninety he continues to be a prolific writer, and has completed a new story collection, A Careless Widow, even in the wake of the publication of his Complete Short Stories (1990). Although he has worked in many literary genres, he is best known for his short stories and travel writing.
While his stories have been compared to those of Joyce and Chekhov, Pritchett claims it was Irish writers such as Sean O'Faolin, Liam O'Flaherty and Frank O'Connor who taught him what a short story could be. Eudora Welty has said, "Any Pritchett story is all of it alight and busy at once, like a well-going fire. Wasteless and at the same time well-fed, it shoots up in flame from its own spark like a poem or a magic trick, self-consuming, with nothing left over. He is one of the great pleasure-givers in our language."
At his father's insistence, Pritchett left school when he was fifteen to work in the leather trade—an experience that provided him with material for his early novel Nothing Like Leather (1935). At twenty Pritchett went to Paris, where he "lived an abysmal bohemian life and wrote a terribly pretentious and mannered prose." He supported himself working as a salesman in shops, and later as a correspondent on the Irish rebellion for The Christian Science Monitor and a journalist in Spain. His first book, Marching Spain, published in 1928 and like many of his works long out of print, was a travel book about his tour of that country.
Along with eight volumes of critical essays, many written at the rate of one a week for The New Statesman, where Pritchett eventually became literary editor, he has written critical biographies of Balzac (1973), Turgenev (1977), and Chekhov (1988). He has no interest in scholarly doctrines—his aim is to illuminate a writer—and in the end, his biographies send one back to the authors' books themselves.
Pritchett, a former president of English PEN and International PEN, is the president of the London Society of Authors, and was knighted in 1975. He lives with his wife of fifty years, Dorothy, near Primrose Hill, London, in a narrow Georgian house. His drawing room overlooks the green canopy of Regent's Park. It was here that this interview was conducted on two separate occasions in 1990. In person V. S. Pritchett is a small, energetic man, with a lively luminous face and a lopsided grin that makes him seem years younger. Words come out of him quickly, easily, and precisely. He has about him the eagerness and intelligence of a man who enjoys talk and enjoys people. When at the end of one rainy-day meeting Pritchett began to recount a story he was working on, he stood up in his book-lined sitting room and was transformed into a ventriloquist. Chortling as he spoke, hands in the pockets of his cardigan, he suddenly took on the voices of all the characters, and brought his story to life. Irving Howe once said of him that "no one alive writes a better English sentence," and at ninety, V. S. Pritchett is still making his sentences into stories. As he puts it, "intervention invents itself."
INTERVIEWER
Your career as a writer has been so long and distinguished that we could spend hours on every aspect of it. But let us start from the beginning: you are the first member of your family, which you have classified as lower middle class, to become a writer. Where do you think your talents come from?
V. S. PRITCHETT
I don't really know. My father was a businessman but artistic. He designed textiles and sold them to Liberty's. I remember seeing him feel and stroke silk, and wondering what he was doing—he was assessing its quality. My mother was a Cockney and a good storyteller and mimic. She used to go out shopping and come back imitating people she had seen, with their different voices and accents. She read me stories by the humorists of the time. One of her favorite books was The Tales of The Night Watchman by W. W. Jacobs. They always started with: Well, as I was saying the other day, said the night watchman," and went on from there. They had very good dialogue and were wildly funny. My mother used to be hysterical with laughter. My grandfather was a Congregationalist minister working up in Yorkshire. He was a good working-class boy, but in those days—towards the end of the nineteenth century—there was a feeling that you could rise in the world through education. He had a good voice and spoke with precision and eloquence. Some lady in the neighborhood sent him to theological college for a year at her own expense, and he became a Congregationalist minister. I was often sent to stay with him for holidays and enjoyed his company. He was an ardent walker over the fells and moorlands of Yorkshire, and he took me with him. He would say to me, But you haven't learnt Greek and Latin? then take a coin out of his pocket, show me the Latin inscription on it and try to initiate me. Or he would say, You must read Macaulay at once! or, Have you not read Ruskin? You must start straight away! I was about nine or ten.
INTERVIEWER
You have also mentioned a W. W. Bartlett, your schoolteacher. How was he an influence?
PRITCHETT
I went to a state primary school in Dulwich, where we lived. Mr. Bartlett was very unconventional. He never kept to the curriculum, and he broke all the rules and regulations of the educational authorities. He disorganized us very well. He used to spend a whole day on history, for example, instead of the regulatory forty-five minutes, or send us out into the surrounding countryside to draw wild flowers. This was perfect for a future writer, but not for ambitious boys who wanted to pass exams and get good jobs. Eventually Mr. Bartlett left and became an important figure in the world of education; he was replaced by a woman teacher who was also very good. She once told us to go the Horniman Museum nearby and draw something, anything we liked. I brought back a picture of an amulet, which she liked, and for which she gave me a prize—a pocket edition of Ruskin in three volumes! I still have it. I had been to the Dulwich Art Gallery and looked at pictures by David and Poussin and so on, not knowing anything about those artists. And there they all were in Ruskin. I was about twelve, and it was a struggle reading him, but I got to volume three, of which the first fifty to seventy pages are on the pathetic fallacy in literature. He argued that it was incorrect to assign human feelings to inanimate objects. He picked on Homer and showed where he had gone wrong. The book was about how to write criticism, and I worked hard to understand it.
INTERVIEWER
What were your very earliest influences?
PRITCHETT
My first passionate reading, I suppose, was Walter Scott, which I started reading when I was five. I was picking my way through "Scottland" a long time, until the old lady next door came over and said, Why waste your time on all this trash? I was a tremendous prig.
INTERVIEWER
You have said that from the age of ten you knew you would be a writer. Did you start writing then?
PRITCHETT
There was a children's encyclopedia in our house, and I read an article on the Alhambra in it and decided to write a novel about the war between the Castilians and the Arabs, full of battle scenes and romance. I sat down and wrote a hundred pages of it; then my father found it and mocked my use of pretentious words and made me burn it. For a long time I harbored a great resentment against him for that.
INTERVIEWER
You left school at fifteen, presumably because you could not afford it. But there were scholarships for bright pupils like you. Did you try to get one?
PRITCHETT
With his eccentric teaching method, Mr. Bartlett had ensured that I would never get one! The scholarship exam questions were on Noah's Ark, and what they wanted was historical knowledge, with facts and figures and dates. I thought the story was rather dull, but the voyage was thrilling, and I made up a fantastic account of the voyage—what people were doing on the boat, with animals and the dove coming in and all of that. Naturally I failed the exam. So I was sent to work in the leather trade.
INTERVIEWER
Why leather? What kind of work did you do?
PRITCHETT
Someone told my father there was a future in leather. At first I was an office boy, but soon I became a messenger, taking documents to the docks and the warehouses and so on. This was tremendous, because instead of being cooped up in an office all day I could get out. At the same time, people in the higher echelons of the trade were very well-educated. They read a lot and were intrigued by the idea that I really wanted to be a writer. That's when I began to write little sketches. But what encouraged me particularly was going to some local lectures; one of the subjects was Milton, and as it happened I had read Paradise Regained, though not Lost. I wrote an essay on it and the lady lecturer publicly proclaimed it to be the best. This was marvelous! I sent it to two papers in the country, and although no one published it, I had got the fever.
INTERVIEWER
So how did you get out of the leather trade?
PRITCHETT
At school I had started learning German and French, and I was good at them. Afterwards I worked on my French fairly hard and read a great deal. So after four years the firm gave me money to take a year's leave of absence to go to Paris—I think it was about twenty pounds. The money was soon finished, and I got a job in a photographic shop. It was very boring, but I met all sorts of people, artists and photographers, who were not big names, but interesting. They all wore hats and scarves and colorful clothes. At the same time, I began writing. I had formed the notion that if you want to write, you should write about what you know and what you are doing, exactly. So I wrote a sketch about living on the fifth floor of a cheap hotel in Paris, and sent it to The Christian Science Monitor. To my delight it was accepted and published.
INTERVIEWER
What made you choose an American paper over an English publication?
PRITCHETT
My father was a Christian Scientist and subscribed to it. It was an important paper, with a huge circulation, like the Times of London. Famous American writers wrote for it, as it was well-edited and paid handsomely. I was thrilled to be published by them, and sent them other sketches, which they also published. When Mrs. Eddy, the founder of the paper, died, however, a religious dispute arose among her successors resulting in a huge loss of money, and suddenly they couldn't pay the contributors. I nearly starved, and would have if my landlady had not noticed that I never ate, didn't go out in the evenings, and was getting skinny. She gave me some money to go back to London, which I did, and I went to see the London editor. He was a cultivated man, and he thought it was terrible that I hadn't been paid. What could he do? He sent me to Ireland to write a series of articles. It was during the troubles of 1921–1924, and he asked me to travel all over the country and write, not about the war, but about how ordinary Irish people lived and coped with the situation.
INTERVIEWER
Ulysses was published in 1922 when you were in Paris. Did you read it? What did you think of it?
PRITCHETT
Oh yes, I read it. Although it was an expensive book and I couldn't afford it, someone loaned me a copy and I struggled through it. I thought it was frightful! The first chapters, written in that staccato, adjectival manner were especially off-putting. It was on later readings that I realized how important a book it was. It is a study in style, and some of the later chapters are marvelous—the famous one about the old woman sitting on a chamber pot and having a stream of consciousness, for example.
INTERVIEWER
You were in Ireland at the time when Yeats and Lady Gregory had a literary coterie around the Abbey Theatre. Did being a journalist give you an entrée to them?
PRITCHETT
It did. I wrote to Yeats and went to interview him. He was very impressive—tall, handsome, with dramatic gestures and a fine voice. I was having tea with him one day, and I remember he picked up a pot of tea and, finding that it was already full of old tea, he opened the window of his Georgian house and flung the contents into the square! Rhetoric poured out of him all the while.
INTERVIEWER
Did you meet other members of his group?
PRITCHETT
I did. Fortunately, Dublin is a small city, and it was not difficult to seek people out and see them, but I never went to their salons. There was a hotel by the sea where James Stephens used to go and watch the boats come in, and I went there often to see him. He was a very good talker—they all were. I saw Sean O'Casey many times. I remember he had written above his desk, Get on with the bloody play! Apart from writers, I met a number of interesting people just traveling around the country, including my first wife. That marriage was short-lived.
INTERVIEWER
Another member of the group was George Russell, the Irish poet AE, who published your first short story, I believe?
PRITCHETT
AE was a mystic and a comfortable old chap. He was immensely talkative, and he was then editing the Irish Statesman. I sent him my first story, which was about a gypsy who gets into a fight and accidentally stabs his own donkey and kills him instead of his adversary. It was over-written and florid—I had never been with gypsies—and oddly enough AE accepted it. He kept it for two years and finally didn't publish it. He said it got squeezed out by Irish politics! Later he did publish a story of mine, but he never paid me!
INTERVIEWER
After Ireland you were sent to Spain as The Christian Science Monitor's correspondent, which was the beginning of a life-long relationship with Spain. Reading your books about that country, one gets a great feeling of understanding and affection. What was it that attracted you to Spain?
PRITCHETT
Ireland hadn't changed my mind about life, but Spain did. I learned Spanish, traveled widely around the country, and read a great deal of Spanish literature. Spain was fascinating because it was a Catholic country, but many of the intellectuals were free thinkers. They didn't like the Jesuits who controlled education. Giner de los Ríos had started an educational movement in Spain, based on ideas he had taken from Germany, France, and England, as an alternative. He founded a students' residence—Residencia de los Estudiantes—which was rather like the Cité Universitaire in Paris. All the writers and intellectuals were drawn to it. They came and gave lectures and held discussions, and I used to go to them. I learned more from Spain than any other country, and I met most of the important contemporary writers. What I was really rather sorry about was that I had had no adventures. I knew Spain very well; my book Marching Spain was a return to it. But there were no adventures. I always wondered how it was that Robert Stevenson always seemed to have adventures; why don't I have adventures? The only adventure in that book was running into the brigands, which was quite entertaining. The rest was simply an account of the journey.
INTERVIEWER
Did you meet those writers who became known as the generation of '98," such as Unamuno y Jugo, Ortega y Gasset . . .
PRITCHETT
Yes, all of them. I went to their lectures, and met them privately too. Ortega was particularly kind to me. I read Unamuno's Del Sentimiento trágico de la vida, which made a great impression on me. It helped me to understand what I had not yet understood about the Catholic faith. And although I was not tempted to become a Catholic myself, those two years in Spain were very fruitful.
INTERVIEWER
Then you came back to London. Did you find it easy to get a job?
PRITCHETT
By then I was a published writer and journalist. I wrote for The New Statesman. Its literary editor was Raymond Mortimer. I reviewed and wrote for him through the war.
INTERVIEWER
Many of your essays were on classic writers, such as Cervantes, Tolstoy, and Balzac. Was that your idea or his?
PRITCHETT
There was a shortage of paper during the war and there were fewer new books. So Raymond Mortimer thought that it would be a good idea to write also about writers of the past. It was an opportunity to write a piece about something I particularly admired.
INTERVIEWER
In your case you made your apprenticeship through journalism. There are different views on this sort of training. Michael Frayn says that every writer of fiction ought to work as a reporter for a while because it keeps one in touch with reality. On the other hand, Evelyn Waugh believed that journalism was detrimental to writers and that they ought to get out of it as soon as they can. Even more damning of the profession was Chekhov, who wrote that although he was forced to work as a journalist, he hoped he would not die as one. What is your view?
PRITCHETT
I had no other way of starting. I think the experience is indispensable. I know writers who have never touched journalism, but they have private means. A creative writer is better formed by himself than by institutions. But it is a risk; one has to be certain and prove oneself. So, I don't regret having been a journalist. I think it was a good apprenticeship.
INTERVIEWER
Do you think living and writing conflict?
PRITCHETT
I have always thought that life and literature are intermingled and that this intermingling has been my quest.
INTERVIEWER
Let us talk about that quest. You have defined yourself as "a man of letters." As Anthony Burgess remarked in his review of your essay collection of the same name, this expression has a pleasantly old-fashioned ring, denoting a broader, grander sweep than we are used to. Indeed, you have covered almost every literary genre in your oeuvre except poetry and drama. You said that you originally wanted to be a poet. Did you ever try?
PRITCHETT
Oh yes, but it was no good. I scribbled reams of love poems for a girlfriend when I was seventeen. But I realized I couldn't do it, and I gave it up.
INTERVIEWER
What about drama? Your dialogues are so accurate and concise that I wonder if you have ever considered transferring them to the stage.
PRITCHETT
No, I have never attempted to write for the stage. That requires a special skill that I don't have.
INTERVIEWER
Over the years, have you developed any rules of thumb for writing dialogue?
PRITCHETT
It's hard to answer that. It comes naturally to me to write dialogue. I'm not a plot writer. I find it very difficult to invent a plot of any intricacy. Much more exciting to me is the intricacy, the plot form, of dialogue. The speaker is making up his drama as he goes along, and he doesn't know how good he is or how bad he is. It's natural, so therefore dialogue gets me out of any chip I have about not being able to think of a good plot. Dialogue is one of the things that I seem to be able to do, hit upon doing, and like. Dialogue is my form of poetry. I can't write poetry to save my life. Dialogue is the nearest I can come to the poetic.
INTERVIEWER
And the surrealistic streak in your writing?
PRITCHETT
Well, there is that. One constantly hears people's minds going off at an astonishing angle. When I reread some of the strangest remarks in my stories, I think, I must have heard that somewhere, I certainly didn't invent it. Someone said that to me in a train or I heard it on a bus. For example, the dialogue of the people I worked with in the leather trade was absolutely astonishing to listen to. It was a remarkable narrative, a sort of lopsided narrative, but nevertheless with its brilliant moments, which they muddled in marvelous ways.
INTERVIEWER
Your most popular and acclaimed works have been your short stories and travel books. What attracted you to the short story as opposed to the novel?
PRITCHETT
The short story appealed to me straight away because of its shortness, and I preferred it to the novel. It represents a certain vision of reality that consists of isolating the incident. The great thing about the short story is the detail, not the plot. The plot is useful, but only for supplying the sort of detail that is not descriptive but which pushes the action forward. Many critics have noticed this about my stories.
INTERVIEWER
How did you come to write your first novel?
PRITCHETT
In 1927 I went back to Spain, walked across the country, and wrote a book about it. The publishers of that book, Marching Spain, accepted it on condition that I write a novel for them. I didn't think of myself as a novelist and said I couldn't do it. Instead, I gave them a collection of short stories, which again they only accepted with the pledge of a novel. Marching Spain sold six hundred copies, but the short stories sold more than any of the novels I wrote subsequently. The collection was called The Spanish Virgin.
INTERVIEWER
So, in a way you were bullied into writing a novel?
PRITCHETT
Yes, Clare Drummer. And it wasn't good, rather turgid. It was about a love affair in Ireland, and it had a number of Irish eccentrics in it. The critics demolished it, though one or two were kind enough to say that it was promising.
INTERVIEWER
But you went on writing novels—five in all. Which made a mark, either critically or popularly?
PRITCHETT
I wrote a novel based on my experiences in the leather trade. This novel, Nothing Like Leather (1935), sold about eleven thousand copies. Dead Man Leading (1937) is an account of an exploration in Brazil and a trip up the Amazon. I had never been anywhere near the Amazon, but I fancied myself an explorer and read it up at the British Museum Library. To my amazement, it was highly praised. Unfortunately, it coincided with Munich and failed commercially. But I did write one more novel, Mr. Beluncle (1951), which was published after the war. This highly fictionalized autobiography did well.
INTERVIEWER
In Mr. Beluncle you wrote about your father. Did he ever read it?
PRITCHETT
I think he started it, but it bored him stiff. He said, I can't make anything out of this. He didn't like reading.
INTERVIEWER
But he knew it was about him.
PRITCHETT
Yes, he did, because somebody told him it was.
INTERVIEWER
You said once that the short story tells exhaustively about one thing, while the novel offers up a whole universe. Did you always want to be principally a short-story writer?
PRITCHETT
I think I really wanted to be a short-story writer because I thought I was a man of short breath. I haven't got the breath to write novels.
INTERVIEWER
You've actually written a number of very long stories, almost novellas.
PRITCHETT
Long stories I think are admirable. I like those. That is quite another matter because you have your central theme, which is sustained and helps you along. But a novel is like an enormous tree with so many branches going off from it in all directions. At least the nineteenth-century novel is like that, and that's what I was brought up on. That's no good to me, but the short story and the long short story are. I've written quite a lot of them.
INTERVIEWER
You're known for boiling one hundred and twenty pages down to twenty.
PRITCHETT
It has happened. I've written some stories that absolutely said, No, no, this has got to be cut down.
INTERVIEWER
Is it usually a question of getting rid of entire scenes, or of thinning it out?
PRITCHETT
I think it's been a question of speeding up. You may fall in love too much with certain conceits and elaborations. The thing is to keep it running well, keep it lightly clad.
INTERVIEWER
Keep it athletic.
PRITCHETT
Yes, exactly. Athletic is the word; I think that's a good word to describe my attitude to stories.
INTERVIEWER
It's actually your own word.
PRITCHETT
Is it? There you are—didn't know I was so clever.
INTERVIEWER
You've said that it was a big discovery to find you were a humanist, and it is a writer's duty to justify the characters to themselves. Is the aim of a balanced story that every character be given a chance to speak on his own behalf? Or do you mean that they should all be treated fairly?
PRITCHETT
I think they should all be treated fairly. In the story I wrote about the secondhand trade, "The Camberwell Beauty," there's a very wide range of characters. The minor ones are observed, I think, as closely as they need to be, never more. Also, one must never regard a character as totally disposable. He may somehow have to reappear at some moment. In fact, it makes the others truer to life if he suddenly crops up later on. But you've then got to make him feel that he's got a right to do that—that he's on some other business. He's carrying on his life, as well as the larger characters carrying on theirs. I think in that story the minor characters work very well. They keep coming back, but in another way.
INTERVIEWER
So characters in stories may judge each other, but the writer should never give the impression of judging them.
PRITCHETT
That's right. Let them do it to each other.
INTERVIEWER
That's a very anti-nineteenth-century idea.
PRITCHETT
Yes, very. I hesitate on sweeping judgments, and, after all, it's the variety in human nature that's interesting. A human being is rather like a tune; he has various notes in his emotions, in his thoughts, in his life. Some are his best, some are very fine, some are ripe, but not all.
INTERVIEWER
Let's talk about distinctions between first and third person. You've said that you first cast your famous story "Sense of Humor" in the third person, and then you decided it should be in first person. Did you ever find a way to decide early during a story's progress about the voice?
PRITCHETT
I'd written the first part in the third person, and then suddenly I realized that I'm so much better at dialogue than I am at writing this awful, elaborate analysis. If only I could jump away, this man could tell his own story. People are much brighter than you think they are. I shan't be interfering with him. I shan't give him my thoughts. They will be his as a person. One knows that from listening to people. You take characters from life. In general, I've found this almost indispensable. If I took you for a story, I would have to find some other person, a second, or a third to fill out the character. Then the fixity of the original you vanishes. A real character emerges from three.
INTERVIEWER
Did you know Joyce Cary? He was a master of the first person.
PRITCHETT
He was. I didn't know him very well, but I did know him. A most extraordinary man. A very strange man. He used to live in Oxford, and I went to see him there. He seemed far too accomplished; he seemed to have everything. He'd been a very distinguished civil servant in Africa. He'd been a great book collector and was a rather able painter—not a genius, but he painted better than most of us. His background was very amusing. He had a rather wild Anglo-Irish background, which was immediately recognizable to anyone who knew Ireland at that time. He was very serious. Oxford made him seem a bit solemn, but he wasn't really solemn. He was very restless. For example, when we were talking at Oxford, suddenly there was a noise at the front door. He clapped his hands and said, That's my cutlet! That's my dinner! Dear old so-and-so's dropped me in my cutlet! Someone had dropped some meat in through the letter drop. He rushed to the door, picked it up, opened the door and said, Oh, she's gone. I heard him shout down the street, Thank you! Thank you! Thank you! He was very excitable.
INTERVIEWER
Let's talk about your essays, another genre in which you are an acknowledged master. When did you start writing reviews?
PRITCHETT
The kind of advance you got for a novel or a travel book was something like twenty-five pounds—not enough to live on. So, I started reviewing to have a regular source of income.
INTERVIEWER
You once said that one or two good stories are worth all the criticism in the world. Is that because stories are more imaginative? More creative?
PRITCHETT
If a story is really good it simply lives on, regardless of what other people think of it. Criticism, however, comes and goes. It changes with the fashion of the time. A story is always a story.
INTERVIEWER
Is there a different approach to writing criticism?
PRITCHETT
I think the critic must first of all clear his own mind. Someone who has worked on a book, perhaps for years, and succeeded in getting it published, must have some quality. What is it? The critic has to sort him out and look for his merits. I always look for the real voice of a writer because most good writers have a distinctive voice. If he doesn't have a voice, however important the subject may be, the book is not interesting.
INTERVIEWER
Do you think there is a conflict between criticism and imaginative writing?
PRITCHETT
Not really, though they are different, of course. When you write a story you try to become the characters you are writing about. In criticism you try to enter a world that someone else has created, and that is also an imaginative, creative act.
INTERVIEWER
Which critics do you particularly admire?
PRITCHETT
When I was a young man I thought Lytton Strachey was splendid, and I admired Virginia Woolf too. Later I got bored with her, but now I think she is very good and alive. I liked Edmund Wilson as a critic because he had an impressive, gathering mind.
INTERVIEWER
You have written biographies of Balzac, Turgenev, and Chekhov. They differ from the usual, factual biographies. They are more the work of a storyteller, a personal reflection on the life and work of a fellow writer. Why did you choose those writers as your subjects?
PRITCHETT
Partly because I was asked by the publishers to do them, and partly as personal tributes. When I was young I hero-worshiped Balzac. He was the first French writer I read, and I lived near his home in Paris. I went around with a copy of his La Peau de chagrin in my pocket, and later, whenever I was traveling, I took one of his books with me to read. A lot of his small businessmen and shopkeepers reminded me of members of my family, especially my father. Even Balzac himself was like my father, only more grand. As for the other two, I have had a lifelong interest in the nineteenth-century Russian writers.
INTERVIEWER
What was their special attraction?
PRITCHETT
What I particularly like about them is their naturalness and clarity. They are preindustrial people outside the European structure; their novels flow from the emotions of the people, their characters, and what they feel—not grandiose emotions—the sort of things we all feel, which come to the surface in the daily course of life. Clarity is very important to me. When I began to write I went in for dramatic, extravagant images and descriptions. But now I think clarity is everything—I seek to keep the cutting edge clean. Some Spanish writers have clarity, so has Stendhal. Tolstoy and Turgenev are marvelous in that respect. Their language is plain and taut. Dostoyevsky is different. He sees clearly through the mass of conflicting emotions and thoughts of his characters.
INTERVIEWER
Your own style has been praised for its clarity and naturalness. Molly Keane described it as "not a word too many, not a word too few." Did you consciously cultivate this style, or did it evolve naturally?
PRITCHETT
I just wanted to write in my own manner, rather than adopt someone else's, however much I admired him or her.
INTERVIEWER
Is writing easy for you? You give the impression that it is, that you're a natural.
PRITCHETT
No, it is not easy at all. It is hard getting it out. I do like the process of writing, but it is not easy.
INTERVIEWER
Do you have a clear sense of the merits and shortcomings of your work?
PRITCHETT
When I look back I know very well, yes. When I look back I think: Oh, this is not good, but this is very good, or this is much better than anyone ever told me. I do rewrite quite a lot.
INTERVIEWER
When you're writing a story, what's the process it goes through?
PRITCHETT
I write longhand, always. My typing is absolutely hopeless. I make several false starts, or perhaps it starts right, but it doesn't go on right. Then suddenly I'm able to go on once more. It's erratic. Once I get going, then I do write really quite fast. Invention invents itself. You have to get yourself into it. One is very dull when one starts. You have to give yourself several good kicks in the behind.
INTERVIEWER
Your work goes through several drafts, which your wife types?
PRITCHETT
Yes, my work would stop if she didn't type these things for me. Then I go through and alter a good deal, so she has to do it again.
INTERVIEWER
Do you still work every day?
PRITCHETT
Every day of the week. It's simply because journalism does that to you. You always have to work on Sundays, so therefore that makes up the week. It makes you quite different from anyone else. You don't get a mid-week day off by law. And I find writing takes a long time. I write most days. I didn't write yesterday. I think I tried to write the day before. I don't think it is a good idea to write if one doesn't have anything to say. I don't start writing a story until I have a governing idea or feeling.
INTERVIEWER
How does the idea of a story come to you?
PRITCHETT
It is usually given to me by meeting people. The first story of mine that was very much praised was "Sense of Humor." It came about while I was in Eniskille, a small place in Ireland. I used to go to a bar where I met a commercial traveler who talked non-stop, and the interesting thing about him was that he had a car, but it was not an ordinary car, it was a hearse. It emerged that his girlfriend was the daughter of an undertaker, so he drove around in this hearse. But I don't necessarily write the stories of the people I meet; it's rather that something about them gives me an idea.
INTERVIEWER
Do you ever get hollow periods, when you don't have ideas for stories? Do you worry about them?
PRITCHETT
No, I don't worry, because I usually have something else to do—a review or something. I have a huge package of "failures"—stories that haven't worked. I keep them, thinking, You never know. For example, I wrote a story that happened on Lake Como. I was mad about the lake and started writing about it and its beauty, but of course that doesn't make a story. So I put it away.
INTERVIEWER
Once you have started a story, do you know where it is going and how it will end?
PRITCHETT
Not always. It begins to make itself, as long as you keep close to your characters and think about them. I once wrote a story about a man who was blind. I thought I must find out what it is like to be blind. I closed my eyes, analyzed what blindness is, and so on . . . It was called "Blind Love."
INTERVIEWER
Are you working on stories now?
PRITCHETT
I have got a story that I'm trying to get going. I'm getting long-winded. I'm trying at the moment to think of something very short. I wrote one that hasn't been published, "A Family Man." About a girl, an artist, who is very honest. Suddenly someone knocks on her door on a stormy night. A lady has come and accuses her of sleeping with her husband—which she has done, in fact. The girl is absolutely taken aback. She becomes exalted and makes up a marvelous denial, and is so carried away by her own denial that she convinces the lady. She even invents her father. The lady says, Well, who lives in that room? and the girl says, My father, please don't disturb him.
Wouldn't he like a cup of tea?
Just a moment, I'll go and see.
And he is not there! There's nobody there.
He must have gone for his little walk.
Ah, you've got to keep your eye on them, says the lady.
Suddenly they're allies.
INTERVIEWER
Do you have any advice that you'd give to a young writer?
PRITCHETT
Just to write. Write, write, write. I think a good idea is to write a little—about two lines, not more, or three lines, about any person they wish. Don't write too much, if you write too much about it then you're afraid you'll kill it.
INTERVIEWER
You said somewhere that one difficulty for a young writer is knowing what you have to write about. And when it works you have the sense of something from the past being struck on the flint of the present. Do you still feel this way?
PRITCHETT
Sometimes. The odd thing is I wrote a very good story about two or three years ago. And it came about only because I remembered some schoolboy sitting in a railway station down in the country with the boys all going home from school. And he was very fat and greedy and ate chocolate. All the boys tried to cadge chocolate off him. Sooner or later there was a scene. They started fighting, someone threw his cap onto a railway line. I thought, My God, this is a very good incident, I must use it. But I must put this into a totally different story.
INTERVIEWER
How long ago was it that you saw this boy?
PRITCHETT
Oh, forty years, fifty years.
INTERVIEWER
There's an idea that we go round and round in our lives; that there's a youth of youth, a middle age of youth, and an old age of youth, followed by a youth of middle age, and so on. What are you in now?
PRITCHETT
I think I'm half in the madhouse, you know. I feel like I'm getting rather dull now.
INTERVIEWER
The edges are going?
PRITCHETT
Well, I'm very old. After all, I'm ninety. I'm rather annoyed at the thought of being ninety. I put my faith in Bertrand Russell, whom I remember meeting when he was about ninety. And I thought that that's all right, if I can be like that I won't mind!