Interviewed by George Plimpton
Issue 118, Spring 1991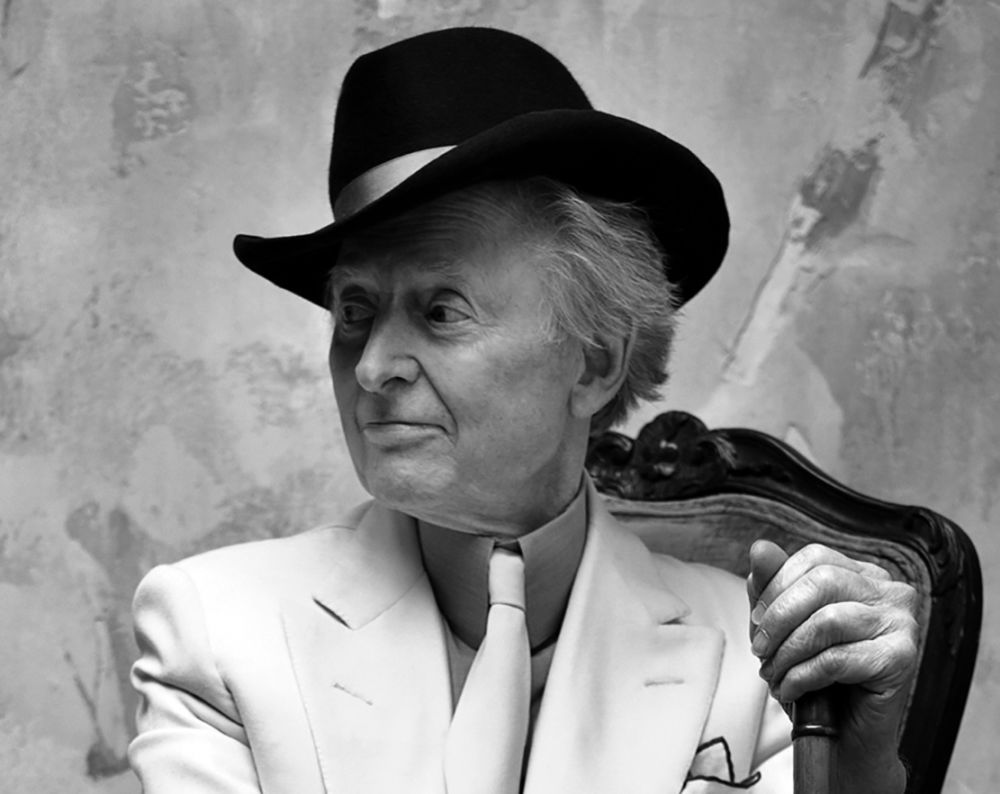 One of Tom Wolfe's favorite restaurants in New York City is the Isle of Capri on the East Side, specializing, as one might expect, in Italian cuisine; indeed, the menu does not condescend to non-Italian speaking customers: an extensive list of choices is not identified in English. The table set aside for Wolfe is in a corner of a patiolike glassed-in enclosure facing Third Avenue. Clusters of potted plants hang from its rafters. The author arrived wearing the white ensemble he is noted for—a white modified homburg, a chalk-white overcoat—but to the surprise of regular customers looking up from their tables, he removed the coat to disclose a light-brown suit set off by a pale lilac tie. Questioned about the light-brown suit, he replied: "Shows that I'm versatile." He went on to point out that his overcoat only had one button—rare in overcoats, quite impractical, obviously, in a stiff wind. "One must occasionally suffer for style." At the table he ordered bottled water and calamari. Squid. His accent is more cosmopolitan than Southern, though he grew up in the South (Richmond, Virginia) and went to school there (Washington and Lee). His face is pale, fine-featured. During the interview a young woman nervously approached the table for an autograph. She announced that she hoped to become a writer and that he had been her idol from the first. Wolfe thanked her and asked where she was from. North Carolina. While he worked the pen across the paper (Wolfe's autograph is a decorative scrawl that if stretched out straight would measure a foot), the two chatted about her home state, which he knows well—his mother and sister live there. The young woman went on to say that she found New York City wonderful and looked forward to moving. Wolfe nodded, and afterwards remarked how pleasing it was to hear from someone not swayed by the bad publicity, least of all by reading his novel The Bonfire of the Vanities.
Part of the interview which follows was conducted before the public under the auspices of the West Side YMCA in Manhattan.
INTERVIEWER
When did you first realize that you had a knack for writing?
TOM WOLFE
Very early. When I was six or seven years old. My father was the editor of an agricultural magazine called The Southern Planter. He didn't think of himself as a writer. He was a scientist, an agronomist, but I thought of him as a writer because I'd seen him working at his desk. I just assumed that I was going to do that, that I was going to be a writer. There's an enormous advantage in having (mistakenly or not) the impression that you have a vocation very early because from that time forward you begin to focus all of your energies towards this goal. The only other thing I ever considered from six on was to become an artist, something my mother had encouraged me to do.
INTERVIEWER
Regarding writing, was there any particular book that influenced you?
WOLFE
I was greatly struck by Emil Ludwig's biography of Napoleon, which is written in the historical present. It begins as the mother sits suckling her babe in a tent.
INTERVIEWER
And that impressed you?
WOLFE
It impressed me so enormously that I began to write the biography of Napoleon myself, though heavily cribbed from Emil Ludwig. I was eight at the time.
INTERVIEWER
Did it start the same way, with a babe being suckled in . . .
WOLFE
It did, though no one would tell me what suckled meant. I only knew that that was what Napoleon did at the start. I always liked Napoleon from when I was six on because he was small and had ruled the world and at the time I was small. I liked Mozart for the same reason.
INTERVIEWER
What about Thomas Wolfe? Did he float into your consciousness at all?
WOLFE
Yes, he did. I can remember that on the shelves at home there were these books by Thomas Wolfe. Look Homeward Angel and Of Time and the River. Of Time and the River had just come out when I was aware of his name. My parents had a hard time convincing me that he was no kin whatsoever. My attitude was, Well, what's he doing on the shelf then? But as soon as I was old enough I became a tremendous fan of Thomas Wolfe and remain so to this day. I ignore his fluctuations on the literary stock market.
INTERVIEWER
You started off writing for newspapers . . .
WOLFE
The first newspaper I worked on was the Springfield Union in Springfield, Massachusetts. I wrote over a hundred letters to newspapers asking for work and got three responses, two nos.
INTERVIEWER
Style is pretty much dictated in newspaper work, isn't it? Can you say something about the development of your style, which is certainly one of the more unique in American letters?
WOLFE
The newspaper is, in fact, very bad for one's prose style. That's why I gravitated towards feature stories where you get a little more leeway in the writing style. When I started writing magazine pieces for Esquire, I had to unlearn newspaper restraints and shortcuts. Working on newspapers, you're writing to a certain length, often very brief pieces; you tend to look for easy forms of humor—women can't drive, things like that. That's about the level of a lot of newspaper humor. It becomes a form of laziness. But I wouldn't give anything for the years I spent on newspapers because it forces you, it immerses you, in so many different sides of life. I did try to cut up as much as I could; I think I was a lively newspaper writer, but that's a long way from being a good writer.
INTERVIEWER
Did editors tend to say, Come now, you can't do this sort of thing?
WOLFE
Yes, if the subject was serious. The greatest promotion I ever had on a newspaper was when The Washington Post suddenly promoted me from city-side general assignment reporter to Latin American correspondent and sent me off to Cuba. Fidel Castro had just come to power. It was a very exciting assignment, but also very serious. Every time I tried to write about the veins popping out on the forehead of a Cuban revolutionary leader it was just stricken from the copy because all they wanted was, Defense Minister Raul Castro said yesterday that . . .
INTERVIEWER
When did the breakthrough come?
WOLFE
Well, this happened really in two stages. While I was in graduate school at Yale I came upon a group of early Soviet writers called the Brothers Serapion. These were people like Boris Pilnyak who wrote a book called The Naked Year, and especially Eugene Zamiatin, probably best known for his novel We, upon which George Orwell's 1984 is based. He is a brilliant writer who was exiled from the Soviet Union in 1927, I believe. These were Russian writers writing about the Soviet revolution; they were heavily influenced by French Symbolism, so you had all the preciousness and aestheticism of the Symbolists converging upon a very raw subject, namely the Revolution. I began imitating the Brothers Serapion in the short pieces I was writing for myself. I even tried to sneak these things into my newspaper work. I never got very far with it.
INTERVIEWER
What sort of thing?
WOLFE
For example, one of the things they did was experiment with punctuation. In We, Zamiatin constantly breaks off a thought in mid-sentence with a dash. He's trying to imitate the habits of actual thought, assuming, quite correctly, that we don't think in whole sentences. We think emotionally. He also used a lot of exclamation points, a habit I picked up and which I still have. Someone counted them in The Bonfire of the Vanities—some enormous number of exclamation points, up in the thousands. I think it's quite justified, though I've been ridiculed for it. Dwight Macdonald once wrote that reading me, with all these exclamation points, was like reading Queen Victoria's diaries. He was so eminent at the time, I felt crushed. But then out of curiosity I looked up Queen Victoria's diaries. They're childhood diaries. They're full of exclamation points. They are so much more readable than the official prose she inflicted on prime ministers and the English people in the years thereafter. Her diaries aren't bad at all. I also made a lot of use of the historical present (getting back to Emil Ludwig) in my early magazine work, along with eccentric images and metaphors. These were things that I began to use as soon as I had a truly free hand. That was when I began to do magazine work in 1963 for Esquire—which was that rarest of things: an experimental mass-circulation magazine.
INTERVIEWER
Presumably there was an editor at Esquire who supported what you were up to . . .
WOLFE
Well, Byron Dobell was the first editor I had at Esquire. I've written about this in the introduction to The Kandy-Kolored Tangerine-Flake Streamline Baby. The piece about car customizers in Los Angeles was the first magazine piece I ever wrote. I was totally blocked. I now know what writer's block is. It's the fear you cannot do what you've announced to someone else you can do, or else the fear that it isn't worth doing. That's a rarer form. In this case I suddenly realized I'd never written a magazine article before and I just felt I couldn't do it. Well, Dobell somehow shamed me into writing down the notes that I had taken in my reporting on the car customizers so that some competent writer could convert them into a magazine piece. I sat down one night and started writing a memorandum to him as fast as I could, just to get the ordeal over with. It became very much like a letter that you would write to a friend in which you're not thinking about style, you're just pouring it all out, and I churned it out all night long, forty typewritten, triple-spaced pages. I turned it in in the morning to Byron at Esquire, and then I went home to sleep. About four that afternoon I got a call from him telling me, Well, we're knocking the "Dear Byron" off the top of your memo, and we're running the piece. That was a tremendous release for me. I think there are not many editors who would have done that, but Esquire at that time was a very experimental magazine. Byron Dobell was and remains a brilliant editor, and it worked out.
INTERVIEWER
Is it hazardous to have a style as distinctive as that?
WOLFE
It became so. At the outset I didn't think of myself as having something called a Tom Wolfe style. Many of my first pieces were for the Herald Tribune's new Sunday magazine, which was called New York and is now an independent magazine. Sunday supplements at that time were like brain candy, easily thrown away. I never had the feeling that there were any standards to writing for a Sunday supplement. So you could experiment in any fashion you wished, which I began to do. Still, I didn't think of it as a Tom Wolfe style. Finally, after The Kandy-Kolored Tangerine-Flake Streamline Baby came out as a book, and I began to get a lot of publicity, people began to write about me and about this style. Suddenly I would start writing an article and I'd say, Wait a minute. Is this really a Tom Wolfe style? Now that is fatal, I assure you. I wrote a number of pieces in the year 1966 that were so bad that, although I'm a great collector of my own pieces, I have never collected them.
INTERVIEWER
Readers have always followed your fascination with clothes, material goods, and so forth. Where does that come from?
WOLFE
I couldn't tell you in any analytical fashion, but I assume I realized instinctively that if I were going to write vignettes of contemporary life, which is what I was doing constantly for New York, I wanted all the sounds, the looks, the feel of whatever place I was writing about to be in this vignette. Brand names, tastes in clothes and furniture, manners, the way people treat children, servants, or their superiors, are important clues to an individual's expectations. This is something else that I am criticized for, mocked for, ridiculed for. I take some solace in the fact that the leading critic of Balzac's day, Sainte-Beuve, used to say the same thing about Balzac's fixation on furniture. You can learn the names of more arcane pieces of furniture reading Balzac than you can reading a Sotheby's catalogue. Sainte-Beuve said, If this little man is so obsessed with furniture why doesn't he open up a shop and spare us these so-called novels of his? So I take solace in this. After all, we are in a brand-name culture.
INTERVIEWER
Do you read catalogues, for example, to keep up on shoes and so forth?
WOLFE
I must confess to having read furniture-auction catalogues so that if I walked into somebody's living room I'd be able to tell you what these articles of furniture were. When I wrote Radical Chic, as a matter of fact, about a party for the Black Panthers at Leonard Bernstein's apartment, I noticed that the platters upon which the Panthers were being served Roquefort cheese balls were gadrooned. They had this little sort of ribbing around the edges of the trays. You may think that's a small point, but I think that small points like that can really make a piece, particularly at the beginning. There's something about a gadrooned platter being served to the Black Panthers that really gives a piece a bite, particularly at the beginning. It doesn't matter if your audience doesn't know what a gadrooned platter is. Often people are flattered to have an unusual word thrust upon them. They say, Well, that author thinks I know what he's talking about!
INTERVIEWER
At that party did you remember such things or do you have to whisk a notebook out and write a note down in the bathroom or wherever?
WOLFE
At that party I did take notes very openly. I was not the only person in the room doing so, incidentally. Charlotte Curtis of The New York Times was taking notes a mile a minute, and she did write about the party too. If it's a situation in which it's impossible or very awkward to take notes, I will try to write down everything I can remember before going to sleep. I find that memory decay is very rapid. Even going to sleep and waking up the next day, there's an awful lot that simply doesn't come back. At least it doesn't come back accurately. So I do it as soon as I can.
INTERVIEWER
Are memorable stories like that assigned to you by editors? How do you pick your subjects?
WOLFE
A great many stories that I did, particularly early in the game, were assigned to me, often things that I had no interest in covering at first. For example, after I did the piece on customized cars, Esquire assigned me a piece on the then Cassius Clay, which I did want to do very much, and then a piece on Las Vegas. I felt that Las Vegas was the most tired story imaginable, but I wanted to be in Esquire again. And I wanted the money. So I went off to Las Vegas, and the place was a wonderland in a way that I had never expected. It turned out to be a very successful story as well; other stories were assigned. There's probably never been a better originator of story ideas in journalism than Clay Felker. Harold Hayes and Byron Dobell at Esquire were both very good. I did a story on a stockcar driver in North Carolina, Junior Johnson, who had been a whiskey runner for his father. That was an idea that came from an Esquire editor. On the other hand, Radical Chic, which was about the party at Leonard Bernstein's, was my own.
INTERVIEWER
Between journalism and fiction, which is the more difficult and which the more satisfying?
WOLFE
The problems are enormous with each, and I wouldn't say that one is any easier than another. I found it extremely difficult to shift from nonfiction to fiction and for reasons that surprised me. One was that I didn't face up to the most obvious thing of all . . . which is that in nonfiction you are handed the plot. You are handed the characters. It just didn't dawn on me how much I was now depriving myself of. The other thing that surprised me when I first started writing The Bonfire of the Vanities was that I was not nearly as free technically and in terms of style as I had been in nonfiction. I would have assumed it would be the opposite, since you have carte blanche in fiction, this tremendous freedom. What happened was that all the rules of composition I had been taught about fiction in college and graduate school came flooding back—Henry James's doctrine of point of view, Virginia Woolf's theory of the inner psychological glow. All things were suddenly laws. I was on an unfamiliar terrain and so I'd better obey. My first time around writing The Bonfire of the Vanities for Rolling Stone I was not nearly as free as I should have been. It took me a long time to realize that I could enjoy the kind of freedom that I'd had in nonfiction where I was operating without any rules to speak of. I finally began to appreciate the enormous flexibility of fiction, but it really took some doing.
INTERVIEWER
I believe you'd always wanted to do a huge nonfiction book about New York, and somehow you changed your mind. Why did you decide to do the book as fiction?
WOLFE
There were two things; one was personal. Practically everyone my age who wanted to write somehow got the impression in college that there was only one thing to write, which was a novel and that if you went into journalism, this was only a cup of coffee on the road to the final triumph. At some point you would move into a shack—it was always a shack for some reason—and write a novel. This would be your real métier. But by the time I got to the Herald Tribune a lot of things were happening in nonfiction. Gay Talese was doing amazing work; so were Jimmy Breslin and people like Tom Morgan at Esquire and many others. This was exciting to me and I started writing nonfiction, borrowing heavily, as others did, from the techniques of fiction writers. All along, even though I felt this was where things were happening, there was always a silent and perhaps not-so-silent rebuke from others that said, This is an elaborate screen you're constructing to avoid the great challenge, which is the novel. So I decided I didn't want to reach the end of my career and look back and say, Well, gee, I wonder what would have happened if I had tried the novel. I didn't want others saying, Well, he ducked it. He never faced up to it. Also, I had developed a theory about the future of the novel, which I had elaborated to some extent in the introduction to the book The New Journalism, in which I said that I felt the novel had taken a lot of wrong turns since 1950 in the United States and that its future would be highly detailed realism, a kind of hypernaturalism, to borrow a term from Zola. So I knew from the beginning that the type of novel I wanted to write would be that kind.
INTERVIEWER
The Bonfire of the Vanities was first published in Rolling Stone as a serial. McCoy, the main character, was originally a writer. Why did you want to write it as a serial novel? Was that another challenge?
WOLFE
For eight months I had sat at my typewriter every day, intending to start this novel and nothing had happened. I felt that the only way I was ever going to get going on it was to put myself under deadline pressure. I knew that if I had to, I could produce something under deadline pressure. I found the only marvelous maniac in all of journalism willing to let me do such a thing. That was Jann Wenner at Rolling Stone. This book would have never been written if Jann Wenner had not said, OK, let's do it. Let's see what happens.
INTERVIEWER
Was it the first fiction you had ever tried?
WOLFE
I had done a short story for Esquire called "Oh, the Big-Time, Game-Time, Show-Time Roll" in 1974. It was based on a couple of actual incidents about a black baseball star making a commercial here in New York. It was OK. I didn't see it in the O. Henry collection or anything.
INTERVIEWER
So, you started doing the serial for Jann Wenner . . .
WOLFE
Yes. I wrote three chapters at the outset thinking that I would have a two-chapter cushion. In case I got in trouble in a subsequent issue I had something to fall back on. Well, Jann wanted me to get off to a glorious start, so he published all three in the first issue! From that time on I was scrambling desperately.
INTERVIEWER
Well, did you have any grand design? Did you know where you were going?
WOLFE
Well, yes and no. I'm a great believer in outlines. The outline for The Right Stuff, for example, my nonfiction book about the astronauts, was three hundred pages, cross-indexed. So I did a very thorough outline for The Bonfire of the Vanities. Jann Wenner had read it and liked it. Then at the last moment I began to think of what I considered important changes. For example, in the outline everything took place in Manhattan. I began hearing these amazing stories about the Bronx, so I shifted my scene of operations from the Manhattan Criminal Court Building at 100 Centre Street up to the Bronx County Courthouse at 161st Street and the Grand Concourse. I changed the nature of the crime that the story was to pivot upon—actually a Class E felony, not much of a crime—to an automobile accident in the Bronx. Then, at the very last moment, I had gone down to Wall Street and I'd gotten entrée to one of the great investment-banking houses and what I'd seen was so exciting that I said to myself, Well, maybe I'll change Sherman McCoy from a writer—which he was in this long outline that I had—to some kind of Wall Street figure. If anyone cares to look back at the first three chapters of the Rolling Stone version of The Bonfire of the Vanities, he'll find that Sherman McCoy has no occupation. I was going to give myself the flexibility in the fourth chapter to make him a Wall Street figure. Then I got cold feet because I didn't really have the time to work this whole thing out. He remained a writer, a rather boring figure for the most part. He's not right in that version. I hate stories in which a person has an occupation and you never see him working at it, like all those marvelous Cary Grant movies where he's a surgeon, and you never see him in the operating room.
INTERVIEWER
Was the serialization carried out to the end?
WOLFE
Yes, it was. I'm proud of this. It continued for twenty-seven issues. The magazine comes out every two weeks . . . a year and a week over. At the outset I began to wonder if my work would be more like Zola's, Dostoyevsky's, or Dickens's . . . all serial novel writers. By the fourth chapter the only thing I wondered about was, would the hold be filled? I was out on Long Island in Southampton where there's a church in the middle of town that chimes the hours all through the night. I can remember it so well. I would go to sleep exhausted about ten o'clock at night. I'd wake up about eleven-thirty or midnight; I'd always hear the midnight bells, all twelve of those chimes. I had terrible insomnia for about six weeks. I finally realized that, in fact, I could fill the hole, that I would be spared the ignominy of not making the issue.
INTERVIEWER
What a terrifying experience. Did you ever feel like going to Jann Wenner and saying, This is too much; to hell with it?
WOLFE
Well, I didn't really put it quite that way, but to myself many times I said, Why did I do this? I don't need to do it. I could have written a sequel to The Right Stuff. After all, The Right Stuff was only the story of the astronauts doing the Mercury program. I could have written a book called Gemini. It was terrifying. I don't think I had the courage to tell Jann that we had to call it off!
INTERVIEWER
How many words did that mean you had to produce in, let's say, a day?
WOLFE
That wasn't so much the problem. I had to produce about six thousand words every two weeks. That isn't a terrible amount if you're sure of what you're doing, but it's difficult if you don't, especially if you're trying to construct something with real coherence to it. At the beginning it was terrible. Just changing the locale from Manhattan to the Bronx was something that meant an unraveling of all sorts of things in the plot. This is something that happens in fiction. It doesn't happen in nonfiction. You can change the structure of a nonfiction book and, no matter how awkward, it's like an enormous Erector set. It may lurch into ungainly forms, but it's going to hold together because you're dealing with actual facts. On the other hand, when you start playing with your structure in fiction, it's like pulling a thread in a sweater. Everything begins to go in ways you never dreamed of. So I had a continual problem with that; I found myself reworking and rethinking chapters on the spot. I became very much interested in how people had done this successfully. I read a lot of Zola and Dickens and Dostoyevsky with this in mind. I came to the conclusion that the master of the form was Zola. Typically Zola would write four or five chapters ahead of time, four or five out of twelve to fourteen chapters. Pick almost any novel by Zola and you'll see that it runs twelve to fourteen chapters because he had a contract to write a novel in the year for a monthly magazine. Now, if you've done that, written forty percent of a novel, by this time you have worked out the most difficult problems. You know your characters by now. You know the real course of your plot. You know how you're going to create suspense. By the end of twelve chapters he would have spent his cushion, and he'd now be writing against deadline pressure to finish the book. But that's not so bad. The last half of any book, particularly a book of fiction, is not nearly so difficult as the first half. At the very end, you often see Zola speeding up recklessly. Read the last chapter of that marvelous book Nana. Here's a guy who either is terribly tired or had a day and a half to finish . . . to finish a book! But if I had to do it over again, I would make sure I had written thirty-three to forty percent of the book ahead of time.
INTERVIEWER
But would you ever want to subject yourself again to serialization?
WOLFE
I don't think I would.
INTERVIEWER
What's the point of it really?
WOLFE
In this day and age there isn't much point to it. People do not read that way. If people want stories serially they'll go to television.
INTERVIEWER
How close are the characters of the novel to real people?
WOLFE
Only two characters are actually based on real people—Tommy Killian was based on Counselor Eddie Hayes, and the character of Judge Kovitsky is based on Burton Roberts, who is now the chief administrative and chief criminal judge of the Bronx. Otherwise I steered clear of the roman à clef game. I think that's a game of very limited usefulness. In some cases I have composites. For example, Reverend Bacon, the activist minister from Harlem, was based on the sort of figure I had begun seeing as early as 1969, shortly after the poverty program had gotten started.
INTERVIEWER
For research and background, did you go to the holding pens in the Bronx?
WOLFE
I did. I managed to get entrée to the pens, just to see what's going on. I found that, though there were a great many colorful things happening before my eyes, I had no way of getting inside the mind of someone who was in that predicament. Even if you masquerade as a prisoner, you know you're going to be let out. Then I realized that I had to interview people who had been through it. By this time I had met a number of lawyers. They put me in touch with a few middle-class professional defendants—white defendants who had been through something like McCoy. I eventually met four men, one of whom was tremendously helpful. He told me that the most humiliating part of this experience for him came when he was marched through a metal detector that he kept setting off. They kept taking more of his clothes away from him. He still kept setting off the metal detector. Finally, the policeman in charge of the metal detector had a hunch. He told him to lean over and just put his head in the metal detector. This set the thing off. Then he said, Open your mouth, and he said, Oh, look at that! You've got a mouth like a coin-changer! It was the fillings in his teeth. He began calling the other policemen over. He'd say, Look at this guy. Hey, do it again. He wasn't abusive in language. He didn't lay a hand on him. Suddenly the fact that these police—whom the man had always regarded as his protectors and protectors particularly of people like himself—were now, not in any perverse or bad way, treating him like an object, an object of sport. It was crushing. It crushed what last defenses he had in this situation. Now this is something I could not have gotten except through interviewing. I don't think the unaided imagination of the writer—and I don't care who the writer is—can come up with what is obtainable through research and reporting. I'm firmly convinced of that, particularly in an age like this and particularly if you choose to write about a large city.
INTERVIEWER
I can't resist asking whether, when you were in the holding pens talking to criminals and so forth, you wore the white suit.
WOLFE
Now we're getting down to cases! I'd like to be able to say that I went attired all in white. I didn't. I always wore a suit though and usually a double-breasted suit. That was pushing my luck enough right there! I found early in the game that for me there's no use trying to blend in. I might as well be the village information-gatherer, the man from Mars who simply wants to know. Fortunately the world is full of people with information-compulsion who want to tell you their stories. They want to tell you things that you don't know. They're some of the greatest allies that any writer has.
INTERVIEWER
The Bonfire of the Vanities ends with an epilogue—a shattering epilogue, one page long or so, where you find out that a year later McCoy's back in exactly the same predicament. Was that always in the design?
WOLFE
No, it wasn't. That was one part of the outline that I hadn't worked out. I didn't know whether to make it a happy or an unhappy ending. I could have made it a happy ending, but I felt that this would not have been true to the criminal-justice system in New York! Having gotten their hooks into a highly publicized figure like McCoy—and I think this is one of the sad sides of the interaction of the press and the criminal-justice system in large cities—they were not going to humiliate themselves by letting this man off completely if there were any way to hold him. McCoy had committed a Class E felony—leaving the scene of an accident where there has been personal bodily injury. That can be considered an important crime or a very minor crime depending on the mood of the hour. In the case of someone in a highly publicized case, given his background, it would have been treated severely. He would have probably drawn a year in jail and would have ended up having to serve most of it. I had a choice of either giving it a happy ending or spending several more chapters to follow him through the maw and the innards of the criminal-justice system—the hearings, the various court appearances, and appeals and all the rest of it. I felt that would be anticlimactic. So I came up with this device of the epilogue—a newspaper article written by The New York Times. My model—and this may seem farfetched—was the epilogue to Fitzgerald's Tender Is the Night in which the Divers are seen from afar by someone who says, "The last time I saw them they were sitting in a terrace of a hotel having a drink. I should have stopped to say something to them and I never did." It's very poignant. I decided to have this type of monologue-from-afar in the form of a newspaper piece in The New York Times. I'm not sure it worked, but that was my solution.
INTERVIEWER
Did it bother you at all that the book was criticized for having so few, if any, sympathetic characters?
WOLFE
Well, I don't like to be criticized, but it didn't bother me a great deal because I felt that this was a book about vanity in New York in an age of money fever. In fact, those who triumph in an age like that are seldom what we usually consider heroic and admirable characters. I also looked back at novels about cities that I admire tremendously, John O'Hara's Butterfield 8, Zola's Nana, Balzac's Cousin Bette, and it's hard to find any major character in them who is sympathetic in the usual meaning of that term. Somewhere I ran into a theory that I'd never heard of before, that without love from the author a character is not noble. I was being called incapable of love for the characters. Actually, I was in awe of the characters. I couldn't very well love them.
INTERVIEWER
Thinking back, would you make any changes now?
WOLFE
I might change the ending. The epilogue. Looking back on it I felt it had a somewhat gimmicky quality about it. I still couldn't give it a happy ending. That wouldn't be right.
INTERVIEWER
How long was the title The Bonfire of the Vanities in your mind?
WOLFE
A long time. I once took an American Express bus tour of Florence. We reached the Piazza della Signoria where there is a wonderful statue of Mercury by Cellini. The driver who was also the guide told the story of the "bonfires of the vanities," which had taken place there. At the end of the fifteenth century the Florentines had just been through a hog-wallowing, hog-stomping, baroque period, and when suddenly this ascetic monk, Savonarola, came forward and said, Get rid of your evil ways, strip down, get rid of your vanities. A bonfire was built. Most of the things were thrown into the fire voluntarily. Some things weren't but most of them were—nonreligious paintings, books by Boccaccio, plus wigs and false eyelashes and all kinds of silver, gold. At first, the citizenry loved it. It's sort of like the granola period we're going into right now. They loved the asceticism of it. Then after two of these bonfires, they'd really gotten very bored with the whole process and besides the Pope was getting a little jealous of Savonarola who was really running the city, and so he was the victim of the third bonfire. Anyway, this idea of a bonfire of the vanities stuck in my mind, intrigued me, and I said to myself how some day I'd write a book called that.
INTERVIEWER
There was nothing in your book that really reflects this title.
WOLFE
No. I started to write an epigraph that would explain this reference, sort of the way John O'Hara in Appointment in Samarra has this epigraph by way of an historical note. But every time I wrote it, I came off as Savonarola. So I finally said, to hell with it. The connection is more the fiery itch of vanity. It was a far-fetched analogy. But that was in my mind.
INTERVIEWER
Does criticism bother you? I seem to remember that your book The Painted Word about the art would caused a great stir.
WOLFE
Yes. It was the most vitriolic response I've ever had anywhere, much more so than Radical Chic or Bonfire of the Vanities. The things that I was called in print were remarkable. In fact, there were so many, I started categorizing them. One was "psychiatric insults"—the usual thing, this man is obviously sick. Then there were the "political insults"—usually I was called a fascist but occasionally a communist, a commissar. And then there were the curious round of insults I called the "X-rated insults," all taking the same form which was, This man who wrote the book is like a six-year-old at a pornographic movie; he can follow the motions of the bodies but he cannot comprehend the nuances. I always thought it was a very strange sort of insult because it cast contemporary art as pornography and I was the child. In various forms this metaphor was repeated by several different reviewers. Robert Hughes used it. He had the full image, the six-year-old, the grunts and groans, the pornographic movie and the rest of it. In the Times John Russell referred to me as a eunuch at the orgy. I think he was afraid that too many of his readers would be overstimulated by the thought of a six-year-old at a pornographic movie. So I became a eunuch at an orgy. Because of the similarity of the sexual metaphors, I was curious about this and was told later on that there had been a dinner in Bedford, New York, shortly after The Painted Word came out . . . a number of art world figures, including Robert Motherwell, in somebody's fancy home. The subject of The Painted Word came up and Motherwell supposedly said, You know, this man Wolfe reminds me of a six-year-old at a pornographic movie. He can follow the motion of the bodies but he can't comprehend the nuances. If it's true, it shows what a small world the art world is. Actually that was one of the points I was trying to make in The Painted Word—that three thousand people, no more than that certainly, with roughly three hundred who live outside of the New York metropolitan area, determine all fashion in art. As far as I can tell, it was Motherwell's conceit; he is an influential, major figure, and it spread from this dinner table in Bedford overnight, as it were.
INTERVIEWER
What was it that outraged them more than anything else in The Painted Word?
WOLFE
Now maybe I'm flattering myself, but I think what made a bigger impact than the usual diatribe was that what I wrote was a history; there's not a single critical judgment in the piece. It's a history of taste, and I think that approach—it's pitted on the level of a history of fashion—was infuriating. The art world can deal very easily with anybody who says they don't like Pollock or they don't like Rauschenberg, so what if you don't. But to say these people blindly follow Clement Greenberg's or Harold Rosenberg's theories, which is pretty much what The Painted Word is saying, and that a whole era was not visual at all but literary, now that got them.
INTERVIEWER
Do you have any artwork hanging at home?
WOLFE
Yes. Not a lot but I have some. Most of it is by my friend Richard Merkin. I don't know how to characterize his work. His work has titles such as "Van Lingle Mungo Enters Havana." So he's right on my wavelength. He has a very strong palette. Outside his work and a few others, my real passion is caricature. Mostly from the turn of the century and from a couple of magazines, for example Simplicissimus, which had artists like Bruno Paul, Rudolf Wilke, and Olaf Gulbransson. These were satirical magazines with brilliant illustrators.
INTERVIEWER
It wouldn't be a Paris Review interview unless we asked you about your work habits.
WOLFE
To tell you the truth, I always find that a fascinating part of the Paris Review interviews. That's the kind of thing writers always want to know: What are other writers doing? I use a typewriter. My wife gave me a word processor two Christmases ago that still stares at me accusingly from a desk in my office. One day I am going to be compelled to learn how to use it. But for the time being, I use a typewriter. I set myself a quota—ten pages a day, triple-spaced, which means about eighteen hundred words. If I can finish that in three hours, then I'm through for the day. I just close up the lunch box and go home—that's the way I think of it anyway. If it takes me twelve hours, that's too bad, I've got to do it. To me, the idea "I'm going to work for six hours" is of no use. I can waste time as handily at the desk as I can window-shopping, which is one of my favorite diversions. So I try to be very methodical and force myself to stick to that schedule.
INTERVIEWER
Is there any mnemonic device to get you going?
WOLFE
I always have a clock in front of me. Sometimes, if things are going badly, I will force myself to write a page in a half an hour. I find that can be done. I find that what I write when I force myself is generally just as good as what I write when I'm feeling inspired. It's mainly a matter of forcing yourself to write. There's a marvelous essay that Sinclair Lewis wrote on how to write. He said most writers don't understand that the process begins by actually sitting down.
INTERVIEWER
Hemingway stood up when he wrote. Used the top of his bureau.
WOLFE
Well, actually, so did my namesake, Thomas Wolfe. He wrote using the top of the refrigerator he was so tall . . .
INTERVIEWER
What about your confidence as you write?
WOLFE
You go to bed every night thinking that you've written the most brilliant passage ever done, which somehow the next day you realize is sheer drivel. Sometimes it's six months later that it dawns on you that it doesn't work. It's a constant hazard. I can sympathize with Ken Kesey who once said that he stopped writing because he was tired of being a seismograph—an instrument that measures rumblings from a great distance. He said he wanted to be a lightning rod—where it all happens at once, quick, and decisive. Perhaps this applies to painters, though I don't know. I suspect there are some awful dawns for them too.
INTERVIEWER
Is there any characteristic the fiction writer has that means perhaps more power, more of an effect than can be achieved by the journalist or the essayist? Why fiction, is what I'm really trying to ask.
WOLFE
In answering this, I'm inevitably promoting my own theory of fiction: that you can dramatize reality in fiction so easily and with such economy, bring so many strands of a society onto one plotline. You can have a real impact with fiction provided that you deal with reality, provided you want to show how society works, how it fits together. This has been true at many points in our literary history, most notably in the thirties, with books like The Grapes of Wrath. It's hard to remember today the impact of a book like The Grapes of Wrath. We're in an age that cries out, I think, for that type of fiction. Instead, most of that impact has come from nonfiction; it's a great time for nonfiction writers because the main terrain—realism—was largely abandoned by an entire generation of talented writers. It's a worldwide phenomenon. When I was in Germany last year I became interested in the Berlin Wall—obviously one of the historical epicenters of the twentieth century, this fantastic, medieval wall built in the mid-twentieth century dividing a city, a whole country in two, literally dividing brothers and sisters from brothers and sisters on the other side. So I asked about the great novels about the Wall written in Germany. I came up with a list of zero! Talented writers weren't going to look at the Wall. Amazing! What are the great Italian novels from the whole era of the kidnapping of Moro, the rest of the terrorist experience? Or what were the great French novels about the North African adventures?
INTERVIEWER
Or Vietnam novels in our country?
WOLFE
Finally now they begin to appear, usually written by people who had not gone to college with the slightest notion of becoming writers, such as our recently resigned secretary of the navy, James Webb, who wrote what I consider the finest of the Vietnam novels, Fields of Fire. A career military officer, who happened to go to Vietnam and just wanted to write about it.
INTERVIEWER
What denotes a "good" novel?
WOLFE
To me, it's a novel that pulls you inside the central nervous system of the characters . . . and makes you feel in your bones their motivations as affected by the society of which they are a part. It is folly to believe that you can bring the psychology of an individual successfully to life without putting him very firmly in a social setting. After The Bonfire of the Vanities came out I was accused of the negative stereotyping of just about every ethnic and racial type known to New York City. I would always challenge anyone who wrote that to give me one example. I have been waiting ever since. I think what I actually did was to violate a rule of etiquette—that it's all right to bring up the subject of racial and ethnic differences, but you must treat it in a certain way. Somewhere in the tale you must find an enlightened figure, preferably from the streets, who shows everyone the error of his or her ways; a higher synthesis is created and everyone leaves the stage perhaps sadder but a good deal wiser and a good deal kinder and more compassionate. Well, this just simply isn't the way New York works. The best you can say is that New York is held together by competing antagonisms that tend to cancel one another out. I tried to face up to that as unflinchingly as I could.
INTERVIEWER
What's been the effect of film on your writing?
WOLFE
I've never been consciously affected by film—that is, I've never said to myself, I should set this scene the way it would be done in a movie. I do very consciously, however, think about how to set up a scene—whether fiction or nonfiction—and often it may coincide with cinematographic technique. For example, I'm often drawn to start a story with a long shot—as they would say in the cinema. It's an instinctive way of setting up a scene. A wonderful example is the way Truman Capote begins In Cold Blood—a very long shot of a Kansas wheat field, gradually focusing in on a solitary farmhouse on the horizon. Another way is to start with a very tight close-up—which I've done especially in my nonfiction. Radical Chic, for example, starts with a description of the aforementioned gadrooned silver platter with cheeseballs on it, and then pulls back—to use another cinematic metaphor—and you see that a person down whose gullet the cheeseball is disappearing is one of the leaders of the Black Panthers.
INTERVIEWER
How would you categorize your political outlook? After Radical Chic and to a certain extent after The Bonfire of the Vanities you were called reactionary, conservative.
WOLFE
I think of myself as a seer! Those two words, reactionary and conservative, are part of the etiquette of intellectual life in New York City—simply a way of saying "you're bad," or "I disagree with you." Some time ago I attended the twenty-fifth anniversary of the National Review at a big party at the Plaza. About twenty-five hundred people there. A reporter came up and asked if I would say that this was a gathering of the neoconservative clan. First I asked him if he spelt clan with a k. When he assured me he was going to use a c, I answered him. I said that what we were looking at in the room were twenty-five hundred people, most of whom had never laid eyes on each other, who for one reason or another had not gone along with the official gag for the last quarter-century. I think that's about what it amounts to.