Interviewed by Olga Carlisle, Jody Ireland
Issue 120, Fall 1991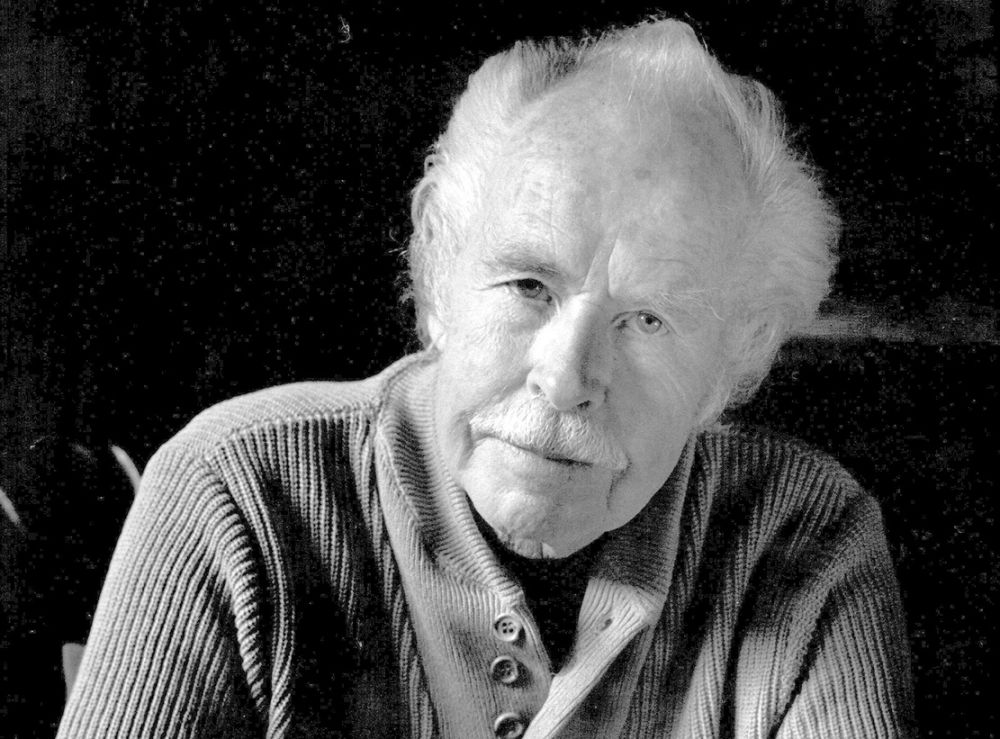 Wright Morris was born in Central City, Nebraska, in 1910 and spent his first ten years in that area. He moved to Chicago in the twenties and then attended Pomona College in California. After a year traveling in Europe in 1933, he settled on the West Coast and began writing and taking photographs. Morris is the author of nineteen novels, including Love among the Cannibals (1957) and Fire Sermon (1971), as well as four books of essays and three volumes of memoirs: Will's Boy: A Memoir (1980), which details his childhood years; Solo: An American Dreamer in Europe, about his time spent abroad; and finally Cloak of Light (1985) which deals with his adult life. He has been a Guggenheim Fellow and has been awarded grants from the Rockefeller Foundation and the National Institute of Arts and Letters. In 1956 he won the National Book Award for The Field of Vision. More recently Morris received the American Book Award for Plains Song (1980). His short stories have been cited by the O. Henry Awards and are regularly included in the Best American Short Stories anthologies.
Morris is also a photographer, and his own stark photographs punctuate the prose in such books as The Inhabitants (1946), The Home Place (1948), God's Country and My People (1968), and Photographs and Words (1982). "We make to ourselves pictures of facts. The picture is a model of reality"—Morris often uses these words of the philosopher and logician Ludwig Wittgenstein to describe his own creative process. The pictures in his "photo-texts" are based on the details and artifacts of daily life in the small Nebraska towns of the Great Plains where Morris was raised.
Morris lives with his wife Josephine in Mill Valley, California, in a small contemporary wooden house tucked into a steep hillside, amidst a profusion of climbing ivy. The house, with its wide balcony, is sheltered by fragrant laurel trees and feels isolated although it is located in the center of Marin County, an area affected by relentless urban growth. Even as the interviewers drove out of San Francisco and across the Golden Gate Bridge, they passed shopping malls where gardens had flourished only last year. The Morrises' immediate neighborhood remains untouched, however, and during the interview birds sang peacefully among the wild forget-me-nots on a bank near their home.
Inside, the house is plain and comfortable. Bookshelves line the living room, where there are deep sofas and piles of newly published art books and magazines. Several photographs by Morris hang on the walls: stark, beautiful images of the plains, the people who once populated them, and the objects they used. Morris also collects prints by the Abstract Expressionists, and a black-and-white Gorky hangs over the mantel. An outsized television set stands to the left of the fieldstone fireplace, near an audio system that brings Bach or Vivaldi into the room with an eerie fidelity. Bright striped fabrics and other mementos of Morris's trips to Mexico are scattered about the living room. One of his books lies on the coffee table: Love Affair: A Venetian Journal. It is the only one of his photo-texts that does not specifically document the American Midwest, as well as the only one with color photographs.
Wright Morris sat in his favorite vintage Eames chair as he spoke. When the light turned golden at the end of the interview, Jo Morris brought in a tray of tea and cookies and a perfect apple pie.
INTERVIEWER
To this day your fiction is considered experimental. Critics have never had an easy time fitting you into any particular group or movement. How do you see yourself? Do you consider yourself a storyteller?
WRIGHT MORRIS
I can tell a story and often do, but it has never occurred to me to "plot" one. If I'd taken writing courses, as is done today, someone would surely have instructed me in plotting, but I discovered that a narrative could be sustained without plotting, and I have held to that practice.
INTERVIEWER
Since you don't plot, what is it that carries you forward in the narrative?
MORRIS
Let me illustrate: my story, "Victrola," is about an old man and a dog he has inherited from a neighbor. They tolerate—but do not like—each other. The man is ill at ease with the dog's appearance, which he finds prehistoric, the head skull-like, the eyes too small, etcetera. There is a standoff when they look at each other. Predictably, they will have a confrontation. The origin of this is that one day I had seen this creature at the foot of the driveway. His odd appearance disturbed me. His tail did not wag. His short white pelt had been worn through on the high spots. As I approached he turned and slunk away. Not seeing him again, I often thought about him. In my story the character Bundy inherits the dog from his neighbor. They are never at ease with each other. Their daily walk is an ordeal for them both. This walk takes place in Mill Valley, where I live, and follows a prescribed route to the village park. Along this route I am scrupulous about details, but all that takes place on the walk is fiction. This commingling of a real place and imagined events provides the framework for my fiction. There is a narrative line but no plot. I accept what happens (what occurs to me) and imagine an appropriate resolution.
INTERVIEWER
What about "voice" in this setup?
MORRIS
The voice of the narrator—the narration—is crucial. If it is right, the narrative seems effortless, with one incident following another, in the manner of letting out a kite's string. I think I came by this manner, this confidence, in the absence of the old-style linear narration—the time that flowed like a river from the past into the future. That is not the way I comprehended time. My time is cyclical—abstract, yet keenly felt. It seems appropriate to the modern consciousness. Fictive moments contain both the past and the future. Joyce captured this complexity in Ulysses. My style of plotless narration is one way of appropriating time to my purposes. All reasonably fully conscious people do this. We have no access to the old time, so we make do with our privately spun new times. I feel a faintly physical vertigo when I hear of jets that fly faster than sun-time—or in the opposing direction. It ain't natural.
INTERVIEWER
Were you aware of what other writers were doing when you started?
MORRIS
I was slow to read my contemporaries, being too busy writing. I read schoolbooks in grade school; in high school, a book that enthralled me was Literature and Life. It began with stories from Beowulf and the adventures of King Arthur's knights. Books were not part of my home environment. I read A Boy's Life and the Tom Swift series. This absence of books, of what we think of as culture, spared me of having a fix on certain writers, which the young reader is prone to do.
INTERVIEWER
Do you think this contributed to developing your own voice and style of narration?
MORRIS
It left me free from the influence of familiar romances, but encouraged me to take an active part in the vernacular for which I showed some early talent. I was a talker, and took part in class productions of Huck Finn and Tom Sawyer. That my style is profoundly oral I may owe to this circumstance. The sound is crucial. It frequently leads me to take considerable liberties with the syntax. As Yeats said, "As I altered my syntax, I altered my intellect."
INTERVIEWER
When did you make the decision to be a writer? You took a trip to Europe when you were twenty-three. Did you go there to experience Europe as a writer?
MORRIS
In my third year of college I read Richard Halliburton's The Royal Road to Romance. It inflamed my desire for adventure. The notion of becoming a writer had been planted, but had not crystallized. In the spring I was in Paris. I sometimes played Ping-Pong at the American Club with a young man from Boston. One day he asked me what it was I was writing. Well, what was I writing! I gave it a moment's thought. He went on to say he had connections at The Atlantic, in case I had something to submit. Trifling incidents like this can crystallize budding sentiments.
INTERVIEWER
Had you written much at the time?
MORRIS
Not a thing! At that time, however, I was reading a novel by Montherlant, Les Celibataires, and I identified with the two aging bachelors. Being moved in this way was new to me. I felt a longing to create lifelike characters myself. This latter impression so reinforced the first that I was nudged from the haze of sentiment to actually think of myself as a writer. What was I about to write? Well, let me think!
INTERVIEWER
So you returned determined to write? Did you come back with a desire to recover your past?
MORRIS
The fact that my past was "missing" proved crucial. Back in California was this void—not my recent adventures in Europe—that proved to be my subject. Insofar as I was able, I began at the beginning, like Joyce's "nicens moo cow" coming down along the road to charm the wits out of "baby Tuckoo!" Considering my ignorance, it was a bold start. I had both the memory and the words for it. Joyce, of course, covered this ground in a few pages, but I was drilling the well for my past; three hundred pages later I was still preteen, in Nebraska's Platte Valley. I had left the plains, as a boy of nine, with few emotional ties. My mother died at my birth. I had an absentee relationship with my father, who was a kind and affectionate man, and as baffled by me as I was by him. He had married a young Omaha woman closer to my age than to his own. We were soon in Omaha, where I had a Penrod and Sam boyhood very dear to a writer of fiction. Five years later we moved to Chicago—another move that I feel to have been destined, and have never exhausted—and from there to college in California. Each of these moves was a form of exile and gifted me with new resources.
INTERVIEWER
Do you see exile as a positive experience for the writer?
MORRIS
Yes. Both the idea and the fact of exile are critical, and especially for me. California has been the beckoning cloudland to which I often return.
INTERVIEWER
Yet you seem to have proceeded from a sense of life and adventure, rather than from the idea of exile in the service of art.
MORRIS
Yes, that's right. I have been spared the level of sophistication that came naturally to Europeans. Joyce at eighteen, for instance, was more self-aware than I was at forty. I had the advantage of living forty years as a naïf.
INTERVIEWER
You consider that a literary advantage?
MORRIS
It is, unless you have Joyce's talent. Though nothing happened to Joyce after he left Dublin, his lifework was already laid out in his extraordinary mind. In this respect Joyce was unique even in that very self-conscious era. He was ahead of them all in self-confidence. There's the story about him going to visit Yeats. He hadn't published anything. Yeats says, Well, how are you, young man? He waits to be admired, and Joyce just treats him like a has-been.
INTERVIEWER
Are Southern writers an exception to the notion of writers and exile?
MORRIS
Perhaps for the Southern writer the complex problem of being a Southerner is adequate. They too are researching the past. They become exiles through the mere fact that the South is no longer what it was.
INTERVIEWER
Did it ever occur to you to go back to Europe and write over there?
MORRIS
It would have been impossible. Traveling was expensive, and moreover I was never drawn back to Europe for the same reasons that I was drawn elsewhere. With Europe I have only ties that have developed from later interests and tastes, a taste for Venice for instance. Then, of course, the war sealed Europe off.
INTERVIEWER
When you came back from Europe with your mind made up to write, what did you work on?
MORRIS
Curiously, not a word about my European adventures, though it was material tailored to the needs of a young writer. I turned away from this windfall to recall my boy's life on the plains, a cross-country drive, and the few weeks I had spent on a horse-and-buggy farm. I began with the short, untutored but poetically dense sketches in the manner of the Spoon River Anthology—a book I actually had yet to read. Even in the first of these pieces, the style and concerns of a lifetime are revealed. They speak with a documentary economy, as if the writer had seen too many Farm Security photographs. I had actually seen none. But on the long drive from New York to California we had crossed the dust bowl of Nebraska, desolate farms, bedraggled remnants of cattle, defeated men and women with the aspect of sharecroppers, towns with idle farmers congregating in squares, or under the shade of trees, or in domino or billiard parlors, where they chewed on four-cent cigars and bore little kinship, it seemed to me, to the people I had seen from the top of a freight car just a year before, traveling east. Many of these men would join the stream of Okies headed for California. I saw them only briefly. I did not fully understand what I was, but it left on my mind's eye the images I would see when I sat down to write. Back in the mid-twenties I had been on the road with my father on our first trip to California, and the reservoir of those impressions awaited me on my return from Europe.
INTERVIEWER
Being on the road seems to be an important source of material for you.
MORRIS
Driving has been an important motif in my life and in my work. My first wife's people lived in Cleveland and we drove there once with a dog—a wonderful beast we were taking care of for a friend. We had to fix him up with goggles because he rode with his head out the window, and within twenty-five miles his eyes were watering and he was barking like a fiend. The trick was to get the goggles on while he was otherwise occupied. That dog was all soul. I used this story in several books.
INTERVIEWER
When did you write your first novel, My Uncle Dudley?
MORRIS
In the fall of 1940 I took a cross-country photo-safari, collecting Inhabitants. By January, I was in Los Angeles, where I holed up in a room near Echo Lake Park, very dear to my past, and in six weeks wrote a draft of My Uncle Dudley, a relatively uncluttered retelling of a bizarre and wonderful car trip to California in 1926, just far enough in the past to enhance the nostalgic haze. The book, quite literally, was a retrieval of that piece of my past.
INTERVIEWER
Did the next book come more easily?
MORRIS
The writing of Dudley was an act of liberation. For several years I had compressed paragraphs to sentences, and turned away from narrative. Dudley is still overly compressed, but it does tell a story in a tradition about which, at the time, I knew nothing. It is so oral it is better recited.
INTERVIEWER
Were your circumstances especially favorable for a young writer?
MORRIS
My wife taught school, which made it possible for me to work. She accepted the fact that the writer we both hoped I would be would find it slow going—that's how we found it. If a manuscript was returned, and many were, I applied myself and wrote another. I never doubted that when I wrote a good enough book, it would be published. Nor did I lack for any encouragement. William Faulkner's editor, Saxe Commins, waded through my early efforts and urged me to send him more, which I soon did. Some of this self-assurance was hardly to my advantage. I was in no way a student of the novel who would learn the tricks of the trade and then perform. Each of my manuscripts proved to be a publishing problem. My first editor, Lambert Davis, of Harcourt Brace, gave me everything a young writer should have, including some great lunches. One day in 1945, my agent, Diarmuid Russell, reported that Maxwell Perkins had read My Uncle Dudley and liked it. So I was not without a welcome. The advantage of a long apprenticeship is that the writer is spared the sunburst of success when he might not be prepared for it. He is also spared fashionable opinions, and free to make or break them on his own terms.
INTERVIEWER
How did you work at that time? Did you do many drafts?
MORRIS
I did. Perhaps too many. One more draft seemed a small thing for the slopes of Olympus. In the fifties, a very productive period, I seldom wrote less than three or four drafts, the first three single-spaced to save paper. Writing drafts, I soon learned to compose while writing, and this soon reduced their number.
INTERVIEWER
Could you tell us something about you work habits?
MORRIS
I am a creature of habit. As soon as I was able to establish my writing habits—which are to start work in the morning and write until hungry, then again in the afternoon until tired—I stuck to this routine most of the days of the week. Once I had learned to compose as I wrote—to make corrections as I went along with a crayon or marking pencil—I would average eight to twelve pages a morning. In time I learned that random breaks—walking around, having a smoke, saving the house from woodpeckers—were creatively helpful. They jogged the mind from its rut, resolved impasses, opened up unforeseen vistas. Since all of my books are closely related, thirty or forty pages into a new book, I would begin to have glimpses of where it was going, and what would follow. Ceremony in Lone Tree grew like a branch from a passage in The World in the Attic, The Field of Vision from War Games, and so on. The disadvantage of these links is that I was never encouraged to stop and take stock, or to consider what the public was reading. For better or for worse, I was on a time schedule I had invented, doing work I had assigned to myself. Recycling was part of the next step forward, or backward. The loop back before the step forward began with God's Country and My People, a book of reappraisal before Fire Sermon and A Life. The multivoiced fiction of the fifties gave way to a relatively simple narration—the indulgently prodigal writer returning to beginnings.
INTERVIEWER
Do you always work on a typewriter?
MORRIS
Seeing what I have done is important, seeing the way the words fall out, and how I mean to pace them. Seeing the word reassures me about it—as I am reassured or troubled when I pronounce it.
INTERVIEWER
You have said that you have not been working as strenuously, but a great many books have come out in the last five or six years.
MORRIS
I continue to work because I'm a writer. No cliché is truer than that which says that the writer does not feel fully alive when he isn't writing. He doesn't always feel fully alive writing, but he feels more alive.
INTERVIEWER
Except for that early break when you took photographs, was there ever a period when you did not write?
MORRIS
No, there never was such a period. All that training has turned me into a person with a particular type of consciousness—one made up of a great deal of what I'd call fictive presence. Often it's the voice I'm working with that dominates; at other times it's one suggested by the events of the day. Whenever I take a walk, I become involved in this fashion. It happens almost every day, and it contributes to short stories, which I've been doing recently. I'll see or hear something that will cause me on the instant to experiment with a "narrating voice." A few sentences will get me started. The character and tone of this voice will establish the nature of a story.
INTERVIEWER
Do you find that characters develop in this same way, suggested by someone you see or meet?
MORRIS
Oh yes. For instance, I had no conception of the Indian, Blackbird, in A Life. I was teaching at Princeton and I encountered an Indian boy from the Hopi tribe. There he was, the real McCoy—not the kind of person to whom you could say, Let's have a Coke! I don't think I saw him more than three times. Then he was gone—an isolated memory.
INTERVIEWER
Do you find that people take root more solidly in your imagination when you meet them fleetingly?
MORRIS
Absolutely. This kind of encounter carries within it the virus of suggestion that dreams have. It's the brush you have with death that scares you; certain brief encounters catalyze the imagination in the same way. Fortunately, I think, I'm perfectly willing to let them lie until they ripen.
INTERVIEWER
Don't you note things down?
MORRIS
Constantly, if I am not seated at the typewriter. I once thought I'd use a small tape recorder, but my thinking about the work at hand is closely tied to the physical act of writing—even when the writing proves to be illegible! I could never dictate a work of fiction.
INTERVIEWER
If things are "ripe," as you say, then they resurface when you need them?
MORRIS
Yes. I have never kept a journal. The unavoidably self-conscious tone of a journal is inappropriate to ongoing writing. The attentive reader would sense this instantly, like the change of pitch in a train whistle. Katherine Anne Porter kept a journal, but seldom found that her observations would mesh with what she was writing. In her journal she reported seeing a small boy on a train in Texas with an inverted night pot stuck on his head. His mother was taking him to town to have it removed. He was not in pain, but profoundly humiliated. She described this unforgettably in her journal, yet it was something she never found a place for in her fiction. I would have shaped a new story around it. Perhaps it was, in its pathos, more my sort of material than hers.
INTERVIEWER
Do you think the short-story boom has something to do with the proliferation of writing programs?
MORRIS
Without question. Stories are something the talented student can learn to write, but he cannot learn to write a novel, which requires wide resources of experience. Short stories provide a chance for a writer to take certain risks with his own talent.
INTERVIEWER
Is it possible to teach writing?
MORRIS
It is often possible for one writer to help another. I went without this help at my own peril, and it was costly. Yet it is also part of the furrow I plowed—I did it the slow way, and this shaped me as a writer.
INTERVIEWER
What books do you like to teach?
MORRIS
Lawrence's Women in Love, Camus's The Stranger—but only the first thirty or forty pages!—The Fall, the perfect novel of the modern conscience: ambivalent, self-deceiving, self-serving. Something of Thomas Mann, Stein's Three Lives, Rilke's Journal, Frisch's I'm Not Stiller, and samplings from Winesburg, Ohio, a book created out of "voice," out of vernacular.
INTERVIEWER
It sounds as though you are interested in teaching sections of books.
MORRIS
The whole interests me less than the expressive part, those moments where the writer finds the bloom of his talent. Joyce's story "The Dead" is an example. Much that I love about Joyce is in it, free of the orchestrated performance that I admire but do not reread. This is profoundly unfair to many writers, but it brings out the essence of others. I see life in moments, grasp it in moments, and think this is pretty much our modern lot. Wholes escape us, unless we perceive them in a grain of sand. Increasingly, for me, the ambivalence of words is tiresome. They will prove whatever needs to be proved at the moment, and I am weary of these verbal irresolutions. It has led me to take refuge in music. I push a button, and I am overwhelmed with the worlds of Vivaldi, Mozart, Stravinsky. Wordless resolutions to wordless impressions.
My generation, especially, was oversold on the power of words. That's not difficult to understand when you look at the writers who were doing the selling—Eliot, Joyce, Proust, Woolf, Mann, Stein, Lawrence, James. They were convinced that words had the power to resolve our problems. Words and more words—they created a new priesthood of selfhood.
INTERVIEWER
Could you elaborate on that?
MORRIS
James epitomized the principle of being fully conscious with his artistic credo: to be one on whom nothing is lost. I've always been affected by the sincerity of James's feeling in this matter, yet how could a man with such acute sensibility, with such intuition, ever imagine that to be one on whom nothing is lost is a bearable human situation? As acute as his response was to his own social milieu, he had no intuition of what the twentieth century was going to be. Within a few years he was to suffer the full torment of that particular conceit. He was brought to his knees by the First World War, and he never recovered from the shock of it, largely because, as he later realized, he had been living in a cuckoo land of his own sensibility. Yet most artists responded to his notion of being one on whom nothing is lost. Except that plebeian, philistine Wells, who was right there to say to James: You old fraud. You're an amazing man, but really you are quite impossible. My heart goes out to James, but Wells was right.
As I see it, this coincided with Freud's plumbing of the subconscious. I see Freud as a fiction writer, an inspired fiction writer. Words have no other substance—they either convince you by their artistry or else there's nothing there. So here were Freud and James, just in time to cut the last nonconscious ties of man to his time, to his place, to his sense of nature. The fully conscious person became as free and as disconnected as words could possibly make him.
The culmination of James's credo can be seen in Proust's enshrinement of the involuntary memory. At the end of his book, Proust's attack on realism and cinematography is an extreme example of the artist displacing life with his own subjective impressions of it. Involuntary impressions take precedence; they become the more ultimate reality. Joyce and Proust and Woolf and dozens of others are figures in the cult of self-consciousness. Ironically their lives were not really equal to the burden of self-fulfillment. Joyce's life, for instance, was a tragic life; he paid a price for his self-involvement and he knew it. But it does show the extent to which, in a culture of words, the idea of a supreme self-consciousness was undisputed.
INTERVIEWER
Do you think Joyce was the first artist to see himself exclusively in terms of his art?
MORRIS
I think the notion of men who give themselves to writing as to a mistress began with the romantic poets—Shelley, Keats, Byron. They saw the poet as legislator, but of what? The climax of this notion in Western sensibility was a vision of the artist moving towards the summit of Olympus. By the time Joyce was published in this country, the concept of Olympus was a rather common one. I don't know of any writer who gives himself entirely to this notion who is not ridiculous.
Lawrence was unique in his ability to bring his perceptions to living, to the here and now, rather than just to the craft of writing. His exile was an escape from literature rather than an escape from life—with the exception of the Great War, when he really became a man in flight. But then he sought to reestablish connections, the same ones he'd gone to such pains to sever, he said, We cannot bear connection, but we must. His self-consciousness had come full circle.
One man who knew what was happening was Knut Hamsun, a Scandinavian maverick, who wrote The Growth of the Soil. It is very long and may seem dated today, but it's one hell of a book about how the obsession with total freedom of the soul is not a resolution of the human condition but rather a predicament. Hamsun was deliberately rejecting the kind of sophistication he felt was destroying Europe. Unfortunately, this led him into the pitfall of sympathy with fascism—as so often happens he backed away from one pit only to fall into another.
In the late thirties, in California, I came upon Hamsun's book and also upon Hermann Broch's The Sleepwalkers. Both impressed me profoundly, though Broch's wears better because of his intellectual brilliance. I wrote to him—the first novelist I ever wrote to.
INTERVIEWER
Did he respond?
MORRIS
Many months later I received a letter. Broch was living in Princeton, New Jersey with the scholar Eric Kahler and Kahler's family, just two blocks away from Albert Einstein. He said that if I came East, I should visit him. Now this was of course just a courtesy letter, but five years later we were living in Haverford, just an hour's ride away, and I called on him. Broch, Kahler, and several of their Austrian friends were sharing a large house, a haven for central European exiles. I had brought along a folio of my Inhabitants, photographs and texts. It seemed to me they would find the interlocking of my photos and texts bizarre, but they were responsive to the concept. Broch, in particular, was excited. He insisted I go to New York and show my work to Kurt Wolff of Pantheon Books, though whatever Wolff thought of the concept, he did not see the material as publishable. He was right, of course. Two years later I would persuade—the exact term—Maxwell Perkins of Scribner's to publish the volume by lining the walls of his office with the mounted photographs and texts.
INTERVIEWER
When you speak of connections reestablished, might the end of Plains Song be an example?
MORRIS
Yes. Sharon Rose has spent her life severing ties. But she is devastated when she finally returns to her homeplace to find it bulldozed away, the family dispersed. What can she do to be saved? She can try to reestablish consciously the ties to place and people that she has cut. Exile and return for the writer are crucial replays of the flight from constraints and the need for their recovery.
The irony of that phrase of James's—to be one on whom nothing is lost—lies in the fact that the word lost, which gives it its power, is somehow incongruous with the notion of total consciousness; the essentially euphoric idea that one is not going to forget anything—the very idea that one could bear such a state—is incompatible with the reality of loss. The moment when one is truly aware of loss—loss through death, betrayal, the loss of friendship or self-esteem—that's the moment when one is really beginning to be fully conscious. And there is no cultural accommodation to help me or anyone else deal with these losses.
INTERVIEWER
Do you remember some of the first books you bought?
MORRIS
Yes, because there were so few of them. In a bookstore in Waterbury, Connecticut, I bought Katherine Anne Porter's Pale Horse, Pale Rider. An extravagance at the time, but I bought it. I did the same on another occasion with Faulkner's The Sound and the Fury. I still have both of these books. They may have constituted virtually all of my new-book buying. I had become a confirmed used- and remaindered-book buyer. Most of the books I wanted were soon remaindered.
INTERVIEWER
Has publishing changed since you started writing?
MORRIS
Literate men, as well as scholarly men, are giving way to businessmen. The exception proves the rule. And that is one hell of a difference. A big sale for Virginia Woolf was three or four thousand copies. If a book sold that well she was grateful. There's a story about Lawrence that touched me: in a letter he described how he had been able, after many years, to gather together seven thousand dollars, the most money he had ever had. I experienced a brief season of affluence from the paperback sale of Love among the Cannibals, about twelve thousand dollars. I remember thinking, what would Lawrence have thought of such a windfall?
INTERVIEWER
Why do you think people read books today?
MORRIS
The Book-of-the-Month Club used to print an advertisement showing elegant people at a cocktail party discussing books. People have not discussed books at parties for years, unless book promotion is their business. We discuss movies, because movies are discussable. For one thing, everybody has seen them. Books of interest are complex, and few people are competent to discuss them. One need not have seen a movie, however, to discuss the stars, the director, the reviews. Movies and crime have much in common.
INTERVIEWER
Do you have any comments about contemporary criticism?
MORRIS
Criticism is in the hands of the analysts. Perhaps they feel it is their turn. They too are writers of fiction, but they are no longer readers of it.
INTERVIEWER
Do you read criticism of your own work?
MORRIS
If it is favorable.
INTERVIEWER
Who would be the perfect Morris reader?
MORRIS
I get letters from many of them. A sense of humor is essential. I am often a very funny writer. A soft spot for pathos. A tolerance for the ironic. A well-established and chronic inclination to read slowly, and reread the line you just slipped by. The writer gave it his full attention. Let the reader do the same.
INTERVIEWER
You've written a lot about the difficulties of the relationships between men and women. Do you see love as a failed myth in our culture today?
MORRIS
I would say that love "American style" is a myth whose origins we have forgotten. Sex is what we remember. The myth is not completely discredited, but I feel the way love is practiced in our culture is destructive. It feeds solely on illusion and doesn't generate any of the energy it should.
INTERVIEWER
Do you see this as a particularly American problem?
MORRIS
God only knows what the consciousness of a central European has become since the Second World War. The psyche has been dislodged, battered, abused. A writer like Kundera is concerned with these things, but I fail to respond to his writing. For me, the energy of sex is powerfully romantic, a notion that is discredited in Kundera's books.
We saw the movie Swann in Love the other night. Proust, of course, is a remarkable analyst of romantic love. He feels its essentially destructive nature—everybody being just in love with his or her own illusion of love. A Buñuel film, That Obscure Object of Desire, deals with this boldly—a marvelous accounting of infatuation, which makes the sensibility of Proust seem somewhat remote.
INTERVIEWER
Kundera shows how a romantic love evolves when it is used for political power.
MORRIS
That's exactly why the central European experience is so profoundly different from ours. Our way of treating love is perhaps an attempt to reactivate something that is dead, whereas he at least is looking at the reality of that sentiment's decay. It gives his fiction on this subject a substance that American fiction cannot reach; it's on another plane. In American fiction, stories of defeated romance are just tiresome. The characters experience emotion, but their self-delusion is not interesting. With Kundera they reach the stage of transformation.
INTERVIEWER
Many of your characters experience dramatic transformations.
MORRIS
The idea of transformation captivates me. In a world of change, what other change is so magical, what other change compares with it? When all other options seem closed, transformation provides an escape hatch. In the case of Paul Kahler, for example, first in War Games, then in The Field of Vision, it seemed to be the lifesaving alternative. I found this both gratifying and plausible because of some hint or vibration of transfiguring changes, mutatis mutandis, that are present in much of my fiction. Storytelling, indeed, may have had its origin in such marvels.
INTERVIEWER
In your recent novel, Plains Song, there are no successful male-female connections, but there seems to be hope in the possibility of women connecting with each other. Are men less comfortable with the kind of intimate relationships that women find with other women?
MORRIS
Absolutely. The man does not want intimacy. It's hard to say if that is cultural, or something more profound. Lawrence fought his inability to connect with men all his life. It drove him almost to the point of a breakdown. He had his homoerotic tendencies, but basically what he wanted was simple friendship, and he couldn't get it.
INTERVIEWER
In an interview in 1975 you made a comment about the women in your fiction taking on some of the audacity previously assigned to men. Does that mean you have more faith in the potential of women?
MORRIS
I was enthusiastic at that time because women were beginning to represent an authentic and different force in American life instead of simply echoing or supporting the old ways. I think my first enthusiasms were like any enthusiasms—you're cheering for the side you believe in. I did believe in that side, but I was blind to the fact that for women the very need to compete would prove to be a Trojan horse.
Surely, though, man is more at sea than woman. A woman is less foolish than a man, more of a biological being. She is related to an authentic biological past in a way that man isn't. Woman has had the task of nurturing for a million years. She has a biological self-assurance that makes her a little less subject to the fits of despair that seize man, because he is just not rooted in life as she is.
INTERVIEWER
Has being a photographer influenced your writing?
MORRIS
Very much. I sometimes have a "camera-eye voice." I attempt to perceive what the camera would see. In the opening line of Ceremony in Lone Tree I said to the reader, "Come to the window," and presumed to see only what the camera would see, without intrusive sentiments or observations. I sought neither to describe nor to arouse emotion, following the aesthetic of the camera and relying solely on the emotion I felt was present in the photograph.
INTERVIEWER
Does this happen naturally, or is it a conscious artifice?
MORRIS
Once I had written the words "come to the window," the scene arranged itself. I became preoccupied with what I was seeing and not thinking of it as a novel. The scene I described was the culmination of my long brooding, an artifact rooted in my imagination, a still life carefully assembled to be photographed. This is not recommended novelistic practice, but a very good example of my obsession with places and artifacts—both the words and many photographs grew from the need I felt to materialize them—a retrieval of the past with a vengeance.
INTERVIEWER
Have you ever used actual photographs you've taken as the basis for descriptions in the novels?
MORRIS
I never actually incorporate existing photographs but I use imaginary ones. My way of seeing may be conditioned by the photographing I have done; the imagery is processed by the tone called for by the situation at hand. For instance, there is a scene in A Life, about a part of New Mexico that I visited as a boy. There is a rather primitive photograph of my aunt and uncle in front of a shack that figures in a scene of the book, but I did not look at that photograph at the time I was writing the piece. Otherwise I would have been tempted to elaborate in the book on actual visual details. The tone, the manner in which that scene is done in the fiction, is so casually right that any elaboration would have been a mistake.
INTERVIEWER
Do you find that when a character is closely modeled on a real person it inhibits you?
MORRIS
Yes. Yet the inhibition is part of the atonement, and eases the feelings of guilt. I could not get Gordon Boyd, in The Field of Vision, clear of the authorial shadow. In speaking for the author, as he frequently does, he is tied to the author in a way that permanently flaws the portrait. He exists, it seems to me, but I am not pleased with him, as I am with McKee and Lois, or Lehmann and Paula Kahler, other characters who speak through me, but not of me.
INTERVIEWER
Which brings us back to the question of the individual and his awareness. Do you think we count for less as individuals than we used to?
MORRIS
Once the question has been asked, we feel that we do count for less. The root of the feeling is having to do with numbers. Numbers exceed our comprehension. I am one of six-point-four billion people. How do we account for what exceeds counting? The burden of such numbers exceeds the weight of gravity. My guess would be that our folly lies not in what threatens us, or even what eludes us, but in our inability to adapt to it. We can adapt to anything, which is why we are here, wherever we are. To be fully conscious of this, and accept it, is precisely what escapes us.
My image of society is of a huge ball of string, the size of a small planet, made up of pieces too short to tie, too long to throw away. I see it as something painted by Bosch or Breughel, that rises above the landscape like the tower of Babel.
INTERVIEWER
Do you think we're becoming less aware because the losses we face are so great?
MORRIS
Most of the losses we face are on paper, a loss of words. On the plus side, words are still something that we can share with each other. One-on-one, they still serve the purpose for which they were created: to make it possible for us to be human. On the other hand, they also make possible our escape from that responsibility.