Interviewed by Alexandra Eyle
Issue 122, Spring 1992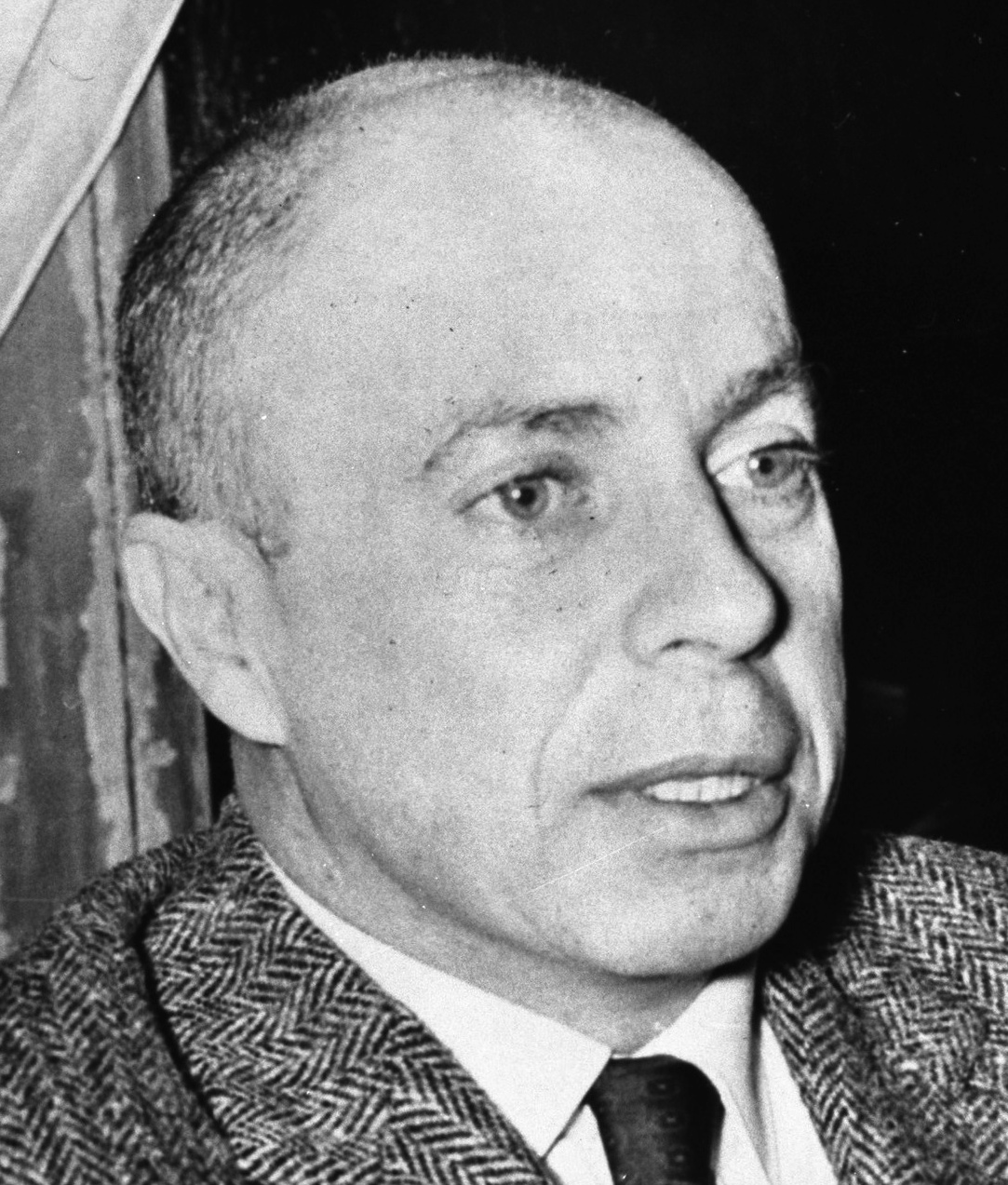 Claude Simon, ca. 1967.
Claude Simon has long denied that he writes his novels in the style of the French nouveau roman—in fact he considers nouveau roman to be a misleading term under which critics have falsely grouped the work of several French authors, including Nathalie Sarraute, Alain Robbe-Grillet, and Marguerite Duras, whose literary styles, themes, and interests are, according to Simon, quite diverse. But it was nevertheless as a "new novelist" that Simon was known best until he won the Nobel Prize for Literature in 1985. Literary critics and academicians have attributed to him everything from an obsession with the philosophy of the absurd to a penchant for nihilism. The symbolism in his work has been extensively analyzed, excessively so in the eyes of Simon—he rejects almost all interpretation of his work, portraying himself as a straightforward writer who draws on the material that life provides him. What emerges, though, is challenging, baroque. Sentences continue for pages; passages contain no punctuation. Always, he is lyrical. More often than not, Simon depicts a reality of death and dissolution, with war a common presence. He rejects the conventional novels of the nineteenth century and embraces Dostoyevsky, Conrad, Joyce, Proust, and Faulkner, whose highly charged, evocative use of language he draws upon. Objects and scenes echo each other, are repeated, turned over and examined in minute detail from many angles; time flows backward, forward, and back again with changing points of view.
Claude Simon was born in 1913 in Tananarive, Madagascar and raised in Perpignan, France. His father died in battle when Simon was less than a year old. Orphaned at age eleven, he was sent to boarding school in Paris, but spent summers with relatives. As a young man, he briefly studied painting and traveled to Spain during the civil war there, where he sided with the Republicans. He once said that he turned to writing because he imagined it would be easier than either painting or revolution. Simon began his literary career on the eve of World War II with the novel Le Tricheur, but was conscripted into the military before he could complete the manuscript. He narrowly survived his tour of duty with an anachronistically outfitted squadron of the French cavalry, which faced German panzers on horseback, armed with sabers and rifles. Le Tricheur was finally published in 1945. Simon had received an inheritance, and at the close of the war, was able to devote himself entirely to writing.
His works have been widely translated, ten of them into English, including the novels The Grass (1960), The Flanders Road (1961), The Palace (1963), Histoire (1968), Conducting Bodies (1974), Triptych (1976), Georgics (1989), The Invitation (1991), and The Acacia (1991).
Simon now lives in Paris, where he has spent most of his adult life. He summers in the south of France, near the town of Perpignan where he grew up. This interview was conducted primarily by mail, during the spring and summer of 1990. A brief final session was held in the bright and spacious living room of Simon's modestly furnished Paris apartment, an airy fifth-floor walk-up in the fifth arrondissement. The white walls were hung with artwork; the environment bore little resemblance to the dark world Simon depicts in his fiction.
INTERVIEWER
Would you describe yours as a happy childhood?
CLAUDE SIMON
My father was killed in the war, in August of 1914, and my mother died when I was eleven years old, after which I was sent, as a boarding student, to a religious institution with very severe discipline. Although I was orphaned at a young age, I regard my childhood as having been rather happy—thanks to the affection that my uncles and aunts and cousins showered on me.
INTERVIEWER
What was the name of the boarding school?
SIMON
Stanislas College, which is actually a grammar school in Paris. My mother was very pious and had wanted me to receive a religious education.
INTERVIEWER
Did this institution have any effect on you emotionally or intellectually?
SIMON
I became an atheist. That, it seems to me, is evident in my books.
INTERVIEWER
How did your formal education shape you?
SIMON
I received what one would call a cultural base—Latin, mathematics, sciences, history, geography, literature, foreign language. A huge defect in secondary instruction in France is that one practically never speaks of art—music, painting, sculpture, architecture. For instance, I was made to learn hundreds of verses by Corneille, but one never spoke of Nicolas Poussin, who is much more important.
INTERVIEWER
You fought alongside the Republicans in the Spanish civil war, but became disillusioned and left the cause. Why?
SIMON
I did not fight. I arrived in Barcelona in September 1936 "trying to be a spectator more than an actor in the comedies that play in the world." That's one of the principles set forth by Descartes. When he wrote that, the word comédie designated every theatrical representation, comic as well as tragic. For Descartes, who lived austerely observing the weakness of human passions, this word had a slightly pejorative and ironic sense. Balzac also used the word in the title of a group of books, La Comédie humaine, that is actually given up to tragic episodes. The most woeful ingredients of the Spanish civil war were its selfish motives, the hidden ambitions it served, the emphasis on hollow words used by both sides; it seemed to be a comedy—terribly bloody—but a comedy all the same. Still, given the degree to which the war was murderous and involved a great deal of treachery, I could not myself qualify it as a comédie. What drew me there? Naturally, my sympathy for the Republicans; but also my curiosity to observe a civil war, see what was happening.
INTERVIEWER
Your life has been touched a great deal by luck: You were one of the few French cavalrymen to survive the Battle of the Meuse in 1940, which took place on the field where your father died. Taken prisoner by the Germans, you escaped after six months and then worked in the resistance. After this period you retired to your family's country estate, where an inheritance has enabled you to devote yourself exclusively to your writing.
SIMON
All my life I have been favored by incredible luck. It would take too long to enumerate all of the occasions, though one example stands out among all the others: In May 1940, my squadron was ambushed by German tanks. Under fire, the foolish order was given to "fight on foot," followed almost immediately by the order, "on horseback, at a gallop!" Just as I put my foot in the stirrup, the saddle slipped. Just my luck, I thought, in the middle of the battle! But that's what saved me: On foot, I found myself in a dead zone, a level crossing where I couldn't be hit. The majority of those who had remounted were killed. I could tell you about ten or twelve occasions when I had similarly good luck. Often, as in the case of the ambush, what one thinks is bad luck turns out to be the opposite. Paul Valéry wrote: "When everything is added up, our life is nothing but a series of hazards to which we give responses more or less appropriate."
INTERVIEWER
How did you escape the German prison camp?
SIMON
I managed to get onto a train of prisoners the Germans were bringing to Frontstalag for the winter. The camp was badly guarded. Just after I arrived, I escaped in broad daylight by slipping between two German sentinels into the forest. From there, hiding along the way, I reached the line of demarcation.
INTERVIEWER
What work did you do for the resistance?
SIMON
I was not in the heart of it. The Center for Military Intelligence of the National Liberation Movement, directed by Colonel Vauban, was installed in my apartment, at 148 boulevard du Montparnasse. This was from April 1944 until the liberation. My role was passive: that of the host. After the Second World War, I lived in Paris; during the summer I lived in Perpignan, in the eastern Pyrenees. I owned a small number of vineyards, which were managed in Salses, fifteen kilometers north of Perpignan. I have sold this land, but still have a house in the village where I spend my summers.
INTERVIEWER
When did you first start writing?
SIMON
I'm not really sure. During my military service, I think.
INTERVIEWER
What made you write your first novel?
SIMON
The ambition to write a novel.
INTERVIEWER
You've said that "our perception of the world is deformed, incomplete . . . our memory is selective. Writing transforms . . ." Is this transformation therapeutic in any way? Do you see writing as a form of therapy?
SIMON
No. I write only for pleasure, for the sake of producing something, and naturally, in the hope of being read. Apparently this hope is not completely vain, since I now have, in many countries, thousands of readers.
INTERVIEWER
Did the writings of Sartre and Camus have a great influence on your own work?
SIMON
I consider the writings of Camus and Sartre to be absolutely worthless. Sartre's work is, above all else, dishonest and malevolent. If I have admitted to any influences, they have been those of Dostoyevsky, Chekhov, Joyce, Proust, and Faulkner. All my writing comes from personal experience.
INTERVIEWER
The hero of your first novel, Le Tricheur, has been described as being very close to Meursault in The Stranger.
SIMON
Le Tricheur was nearly finished in the spring of 1941, well before Camus's The Stranger. I met my first editor, Edmond Bomsel, during the war. He was Jewish. His publishing house, The Sagittarius, had been confiscated by the Germans. He was a refugee in the southern zone and asked me to wait until the end of the war to publish Le Tricheur. I agreed. There is, therefore, absolutely no link with or influence on the part of Camus.
INTERVIEWER
You mention the influence of Faulkner, Joyce, and Proust on your writing. Does it bother you that some critics view your work as imitative?
SIMON
Those who write more or less stupid or malevolent criticism leave me largely indifferent. If I had given them my attention, I would not have done the work that won me the Nobel Prize.
INTERVIEWER
Some have said that it was after you wrote Le Sacre du printemps in the fifties that you became a "new novelist."
SIMON
Since the majority of professional critics do not read the books of which they speak, mountains of nonsense have been spoken and written about the nouveau roman. The name refers to a group of several French writers who find the conventional and academic forms of the novel insupportable, just as Proust and Joyce did long before them. Apart from this common refusal, each of us has worked through his own voice; the voices are very different, but this does not prevent us from having mutual esteem and a feeling of solidarity with one another.
INTERVIEWER
What distinguishes your voice from those of the other new novelists?
SIMON
Beginning with The Grass, my novels are more and more based on my life and require very little fiction—in the end, really none at all.
INTERVIEWER
If you had to attach a label to your type of writing, what would it be, if not nouveau roman?
SIMON
Labels are always dangerous. You oblige me to repeat myself: if there is anything new in the novel, after the abandonment of the fable, it began in this century with Joyce and Proust.
INTERVIEWER
You once said you were bored by nineteenth-century realism. Did you choose your style of writing in reaction to this, to write a novel you felt was truly representative of reality?
SIMON
There is no such thing as a "real" representation of "reality." Except, perhaps, in algebraic formulae. All the literary schools pretend that they are more realistic than their predecessors. Who knows what reality is? The impressionists stopped pretending to represent the visible world and presented the public with the "impressions" they received from it. If it's true that we only perceive the exterior world in fragments, the canvases of the cubists' "synthetic" period are realistic. More realistic still are the "assemblages" of Schwitters, Rauschenberg, or Nevelson.
INTERVIEWER
Why did you choose the style of writing that you did?
SIMON
I did not choose it. I write as I can.
I've had the luck to have a genius of a publisher—Jerome Lindon. He owns one of the smaller publishing houses in Paris, Les Editions de Minuit, with only nine employees. I came to them through Alain Robbe-Grillet, whom I met on vacation. He asked to read the manuscript of The Wind, which I was then finishing. He liked it and encouraged me to publish with Les Editions de Minuit, which I agreed to do because they had published writers for whom I have a great deal of esteem, such as Beckett, Butor, Pinget, and Robbe-Grillet himself. In recent years Les Editions de Minuit has had two Nobel prize-winners—Samuel Beckett and myself.
INTERVIEWER
Do you write quickly?
SIMON
No. Very slowly.
INTERVIEWER
Do you take notes, keep a journal?
SIMON
I take very few notes. I have never kept a journal. My memory is visual above all else.
INTERVIEWER
What do you want your readers to learn from your books?
SIMON
They'll learn nothing. I have no messages to deliver. I hope only that they will find pleasure. The nature of this pleasure is difficult to define. One part is what Roland Barthes has called recognition—the recognition of sentiments or feelings one has experienced oneself. The other is the discovery of what one had not known about oneself. Johann Sebastian Bach defined this sort of pleasure as "the expected unexpected."
INTERVIEWER
How do you work?
SIMON
I write with a ballpoint pen (Stabilo-Stylist 188), after which I use a typewriter. I write with a great deal of difficulty. My phrases construct themselves little by little, after many erasures, which prohibits the use of a typewriter.
INTERVIEWER
Do you follow a regular writing schedule, setting aside a certain amount of time to work every day?
SIMON
Each afternoon I start at around three-thirty and work until about seven-thirty or eight.
INTERVIEWER
You once said, "It's the moment when I begin to battle with words that something comes to me."
SIMON
Exactly. Each time I have a vague project in mind that gradually modifies itself for the better as I work.
INTERVIEWER
Is it true that you color-code your manuscripts with colored pencils in order to keep track of each narrative strand?
SIMON
The composition of my books gives me great problems. While working on The Flanders Road, I gave a color to each of the themes and characters. Doing this, I could visualize the whole, modify it, improve the placement of the fade-ins, the alterations of scenes, the rehearsals, the curtain calls. One day the composer Pierre Boulez told me that my biggest problem must be that of periodicity, which in music is the frequency of repetitions of one theme or refrain in a composition, often subject to variations or changes of tone. Boulez was exactly right. He did not find too many repetitions in my books, but understood that one of my problems was arranging them well.
INTERVIEWER
If you have trouble remembering the order of these strands, how can you expect the reader to do so?
SIMON
If he's not capable of following the course of the book and it bores him, why shouldn't he throw it out? It's that simple. That's what I always did when a book did not give me pleasure. We live in a democracy. We can choose to read what pleases us.
INTERVIEWER
In your early novels, such as The Grass and The Flanders Road, you wrote in long and complex sentences. More recently, your sentences have become simpler, and you have abandoned the paragraph altogether. What caused you to change your style?
SIMON
My project is different every time. To repeat the same things is of no interest.
INTERVIEWER
Do you decide the point of view in your novels in advance, or does this emerge as you write?
SIMON
When I start a novel I see it as a very vague project that gets modified for the better in the course of my work, not because my characters dictate their conduct, as certain imbecile novelists pretend, but because the language unceasingly presents new perspectives. Many years ago I said in an interview, "The novel makes itself, I make it, and it makes me."
INTERVIEWER
Critics have said you have two types of heros—one who fights against order and one who accepts it—and that the conflict between these two types is at the center of your books.
SIMON
One must pose this type of question to philosophers. I am a novelist. One last time: what interests me is not the why of things but the how.
INTERVIEWER
So you don't consider yourself a philosopher?
SIMON
Certainly not. I did not even take philosophy in high school. I studied mathematics. In general, I distrust philosophy. Plato recommended chasing poets from the city; the "great" Heidegger was a Nazi; Lukács was a communist, and J. P. Sartre wrote: "Any anticommunist is a dog."
INTERVIEWER
Do you think it is possible or idiotic for human beings to find happiness in their lives?
SIMON
No, it's not idiotic. It's human. But was it Flaubert who said, "The idea of happiness has caused many tears to flow"?
INTERVIEWER
When are you happiest in your own life?
SIMON
In numerous ways . . . in loving or sexual relationships, reading a good book—Proust always throws me into a state of rapture—contemplating a picture, enjoying architecture, listening to music . . . it would take too long to list them all . . .. Maybe my happiest days were during that autumn when I was escaping from the prison camp . . . living outside the law.
INTERVIEWER
For the characters in your novels sex is always emotionally empty or destructive. Yet your portrayal of the sex act is often very erotic.
SIMON
The great weakness of the majority of erotic novels is that they feature conventional characters, spineless puppets who have no depth—the inevitable marquesses or marquises, English lords, multimillionaires, valets, and gamekeepers—to whom these sexual acts just happen, and for this reason, seem disembodied . . . To describe erotic scenes inserted among other, nonerotic scenes (as it happens in life) interests me; I have attempted it several times. Sadly, so many taboos are attached to sex that it is very difficult to talk about it. It is necessary to find a tone, a distance. Things such as affectation, derision, or lyricism, that may flaw writing about other subjects, become completely intolerable in erotic writing. That which is private is rendered into something frankly ridiculous, as in the famous Story of O . . . And recall the passage in Dostoyevsky's The Devils where, after Stavrogin recounts the highly erotic and metaphysical episode of the rape and the hoped-for suicide of the little girl, Tikhon asks him, simply, if he does not believe in the ridiculous.
INTERVIEWER
Your novels repeatedly deal with the inevitability of death, with the dissolution of all things, with the futility of life. If life is really so empty and meaningless, why write about it?
SIMON
André Malraux, for whom I do not otherwise have much appreciation, has said: "Man is the only animal who knows that he is destined to die." Life is not "futile" for all of that. Really, on the contrary, it is to be valued because of that. Why write? To write. To make something. The best response to this question was given by Samuel Beckett: "That's all I'm good for." If life is sometimes difficult, full of misfortune, suffering—I know something of this: I fought in war, was a prisoner, constrained to forced labor, scarcely nourished, much later gravely ill—I also know life carries many joys, satisfactions.
INTERVIEWER
Well then, what is the role of the writer in society?
SIMON
To change the world. Each time a writer or an artist "tells" the world in an ever so slightly new fashion, it is changed. "Nature imitates art," Oscar Wilde said. And this is not a witticism. Apart from touching it, man only knows the world through representations given of it . . . through painting, literature, algebraic formulae, and so forth.
INTERVIEWER
Do you concern yourself with national or international politics?
SIMON
I take an interest in politics, but without passion. Today politics seem more than ever to be controlled by economic constraints; political leaders are reduced to the role of administrators. It is not for ideological reasons that Gorbachev was looking to make a political structure different from his predecessors', but because he faced an economic disaster in the Soviet Union. When events cross the threshold of what is tolerable (as, for example, the repression and the war led by France in Algiers during the fifties) I show my opposition.
INTERVIEWER
You were twice a runner-up for the Nobel Prize for Literature. There was a public outcry when you failed to receive it in 1983. How did you feel when you got it in 1985?
SIMON
Extremely pleased. To be honest, others have had reactions of displeasure they cannot hide. In France, in literary circles, it was as though someone had made them swallow a hedgehog, whole, with all its needles. For example, a colleague, a "friend," told The New York Times that he made me hold back every other chapter from one of my novels, thanks to which it had become more readable. But still, the Nobel. A great stroke of luck, let me tell you! It's lucky to have something like this happen when you are seventy-two years old, and when your head is solidly screwed on. Honors and money are suddenly heaped on you! An avalanche of invitations from all over the world! That can be stressful, can turn heads. After receiving a Parisian literary prize for much less, some writers have remained impotent for the rest of their lives. Lars Gillensten, the secretary of the Swedish Academy, told me at Stockholm: "Now—write, write! . . . Afterward, most laureates write nothing else." And so, "afterward" I wrote a big novel, The Acacia, published last fall, which the critics, from the communists to the extreme right, including the Catholics, have called the best of my books.
INTERVIEWER
You have often referred to yourself as an amateur writer. After producing fourteen novels, do you still call yourself an amateur?
SIMON
Writing novels is not a profession. One is not paid by the month or year by a boss. A professional is someone who has acquired a certain number of skills by which he can be assured of a calculable return. The butcher has learned how to cut meat, the doctor to diagnose illnesses, the mason to build a wall—all according to various rules. In art, there are no rules. To the contrary, often it's a question of breaking them. With no guarantees. I am, therefore, always an amateur on whom, miraculously, money is bestowed from time to time.
INTERVIEWER
What is your definition of a professional writer, then?
SIMON
A journalist, a critic, charged with regular assignments in a publication for a predetermined salary. Also, the authors of best-sellers who write in order to please the public at large and to receive constant remuneration.
INTERVIEWER
Several passages in The Flanders Road describe words as being useless. Do you believe this?
SIMON
It's necessary to put that in context. The character in Flanders Road who says those words is a prisoner in a camp, exhausted, famished, covered with lice. Under these circumstances, words do not appear to have great value. But this is nothing new. "The hungry stomach has no ears" is an old French proverb. Fortunately, today I don't live in a prison camp but in a relatively civilized society. But that said, I continue to think the abominations that have marked this century—Auschwitz, the Gulag—have shown that human life counts for exactly nothing, and that a "humanist" discourse is no longer acceptable. From this comes my predilection for description, and my distrust of qualitative adjectives, or similarly, commentary or analysis, psychological or social; or, if I dare try to use these, I qualify them with an abundance of "maybes," "without doubts," and "as ifs."
INTERVIEWER
You have said that anyone can do what you have done, so long as they are willing to work as hard. Do you mean there is no room for innate talent in a writer—that persistence and hard work are all that are required?
SIMON
Apart from a certain level of elementary instruction, I think that in effect anyone can, by working hard, do what I do. Certainly there are tastes, predispositions . . . some for mathematics, for business, medicine or painting . . . or even laziness . . .
INTERVIEWER
Do young people ask your advice about how to become a writer?
SIMON
Not often, happily.
INTERVIEWER
If they do ask, what do you tell them?
SIMON
To go out in the street, walk two hundred meters, go home again, and then attempt to write (and describe) all that they have seen (or thought, dreamed, remembered, imagined) during this walk.
INTERVIEWER
In 1970 you published The Blind Orion, which has been called your literary manifesto.
SIMON
It's not. At the request of the publisher, in a small preface I put down some of my ideas about writing. But it's very brief. Scarcely eight pages.
INTERVIEWER
What is the significance of the title?
SIMON
In Stockholm I said that the writer was the image of blind Orion groping through a forest of signs toward the light of the rising sun. It is important to note that Orion is a constellation: as soon as the sun rises in the sky, he will be obliterated. It's the subject of a painting by Nicolas Poussin.
INTERVIEWER
Symbolism seems important in your writing. In The Grass, for example, a T-shaped shadow grows and shrinks as it passes across the room in which Marie lies dying, representing the passage of time and the inevitability of death. How do you decide on such images?
SIMON
I am not a symbolist. I saw the light drawing a T that moved slowly across the floor and the furniture of a room. The T suggested to me the word temps and the march of time. It seemed like a good image.
INTERVIEWER
Trains appear often in your novels—what do they symbolize?
SIMON
Nothing but trains.
INTERVIEWER
Boxes with illustrated lids—the cigar-box label in La Corde raide, for example, and the cookie tin in The Grass. What is their significance?
SIMON
Nothing. I like to describe things. As others like to paint. Nothing else. Shakespeare wrote: life is "a tale told by an idiot, full of sound and fury, signifying nothing." That's also my way of thinking. Except that for me life is not only full of sound and fury. It also has butterflies, flowers, art . . .
INTERVIEWER
Do you read your novels once they are published?
SIMON
No.
INTERVIEWER
What are your plans for the future?
SIMON
None. I only make short-term plans. I am seventy-seven years old. I can die tomorrow. I wish only to be able to write.
—With translation assistance from Magali Saporito