Interviewed by Robert Faggen
Issue 130, Spring 1994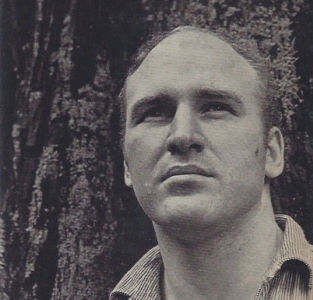 At the center of Kesey's work are what he calls "little warriors" battling large forces. Over the years, some critics have praised his work for its maverick power and themes of defiance; others have questioned his wild and paranoid vision. He has been dubbed a renegade prophet, a subversive technophile, a spiritual junkie—characterizations that Kesey does little to discourage.
He lives in a spacious barn that was built in the thirties from a Sears Roebuck catalog. It is decorated in bright Day-Glo colors. The stairs ascending to his loft-study are covered in streaks of neon green and pink, recalling the psychedelic designs made famous by Kesey's bus, Furthur. Inspired by these visual remnants of the sixties, Kesey works late into the night, observed, as he points out, by a parliament of owls.
This interview was conducted during several visits with Kesey at his Oregon farm in 1992 and 1993.


INTERVIEWER
Your only formal studies in fiction were as a fellow in Wallace Stegner's writing program at Stanford. What did you learn from Stegner and also from Malcolm Cowley?
KEN KESEY
The greatest thing Cowley taught me was to respect other writers' feelings. If writing is going to have any effect on people morally, it ought to affect the writer morally. It is important to support everyone who tries to write because their victories are your victories. So I have never really felt that bitter cattiness writers feel toward their peers.
INTERVIEWER
Yet you had a difficult relationship with Stegner. What were the differences between you?
KESEY
Shortly after Cuckoo's Nest came out, I did an interview with Gordon Lish for a magazine called Genesis West. I don't remember exactly what I said about Stegner, but it made him angry. When I heard he was angry I tried to see him, but his secretary wouldn't let me in. We never spoke again after that. Wally never did like me. At one point, I read that he had said he found me to be ineducable. I had to stew for a long time over what Stegner didn't like about me and my friends. We were part of an exceptional group, there's no doubt about it. There was Bob Stone, Gurney Norman, Wendell Berry, Ken Babbs, and Larry McMurtry. All of us who were part of that group are still very much in contact; we all support each other's work. Stegner was the great force that brought us all together. He put together a program that ruled literature in California and, in some ways, the rest of the nation for a long time. Stegner had traveled across the Great Plains and reached the Pacific but, as far as he was concerned, that was far enough. Some of us didn't believe that it was far enough and when we went farther than that, he took issue with it, especially when it was not happening in the usual literary bailiwicks that he was accustomed to. I took LSD and he stayed with Jack Daniel's; the line between us was drawn. That was, as far as he was concerned, the edge of the continent, and he thought you were supposed to stop there. I was younger than he was and I didn't see any reason to stop, so I kept moving forward, as did many of my friends. Ever since then, I have felt impelled into the future by Wally, by his dislike of what I was doing, of what we were doing. That was the kiss of approval in some way. I liked him and I actually think that he liked me. It was just that we were on different sides of the fence. When the Pranksters got together and headed off on a bus to deal with the future of our synapses, we knew that Wally didn't like what we were doing and that was good enough for us. A few years ago, I taught a course at the University of Oregon. I began to appreciate Wally much more after I had been a teacher. Every writer I know teaches—at some point, even if you don't need the money, you have to teach what you were taught, especially if you were taught by a great coach.
INTERVIEWER
Did your experience at Stanford drive you to an anti-intellectual stance?
KESEY
The reason you read great authors—Thomas Paine, Jefferson, Thoreau, Emerson—is not because you really want to teach them, though that's one of the things you find yourself doing because you know it's important that they be taught. You study literature because you're a scholar of what's fair. It's just a way of learning how to be what we want to be. We go to concerts to hear a piece by Bach not because we want to be intellectuals or scholars or students of Bach, but because the music is going to help us keep our moral compass needle clean.
INTERVIEWER
What connection is there between Ken Kesey the magician-prankster and Ken Kesey the writer?
KESEY
The common denominator is the joker. It's the symbol of the prankster. Tarot scholars say that if it weren't for the fool, the rest of the cards would not exist. The rest of the cards exist for the benefit of the fool. The fool in tarot is this naive innocent spirit with a rucksack over his shoulder like Kerouac, his eyes up into the sky like Yeats, and his dog biting his rump as he steps over the cliff. We found one once at a big military march in Santa Cruz. Thousands of soldiers marching by. All it took was one fool on the street corner pointing and laughing, and the soldiers began to be uncomfortable, self-conscious. That fool of Shakespeare's, the actor Robert Armin, became so popular that finally Shakespeare wrote him out of Henry IV. In a book called A Nest of Ninnies, Armin wrote about the difference between a fool artificial and a fool natural. And the way Armin defines the two is important; the character Jack Oates is a true fool natural. He never stops being a fool to save himself; he never tries to do anything but anger his master, Sir William. A fool artificial is always trying to please; he's a lackey. Ronald McDonald is a fool artificial. Hunter Thompson is a fool natural. So was the Little Tramp. Neal Cassady was a fool natural, the best one we knew.
INTERVIEWER
Neal Cassady was a muse to the Beats and became one to you as you started writing. When did you first encounter him?
KESEY
It was 1960. He had just finished the two years he served in the pen. He showed up at my place on Perry Lane when I was at Stanford. He arrived in a Jeep with a blown transmission, and before I was able to get outside and see what was going on, Cassady had already stripped the transmission down into big pieces. He was talking a mile a minute and there was a crowd of people around him. He never explained why he was there, then or later. He always thought of these events as though he was being dealt cards on a table by hands greater than ours. But that was one of my earliest impressions of him as I watched him running around, this frenetic, crazed character speaking in a monologue that sounded like Finnegans Wake played fast forward. He had just started to get involved in the drug experiments at the hospital in Menlo Park, as I had. I thought, Oh, my God, it could lead to this. I realized then that there was a choice. Cassady had gone down one road. I thought to myself, Are you going to go down that road with Burroughs, Ginsberg, and Kerouac—at that time still unproven crazies—or are you going to take the safer road that leads to John Updike. Cassady was a hero to all of us who followed the wild road, the hero who moved us all.
INTERVIEWER
Were there literary influences as well?
KESEY
Many of us had read Ginsberg's "Howl," Kerouac's On the Road, Kenneth Rexroth's work, Ferlinghetti's. I knew their work when I was a student at the University of Oregon. I had a tape of Ferlinghetti saying, "I'm sitting now outside of my pool hall watching the hipsters come by in their curious shoes." I wanted to go down to the North Beach area and see Mike's Pool Hall. That's where I met Ken Babbs and Bob Kaufman, a great poet and a casualty of exploration of the synapses.
INTERVIEWER
Do you think the drug experimentation produced mostly casualties? Do you think Cassady was one?
KESEY
I think most artists who, as the saying goes now, "push the envelope" wind up as casualties. If you think about the history of writers and artists, the best often don't end up with pleasant, comfortable lives; sometimes they go over the edge and lose it. I've been close to enough casualties to learn how to avoid that pitfall. Some critics like to argue that some of the Beats had a death wish. Cassady certainly didn't have a death wish. He had a more-than-life wish, an eternity wish. He was trying to recapture, as Burroughs says, the realities he had lost. He was storming the reality studio and trying to take the projector from the controllers who had been running it. When that happens you are bound to have some casualties.
INTERVIEWER
How did Cassady become the driver of your bus, Furthur?
KESEY
Cassady was around us often. There was one incident in particular when he truly impressed me not only as a madman, genius, and poet but also as an avatar—someone in contact with other powers. He took me to a racetrack near San Francisco. He was driving and talking very fast, checking his watch frantically, hoping we would get to the track on time. If we got to the track just before the last three races, we'd get in free. We made it just in time and we bet on the last two races. Cassady had a theory about betting he'd learned in jail from someone named Knee-Walking Jackson. His theory was that the third favorite at post time is often the horse most likely to upset the winner and make big money. Cassady's strategy was to step up to the tellers at the ticket booths just at post time. He'd glance up to see who was third favorite and put money on that horse. He didn't look at the horses, the jockeys, or the racing sheets. He said to me, This is going to be the one, I can feel it. He asked me for ten bucks and I gave it to him. He put three dollars down with my ten. Given the odds we would have made some good money. We went right down to the line to watch, and it was a close race, neck and neck. I'm no horse fan, but I was getting into it because it looked like the third favorite could win. There was a photo finish and Cassady suddenly tore up his tickets and left. I followed him back to the car and could hear the announcement: We have a photo finish and the winner is . . . It turned out to be the favorite. Neal was so confident of his vision that if he lost, he never waited around or looked back.
Cassady was a hustler, a wheeler-dealer, a conniver. He was a scuffler. He never had new clothes but was always clean, and so were his clothes. He always had a toothbrush and was always trying to sell us little things and trying to find a place where he could wash up. Cassady was an elder to me and the other Pranksters, and we knew it. He was literally and figuratively behind the wheel of our bus, driving it the way Charlie Parker worked the saxophone. When he was driving he was improvising an endless monologue about what he was seeing and thinking, what we were seeing and thinking, and what we had seen, thought, and remembered. Proust was his literary hero and he would quote long passages from Proust and Melville from memory, lacing his revelations with passages from the Bible. He was a great teacher and we all knew it and were affected by him.
INTERVIEWER
What did you learn from Cassady?
KESEY
I've listened to the tapes from the bus trip and reread his letters and autobiography—The First Third—for years. I've tried to distill his teachings as best I can. The most important lesson is also the most ironic: most of what is important cannot be taught except by experience. His most powerful lesson behind the rap was not to dwell on mistakes. He used the metaphor of driving. He believed that you got into trouble by overcorrecting. A certain sloth, he thought, lets you veer into a ditch on the right side of the road. Then you overcorrect and hit a car to your left. Cassady believed you had to be correcting every instant. The longer you let things go, the longer you stayed comfortable, the more likely the case that you would have to overcorrect. Then you would have created a big error. The virtue of continual, engaged experience—an endless and relentless argument with the self—that was his lesson.
INTERVIEWER
What do you think of Wolfe's account of you and the Pranksters in The Electric Kool-Aid Acid Test?
KESEY
When the galleys came out, we all read through them in one session. I had no major problems with the book then, though I haven't looked at it since. When he was around us, he took no notes. I suppose he prides himself on his good memory. His memory may be good, but it's his memory and not mine.
INTERVIEWER
You met Jack Kerouac and Allen Ginsberg at a party in Manhattan during the bus trip. What happened at that encounter?
KESEY
That was the first time I had met Kerouac. It was an important moment for me. I'd known Ginsberg and Dick Alpert—before he became Ram Dass—back at Perry Lane. Ginsberg was good friends with Vik Lovell, the guy who got me involved in the Menlo Park hospital and to whom I dedicated Cuckoo's Nest. Ginsberg and Alpert were part of IFIF, the International Federation for Internal Freedom. That was the Millbrook psychological experiment group that included Timothy Leary. Our group on the bus was known as ISIS, the Intrepid Search for Inner Space.
I have thought about that meeting hundreds of times since then. We wanted Kerouac to be the same way he was when he wrote On the Road. I find the same thing happening to me when people show up and expect me to be the way I was twenty-five years ago. Kerouac seemed offended by our wildness, particularly by the way we were wearing American flags draped around our heads. He thought we were being derisive of the United States. But we weren't. We just liked the look of dressing in the flag. I was disappointed in myself for not going up to him and sincerely expressing how much his work meant to me. But it wasn't the right time and I needed to say it in a letter.
After Kerouac died, his agent gave me a letter from his wife, Stella. She was very bitter that people had passed Jack by and instead were looking at people like me as the new literary lions. I wrote her back and told her that I couldn't hold a candle to him. His life's work will stand for centuries. I can't say that about Mailer or Updike or Kosinski. But I believe that people will be reading On the Road centuries from now as the true lens into our time.
In his writing Kerouac was true to his vision to the end. He believed there were drama and glory in the most mundane parts of our lives. And all things—running across a football field, the smell of leaves, the sound of a car—became charged with romance in Kerouac's imagination. Kerouac didn't have to have much money, and he didn't have to be famous. But he was part of the ongoing exploration of the American frontier, looking for new land, trying to escape the dust bowls of existence. He had a deep connection to the American romantic vision. Kerouac was a giant to the end, a sad giant. But then giants are usually sad.
INTERVIEWER
How much of Neal Cassady went into the making of Randle P. McMurphy?
KESEY
He's part of the myth. The Irish names—Kesey, Cassady, McMurphy—were all together in my mind as well as a sense of Irish blarney. That's part of the romantic naïveté of McMurphy. But McMurphy was born a long time before I met Neal Cassady. The character of McMurphy comes from Sunday matinees, from American Westerns. He's Shane that rides into town, shoots the bad guys, and gets killed in the course of the movie. McMurphy is a particular American cowboy hero, almost two-dimensional. He gains dimension from being viewed through the lens of Chief Bromden's Indian consciousness.
INTERVIEWER
You were working at the Veterans Administration Medical Center in Menlo Park participating in experiments with psychedelic drugs. How much did those drugs affect you or help you to write Cuckoo's Nest?
KESEY
I was taking mescaline and LSD. It gave me a different perspective on the people in the mental hospital, a sense that maybe they were not so crazy or as bad as the sterile environment they were living in. But psychedelics are only keys to worlds that are already there. The images are not there in the white crystals in the gelatin capsule. Drugs don't create characters or stories any more than pencils do. They are merely instruments that help get them on the page.
INTERVIEWER
Do you use LSD or other drugs when you sit down to write?
KESEY
It's impossible for me to write on LSD—there are more important things to think about. Hunter Thompson can do it, but I can't. It's like diving down to look at coral reefs. You can't write about what you've seen until you're back up in the boat. Almost every writer I know drinks to ease the burden of being out on the cliffs, so to speak. But writing under the influence of drugs is a little like a plumber trying to fix the pipes without being able to work the wrench.
I did write the first several pages of Cuckoo's Nest on peyote and I changed very little of it. It had little effect on the plot but the mood and particularly the voice in those first few pages remained throughout the book. There were also some sections of Sometimes a Great Notion written when I was taking mushrooms. Again, the effect is more on mood and voice than on vision. But for the most part, I don't write under the influence of LSD or other drugs.
INTERVIEWER
Do you take notes when you use LSD or other hallucinogens?
KESEY
Yes, sometimes I use a little tape recorder for notes. There's often a big difference between what you think you wrote under the influence and what you actually recorded. One time a friend of mine and I were taking LSD and thought we had written "The History and Future of the Universe." What we actually wrote down was something on the order of "if you pick your nose long enough the world will unravel." But often when I am taking LSD, there is an accessing of a universal pool of images, forms that I often find, for example, in Indian art. By the time I started taking peyote and LSD, I had already done a great deal of reading about mysticism—the Bhagavad Gita and Zen and Christian mystical texts. They helped me to interpret what I was seeing, to give it meaning. You don't just take the stuff and expect understanding. It's also important not to be in a hellish place with LSD or it can be a hellish experience. You need to be in a secure setting.
INTERVIEWER
Do any of the visions you have using LSD get translated into your writing?
KESEY
I'm fond of computer analogies. There are visions written on those programs that are hard to access or convert to the writing programs. I like to take it mostly for the spiritual experience.
INTERVIEWER
Do you recommend LSD as a tool for writing?
KESEY
No.
INTERVIEWER
To go back to Cuckoo's Nest, it seems that Chief Bromden's perspective is crucial. What was the origin of his character?
KESEY
Some have described Bromden as schizophrenic. But his is a philosophical craziness, not a clinical illness. I knew Indians who would eat mushrooms and sit and stare at the beach until the beach stared back at them. They're not unlike Baudelaire twisting himself so that he could look at flowers in a different way. They're still flowers and he knows they're flowers but he also sees them as eyes looking back at him. That's what Chief's craziness is all about. The idea is to regain control of reality so it's no longer presented by public relations people or funneled through a Coca-Cola bottle. The reaction against control is often violent and destructive and lashes out in all directions, even against things that are beneficial. If a man doesn't have a little madness, he never breaks the control lock that gets placed on reality. It's facing the vast ocean alone, without the safety of land or boat.
My father used to take me to the Pendleton Roundup in northern Oregon. He would leave me there for a couple of days. I spent time hanging around the Indians living in the area. I used to take the bus back down through the Columbia River Gorge where they were putting in The Dalles Dam to provide electricity to that part of Oregon so the fields could be irrigated. But it was also going to flood the Celilo Falls, an ancient Indian fishing ground along the Columbia. The government was using scaffolding to build the dam. When I first came to Oregon, I'd see Indians out on the scaffolds with long tridents stabbing salmon trying to get up the falls. The government had bought out their village, moved them across the road where they built new shacks for them. One time, as we got closer to this dam project, we were pulled over by the cops. We were in a big line of traffic. The bus driver got out and walked up to see what was happening. He came back and told us, One of them crazy drunk Indians took a knife between his teeth and ran out into the highway and into the grill of an oncoming diesel truck, which was bringing conduit and piping to the dam project. I thought, Boy, that's far out. Finally, he couldn't take it anymore. He just had to grab his knife, go out into a freeway, and run into a truck. It was really the beginning of Cuckoo's Nest—the notion of what you have to pay for a lifestyle. It started an appreciation in me for the Indian sense of justice and drama. I mean, it's dumb and nasty, but that's class, and the fact that he had the knife between his teeth, that's style. So this Indian consciousness has been very important in all of the stuff that I write. It's not just in Cuckoo's Nest. The character Indian Jenny in Sometimes a Great Notion is very close to the character of Alice in Sailor Song. It is the dispossessed Indian spirit that's trying to reconnect with the white male spirit.
INTERVIEWER
In describing the Native American who hurled himself at the truck, you said he had both class and style. How do you distinguish between class and style?
KESEY
A woman who was a circus acrobat did one act for thirty years. She climbed atop of a 180-foot aluminum pole and stood on her head as her brother balanced her. One day she fell and died, and I remember reading about it in the paper. She fell, the pole fell, because it got too far over, and her brother couldn't keep up with it; he probably stepped on a peanut. She began to fall but she held her pose the whole way down and didn't scream. And of course she must have thought about it thousands of times: What am I gonna do if it ever gets to the point where I know I can't stop it, it's going to go all the way over, and I'm going to die. Can I hold my pose and not scream? She did, and that's class. Paul Krassner, who was there, told me, Yeah, but the fact that when she hit, she did the splits, that's style. So class is more important than style, but they're connected.
INTERVIEWER
What authors and works do you consider strong embodiments of class and style?
KESEY
Hemingway, because he built his work very rigidly and structured it with a lot of muscle. But Faulkner is so much better. In "The Bear," the prose just tumbles out like water out of a spring, especially in that primeval moment when we see a man posed on the back of the bear with the knife, hugging and hanging on. There is class in the character and class in the style. This takes training and discipline beyond anything Hemingway could imagine. This is Faulkner being true to a very deep source and letting it run, letting it go, not perverting it. Hemingway's prose holds up a mirror. He walks around in front of it and works on style. Faulkner's prose doesn't have time for a mirror. It's tumbling and tumbling, and this takes trusting and courage.
Eudora Welty has tremendous class, not just in her work, but in the way she walks, the look in her eyes, the way she has conducted her life. Kerouac had lots of class—stumbling drunk in the end, but read those last books. He never blames anybody else; he always blames himself. If there is a bad guy, it's poor old drunk Jack, stumbling around. You never hear him railing at the government or railing at this or that. He likes trains, people, bums, cars. He just paints a wonderful picture of Norman Rockwell's world. Of course it's Norman Rockwell on a lot of dope.
Jack London had class. He wasn't a very good writer, but he had tremendous class. And nobody had more class than Melville. To do what he did in Moby-Dick, to tell a story and to risk putting so much material into it. If you could weigh a book, I don't know any book that would be more full. It's more full than War and Peace or The Brothers Karamazov. It has Saint Elmo's fire, and great whales, and grand arguments between heroes, and secret passions. It risks wandering far, far out into the globe. Melville took on the whole world, saw it all in a vision, and risked everything in prose that sings. You have a sense from the very beginning that Melville had a vision in his mind of what this book was going to look like, and he trusted himself to follow it through all the way.
INTERVIEWER
What do you see as evil in the world and how do you depict it?
KESEY
In my novels and stories, evil is always the thing that seems to control. In Cuckoo's Nest, it's the combine. In Sometimes a Great Notion, it's the symbol of the river, eating away, leveling, trying to make that town the same. In Demon Box, the villain is entropy. That natural running-down of energy is the fear that the refrigerator is going to be empty, that we're not going to have enough of something; that fear makes you vulnerable to every kind of scam artist trying to sell a solution. But the real villain is not entropy. It's the notion that entropy is the only choice. And there are a lot of other choices that we can find in religion, philosophy or art.
INTERVIEWER
In Cuckoo's Nest, Big Nurse is often regarded as the embodiment of evil. Do you think that is an accurate representation of her?
KESEY
Recently, I was over in Newport at the opening of the Oregon Coast Aquarium, which has been seven years in the making. I was performing The Sea Lion in the Newport Performing Arts Center. Afterwards a white-haired old woman approached me and said, Hey, you remember me? I looked her over, and I knew I remembered her, but had no idea who she was. She said, Lois. It still didn't click. She said, Lois Learned, Big Nurse, and I thought, Oh my God. She was a volunteer at Newport, long since retired from the nursing business. This was the nurse on the ward I worked on at the Menlo Park hospital. I didn't know what to think and she didn't either, but I was glad she came up to me. I felt there was a lesson in it, the same one I had tried to teach Hollywood. She's not the villain. She might be the minion of the villain, but she's really just a big old tough ex-army nurse who is trying to do the best she can according to the rules that she has been given. She worked for the villain and believed in the villain, but she ain't the villain.
INTERVIEWER
Do you believe that individuals have to be held accountable for evil, even if they are not the ultimate source?
KESEY
I may, as they say in jail, hang the jacket on them, but I'm not the judge. I can expose something, but as you get older and hopefully wiser, you find that blame and punishment beget only more blame and punishment. I'm probably, from another person's point of view, the Big Nurse in somebody else's story. The thing that changes as you get older is your belief that certain people are bad forever or good forever. We're not. It wouldn't make any sense to write if we were. With blame, you either resist it or you pick up rocks and throw them at who's to blame. Wendell Berry talks about that when he says we all have the capacity to do evil but we have to learn to forbear it. What keeps us from being monsters are Emerson and Thoreau and the Beatles and Bob Dylan—great artists who teach us to love and hold off on the hurt. The hurt is inside of us, and of course we can always randomly hurt something, but a great artist will teach you to love a thing and not want to possess it or alter it—just to love it. You finally have to love Big Nurse. It's the symbol behind her, the combine, that makes her do what she does. You've got to fight that, but finally you have to love them all—the poor, broken human beings, even the worst of them.
INTERVIEWER
Your novels have been popular in Eastern Europe and translated in the former Communist-bloc countries. How do you account for that?
KESEY
They were allowed in all the communist-bloc countries because the authorities considered them anti-American. Totalitarians never see themselves as being totalitarians; they always see that in the other guys. And Cuckoo's Nest is, to some extent, anti-American. It's about American terror. Big Nurse works for an American bad guy, the combine, the inhuman part of American industrialism.
INTERVIEWER
Why did you break off from writing the screenplay for Cuckoo's Nest?
KESEY
I was contracted to do the screenplay, but they wanted me to do it a certain way, leaving out the narrative thread of Chief's perspective and making Big Nurse the center of evil. And there were other disputes.
INTERVIEWER
What do you think of the movie?
KESEY
I've never seen it. We were arguing with lawyers and the issue was whether I had been paid adequately. I was fussing with them. They said, Why are you coming on like that, you'll be the first in line to see that movie. I said, I swear to God I'll never see that movie. I did it in front of the lawyers and I'd hate to go to heaven and have these two lawyers calling me on it. I mean, to lie to a lawyer, that's low.
INTERVIEWER
Do you see the inhuman evil present in nature?
KESEY
No, evil is part of the human consciousness. A baboon may get a harem and rape and hurt, then some other baboon will tear that baboon up eventually. It's part of baboonery and it's gonna be there. The evil force isn't interested in baboons or daisies. The evil force wants to hang human souls on its walls for some reason, and I don't think of it as satanic. It's lukewarm. As Christ says, hot and cold are cool, but evil is lukewarm, and it's a drag.
When I see bad-looking bikers with black leather studs on their wrists hanging out at the Oregon Country Fair, I take it as a sign of health. No, I don't want them hanging around, but trying to eliminate them all, arrest them all, legislate against them all—that's evil. I have asked feminists, If you could, would you eliminate all male chauvinist pigs? If you could come up with some kind of spray to spray in the air and do away with them, would you? Would you do away with all scorpions and rattlesnakes, mosquitoes? Mosquitoes are part of the ecosystem. So are male chauvinist pigs. You've got to fight them, but you don't try to exterminate them. A purifying group or system that would eliminate them all—that would be an evil force. Anytime you have a force that comes along and says, We will eradicate these people, you have evil. Looking back in history, what has seemed the worst turns out not to be the worst. Imagine how the Catholics must have talked about Galileo, how he must have seemed a great evil to them. But as time went on, it turned out that he was not only a good human being but good for the Catholic Church.
INTERVIEWER
Your heroes are often little warriors against big enemies. If the writer is a "warrior," who is his enemy?
KESEY
When I begin to try to follow the money, as they say in All the President's Men, up the evil ladder, past the businessmen, past the Mafia, past the leaders in the state, I ask, Who is doing the stuff, who is pulling the cords? It looks an awful lot like God. It's the big fascist in the sky. But all of this religion, government, and civilization bending towards God is dangerous. There's nothing worse for a forest than to have all the trees be the same. So you think, Well, maybe this isn't God. Maybe this is the famous Antichrist who's been the bad guy all along. The good guys, the real God, are hippies in tie-dyes out at the Oregon Country Fair, who are providing a sprinkle of mischief and chaos to keep things from becoming mud all over. As Burroughs says, the job of the writer is that of an exterminator. You're trying to battle the evil bugs that have crawled into our works and get in the way of exploring the hollow. Zora Neale Hurston and Louise Erdrich are good examples of warriors. So is Tom Robbins. People laugh and point at him, but that's just because he's on the West Coast and he won't dress up in the right clothes. His prose is like that motley that the fool wears, and it's easy to be impatient with him, but he's a warrior the same way that old Hunter Thompson is a warrior.
INTERVIEWER
Are there other contemporary evils for which you believe the writer has to account?
KESEY
In Kurt Vonnegut's book Cat's Cradle, the worst thing that ever happens to a marine is mud, and there is a thing called ice-nine that you can add to mud to solidify it. But then all the mud around the world starts to go solid. We have to try to fight anything that is going to create solid mud worldwide.
INTERVIEWER
Sometimes a Great Notion begins and ends with the image of Henry Stamper's amputated arm with its middle finger extended. Did you structure the book around this image?
KESEY
The image of the amputated arm came to me before I knew whose arm it was. Writing the book was the way to figure out who belonged to the arm and why. In writing the book I figured out what the symbol meant. First, I thought that Stamper was the hero, fighting the union's attempt to control the family. But in retrospect, the river is the controlling force the family is battling. The Stamper brothers, Hank and Lee, are matching wills and egos over Vivian. When Vivian leaves at the end, she leaves the people she loves for a dark future, but one in which she isn't controlled. Mother Nature throws off the forces that try to control her. Old feminism, women's lib, had something to do with that, but I didn't know it at the time.
INTERVIEWER
Sometimes a Great Notion is much more ambitious than Cuckoo's Nest. Do you think it is as successful?
KESEY
It's my best work, and I'll never write anything that good again. It's a question of time spent on it. I worked on Notion for two years without interruption, exploring symbols and characters and letting the narrative take its own way.
INTERVIEWER
Did you have a model for the narrative experimentation in Sometimes a Great Notion?
KESEY
Orson Welles's film The Magnificent Ambersons influenced Sometimes a Great Notion quite a lot in its ability to move narrative along by going from situation to situation with just a few lines of dialogue by one of the characters. Someone would say the next thing we needed to know and there would be a cut to that shot. The first part of The Magnificent Ambersons covers quite a long period in a very short time, and you get to see the characters in a structured, stylized way—they step out on stage and deliver lines that help with the exposition. That influenced me in terms of structure.
INTERVIEWER
After Sometimes a Great Notion, you set out on the bus Furthur. What did you want to explore?
KESEY
What I explore in all my work—wilderness. I like that saying of Thoreau's that "in wildness is the preservation of the world." Settlers on this continent from the beginning have been seeking that wilderness and its wildness. The explorers and pioneers were out on the edge, seeking that wildness because they could sense that in Europe everything had become locked tight with things. The things were owned by all the same people and all of the roads went in the same direction forever. When we got here there was a sense of possibility and new direction, and it had to do with wildness. Throughout the work of James Fenimore Cooper there is what I call the American terror. It's very important to our literature and it's important to who we are: the terror of the Hurons out there, the terror of the bear, the avalanche, the tornado—whatever may be over the next horizon. It could be the biggest, most awful thing in the world. As we came to the end of the continent, we manufactured our terror. We put together the bomb. Now even that bomb is betraying us. We don't have the bomb hanging over our heads to terrify us and give us reason to dress up in manly deerskin and go forth to battle it. There's something we're afraid of, but it doesn't have the clear delineation of the terror the Hurons gave us or the hydrogen bomb in the cold war. It's fuzzy, and it's fuzzy because the people who are in control don't want you to draw a bead on the real danger, the real terror in this country.
INTERVIEWER
What is the "real terror" in America?
KESEY
When people ask me about LSD, I always make a point of telling them you can have the shit scared out of you with LSD because it exposes something, something hollow. Let's say you have been getting on your knees and bowing and worshiping; suddenly, you take LSD and you look and there's just a hole, there's nothing there. The Catholic Church fills this hole with candles and flowers and litanies and opulence. The Protestant Church fills it with hand-wringing and pumped-up squeezing emotions because they can't afford the flowers and the candles. The Jews fill this hole with weeping and browbeating and beseeching of the sky: How long, how long are you gonna treat us like this? The Muslims fill it with rigidity and guns and a militant ethos. But all of us know that's not what is supposed to be in that hole. After I had been at Stanford two years, I was into LSD. I began to see that the books I thought were the true accounting books—my grades, how I'd done in other schools, how I'd performed at jobs, whether I had paid off my car or not—were not at all the true books. There were other books that were being kept, real books. In those real books is the real accounting of your life. And the mind says, Oh, this is titillating. So you want to take some more LSD and see what else is there. And soon I had the experience that everyone who's ever dabbled in psychedelics has. A big hand grabs you by the back of the neck, and you hear a voice saying, So you want to see the books. OK, here are the books. And it pushes your face right down into all of your cruelties and all of your meanness, all the times that you have been insensitive, intolerant, racist, sexist. It's all there, and you read it. That's what you're really stuck with. You can't take your nose up off the books. You hate them. You hate who you are. You hate the fact that somebody has been keeping track, just as you feared. You hate it, but you can't move your arms for eight hours. Before you take any acid again you start trying to juggle the books. You start trying to be a little better person. Then you get the surprise. The next thing that happens is that you're leaning over looking at the books and you feel the lack of the hand at the back of your neck. The thing that was forcing you to look at the books is no longer there. There's only a big hollow, the great American wild hollow, which is scarier than hell, scarier than purgatory or Satan. It's the fact that there isn't any hell or there isn't any purgatory, there isn't any Satan. And all you've got is Sartre sitting there with his momma—harsh, bleak, worse than guilt. And if you've got courage, you go ahead and examine that hollow. That's the wilderness that I've always wanted to explore, and it's connected to the idea of freedom, but it's a terrifying freedom. I'm working on a book called "The Seven Prayers of Grandma Whittier." The idea is to take someone who is a very strong, very devout Christian and put her into a situation in which she loses her faith and show how she wrestles and comes back from this hollow. And so my grandma, who's a hundred years old this year, and I are in some way linked in an excursion into her dark hole of Alzheimer's. You know she must be something even though she can't remember the Lord's Prayer or read the Bible anymore. She's alive, but that's it. You can go into that hollow and still come out of it and have a positive life.
INTERVIEWER
And that hollow is, for you, the new wilderness?
KESEY
That's the new wilderness. It's the same old wilderness, just no longer up on that hill or around that bend or in the gully. It's the fact that there is no more hill or gully, that the hollow is there and you've got to explore the hollow with faith. If you don't have faith that there is something down there, pretty soon when you're in the hollow, you begin to get scared and start shaking. That's when you stop taking acid and start taking coke and drinking booze and start trying to fill the hollow with depressants and Valium. Real warriors like William Burroughs or Leonard Cohen or Wallace Stevens examine the hollow as well as anybody; they get in there, look far into the dark, and yet come out with poetry.
INTERVIEWER
Have you ever felt that you were going too far into void, getting too twisted to come out?
KESEY
Many times I feel I have been way out, but I always come back. I have my family, my wife Faye, the farm, chickens, and cows. The earthly world calls out to you in clear voices that you must come back. Those earthly voices are far better than anything I've heard crying in the night.
INTERVIEWER
After Sometimes a Great Notion, you seem to have grown dissatisfied with the novel as a medium. Do you prefer public performance?
KESEY
Yes. The first rule—whether you are a writer or a dancer or a fiddle player or a painter—is "don't bore people." My dad used to say that good writing ain't necessarily good reading. A lot of people think good writing is like the compulsories in figure skating; it goes round in circles and doesn't go anywhere. If I'm going to skate, I'm going to race.
At one point, I was trying to write an illuminated novel with pictures and different kinds of print, experimenting with visual form as well as prose form. It's not right yet. But I haven't felt like I have taken a vacation from my work. I feel that I am continuing to probe into that big hollow, but the traditional form of the novel won't do. My metaphor has been that I've been dating Emily Brontë and the old dame just ain't putting out like she used to. The novel is a noble, classic form but it doesn't have the juice it used to. If Shakespeare were alive today he'd be writing soap opera, daytime TV, or experimenting with video. That's where the audience is. The audience is there even if there's a lot of mediocrity in the writing. I have just completed a play, Twister. Writing drama for a live audience is exciting, almost addictive.
INTERVIEWER
What do you think of when you think of an audience?
KESEY
I was in a quandary about my audience when I was working on Notion until I realized that I'm not writing for the East Coast literary establishment. I am writing for Mountain Girl and Jerry Garcia's oldest girl, Annabelle—she's a great Stephen King fan. She just reads and reads. She likes something that's got a little zip to it. At one point, I realized that's whom I'm writing for. If Annabelle Garcia reads this book, gets excited, and grins about it, then I have hit my audience and all the rest just ricochets.
INTERVIEWER
Some of your most recent works have been children's stories, Little Tricker the Squirrel Meets Big Double the Bear, as well as The Sea Lion, which also appears as part of your recent novel, Sailor Song. What are the attractions and challenges of writing for children?
KESEY
When you go into the arena before a group of kids you don't care what Christopher Lehmann-Haupt said about you in previous reviews in The New York Times. Your strokes are broader, because all the little fine brush lines are lost on a kid. But the message beneath them has to be clearer. In a kid's story like "Pinocchio" the message is clearly communicated—if you lie your nose gets bigger. In a novel you have to conceal it, or you're accused of being too obvious. When you're writing for kids all you have to have is a good story; it will be accepted. Also, you can tell whether it works when you read it to a kid. It's hard for a writer to tell when a novel works.
INTERVIEWER
When you were five your maternal grandmother, Grandma Smith, told you the original story of Little Tricker.
KESEY
What I remember most about the way she told the story are the repetitions, the series of threes in the events, the alliteration in the language. She taught me the speech rhythms that are essential to being a good storyteller. There is a drumbeat, in which you have to get your idea across in a breath. She also taught me a great deal about irony. When you think of irony you've got to think of an outside force looking in. Irony doesn't exist without a god of some kind. Irony is not a trait many kids learn. It's not just God sitting up there laughing at you; there's the whole universe sort of grinning wryly at you. The main point she taught me is how essential wonder is to a storyteller. The storyteller himself has to feel wonder in order to communicate it. Somehow I don't think that sense of mystery can be taught to you by your parents. It has to be taught by your grandparents or perhaps your aunts and uncles.
INTERVIEWER
Did Grandma Smith inspire you to become a writer?
KESEY
It was all part of doing magic shows when I was a kid. For one thing, you have to talk, explain things as you go along. I would go to farm producers' meetings with my dad and perform tricks for farmers and their kids. I always found a mean little redheaded kid in the audience. I would get him up on the stage and announce that I was going to tell a story about the pasteurization of milk. Chuck, my brother, helped me with an ice pick and a funnel. I pretended to bore a hole in the top of this kid's head with the ice pick, explaining that you had to use redheads because they are a whole lot more hotheaded than most people, and I poured the milk on top of his head, letting it run past his eyes, and explaining how when it comes down out your elbow, it's pure. Then I'd pump the milk out the elbow. A story went with each magic act, and the stories enhanced the act. This is what a shaman does: he has a little story and a few tricks along with it, a dance, some drumbeats, a painted set, and some beads strung together. Writing is just one of those parts. It has been elevated to the point that people think it is the "thing." It isn't. Shakespeare doesn't come alive until it's on stage. It's about performance.
INTERVIEWER
Sailor Song is your first novel in twenty-eight years. Do you consider it a comeback?
KESEY
Michael Douglas said to me when we were talking about doing a stage version of Cuckoo's Nest, Oh yeah, this would be a great comeback. I said, Good God, I didn't know I'd gone anywhere. I feel what I did with the bus, what I'm doing with my new play Twister, the political activity around here, reading these stories in children's hospitals, is all part of the same work. You put on a different costume. But you're always a shaman. The fire pit changes its shape. The fire gets more civilized when you're doing a reading back at the St. Mark's Church in the Bowery, but you're still a shaman. I haven't slacked off at all. But it has been really important and tremendously gratifying for me to finish a big book because no matter what you say, every writer knows that the novel is the bear and, as Faulkner says, every so often the dog has to go against the bear just to keep calling itself the dog. I set out to do this book in the early 1980s but got dragged away, mainly when my son Jed was killed. That really took the wind out of my sails. During that time I did a lot of other things that were just ways of avoiding this book. I brought out Demon Box, a compilation of stories about the farm and the bus in what I think of as the comedown years—my gonzo time. But Viking wanted me to use my name and everybody's real names. Demon Box is fiction, although not many people would appreciate the fact that some of the stories happened and some of them didn't. "The Further Inquiry," a screenplay about the bus, turned up in a box back at Viking. Caverns, a collaborative novel from a writing class I taught at the University of Oregon, was brought out. So these books came out as I was trying to avoid getting back to Sailor Song.
INTERVIEWER
What was the genesis of Sailor Song? You published The Sea Lion, the children's story which appears in Sailor Song, before the novel. Did one precede the other or did they evolve together?
KESEY
When I began Sailor Song I didn't have the story thought out, just the vision of what happens when a movie company comes to a little Alaskan town and takes it over. I needed a story within the story; I wanted it to be an ancient-seeming story, around which the larger tale could be folded. Then, as Larry McMurtry says, it was the job of the fiction writer to make stuff up, so I made up The Sea Lion. Although the two stories pretty much evolved together, the ideas behind The Sea Lion began when my brother and I went up to see an Indian storyteller in Washington up on the slopes of Mount Saint Helens. A family called Laluska makes masks up there. Those Northwest Indian images are tremendously powerful and as yet pretty much unused. They haven't been bled dry like many of the images from the Plains Indians and from the Ojibwa art back on the East Coast. I saw that there was a terrific power to these faces and masks, especially the eyes. You could see that it came from the way wood knotholes are worked by surf, giving them the look of leather. They have taken it and styled it beautifully so that you can see that surf-worn quality more clearly. This was in some way connected to the story. You can't really separate the mask and the look from the story and the performance. Just hanging a mask on the wall makes it a piece of art in the museum, but if you put it on and use it as part of a story, then the story comes alive; the mask comes alive. The look of these masks was the way I wanted my work to look in the reader's mind. Fiction is when you twist what's out in front of you and stylize it so it's more clearly seen by the reader— just the same way that the Indian carvers can create an eye that looks more like an eye than an eye—a fictional eye that enables you to see better than the true eye did. That's what good fiction is always about. Reading Moby-Dick, you see a whale more clearly than you could see him by going over to the coast and watching through a pair of binoculars. It's the stylization of the whales that lets you see inside and outside of them, their mythical as well as their mundane qualities.
INTERVIEWER
In the title essay of Demon Box, you express remorse about the intrusion of the filmmaker and the artist's eye into both private suffering and uncorrupted wilderness. The effect of Hollywood on an Alaskan town is the dramatic center of Sailor Song. Have you come to view the film industry as an evil?
KESEY
Well, writers have always had a real love-hate relationship with Hollywood. Even if your book sells really well, you don't make that much money out of it unless Hollywood picks it up. So you want Hollywood's attention, yet you don't want it. There's a saying, often attributed to Hemingway, that sums up my feeling about having your novel turned into a film: I don't like to see my bull turned into a bullion cube. In Sailor Song, I'm not really trying to put Hollywood down. It's just another force moving on this earth. It has its benefits and it's a nuisance. We know movies better than novels. Most writers have seen more movies than they've read books. It is the common denominator, two hours of story. Sometimes you'll get something that will go well into a miniseries like Larry McMurtry's Lonesome Dove. The miniseries is not a bad form because the story can be developed in a leisurely way.
INTERVIEWER
Has the vanishing of the frontier and wilderness changed what it means to create an American hero?
KESEY
In Western novels, especially Zane Grey novels, there is a code of the West that the hero and most of the characters in the novels adhere to. It has to do with fairness, courage, but in a lot of ways I think it mostly has to do with forgiveness. A guy in a Zane Grey novel can be a real bad outlaw, running with the bad bunch, but he comes up against a woman who changes his heart and his ways and the good guys who have been after him accept him back into the fold. The code of the West is that you may have done a lot of bad stuff in the past but you can always turn over a new leaf at any point and change. The problem now is that the good guys aren't the good guys anymore. You don't want to turn over a new leaf and become part of society because you've seen society's dirty underwear and it isn't much better than the bad guys' dirty underwear. Then you drop out of the hero business.
INTERVIEWER
In Sailor Song there is a conflict about how to read the Indian story, "The Sea Lion." One character sees it as meaningless for American audiences looking for symbols and plots. Do you believe stories should have a discernible meaning?
KESEY
I'm for mystery, not interpretive answers. When I was working on Caverns, I found out that one of the problems was that students kept looking for the answers to symbolic riddles and believed that modern fiction is supposed to supply you with the answer. The answer is never the answer. What's really interesting is the mystery. If you seek the mystery instead of the answer, you'll always be seeking. I've never seen anybody really find the answer, but they think they have. So they stop thinking. But the job is to seek mystery, evoke mystery, plant a garden in which strange plants grow and mysteries bloom. The need for mystery is greater than the need for an answer.
INTERVIEWER
How did the class show its desire to provide an answer?
KESEY
One student tried to tie Caverns up in a Buddhistic bag. There were thirteen of us contributing to the book. Without telling any of us, he introduced into the last chapter four pages of material that was pure Diamond Sutra; it came from the Rajneesh. He was a disciple all along and he had been keeping this in his mind. His answer was the same kind of dogma that people spout when they think the answer is Christ or environmental awareness. Anytime they do that they're already joining with the forces of ice-nine-hard mud.
INTERVIEWER
What was your response to the student writer?
KESEY
After his reading, the class was just ready to string him up. He had violated one of the most important taboos in writing fiction. What are you gonna do to him? someone asked. I said, We're not going to do anything. We're not gonna talk about it. We won't speak of it. We will not ever speak again of this to him at all. He came in the door and he said, What do you think of my new piece? So we didn't speak of it. The last week of class went on and he began to get a strange look in his eyes. We had sent him to some kind of literary Coventry. It had to be taken care of because what I had told the class in the beginning of the year was that I was going to try to teach them the job of the serious writer in modern America as best I could. It was my last day of class, and I was trying to give some kind of closing lecture to tie this up in a little package they could take home with them. I told them they had all read and studied, that they could all write. They knew fiction far better than I did. If there had been a test, they'd have just walked all over me because they knew the history of literature and the history of style better than I did. But I told them, So you guys can write, and well enough that one of these days you're going to have a visitation. You're going to be walking down the street and across the street you're going to look and see God standing over there on the street corner motioning to you, saying, Come to me, come to me. And you will know it's God, there will be no doubt in your mind—he has slitty little eyes like Buddha, and he's got a long nice beard and blood on his hands. He's got a big Charlton Heston jaw like Moses, he's stacked like Venus, and he has a great jeweled scimitar like Mohammed. And God will tell you to come to him and sing his praises. And he will promise that if you do, all of the muses that ever visited Shakespeare will fly in your ear and out of your mouth like golden pennies. It's the job of the writer in America to say, Fuck you, God, fuck you and the Old Testament that you rode in on, fuck you. The job of the writer is to kiss no ass, no matter how big and holy and white and tempting and powerful. Anytime anybody comes to you and says, "Write my advertisement, be my ad manager," tell him, "Fuck you." The job is always to be exposing God as the crook, as the sleazeball. Nelson Algren says the job of the writer in America is to pull the judge down into the docket, get the person who is high down where he's low, make him feel what it's like where it's low.
INTERVIEWER
Do you believe that an author imposes his own cultural vision on his readers in this way?
KESEY
I think that the artist should feel obligated to force whatever he can upon his audience and be the authority because if he doesn't, some advertising man will. Ronald McDonald will be out there telling people what to think. The cynic who says, Oh, none of this counts anymore, is wrong. I can remember when I thought that too. But the older you get, the more you see people in the past who have thoughts that last. Things you think you're saying for the first time ever, have been said better before by Shakespeare, though they may need saying again. As Faulkner says, there are the old verities. Revenge is about the same as it always was.