Interviewed by George Plimpton
Issue 136, Fall 1995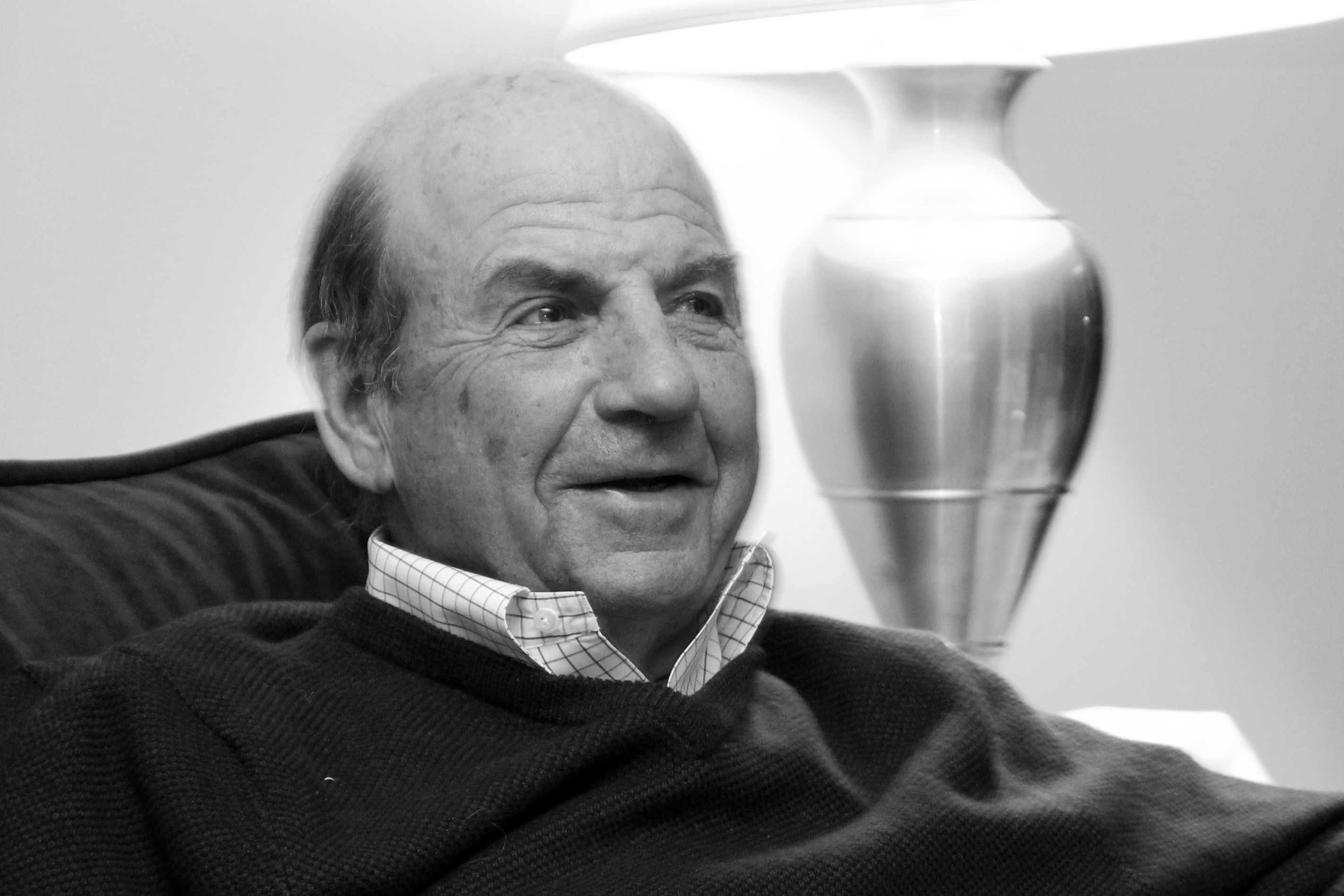 Calvin Trillin, ca. 2011. Photograph by Gavin Huang
Calvin Trillin was born in Kansas City, Missouri in 1935. He graduated from Southwest High School in 1953, and in the fall of that year, as he mentions in his book, Remembering Denny, he was one of the "brown-shoe" freshmen to enter Yale University: "the bright student council president from white middle-class high schools who had been selected by Yale to be buffed up a bit and sent out into the world prepared to prove their high-school classmates right in voting them most likely to succeed."
After graduating in 1957, while waiting to enter the army, Trillin had a temporary job at Time, working at the magazine's bureaus in London, Paris and Tunisia. When he finished his stint in the army, which had been spent mainly on Governor's Island in New York Harbor, a position at Time's Atlanta bureau was available. After a year covering the civil rights struggle in the South, he worked as a writer for Time in New York—but not for long. He was soon assigned his first article for The New Yorker, a three-part series on the two black students who desegregated the University of Georgia. The articles were published in 1963; he has been a staff writer there ever since.
In 1967 Trillin began traveling the country for his New Yorker series U.S. Journal. For the next fifteen years, his journal entries chronicled American life in the small towns and cities he visited every three weeks. Along with his travels, he also began writing occasionally about eating; these essays, in which, as he says, "I wrote about eating rather than food, and I wrote as a reporter rather than as an expert," have been published in his Tummy Trilogy. While still keeping his journal for The New Yorker, he began writing a column for The Nation in 1978. These columns, written first for The Nation and then for newspaper syndication, have been collected in five books. Uncivil Liberties and With All Disrespect. In the summer of 1990, prompted by the sound of John Sununu's last name, he wrote the first of a series of short poems, "If You Knew What Sununu," which presently appear in The Nation.
He is now settled with his wife in a town house in Greenwich Village, where this interview took place in a large sun-lit room. From time to time the phone rang, invariably for his daughter Abigail, who was sunbathing up on the roof and studying for the California bar examination. Finally, Mr. Trillin rose and attempted to turn off the answering machine, but in the time-honored tradition of humorists' confusion with machines, was unable to do so. This interview could be punctuated with long messages for his daughter, but they have been excised for reasons of respecting privacy, and for length.
Mr. Trillin (known by all as "Bud") is very much a family man. Married to his wife, Alice, in 1965, he often refers to her and family members in his columns and in the monologues he gives in public performances—"around our house we often . . ." being a constant refrain. The Trillins celebrated their thirtieth anniversary earlier this year.
INTERVIEWER
Here's a simple question for you. As opposed to spoken humor, what's the secret to actually writing it? Why can't people sit down and write funny stuff?
CALVIN TRILLIN
What is called "getting it onto the page." That's a really good question, so good it's probably unanswerable. We all know funny people who can't get it down on the page—even funny writers who can't get it down on the page. I suppose that there is the necessity of some sort of structure in written humor that you can get away without in spoken humor by the use of timing and gesture. Everybody knows people who are funny just by the way they talk. Remember that comedian Jack Leonard—this big, fat guy who appeared on the Johnny Carson shows? He talked very fast. He would always say something like, IjustwantyoutoknowJohnnyifyoueverneedafriendyouwon'tbeabletofindone. But if you listened to him carefully, after a while you realized a lot of things he said weren't funny at all. But he had a wonderful delivery. Or take the joke about the telegram that Trotsky sent to Stalin from exile in Mexico: I was wrong. You were right. I should apologize. Somebody says to Stalin, Trotsky's given up. He's asking forgiveness. Stalin says, No, you don't understand: Trotsky's Jewish. What he's saying is, I was wrong?? You were right?? I should apologize?!? So that's one thing. When you're writing, you are robbed of your delivery. People, particularly comedians, always say it's all in the timing. But in written humor, the reader has to do his own timing—you have to build in the timing for the reader, which is difficult.
Also, I find that written humor and spoken humor are really so different. For instance, I have been on a book tour with this recent collection of newspaper columns and Shouts and Murmurs pieces from The New Yorker. Occasionally I gave readings in bookstores. It's amazing how few of the pieces wore well when read aloud. A number of them, partly for purely technical reasons—they have too many quotes in them, or too many parenthetical phrases—don't read well. It is hard to read quotes, or parenthetical phrases.
INTERVIEWER
When did you realize that you were funny?
TRILLIN
At Sunday school when I was about eleven. We came to the part in the Bible or the Talmud, whichever it is, with the famous phrase, "If I forget thee, oh Yerushalayem, may my right hand lose its cunning and my tongue cling to the roof of my mouth." I stood up with my right hand gradually becoming noticeably weird and said: If I forget thee, O Yerushalayem, may my right hand lose its cunning and my tongue cleave to duh woof of my mout. Everybody laughed except the teacher, who ejected me from the classroom and accused me of self-hatred. A very weird epiphany. I guess I already knew I wasn't a solemn little boy—shy, but not exactly solemn.
I actually think of being funny as an odd turn of mind, like a mild disability, some weird way of looking at the world that you can't get rid of. It's odd: one of the questions that people ask me constantly is, Is it hard having to be funny all the time? The difficult thing for me is being serious. It's a genetic thing—being funny—like being able to wiggle your ears. I don't have any trouble being funny, that's my turn of mind. Or at least attempting to be funny. Whether it really is funny is for the audience to judge. But I actually do think that some people are and some people aren't. We all know, say, a lot of lawyers who aren't funny and some who are. A lot of dentists who aren't funny. The dentist who just took a fractured root out of my tooth—we refer to him as the butcher of Fifty-fourth Street—is a pleasant, friendly man, but he's not funny.
INTERVIEWER
I would have thought most people who find themselves very funny early on think of themselves as potential stand-up comics or actors.
TRILLIN
If I had been raised in a different house, I might have done something like that. As it was, I was raised to be a kind of champion, sent out to make something of myself. My father, who was technically an immigrant—he came when he was an infant—wanted me to be an American, preferably an American president. He didn't go to college. Before I was born he wanted me to go specifically to Yale, which he thought would help. It was easy for him to think I could be president: he didn't have to worry about being president himself, being ineligible because he wasn't born in the United States.
INTERVIEWER
Did he worry about your comic streak?
TRILLIN
I think that he enjoyed it, but yes, he did worry about it a little bit. It never seemed to me a bad thing, or something that I was supposed to suppress or anything like that. On the other hand, if I'd had the ambition to become, say, a stand-up comic, I don't think I could have gone to my father very comfortably and said, This is what your dreams have come to.
I do remember in high school I wanted to be a disc jockey. I remember even going around to talk to a disc jockey. The disc jockey said, Well, maybe you could be in your family business and then just be funny when people come in. By then my father was out of the grocery business, and he had a restaurant. The disc jockey was suggesting I could be one of those great maître d' jokesters. I saw one in Italy last spring. We stopped at one of the best restaurants I've ever been to. I saw the guy who ran it talking to three or four regulars who obviously came in for lunch every day. I had no idea what he was saying, but you could see he was telling a joke. At the punch line he would turn his back as they laughed and take two steps in the other direction, spin around, and come back. It's an old vaudeville move. In that motion you could see that every day he told this wonderful sort of restaurant-proprietor joke. So this disc jockey was telling me to think of it in some way like that, the sort of thing to do on the side, like the very serious lawyer who makes a funny speech at the Bar Association dinner.
INTERVIEWER
Did you do a lot of reading . . . Twain, for instance? Thurber?
TRILLIN
No. I didn't. It's always embarrassing for me to be asked, Well, I suppose you really grabbed a hold of Thurber and Perelman when you were in high school. I only knew one person who took The New Yorker—a cousin of mine who was considered a little bit strange. One person I read in college who I thought was funny was the very déclassé Max Shulman. I thought he was hilarious.
One time I was asked, by the New York Public Library, for a book put out in connection with some Literary Lion function, to submit a passage of prose that I particularly admired. A lot of writers were asked, and I suppose a lot of Proust found its way in there. It gave me the chance to quote Max Shulman. I found this passage about Dobey's dog where his mother says, Dobey you're going off to college and I'm no smarter than your old hound dog Edmund lying there in the corner. Dobey says, Don't talk that way about Edmund, Mom. He's a smart dog. He whistles to him and says, Play dead, Edmund. Look at how he obeys. All four feet sticking in the air. His mother says, Dobey, I hadn't wanted to tell you. He's been dead since Friday. You ran over him with the car. It fit perfectly.
INTERVIEWER
Were you employed by The New Yorker because you were funny . . . they'd seen funny pieces?
TRILLIN
The first one I wrote was about the integration of the University of Georgia, a fairly serious piece. The first pieces I did were all fairly straight, I think partly because I hadn't really figured out what I sounded like. Then I started writing a series of pieces that were all about the same guy, Barnett Frummer who had a girlfriend named Rosalie Mondle he was trying to impress. Each one was about a different kind of trendiness. At one point she became a radical; he tried to be radical. She got interested in gourmet cooking; he tried to do the same. These were what The New Yorker called casuals—short pieces that were signed. At the time, they had a special deal on them, like a cut-rate special in the fiction department: if you sold six of them in one year, something wonderful happened to you. It was sort of like hitting the pinball machine in "The Time of Your Life"—flags went off, you got a lot of money, piano lessons for a year, a new pair of shoes, all that stuff. So I wrote these really sporadically at The New Yorker.
I didn't really find an outlet for just purely I'm-going-to-try-to-be-funny-now-for-a-certain-number-of-words until I started doing The Nation column, which I think was in 1978. I always thought of writing humor as some sort of little, weird thing that I could do in the way some people could play the piano.
INTERVIEWER
Is it that easy?
TRILLIN
It's not easy, but it's natural. Once I started having to do it, it turned out it wasn't that hard. I did a Nation column every three weeks. We set it at three weeks because at the time I was doing this U.S. Journal series for The New Yorker—a reporting piece from somewhere in the country every three weeks—and I'd settled into a week of reporting, a week to write it, and what we call the "off week" when I did things like look for another story and pay bills. I started writing The Nation column during that off week. Then I started syndicating that column in 1985 or 1986 once a week. Russell Baker said I would find it easier doing one a week rather than one every three weeks. That was, I think, a little prank on his part. It was exactly three times as hard.
INTERVIEWER
I imagine one column a day would be twenty-one times as hard.
TRILLIN
Exactly. But then it turns out if you have to do it, you do it. You start writing and eventually you think of something.
INTERVIEWER
Is that how it works? Especially when you have to get something ready for tomorrow?
TRILLIN
Well, sometimes I tear things out of the newspaper and throw them in this file. When I'm desperate I look through the file, which is often painful: Oh God, not that thing, why didn't I throw that thing out years ago? I think one approach to writing this sort of column is to apply the rules of your own house to Washington or Washington to your own house. That is, the contrast between ordinary life and the life of government and general big shots. For instance, I once did a column that started, "Reading in The New York Times that the Pentagon has in its warehouses thirty billion dollars worth of equipment and supplies that it had no earthly use for makes me feel a lot better about my basement." So then you start thinking, Well, that column is either going to go toward the basement or toward the Pentagon or both. What you read in the paper and what happens to you are often the normal sources of supply.
INTERVIEWER
Do people send you ideas?
TRILLIN
Not for columns, usually. Perhaps for stories. I find that for writing humor, people's ideas usually don't work very well. Occasionally they do. Bill Vaughan was a really funny humor columnist for The Kansas City Star. Once, when I was visiting him in Kansas City, he told me, I think these car-washing places are really sexy. All that water sluicing around. You should write a story about that. Which I did—for Playboy needless to say. Then Bob Bingham, my editor at The New Yorker, told me once he had heard from a friend that people were using their safety-deposit rooms for midday trysts. Better than a hotel room: Would you and your secretary like a room, sir? So I wrote a piece about how a couple who did that regularly lured the guard into the safety-deposit room and disarmed him. A heist. I mean this was all fiction. So to that extent people suggest things. There's a guy I know who called me a year or two ago and said, Seat belts for dogs. Good-bye. See you later. So I wrote a piece about a division in the animal-rights community over seat belts for dogs. Do you owe it to your dog to try to get mandatory seat-belt legislation for pets or are you invading his space by doing that, etcetera, etcetera. Sometimes people call, but not usually. I find something has to sort of marinate in my own weird juices before it comes out.
INTERVIEWER
To be turned down for a straight piece of reporting is bad enough, but to be turned down if it's supposed to be funny and isn't must be especially discouraging.
TRILLIN
I think in some ways it's harder to have a factual piece turned down. Assuming that they liked the idea to start with, if they turn down a factual piece, then there's really something wrong with it. It's flawed. But if the person in the second row doesn't laugh, then it only means it's not funny to that one person. When I used to try to write casuals for The New Yorker, I had a very low batting average. I never sold the sixth piece that would have made all these wonderful things happen. I always assumed I just had a different sense of what was funny than they did. Roger Angell was the main editor I dealt with. Roger is such a gentleman that he would sometimes try to explain to me what the problem was. I said, Roger, if you don't think it's funny, it's not funny. The piece of mine that's anthologized as much as any I've ever written was turned down at The New Yorker and appeared in The Atlantic. The New Yorker simply didn't think it was funny.
INTERVIEWER
Which one was that?
TRILLIN
It was a piece called "A Nation of Shopkeepers Loses Three of Them through Contact with a Nation of Violence." It was about different ideas that Americans and English have about retail trade, about standing in line and being fair and saying "thank you." That sort of stuff. The American who goes into a typewriter shop and says, Do you have typewriter ribbons?
No, we don't do typewriter ribbons. Odd, people come in here all the time asking for typewriter ribbons, simply because we sell typewriters and various pieces of office equipment.
And the American says, What do you tell those people?
I tell them we don't do typewriter ribbons.
Americans trying to out–thank you English people: Thanks awfully. Thanks very much. It was appreciated by Americans who had lived in England. Probably not by very many other people. So, I think of humor as being subjective. Take comedians. There are some comedians who don't make me laugh even though I know they are talented and greatly appreciated by some people whose opinions I respect. It just somehow goes over me, or around me or something. I once dedicated a novel to my sister at her request. Originally the dedication said, To my sister, Sukey Fox in a first tentative step toward forgiving her for trying to throw me down the laundry chute in 1937. But Alice made me take out that part about the laundry chute. Anyway, Sukey said when she read it, I thought it was a comic novel. Was this supposed to be funny? Well, yeah, one or two people thought it was moderately humorous. Fortunately, a couple of them were reviewers.
INTERVIEWER
Do you test the pieces on Alice, on anybody? Daughters?
TRILLIN
On Alice.
INTERVIEWER
What does she usually say?
TRILLIN
A wry smile sometimes. Fortunately she doesn't often say, Why would anybody think this is funny? A couple of times, maybe. I suppose it's very weird being married to a writer. Alice could be married to—using an example we've mentioned—a dentist whose methods of dentistry she might not like, if she thought much about it. But of course she wouldn't think about it. What if you had a wife who simply didn't think you were funny, and you were trying to make jokes on paper? I suppose you wouldn't show her your stuff. Because, you know, it's not a requirement in marriage. But I do show things to Alice, not just the things that are meant to be funny, but the things that are meant to be serious. Alice has a very good eye. Also, she doesn't have any axe to grind. She doesn't happen to have a constituency. When I first got to The New Yorker I didn't know Alice. I used to show things to a friend of mine there, Gerry Jonas. I proposed to him, and he refused to marry me: he said he was already married.
INTERVIEWER
How many drafts do you tend to do?
TRILLIN
It's harder to tell now with the word processor. With reporting pieces, I actually do a kind of predraft, which sort of starts out in English but degenerates very quickly. I've always been terrified that someone will find an early draft. When I used to write more at The New Yorker, there were two or three Polish cleaning women who came in late at night, and I was always afraid that they would find my early drafts and read them to each other, howling with laughter, slapping their brooms against the desks like hockey players do: Ha! He calls himself a writer!
I've always written humor slightly differently. I've always paid more attention to the paragraph on hand before I go to the next paragraph.
About twice a year I make myself laugh when I'm writing. Something just sort of gets out without my knowing it. Alice says, What's going in there? I've actually giggled a little bit at my own line, but usually something that nobody else finds particularly funny. It means that if I ever had to spend a lot of time locked up in solitary confinement, I wouldn't be totally without resources.
INTERVIEWER
Do you have any explanations as to why there are so few women writers one thinks of as funny?
TRILLIN
Well, funny is obviously not one of the things women in this country have traditionally been expected to be. In the bad old days there was certainly a feeling that being funny was not feminine. I suppose the number of female stand-up comedians these days is an indication that this is changing. But if a girl in my Sunday school class had thought about pretending to take that passage about forgetting Jerusalem literally, I don't think she would have stood up and put on the little performance. The female class cutup has not been a staple of American folklore. I don't know whether or not that has meant that fewer women have felt encouraged about writing humor. There are, of course, some very funny women writers. Molly Ivins, for instance, writes about the characters in Texas politics better than anyone. She once mentioned a Texas gubernatorial candidate—this was a real candidate—who visited San Francisco and was so afraid of getting AIDS that when he took a shower in the hotel he wore shower hats on his feet.
INTERVIEWER
What is it like working at The New Yorker? Do writers sit around as they presumably did in the day of the Algonquin and fire off clever quips and sallies at each other?
TRILLIN
Alas, no. Unless that's going on somewhere every Tuesday and Thursday and I haven't been invited. Years ago, when I spent more time in the office, I used to go to the Algonquin for a drink sometimes, but the people I went with seemed to be the most morose people on the staff. Actually, when people used to ask me if there were any truly funny people at The New Yorker—not funny on the fourth draft but verbally very funny—I always said, There's this guy in the makeup room . . . His name was Johnny Murphy, and he did both quick comebacks and the sort of joke that would have been a bomb at Knights of Columbus meeting if it had been told by someone without the gift. Johnny never seemed to think it was odd that the funniest person on the magazine was someone who didn't write anything. He was very Irish, of course, and someone once told me that in Ireland a writer is a failed talker.
INTERVIEWER
Are there any subjects that the humorist should avoid? Swift didn't seem to shy away from nibbling on tots, or at least suggesting it was OK.
TRILLIN
It's not so much that certain subjects are out of bounds because of rules set down somewhere or because of a policy that a writer has decided on. It's that writing about certain subjects wouldn't be funny. I think that if the goal is to be funny, the subjects sort themselves out naturally. Also, the passage of time makes some subjects OK. It's common to hear jokes about Lincoln and Ford's Theater, for instance. I've never heard anyone object to Zero Mostel's great line about Romanian Jewish cooking. As you may know, the Romanian part of Romanian Jewish cooking is garlic, and the Jewish part is schmaltz—chicken fat. My theory is that the garlic is to keep away vampires, and if they get through the first line of defense the schmaltz gets them with heartburn. Anyway, Mostel always said that Romanian Jewish cooking has killed more Jews than Hitler.
INTERVIEWER
Is the humorist given more poetic license to stray away from the truth to make a reader laugh?
TRILLIN
Straying from the truth is one of the ways the humorist makes the reader laugh. Exaggeration is obviously one of the tools. I once wrote, for instance, that the Quebec language laws are so strict that in a school assembly you can't show a film of English-speaking mimes. The mime has to be someone like Marcel Marceau who is not speaking French. A couple of paragraphs later, I admitted that I made that up, but presumably the reader would have known that anyway. Or maybe not. I've often said that someone trying to write satirically in this country faces the problem of writing something sufficiently bizarre so that it might not come true while his article is on the presses. The Reagan Administration was difficult that way. Once, at a reception for big-city mayors in Washington, President Reagan was approached by his own Secretary of Housing and Urban Development, and the president said, Hello, Mr. Mayor, how are things in your city? Now, what does that leave for me?
INTERVIEWER
Have the targets, the victims of your humor ever coming knocking on the door?
TRILLIN
That has never happened. Where have I gone wrong?