Interviewed by Laurie Winer
Issue 142, Spring 1997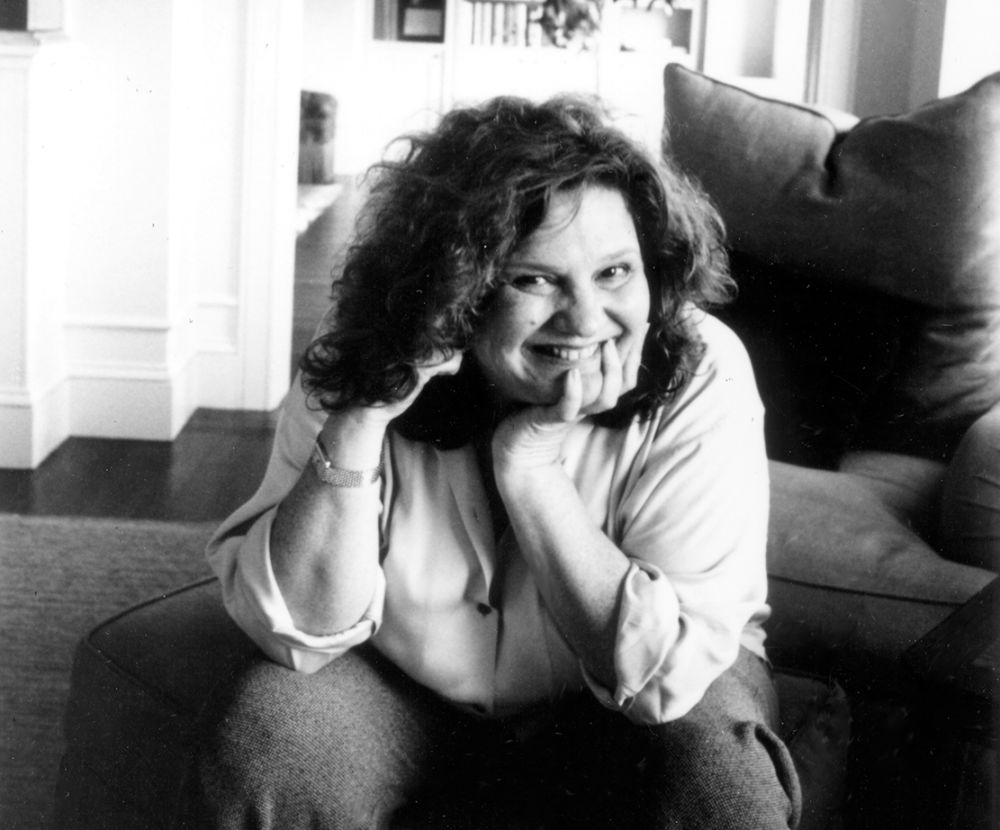 Wendy Wasserstein was born in Brooklyn, New York on October 18, 1950, the youngest of four children. Her mother, an amateur dancer, grew up in Poland and moved to the United States when her father was suspected of being a spy. Wasserstein's father was a textile manufacturer. When she was eleven, the family moved to the Upper East Side of Manhattan, where she attended a series of young women's schools before enrolling in Mount Holyoke College.
Wasserstein received her B.A. from Mount Holyoke in 1971 and earned her M.A. from New York's City University in 1973, where she studied creative writing with Israel Horovitz and Joseph Heller. The same year saw Wasserstein's first professional production, her play Any Woman Can't, was presented by Playwrights Horizons, a small off-Broadway theater that has played a large role in her career. But it was at the Yale School of Drama, in which she enrolled the next year, that Wasserstein found her métier as a playwright. She was the lone woman among a dozen men studying playwriting—a "kind of bizarre macho class," her classmate and friend Christopher Durang remembers it. "There were an awful lot of would-be Sam Shepards, and Wendy felt a little left out." At the first reading of her play Uncommon Women and Others, a male classmate complained, "I just can't get into this." The play was later filmed as part of PBS's Theatre in America series.
After receiving her M.F.A. from Yale in 1976, Wasserstein returned to New York, where she has lived ever since. During the next several years, her plays were produced in various off-Broadway theaters. Her eighth play, The Heidi Chronicles, was produced off Broadway by Playwrights Horizons; in 1989, within weeks of moving to Broadway, the play won both the Pulitzer Prize and the Tony Award for best play. Her next play, which was produced in 1992, was The Sisters Rosensweig. Wasserstein has also written a collection of essays, Bachelor Girls; a children's book, Pamela's First Musical; and several screenplays—although she considers these things that happen while she is "waiting for the next play."
Soon after The Sisters Rosensweig opened on Broadway, we met in the breakfast room of Wasserstein's apartment overlooking Central Park in New York City. "I don't use it much; I'm not good enough," she laughed. A second interview was conducted this spring during rehearsals for her latest play An American Daughter.
INTERVIEWER
What do your sisters think of The Sisters Rosensweig?
WENDY WASSERSTEIN
I didn't show anyone in my family the play. The problem with writing plays is that everyone has an opinion. And you don't want those opinions. You want people to say I love you no matter what. I'm a forty-two-year-old woman. What would my mother say: Oh, it's nice Wendy, and I notice the mother is dead? I really didn't want any of them to see it until the opening, but my sister Sandy kept saying she wanted to come, so finally I said, You can come but you can't call me tomorrow and make any comments, because if you call me and don't say anything, I'll know you think it's bad. So no comment, either way. She saw it and sent me flowers the next day. They came with a note that said, No Commitment. I realized that either the florist had made this Freudian slip or he was the florist to some Upper West Side bachelor who regularly sends out "no commitment" flowers.
But my mother is indefatigable. I hear her talking to my nieces and saying things like, You want to marry young. You know, you don't want to grow old like Wendy. She's fascinating. She is not a schooled person—my grandfather wrote plays and was the head of a school district in Poland, but my mother went to high school in New Jersey and then stopped. But she is deeply funny and, for someone who has not read, verbal and witty and an original thinker. She never cooked and she took great pride in having no skills at all. She had four children and then my two cousins came to live with us. And she danced. By the time I got to high school she was going to dancing lessons. That woman is over eighty and she's still dancing. Her name is Lola and when she walks down the street, chorus boys stop her to say hello. She wears leather! She's older now and so looks more like a grandmother, but if you had hit her when I was in college—she was a number. She's from that generation of mothers who had intelligence and creativity and no place to put that except into family. If the circumstances were different I'm sure she would have been a dancer or set designer. She thinks she's marvelous in every way. If you said, Wendy is so talented, she'd say, Of course, she's my daughter. My love of the theater comes from her.
My dad doesn't talk very much. He's very gentle and sweet, and my suspicion is that he's extremely bright and reflective. He invented the process that put wires into ribbons, which I guess is a little like being a furrier. They are really a yin and yang, those two.
INTERVIEWER
Did you have fun growing up?
WASSERSTEIN
I did because my mother was eccentric. In Brooklyn a lot of mothers really did play mah-jongg and have their hair done. My mother looked like Bertolt Brecht when I was growing up. She had extremely short hair. She'd say to the hairdresser on Kings Highway, You know how I like it, so it looks like you made a mistake. When I went to yeshiva, the rabbi's daughter would come to dinner and my mother would give us hamburgers and string beans with butter sauce. You're not supposed to have milk with meat and she'd lie and say it was lemon juice.
Also, being so close to my brother was fun; we went exploring a lot. My sister Sandy got married when I was six. She was nineteen. My aunt Kiki fell through the floor at her wedding. She was dancing and fell through, which I thought was fabulous. Sandy eventually got divorced and went to live in England for eight years. She came back, and one day my mother had her pick me up from the June Taylor School of Dance. So there I was, a yeshiva girl, going to dance school on Saturdays; my mother had me lying to the rabbi about that. Between the lemon juice and the lying to the rabbi, I'm going straight to hell. Anyway, she told Sandy to take me to Howard Johnson's and Radio City. So Sandy took me to the House of Chen where we had shrimp dishes—and I knew your lips fall off from the shrimp but I was too scared to tell her I can't eat this. And then, instead of going to Radio City, she took me to see Expresso Bongo, which was one of those English art movies. I remember a scene where the girl was wearing kilts with suspenders and no top. And then Sandy made me lie about it all to my mother.
When I was in second grade, I made up a play that I was in; I told my mother that I was in this play and the lie got larger and larger. Finally, arbitrarily, I said my play is on tomorrow, and she got me a velvet dress and made my hair in ringlets, and off I went to school. And she came to school and there was no play. She covered for me and said, I must be confused; it must be another one of my children. Then she came home and told me I was a fibber. She must have yelled at me because to this day I have trouble with fibbing.
INTERVIEWER
Would you call The Sisters Rosensweig your first well-made play?
WASSERSTEIN
Yes, in terms of structure. When I see the play, I feel I'm seeing a Broadway play in 1958, or what I wish those plays had been. I remember going to them and thinking, I really like this but where are the girls? The Sisters Rosensweig is like those plays—the curtain goes up and there's one set, and the play is well-made, you know, beginning, middle, and end. It takes place over a weekend, the stars get applause, the stars get exit applause, they each tell their stories, it arcs in the second act, all of that. It was much harder to write than any of my other plays.
INTERVIEWER
Did your other plays prepare you for it?
WASSERSTEIN
In a way. The Sisters Rosensweig seems a combination of Isn't It Romantic and Uncommon Women. But those other plays are episodic and this was a deliberate decision not to be episodic. Also, I decided not to write another play about my generation. Even though it has autobiographical materials, the focus of the play is not me. I wanted to do all those things and also evoke a fondness for plays that I love, including Chekhov. On the day I finished it I thought, This was a lot of effort just to prove to myself what a good writer Chekhov is.
INTERVIEWER
You sound as if you didn't get emotionally involved.
WASSERSTEIN
Ending The Sisters Rosensweig was hard, and when I finish plays I tend to get emotional and weepy. I remember the day I finished it I got weepy and then I realized it wasn't right. When we were doing the workshop in Seattle, I got weepy again and I realized it still wasn't right and I thought, How many times am I going to get weepy? Today in a taxi ride I was thinking that I would like to fix the speeches between Sara and Merv in the last scene. In the first draft, Sara sang for Merv. Then Merv sang "For Me and My Gal" in return. I was thinking, They slept together once and they're singing and running off together? What kind of play is this?
INTERVIEWER
When Sara does sing for herself—that song about Moishe Pupick, about being the only Yiddish girl in MacNamara's Band—it's an amazing moment. Jewish audiences respond to Sara's need to assimilate and her need not to. For a larger audience the moment is about identity and reconnecting with yourself after being lost for some time. When Sara first starts to sing those lyrics, the audience laughs because she's singing Yiddish words. But it's actually a deeply serious moment.
WASSERSTEIN
This play is thought of as a comedy, which is great, but to me this is a very serious play, and what you touched on in that moment is almost tonality, the heart of the play.
INTERVIEWER
One of the most moving moments in the play is when Gorgeous receives a real Chanel suit as a gift. Why is that so moving?
WASSERSTEIN
I think it comes from when I was in high school and I first realized there were people who wore real Papagallo shoes and then there were people who wore imitation Papagallo shoes from Chandlers. So I became very interested in this idea of what was real and what was imitation and what it felt like to wear the imitation and finally get the real.
INTERVIEWER
The Chanel suit touches on something that isn't seemly to speak of, which is that material things can give you almost a spiritual sense of happiness. It's almost like being loved in a way because it makes you feel safe and secure and beautiful or whatever, and that's something that very few people write about.
WASSERSTEIN
It was odd—we hired a rabbi as the religious advisor on the play, Rabbi Shnier, whom I kept calling Rabbi Schnorrer. We did this because Madeline didn't want to light the Sabbath candles unless she was doing it right. She didn't want to be offensive. A friend of mine was dating a rabbi, so I went to speak at his temple. We were talking about Jewish women and self-image, and I said that I never thought of myself as undesirable or unattractive, frankly, until I turned twelve and began watching these movies in which none of the men ever fell in love with anybody who looked remotely like me. No one was ever Jewish, no one was hardly ever brunette. I never thought of that before, but in retrospect it really makes me angry. Maybe that will change now. Just like when I was growing up and there were no smart girls in plays. Or if they were smart, were sort of these really mean career people.
You know what's interesting? The Sisters Rosensweig is a play that men like. Mort Zuckerman came up to me and said, I love your play, and I looked at him and I said, You do?
INTERVIEWER
I notice that you use the word girl a lot.
WASSERSTEIN
I've been called on the table for years on that. I call myself a Jewish girl. Maybe it's because you can't correct semantically who in your heart you know you are. But in the last five years feminism has opened up to humor. Women who are a bit older can believe in something and also see it ironically. And younger women who once thought that to be a feminist you had to be antimarriage, have no sense of humor, and have hairy legs, are changing. When I saw Marilyn Quayle speak at the convention in 1992, I thought, Everything I do is anathema to this woman. She thinks I will rot and boil in hell. But I think of her exactly what she thinks of me—poor woman.
Feminism has affected me more in my writing than in a specifically political way. Sitting down to write a play that has three parts for women over forty, I think, is political.
INTERVIEWER
Do you feel you are doing something important by making images of older, complete women?
WASSERSTEIN
I do in a way. When Gorgeous returns the Chanel suit she is in some way heroic. For a woman to be heroic she doesn't have to save the planet. My work is often thought of as lightweight commercial comedy, and I have always thought, No, you don't understand: this is in fact a political act. The Sisters Rosensweig had the largest advance in Broadway history, therefore nobody is going to turn down a play on Broadway because a woman wrote it or because it's about women.
INTERVIEWER
How has the theater changed since you started out?
WASSERSTEIN
It's interesting that the two most successful straight plays the year Sisters Rosensweig came out were mine and Tony Kushner's Angels in America—a play about three women over forty and an epic about a gay fantasia. Even five years before, that wouldn't have happened.
INTERVIEWER
In conversation you sometimes are angrier and more provocative than you seem in your plays.
WASSERSTEIN
My plays are my art and not just self-revelation. Creating a well-made play means you have to round the edges so they fit into the form. Also, the plays are deliberately comedic. Humor masks a lot of anger, and it's a means of breaking up others' pretenses and of not being pretentious yourself.
INTERVIEWER
You started out in the early seventies at Playwrights Horizons with Christopher Durang, Bill Finn, and all those other people. What do you remember about the early days?
WASSERSTEIN
When I was at Yale, I sent a play called Montpelier Pizz-zazz to Playwrights Horizons about a week after they moved to Forty-second Street. Upstairs was still the Sex Institute of Technology. Downstairs it smelled of urine and there were pictures of the dancers on the walls. It was not a glamour spot. That's where I met André Bishop. I sent Uncommon Women to Playwrights Horizons and they did a reading of it and wanted to do it. But I eventually gave it to the Phoenix Theatre instead. I thought it would get a better production and better exposure. It was because of losing that play that André decided he would turn Playwrights into the kind of theater no playwright would turn down.
INTERVIEWER
How did Playwrights attract so much raw talent when it was new?
WASSERSTEIN
It mostly had to do with André Bishop. What André managed to do was diminish the sense of competition—we all thought this was our theater. I don't know if any other theater has been able to accomplish that—maybe the Manhattan Theatre Club with Terrence McNally and Donald Margulies, but it's not quite the same. I don't know whether it was because a lot of us had gone to school together—Christopher Durang, Alfred Uhry, and Ted Tally, who writes screenplays and won an Oscar for Silence of the Lambs—or because André was so gentle and sweet. It was also cockamamy because it was on Forty-second Street between Ninth and Tenth. When we did the first reading of Uncommon Women, my dad, when he left the theater, gave André a fifty-dollar bill and said, Take care of yourself, son. He could not understand why this nice boy from Harvard was next to a massage parlor.
INTERVIEWER
Did you have an immediate rapport with Christopher Durang?
WASSERSTEIN
What Peter Patrone says in The Heidi Chronicles Christopher said to me, "You look so bored, you must be very bright." I remember in a class at Yale, E. L. Doctorow said that he was very sad because a girl at Sarah Lawrence had committed suicide. Christopher asked, Was it for credit? Alfred found it offensive, but I just started laughing, and I thought, This guy is great! I've never met anyone like him.
The thing about this whole group of people was that no one said, I've got to win the Pulitzer by the time I'm thirty. That was never what it was about. It was almost like they were too eccentric, and still are, I think. They were not a slick group; they didn't go to the right parties or work a room or anything like that. But these are the people I feel aesthetically close to, as some sort of gauge of myself.
INTERVIEWER
It was André who brought you all together?
WASSERSTEIN
Well, he gave us a place where we could hear our plays read. My first play was read at Playwrights before I even went to Yale. Any Woman Can't.
INTERVIEWER
I've never seen it.
WASSERSTEIN
And you never will. It's an awful play. I wrote it when I took Israel Horovitz's playwriting course up at City College. My mother was walking down the street and she ran into the receptionist from the June Taylor School of Dance, where I went as a child. The receptionist asked, How's Wendy? My mother said, Well, I don't know. She's not going to law school, she's not dating a lawyer; now she's writing plays. She's cuckoo. The receptionist said, Give me Wendy's play because I work across the hall from a new theater called Playwrights Horizons. So my mother gave her Any Woman Can't. Bob Moss was running the theater, and they did a reading.
INTERVIEWER
You're all funny and you all tend to write rather episodically. Durang had more acts in a play than anyone had ever seen and Bill Finn wrote musical vignettes that came together as a whole in the end.
WASSERSTEIN
I think we were the next generation after Terrence McNally, Lanford Wilson, and John Guare—who were all breaking form, too, from Edward Albee and Arthur Miller. I guess someone could say we were the first generation who grew up watching television and also going to the theater.
INTERVIEWER
While the previous generation only went to the theater.
WASSERSTEIN
That's right. The next generation will go to the theater even less. So the episodic writing was something that came to me. I thought writing a full-length play was something I didn't want to do and didn't know how to do. It seemed old fogyish. But I was on a committee to evaluate the Yale School of Drama, and there was this young woman, a directing student, who told me that what she wanted to do was explode text. I thought of Miss Julie exploding over the Yale School of Drama saying, There goes The Sea Gull! I thought, Well, before you explode it you should know how to do it. I thought, I would just like to try to do this. If in fact playwriting is like stained glass, if it becomes more and more this obscure craft, then it would be interesting to know how to do that craft.
INTERVIEWER
Did you learn by going?
WASSERSTEIN
Yes. When you write in an episodic mode, you know that the scene will be over. The hardest part, what's really boring, is getting people on and off the stage. You can't just bring the lights down and bring them up again. Someone has to say, I'm leaving now.
INTERVIEWER
And there's got to be a good reason for it too. Not, Oh, there's the phone!
WASSERSTEIN
Exactly. That's very hard to do. I always think structurally. But for The Sisters Rosensweig it was very hard going. In that play there are four scenes in the first act and three in the second. I should have combined the first two scenes.
INTERVIEWER
You expressed some dissatisfaction about the end of the play. You didn't want to end with Merv and Sara singing to each other. Did that feel wrong to you?
WASSERSTEIN
I did do it originally, and it was great when Merv sang "For Me and My Gal." But suddenly this play became Mervin the Magician, this man who came into these three sisters' lives and turned the place upside down. It made the play smaller, instead of larger.
INTERVIEWER
Because it narrowed the question of whom the play was about or who got what?
WASSERSTEIN
Yes, because it was about getting a guy. For Sara, Mervin is an agent of change. But he's not the answer.
INTERVIEWER
Do you ever see actors when you write?
WASSERSTEIN
Sometimes, but they never end up doing the play. You think Julie Andrews or people you don't even know.
INTERVIEWER
You once said that you look forward to writing because you can't wait to leave yourself.
WASSERSTEIN
Well, I was very sad when The Sisters Rosensweig opened the first time. People like Merv and Gorgeous are fun to write; they're nice to have in your apartment. They're really good company. So when you discover those people, they're talking and you're not talking anymore. I remember the day I wrote the line for Gorgeous about Benjamin Disraeli being a Jewish philanthropist: I started laughing because I thought, That's Gorgeous, there you go. The character, not my sister. If you stay with the actual people in your real life, it won't work. It's too constraining.
INTERVIEWER
What about when you are developing a character similar to yourself? Do you write what you know about yourself or do you find out things about yourself while you're writing the character?
WASSERSTEIN
It's closer to writing yourself as if you were these other people. I think the voice of the author in this play is in Geoffrey's speech to Pfeni about making the best art and the best theater. That's me, Wendy, the writer speaking, and it's interesting that I put the words into the mouth of a bisexual British man.
INTERVIEWER
Can you explain that?
WASSERSTEIN
I think because in some ways it's less inhibiting. But you're always writing different aspects of yourself into different characters. You are never writing yourself. There are aspects of me in Pfeni—the distancing aspect, the vulnerability, and the need to wander. And the ability to get involved with a bisexual. Hey—when's the mixer? There are aspects of me in Sara, too. I am a Jewish girl who's been in these Waspy institutions all my life. Ed Kliban used to say that what was interesting about me was that the family moved very quickly from being middle-class Brooklyn to upper-middle-class Upper East Side and all the pretentions of it.
INTERVIEWER
Do you tend to write about what you know?
WASSERSTEIN
I think yes. I learn things from watching and listening to people. I'm not much of a reader; I'm slightly dyslexic. Take Merv—he is someone I knew when I was eight years old. I don't run into a whole lot of Mervs right now. Nor do I run into a lot of the Gorgeouses of life. But I remember these colorful people and their language. I remember going to someone's bar mitzvah in Brooklyn with my mother and young niece. And you know when they take the Torah out? My mother said to Samantha, Quick, kiss the Torah before the rabbi takes it out for cookies and lunch. It was such a crazy image to me.
INTERVIEWER
It sounds like a dream.
WASSERSTEIN
It was like a dream or a Philip Roth short story. But I always have this terrible memory for what people said. You always remember what someone said yesterday, so you hold them accountable—maybe that's why I tend to write about people I know.
INTERVIEWER
Where do you write?
WASSERSTEIN
I used to write in a garage out in Bridgehampton that was literally a UPS drop-off. My brother lived on fifty acres on the water, and I wrote in this place with a garage underneath, two rooms upstairs and just a little typewriter. I wrote there in the summers. I also write in this little typing room at the Society Library on Seventy-ninth Street. A friend gave me an office at Comedy Central on Fifty-seventh and Broadway, but the problem there is that a telephone is there and I get on the phone a lot. But when I'm alone in one of these small rooms and I'm working—if I'm in the middle of something, of a play—it's fun. That's kind of nice. I don't feel this way if I'm in the middle of something that I don't really want to be writing. That's less fun.
INTERVIEWER
You use a typewriter?
WASSERSTEIN
I've always used a typewriter or, because I go to libraries, I write longhand in a notebook. Spiral-bound, on the sides. I tend to write longhand and then I'll start typing it on an IBM. I'll type it myself. This is why it takes me too long to write a play. Finally, I'll get it to a typist or to various young assistants, young playwrights or whomever, who type it up for me afterwards.
INTERVIEWER
Do your plays start with an image?
WASSERSTEIN
My plays start with a feeling. The Sisters Rosensweig started when I was living in London writing The Heidi Chronicles. I thought about Americans abroad, and somebody said to me, You're terribly Jewish, just like my brother-in-law. It was that same feeling I had at Mount Holyoke, a little bit uncomfortable with myself. Like wherever I went I was always wearing a tiara with chinchilla.
INTERVIEWER
What were you doing in London?
WASSERSTEIN
I was there on a grant from the British American Arts Association. It was for midcareer stimulation. I loved that grant. I lived in this one room at the Nell Gwyn house. I am better in one room with a hot plate. I'm not really good at working in fancy places or in places that you're supposed to write in, like your study. I don't think I'd ever write in a room that was lined with lovely curtains.
INTERVIEWER
Why is that? Does it strike you as pretentious?
WASSERSTEIN
Or maybe too perfect. Maybe writing reminds me of school. Also, I want to shut out the other things from my life.
INTERVIEWER
So you were in London writing Heidi, and The Sisters Rosensweig was germinating?
WASSERSTEIN
The play had been germinating since the night I got this message to call my brother's secretary in New York to set up dinner with him in London that night. Here I was on a four-thousand-dollar grant from these good socialist girls. Now maybe that doesn't sound too odd, but at the time it sounded nuts. So I called Bruce—he was turning forty at the time—and we had dinner in London. It was the night of Thatcher's election; he was going to Annabel's to celebrate while my friends were having a wake somewhere. So that started me thinking about Americans in London.
INTERVIEWER
What about the genesis of An American Daughter?
WASSERSTEIN
I always think of new plays when I'm finishing one. I was finishing The Sisters Rosensweig and was prompted by Nannygate—by what happened to Zoë Baird, what happened to Lani Guinier, what is happening to Hillary Clinton. It was also a reaction to turning forty-two—to midlife decisions, to not having children. It was both personal and political. This is a darker play than The Sisters Rosensweig. My plays tend to skip a generation; this one is closer to The Heidi Chronicles, though it is also darker than that play.
INTERVIEWER
An American Daughter seems to be your most overtly political play. Does that come partly out of your several White House invitations in the past few years?
WASSERSTEIN
It comes from going to plays, from being on panels, from being involved with arts funding. It also comes from the assumption that artists are always liberal, and that the politics of the theater are never surprising. I thought it was time to look inward. To use the theater to do that. And yes, I've been to the White House.
INTERVIEWER
Do you think that artists are unlike other people, with different needs?
WASSERSTEIN
Well, I don't know. There is something about the happiness I feel in that garage when Merv and Gorgeous are talking to me. Sitting in the garage in a nightgown with a typewriter— it might be the only time I'm calm. It's an ageless sort of happiness. It's what made me happy when I was twenty-seven and writing Uncommon Women, and what made me feel happy last summer. I'm a pretty nervous gal. So there is always the anxiety of writing, which is awful, but at those moments I do feel at one.
INTERVIEWER
Can you compare the feeling of writing alone in the library to the moment when the production begins and you're suddenly surrounded by people with very intense deadlines . . .
WASSERSTEIN
It's exhausting. You have to get dressed and show up. And behave yourself. You can't eat all the food on the plate because there are other people there too. But it's the best part of doing plays, if the actors are asking intelligent questions, and someone like Robert Klein is telling you how good your play is. The other difference for me is Dan Sullivan, the director, who is one of those rare creatures with a wonderful analytical and theatrical mind. That's why I go to every rehearsal. I'm not gifted visually; I can only fix my plays by hearing them. Dan will turn to me and say, This line doesn't work, and I'll rewrite it while I'm there. So I am always on my feet.
INTERVIEWER
What stage will a play be in before you show it to someone else?
WASSERSTEIN
I always finish a draft before I show it to anybody. I'll rewrite a scene thirty-seven times before I show it to anyone. Maybe it's from insecurity. I enjoy the process of polishing until finally I set a deadline and meet it. I finished both Heidi and The Rosensweigs by my birthday. On my birthday I said to myself, I will put this in the mail to Dan Sullivan today; I'm so sick of it.
INTERVIEWER
Where were you when you heard you won the Pulitzer Prize?
WASSERSTEIN
I was home in my nightgown writing an essay about my mother that is in Bachelor Girls. I had heard a rumor that David Hwang was going to win it for M. Butterfly. I'd never been someone who won prizes. Perhaps I wasn't pretentious enough or academic enough. I never thought of myself as an intellectual or good at school. So I just assumed I wouldn't win, which would be fine. I was home and Mark Thibodeux, the press agent for The Heidi Chronicles, called up and said, You won the Pulitzer. I said, That's not funny. He said, No, no, I'm serious. You won the Pulitzer Prize. I kept saying, You're the queen of Romania, Mark, don't do this to me. He told me to call my mother, so I did, because I thought, This woman's going to hear my name on the radio and think I died or something. I called her. She asked me, Is that as good as a Tony? I thought, That's my mother, undermine it, don't say congratulations, just pull the rug out from under me. I wasn't in the mood, so I said, Why don't you just call my brother and he'll explain it to you. Then the phone started ringing off the hook, it was like the phone went up and started spinning around the room. I went out that afternoon and had champagne at the Four Seasons with my brother Bruce and sister Sandra and Walter Shapiro and André Bishop. Then I went to the theater. Edward Albee was there. He told me to go on stage and take a bow. I said I was too shy. He said that I never knew when it was going to happen again. So I did it.
INTERVIEWER
Did winning the Pulitzer mean more than winning the Tony?
WASSERSTEIN
It's hard to say, because they're different. Winning the Pulitzer was never a goal of mine but it meant a great deal to me in terms of self-esteem. Getting the Tony was quite different because I knew that for the sake of the play and its commercial life that it was very important. I remember sitting in the audience with André Bishop thinking, Should I go up with the scarf, without the scarf? When I went up, there were so many men standing behind me, I wanted to say, So many men, so little time. I just couldn't do it because I was the first woman to win the Tony for best play alone, and I felt the need to dignify the occasion in some way. Because what's hard about being a playwright is, as Christopher Durang would say, it's all so random—getting your play done, how it's going to be reviewed . . .
INTERVIEWER
Is it any more random than other commercial art?
WASSERSTEIN
If you want to write for television, for instance, there is a supply and demand—you can make a living. Even if you're commissioned to write a play, you are not going to get paid in the same way.
INTERVIEWER
Does that make the motives of playwrights purer?
WASSERSTEIN
In a sense. It also depends on how you think, whether you think in terms of plays. I am most interested in how people talk. If I went to a movie studio and said I wanted to do a movie about three sisters over forty with a romantic lead who is fifty-four, they'd ask me to rewrite it for Geena Davis, and then they'd probably hire Beth Henley to make them all Southern. In film the voice gets taken out of it unless you're the director.
INTERVIEWER
Are you saying that screenwriters are less writers than playwrights?
WASSERSTEIN
No, it's just a different craft; most screenwriters I know would like to be directors so that they could have some sort of control.
INTERVIEWER
Many writers detest the public life brought on by success, the awards, the speeches. I get the feeling that you enjoy it. Do you think of it as a reward for all the time you spend alone?
WASSERSTEIN
There is a part of me that thinks that playwrights deserve as much recognition as novelists or screenwriters. I also know that if you want people to come to your plays, it helps to go on David Letterman's show. One creates a persona. I'm actually a shy person. Michael Kinsley is also a shy person, and there he is on TV every night. I was talking to him about this, that fame is not about getting a restaurant reservation. It's about walking up Madison Avenue on the way to your therapist, and you're thinking, My God, I'm worthless, what am I doing with my life, I'm horrible . . .. Then some woman comes up to you and says, You're Wendy Wasserstein. I can't tell you how much you mean to me. I want to say to this person, I'm glad I mean something to you because I mean nothing to me. Thank you very much. Then I think, What is wrong with me?
I like to think that those are the people who I write for—the matinee ladies at The Sisters Rosensweig. I guess it is something of a release from being alone and working. It's odd for me to have chosen this profession because I'm not very good at being alone and I'm not very good at sitting still. But at the same time, I find my work very comforting.
INTERVIEWER
You are known for being nice. Can a woman afford to be too nice?
WASSERSTEIN
I have a great interest in being ladylike, but there is also something to be said for being direct. What I hate about myself and would like to change is that I get hurt very easily. I'm too vulnerable and always have been. I don't look vulnerable. I always think vulnerable girls should have Pre-Raphaelite hair, weigh two pounds, about whom everybody says, Oh, she's so sensitive. I admire aggressiveness in women. I try to be accommodating and entertaining, and some say that's what's wrong with my plays. But I think there are very good things about being a woman that have not been taught to men— not bullshit manners but true graciousness. I think there is real anger in life to be expressed, there is great injustice, but I also think there is dignity. That is interesting, and part of the plays I want to write.
INTERVIEWER
Did you always know you were a playwright?
WASSERSTEIN
I always loved the theater, but it would have been odd to proclaim it as my vocation. I did, however, play with my Ginny doll and imagine plays for my dolls. I thought I'd be a lawyer and get married and not practice. I find it interesting how affected one is by the time in which one comes of age. I'm sure if I had gone to Mount Holyoke in 1955, I would have gotten married my sophomore year because that's what everybody did. I think of Hillary Clinton as being of that generation as well. When I went to college there was a saying: Holyoke to wed and Smith to bed. So my mother sent me to Mount Holyoke. I grew up reading the Arts and Leisure section, thinking that I would be like Celeste Holm in All About Eve and that it would be the husband who was the playwright and I would be the well-educated person who loved the theater. In those four years all of that changed—a transitional generation. The fact that I am the playwright has to do with that time.
INTERVIEWER
Was there any anti-Semitism at Mount Holyoke?
WASSERSTEIN
I do remember one girl at Mount Holyoke did not want me to come to her house over vacation because her father didn't particularly like Jews. They lived in Newton, Massachusetts. I came from Brooklyn where everybody was Jewish or black or they were parochial-school kids, but I didn't know them. When we moved to the Upper East Side, there were people who weren't Jewish, who went to Trinity and those fancy schools, but I didn't know them. Mount Holyoke was the first time I was ever in a house with a Christmas tree. So you did have a sense that you were Jewish and everybody else wasn't— that you were an outsider. While this could be alienating, it affected me for the better, I think; it made me feel I did not need to be anyone else. My close friends there were largely Catholic. I had one Jewish friend there from New Jersey who became a Marxist-Leninist gynecologist. How could you not love such a person? Those are the sorts of people you're supposed to meet in college.
INTERVIEWER
Who are the playwrights you most admire?
WASSERSTEIN
Chekhov, Ibsen, Wilde, Shakespeare, Chris Durang, Lanford Wilson, August Wilson, Tina Howe. I also have admiration for the women who write musicals—Betty Comden, Carolyn Leigh.
INTERVIEWER
One last question. Did you ever sit through a play of yours with your mother?
WASSERSTEIN
You mean sitting beside her? God no!