Interviewed by Davi Napoleon
Issue 142, Spring 1997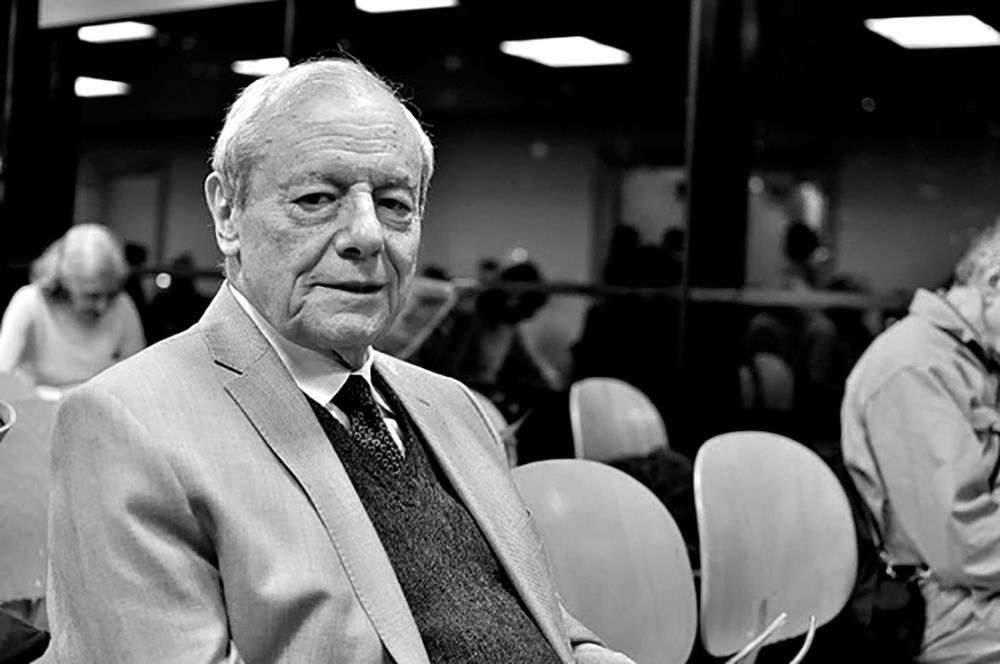 John Simon lives with his wife, Patricia Hoag-Simon, in a New York City high-rise two blocks from Lincoln Center. Our interview took place mainly in his airy living room. Although the furnishings are modern, there is no evidence that modern technology supports Simon's work. He writes at a large desk in the adjoining book-lined den, and he writes in pen. He has not learned how to use a computer, nor does he want to; his wife told me that twentieth-century automation and computerization confuse him: "He didn't know that he could go to various branches of his bank to get money," she recalled. "He thought there was a pile of money in the back of his bank labeled 'John Simon's money.' "
He was dressed for something more than the occasion, wearing a light brown Zegna suit. "He even wears a suit to bed," his wife joked. But his manner was informal, and when he saw I was concerned about whether my tape was picking up our voices from opposite couches, he promptly sat on the floor next to me. I joined him and the entire interview took place on the carpet. The next day, we talked mostly in Simon's study and in a nearby restaurant where we broke for lunch.
Born in Subotica, Yugoslavia, on May 12, 1925, John Ivan Simon spoke three languages by the time he was five. His parents were fluent in German and Hungarian, and the youngster picked up Serbo-Croatian in the streets of Belgrade where they lived. "I was language-conscious and language-intoxicated," he recalled. Later, he learned French and English and "became aware of what great literatures open up if you know these languages."
In 1941 the Simons immigrated to America. Simon went to school in Pennsylvania first, then transferred to Horace Mann in New York. He was a good student, particularly of the arts, and tried his hand at fiction. At Harvard, where he headed the Harvard Radio Workshop, he wrote plays as well as fiction and poetry. He graduated from Harvard in 1946 and completed his doctorate there in 1959. Simon has taught at Harvard, the University of Washington, the Massachusetts Institute of Technology, Bard College and the University of Pittsburgh.
He wrote his first theater criticism for the winter 1959–1960 issue of The Hudson Review. In 1962 he moved to Theater Arts, where he served as drama critic for only eight months due to an internal struggle for ownership of the magazine. There followed the beginning of an ongoing association with The New Leader, first as film critic, today as cultural critic. He also did some reviewing for WNET-TV, but he says educational television found his criticism too strong. He reviewed film and later language for Esquire and since 1978 has been reviewing film for The National Review. He has written on the arts for other periodicals, including The New York Times Book Review, The Washington Post Book World, as well as The New Criterion, to which he contributes regularly, and New York magazine.
Simon has published eleven collections of these reviews and one book on Ingmar Bergman. He has been honored with several awards, including the George Polk Memorial Award in film criticism, the George Jean Nathan Award for dramatic criticism, an award from the American Academy of Arts and Letters for literary criticism, and a Fulbright Fellowship that took him to the University of Paris.
INTERVIEWER
When did you write your earliest criticisms?
JOHN SIMON
I guess what you might call criticism is what you do in some of your college papers, although my Horace Mann high-school history teacher said that I was the only student whose papers he could not grade while listening to the radio because my syntax was so fancy.
INTERVIEWER
Do you feel isolated from people in the arts because you're reviewing them?
SIMON
Well, yes and no. Obviously, there are a good many parties I don't get invited to, there are a good many people who, rightly or wrongly, don't have any use for me. And perhaps life would be more colorful and amusing if one didn't have that many enemies. But on the other hand, the cause is more important than mere fun, and so, rather sadly, I resign myself to being not invited to this or that thing.
INTERVIEWER
When you are invited are you a different kind of person from the one we meet in print?
SIMON
Of course. How could one not be a different person? Conversation is not the same thing as criticism.
INTERVIEWER
At the conference on criticism Robert Brustein held at Harvard, you said you write in order to educate the public, teaching in a "school without walls."
SIMON
My greatest obligation is to what, correctly or incorrectly, I perceive as the truth. It is also a genuine satisfaction to express the truth as you feel it should be expressed. It's like scoring high on a test or in a sport. But after that, there also comes a certain hope that one is read by other people. The quantity is not important, but the quality is. If I could imagine that I'm being read by five hundred people in this country whom I really respect—I'm not saying there are only that few, but there are not all that many either—if they or a large segment of them were to read me, that would certainly make writing more satisfying. For example, when someone like the composer Ellen Taaffe Zwilich tells me that at one difficult point in their lives she and her husband got a lot out of reading my reviews and going to see the movies that I recommended, which is very satisfying. On the other hand, when people tell me that they're the only ones ever to defend me in various discussions, I always say, Look, if I had a dollar for everyone who has said this to me, I would be, perhaps not rich, but certainly comfortably off.
INTERVIEWER
What do you think of other critics?
SIMON
Well, that is a problem. Many people who write criticism are not that much different from the people who write me hate mail. There are several so-called critics—reviewers—who really hate my guts. There is one who slams a door in my face if he happens to pass through it ahead of me. But who cares? It's wonderful to be hated by idiots. A German writer whom I love and whom I've translated, Erich Kästner, gives advice in one of his poems to a would-be suicide. He tries to give this man various reasons for not blowing his brains out. The man remains unconvinced, so Kästner says, in essence, all right, the world is full of idiots and they're in control of everything. You fool, stay alive to annoy them! And that, in a sense, is my function in life, and my consolation. If I can't convince these imbeciles of anything, I can at least annoy them, and I think I do a reasonably good job of that.
There are always a few critics around that you feel comfortable with. It doesn't mean that you necessarily agree with them, but they're thinking human beings and you can talk to them. There are not many of those and most of them write for obscure publications. Sometimes, sitting at a film or drama critic's voting meeting, I feel surrounded by creatures from the black lagoon or from twenty thousand leagues beneath the sea. We don't speak the same language. A great Russian film meant nothing to them, whereas a cheap American shoot-'em-up or cowboy movie is a masterpiece. They look at me as if I were some sort of strange comic monster; I look at them and think, What do I have in common with these people? Why am I sitting here? I think press agents would be much nicer to sit with. They know much more about what we're talking about. Perhaps even cabdrivers do.
INTERVIEWER
How do you feel when artists attack you?
SIMON
Well, actually, that is a little sad, but it's so predictable. It's like that picture of Joseph Papp with his arm around me after I've given him a good review and his asking for the picture back the next month because of a bad review. And I thought, Screw you, I'm keeping it.
It is not important whether I suffer for a bad review or whether the person reviewed suffers for it, because there is something bigger than both of us—the art that is being reviewed. That is what we are all answerable to and that is where the truth must lie and everything else—friendships, feuds, loves—must be forgotten.
I once dated a very beautiful girl who thought Mick Jagger was the greatest thing in the world. So I showed her my review of one of his movies and she never spoke to me again. Whatever might have been, that was the end of it, and I had suspected that that was going to happen. But a critic has to get satisfaction not from being popular or liked or invited to parties, but from having done the bloody best he could, however imperfect it may be. If somebody throws a cocktail in your face at a party because of a bad review, you just have to take it.
INTERVIEWER
Has that happened?
SIMON
Not often. The most famous case is Sylvia Miles throwing some steak tartare at me, which made her into a heroine. In fact, Andy Warhol said in one of his so-called books that she's famous for that and not much else. This incident was so welcomed by the Simon-hating press that the anecdote has been much retold. She herself has retold it ten thousand times. And this steak tartare has since metamorphosed into every known dish from lasagna to chop suey. It's been so many things that you could feed the starving orphans of India or China with it.
INTERVIEWER
Can you cover what you like in addition to the essentials?
SIMON
If you're very excited about some small thing you saw, of course, you write about that too. Those things are up to me. But the big ones have to be reviewed. Then, every once in a while, some press agent calls me and says, There's a wonderful new playwright here off off off Broadway. You must review this serious work. But I'm not what Stanley Kauffmann calls a "barricade critic" who is there discovering the avant-garde, the frontline stuff. I see my function as slightly different. I'm there to review the fellow's second play and see to it that his head doesn't get too swelled, and that's a function too. And if his second play is as good as his first, I'll gladly say that as well.
INTERVIEWER
Some say you don't go downtown because you can't appreciate experimental theater.
SIMON
Well, I don't think there is such a thing as experimental theater. I think there is only theater that has something to say. The cheap way out is to say there's good theater and bad theater, but it's not quite that simple. There's theater that has something necessary to say—it may not even be good, but it has an insight it must express—and there's theater which may be very slick and accomplished but has nothing to say. That's the distinction. It is somewhat similar to good versus bad, but it's not synonymous.
So that's what I try to assess. And if it says it in an experimental way, fine. But what is experimental? Is Peter Sellars taking a boring six-hour opera by Olivier Messiaen and putting two hundred television sets on the stage experimental? Maybe it is, but it's still terrible. The Messiaen music has maybe half an hour of good stuff in it, and five and a half hours of boredom, and the television sets have nothing to say, and Peter Sellars has nothing to say. If that's experimental, I don't need it. But if somebody trying to write a new opera or play or movie says something in a different, difficult, subtle, roundabout, never before seen or heard way, fine. I'm all for it and I don't care if it's downtown or uptown or out of town, though my publications have not, on the whole, encouraged out-of-town reviewing.
INTERVIEWER
In a review of Kenneth Tynan's book Curtains, you wrote that the ideal critic is likable and modest. You've also said that a critic must be arrogant. Can you reconcile the two?
SIMON
Did I really say that? Well, there is a way of being arrogant in a charming way, which is more likable than charmless modesty. People who can't see that you have to ignore, charmingly.
INTERVIEWER
Some who read your reviews of gay plays say you're homophobic. What do you think?
SIMON
I don't like uniforms. I don't like people abdicating their identity to become part of some group and then becoming obsessed with this and making capital of it. I mean, somebody like Elie Wiesel, for example, who appropriates the Holocaust and makes a cottage industry out of it. I find that distasteful. I don't care what it is, an Irishman who goes around spouting Yeats and Synge while waving his shillelagh, a professional Frenchman who puts on Gallic smoothness—the c'est magnifique, the bedroom eyes, or whatever. Anything that is a uniform rather than an individuality I find reprehensible. As it happens, the most glaringly evident uniform in our theater at this moment is the homosexual one. I find it preposterous that these people actually think themselves more important than the rest of the world. "My cancer can beat up your cancer anytime." That's absurd.
The only true art is that which speaks to everyone without any parochialism. It can be very minor art. It doesn't have to be a grand topic treated in an epic way. It can be something very intimate, very small-scale, but it has to be ecumenical. It has to be for everybody. Blacks who go around saying, This is black theater and if you're not black you can't judge it, you have no right to criticize it, are talking nonsense. If it's any good, it can be as black as it wants to be and I can feel it and understand it. And if it's lousy, it's lousy no matter what color it is. And, again, some blacks carry on as if they were all geniuses deserving preferential treatment. They want to play parts that they're not suited for and they want privileges that they haven't earned. That's nonsense; but if they're talented and if they can do something, by all means let them. And I'll be the first to applaud them.
INTERVIEWER
You are getting into the issue of nontraditional casting here, and I know you have strong views. What do you say then about Orson Welles playing Othello? Or males playing female parts?
SIMON
I do not want a black to play Romeo if a white is playing Juliet. It upsets the true meaning of the play and sets up wholly alien reverberations. Nontraditional casting can be mere bleeding-heart liberalism, which is the source of political correctness and is one of today's chief horrors. The arrogance of a black actor who says, I'm going to play Henry V and I'll be as black as I am and I'll sound as much like Harlem as I wish and you will love me and write rave reviews, I do not condone. And I'm almost the only critic who dares stand his ground in this matter. Good God, I'm not for keeping anyone deprived or downtrodden. A fine actor can portray a person of any color. But when, say, Olivier played Othello, he very carefully strove to look, sound, and move right, which involved a good deal of study and a couple of hours of making up for each performance. Similarly, a black actor who makes the necessary concessions and effort to play a white part can do excellent work. But it requires accommodation to the play and the role. Nontraditional casting is OK, color-blind casting is often confusing and misleading. In Lear, if the good Edgar is white and the wicked Edmund is black—or vice versa—it's very hard for the audience not to perceive it as a statement on race. But makeup can make the difference. Gender-bending, however, is never advisable; it is pointless and stupid.
I think when someone like August Wilson comes along and writes good plays and gives black actors a chance to show their stuff, it's a wonderful thing. And if a black actor is willing to make up white, which none of them seems to be anymore, by all means let him or her play whatever he or she wants to play. But if an actor is going to come on with his dreadlocks and say, I am the Great Gatsby, and the whole liberal press cheers him on, that still won't make any sense.
INTERVIEWER
Is there a dramatic character with whom you identify?
SIMON
I don't really think so, but if I must dredge one up, I think it is Alceste in The Misanthrope. He is usually thought to be sneered at by Molière, but if you read that play carefully, you can see that Molière is having fun with Alceste for being too much of a purist, too much of a perfectionist, but at the same time it is clear that he prefers him to most of the men and women around him. He pokes fun at Alceste, but he is more for him than for the others. The critic should try to know better than the rest, but he should never forget to laugh at himself when he goes off the deep end. A sense of humor about oneself is one of the three or four best critical tools.
INTERVIEWER
Have you been edited for content?
SIMON
It has happened over the years that I wrote something too controversial—offensive to some group or other. I wrote a review of Stop the World I Want to Get Off with Sammy Davis Jr., a revival, in which I had a funny opening paragraph that was scurrilous about Sammy Davis. If I say so myself, it was rather funny. The editors of New York passed it around to one another and all of them fell over in their chairs laughing, after which they said, We can't print that. When I almost resigned over the fact that they didn't print it, they allowed me, two issues later, to print one sentence that I particularly wanted restored. However, when you print such a sentence two weeks later out of context, it no longer has much impact.
INTERVIEWER
Have you been censored since?
SIMON
In The New Leader I once wrote that Barbra Streisand is the sort of thing that starts pogroms. This was not considered acceptable to the editor and never saw print. A more recent excision has been a reference to Phylicia Rashad in Jelly's Last Jam looking like a bouncer in a lesbian bar. It is characteristic that the censorship always comes when you attack a member of a minority or putative minority. And if the person happens to belong to two minorities simultaneously, the attack is tantamount to the sin against the Holy Ghost. That is what political correctness and cowardice (assuming that they are two separate things) have reduced us to.
INTERVIEWER
Do you work hard on the opening lines of your reviews?
SIMON
No. Opening lines have to pop into your head. Opening lines that you have to sweat and toil over are not going to be worth the sweat. But they do pop. I once went out with a girl many years ago, very sweet, who said, I could write your reviews. The only thing I don't know is how you think of those opening lines. If I could figure that out, I could do it.
INTERVIEWER
Which of your opening quips comes first to mind?
SIMON
I try to forget my bright sayings because they're the surest way to bore people at parties. I wouldn't be happy if a poet at a dinner party started reciting his latest poem even if it was good. Of course, sometimes, you can't forget them.
INTERVIEWER
Which is one you can't forget?
SIMON
An English comedian, Norman Wisdom, came to Broadway in a play and I wrote, "If this be Norman Wisdom, give me Saxon folly." You see, I am as good as my word. You are asking me to remember and I can't.
INTERVIEWER
What do you use to write?
SIMON
I write in longhand. I love pens, particularly fountain pens. I have many of them, and I'm very fond of most of them. I like the way something handwritten looks on the page. There's a sensuous pleasure in writing something with a pen, much less so with a pencil, by the way. I find it very easy to correct something on a page. I'm a two-fingered typist, and as I type, I make changes. Not huge ones. Then, after the piece is typed, I look at it, make a few more small changes, and that's it. I tried to use a computer that we have and it just alienated me immediately—I can't even bring myself to learn how to use it.
INTERVIEWER
How would you describe your state of mind when the curtain is about to go up?
SIMON
One goes hoping that the theater is still alive and that this will be a good show. Nine times out of ten, one goes home with one's tail between one's legs, beaten again, and the only compensation is to sit down and write a vitriolic review. That's the only satisfaction left one.
INTERVIEWER
Purgation?
SIMON
Yes. The pleasure ought to be in seeing a play, not in knocking it down. There are pleasant surprises, however. Otherwise one really would have to quit. But they come few and far between. In all fairness, one must say that even if the play isn't very good, there could be compensations—wonderful performers, beautiful theatrical effects, and one has to learn to make do with that. I suppose there are restaurants to which one goes for the appetizers.
INTERVIEWER
Have you walked out on a play?
SIMON
Yes. Only the daily critics condemned by their editors to sit through a horror are not able to leave, but anyone remotely free should be able to leave after the first act. If a play is perfectly ghastly for one act, it's not going to be wonderful in the second. When I was a Young Turk, I sometimes left after five or ten minutes when something seemed absolutely revolting. There is an incident where I was leaving the theater when a late-coming critic was just arriving and said, You're going in the wrong direction. I replied, No, you are going in the wrong direction.
INTERVIEWER
How does your mind work during the course of a play?
SIMON
This is the crux of the matter. My first reaction is like anyone else's, a jumble of thoughts and feelings, positive or negative, but the precise diagnosis is deferred until the writing of the review. Then I empty out the contents of my mind and heart, and proceed to sort out what in that heap in front of me is most pertinent. As I sift and organize, some new insights crop up and act as cement for the mix, making the final formulation clearer, shapelier, more effective. It is the translation of impressions into expression, the making of what is merely remembered memorable.
INTERVIEWER
Have you ever been a lone voice?
SIMON
Yes, indeed. Often.
INTERVIEWER
That hasn't changed your mind at all?
SIMON
No, not at all.
INTERVIEWER
Confidence is a huge factor.
SIMON
It is. One of the problems with a lot of reviews is a lack of self-confidence on the part of the reviewer. You can read between the lines and see this man or woman didn't really like the work very much and yet it's a favorable review. That can be because the editors or publishers push for that kind of thing but, more often than not, it's because the critic wasn't sure what to think and assumes that liking is safer than disliking. You can be shown up as being just as big an idiot for having liked or disliked something if the verdict of time goes against you. There is no safety in this job. In the end, you will be judged on how this play has lasted for a quarter of a century, a century, and beyond.
INTERVIEWER
What's the most difficult type of theater to judge?
SIMON
If you're a real professional, nothing should be difficult. The only problem can be if a Japanese or a Bulgarian company comes and you're not so sure about what the language of that play is really like. Then, unless you can get hold of the translated text, you have to use your intuition. If I knew better than the playwright, I would be writing plays and he or she would be reviewing them. I am willing to assume with a modicum of modesty that when it comes to playwriting, the playwright knows more than I do and therefore I can state objections and explain them, but cannot rewrite the play. But rules exist essentially to be broken, and whereas journeymen playwrights probably have to play by them, geniuses can and should flout them.
INTERVIEWER
Do you alter your style at all for different magazines?
SIMON
I consider it lucky that I have a certain flexibility. I can go from a piece I will write, say, for The New Criterion or The American Scholar to a piece I will write for New York or some other publication with a large circulation. Some of it is a little more egghead and some of it is a bit more chatty, but it is not a fundamental break. I would compare it to a trained singer who can go from opera to show tunes or a public speaker who can bring his message to different audiences. Whether there are a few more Latin quotations or a few more references to Proust doesn't matter. It all bears the stamp of my individuality; is not less well thought out or less well written; does not pull punches.
INTERVIEWER
There are nasty rumors that you've mellowed. Have you?
SIMON
Honestly, I don't know. When you live with your face and see it every day and you've grown twenty years older, you don't fully notice the change because it's gradual. Someone else who has not seen you for several years can tell the difference. Mellowing is the kind of thing that only other people can judge. I don't think, though, that I've changed in that way.
I think I've changed in other ways. I have learned to say equally devastating things in a more ironic, more controlled, more polished, more understated way, so it doesn't hit the less attentive or less imaginative reader in the face quite so much and that may look like mellowing. But it's only gaining greater control over your craft. But perhaps that is a sort of mellowing.
Actually, a Belgian-American director, André Ernotte, said something about me that my wife particularly cherishes. He said, You know, you always take a shower before you go to the theater. And in a stupid, literal-minded way, I asked myself, What does he mean? Of course I don't try to smell up the theater with my body odor. But then I realized that what he meant is that I'd given him a good review after giving him several bad ones, and that many critics, once they get in the habit of giving somebody bad reviews, automatically pan him. Or, mutatis mutandis, automatically praise. One must never close one's mind one hundred percent and one should always give the next thing the benefit of the doubt, whatever that next thing is, even if its author was lousy ten or twenty times. You never know when lightning will strike.
INTERVIEWER
Does knowing an actor or playwright or composer personally interfere with your ability to write about him as you do about others?
SIMON
There are ways of safeguarding against that. I have never become very friendly with an artist unless I have respect for him or her as such and that means, as far as I am concerned, that the artist is talented. And if the artist is talented, he or she is not going to produce junk. The artists I befriend—and they are not many—may come up with better things and less good ones, but even their bad things will probably not be shameful. Therefore it's safe to be friends with such a person, especially if that person is intelligent and self-assured enough to be able to take criticism.
I've lost some friends—mostly among actors and maybe a director or two—though no writers I can think of. But if you lose them, it can't be helped. It doesn't mean that they're not very talented people and that, even if they hate and attack you, if they next do what you consider good you won't say so. But it does mean they're not strong enough, not solid enough human beings to be able to take criticism. In that case, you may need their works, but you don't need their company, their friendship.
The artists I have befriended have almost all of them been able to take criticism. What I do if I know them is two things: I bend over backward to be tougher on them, because I realize my friendship might color my reviews. But I'm also a little more careful about how I say it. I try to be still amusing, still readable, still gutsy, but I do try not to be too witty at their expense. So that balances out the extra toughness.
There is a famous English actor, Alan Howard. His wife, or companion, is the writer Sally Beauman, who was a good friend of mine. Alan hates critics, but he liked me, partly because Sally liked me and partly because he discovered that I was a human being and cared about theater as much as he did. Then he came to this country in a play called Good, which was anything but that. And to describe what he did in it, I said that at one point he assumed the stance of a man chasing after a runaway goose, which as criticisms or witticisms go is fairly mild. But for Alan Howard, that was the death. Sally called up in a mournful voice and said that we would no longer be able to see each other or communicate. One day, I ran into them on a street corner with their child. I recall exactly where it was and the oblique angle of the sun. It was close to Christmas; he said, Happy Christmas, and those were the last words he ever uttered to me. I'm sorry. I liked him and I was very, very fond of her. I think she had a publisher send me one of her books once. That's all she could do after all those years of friendship.
Or take the case of Maximilian Schell. As an actor, he is almost always good, but as a director he has his ups and downs. When I give him a good review, we are friends; when I give him a bad review, he doesn't know who I am. That comes with the territory.
INTERVIEWER
Do you ever regret writing something extremely nasty?
SIMON
Sure, sometimes. And sometimes I regret reviews that weren't tough enough. It can go either way. Usually, it's not so much that I was too hard on someone, but that I didn't think of the most effective way to say it. I'm writing for everybody who wants it, but I'm writing, first of all, for myself. I have to feel satisfied that I've met the challenge of this piece of work, whatever it is. That means that one is writing for the hardest judge of all. And if you can pass that test, you'll do all right by everyone else. After that, you also write for your readers, for the artists or nonartists or antiartists. You write both for the present and for posterity, if it will have you.
INTERVIEWER
You talked about writing for the future. What will people see in your reviews a hundred years from now, particularly when you're describing an ephemeral art like theater and they can't go back to the work?
SIMON
It depends. A really good critical essay does conjure up an image. In some ways it's less than a photograph, in other ways it's much more. If you read it fifty years later, you will say, Well, I don't know whether I would have seen it that way, but I can see someone seeing it that way and it does conjure up something before my mind's eye. A gutsy, passionate, individualistic, flawed but very human, very from-the-gut review, will always stand up in some way. It will be a truth and a truth is always better than no truth.
INTERVIEWER
How would you assess your role in the drama criticism of the day?
SIMON
I see drama criticism as being either academic, in books and learned journals, which doesn't concern us here, or popular, in newspapers and magazines, which does. Now, popular criticism in this country is written mostly by fans, hacks, or lackeys. The fans love everything they see and are worthless. The hacks have scant education and knowledge, but can turn out fluent journalistic prose—only neither their style nor their opinions command the readers' attention. The lackeys serve the interest of their publishers who want more theatrical advertising, which comes from generally favorable reviews and greater readership, which comes with a sense of well-being in the theater. Or so they think. My function is not to be any of those three things.
INTERVIEWER
How have you managed to sell this position to a popular magazine?
SIMON
What made it possible is, I think, that I amuse some readers and get others worked up. Laughter and indignation seem to be marketable.
INTERVIEWER
How well do you think you have succeeded?
SIMON
That is for others—for time itself—to tell.