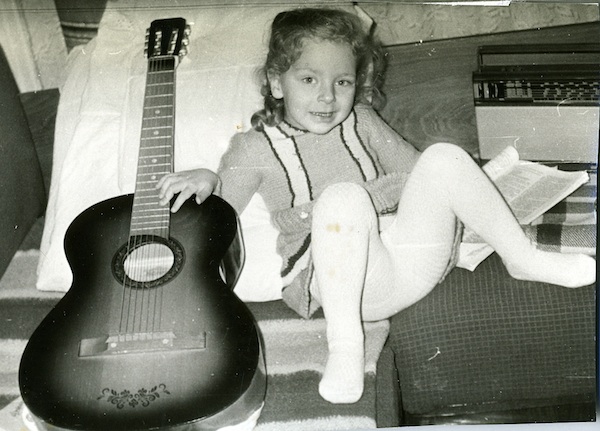 There's a black-and-white photograph of me in my grandparents' old Moscow apartment. I'm wearing a hand-knit wool dress, two white stripes down the front. My hair is a mess of tight curls around my head. A lopsided smile exposes my teeth. With my right hand, I'm petting a guitar that looks like it might be taller than I am. It is polished wood, dark around the edges, growing lighter toward the center, an intricate garland along its bottom edge. It's my grandfather's. It has seven strings.
"A guitar with six strings isn't a guitar," my grandfather tells me. "You can't play on it. You can't sing to it. It's worthless. A guitar must have seven strings to be worth its name." He stops. He closes his eyes. His voice takes on a new tone. "The seven-string guitar, that's the real guitar. Its voice sings. That, that is the Russian guitar." I don't quite understand—to me, a guitar is a guitar—but I know enough to realize that the difference is real to him and that I should abandon my attempts, later, to get him to buy a regular guitar in any old American music shop. As much as he might love me and want to make me happy, he will never play a standard-issue instrument. He will keep searching for his lost seventh string—and if he doesn't find it, I'll never again have a chance to hear him play. The decision is final.
Some say the seven-string guitar, the semistrunka, was born with the Central European gypsies. A child of the lute-shaped torban, carried back by Ukrainian Cossacks from Flanders after their mercenary stint in the Thirty Years' War. The torban, whose familiar bass notes distinguished it from other members of its family. Some say it came from the Turks, during their thirteenth-century migration from Abkhazia to Poltava—a descendant of the kobza, that other lute-like instrument that could have as few as three and as many as eight strings—and might not the number have been seven? Some say it is a child of the Renaissance, the flat-backed cittern—an instrument akin to the mandolin and the English guitar (the latter perhaps its closest relative). With its metallic strings, its popularity in song, and its quick spread over Europe, it seems not altogether unlikely—though the cittern had four strings or six, sometimes five. Not seven. The seven-string guitar has many creation myths. But the most accepted version is that, whatever its origins, it first came of age as a uniquely Russian instrument.