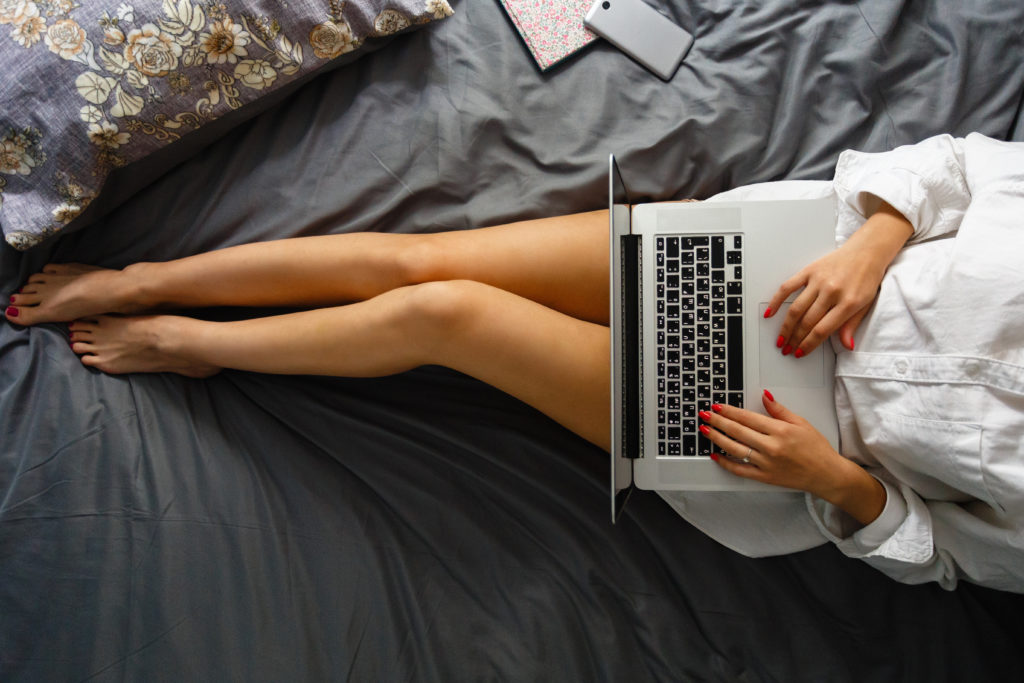 In the early stages of quarantine, a lot of people ordered War and Peace. I hesitated. I am not a doctor, or a delivery person, or a health care worker, I thought. I have no god's-eye view on the real suffering taking place. In the end I reached for Jean Genet's Our Lady of the Flowers, a lurid masturbation epic first drafted in prison on brown paper bags. Because while a lot of us, in these uncertain times, could use some Tolstoyan omniscience, even more of us could use some sex.
Don't be shy, don't be ashamed! Reminder that when Shakespeare was quarantined, he definitely masturbated. As with romance and God, so has mankind been motivated to aesthetic heights by "trafficking in thyself." Settling in to a ten-year sentence, Genet's narrator proclaims, "It was a good thing I raised egoistic masturbation to the dignity of a cult! … Everything within me turns worshiper." There are lots of books about diddling yourself—and I for one have always thought of writing as a way of granting permission. The inexperienced might seek comfort and instruction in Portnoy's Complaint, where Alexander makes love to a stolen apple in the woods ("'Oh shove it in me, Big Boy,' cried the cored apple that I banged silly on that picnic"). In Zora Neale Hurston's Their Eyes Were Watching God, Janie debuts an orgasm under a pear tree in spring: "She saw a dust-bearing bee sink into the sanctum of a bloom; the thousand sister-calyxes arch to meet the love embrace and the ecstatic shiver of the tree from root to tiniest branch creaming in every blossom and frothing with delight." The Nausicaa episode in Joyce's Ulysses is set to the backdrop of festival fireworks and a glimpse of a woman's underthings ("awfully pretty stitchery"), at whose unveiling Bloom, stationed in a church across the way, can hardly believe his luck: "And then a rocket sprang and bang shot blind and O! then the Roman candle burst and it was like a sigh of O! and everyone cried O! O! in raptures." After the climax, the disappointment, the shame: "O Lord, that little limping devil. Begins to feel cold and clammy. Aftereffect not pleasant."
*
Most days, under lockdown, before I sit down to a task I'd rather not, I take half an hour to—you think I'm about to say something else—procrastinate. I scroll through dispatches from anxious people bleating out reports from their private homes: someone has shaved her head; someone has macerated a rare root vegetable into a time-consuming compote. "Got in a lot of good crying today," someone else says, or maybe brags. There's a whole genre of these broad-strokes allusions to the times we're in, i.e., a pandemic, now cresting its second climax. I put on a sweater and meet with a student over Zoom, direct the task light into my face so that my acne will not show. (I learned cinematography; you learned to make sourdough.) Afternoons are given over to further internet pastimes. For example, perusing salacious, Georgian-era pamphlets of puritanical intention (whose executive summary could be: cease and desist from masturbation), which is how I came across this gem: Onania, or, the heinous sin of self-pollution and all its frightful consequences (in both sexes), Considered, with spiritual and physical advice to those who have already injected themselves by the abominable Practice. If only we'd been so severe in phrasing our early warnings about social distancing.
Both social media and masturbation announce themselves as potent distractions. Perhaps it's no surprise, then, that much of our hand-wringing over social media mirrors the Puritans' critiques of self-pollution. That there is something masturbatory about idle online existence is in the language of the trade. Even in the prepandemic age, we trafficked in "food porn" and "book porn" and "film porn" and "apartment porn," photographed our lunches, our brunches, drinks enjoyed in crowded bars. As much as it exists for sharing memories and experiences, Instagram has always moonlighted as a kind of pimp.
Moralists cite unproductiveness, perversion. Masturbation, they say, redirects a fundamentally social impulse toward oneself. In the story of Onan, from the Book of Genesis, and to which Onania pays homage, Onan is slain by God for refusing to impregnate his widowed sister-in-law. The point is that sex is a social obligation, masturbation is a waste (and that if God orders you to fuck your family, you should probably obey). Even Shakespeare, in his Procreation Sonnets, hinted at warnings: "Unthrifty loveliness, why dost thou spend / Upon thyself thy beauty's legacy?" These so-called hazards, namely prodigality, of solo sex would suggest we are creatures of limited secretion, limited lust. Based on anecdotal evidence, I'd say this is a low-risk eventuality.
Those same charges of perverting sociability and impeding productivity are also commonly upheld against the way we communicate online. Even the non-Luddites refer to our internet habits as masturbatory because we suspect they do corrupt a social impulse, that these mediated norms have a sly way of diverting the impulse to engage with others into a focus on oneself. It makes you wonder about the potential risks of transacting, in a moment of crisis, in the currency of private banalities on platforms that, while keeping us informed, also tempt us into exhibitionism. At the same time, it's hard to be alone. Right now, there isn't really any other way to be. We all exist online.
*
Social media and masturbation, whatever else they may be, are basically creative ways of overcoming formal constraints. Masturbation is an expression of desire—either for pleasure or to procreate—convenient to situations where other modes of climax are prohibited (for example, in a pandemic, before your test results come back). Social media, for its part, is the mediated expression of a variety of communicative impulses, among them the desire to be heard by distant strangers. It tends to be populated by a kind of ephemeral speech—the exclamation, the insult, the quip (what is the GIF but a repackaged guffaw?)—made possible by intense proximity; it is the triumph of immediacy over distances and barriers that would otherwise be prohibitive. The difference, of course, between masturbation and social media is that the former (often) has no audience, while the latter has nothing but.
The audience of social media is mercurial, particular. As with most banalities and small talk, any given post isn't guaranteed an audience, let alone a response. In one sense, when you post online, no one's listening at all. As a wise friend said when I raised the idea with him, "Forsooth, you're talking to yourself." But you're talking to yourself in public, the way you might on the street, garnering various levels of attention depending on what you say and how you say it. In fact, the very idea of being "in public" or "on the street," and your subject-position to that environment, influences what you say. The real content of social media is maybe more like soliloquy roulette: the theater is empty, but there's always the chance that someone might drop by. And it's this potential for an audience—the implied level of performance—that changes both the speech and our perception of it. Take, for example, the aforementioned hypothetical: "Got in a lot of good crying today."
It can be critically important to share private moments in a crisis, and to consume them, too (I do). For comfort, for company, for bearing witness. It keeps us in touch, keeps information flowing, provides a forum, cultivates a sense of company; when people share anxieties and fears and stories, others are granted permission to feel or do the same. There are COVID-19 patients, extremely ill and distressed, who have no other form of communication with their loved ones other than through a screen. There are quarantined millions whose social lives are limited to the same. The only way to have sex with someone new right now is to swipe right on Bumble or Tinder. There have been campaigns to bail out prisoners, restaurant workers, cinema workers, domestic workers, to provide depleted hospitals with PPE, all conducted online. Weddings take place in the city hall of Zoom, or at least that's how mine was held. These platforms are the life support hooked up to real life, and yet, alas, they are no substitution, inferior to the real thing. The true tragedy of COVID-19 is not only that so many are dead, but that so many are dying in isolation, without the physical presence of someone else—of touch—to comfort them.
It is also nice, however, if you are healthy, if you are waiting, to remember how to be alone. To be a body trapped inside. To recall that keeping yourself to yourself can actually protect someone else. And that there are some experiences you might hesitate to share online, even as it becomes more and more synonymous with IRL. Not because the anecdotes themselves ("I masturbated"; "I ate canned soup"; "I shucked some corn") are untoward, but because one can sense that the medium changes them somehow, in ways beyond our control. This brings us, unhappily, to Marshall McLuhan's doorstep: "The medium is the message."
There is a reason so much of social media content is consumed aspirationally, as "porn." But the difference between actual porn and "porn" is that the kind you masturbate to is exciting precisely because it's illicit, while social media porn—real life, fully waxed—is perfectly appropriate to consume and produce in public. This libertinism certainly seems something like progress, if only because the authors of Onania wouldn't like it; as a general rule of thumb, one is inclined to support those things white males of Georgian-era Britain wouldn't. Masturbation is a public health boon in the middle of a pandemic. But what, if any, are the risks of exhibitionism?
By way of analogy, McLuhan suggested that in representing every perspective simultaneously, Cubism nullifies both the content and the idea of perspective; the most lasting impression of the Cubist painting is Cubism itself, not, as the title would suggest, "Fruit Dish" or "Girl with a Mandolin." The most lasting effect of social media, in a similar sense, may be a configured confessionalism. The bigger the crowd, the more perspectives represented simultaneously, the more defined the experience is by the panorama of the aggregate; the more likely the form is to overwhelm the content. We're no longer seeing the fruit bouquet, Prime-delivered for Valentine's Day, that someone lovingly arranged and posted. We're seeing the mosaic of Instagram itself.
All this speed, all this simultaneity, invites a kind of redundancy and self-referentiality. Though a post may originate with a desire to say something about the world, it just as often winds up referencing the metahumor and metasuffering of the platform itself. The impulse to react to the real world is therefore rerouted back onto the virtual. The shimmer this creates is an alloy of both solipsism and solidarity, the fusion of the first person and the omniscient; a novel written by Genet and Tolstoy at once (yikes). Aftereffects potentially not pleasant. Because out there nurses are hooking suffocating people up to ventilators, and you're just at home, you know…
Why not?! The state of the world has always been incompatible with private joy: reading novels, masturbating, eating fruit compote. "Integrity is the orgasm," Doris Lessing writes in The Golden Notebook. Although it's true, it's invoked in a melancholic scene, one in which a woman is wondering if she can ever achieve a vaginal O with someone she doesn't love, and who is not herself. Take English, August instead, the great Indian, post-Independence, civil service, quasi-Shakespearean, masturbation picaresque. Agastya, an elite Kolkata native, passes long hours beneath his malfunctioning ceiling fan in a rural village's stifling heat, watching the lizards scurry up the wall while he exalts in himself. True, afterward, he's quite depressed. Come to think of it, it's really a book of boredom and existential ennui and placelessness. Our Lady of the Flowers, I'm reminded, charges forward toward a death sentence. It should be safe to retreat to the seventies best seller The Joy of Sex: A Gourmet Guide to Lovemaking. Joy is right there in the title! Though I see here the authors have euphemized a hand job, unappealingly, as a "corpse-reviver." Limping little devils. Petit malle, say the French. Not integrity, but little death. A fleeting escape from processing, emotionally or intellectually, the world in which you're trapped.
*
Coronavirus is the most significant disruption to American life since 9/11, yadda yadda, we know, but it's also the first, unelected national disaster that Americans have responded to and processed primarily online, and in particular on social media, as opposed to in print or on TV. That is to say, through a medium where genres of content—the kitchen, the brunch, the pandemic—are each awarded their own niche "porn." And if porn hinges on a kind of fantasy, consumed aspirationally, then is it possible to make a pornographic production of a disease-free world? Social media's newest genre of idle excitement may be "corona porn."
Good porn realizes fantasy while eliding its consequences. Anne Boyer, in her unsentimental memoir, The Undying, about surviving stage-three breast cancer, writes of the "patho-pornography" of breast cancer awareness campaigns and their unintentional harm. The nation's pink-ribbon porn, she argues, supports the myth that breast cancer is curable, as well as the neoliberal idea that survival hinges on an individual patient's attitude. Every October, the world becomes "blood pink with respectability politics," and in all the hopeful messaging it is "as if anyone who dies from breast cancer has died of a bad attitude or eating a sausage or not trusting the word of a junior oncologist." The suggestion is that the symbols of performative solidarity—derived from an outpouring of emotions by the healthy on behalf of the sick—can have an uncomfortable way of imposing fantasy and false hope on ugliness. Not to mention, Boyer points out, glossing the class and racial politics that fracture diagnoses, outcomes, and treatments. In the book, she recalls expressing these frustrations and fears with other women and survivors through support groups on Facebook and like outlets, online communities that in many ways became a crucial link to sanity. Those digital survivor networks are thanked in the acknowledgments.
The state of affairs, in the aggregate, is that everyone has been sick, or else knows someone who has; that everyone has a lost a job, or else knows someone who has been laid off; that too many have lost or nearly lost a loved one to COVID-19; that the brunt of physical and economic morbidity has fallen along expected racial lines; that inequality has been further exacerbated, and violent hate crimes are on the rise. I can glean all of this from newspapers just as well as from my feeds. But filtering the pandemic through a medium that tends to emphasize the primacy of personal experience risks, on the level of the whole mosaic, mapping onto a political stance that does the same: what is owed to me, versus what is owed to us. Last April, a friend of mine, a doctor who faced some of the highest rates of COVID-19 exposure in the nation, took to miming jacking off every time the hospital congratulated his team or provided them with gratis cupcakes. I think what he meant, in part, and in his frustration, is that no matter how much we praise or honor those at the center of the pandemic, the fact remains: something is unfolding that is profoundly, deeply unfair.
We don't cheer for essential workers in the evenings anymore, bang pots and pans at 7 P.M. (though there was that brief revival for a lackluster Biden win). What tepid winds of change 2021 promises! I liked leaning out my windows and into my street, in April, to clap along with neighbors, each of us peering from our little portals onto a shut-down world. It made me feel something. It made it seem like something, someday, had to give. It was necessary and important. We could not have skipped it. All the same, I wouldn't totally disagree with my overworked friend's medical opinion that we on the sidelines might as well be masturbating. Afterward, clammy, you'll likely feel worse. But you may forget, briefly, in that "little death," about our collapsing world, and the best part is, no one has to know. You can keep it all, the pleasure and the forgetting and the shame, to yourself.
Jessi Jezewska Stevens is the author of The Exhibition of Persephone Q. Her next novel, The Visitors, is forthcoming from And Other Stories in 2022.