Our contributors, from across our quarterly print issues and our website, read as widely and wildly as they write. Here, they tell us about the books that moved them most in this strange year.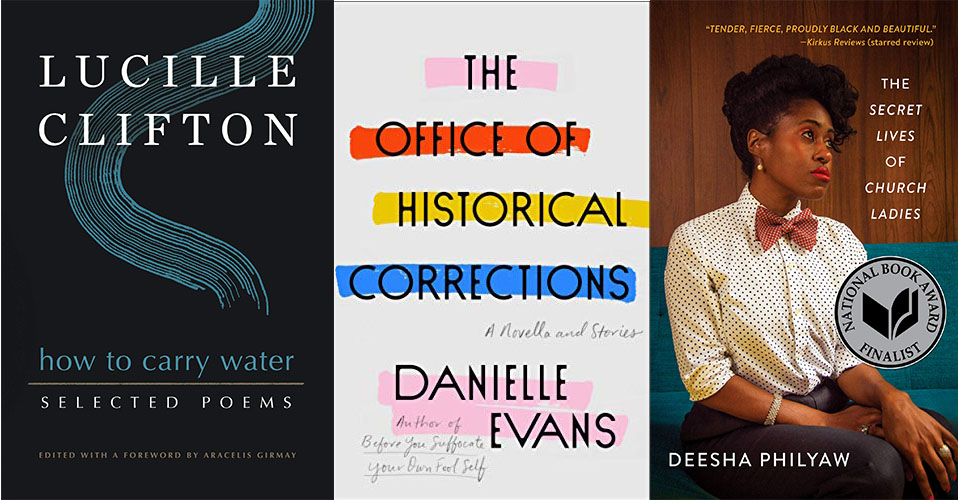 It's a privilege, of course, to spend time thinking and writing about some of my favorite books that were published during this most absurd and solitary—most mendacious, violent, American—of years, but I'm grateful to the following artists, among others, for sustaining my spirit. I've come to realize how important, even more crucial than usual, short forms have been for me in a time defined by so much precarity. The idea of reading a story or a poem, simply that, has felt attainable, and the act has reliably provided me with nourishment. Danielle Evans's second book of stories, The Office of Historical Corrections, was incredibly welcome company when I encountered it this summer. The energy, humor, and intelligence, the careful examination of history and of her characters' internal and external states, gave me the feeling of being present at a gathering of fascinating strangers and friends, and I was saddened when the party was done. I've also enjoyed spending time with Deesha Philyaw's characters, the women and girls of The Secret Lives of Church Ladies, whose complicated desires and transgressions are so skillfully laid bare. Another highlight has been How to Carry Water, edited by Aracelis Girmay, the new selection of poetry by the always inviting, destabilizing, and ultimately astonishing Lucille Clifton. Other books of "shorties" I'll mention include If I Had Two Wings by Randall Kenan, who passed in August, Wicked Enchantment by Wanda Coleman (edited by Terrance Hayes), as well as Shirley Hazzard's Collected Stories (edited by Brigitta Olubas) and Brian Dillon's Suppose a Sentence. —Jamel Brinkley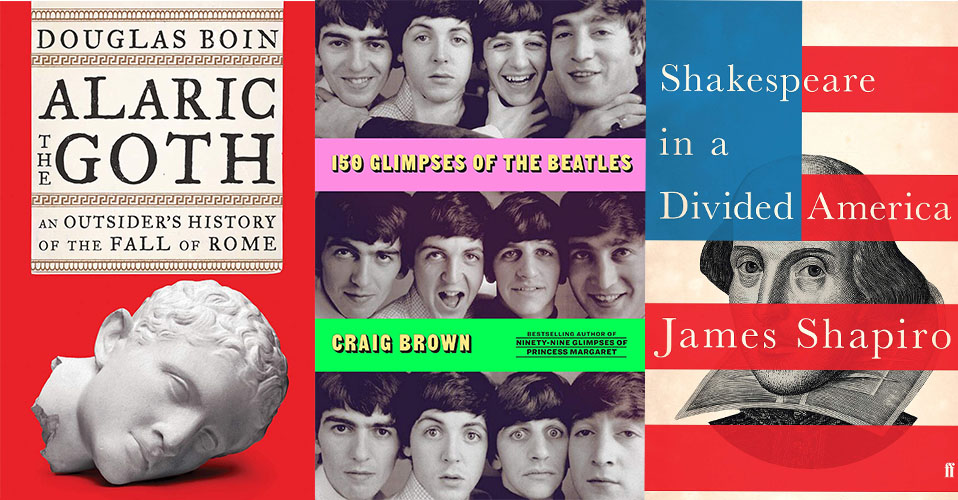 In what often felt like a year of nonliving, it was an even greater pleasure than usual to read about lives led by others. I started the year by rereading I, Partridge: We Need to Talk About Alan, a spoof autobiography that is exceptionally funny, and very acute in its satire of celebrity memoirs. Jasper Rees's authorized biography of the comedian Victoria Wood (Let's Do It: The Authorised Biography of Victoria Wood), who died in 2016, was affectionate but honest, and gave me a deeper appreciation of the sadness and loneliness that permeates Wood's funniest work, as well as the steeliness that allowed her not to be pushed from her chosen course in life. Rees's book is thick with detail; as the author of the first biography of Wood, he seems to have felt an obligation to be as comprehensive as possible, filling in tiny gaps wherever they appear for the sake of the historical record. Craig Brown had the opposite issue when he wrote about the Beatles in One Two Three Four: The Beatles in Time (150 Glimpses of the Beatles in the U.S.), on whom an intimidating amount has already been published. But his idiosyncratic and imaginative synthesis of sixty years of Fab Fourology—in what he terms "an exploded biography," the unconventional form he also deployed in his previous book about Princess Margaret—is a meandering, multilayered joy. I found it to be the perfect accompaniment for the fugue state that descended during those long summer days, indoors and alone while the sun beat down outside. Equally ambitious and engaging was Douglas Boin's book about Alaric the Goth, the man who led the sacking of Rome in 410, and about whom so little is known that nobody before Boin has ever published a biography of him in the sixteen hundred years since his death. I love James Shapiro's writing on Shakespeare, and his most recent volume, Shakespeare in a Divided America, proved as timely as it is erudite. In particular, the chapters that detailed John Quincy Adams's peculiar relationship with Othello, and nineteenth-century New York's tug-of-war over Macbeth were riveting, and provided me—an Englishman in England—with some intriguing insights into events in America this fall. —Edward White
Four years ago, when my friend Josh Kotin and I interviewed Jeremy Prynne for The Paris Review, he told us that he was quite possibly finished with writing poetry. And fair enough, at eighty, and with a slowly built collected Poems of almost seven hundred pages to his credit. The last four years, however, have mocked our credulity. There have been a dozen books over that span, published, like all his work, with devoted small presses, and word has it that his quarantine has been busy. From this ongoing late harvest it is the book-length, mostly prose poem Parkland that has moved me most. What is it about? You could say, the Biblical Queen of Sheba, who visits King Solomon in I Kings 10; or, the learning curve of a nest of birds, a hoopoe and two chicks named Tom and Peter; or, the bitter, present-day civil war in Yemen (in which territory scholars now place the queen), and what it would be like to grow up there, whether you are a child of privilege discovering your complicity or a refugee first feeling your loss; and, in any case, about learning to sing. What is it like? Two samples:
Now day-level returns into the sky trails, they show gleams diffused along the ridge, furthermost song to set out and learn, oh fully so.

Now she will speak her mind for them utterly, old grief underlain for her absent kingdom crushed, starch grain sand dune part arid put into bedrock assuage in mask to face and shed.
The first is a lyrical account of fighter-bomber contrails along the ridge line, a song the young birds want in their innocence to imitate. The second is the queen, preparing to tell her children their history, the language disintegrating into an asyntactic desert as she tries to harden herself against tears. Or something like that. Prynne is a poet of words, and his poetry is at its most intense when sentence forms fall away, and other relations come forward. That makes it famously difficult to read. All our ideologies are made of sentences, he knows, and more than that, all our sentences are ideological, and so he forces us toward new ways of putting words together. I recommend the book for that challenge, and for the syntax lost along the way. Also for its reach into the past: it is like reading Milton, if Milton were your mother, trying to spare you the Fall even as she broke the news; it is like Philip Sidney (his great Arcadia!), if poets were fated never to compete. Finally, I recommend it just because I have been reading it slowly, an hour a week, with Josh, over Zoom, and it gives me a chance to recommend that practice, which has been a help through these latter months of 2020. —Jeff Dolven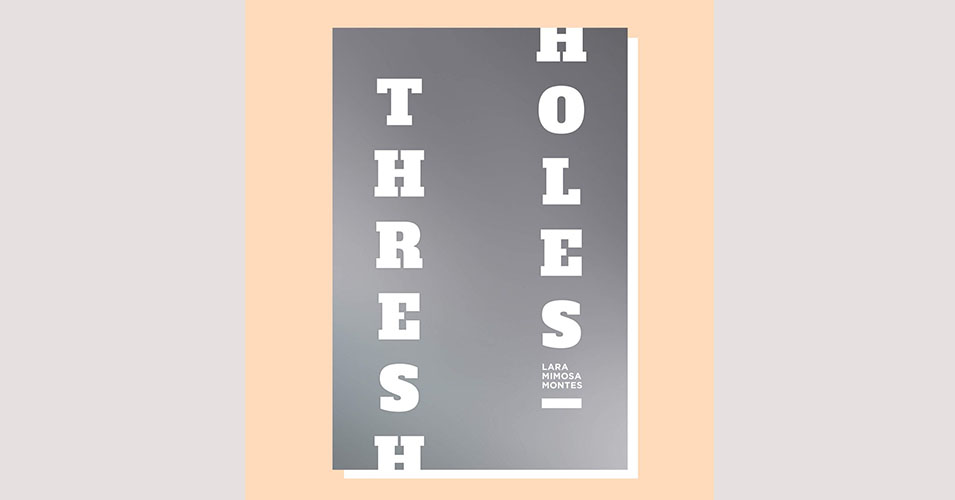 Thresholes by Lara Mimosa Montes caught my attention immediately. Montes describes, early on, a scene in the novel Mary Ann by Alex Karmel, wherein a subway stop in the Bronx plays a pivotal role. A few months before I encountered Thresholes, I met Karmel's widow, randomly, in the street. She said that she's always found it kismet that she shared a name with her husband's first novel. This may seem odd to mention by way of celebrating Montes's book, except that the Bronx acts, in this novel, as container of coincidence in the most literal sense of the word—incidents that coincide, resonating off of one another with an almost melodic intensity. In this way, I felt as though I was being beckoned into the book's orbit. Thresholes gets its name from a diptych by the artist Gordon Matta-Clark, who aims "to transform a place into a state of mind by opening walls where doors never were." Montes gives a concrete, civic rendering of the Bronx, cataloging a history of arson and neglect, while also contemplating the place it holds, or fails to hold, in the imagination. She describes Bronx-related art exhibits by artists like Sophie Calle, Darrel Ellis, and Felix Gonzalez-Torres, and Bronx-related movie scenes, as well as a smattering of Bronx-related happenstance from the archives, all the while reckoning with the loss of a close friend. The book, which is classified as poetry, parses grief through the language of holes—"a not knowing," "a surge in reverse," "the white noise of the shore," "somebody (an abstraction) sitting next to your ghost." I can't wait to read it again. —Aisha Sabatini Sloan
I can't tell you about the worst parts of my 2020, or the best parts, so instead I'll tell you about the books. I've grown fond of those sinister time-lapse videos of houseplants, how they skulk toward the last of waning sunlight, how they unfurl hungrily in water. The books I loved most in 2020 made me feel like one of these marvelous plant-monsters, dining on sunlight.
Susanna Clarke's Piranesi was a highlight of my year, a beguiling riddle with the allegorical qualities of Milton. The titular character, alone in the world except for one Other, is deliciously precise in cataloguing what he knows (good news, he knows everything): "Since the World began it is certain that there have existed fifteen people. Possibly there have been more; but I am a scientist and must proceed according to the evidence." To describe the plot any further is to tarnish one of the chief pleasures of unraveling this book.
I inhaled The Office of Historical Corrections, by Danielle Evans, in one sitting, a short story collection with such tenderness for the complicated ways people fail each other. These stories feel like dispatches from women lost at sea, women whose serrated edges catch against each other, whose world-weariness is tempered by their search for solid ground. Evans writes beautifully about grief and especially the ignobility of grief: how petty, how petulant, how very shabby it can be.
I read Brandon Taylor's Real Life in the Before Times, shortly after blazing through Sally Rooney's novels, so it's hard not to see surface similarities—the campus settings, characters most comfortable in the claustrophobia of their own heads. But the sensory moments of stillness in this book are their own thing, and the choreography of group dinners and communal brunches is just dazzling. It's smart and immersive and extravagant in the most satisfying ways.
Finally, The Women in Black is a 2020 book with an asterisk: a recent reprint of Madeleine St. John. But what a delightful confection of a novel, an almost bucolic comedy of manners staged in the throes of Christmas season, where four women toil in a department store. Like the protagonists of a Barbara Pym novel, these women are unsteadily bulwarked by their own pragmatism, so that their aspirations seem to catch them by surprise. It's a book with wry affection for its stumblebums and schmucks, warm and very charming. —Senaa Ahmad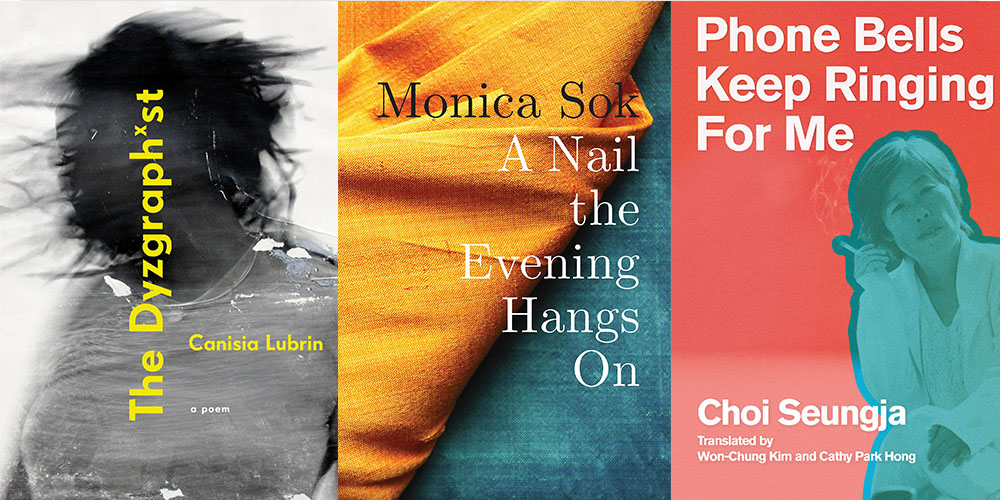 An essential debut this year was A Nail the Evening Hangs On, Monica Sok's prismatic portrait of the Cambodian diaspora after the United Stated–backed genocide under the Khmer Rouge. The collection moves with tender conviction. "The water in my heart was falling," begins one poem. Another ends: "This real life is a story! / Life! Life! We sleep / in bed at night / but do not story a story because life!" Sok's details retain the integrity of the specific, a sensuous vitality lethal to the flattening aims of empire. As one poem warns Henry Kissinger: "in Takeo, at the edge of the forest, / if a spot-billed duck were to lay an egg. / Well. It would be bad for you."
I keep returning to Canisia Lubrin's The Dyzgraphxst. Among the questions it poses is how the lyrical I affirms the first person of neoliberal individualism, "the fantasy of the discontinuous." Lubrin's visionary syntax locates hierarchical violence where it roots in the language itself. She thinks as intricately at the level of the syllable ("where I walks the split-tongued edge begging for nil") as she does across larger formal architectures. Speakers of the poem, which Lubrin terms "an ocean drama," include "i: First person singular. I: Second person singular. I: Third person plural," and Jejune: "the chorus, the you, the we/unnavigable self." Together they enact an infinite capaciousness, "this thing big enough for laughter, an exhumed patois."
Won-Chung Kim and Cathy Park Hong's magnificent new translation of Choi Seungja—Phone Bells Keep Ringing for Me—contains many of the most judicious lines I read this year. "Nobody will tell you / the inside facts of those times," Choi writes, "The years threw heaps of shit at me, / lump after lump, / asking me to live / on shit."
I just finished Sometimes I Never Suffered, the final volume of Shane McCrae's cosmic epic, A Fire in Every World. The book is spoken by a designated observer of human behavior known as "the hastily assembled angel" and by Jim Limber, the Black child kidnapped by the wife of Jefferson Davis and made to live in the Davis household, wearing the clothes of their deceased son. In the gorgeous wobble of McCrae's prosody, you can hear not only the music of a living voice, but the flickering possibilities of the multiverse that structures the book, persistent reminders that things could have been, could be, and are otherwise. —Margaret Ross