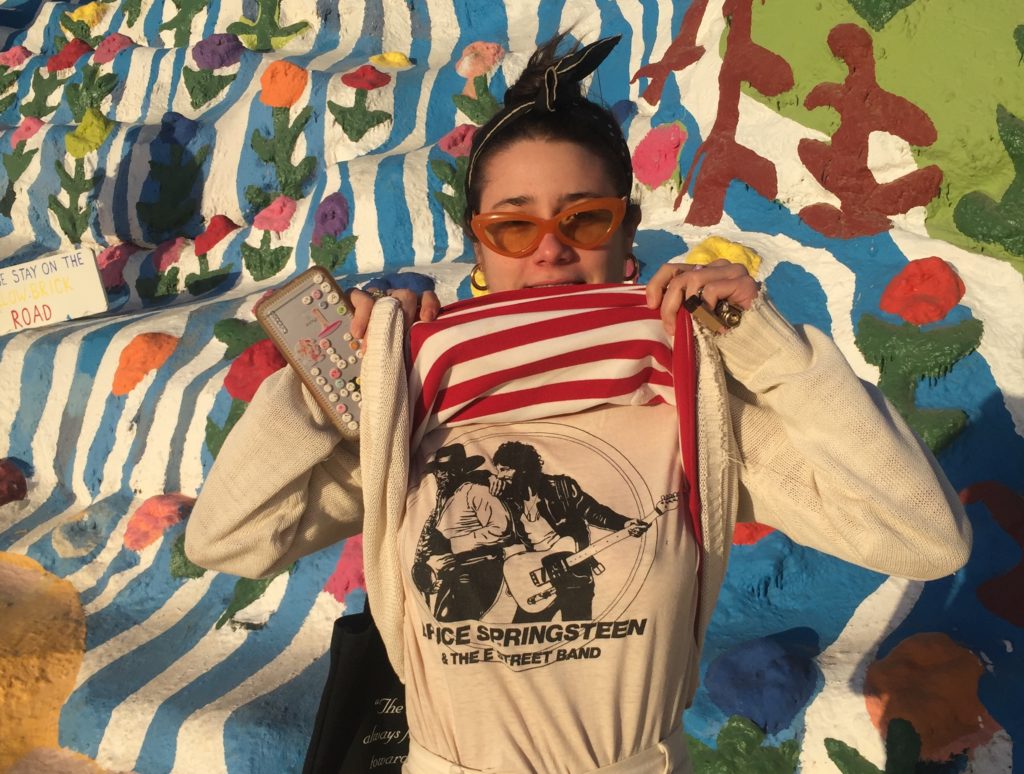 This is a story about getting in the getaway car, driving fast toward your dreams, and then turning the car around. In this case, the getaway car was New Jersey Transit. One day, I was eating a can of chickpeas and drinking Aperol in my living room, and the next, I was on a train from Penn Station to Asbury Park, New Jersey. It was January, and we were in the midst of the bomb cyclone. I had received a hot tip from a loyal informant in the form of a text message: "This is tomorrow at The Stone Pony," she said. Attached was a flyer for the Big Man's Bash, a concert in honor of the life and work of "Big Man" Clarence Clemons, the musician and former saxophone player in the E Street Band. She went on, "A friend of mine (and more importantly, a friend of the Boss) says she would bet $$ that Bruce Springsteen will be there if he is in New Jersey." I wondered how much money this friend was willing to bet and decided I would wager the seventeen-dollar train ticket.
The NJ Transit North Jersey Coast Line train is one I have taken many times. I grew up in Manasquan, New Jersey, a beach town, alternately known as "Bruce nation." Asbury Park, of Springsteen's famed Greetings from Asbury Park, N.J., is just a short bike ride down the boardwalk, and during the summer months, virtually every bar hosts a Bruce Springsteen cover band performance every night. This sojourn, however, was the first NJ Transit ride I took in search of the Boss. My fandom was recent. The sound of "Born in the U.S.A." used to conjure images of the muscular white boys of my high school years, drunk with testosterone and Natural Ice, clad in denim and American flags. They screamed along with E Street imitators in bars we were all too young to patronize. I had always found the Springsteen omnipresence in coastal New Jersey offensive. 
On the train, I took a seat toward the back of the car. I sat against the wall and moved sideways with the train, shoulder toward my destination, and contemplated my transformation into a Springsteen fanatic. Back in August, I had embarked on a road trip from New York to Charleston, South Carolina, for the 2017 solar eclipse. My partner and I listened to The Argonauts on tape on our last long haul, a sheer delight, and so decided to stop at a Barnes and Noble to pick up another book on tape for the ride. I was leafing through the discs when a box three times as thick as the others caught my eye: Born to Run, the autobiography of Bruce Springsteen. The boy on the cover was wearing plaid, his mouth agape, and he was balanced on the hood of some old-time vehicle, mesmerizing. How many times had I seen this face before? I felt like I could reasonably have taken this photo myself, from the familiarity. When I saw that the text was read by the Boss himself, I brought the discs to the counter. It was not a natural progression from Maggie Nelson.
We popped in the first of sixteen discs, and I couldn't stand it. Springsteen's long sentences about crashing on beaches and couches when he was seventeen, his anecdotes about being cheeky and irresponsible with women seemed meant to inspire, to charm. But for me, they only brought back memories of tanned Jersey beach boys, the ones of my teens, the ones who were too old for me, who professed their undying love in June and disappeared by August. They all work on fishing boats now, I thought, wondering whether they were still beautiful. We arrived in Charleston, the moon eclipsed the sun, and on the ride home, we listened to fifteen hours of Bruce Springsteen reading Bruce Springsteen. I relished the masochistic pleasure of hating the Boss. I concealed the small flutter in my chest whenever he said "Manasquan."
Back in New York, I had that feeling you get when everyone thinks one thing and you think another thing. Before I committed myself to being opposed to Bruce Springsteen, I had to give him a fair shot. Sure, I had listened to his autobiography and decided it was dreadful, but the Boss isn't a famous memoirist; the Boss is a rock star. I scrolled through the albums available for streaming on my phone and chose Darkness on the Edge of Town.
The switch flipped; I was a woman converted. In the ensuing weeks, I could be found belting it out to the Boss. I did this at all hours. (I was unemployed.) I had seen the light, and I had been blinded by it. Bruce Springsteen was the Boss, a god among men, an inspiration for all small-town folks that can't start a fire, are worrying about their little worlds falling apart. I devoured Darkness on the Edge of Town and Greetings from Asbury Park, N.J. and slipped coolly into Nebraska and The River. I started to hear "Born in the U.S.A" as an entirely different song, a "fuck you!" to everything I wanted to "fuck you!" "Born to Run" made me feel like my hometown, a short train ride away, was some deadbeat planet I had only narrowly escaped, and Tunnel of Love brought me my anthem: "Brilliant Disguise."
I googled "Bruce Springsteen tour dates" and discovered the historic sold-out show Springsteen on Broadway. I signed up for the ticket lottery and waited, certain that I would get my chance to see the Boss. On August 30, I received an email that I was on the standby list: no tickets for you. There were tickets to be purchased on the secondary market for a cool twelve hundred dollars or so. As I mentioned, I was and am unemployed, and the day rate for shower singers isn't great. A few days after the Broadway show opened, having pored over the show's reviews, feeling left out to the point of heartbreak, I tried the press-pass route and was quickly denied. I was going to have to scheme to get into this show, and I was going to have to scheme hard: I was going to have to scheme on the Internet. I changed my Instagram handle to @SpringBrucesteen and began posting daily videos of myself singing along with the Boss in the shower, on the subway. Everywhere I went, the Boss went too. After weeks of Springsteen content and Instagram followers lost, New York magazine picked up a video of a slightly intoxicated me finding their new issue in my mailbox. Bruce and Queen Springsteen, the rock star Patti Scialfa, were on the cover. When New York magazine reposted my video, I thought, This is it. I had visions of Bruce and me together on Ellen, a sugarplum hallucination of backstage passes and flashing lights; the Boss and me on the red carpet; the Boss and me singing a duet. Time passed, more than thirty thousand people saw the video, and not one of my mirages came to be.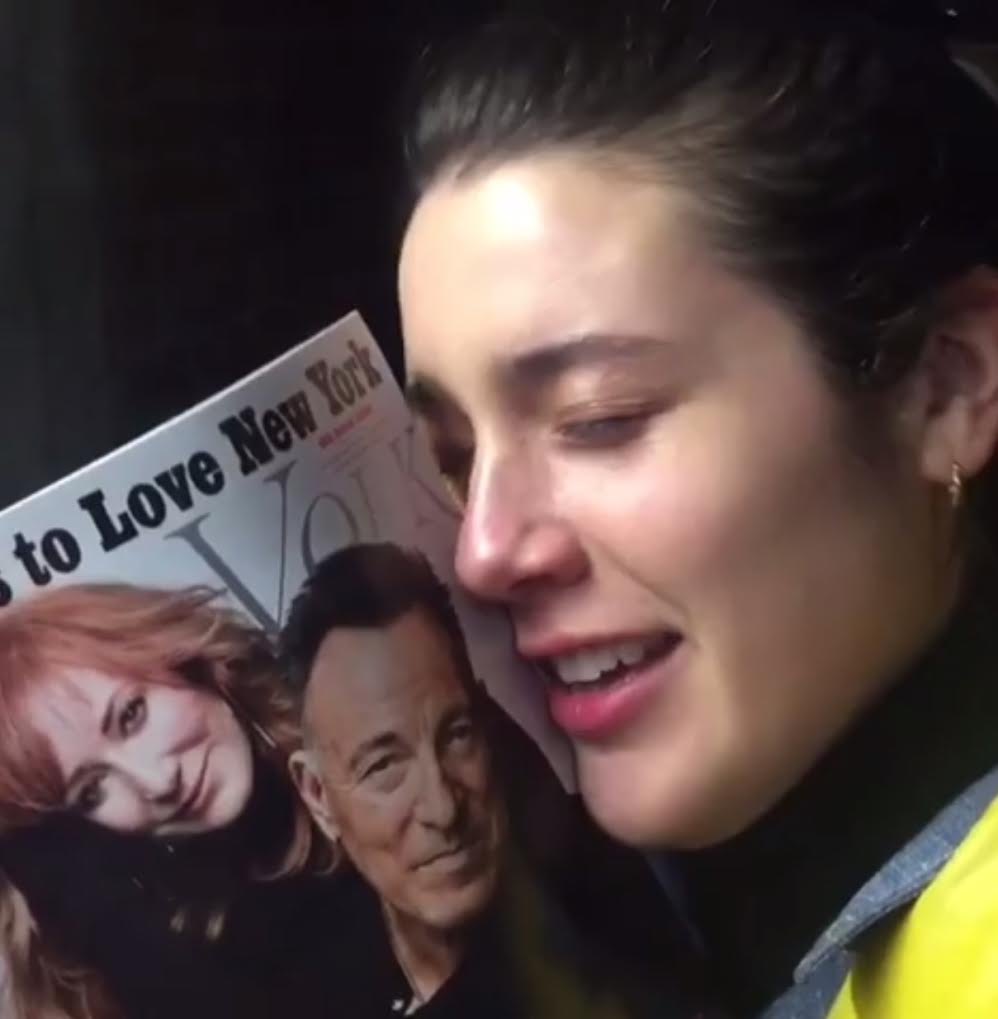 It became apparent that I was going to have to scheme harder if I was going to get to the Boss himself. He was all I talked about, all I posted about because the more people knew I was on a mission to find him, the closer I believed I would come. I received all sorts of tips: Page Six articles about where the Boss ate lunch every day, introductions to friends of friends of former neighbors, recommendations to join a Work Out World in Tinton Falls, New Jersey, where Bruce was rumored to be a member. Everyone had a tip, and everyone had a story. Even I had a story. When I was ten years old or so, I was at the beach in Manasquan, and so was Bruce Springsteen. He was with his kids. A particularly obnoxious young girl from town stood up on a lifeguard stand and yelled, "Bruce Springsteen is here!" And legend has it, he has never been back to that beach. My father also says we were in line behind him at a movie theater once. I think, as a ten-year-old, I would have made a good impression on him, but somehow I was glad my moment to meet the Boss lay ahead.
Which brings us to this: the train to the Big Man's Bash. Of the many tips, this was the one I considered worth following. There was something poetic about making the journey home to find the artist I loved for his songs about fleeing this exact place. I arrived in Asbury Park in a poor choice of footwear and trudged in the snow toward the Stone Pony. On the way, I stopped into a small vintage store, Sweet Joey's, on the town's main street. After a little small talk with the man at the counter, we came to realize my father had been his insurance agent for years. "What brings you to town then? Visiting your parents?" Joey asked. I had been feeling cool—I was wearing a vintage two-piece suit—but as I said, "Well … I'm looking for Bruce Springsteen," I felt myself blush. Joey laughed and told a few stories about times he had encountered the Boss in town. I suddenly realized there were several Bruce Springsteen posters on the wall. "You know, Bruce's photographer's studio is just down the way," he told me, and handed me a business card for "Danny Clinch Studio at the Transparent Gallery." I thanked him, bought the greatest pair of Levi's I'll probably ever own, and walked out with a new destination: the Transparent Gallery.
It was easy to know when I had found the right place. Upon entering the gallery, I was greeted by a massive black-and-white photograph of Bruce Springsteen wearing a peacoat, collar upturned, posing in front of what I assumed to be the Asbury coastline across the road. He was looking away as if to ignore me. Some nice-looking mid-century furniture was scattered about, my favorite of which was an Italian lamp with a tag that read, ITALIAN LAMP. I sorted out that the too-cool woman with a radically styled boy cut must be in charge. She said hello before I could figure out how to approach her. She introduced herself as Tina. I liked her immediately and resented that I would soon have to ask her about Bruce Springsteen. I told her I was a writer visiting from New York but that I had grown up in town, and, with some hesitation, confessed my mission. I quickly qualified that I didn't need to meet Bruce per se; I just needed to meet someone that could help me get into the Broadway show. I added that I had been sent by Sweet Joey. She laughed and, with more patience than I could have mustered, told me how often people came in looking for Bruce. I wasn't even the first one that day. We chatted for a while, and I noticed the New York magazine with Bruce on the cover on a nearby desk.
"New York magazine posted a video of me singing to this issue," I told Tina.
"Danny shot the cover," she said. I wrote down my name and email, and she said she would pass my note along to Danny. I told her I was going to the Stone Pony for the Big Man's Bash, and she advised that I "look out for a man in a fabulous jacket. His name is Adam; he'll be able to help you." She mentioned that Danny would be opening a show of new photographs in New York the following week. I took her number and noted the date.
A few hours later, I was at the Stone Pony, in a VIP section that I didn't belong in, talking to a saxophone player named Paul and a man introduced to me as a "lawyer to the stars." I had seen no one in a fabulous jacket, but I had seen some fabulous handlebar mustaches on men with bangs. I sent Tina a note that if this Adam would be coming, I'd be sitting in said VIP section. I tried to be charming, which seemed to work because when he did eventually show up, he said that Tina had forwarded him the note and that it had been charming enough to get him out of the house on this evening of the winter's worst. He was wearing a leather jacket that, while fabulous, was far more credible than the other sequined, fringed, and studded jackets in the room.
Adam introduced me to the men who would be performing that evening: Nick and Jarod, sons of the late Clarence Clemons. Nick poured me a glass of Big Man's Brew, a beer brewed in honor of Clarence, and the night wore on. Nick and his band closed the show with "Born to Run," teasing those in the crowd that had been lured by the possibility of the fabled Bruce cameo that his "special friend" would not be found at the Stone Pony that night.
A week later, back in New York, I went to Danny Clinch's opening at The Yard. He was showing photographs he had taken in Cuba, and so in a gambit to win his favor, I brought along a back issue of The Paris Review from 1995 that included a poem by William Olsen that mentioned Cuba. Tina showed up in a fabulous copper suit and introduced me to Mr. Clinch. I thought he might not be thrilled to learn that I was looking for Bruce Springsteen at his exhibition opening. When I broached the topic of the Broadway show, which I had heard he'd seen eight times, he replied, "You don't want to go with me. I just hang out with Bruce backstage the whole time." I wondered who was onstage during the show if Bruce was backstage with Danny the whole time but didn't say that out loud. Then I was introduced to a few more men who had access to the Boss and seemed like they could help me but wouldn't. I took down the emails of some women who said they would help me, then didn't.
I felt like I had come close, yet I was no closer. So I did what anyone in my position would have done: I ordered an emotional-support-animal vest and a leash. I packed them into my backpack and headed for the Walter Kerr Theatre. When I arrived early, at five P.M., a crowd was already dispersing. I asked the man guarding the backstage entrance what was going on.
"Bruce just went in," he said. I sighed and lingered as groups of tourists took photos with the flashing Springsteen on Broadway sign.
"I've seen Bruce sixty times," a young Irish man told me. "I just saw him go inside a moment ago." I didn't know if he meant sixty times in concert or sixty times by chance.
"How long did you wait here to see him?" an Italian man asked.
"Four hours," the Irish man replied.
I approached the man at the door again and told him my plan. I would wear my vest and leash and offer myself to any willing ticket holder as their emotional-support animal. This would guarantee us both entry to the show. An editor at The Paris Review had suggested this in jest, and I had taken it as genius. The man laughed and assured me it would not work. He also assured me that no stunt, no "Bruce Springzine" (merch-stand scheme), no witty article would help me gain entry to the theater.
"The theaters, they're serious. There is no letting someone slip in here," he said. I believed him.
"I'll get a job as a ticket taker," I told him.
"You have to be in the ticket-takers union," he replied. I told him that I had considered impersonating a member of the Boss's family, perhaps his daughter. We exchanged looks acknowledging that this was a bad idea. I didn't mention that I had gotten my hands on the building's floor plans.
"Toni, let me put it to you this way," he said. "Tom Hanks had to buy a ticket." This was a pretty deflating thing to hear, though I could have argued that surely Tom Hanks could afford a ticket.
The man suggested that I go inside and see if there had been any cancellations. Positive that I would not buy a ticket, that doing so would besmirch the purity of my quest—and cost money—I entered the box office.
"We had a cancellation one minute ago for a seat in the mezzanine," the ticket clerk said. "The ticket is five hundred dollars." I must not have concealed the look of horror on my face.
"I can assure you there is not a ticket in the world to this show less expensive than that," she added. I called my dad and asked him what I should do. I had exactly five hundred dollars in my savings account at the time, the last crumbs of my earnings from my days as a nine-to-fiver. He encouraged me to buy the ticket. I told him that he didn't get it. The point was not just to see the show, the point was for the Boss to request my presence at the show, perhaps in the front row. I suppose I hadn't been so clear to myself or to anyone else how much this was about me, not Bruce. When I went back to the ticket window, the clerk told me the ticket was in someone else's cart on Ticketmaster and that I would have to wait three minutes to see if they released it. Of course, having the ticket withheld was all I needed to draw my debit card from my wallet. Three minutes of purgatory ended, and I paid for my ticket through tears.
I had felt this bad before but only for doing something really wrong. At the bar across the street, "Candy's Room" was playing. I downed a martini and questioned my life decisions. The point was to be slick, to be the hero, to get myself in where I didn't belong. But I had paid my way in like a chump. There was still an hour before the doors opened. I left the bar and attempted to sell my ticket to passersby in front of the theater. "Good luck selling one ticket," the man guarding the door said.
Two minutes before the doors to the theater closed, I entered. I bought a double gin and tonic in a commemorative glass and went to my seat. I rooted around in my bag for the notebook that had all of my Bruce notes in it, planning to write a full page of "what the fuck what the fuck what the fuck," but I couldn't find it. Somewhere between buying my ticket and entering the theater, I had lost the notebook that held all of my schemes, thoughts, tips, and tricks pertaining to the Boss. I considered feeling distraught, but I was already too low from my ticket purchase and perhaps a little too tipsy to care.
Bruce appeared on stage. The crowd welcomed him with a roar of applause. A few howled, "Bruuuce!" An usher flashed their flashlight at me for taking notes in my backup notebook, which I didn't know was not allowed. The crowd settled, and Bruce opened the show by calling himself a fraud. He said that he had made a fortune singing about life as a blue-collar working man but that he had never worked a day in his life. He had "made it all up," he said. He told us he was from a boardwalk town where everything was tinged with fraud and spoke about his "magic trick." He was going to tell us how it was done. The crowd laughed, but I was horrified. He hadn't really made all of it up, had he? Sure, Bruce Springsteen has never clocked in at a factory … but his father had. And he had spent every day of his life working on his music, which, I knew from my shower singing, was still work. And had anyone in this crowd even seen a magician before? Why would you want to be told how the trick was done? I felt disdain for those around me. Certainly, none of them knew small-town New Jersey. Why were they laughing at the Boss? Had we come here for a confession? Was he offering an apology for how expensive the tickets were? The word fraud stung as I felt my legitimately purchased ticket in my back pocket. I felt betrayed. Would he have given this same speech at the Stone Pony? If he had been pretending all this time, what was he pretending to be now?
Then he started to sing, and it wasn't a magic trick; it was magic. He sang "Growing Up," and I pictured the place where we both grew up. I cried, still angry at the people around me. When he spoke again, he called New Jersey a death trap. "I was born to run, not born to stay," he said, then confessed that he now lives within spitting distance of his first home. I felt queasy. When he spoke about St. Rose, the Catholic school he had attended as a kid, I remembered the dress I wore to my first school dance there. The show went on like this: he played, it was magic, then he spoke, and I shrank.
During his last song, I stepped out of the show and entered the pit of folks inside velvet ropes waiting for the Boss to make his departure. It would be a while. They were all raving about how marvelous the show was and compared stories about the concerts of his they had seen before. I felt left out of some collective nostalgia, but I was also privy to a private nostalgia, a New Jersey nostalgia, they would never know. Thirty minutes later, he stepped outside. I surprised myself by becoming completely frozen with awe. He signed a few autographs, walked over to the black SUV that would take him back to his hotel, stepped up onto the car door's ledge, and turned, surveying the crowd that screamed his name from the pavement. I looked at him and imagined that he was surveying the sea off the coast of Manasquan, the sea we had both grown up with.
Bruce Springsteen. The music is about escaping, making a wrong turn and never going back. Maybe that's why I didn't listen to it, didn't want to listen to it until I had escaped myself. My upbringing was charmed by all standards, but that doesn't mean I was proud of it. I was ten years into my life as a New Yorker before I could stand the sound of my hometown hero. When I came to love Bruce, it was because he was in the getaway car too; we were both driving away from New Jersey as fast as we could. We had driven far enough from town to turn the music on. While the show and the audiobook felt like a betrayal, my quest as a whole, my trips to the shore had taught me that it might be safe to go back. My teenage self was afraid of this music, afraid I might never escape New Jersey, and of who I would become if I didn't. But I was no longer a teenager. Embracing Bruce's music meant embracing where I had come from, with all the safety and nostalgia distance provides. I would defend that place to any jeering audience member, any New Yorker that rolled their eyes, to the Boss himself. I hadn't wanted the magician to unveil how his trick was done, but when he did, I understood that the trapdoor leads only to a place very nearby, and maybe that's a relief.
A few days later, I returned to the Walter Kerr Theatre. I had left my notebook at the box-office window. I retrieved it, thanked them, and walked toward the F train back to Brooklyn. I put my headphones on and clicked play on "Tenth Avenue Freeze-Out." I was transported back to the summers of my youth, back to the beach with my mother. She played the song and danced on the sand. I watched her, feeling the warmth of the sun above. I rolled over laughing, my breath catching in my chest from too many hours spent in the ocean.
Toniann Fernandez is a writer based in Brooklyn. She still has not met Bruce Springsteen.