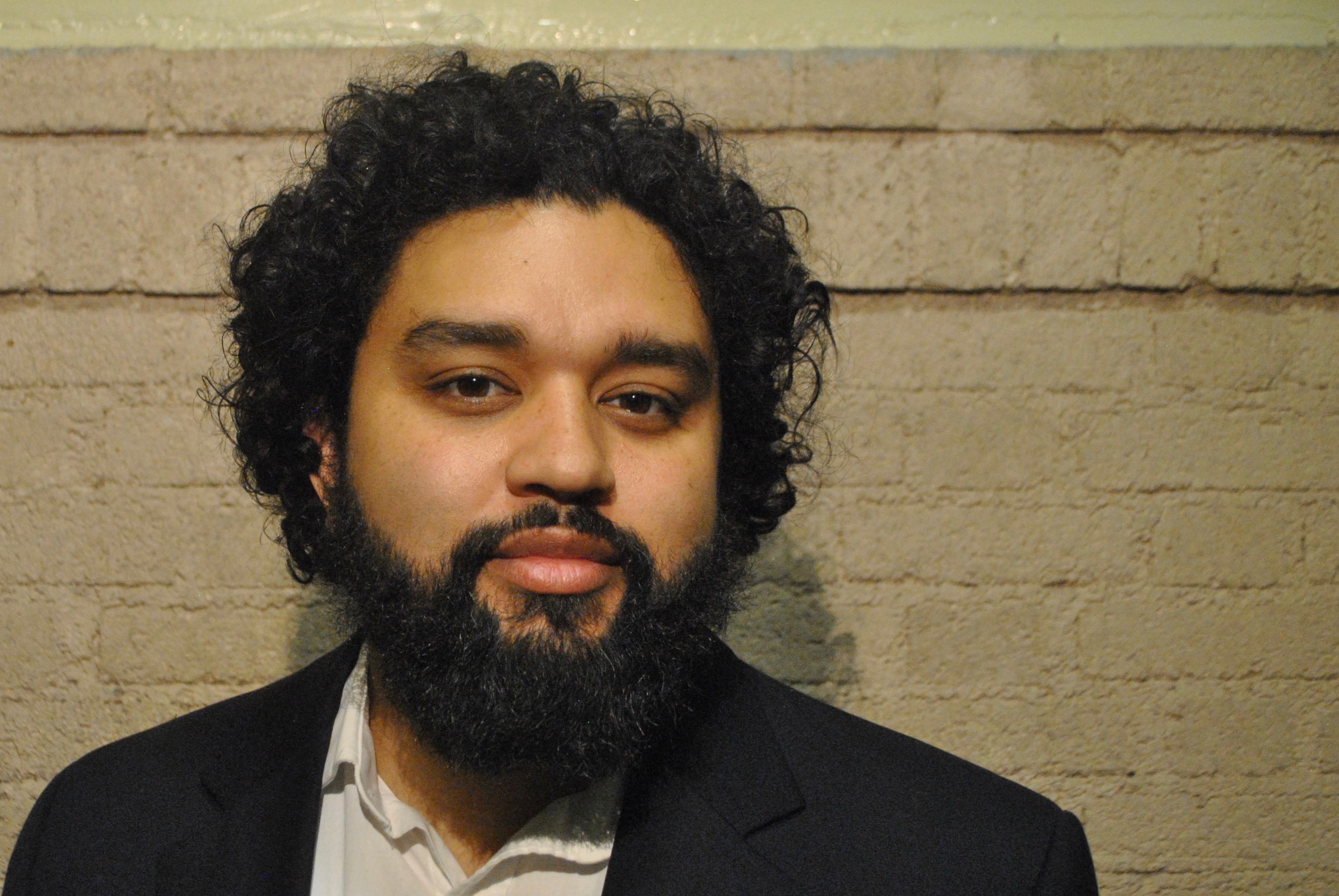 Nathan Alan Davis, who has an "uncanny gift for allegory and language, boiling down the large narratives of the African-American past to the scale of individuals wrestling to express themselves," is a playwright from Rockford, Illinois, now based in New York. His plays include Nat Turner in Jerusalem; Dontrell, Who Kissed the Sea; and The Wind and the Breeze. His work has recently been commissioned or developed by The Public Theater, Arena Stage, Williamstown Theatre Festival, McCarter Theatre, NYTW and The Lark. Davis received his M.F.A. from Indiana University and B.F.A. from the University of Illinois.
*
An excerpt from Dontrell, Who Kissed the Sea:
DONTRELL wakes from a vivid dream. He picks up a minicassette recorder, turns it on and speaks into it. In doing so, he addresses the audience.
DONTRELL
Captain's log:
Future generations, whoever finds this: I hope it finds you well.
This Dontrell Jones the Third, of Baltimore.
Spittin' to you live through space and time.
As your advanced technologies and mental-intuitive capacities may or may not allow you to decipher,
I'm in my PJs right now.
T-shirt and mesh. That's how I rest.
But If I had known last night what I would dream!?
… 
COMPANY [DANIELLE]
(Heartbeats)
Bum-bum.
COMPANY [SHEA]
Pitter.
COMPANY [MOM]
Patter.
DONTRELL
If I had known last night what I would dream…
ALL COMPANY
Heart-beat.
Heart-beat.
DONTRELL
I woulda put on a suit y'all, I'm tellin' you.
COMPANY [ERIKA]
Deep breath.
COMPANY [ROBBY]
One more.
COMPANY [DAD]
One more.
DONTRELL
Just dreamt of a captive African, name unknown,
One among a mass of tight-packed bodies,
Swaying with the tide of the Atlantic
In the womb-like darkness of a slaver's vessel.
Said African is alert. A cunning mind.
I hear his shackles opening. I hear
A thud as his feet meet the floor –
ALL COMPANY
(lightly)
(thud.)
DONTRELL
And I can see him now: He has my father's face.
I speak to him: "I am Dontrell Jones the Third
What is your name?" At this, he walks away.
I trail his footsteps. He squeezes through a doorway.
I follow him: and we are among the women.
He taps one on the shoulder, she stirs
He tells her his name
– This dreamer did not hear it –
She tells him hers
– Again, too low a whisper –
For awhile they are silent.
COMPANY [MOM]
Silent.
COMPANY [DAD]
Silent.
COMPANY [DANIELLE]
Silent.
DONTRELL
She speaks to him again.
He climbs on top of her.
She spreads her legs as best she can in her little cubby.
They intertwine as best they can.
They find each other's rhythm.
Her fields cultivate themselves, and a little seed is nourished there.
They lie together. Man, woman and child.
In darkness and the stench of the belly of the ship,
Floating on the freshness of the new moon sea.
Before sunrise, the man rises.
He climbs through a small hatchway to the deck. He stands tall on the wall of the ship.
With dawn approaching, the setting stars seem to cradle him.
He turns his head slowly to the right, then to the left.
He springs into the deep.
As I rush to the ship's edge to give chase,
The cool air blows my eyes awake –
And I am here.
Dawn's early light at my window.
…
I'll let it in.
DONTRELL gestures as if opening blinds or curtains.
Soft light streams in.
DONTRELL
You hear that, future?
(holds his recorder to capture the
silence)
A city that knows how to sleep.
But I may never rest soundly again:
How am I to answer this priceless vision?
Should I believe what I already think I know?
That it's now my burden to pull him up to shore?
DANIELLE enters.
DANIELLE
Mama say come get breakfast, punk.