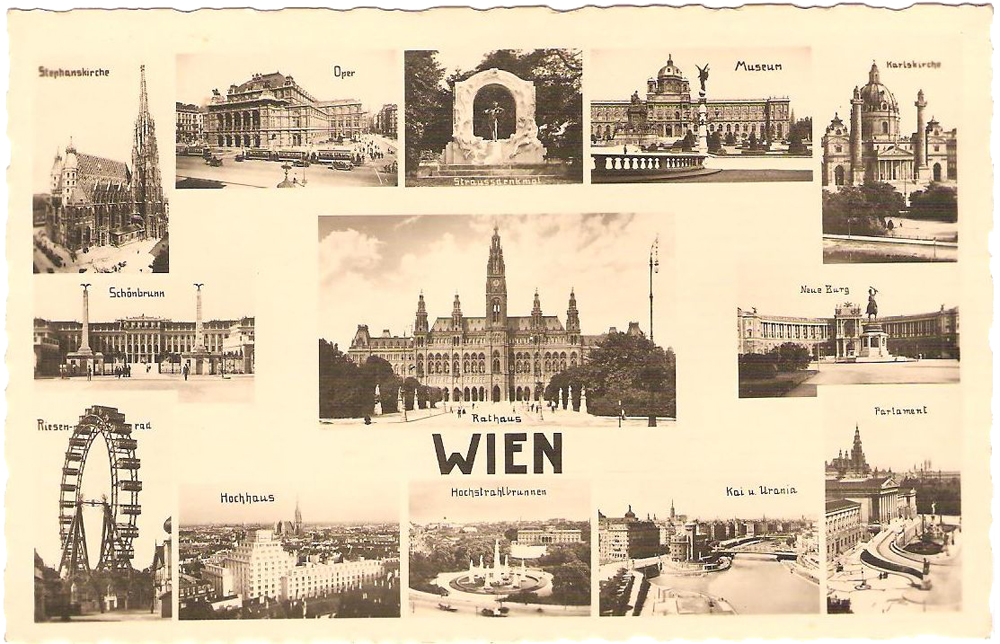 Maybe it's the wine, two glasses of crisp white Grüner Veltliner, downed on an empty stomach to still the flutters at the start of my stay. I flew into Vienna a day early and am waiting for my wife Claudie to join me. She's French, and for her Austria is primarily a European neighbor nation steeped, like Paris, in culture and history, its capital a jewel of a city with grand boulevards, resplendent palaces, world-class museums and concert halls, and cozy cafés. Maybe it's my mood and where I am in life: sixty-four, my parents long gone, and the tingle of time nipping at my heels. Dare I let go and indulge in the city's abundant delights?
A looming anniversary brings the past too close for comfort. On March 12, 2018, it will be eighty years since the Anschluß, when German soldiers crossed the border unresisted, jubilant masses mobbed Vienna's sprawling Heldenplatz to welcome the invaders with a native Austrian at their helm, and my parents fled for their lives.
That was then, this is now, I try to tell myself, as if Vienna is just another popular destination and I am just another tourist. 
*
I'm here on a fellowship from the Österreichische Gesellschaft für Literatur (the Austrian Society for Literature) to translate an impossibly difficult book by the modernist Austrian master, Robert Musil. My English translation a few years back of another book of his, Posthumous Papers of a Living Author, is now in its third edition. With my selection and translation of Telegrams of the Soul, I helped stoke interest in a forgotten fin-de-siècle Viennese coffeehouse raconteur, Peter Altenberg, whose life-size, plaster facsimile graces a table at the posh Café Central, his former haunt. But truth be told, translation is a useful emotional front for me, a ploy to prospect raw emotions.
I was touched and torn when, on a Central European road trip with her friends, our daughter, Aurélie, eighteen at the time, emailed to tell me how strangely at home she felt in Vienna, where she'd been repeatedly taken for a local. Something about her aura, the faraway look in her eyes, or, as one person put it, like she'd leapt straight out of a Klimt painting.
*
Sifting through a lifetime of keepsakes with my brother and sister in our old family house in Jackson Heights, Queens, shortly before it was sold—a house my brother-in-law, himself the son of refugees, somewhat sardonically still refers to as "Little Vienna"—two tiny, faded, black-and-white snapshots with scalloped edges caught my eye. Mementos of a long-ago Sunday stroll in the Vienna Woods, one features my father in lederhosen bunched up above the ankle; the other captures my mother, a dark-haired beauty in white blouse with puffed, short sleeves, perky peasant skirt and apron. Just a boy and girl out on a date, with no inkling of things to come.
*
My father returned to Vienna on a business trip in 1958. Stirred by the spectacle of his hometown in ruins, still much as it was depicted in the film-noir classic The Third Man, he reported back with a tug of mixed emotions: loss, longing, nostalgia, and the Schadenfreude of spurned love. His eyes lit up with evident gusto as he described his first bite of a Heisser, the original Wiener hot dog, wolfed down at an outdoor stand, so delectable "daß die Ohren wackelten" (that "it made [his] ears wiggle" with delight)—one of his oft-repeated Viennese turns of phrase.
The souvenir for my siblings and me was a packet of Mannerschnitten, delicate wafer biscuits layered with hazelnut chocolate cream, the divine taste and distinctive pink packaging unchanged since my father's childhood. Subsequently exported to the States, they remained a favorite treat until years later, when we learned that Manner had employed slave laborers from concentration camps during the war to manufacture its sweet delights.
*
How vividly I remember our first family trip to the Old Country, in 1962. I was ten, my brother Harold twelve, and my sister Evelyn seven. Pumped up with a feverish pageantry, my ordinarily mild-mannered and parsimonious father splurged and rented a white Mercedes sedan to ferry us back in style. Making merry at the wheel, with the window rolled down, he crooned a sentimental prewar hit tune: "Wien, Wien, nur du allein / Sollst stets die Stadt meiner Träume sein" ("Vienna, Vienna, it's you alone / May you remain forevermore the city of my dreams")—his voice soaked with saccharinity and sarcasm.
On entering Viennese city limits and passing a tram rattling along at a leisurely pace, my mother exclaimed, "Schaun's, Kinder, die Straßenbahn! Look, children, the streetcar! It's like a living room on wheels!" Tears welled up in her eyes. "The last time I rode it I cried, thinking I will never again see this city I loved so dearly, when, wouldn't you know it, I run into this girl I'd grown up with. Without thinking, I reach out my hand and call to her: "Gerda!" She smiles, her hand shoots out to meet mine, then suddenly she yanks it back and turns away, like contact with me might be contagious—ach Ja!"
My mother's emotions again ran strong at an unexpected meeting in her old neighborhood, the working-class enclave of Rudolfsheim, in the Fifteenth District, with a guy she'd grown up with, now a middle-aged metalworker who ran a basement workshop inherited from his father. At the sight of her, he killed the flame and lifted the lid of his welder's mask, his face drained of color, like he'd seen a ghost, crying out, using my mother's maiden name: "Jesus, Maria und Josef, die Karpf Mädeln!" (Jesus, Mary and Joseph, the Karpf girls!)
Things came to an emotional head at the monument to the Empress Maria Theresa—Austria's Queen Victoria—the only woman ever to rule the Austrian Empire and by marriage, Duchess of Lorraine, Grand Duchess of Tuscany, and, incidentally, mother of the ill-fated French queen Marie Antoinette. A UNESCO World Heritage site, enthroned on a grassy knoll, sandwiched in between the monumental Kunsthistorisches and the Naturhistorisches museums, her imperial majesty's colossal six-meter-tall bronze likeness raised on a granite pedestal, ringed by mounted metal generals, harkens back to a bygone grandeur, to which, despite all, my parents still felt a certain grudging attachment.
But my siblings and I were children, after all. Having spent the morning at the two museums and had our fill of culture, we were running around the empress and her entourage, playing noisy catch in English, when a passing elderly gentleman shook his head in evident disapproval. Decked out in traditional Tyrolean garb, lederhosen, a vest of green loden material, and a green felt hat with a feather protruding, his cheeks sprouting copious, white, muttonchop whiskers in hairy homage to Emperor Franz-Joseph I, he grumbled in Viennese dialect: "Eine Schande! What a scandal! These children have no respect for history!"
Whereupon my mother exploded. "Don't you dare lecture us about history!" she gave him a tongue lashing in Viennese dialect. "These children know more history than you, you addled old fool! Only they don't suffer from selective memory loss!"
The old man blinked twice, as if he could not believe his ears, patted down his whiskers, pulled in his tail, and slunk off, speechless.
We paused in our play, peering from the retreating old codger to the impassive metal empress, to our mother, all of five feet tall, towering in our admiring gaze.
*
"Look, a diabolo!" I shout to Claudie, spotting a familiar object in a Viennese toy-store window, a once popular plaything that has recently made a comeback, this one made of two multicolored rubber hemispheres screwed back-to-back on a smooth metal axle, the sight of which immediately transports me back in time.
I remember my mother amazing throngs of spectators, young and old, in Long Beach, Long Island, where we spent my childhood summers, with a little rubber diabolo my father had brought back from Vienna, first twirling it at lightning speed on a string spanned taut between two sticks, tossing it so high you had to squint to see it against the sun, then miraculously holding up her right stick, beckoning, like Roy Rogers to his trusted horse, Silver, for it to obediently return, land, and slide back down along the axis of the string, upon which, with a smile, she reaccelerated its spin, and again sent it hurling into the heavens. It was the early sixties, the heyday of the yo-yo and the Hula-Hoop, but the diabolo was a novelty. She taught us how to spin, toss, and catch it, but we were never as good as she.
My mother had been quite an acrobat as a girl between the world wars: turned cartwheels on the sidewalk and boldly leaped from the ten-meter-tall high board at the Schönbrunner Schwimbad, the pool in the summer palace gardens originally built for the exclusive pleasure of commissioned officers in the Kaiser's army. And even in New York, with her feet planted firmly on the ground, she retained through late middle age and well into her senior years a perfect sense of balance, a physical self-assuredness, a confidence of the kind her children have always lacked, as if she'd drained its last reserves.
Yet fear made her twitch whenever the telephone or doorbell rang—a reminder of the ring that presaged her father's sudden arrest. Upon his return the following night he wouldn't tell what he'd been through, just kept trembling and repeating his name with a fierce determination: "I'm still Heinrich Karpf!"
My mother, that erstwhile fearless acrobat and high diver never let us climb to the top of the monkey bars at the playground, the Everest of our little world and for me a lifelong metaphor for daring.
*
My wife and I stand waiting for a streetcar, gazing at a political poster left over from the first round of the Austrian presidential elections. As if reading our fears—or perhaps he had heard us whispering—a stranger standing behind us clears the air. "Oh no," he says in English, "he's not the Nazi."
"Thanks for the clarification," I reply in German.
Whereupon we get to talking, our exchange following the prescribed sequence of questions every time German syllables roll off my tongue.
"Where are you from?"
"New York."
"How can an American speak German like this?"
"Son of Viennese émigrés, 1938."
"I see." Pause. "Many came from the Ninth District."
"It's where Freud lived, isn't it?"
"Indeed," he nods. "I'd like to show you something, if you will please follow me!"
Claudie and I hesitate. But what else is travel at its best than a willful surrender to the geography of chance?
Ernst leads us past Freud's famous address, Berggasse 19, now the site of a museum. It had been raining. Following at a rapid clip, the ozone in the air aggravating my asthma, I ask him to slow down. Along the way we pass a shelter for recent arrivals from Africa and the Middle East. His district, he reports with pride, has taken in the largest number of refugees.
At the corner of Servittengasse and Grünertorgasse, he points down at a clear-topped, square-shaped section of the sidewalk ringed by a metal railing. Raindrops lay like tears on the Plexiglas surface of a small memorial to the Jewish deportees that he and his neighbors had a hand in erecting, or rather, digging. Beneath it lie scattered door keys and calling cards with the names of those of who once lived behind the doors and disappeared.
I raise my camera to snap a picture.
"Wait!" he holds up his hand and dashes into a store next door. Rushing back out with a borrowed rag, he climbs over the railing and gets down on his hands and knees to wipe away the lingering drops.
"You know what this reminds me of?" I whisper.
Ernst nods like he can read my mind.
"My grandfather, mother's father, was forced to clean the sidewalk."
Just then another man approaches. "Do either of you have any idea how to go about arranging for a Stolperstein, a remembrance plaque?" Born in the States, the man explains, he returned as a child with his parents, who themselves had fled on a Kindertransport to England. He now lives with his wife and children just around the block, in the same building from which his grandparents had been deported.
The three of us stare at one another in silence, linked by a dark inkling of a time we did not know, children of the same history.
*
Claudie and I backtrack with our new friend Ernst to visit the Freud Museum. Its holdings are spare: a walking stick, a hat, a few tiny antiquities, a photocopied diploma, facsimiles of awards conferred and later revoked. Immediately after Freud's departure, the place was ransacked and later used as a temporary holding pen for those less lucky en route to destinations unknown.
"My mother met him twice," I let slip.
"Oh?" Ernst perks up.
"The first time was on the banks of the Danube Canal. She spotted an elegant gentleman with a distinctive chin beard swinging his walking stick, out for a leisurely Sunday stroll with a young woman. A whisper went up in the crowd: 'There goes Dr. Freud with his daughter!' The second time was in London shortly before he died. Already ailing with the jaw cancer that would do him in, he leaned on a cane at Bloomsbury House, where the refugees gathered. 'Habe die Ehre, Herr Dr. Freud!' (What an honor, Dr. Freud!) she greeted him, one refugee to another. He smiled back, ears tingling with the familiar greeting in a foreign land."
*
Another Austrian friend, Fatima, joins me for breakfast at the Café Domayer, in Hietzing, Vienna's elegant Thirteenth District. A noted scholar of Austrian literature and cinema, Fatima is the New York–born daughter of an Austrian mother and Pakistani immigrant father. She spent all her childhood vacations in Vienna and returns with her children every chance she gets.
My father grew up on the top floor above this very café, a historic locale, in which the "Waltz King" Johann Strauss is said to have fiddled up a storm. Unable to expunge the ever-popular waltz itself, the Nazis squelched persistent rumors of the Strauss family's Semitic roots. From the veranda, my father, still a toddler, gazed down one bright sunny day, transfixed by the sight of a procession of knights riding by on horseback, the costumed cast of a silent film in the making.
Fatima and I take a spin around the old neighborhood, to where, on Neue Welt Gasse, a glass plaque marks the site of a synagogue whose modern Jugendstil design my Grandfather Arnold, my father's father, had a hand in selecting from among the submitted architectural blueprints. The short-lived sanctuary, the only freestanding synagogue built in Vienna between the wars, was erected with great fanfare in 1931 and burned to the ground in the organized mayhem of Kristallnacht, on November 9, 1938.
*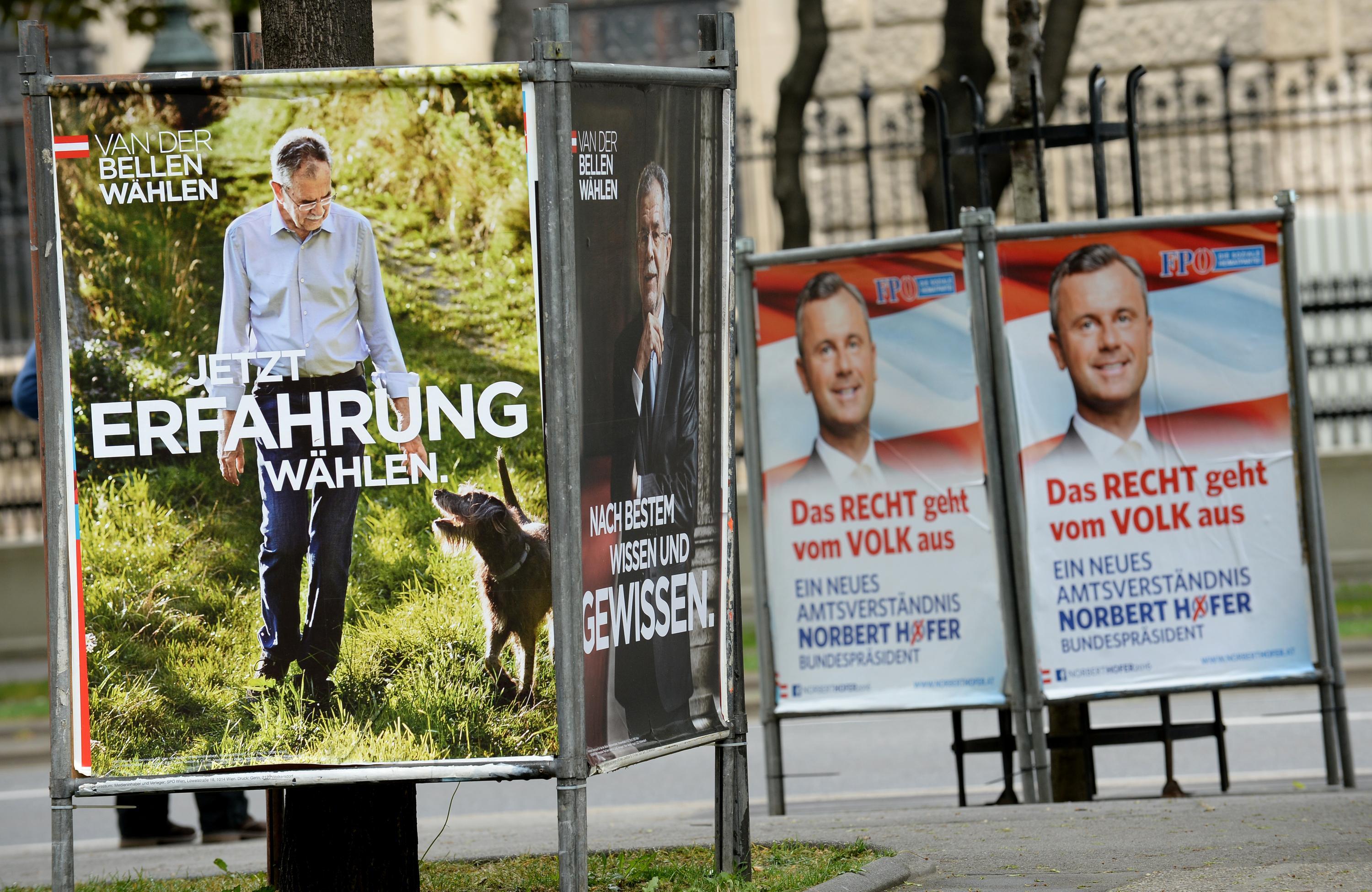 Chauvinistically inclined, in the vein of Saul Steinberg's canonical New Yorker magazine cover cartoon map, to view my home town on the Hudson as the hub of the universe, I was from an early age infused by my parents with a mingled longing and ambivalence for Vienna as a countervailing vector of sorts, a lost Eden on the Danube. What is a city but a confluence of portable destinies, a great chorus of rapture and dismay, singing and kicking in unison, competing with the phantoms of inherited memory!
Many, myself included, breathed a sigh of relief when, after a faulted first go at it, in the wake of Brexit in Britain and Trump's upset victory in the States, Austria's cliff-hanger presidential elections resulted in a decisive win for Alexander Van der Bellen, the grandfatherly leader of the Greens, the party of inclusion. His opponent, Norbert Hofer, the dapper candidate of the xenophobic Austrian Freedom Party, went a goose step too far, brashly pinning a blue cornflower in his lapel, no innocent blossom but the not-so-secret symbol of Pan-Germanic, i.e., erstwhile Nazi, sympathizers. Fortunately, Austrian voters let the blue cornflower wilt on Hofer's lapel.
According to an assessment by the Mercer Quality of Living Survey, cited in February 2016 in London's Daily Telegraph, based on a variety of criteria, including housing, safety, transportation, and recreational facilities, Vienna was selected, for the sixth year in a row, as the world's most livable city. History and politics were not deemed relevant factors. Perhaps they're right. Who am I to disagree?
Peter Wortsman's most recent publications include a translation, Konundrum, Selected Prose of Franz Kafka (Archipelago Books), and a book of short prose, Footprints in Wet Cement (Pelekinesis).