Kasper Collin's new documentary celebrates the vibrant, turbulent life of the jazz trumpeter Lee Morgan.
"Every listener to jazz has had a few experiences so startling that they are literally unforgettable," Nat Hentoff wrote in 1960:
One of mine took place during an engagement the Dizzy Gillespie big band had at Birdland in 1957. My back was to the bandstand as the band started playing "Night in Tunisia." Suddenly, a trumpet soared out of the band into a break that was so vividly brilliant and electrifying that all conversation in the room stopped and those of us who were gesturing were frozen with hands outstretched. After the first thunderclap impact, I turned and saw that the trumpeter was the very young sideman from Philadelphia, Lee Morgan.
Lee Morgan, who was nineteen when Hentoff heard him, had this effect on many people. His sound was bright, brash, and sassy: like James Brown's early work, it had the seductively strutting arrogance of youth. Morgan was a funky, down-home player, with a penchant for "smeared," dirty notes, but he was also a subtle and calculating musical thinker who constructed his solos as if they were stories. That synergy of soulfulness and hipster cool defined the so-called Blue Note sound in the fifties and sixties, and Morgan was one of the label's most celebrated artists. As David H. Rosenthal wrote in his classic study Hard Bop, he was the "quintessential hard-bopper." 
It was a short life. Morgan succumbed to heroin in his late teens, and though the needle didn't kill him, the woman who saved him from it did. Helen Moore, a jazz fan from rural North Carolina twelve years his senior, picked him up off the streets in the midsixties, when he'd pawned almost everything he had. She became his common-law wife, and they moved to a big apartment in the Bronx, where she kept an immaculate house, cooked for him, and nursed him to recovery. Morgan thanked her by taking up with a younger woman. On a snowy night in February, 1972, Helen Morgan went downtown to Slug's, a club on East Third Street where her husband was playing, and shot him dead with a gun that he had given her to protect herself.
This made Lee Morgan the third in a series of great postwar jazz trumpeters cut down in their prime. Clifford Brown died in a car accident in 1956, at twenty-five; Booker Little, just a few months older than Morgan, died of kidney failure in 1961, at twenty-three. (The legendary ragtime trumpeter Buddy Bolden fell prey to psychosis at thirty, and died in a Louisiana mental ward twenty-three years later, having never recorded a single note.) But Morgan's story—perhaps because of the lurid, tabloid circumstances of his death—has never, until Kasper Collin's extraordinary film I Called Him Morgan, been accorded the same tragic dimensions.
Collin is a Swedish documentary filmmaker who has invented a new genre: the jazz mystery. In his 2006 film, My Name Is Albert Ayler, he investigated the life and death of the free jazz tenor saxophonist, whose honking, ecstatic playing evoked some ancient folk music, if not the birth pangs of the universe. Ayler cultivated mystical airs, ultimately declaring himself a prophet and his music a healing force; he disappeared in November 1970, and three weeks later, his body was discovered in the East River. The cause of death—a suicide, most likely—was never determined. Collin made shrewd use of this mystery to explore Ayler's relationships with his brother Don, a trumpeter whose bipolar condition created delusions of grandeur, and his girlfriend, the singer Mary Parks, who refused to appear on camera, preferring, she explained, to remain an enigma.
Lee Morgan cuts a radically different profile from Ayler: he was a straight-ahead jazz musician with an ebullient sense of humor and a taste for fast cars, expensive clothes, and beautiful women. (One of his nicknames was "Howdy," because his big ears and goofy smile made him look like Howdy Doody.) Music was his ticket out of North Philadelphia, a poor though culturally rich neighborhood where, in his teens, he led a band with the pianist Bobby Timmons. Soon he was dazzling audiences in Gillespie's orchestra. "It was fun to watch him almost challenge Dizzy," Paul West, a bassist who played with him in the orchestra, remembers. "He was extremely confident, almost to the point of being cocky." Art Blakey, the drummer who led the great hard-bop ensemble the Messengers, hired Morgan away a year later. The saxophonist and composer Wayne Shorter, who played opposite him, remembers in Collin's film that Blakey would shout at Morgan when he soloed: "Talk to the people, tell them your story!"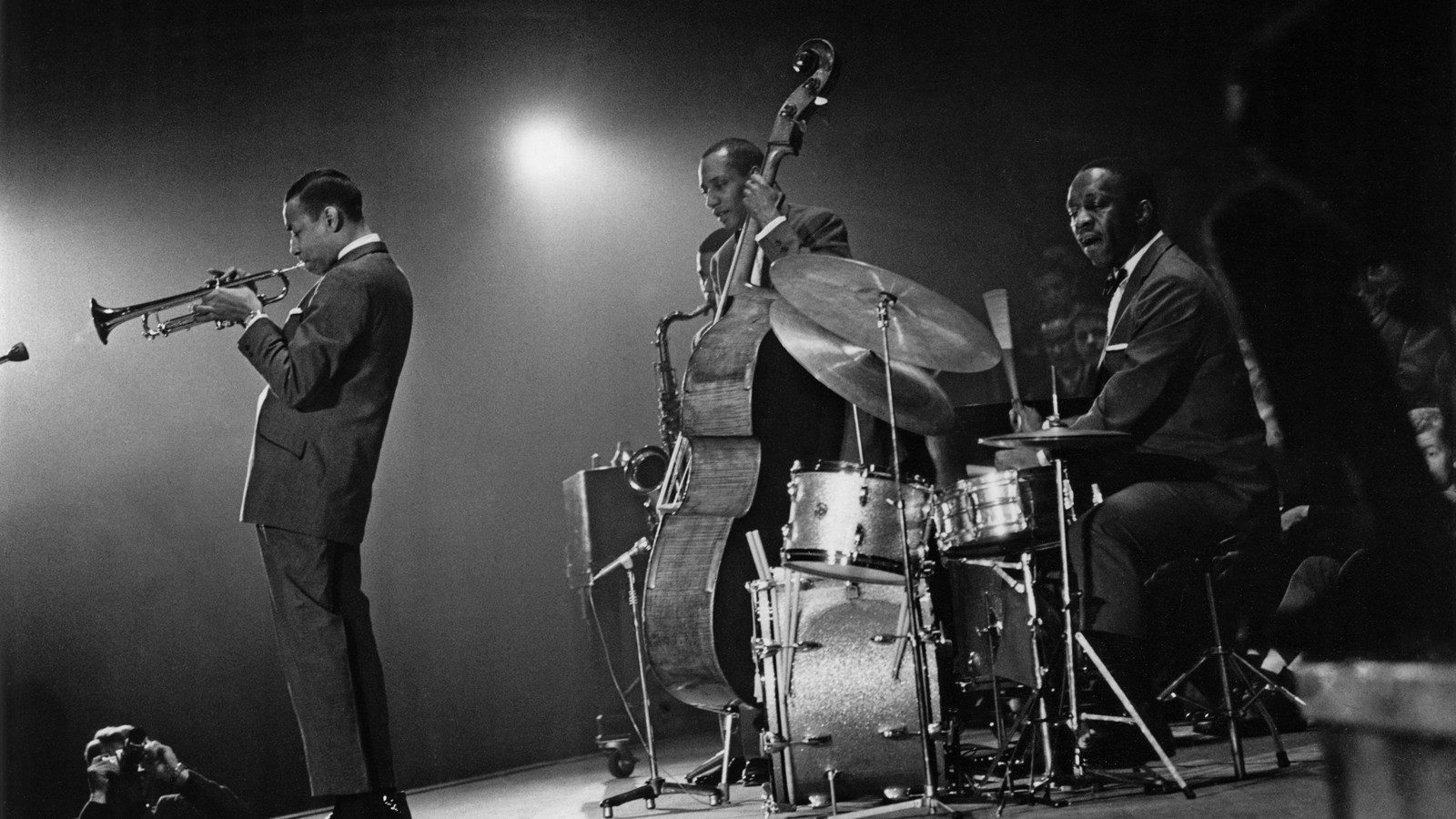 From the late fifties until the midsixties, Morgan was "just about the baddest thing going," Rosenthal writes in Hard Bop, because, even at his most exuberant, he conveyed an undertone of "malice," something tougher, darker, and sexier than Clifford Brown had brought to his horn. At eighteen, he landed a contract with Blue Note, and four years later he recorded his biggest hit, "The Sidewinder," a ten-minute blues with a contagious R&B beat that, he said, came to him "like a gift from God." He scribbled it on toilet paper in the bathroom at the sound engineer Rudy Van Gelder's studio in Englewood, New Jersey, after running out of material for the session.
Collin doesn't tell this story; in fact, we never even hear "The Sidewinder," so intent is he on dodging the usual jazz history clichés. But his film leaves no doubt as to why Morgan's bandmates might have been alarmed by his extended absence in the bathroom: he had just gotten out of rehab, and they suspected he might be using again. It was Blakey, who paid some of his Messengers in drugs so that he could keep more of the cash from gigs for himself, who'd turned Morgan onto heroin, but Blakey could manage his habit; Morgan could not. In his 1963 book, Blues People, LeRoi Jones suggested that heroin was popular with black jazz musicians because it "transforms the Negro's normal separation from the mainstream of society into an advantage (which, I have been saying, it is anyway). It is one-upmanship of the highest order." That one-upmanship came at an exorbitant cost. Shortly after "The Sidewinder" was released, Morgan had blown all his money on heroin. When Helen first saw him on a cold winter day in 1965, he had pawned his only coat to buy drugs, and his teeth had been knocked out. The reedman and composer Bennie Maupin, who played in one of Morgan's last bands, says he "had gone down as far as you can go." Although he eventually succeeded in quitting heroin, he never entirely stopped taking drugs—something Collin does not mention—and began to snort coke as a substitute.
There is nothing mysterious about the death of Lee Morgan, unlike Albert Ayler's: Helen was in a crowd of onlookers when she killed him. But I Called Him Morgan illuminates a deeper, in some ways more intriguing mystery: the jazz life of the hard-bop era, which saw a confluence with civil rights and Black Power. What interests Collin is not so much recording or performance as the intimacy among musicians and their friends. This is a world we know mostly from the work of photographers like Roy deCarava, Lee Friedlander, and W. Eugene Smith, who spent time with jazz musicians when they weren't performing, and captured their intimate lives off-stage. Collin's cameraman, the gifted cinematographer Bradford Young (Selma, Mother of George, A Most Violent Year), has clearly studied their work. Snow falling and city lights in New York; seagulls, trees, and sunset in North Carolina: Young shoots these recurring images in elusive, grainy textures that give the film a moody atmosphere reminiscent of the French New Wave, a movement intoxicated by the sounds of sixties jazz.
What Collin is after, I think, is something just as elusive as Young's imagery: the relationship between creation and (self-) destruction. It's well known that the world of jazz musicians was bedeviled by poverty, drugs, racism, police violence, and—a cure that could end up feeling like a curse—self-imposed exile. What held that world together and made artistic innovation possible is less well understood. As I Called Him Morgan reminds us, friendship was one of its pillars: we hear musicians remembering their times with Lee, and what they remember isn't only music, but eating, buying clothes, and racing cars at midnight in Central Park. They were hardly unscathed by competition, but this was partly offset by a common artistic purpose, and by the hopes inspired by the civil rights struggle, which Morgan evoked in his epic 1964 composition "Search for the New Land"—a piece that provides Collin with his leitmotif. Jazz musicians were trying to create not only a new music, but another country, to borrow the title of James Baldwin's 1962 novel, which turns on the suicide of a jazz drummer named Rufus Scott.
They could not have done so—they could scarcely have survived—without fellow travelers in bohemia who shared their vision and kept them going in the most inauspicious conditions. Some were artists, like the painter Bob Thompson, a friend of Ornette Coleman and Jackie McLean; some were critics, like Hentoff, LeRoi Jones (later Amiri Baraka), and A. B. Spellman; still others were producers who didn't steal from them, like Alfred Lion and Francis Wolff at Blue Note, German Jewish exiles who championed jazz as a uniquely African American expression of modernism—"the animal brothers, the Lion and the Wolf," as Shorter fondly remembers them.
But the most crucial members of the scene, besides the musicians, may have been the women, most of whom have been lost to history. Spellman began his 1966 book Four Lives in the Bebop Business by paying tribute to Jeanne Phillips, "a committed woman whose opinions are valued and whose barbs are feared by those musicians and critics who know her … She exemplifies perfectly that growing group of new jazz loyalists who feel, with reason, that history has deposited the vital culture of these times in their corner." It is no wonder that two of the finest memoirs of this milieu—Hettie Jones's How I Became Hettie Jones, by LeRoi Jones's first wife, and Sue Mingus's Tonight at Noon, by Charles Mingus's widow—are by women, who saw the beautiful struggle of their partners from the inside.
Helen Morgan was one of these women. Long before she became a murderer, she was a country-girl bohemian, a regular at uptown jam sessions who attracted attention for her provocative, form-fitting outfits, her streetwise attitude, and her salty tongue. She would cook fine meals at her apartment, known as "Helen's place," a salon where musicians and her friends—many of them gay and lesbian—would gather in the small hours. She did not use drugs—her nickname was the "little hip square"—but she didn't judge those who did, and she would often put up addicts who needed a place to sleep.
One of the great strengths of Collin's film is that it honors her work and struggle as a black woman from the South: I Called Him Morgan is as much about Helen Morgan as it is about Lee. What could have been a judgmental film about a scorned woman who kills her lover in a jealous rage is, instead, a sorrowful, almost redemptive study of contrition and forgiveness. We hear Helen's voice throughout the film in a slightly hissing tape made by Larry Reni Thomas, an adult educator in Wilmington, North Carolina, who taught her after she was released from prison. Thomas recorded the interview in February 1996; Helen died a month later. Warbling and grainy, coquettish yet strong, somewhat reminiscent of Billie Holiday, her voice carries us through the film, along with Morgan's "Search for the New Land." She, too, was looking for another country when she left the Jim Crow South for New York, in her late teens, just as Charlie Parker and Dizzy Gillespie were launching the bebop revolution at uptown clubs like Minton's, and on "The Street"—West Fifty-Second Street.
She was born in a small town in North Carolina, and her ambition was to get out. She had her first child at thirteen, her second at fourteen: "that disillusioned me from a whole lot of things." She left her children in the care of her grandparents and moved to Wilmington at seventeen. There she met a thirty-nine-year-old bootlegger, whom she married a week later. After he "got drowned"—one of her sons would later claim she stabbed him to death—she went to New York, where she lived on West Fifty-Third, a block from "The Street"; though Collin makes no mention of it, she reportedly made a living delivering packages for a Harlem drug dealer who trusted her because she wasn't a user. Ron Saint Clair, one of her neighbors, says she was "a hero in the neighborhood because she had come up from the South and she had to struggle because she didn't want to work for anyone." She was a survivor who knew how to defend herself. "I won't pretend I was nice," she told Thomas. "I wasn't. I was sharp. I had to be. And I looked out for me."
She also looked out for others, particularly addicts and unstable people, and one of them was Lee Morgan. "Child, you need your coat," were her first words to him, and she immediately took him in. Collin does not speculate on her motivations—like his film on Ayler, I Called Him Morgan is told solely through interviews and newsreel footage, without voice-over—but one wonders if she was looking to replace the children she had abandoned down South. (Al Harrison, one of her sons, says he did not meet her until he was twenty-one and came to visit her in New York.) She was, in Maupin's words, "his confidante, his friend, his lover … She had a real quiet strength about her, and he really trusted her."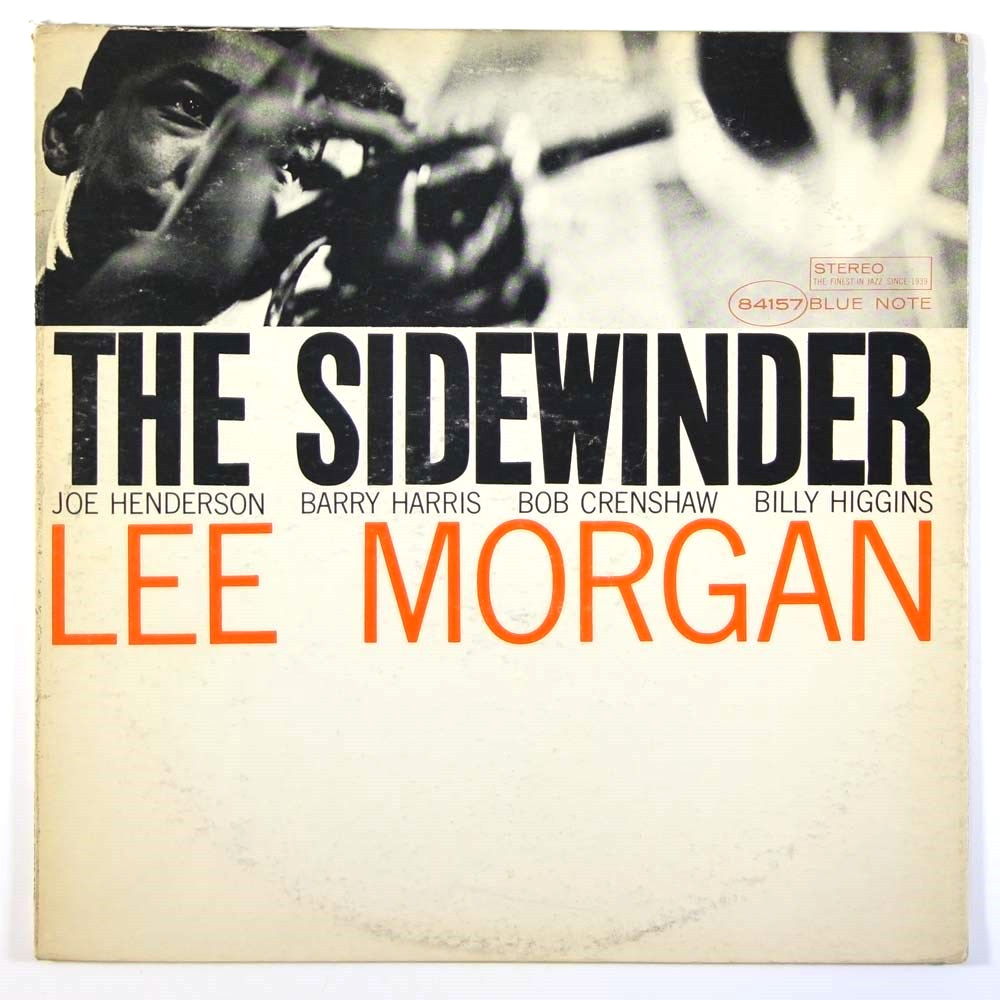 He had every reason to. As Paul West, a bassist who played with Morgan in the Gillespie orchestra, says, "This is the woman who took him literally from the gutter and made it possible for him to function as an artist." West helped keep Morgan off the streets by recruiting him for a music-education program that he was running, the Jazz Mobile Workshop, where young people in the black community were taught by its leading artists. In Collin's film, we see Morgan with a group of four young trumpet players, performing under a poster that reads, DRUGS THE HORROR TRAP, with an image of an arm being injected with heroin. Morgan was still a young man, barely in his thirties, but to his students, who had never heard of Clifford Brown, he was "ancient," and, as a black artist, he felt a growing sense of responsibility to his community. He no longer used the word jazz to describe his music—"it's a word that we were told what it was, like we were told we are Negroes," he said. He became active in the Jazz and People's Movement, a coalition of musicians who fought against abuses by the record industry; according to the tenor saxophonist Billy Harper, a member of the band that played at Slug's on the night of his murder, he had become a convert to Malcolm X's philosophy of black economic and political self-determination.
His music changed, too, soaking up the modal structures that Coltrane had popularized in his classic quartet, and the funky rhythms of the new R&B. The sly, sardonic sensibility of "The Sidewinder" gave way to the spiritual yearning of Afro-soul jazz, a movement that he helped pioneer, and which has become fashionable again thanks to musicians like the LA tenor saxophonist Kamasi Washington. In one of the most striking clips in Collin's film—an important corrective to the myth that jazz had lost a popular black audience by the end of the 1960s—Morgan can be seen performing in a 1971 episode of the program Soul, in a room packed with hip young black people wearing naturals. They played a piece written for Morgan by his bassist Jymie Merritt, "Angela," dedicated to "Sister Angela Davis," then in a California State prison. Morgan, the fast-living bon viveur, had kicked his habit and gotten religion.
He had also found a mistress, Judith Johnson, a contemporary he'd known socially for some years. They didn't have much of a sex life—his sexuality, she says, was "almost nonexistent because of what he had been through"—but she loved music as much as he did, and the connection ran so deep that he began spending much of his time at her place in New Jersey. On the night of the murder, Johnson drove him to the Bronx so he could pick up his horn. He had a weeklong gig at Slug's, a club on East Third between B and C, a long, narrow saloon with sawdust on the floor that, as Billy Harper says, "had the reputation of being the place where you could hear the real cats." It had already snowed four or five inches, and she totaled her car near the Grand Concourse. Morgan was shaken since he knew that it could have been much worse: he mentioned Clifford Brown's death in a car crash, when they arrived, at last, at Slug's. Then "the doors just flung open and there was Helen," Billy Harper recalls. "She said, 'I'm here for the draw.' " Morgan threw her out, without her coat; her gun fell out of the bag. She picked it up and walked back in. After she shot him, she said to herself it had to be a dream. He died before the ambulance arrived.
Lee's friends were shocked; most of them never saw Helen again. "It was a sad time, the end of a beginning," Jymie Merritt says. She pleaded guilty to second-degree manslaughter and served two years. Not long after her release on probation, the bassist Larry Ridley, who played on Morgan's 1967 album Cornbread, spotted her at a club called the Needle's Eye. He had told himself that if he ever saw her, he would "give her a piece of my mind." Instead, he found himself opening his arms and embracing her. "The anger just went away." She was Helen Morgan, after all, and without her, he knew that Lee would never have had a second act. In 1975, her son drove her back down to North Carolina, where she settled in Wilmington and became deeply involved in her church. She was not a believer, but, as her son explains, "she wanted to repent, to give back." Back in the old country, she at last "found her salvation," the peace and serenity that had eluded her, and the man she had loved, in their search for the new land.
Adam Shatz is a contributing editor at the London Review of Books and a fellow in residence at the New York Institute for the Humanities.