Harriet Tubman's new album Araminta has a joyous aura of creative destruction.
In 1967, Thelonious Monk wrote his only waltz: a slow, sweet, faintly melancholy tune he called "Ugly Beauty," which appears on his album Underground. The title is probably Monk's translation of jolie laide, a French expression for a woman whose less pleasing features somehow make her more attractive—though I suspect that Monk had more gnomic intentions in deploying the phrase. The idea that beauty might arise out of asymmetry—out of irregularities, imperfections, and apparent flaws—would no doubt have appealed to the composer of "Off Minor," with his predilection for dissonant intervals, altered chords and rhythmic displacement. Monk's music was a world of ugly beauty.
The story of musical modernism could also be told as a story of ugly beauty—of the steady triumph, in the face of critical resistance, of deviation, dissonance, and rupture. Many of the sounds we now consider beautiful were at first experienced as strange, unsettling, even frightening. In the feverish rhythms of The Rite of Spring, Adorno detected a fascist call for obedience. Philip Larkin accused John Coltrane of trying to be "ugly on purpose" with his severe, probing improvisations. Some American supporters of the war in Vietnam are said to have heard sacrilege, if not treason, in Jimi Hendrix's electrical rewiring of the national anthem at Woodstock. The reasons for such resistance are as much political as aesthetic. As the philosopher Jacques Attali put it, "noise is violence: it disturbs." The struggle to create new sounds, Attali argues in Noise: The Political Economy of Music, is usually received as a "simulacrum of murder" because it challenges the existing musical order. 
Monk's title acquires even deeper meaning if understood as a reflection upon the history of black American music, which grew out of, and continues to be shaped by, one of the ugliest experiences in modern history. "It was a new song," W. E. B. Du Bois wrote of black music in his 1935 history Black Reconstruction in America:
And its deep and plaintive beauty, its great cadences and wild appeal wailed, throbbed, and thundered on the world's ears with a message seldom voiced by man … They sneered at it—those white Southerners who heard it and never understood. They raped and defiled it—those white Northerners who listened without ears. Yet it lived and grew … and it sits today at the right hand of God, as America's one real gift to beauty; as slavery's one redemption, distilled from the dross of its dung.
The struggle of the black musical avant-garde has always been twofold: to achieve freedom not only from the ugliness of American life but from restrictive, often racially coded aesthetic conventions about what black music is, or can be. (Every revolutionary form of black music, from bebop to hip-hop, has provoked cries of "ugliness" among fans of the style that preceded it.) These two purposes are joined, in a work of gnarled and thrilling majesty, on Araminta, a new album by the New York–based improvising trio Harriet Tubman. Araminta is too joyous to qualify as Attali's "simulacrum of murder," but it has an aura of creative destruction, as if it were gleefully laying waste to calcified notions about beauty, race, genre.
Harriet Tubman was formed in 1997. Its three members, the guitarist Brandon Ross, the bassist Melvin Gibbs, and the drummer J. T. Lewis, are veterans of the New York scene, steeped in jazz, rock, and R&B; they're also keen students of history. Lewis told me that the group's name "came with its own weight and history and reverence." Tubman escaped from slavery in 1849 to become an organizer of the Underground Railroad, and her example of flight, freedom, and resistance is acutely felt in the band's music. As Lewis notes, the name is also a "metaphor for freedom of expression, for unshackling the chains of 'how things are supposed to be'"—not least, he added, in "this business of music, which has a lot of chains." They've always chosen titles that affirm their connections to black history, and Araminta—derived from Tubman's given name, Araminta Harriet Ross—is no exception; the record features tributes to Tubman, Nina Simone, Chester Himes, and Barack Obama.
The music on Araminta is brash, turbulent, and yet also, somehow, rather stately: it roils, swells, and contracts with an almost orchestral density that envelops the listener. Ross, Gibbs, and Lewis are joined on six of the eight tracks by the trumpeter Wadada Leo Smith, one of the great figures in post-sixties free jazz, a musician who, as the critic K. Leander Williams once said to me, "makes every note feel epic." Smith brought that exalted sense of drama to his own four-hour civil rights suite, Ten Freedom Summers, and he proves a perfect foil for Harriet Tubman. It's not only that he shares the band's "Pan-African spirituality, mysticism, and freedom-driven politics," as Greg Tate writes in his liner notes; he adds a swirl of bright timbres that offset Gibb's growling bass lines, while engaging Ross in some gorgeous, old-fashioned call-and-response. From the very moment Smith appears on the opening track "The Spiral Path to the Throne," blowing long, plangent lines over Ross's industrial, almost charred sounds, he helps imbue Araminta with a radiant sense of intensity, and occasion.
The tunes are relatively slender, built on short figures and hooks, but the rhythms, patterns, and textures present a complex puzzle. (Ross is a one-man atmosphere factory, availing himself of all the sounds—cries, squeaks, cracks, fuzz, whispers, organ-like echoes—that an electric guitar, in the hands of a master, can produce.) As Lewis told me, the band draws on, combines, and reshuffles an entire history of black music, from "Negro spirituals, field work songs, Yoruba cleansing chants, and gospel" to "Marvin Gaye, Teddy, Aretha, Anthony Braxton, Chuck Berry, Ornette and Threadgill … It's all from the same source."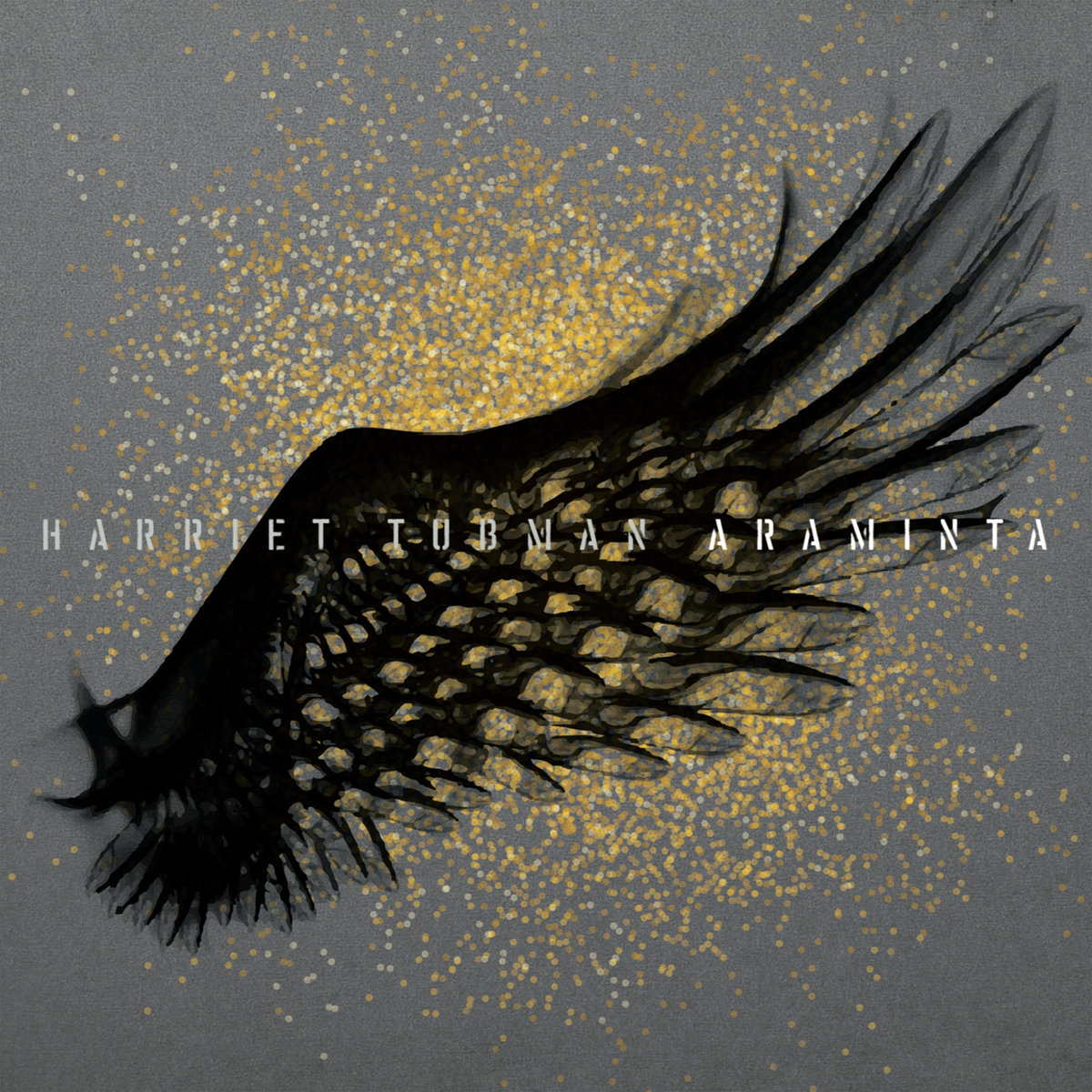 Lewis was echoing a theory of the ultimate unity of black music, most famously expounded by Amiri Baraka in his 1966 essay on the "changing same"—and later developed by Baraka's most gifted critical protegé, Greg Tate. In his liner notes to Araminta, Tate writes that the music embodies the "shape, warp and woof of ALL blues to come," and there is no escaping the band's commitment to taking blues into the twenty-first century, particularly on the exquisite closing track, "Sweet Araminta," a lullaby for the trio that's as fleeting as it is delicate. The playing here is rich, almost drenched, in the yearning of the blues—but the sonic effects, and the feeling of space between the notes, are otherworldly.
The most bracing sound on Araminta, however, is something less commonly identified with the "changing same" of black music: namely rock, of a grungy, subterranean kind. On "Ne Ander," for example, Lewis and Gibbs build an almost unbearable sense of tension with a relentlessly pounding beat over which Ross uses a wah-wah pedal to create a solo of squawking, trumpetlike notes. We are as far as possible from the tension and release, or the elegance, of jazz, and much closer to certain forms of punk and metal. On tunes like "Ne Ander" and "Real Cool Killers"—a swaggering blues dedicated to Chester Himes that suggests a cousin of Jimi Hendrix's "Voodoo Child (Slight Reprise)"—Harriet Tubman works up a thrashing, aggressive energy that hasn't been much heard in jazz since Miles Davis took a five-year sabbatical in 1975 after a series of raucous concerts in Japan, later released as Agharta and Pangaea, both ancestors of Araminta.
The effect of Araminta is to excavate a history of black music—of avant-garde jazz-rock—that, even today, remains somewhat hidden, in large part thanks to the narrow imagination and racialized marketing of the music industry. In a perceptive new study, Just Around Midnight: Rock and Roll and the Racial Imagination, Jack Hamilton chronicles how, in the sixties, rock "came to be understood as the natural province of whites," even though its origins are in the blues, and many of its pioneers—such as Chuck Berry, who died earlier this month—were black. By the time Hendrix died in 1970, Hamilton observes, rock had been so "whitened" in the popular imagination that an obituarist could refer to him as "a black man in the alien world of rock."
Miles Davis, who was deeply influenced by Hendrix and Sly Stone, said of his own electric work, "I don't play rock, I play black." His point was that his new music was both: he wasn't abandoning black music to play rock so much as he was returning to his East Saint Louis blues roots. (His album covers would refer to his electric jazz as "new directions in music by Miles Davis.") Nor was he alone in playing an amplified, futurist form of the blues: Davis was taking part in a revivalist avant-garde that lasted well into the eighties, including Herbie Hancock's Mwandishi, the bands Ornette Coleman assembled on albums like Science Fiction and Body Meta; and the electric blues of the guitarists James "Blood" Ulmer and Sonny Sharrock, with whom J. T. Lewis played. (This movement has been overshadowed by—when it hasn't been confused with—"fusion," a slicker and commercially more popular form of rock-influenced jazz. Indeed, by the 1980s, when Wynton Marsalis launched his campaign against any form of electric jazz, many people forgot that there was a current within electric jazz that was aesthetically radical. Nor did it help that some of its exponents, such as Hancock and Davis, who had emerged from his retirement, were by then playing what amounted to fusion.) The ghosts of Coleman, Sharrock, and Ulmer are all audible on Araminta. As Ross says, they "broke through the orthodoxy of the forms they emerged out of, and offered a personal statement about it from their own experience. That is the 'tradition' represented by those artists, and I do feel Harriet Tubman is a beneficiary of it."
That this tradition remains obscure is, perhaps, a reflection of the fact that jazz, even at its most adventurous, is still widely understood as a music of roots, rather than one of routes, and that rock is often considered as "alien" to jazz musicians as it once was to Hendrix. "What I don't like is this business of trying to classify people," Hendrix said in 1969, after his appearance at Woodstock. "It's like shooting at a flying saucer as it tries to land without giving its occupants a chance to identify themselves." Harriet Tubman's new album is a reminder that when creative musicians fly into the outer space of improvisation, they don't spend much time worrying about the planet they left, or where they might land. Like their namesake, they have only one concern: to lead people to freedom.
Adam Shatz is a contributing editor at the London Review of Books and a fellow in residence at the New York Institute for the Humanities.