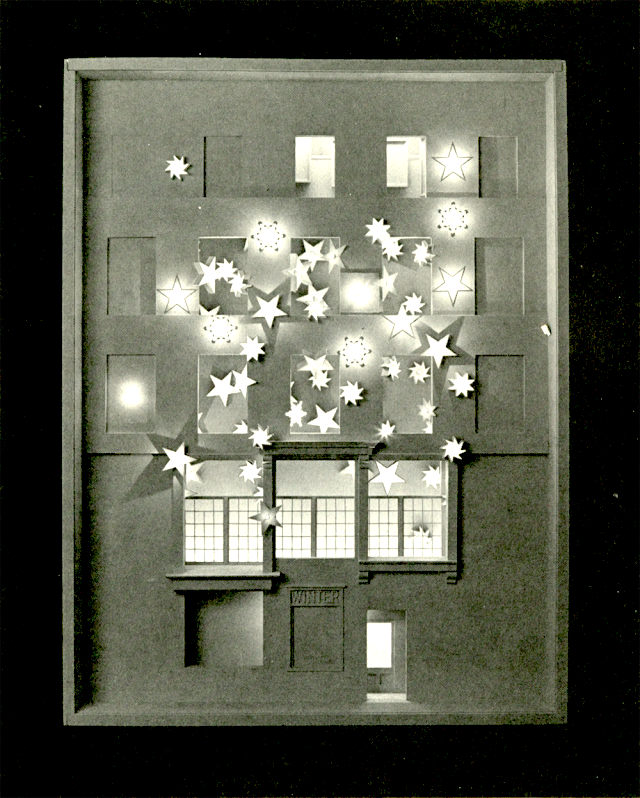 Our complete digital archive is available now. Subscribers can read every piece—every story and poem, every essay, portfolio, and interview—from The Paris Review's sixty-three-year history. Subscribe now and you can start reading 0ur back issues right away. You can also try a free ten-day trial period.
We're at that time when winter loses what little charm it had: the twinkling lights come down, the mercury plunges, and what felt two weeks ago like rosy-cheeked novelty is now pure marrow-sucking viciousness, part of a stimulus package for brown-liquor distillers. Everyone is holed up with a fifth of something. To deceive yourself that you have the wherewithal to go outdoors, you need wintertime propaganda. I found some in our Winter 1976 issue courtesy of Cletus Johnson, who designs what he's called "stage sets for the play of the spectator's imagination." As the editors explained, 
His theatres are shallow box-like constructions with just enough real architectural elements to, at first glance, have credibility as "real" architecture. They are painted a matte gray or brown, generally, with sober ornamentation that recalls late nineteenth century neoclassical style. A second look reveals some curious details: doorways that lead nowhere, a doorway that simply leans against the building, as if waiting for the otherwise meticulous architect to find a place for it. A lone cow stands perched on a ledge of one facade with an air of belonging. Such incongruous elements coexist in utter harmony.
The particular design in this portfolio is called Winter, and it conjures the platonic form of the season, with three rheostats and 140 soft, inviting lights.
Check out "Winter" here, and subscribe now for digital access to every short story, poem, portfolio, and essay from The Paris Review.