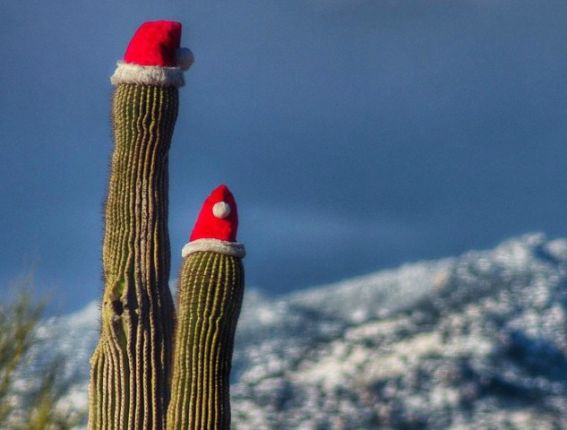 Our new, redesigned website marks the debut of our complete digital archive: now subscribers can read every piece from The Paris Review's sixty-three-year history. Subscribe now and you can start reading our back issues right away; you can also try a free ten-day trial period. 
I was surprised when I found Dabney Stuart's poem "Santa Claus in the Desert" in our Winter 2002–2003 issue. That issue is host to a number of crime pieces: a feature by Russian detective novelist Boris Akunin; an exquisite-corpse murder story written by Michael Cunningham, Manil Suri, Joanna Scott, and others; and crime-scene photos by Maria Levitsky. Santa's not really known for his crime-busting skills. But Dabney's Father Christmas goes against the grain of the jolly holiday archetype; the poem offers a pensive encounter with Santa as he flies westerly over the empty expanse of American desert, feeling bittersweet about the cyclical nature of a role that requires "great harvests of emptiness":
He stands here, this rotund, ruddy
foolishness with the white thresh on his chin,
his bag of surprises riding uncertainly
over his shoulder, in spite of everything
reducing him to the size of a saguaro spine
seen from a mesa five hundred miles off—
stands here in the infinite repetition
of his exposures: pure hokum, a rampant ghost,
a wheezing, bibulous department-store bum
a bell ringer fondling his kettle, our favorite
regression in colloquial robes,
someone's father.
Read "Santa Claus in the Desert" in full here; and subscribe now for digital access to every short story, poem, portfolio, and essay from The Paris Review.