In the clip above, our founding editor George Plimpton recalls hearing Muhammad Ali give a lecture to thousands of Harvard graduates, and the poem that emerged from it:
He gave this wonderful speech … It was moving, it was funny at the same time, and there was a great roar of appreciation at the end of it. And then, someone shouted out, Give us a poem! Now the shortest poem in the English language, according to Bartlett's Quotations, is called "On the Antiquity of Microbes." And the poem is "Adam / Had 'em." It's pretty short. But Muhammad Ali's poem was, "Me? / Whee!!" Two words. I wrote Bartlett's Quotations and I said, Look here, that's shorter than "Adam / Had 'em." You wanna put it in? It stands for something more than the poem itself: Me, whee. What a fighter he was, and what a man.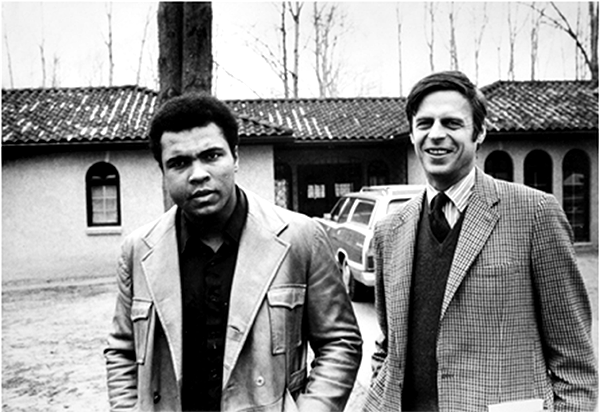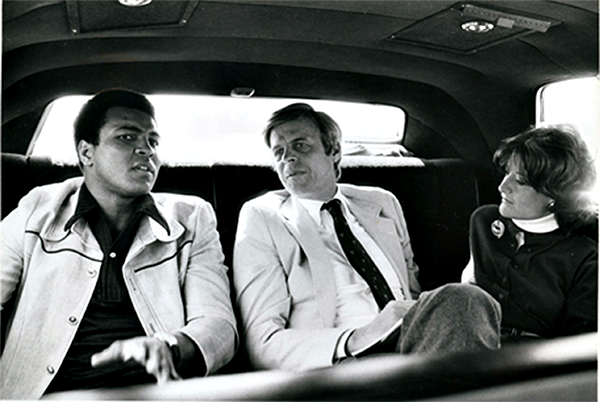 This was not, if you can believe it, the only time Plimpton witnessed Ali in an act of spontaneous versification. He also had the pleasure of introducing the boxer to Marianne Moore and watching the two of them collaborate on a sonnet—an encounter he describes in his book Shadow Box:
He announced that if she was the greatest poetess in the country, the two of them should produce something together—"I am a poet, too," he said—a joint effort sonnet, it was to be, with each of them doing alternate lines. Miss Moore nodded vaguely. Ali was very much the more decisive of the pair, picking not only the form but also the topic: "Mrs. Moore and I are going to write a sonnet about my upcoming fight in Houston with Ernie Terrell," he proclaimed to the table. "Mrs. Moore and I will show the world with this great poem who is who and what is what and who is going to win."

"We will call it 'A Poem on the Annihilation of Ernie Terrell,' " Miss Moore announced. "Let us be serious but not grim."

"She's cute," Ali commented.

A pen was produced. Ali was given a menu on which to write. He started off with half the first line—"After we defeat"—and asked Miss Moore to write in Ernie Terrell (which she misspelled "Ernie Tyrell" in her spidery script) just to get her "warmed up." He wrote most of the second line—"He will catch nothing"—handing the pen over and expecting Miss Moore to fill in the obvious rhyme, and he was quite surprised when she did not. She made some scratchy squiggles on the paper to get the ink flowing properly. The fighter peered over her shoulder.

"What's that say?" he asked.

"It doesn't say anything. You could call them 'preliminaries.' Terrell should rhyme nicely with 'bell,' Miss Moore said tentatively. I could see her lips move as she fussed with possibilities. Finally, Ali leaned over and whispered to her, " 'but hell,' Mrs. Moore."

"Oh yes," she said. She wrote down "but hell," but then she wrestled with it some more, clucking gently, and murmuring about the rhythm of the line, and she crossed it out and substituted, "he will get nothing, nothing but hell."

After we defeat Ernie Terrell
He will get nothing, nothing but hell,
Terrell was big and ugly and tall
But when he fights me he is sure to fall.
If he criticize this poem by me and Miss Moore
To prove he is not the champ she will stop him in four,
He is claiming to be the real heavyweight champ
But when the fight starts he will look like a tramp
He has been talking too much about me and making me sore
After I am through with him he will not be able to challenge Mrs. Moore.