I have 294 records of showers of living things … there's no accounting for the freaks of industry.

—Charles Fort, Book of the Damned
While My Guitar Gently Gets Bent at Pizza Hut
The florist sat drunk in the corner booth of a Pizza Hut in Myrtle Beach. "Erotic City" quietly grinded away on a jukebox over near the bathrooms. For the past three hours, I'd been feeding the florist cans of Coors Light while he drove his son and me across South Carolina. Purple Rain played the entire route. "Let's Go Crazy" in Pageland, "The Beautiful Ones" in Ruby, "Computer Blues" through Cheraw, "Take Me with U" to Aynor.
That October of 1984, my friend's listening habits skewed toward Pyromania. Mine: keytars, eyeliner dudes, and black radio—whatever Les Norman, "The Night-Time Master Blaster," happened to be playing on WPEG. I remembered Leppard for their one-armed drummer arrested for spousal abuse. Meanwhile Prince played, like, twenty different instruments while having sex in the backseat of taxicabs, ducking the Antichrist, and shouting for gun control. Also: girlfriend on drums. What's fair is fair.
The Pizza Hut was empty, giving the jukebox a moment to itself to play something besides Night Ranger. "Erotic City" appeared on a bent note, a split end for the sinners who didn't care. Prince's guitar string seemed to resonate at the frequency of a tiny antenna of hair, both high on the neck. Then a scrape of beat in reverse, sweeping beneath the red-checkered tables. This was my first time hearing this song about a first time that apparently went all night. And I was barely hearing it at all, as if from my subconscious—a lo-fi, suppressed environment in itself. (My subconscious was already a bit freaked by then, between puberty and side 2 of 1999.) (Subconscious: U have no idea.) At the time, I hoped my voice would go deep. Maybe not "Bob George" deep, but at least "all of my purple life" deep. Prince modulated his voice throughout "Erotic City," at times on a squeak-toy high. Filtered through a pizza chain in off-season deadness, Sheila E. sounded like an attenuated memory of herself. That is, until cherry bombing the chorus (" 'til the dawn"), unable to contain the giddy—a reminder, just in case you didn't know who was having the most fun in Pizza Hut that night. How we wish we felt the same, duh.
"Erotic City" always seemed quiet to me, maybe because now I listen too hard, trying to shut out everything else but its memory. I wonder how it sounded in 1988 from inside the trunk of a Thunderbird, onstage in Charlotte, when I saw Prince open with "Erotic City." Kat crawled out. Then Sheila E. I might have blacked out after that. So long, Pizza Hut. So long, big plastic red cup that made my Coke look purple.
Prince's Baby
I have a good friend who claims to be Prince's baby, but only on a first-name basis, a joke at the end of a song about crack addiction and a spaceship we'd witnessed exploding in the AV room of the same library where my older brother had been caught engaging in what the dean and the Motion Picture Association of America referred to as "sexual intercourse."
Before "Sign o' the Times," Nate had named himself after Nate McMillan, a point guard who played under Jim Valvano at North Carolina State and ended up in the Pacific Northwest corner of the NBA. After "Sign o' the Times," Nate was signing his letters, homework, and jump shots as Prince's Baby.
The day Prince died, I saw a sky-clad toddler run out of a herbarium—or off the cover of Houses of the Holy—and down the sidewalk toward me. I wish we all were nude. The day Prince died, a close friend gave birth to a girl not named Nate. The day Prince died, I received a poem in the mail from my mom, written to me as an infant in 1971. It ended with two requests: Wake up and forgive me.
Forever in My Faceplant
I woke up one morning in Prince's Baby's basement and could've sworn it was the end of "Automatic." There had been a prewedding party and someone had the good drunken sense to leave 1999 on repeat in the next room. The room where I slept was windowless, deprived of light and time, leaving me in an anesthetic haze of hydraulic wheezes, tarmac jet hiss, someone in scrubs with his finger Krazy-glued to a synth, crying, promises of torture, Prince talking about his damn dreams again. In the video for "Automatic," a bed taxis across the stage under its own power, waved in with conical runway lights. Prince is lashed to the posts. Commence bed spins. I swore I heard a gnome saying he was an automatic fool—in the same voice that wanted to touch you there, right there in "If I Was Your Girlfriend." All confusing in a half-woke state and happy to consider what silence looked like, if it was ever quiet enough.
I had slept through a stream of absurdity, through the end of the world, through all the critics but Dorothy Parker, through Vanity's cries for help ("Jerk!"), through all the hippies singing together, through the song that made my mom not like Prince so much. I learned this could be because she confused Prince for "Sex Dwarf," a song by Soft Cell that is as depraved as you might think. Maybe she had glam-slammed them together. The "Sex Dwarf" video might have clarified things had it not been banned. Prince never had chain saws and trans-sex workers writhing in maggot-laced meat in his videos. ("I mean it's 'Sex Dwarf.' What are you gonna do?" said director Tim Copeland.) The recurring bad-dream presence of the "dumb chauffeur" always made me laugh and then feel weird about it.
Perhaps my mom worried about the heavy breathing. Egyptian Lover credits Prince for the invention of heavy breathing while Prince might credit heavy breathing to a tireless work ethic and the women in his life, the sound engineers, dancers, singers, guitarists, poets, lovers, dreamers, and drummers who helped make it all happen. It could've been because she came home one afternoon to me blasting "Let's Pretend We're Married," with doors and windows flung open. Prince had deliberately twanged one of those f**ks in reverb, less disguise than accentuation. Another f**k, the sincere one, left our new neighbors pondering what it means to do it until losing one's sense of taste. I imagine my mother walking up the sidewalk after a day teaching at the community college's writing center, hearing a house she found on her own possessed by a group of overdubbed Prince voices, declaring it was going to having fun every motherbleeping night. Or as much motherbleeping fun a sixth grader could be having at the time.
Something in the Bath Water (Extended Version)
My mom has long since revised her stance on Prince, only shocked that he didn't leave a will. "You really need to do your will," she told me over the phone on Mother's Day. "Because if we both get hit by trucks on the same day, your possessions will go to the state." Would this include my freakabyte of unreleased Prince songs?
We've now moved past the deep-album-cut stage of grief, the import-only Mazarati B-side stage of grief, to the handwriting-analysis stage of grief. In a letter shared by Susanna Hoffs of the Bangles, Prince appears to be really good at cursive, as if writing ruffle-wristed with a feathered quill. Such legislative flourish! "New breed of leaders stand up organize," he demands in "Sexuality." One of the headlines on the back cover of Controversy declares that the nation's capitol has been moved to a better place, one of absolute sexual freedom, where people's lives aren't being molested by the local state legislature.
Then to the open-up-the-vault-already-damn-we-know-you're-in-there stage of grief. We've already been haunting the dream factory for alternate versions, ever since knowledge of the Black Album's existence. Prince was a living breathing fucking alternate version of himself to whatever version you wanted to be, from LGBTQ to that sect of straight, white, "Purple Rain" men just in it for the air shredding. And when those vault doors opened (after drilling a peephole first), you can imagine all those versions not even bothered. Don't mind us, we're all just a-freaking.
That version of "Do Yourself a Favor," which went to Jesse Johnson and is the perfect empowering walk-your-ass-on-by breakup song.
That falsetto acoustic version of "Thieves in the Temple."
That eleven-minute forty-two-second version of "Dance Electric," which is no less end-all than "1999," not to mention André Cymone's mighty "Dance Electric," seeing as André let Prince live in his basement and play Peanuts solos and bring girls there and later played bass on Dirty Mind.
That thirty-minute version of "I Would Die 4 U." (Seriously, not interested.)
That version of him singing "Screams of Passion" at sound check while coaching the band. ("The lighter you touch it, the more it does.")
That Gary Numan–ized version of "Jerk Out."
That original version of "Extra Loveable," but cut it before the awful "rape U" part.
Those twenty versions of songs with references to baths and showers. (Prince did a lot of his best thinking in the tub, pants on, pants off.)
That version of "When Doves Scream," which does not out-scream "Something in the Water" but would've dropped a few Tubmans in 2002 Prince's cuss jar, since being alone in a world that's so f**king cold sounds even colder, yet it's a world that's missing that key, singular one-off grunt I like so much toward the end of "When Doves Cry." Huh! (This is one of my all-time favorite grunts, with respect to Sissy Spacek's mock-barf I-hate-tomatoes grunt in 3 Women.)
That rabbit-familiar version in The Witch striking a curious pose. (Huh?)
That "Erotic City" demo that sounds no different than Pizza Hut "Erotic City."
That spool of tape with the endless synth riff that showed up on Stevie Nicks's "Stand Back."
That version of "Baby A Go-Go" which is weirdly in out-of-tune with "Pop Life."
That acoustic cover version of the Clash's "Train in Vain (Stand by Me)."
By the time you read this, the vault will have been cracked. There will be a life-size bear mascot suit, BMX gear, and an untitled EP with Kim Basinger, Ween, and Ozzy Osbourne. There will be a shelved video with Channing Tatum "in character as a breakdancing, space rollerskating werewolf."
And there will be squabbling. Be glad that you are free.
Tell Me If You Still Care
I was able to hear all those songs by virtue of being friends with someone involved in an unusual trade. Joseph Patel had managed to get his hands on the DMX drum machine that Rick Rubin used when producing Beastie Boys and LL. He offered it to Questlove for an undisclosed amount of unreleased Prince tracks. I've told this story many times, if anything for the sheer joy of repetition. (Live eleven-minute version, again please.)
I then considered the type of person who'd consider trading Rick Rubin's DMX for Prince's LinnDrum machine. Or how Rubin's Roland TR-808 Rhythm Composer might tilt the value. 
Jimmy Jam and Terry Lewis of the Time had grown attached to the 808 while working with S.O.S. Band in Atlanta, perhaps happy to take a break from Prince's signature Linnsanity. Irked that they were stepping out on the Time, Prince fired them for missing a flight out of Atlanta while on tour. The official statement from the control tower may have been ice on the wings. But I'd love it if the 808 took partial credit—you know, the written, arranged, composed, performed, et cetera—for those two empty seats on Prince airlines. Like he said in "Housequake": the kick drum is the fault.
Breakfast
Not trying to demystify anybody's high school jump shot here, but Prince did such a good job of NDAing his life that any whit of "Prince is normal" info sounds otherwordly. The bit rate at which I've been consuming evidence of his non-purple music activities almost feels like an invasion of privacy. Let the man have a thing for breakfast in peace.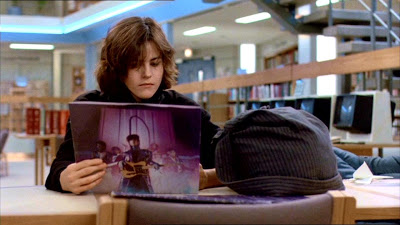 In the director's cut of Breakfast Club, Ally Sheedy uses the switchblade she stole from Judd Nelson to pick a locker in the teacher's lounge. She begins trashing its contents until coming across a copy of 1999. She stares at the cover. The artwork could've been drawn by psychedelic children's choreographer Remy Charlip. Part of Prince's name is spelled out by a pair of pants with a diagonal button fly. The C is a half moon with a chip-toothed smile. There's the Rude Boy button he was wearing on the cover of Controversy. I'm currently running a trace on Prince's eyeballs, lifted from his stare and pasted to the 9's. Ally steals the record and shows it to Repo Man. "Know what this means? They're human." She's talking about a bullying teacher, but we're thinking about someone else.
Prince liked Doritos. Prince gave his backup singer a wedgie. Prince crashed some very happy kid's senior prom in Macon. Prince also died. Considering all that he gave the world, both to our ears and in silent philanthropy, this was a perfectly human thing to do.
You Productive Motherf**ker

On the way to Myrtle Beach, I remember hearing "Pass me another Silver Bullet, Dave" over the reverse-mirror phantoms at the end of "Darling Nikki." It turns out that wind and rain pretty much sound the same to and fro, unphased by shifts in the time-hump chronicles.
Appropriately, Prince's death has inspired prolific masturbation with the printed word, through computer blues and purples. It can be exhausting—a friend has complained of suffering from "Prince fatigue." You think Prince wasn't tired? You think Prince isn't tired of continuously doing it to death, performing for us in clips of live performances that won't be left alone to their memories and decay, as if still unreleased in the hold he has on us? (I have to pause in the middle of a video of him doing an invisible toothbrush dance to read about ant consciousness.)
Prince got shit done, even when idling. He once recorded an entire album while waiting for his car to warm up. It's a spoken-word jazz record with Ingrid Chavez. I learned about this from Eddie Miller, an engineer who worked at Paisley Park Studios. (I'm now at the track-down-the-assistant-engineer-who-worked-on-Lovesexy stage of grief.) Miller, who started Prince's car that night, had showed up onsite already a huge fan. It was a waking dream job. He doesn't remember sleeping during his two years behind the boards at Paisley Park.
The Ballad of Mrs. Lit
I'd only heard "Another Lonely Christmas" once, on the radio on Christmas Eve. Wasted on banana daiquiris, Prince opened up and shared an unknowable grief, and a story about skinny-dipping. I was far more acquainted with middle-school grief. Our principal was a fearsome Russian woman from Detroit, no taller that Prince, even in bootlegged leather heels. Her name was Mrs. Litwinchuk. Being scared even of her name, we called her Mrs. Lit. Back then, I'd get clowned for dressing like the Time, wearing pleated gray pinstripe baggies. I once busted my ass outside the lunchroom in a pair of Stacy Adams, recommended by Morris Day despite poor handling in wintry conditions. Better on ice, Mrs. Lit walked by and asked if I was okay. I was, save for the purple bruise on my rear.
May You Live
My Prince epigraph in the senior yearbook was "May U live 2 see the dawn," oblivious to Matthew 4:16. Prince said it, so it must be cool. In retrospect, I can't tell if it was shortsighted or in service of the high school rager. "May you live to funk until the dawn" would've been a revision no less biblical. May you live to see Prince doing James Brown covers live at an after-party at Plum Crazy Sports Lounge in Raleigh. May you live to see Prince perform "Forever in My Life." (Does YouTube count?) May you live to get to that Pizza Hut in Myrtle Beach because the driver is out of Silver Bullets. And if you do, may you live to spend all your Galaga quarters on "Erotic City. Take a deep bend.
I now hear the beginning of "Erotic City" as a pinched-nerve ping, a cue for the twinges of ageing. This is what it sounds like. (Also: perfect text notification.) The note may begin high on the neck, but it resonates all over. Mind, iliac, hip. A different sort of ache. I hear it whenever my body surprises me with news both acute and unexpected. Freeze and wait for what might follow. Must be something. But if it's not a place where one could make or buy some time, then I don't want to know.
Dave Tompkins is currently writing a natural history of Miami Bass and archeopsychic bottom. His first book, How to Wreck a Nice Beach: The Vocoder from World War II to Hip-Hop, is still out there, in paperback and on 99% Invisible.