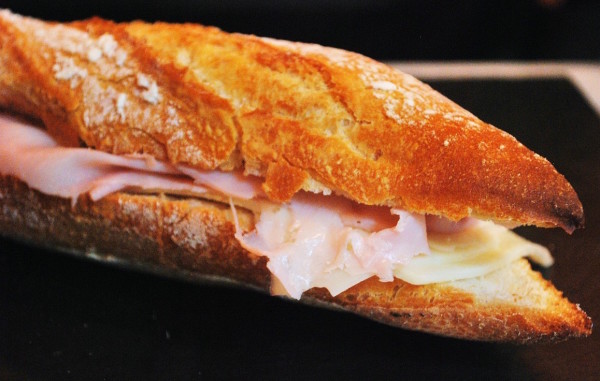 Perhaps it is surprising, considering my inauspicious start, that my best skill—my only truly great talent, my art—is making sandwiches. For eight years, give or take the odd day, I packed the same lunch to bring to school: turkey cold cuts with French's yellow mustard on Pepperidge Farm white bread. When I got to college, I often had turkey sandwiches for dinner as well as lunch. Newly sophisticated, I used Dijon mustard and added a leaf of wilted romaine.  
When I wanted a break from making turkey sandwiches in the dining hall, I bought a turkey sandwich from Darwin's, a nearby café. A sandwich at Darwin's was, to me, like a meal at Per Se. It was revelatory. The bread was a chewy, tangy sourdough; the lettuce crunched with each bite; the mustard was creamy yet sharp; the meat actually tasted like meat. I started going to Darwin's with increasing frequency, and I began to despise my old habits. The thought of the dry, bland bread; the shiny slabs of rubbery meat product; and the shock of fluorescent mustard revolted me.
Sandwiches at Darwin's were expensive, though, so to afford them, I got a job. I got a job, in fact, making sandwiches at Darwin's. I was not, I must admit, a model employee. I could not count change correctly with a gun pointed at my head—and, with the line snaking out the door, it often felt as if there were. I was so often late to work that I was occasionally fired.
But I assembled every order with an unusual tenderness. I was careful to distribute the filling evenly, to make every bite consistent. I learned to tangle the meat so that the tongue would find it textured and pleasing. I practiced finding the right ratio of ham to apple, salt to sweet. I figured out how to stud the smoked salmon with capers without making a briny mess. I perfected slicing cheese with steady speed. I loved folding the finished product in white paper, delighting in each perfect package. Every sandwich was a little present.  
These days, at home, I put falafel, roasted eggplant, and peppers in a swirl of harissa and hummus. I lay skeins of onions, jammy and sweet, on top of thin slices of pork tenderloin. I wrap chicken sausage and sauteed leeks in soft tortillas. I make turkey with mustard. It tastes delicious, as long as you make it for someone else.
Louisa Thomas is the author of Louisa: The Extraordinary Life of Mrs. Adams, a new biography of John Quincy Adams's wife.