The challenges of an all-male ballet troupe.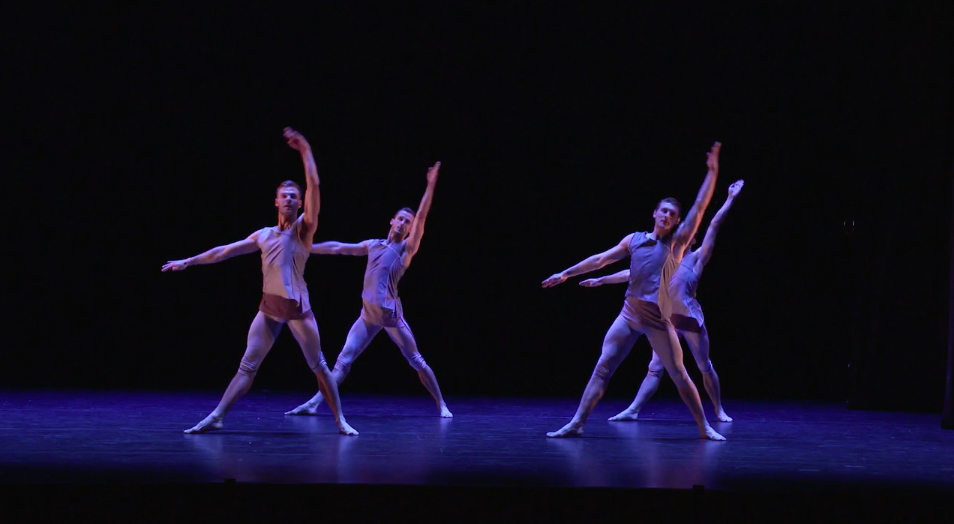 Like Oulipo fiction or gluten-free bakeries, an all-male ballet troupe draws its allure from what's missing. You wonder: Can they really pull it off? How not bad can it be? After all, Balanchine, in oracular mode, once said that "Ballet is woman"; he later added, "You put a man and a woman on stage, already it's a story." So what happens when you put ten men on stage together? Last week's Ballet Boyz run at the Joyce Theater in New York provided an answer of sorts. 
Ballet Boyz is a fifteen-year-old British company founded by two former Royal Ballet alumni, Michael Nunn and William Trevitt; the dancers, all but one formally trained, are strong and technically impressive, commanding a range of dance styles besides ballet. The Joyce program comprised two commissioned works by Alexander Whitley, a New Wave Associate at the Sadlers Wells Theater, and Christopher Wheeldon, an established choreographer. Whitley's "The Murmuring," set to an electronic score by the London-based duo Raime and costumed in Gap-type flannels, T-shirts and jeans, succeeded brilliantly in leveraging the strengths of the troupe. Wheeldon's "Mesmerics," using scores by Philip Glass and clad in glimmering leotards, was impressive architecture emptied of life.
A brief video prefaced each piece. In the first, dancers described how Whitley oriented them by showing videos of flocks of birds as they formed and reformed and wheeled around in the air. The dancers were instructed to watch and to imitate each other, and to be a little free in how they did that. In the "Mesmerics," video, Wheeldon commented on the constraints of the space in which the piece was made—he described it as a hallway—and gave the audience permission not to seek meaning in the piece: just enjoy it, he said, there's no sense to be made. These friendly prologues, intended to make dance accessible and inviting, were supplemented at intermission by a trailer for a forthcoming full-length Ballet Boyz film—which includes, gasp, a girl—set in the trenches of World War I.
Wheeldon's choreography is elaborate and fast. Most often we are watching a spotlighted pair of dancers partner each other while another, and sometimes two, mirror-image sets of dancers perform the same steps in dark shadows further backstage. The pairs move quickly and closely, but the partners indicate no connection apart from using each other as props—and truthfully, props are often handled with more presence. There's much to admire in terms of technique and structure, but the cumulative effect of "Mesmerics" was like staring into a lava lamp set on high. It has the perfect title—I'll give Wheeldon that. I just wish he'd snapped his fingers and broken the spell.
Whitley's "The Murmuring" was another story. Because it was a kind of tale, one with a moral center that can be expressed through dance, and maybe only by this particular troupe. Mass movements are the substance of the piece, and the men flow into and out of gang-like packs, bold flight patterns, and spooky tribal circles. Occasionally, brilliant solo riffs punctuate the design. Bradley Waller and Flavien Esmieu were given combinations that showed, in contrast to the groupthink, their idiosyncratic movement qualities and eclectic capabilities. It's satisfying to register such felicities and contrasts, to recognize that Whitley's incorporated break-dance moves and gestures from vernacular and natural sources, giving them classical inflection without a lick of affectation or shtick—and to sense a dialectic about belonging at the piece's beating heart.
Traditionally, whenever male dancers are left to their own devices, they end up in games, in sport, in rumbles and tussles. There's plenty of competition in male/female ballet, too, but it's nearly always sublimated seduction: the dancers show off to earn each other's esteem as romantic partners. In the schoolyard or mean streets, which is, to repurpose a line from Connie Francis, where the boys are, showing off has nowhere to go. At their best, as in "The Murmuring," Ballet Boyz find new depths in that limitation. The experience feels risky and rich, and not just in dance terms. The vexed, overheated, veering gestalt Whitley has created, driven by testosterone and insecurity, is just the ticket for a bunch of boyz.
Watch a clip of BalletBoyz.
 Jeff Seroy is senior vice president at Farrar, Straus and Giroux.